What is a clothing pattern block ?
TAAS INC.
November 7, 2019
The block pattern is the sewing pattern previously created for the clothing style that has been perfected for a good fit. The block pattern is commonly used to efficiently build a new clothing style with minimal need for pattern revisions and corrections.
I am sure you've asked this question before. I am assuming you got many answers. In this blog, I will offer some definitions and core understanding. It is up to you to call your best-selling pattern however you choose to. The apparel industry and the way we make clothing has been changing. It takes creativity, genuine engineering, and thinking outside of "norms" to make it happen. The way we create anything is evolving, especially with the addition of3D CAD technology. It should be that way, as that is how we progress in time and space.
Basic Pattern production terminology.
First Pattern is the pattern developed for each design by any pattern drafting techniques. The first pattern is drafted using marking paper. The pattern will require many adjustments and fittings to get to a well-fitted pattern ready for clothing production. Unless the clothing style is asymmetrical, the first pattern will be developed as a half pattern.
A production pattern is a pattern set (for one clothing style) that includes all pieces necessary to cut and produce a particular garment. At the end of the development and fit process, the production pattern is perfected for the base size fit and styling and ready to be graded for bulk production.
Grading means that the perfected production pattern is proportionally increased and decreased according to the grade rule assigned to the size range in the tech pack.
A pattern Marker is a long piece of paper containing all pattern pieces for all sizes. Marker maker lays out all pattern pieces efficiently to ensure the best fabric use with minimal fabric waste. Most markers are done by sophisticated software for the best and most efficient yields.
Pattern pieces are mixed up and aligned on the marker paper with the grainline parallel to the fabric's selvage. It is crucial to check the accuracy of the grainline on the production pattern before creating the marker. Incorrect grainline could waste the entire production run.
The marker is placed on the top of layers of fabric and ready to be cut. It is vital to know the fabric width when sending the production pattern to the marker maker.
Pattern making and blocks
Some other thoughts when looking at the pattern drafting:
The faulty grainline on the production pattern will transfer to the marker, creating costly garment production mistakes.

The block pattern is the pattern previously created for the clothing style that has been approved and corrected for a good fit. The pattern is the "blueprint" of the garment, already proven for a good fit and well received by the customer. The nested (graded) pattern can and should be a block for future style creations. Block patterns may contain seam allowances previously used in production, the specific fabric information, and shrinkage information (if applicable). It is essential to understand that the pattern (proven for fit in styling) for knit fabric will not work for fit in the woven fabric. Woven fabrics have different structures and stretch properties. All blocks should be classified and labeled clearly to avoid any surprises.

If the pattern for a specific style is doing well for the brand, the best practice would be to save it as a master block pattern for that particular style (including cutter's must) without seam allowances or shrinkage. It could be an invaluable base to generate a new cutting pattern for the unique clothing style that might require different seam allowances or shrinkage input (depending on the chosen fabric for the latest style).
However, start-up brands do not have market-proven blocks, and they will have to establish the pattern for each garment from scratch. The fit and styling feedback from their customers will determine if the cutting pattern is good to keep as a block and re-use to create new styles.
It is wise to hire an industry-experienced pattern maker with extensive knowledge of fit and sizing for commercial manufacturing.
What is sloper?
The sloper terminology is often mistakenly used in the place of a block. Sloper is a generic pattern draft based on particular body measurements. The pattern could be the basic bodice, skirt, or pants without seam allowances, ease, or fabric shrinkage included. Sloper creation is a common practice in the educational environment and presents an essential first step when engineering any garment. It is a great stepping stone to learn more about all steps that need to be taken to transfer the garment sketch idea into the actual clothing that fits the human body.
In the professional environment, factories usually have their standard blocks for various garment categories. The block pattern for the base size small for the junior market differs from the block pattern in size small for the missy market.
Sours: https://www.taas.nyc/blog/what-is-clothing-pattern-block
The Sewing Pattern Tutorials 13: Sewing Pattern Blocks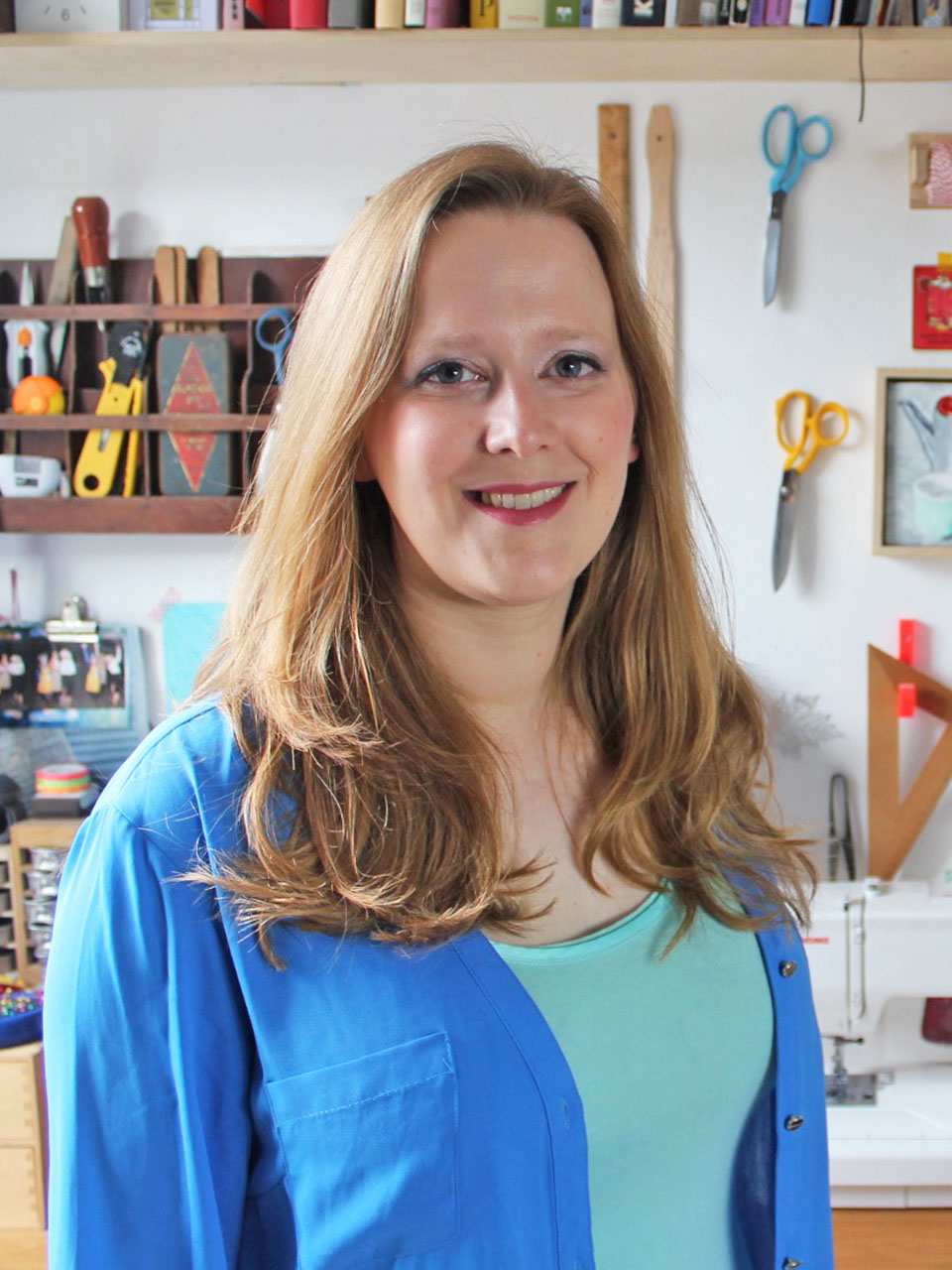 Hi, it's Rachel here on the blog today with the next instalment of our popular Pattern Tutorial series. There has been much discussion in the sewing community recently about sewing pattern blocks and we've had lots of questions about how these are designed. We thought it would be helpful to share some information about sewing pattern blocks if you are new to sewing or would like to find out more about the design process to create your own. Over the last year we've seen an increase in the number of designers choosing to expand their size ranges and they often use two different sewing blocks to achieve this.
This blog post was inspired by makers in our Facebook group who were chatting about pattern designers and the types of bodies they draft for. We thought it would be helpful to bring this information together in a handy post so that you can discover which designers might suit you.
---
Sewing Pattern Blocks

What is a sewing pattern block (or sloper)?
A sewing pattern block (or sloper or master block) is a custom designed basic template for a pattern that can be developed into an infinite number of styles. Anyone can create a sewing pattern block using some basic body measurements and tools. The sewing pattern block is the starter point for any design as it can be modifying using the 'slash and spread' principle. During this process the pattern block is cut (or 'slashed') and then the pieces are spread apart to add fullness or closed to reduce fullness. A good example of this is creating a full sleeve head by slashing the top of a sleeve. When this foundation pattern block is the basis for all the pattern designs in a range, it is critical it is drafted accurately so we get a good fit at the end of the design process.
How are sewing pattern blocks created?
Sewing pattern blocks are created from a set of basic body measurements. Taking the bodice as an example, you would need to measure your waist, bust, armseye depth (nape of back of neck to centre back where it lines up with the underarm), nape of neck to waist, neck circumference, shoulder length and the list goes on! Take a look here at our guide to measuring yourself for a sewing pattern and free templates to download to make note of your measurements. Note that most blocks will assume a B cup, if you have a different bust cup size to this then you will need to make a full or small bust adjustment afterwards. For more details on bust cups take a look at our blog post here.
All these measurements are used to create a basic block. When drawing your first draft of a block, do this on dot and cross paper. The block is drafted starting with a vertical line representing the centre back (nape of neck to waist) and this is followed by measurements added horizontally for the bust, waist and neckline. Finally the centre front is added to create a rectangle. This rectangular block is used as a reference to mark the curves of the front and back neckline, bust point, shoulder and bust darts, armhole and waist darts. The front and back bodice are separate along the side seam before a seam allowance is added onto both pieces. Pattern markings and instructions such as 'Cut front bodice on the fold' are added. This same process is followed for creating other blocks such as the skirt, trouser and sleeve block.

Can I draft my own sewing pattern block?
If you would like to draft your own sewing pattern block, we recommend either taking a course or investing in a pattern drafting book. Courses take place at fashion schools and community education colleges. It takes time to learn about how to draft a block and edit patterns, so expect to spend time investing in this skill. If you just fancy a taster then have a look for classes at sewing shops and online courses.
Many of these courses are based on the mother of all pattern drafting books, Pattern Cutting for Women's Wear by Winifred Aldrich (books are also available for Menswear and Children's wear). Although not the most exciting book as it is full of technical details, it guides you through the process of creating a block for the bodice, sleeves, skirt and trouser leg, plus others. It also shows you, through exercises, the principles of altering pattern blocks to fit the body. This is the book that I learnt from during the pattern cutting course I took over three years and would highly recommend it.
Once you have created your first block, cut out a toile version of it using spare fabric such as an old cotton dust sheet or bedcover. Sew up the toile and try it on for size. At this point it's useful if you have a sewing friend to help you check the fit. Mark on the toile where you need to make any adjustments. Return to your first draft of the block and make these changes. Repeat this process until you are happy with your block. At this point transfer over the measurements onto Manilla card to create a long lasting version of your block.

What tools do I need for drafting a pattern block?
In a previous blog post as a part of this Pattern Tutorial series we shared our top tools for pattern drafting and making alterations to sewing patterns. Most of these tools are not essential but will make the pattern drafting process much easier and let you achieve a more professional finish. The Pattern Master is key, it isn't needed when you are first starting out in sewing but if you are planning on drafting your own block then it will save you lots of time. The Pattern Master's main function is to provide a number of different curves so that you can create a range of lines and shapes to alter patterns to your requirements. It is particularly good for drawing in new curves at the armhole. It's also got a ruler around the curved edge so you can measure curved lines. Plus with lines at 45 and 90 degrees you can accurately slash across pattern pieces (for example to insert a dart) and add/check grainlines. In addition the Pattern Master has 0.5cm and 1cm seam allowance lines, which really help to redraw seam allowances. All these useful functions make the Pattern Master the most important tool for drafting your own pattern block.
In addition to the Pattern Master, these tools will also be useful: single and double tracing wheels, French curve, Dot and Cross tracing paper, clear tape, pencil, permanent marker pens, colour marker pens, awl, manilla card (or pattern kraft paper) and finally a pattern notcher. Find out more about all these tools in our pattern drafting tools blog post here.
Can my own sewing pattern block help me adjust shop bought sewing patterns?
The quick answer to this is yes. Having a custom designed sewing pattern block that fits your body is a real asset. During the process of drafting the block, you will have learnt a lot about your body shape. For example, I have narrower shoulders than the typical block that is used to create sewing patterns for my dress size. I also have to make a full bust adjustment and sometimes shorten the bodice. With this knowledge, I always check these three areas of the pattern first before making a toile. In most cases I need to make an adjustment to the pattern so I will trace it off and do these changes first before making the toile to see if any other alternations need making.
Depending on the design on the sewing pattern, you can overlay your sewing pattern block onto the pattern to check measurements such as length of sleeve and width of bodice, amongst many others. Failing that, when you create your sewing pattern block you will have created a list of basic and possibly detailed measurements you can use to check the sewing pattern.
How are sewing patterns graded?
Sewing pattern grading is the method of taking a sewing pattern block at a base sample size e.g. a size 12 and creating additional sizes following a set of measurements, which following grading increments. Traditionally this would have been done by hand and it is a useful skill to learn if you often have to grade between sizes. Most sewing patterns are now graded digitally, as this is a much quicker and more accurate process. The basic way to grade up and down is by 'evenly grading', where the measurements between sizes are increased or decreased by the same amount. Typically this is by 2 inches between sizes. Alternatively, sizes may be graded by different increments across the size range, for example in the image above where there is a 1″ difference between sizes 6 to 12, 2″ between sizes 14 to 18 and 3″ between sizes 20 to 24. Take a look at our blog post on understanding sewing pattern size charts for more information on sizing and how we have created a size chart to standardise independent sewing patterns to help you use our search tool to find sewing patterns.
When 'even grading' is used, it doesn't mean that this is the amount you increase or decrease pattern pieces by all the way around the block though. A good example of this is pattern length. Even as a pattern size goes up or down, the centre front of the skirt stays the same because a person doesn't get taller or shorter depending on their dress size. Grading patterns commercially is a complicated process and testing is required for all sizes to make sure that the grading has not distorted the style of the garment.
What are the benefits of drafting different sewing blocks for the same pattern?
It is recommended that a pattern is not graded by too many sizes up or down from the original block because this is likely to distort the original style of the garment and it won't produce a good fit for the sizes furthest away from the starting block e.g. a size 0 or size 30 when a size 12 block has been used. In addition to this, there is no 'one style fits all' when it comes to body shapes whatever your size, we are all wonderfully unique! Developing two blocks for a pattern range allows you to do more in-depth testing of your pattern on different body shapes and create a more inclusive pattern range. For example, including different bust cup size for different blocks and modifying dart shapes and positions.
Why do some sewing blocks overlap in their size range for the same pattern?
When designers create two sewing blocks for the purposes of producing two size ranges, these can be graded to overlap. For example, a size 12 block can be graded from a size 6 to a size 20 and a size 20 block can be graded from a size 16 to a size 30. This sewing pattern will have an overlap of sizes 16 – 20. Again this comes back to the concept that grading up or down by too many sizes will distort the original design. When designers have created two blocks, using different sizes as the starting block, it is an easy process to grade up and down for both blocks. This is really helpful for anyone who often falls 'between' sizes as typically you will have less pattern alterations to do and you have a choice about which block you want to use.

What size should I choose for my body shape?
Take a look here at our guide to measuring yourself for a sewing pattern and free templates to download to make note of your measurements.We would always recommend you create a toile for a pattern before cutting into your fabric so that you can check the fit, whichever block you decide to use. Take a look at our blog post on understanding sewing pattern size charts for more information on sizing and how we have created a size chart to standardise independent sewing patterns to help you use our search tool to find sewing patterns.
Which designers draft two sewing pattern blocks for their sewing patterns?
If you are looking for sewing patterns which have a wider size range with two sewing pattern blocks then take a look at these designers. We've included details below of the size range, block details and other features such as different bust cup options. For more information about each pattern or designer, follow the links below.
Sew House Seven
Peggy designed patterns for the fashion industry before turning her hand to the home sewing market in 2014. She focuses on creating beautiful womenswear patterns that can be sewn up quickly with detailed instructions. Each pattern has a special design feature that makes it unique and provides an opportunity to learn a new skill. The last four patterns she released are all available with two pattern blocks, including the bestselling Wildwood Wrap Dress. The standard size range (sizes 00 – 20, B/C Cup) is fit on a base size 8 that is approximately 5'6″-5'7″ (168-170 cm) tall and grades very slightly in height. The curvy size range (sizes 18 – 34, cup sizes C/D, E/F and G/H) is fit on a base size 24 that is approximately 5'6″-5'7″ (168-170 cm) tall and does not grade in height. There are differences between the curvy and standard sizes 18 and 20. The shoulders on the curvy sizes are narrower, the cups are fuller, and the tummy and hips are rounder than for the standard sizes.
The Wildwood Wrap Dress is perfect for the office, parties, weddings or when you just feel like wearing a dress (let's hope so in 2021!). It is a true wrap dress, although with a detached, obi inspired belt. The beauty of this dress is created by the drape of the shawl collar and enhanced by the waist and shoulder pleats. It has generous front pockets, and a slim skirt with a wide, faced hem. French seams are used to construct the upper bodice so version B looks pretty once the sleeves are rolled up. Choose a below the knee hem or longer midi-length hem.
The Remy Raglan is a simple top with a relaxed fit that is quick to make and easy to wear. This top was originally designed to wear under the Burnside Bibs and with the Free Range Slacks during their respective photoshoots. This top was designed to have the sleeves rolled up and it should be noted the sleeves look best that way. The fit is very loose and relaxed at the bust and waist, and while it is not a cropped top, it is a short top designed to be worn with high waist pants and skirts.
This Underwood Tank Dress and Top is one of the easiest knitwear patterns you will ever sew and wear. It was designed with hot weather comfort in mind and is the ultimate warm weather travel piece. This style was meant to cover a wide spectrum of summer weather wardrobe needs – from a swimsuit cover-up to an out-to-dinner dress. All versions are sleeveless, fitted through the upper bust and then flowing into an A-line shape with a deep, curved back neckline that falls just above the bra-line for a little drama. The long (above the ankle) length dress also features long, knee length side vents. There are three options for hem lengths, two options for front neckline depths, and two options for neck and armhole finishing.
Free Range Slacks are defined as trousers for casual wear. While we don't hear that term much these days, we think it is time to embrace it again. You will feel free to roam in the comfort of a stylish, elastic high waist when you wear these pants. Although they were designed with linen in mind, these pants are so comfortable that we think you will want to make them in a multitude of fabrics and wear them all year long in any season. There are two options – a tapered leg version and a straight, cropped version. Both have an elastic high waist, side panels, front pockets that are top stitched in place from behind, and an optional back patch pocket(s). The tapered legs look great rolled up so the finished garment measurements show rolled and unrolled measurements and the instructions include options for French and flat-fell leg seams.
True Bias
Kelli lives in Denver where she designs patterns for home sewers, after starting the True Bias blog five years ago. She studied pattern making classes at FIT in NYC, which led to the release of her first pattern the Hudson Pant. Since then Kelli has released many more urban patterns for women and children. Her two most recent patterns are available as US 0 – 18 with a C cup (approx. UK 8 – 20) or US 14 – 30 with a D cup (approx. UK 16 – 32).
The Nova pattern is a knit jumpsuit with four views. All views have a fully faced neckline and armholes. Views A and B have a wide elastic waistband and inseam pockets. Views C and D have a straight fit through the waist and attached front pockets. Views A and C are a short romper length while Views B and D are long with an elastic casing at the ankle.
The Rio is a ringer style T-shirt and casual dress. View A is a fitted (sizes 0 – 18) or semi-fitted (sizes 14 – 30) top that hits around the hip. View B is a semi-fitted dress ending just above the knee. Both views have contrasting ribbing around the crew neckline and short sleeves for a slightly vintage look.
Liesl and Co
Liesl studied for a degree in fashion design from IFT in NYC before working as a designer for several fashion brands. The brand has expanded into menswear and children's wear patterns (under the designer name Oliver and S). For some of the recent women's pattern releases, two block options have been included covering a wider size range: US 0 – 20 (approx. UK 6/8 – 20) and US 16 – 30 (approx. UK 18/20 – 32/34).
LEFT The Kensington Knit Skirt is a quick sew, comfortable-to-wear, pull-on knit skirt with a hidden elastic waist detail. Both views have a yoke and straight skirt. View B has a pleated overlay with ties to look like a clever wrap skirt.
RIGHT The Belgravia Knit Dress is an elegant knit dress features an interesting and deceptively uncomplicated wrap detail as well as a simple set-in sleeve, a very easy to sew V neck, and a front-slit skirt. The dress comes together quickly and is extremely comfortable to wear. View A includes a short cap sleeve and front ties, while View B features long sleeves and longer ties that wrap around the body before tying in front. This dress can be sewn from ponte for an office-worthy or cocktail dress or from jersey or French terry for a more casual everyday dress.
LEFT The Gelato Blouse and Dress is a relaxed pull-on peplum blouse and A-line dress feature a scooped neck and bust darts. The blouse, View A, includes ruffled peplum and sleeve as well as a button-placket back detail. The A-line dress, View B, includes short sleeves, double-welt angled front pockets and a centre-back seam. You'll find so many ways to sew this versatile pattern, which also includes detailed instructions for doing a full bust adjustment.
RIGHT The Rush Hour Dress and Blouse is a pattern for a lined, fitted dress and peplum blouse. The princess seams on this style allow you to customise the fit easily. View A, the sleeveless dress, includes a pencil skirt with back walking vent. View B, the peplum top, features your choice of short or long sleeves and an asymmetrical peplum. Both styles have an invisible back zipper. The pattern includes cup sizes, a Dior dart, and instructions for customising the pattern to fit your shape.
Ready to Sew
Ready to Sew is a French DIY pattern brand founded by Raphaelle Bonamy in 2015. Raphaelle is passionate about helping people learn to sew and create a sustainable wardrobe. The patterns have clean lines and a minimalist style. On her website you can find step-by-step sew alongs to accompany the pattern instructions and plenty of hacks. Several of her recent pattern releases how include the following size range across two blocks: EU 32 – 46 with a B cup (approx. UK 6 – 14/16) and EU 46 – 58 with a D cup (approx. UK 18 – 30).
LEFTPrimo is a quick and easy to make wardrobe staple. Close-fitting with high cut arms, this tee is ideal for layering, tucked into high-waisted skirts or pants or even under overalls. This pattern is a starting point for infinite customisations.
RIGHT The Pio Pants are relaxed and easy to wear elasticated waist pants with a slightly carrot shaped silhouette. They are designed to sit high on your natural waist above your belly button. There is a dart in the back waist for extra shaping and two deep front pockets. The finished length is just at the ankle bone but they look great rolled up too.
LEFTPekka takes its inspiration from traditional Japanese clothing. It is an oversized mid-season jacket with wide armholes and a simplified jacket lining. With slightly cropped sleeves and gaping pockets, this stylish jacket is perfect for layering. Pekka is an ideal sew for motivated beginners.
RIGHT Papao was inspired by Indian and Thai wrap pants. It's an asymmetric peg pant with a unique wrap closure and a slightly cropped leg. It can be sewn with or without pockets. Because Papao does not require any closures (no zipper, buttons or snaps!), it's an ideal project for motivated beginners.
The Patsy Overalls, with their discreet pockets, pretty gathers and slightly cropped length, was designed with beginner sewists in mind – especially those who are looking to add something with a little character to their wardrobes. Patsy does not require any closures (no zipper, buttons or snaps!).
Helen's Closet
Helen's Closet has started to offer different block options with her recent releases where sizes US 0 – 22 come with B-cup and sizes 12 – 30 D-cup. Helen designs a range of casual sewing patterns with thoughtful details and they are always popular with the sewing community.
The Gilbert Top is a button up shirt with a camp-style collar and a relaxed fit. View A has short sleeves and a tie-front. It is slightly cropped but still very comfortable with mid to high-rise bottoms. View B has long bell sleeves and a longer length, perfect for tucking into high-waisted pants. There is an optional breast pocket and both views feature a front facing for the button placket. The Gilbert Top has a beautiful back yoke and collar that is finished using the 'burrito method'. This everyday top is ideal for all seasons and works for both professional and casual styling. Mix and match the views to get loads of great looks! Sizes US 0 – 30 (approx. UK 6 – 30). This pattern includes two size options. There is a B-cup pattern for sizes 0 – 22 and a D-cup pattern for sizes 12 – 30. Please check the size chart and finished garment measurements.
The Ashton Top is an all-season wardrobe staple that is easy to sew and style! Wear it during cooler months with jeans and a cardigan, or pair it with shorts for summer. The Ashton has bust darts and a signature A-line shape. View A is a hip-length top and View B is a crop top, ideal for pairing with high-waisted pants or skirts. Both views have the option to finish the neck and arms with an all-in-one facing or bias binding. The hem is finished using a beautiful hem facing. The Ashton makes a great stash-buster! Sizes 0 – 30 (approx. UK 6 – 30). This pattern includes two size options. There is a B-cup pattern for sizes 0 – 22 and a D-cup pattern for sizes 12 – 30. Please check the size chart and finished garment measurements.
Jennifer Lauren Handmade
The newest release from Jennifer Lauren Handmade features sizes 6 – 24 with A – D cups or sizes 16 – 34 with C – F cups. Jen designs modern vintage-inspired sewing patterns with beautiful details. You can be confident of a good fit and easy to follow instructions.
Dulcie is a structured, button-front pinafore press with a square neckline, semi-fitted A-line skirt, and square in-set pockets. Princess seams provide shaping through the bodice for a smooth fit over the bust and back, while the deep, roomy pockets carry all of your daily essentials. The bodice is fully lined for a clean inside finish, and optional topstitching in key areas can add a modern element to an otherwise 60s mod design. The size ranges have been drafted from different blocks. The new Curve block (sizes 16 – 34 with C – F cups) has a bit more built-in ease through the bust, waist and hip area. The bust tends to be a bit more shapely in the Curve block and the shoulders, depending on the style, will have a little more room in them. The Curve block is based on a height of 170 cm (5'6"), just like the Original block. Sizing: UK 6 – 24 with A – D cups and UK 16 – 34 with C – F cups.
Itch to Stitch
Kennis is the designer behind the popular Itch to Stitch pattern brand. She learnt to sew as a child before starting to design her own patterns, which reflect her modern and elegant personal style. Fit is really important to Kennis and she was one of the first designers to include bodices with different bust cup options. Her latest two patterns now include two pattern blocks in addition to cup size options.
The Causeway can be made from a variety of fabrics, from lightweight nylon to mid-weight embroidered cotton, so you can select one that matches your personal style. The bomber is traditionally a short jacket with a ribbed collar, waistband and cuffs. The Causeway adds a touch of femininity with front princess seams that also give you a great fit in the bust. The optional invisibly zipped pockets are embedded in the princess seams for a streamlined look. It has slightly dropped shoulders with long two-piece sleeves and a centre front exposed zipper. And you have the option to make the jacket reversible! Sizes 00-20 with A and B cups; sizes 00-20 with C and D cups; sizes 00-20 with a DD cup; sizes 16-40 with a B cup; sizes 16-40 with a C cup; sizes 16-40 with a D cup; sizes 16-40 with a DD cup.
Antrim is a fit-and-flare knit dress with cup sizes and pockets. You know those days when you open your closet and have nothing to wear? Not anymore! The Antrim Dress will always come to the rescue. Slip on your heels, flats or sandals, and you are ready to go! Antrim features a surplice front bodice, short sleeves, a gathered waistband, a half-circle skirt that falls below the knee and in-seam pockets. It's a pullover style with no zipper or buttons. Sizes 00-20 with A, B and C cups; sizes 00-20 with D and DD cups; sizes 16-40 with a B cup; sizes 16-40 with a C cup; sizes 16-40 with a D cup; sizes 16-40 with a DD cup.
Marilla Walker
Marilla graduated with a degree in Fashion and Textiles and continues to experiment with drafting and design by creating women's dressmaking patterns. She is inspired by Japanese, Scandinavian and Central American dress.
The Belemnite dress has two versions. View A is an easy fitting, fit and flare dress with long gathered sleeves and an A-line, lantern shaped skirt. It has self-fabric ties at the waist, a back zip closure and a v-neckline finished with a facing. View B is an easy fitting, fit and flare shirt style dress with grown on sleeves, ruffle cuffs and an A-line, lantern shaped skirt. It has self-fabric ties at the waist, a button front closure and a neckline finished with a facing. Views A and B are completely interchangeable should you prefer the sleeve option of one view with the closure from another! Instructions are also included for a wide elastic cuff and ribbed fabric cuff. Size range 1: 1 – 10 (approx. UK 6 – 22) with a B cup. Size Range 2: 6 – 14 (approx. UK 16 – 32) with a D cup.
Related posts
The Sewing Pattern Tutorials 15: How to cut out sewing patterns and fabric
Read post
The Sewing Pattern Tutorials 14: Printing Copy Shop and PDF Sewing Patterns
Read post
The Sewing Pattern Tutorials 12: Sewing patterns for different bust cups
Read post
The Sewing Pattern Tutorials 11: pattern symbols and fabric marking tools
Read post
Category: Sewing Pattern Tutorials
Sours: https://thefoldline.com/2020/11/28/the-sewing-pattern-tutorials-13-sewing-pattern-blocks/
These pages listed in the Blocks Menu contain Information for making your own blocks, getting measurements to make those blocks, and there are also some downloadable blocks that can be purchased. See below for a more detailed summary of what these pages offer, or use the Blocks menu to go directly to those pages.
Measuring For & Making Blocks
The Measuring for Blocks & Making Blocks pages will give you all the information and step-by-step directions you need to create your own blocks. These instructions include not only the basic set of Bodice, Sleeve & Skirt, but also others such as Pants, Torso and Extended Line Dress.
There is also a free downloadable Measurements Chart (PDF file) for you to fill in to assist in making your Blocks. For those who don't want to make their own blocks but want to practice and learn the principles of patternmaking, there is a set of Third Scale Blocks so you can practice the exercises in third scale to save paper and desk space. Some of the instructions are also available to download as a PDF file; check at the bottom of each Instructions Page to see if there is a downloadable file.
Purchasing Blocks
You can also choose purchase some Blocks if you prefer; see the menu on the right for the purchasing options available. The sizes of these blocks are similar to standard Commerical Pattern sizes and Commercial Clothing, and come in sizes 6 to 22. The Purchase Blocks Pages have all the relevant sizing information you need; i.e. a detailed list of measurements for each Blocks.
Why Purchase Blocks when there are Instructions to Make Your Own?
If Commercial Patterns or clothing in stores fit you pretty well, and you don't want to spend the time making your block from scratch, then you could use these blocks instead; some small adjustments may be required. I will eventually write instructions for making pattern adjustments in the Fitting Issues pages, but until then you will need to find that information elsewhere.
The downloadable Blocks sold on this website can be printed on A4 or Letter paper on your own printer. There are instructions on the website on how to create a block out of these downloadable blocks (you will need to supply your own Patternmaking Cardboard).
Make sure you choose the correct paper size for your country; you obviously should not scale the content to fit the paper or the block will not be to scale.
There is a Sample Block you can download so that you will be very clear on what you are purchasing. I suggest you download and assemble/create the sample block before you purchase any blocks.
Suggested Reading:
If you have reached this page and don't know what a Block is, the following articles will help you:
---
Sours: https://www.dresspatternmaking.com/blocks
Drafting the Basic Pattern Set from Scratch // Basic Bodice Block Flat Patterning
A pattern is often made using a block, but the difference is that a pattern is ready to be cut from fabric and sewn. A completed pattern will:
Be on pattern paper or cardboard - depending on your preference. For home sewing, it is most common to have patterns on paper, but if you have a pattern you keep coming back to, it may be worth transferring to cardboard for safe keeping!

Include enough ease to make the garment comfortable to wear, sit and stand in. This will depend on the style / design of the garment and your preferences.

Have design details that deviate from the block. The options here are endless. Some patterns are similar to the block and just feature a few design details such as panel lines, while some patterns drafted blocks do not resemble the block at all.

Have seam allowance.
To design a pattern from a block, there are a number of common techniques you might use. Some examples of these can be found on the In the Folds blog:
Although these tutorials will show you how to go about the techniques required, you may want to learn more about design principles before trying to apply them to patterns. A good place to start would be The Cutting Class, which has a great combination of fashion and technical content.
PATTERN BLOCKS FOR HOME SEWING
You may be wondering what you would want to do with a pattern block as a home sewist… You can use pattern blocks for drafting your own patterns, but I'd strongly suggest getting an understanding of patterns before trying this. To build up knowledge of patterns, start using patterns! There are so many great independent designers out there that are worth checking out, so this is where I suggest you start. This way you can build up your knowledge about fit, pattern markings and design, without having to do all the work of drafting a pattern from scratch (I can tell you from experience, drafting patterns takes some time!). It will also get you in the headspace of thinking about seam finishes and construction techniques, because remember, if you draft your own patterns, you won't have an instruction booklet to go alongside it.
The other thing you might use blocks for is to check what fitting alterations you might need to do to a purchased pattern. If you have pattern blocks that fit you well, you can then compare aspects of your blocks to patterns you have purchased to see what alterations you need to make to achieve a good fit. For example, you may check the shoulder length on your block up against a pattern to see if you need to do a broad or narrow shoulder adjustment.
I hope that sheds some light on the differences between pattern blocks and sewing patterns for you!
Happy sewing,
Emily
Sours: https://inthefolds.com/q-a-series/2021/what-is-a-pattern-block
Blocks fashion pattern
.
BASIC BODICE BLOCK - PATTERN DRAFTING LESSON - HELEN JOSEPH ARMSTRONG METHOD
.
You will also like:
.
884
885
886
887
888