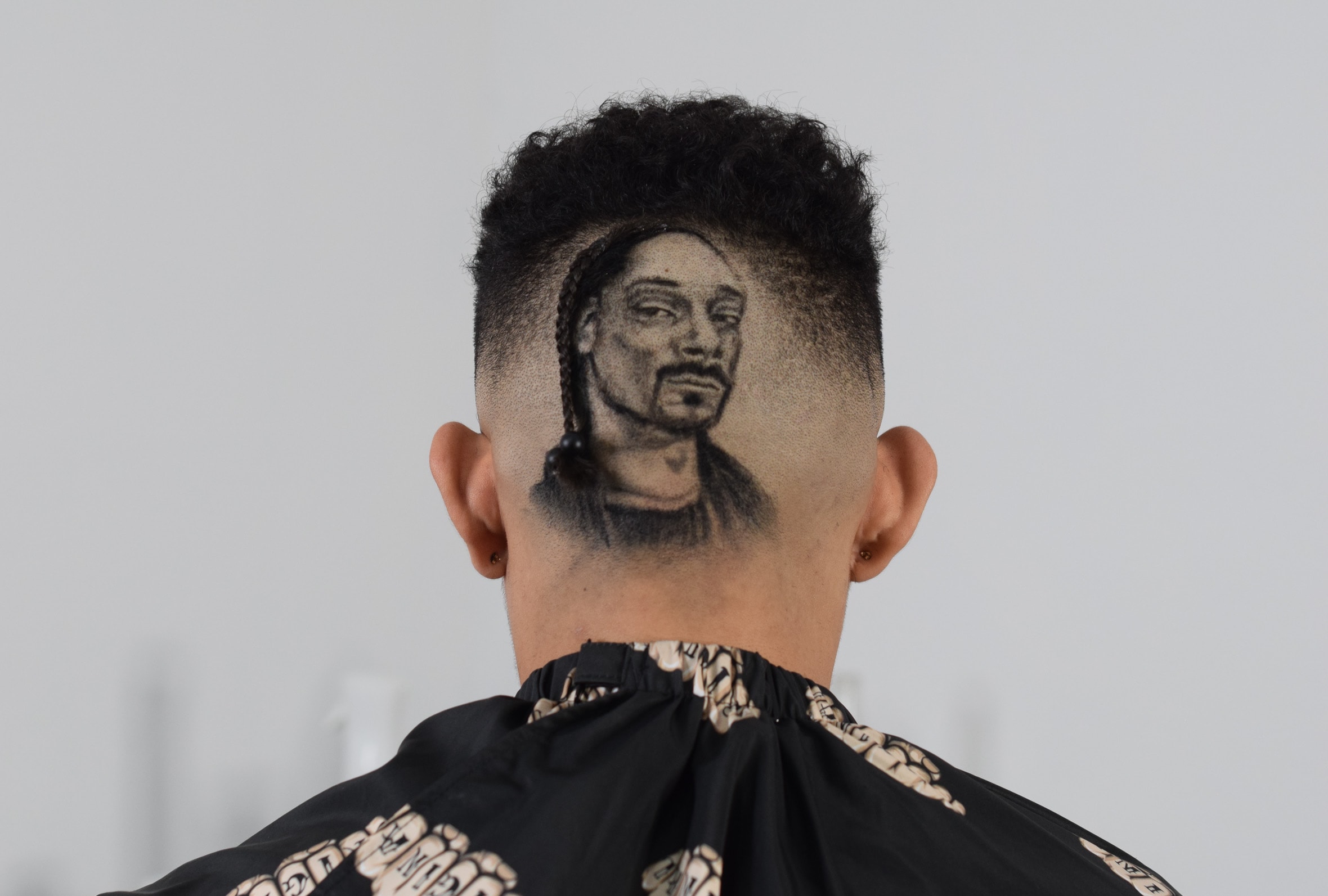 PEOPLE: Rob the Original is the Texan artist redefining what it means to be a barber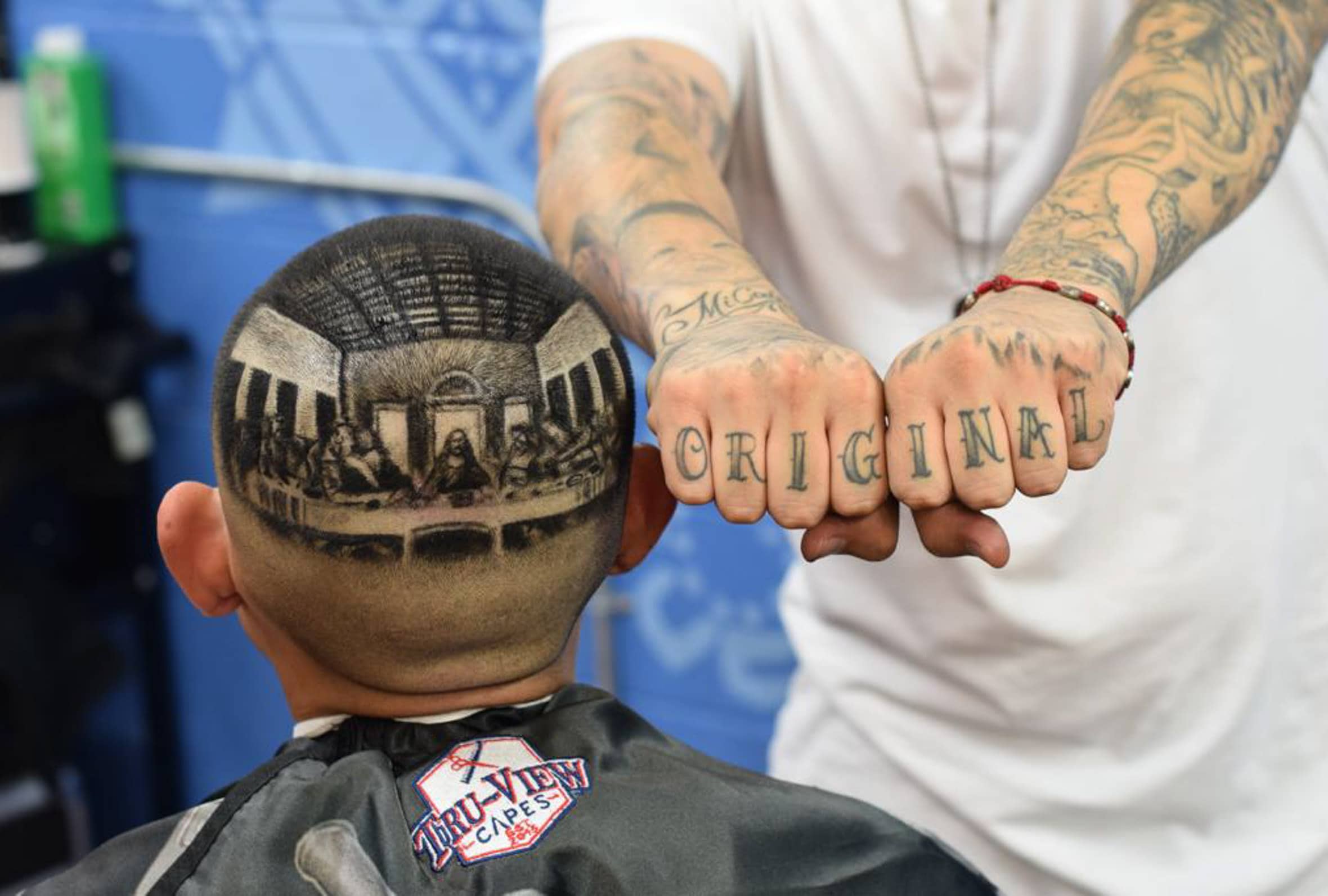 Sprinkling salt, burning gunpowder, carving watermelons, wiping dust, cutting hair. To most people these would sound like a string of random activities that have nothing to do with each other. Put Roberto Ferrel, or, more commonly known as Rob the Original into the picture and suddenly it makes sense. The San Antonio based barber slash artist makes art out of anything he can get his hands on, but his perhaps most jaw-dropping works are the hair portraits he cuts and shaves into the back of his customers' heads. Think of the most significant people of our time and chances are, Rob the Original has created a hair portrait of them: Tupac, Steve Jobs, Marilyn Monroe, Bruce Lee, Heath Ledger's Joker, and the list goes on. INFRINGE takes a look at a selection of his hair art and talks to Rob about his journey to becoming the social media sensation Rob the Original.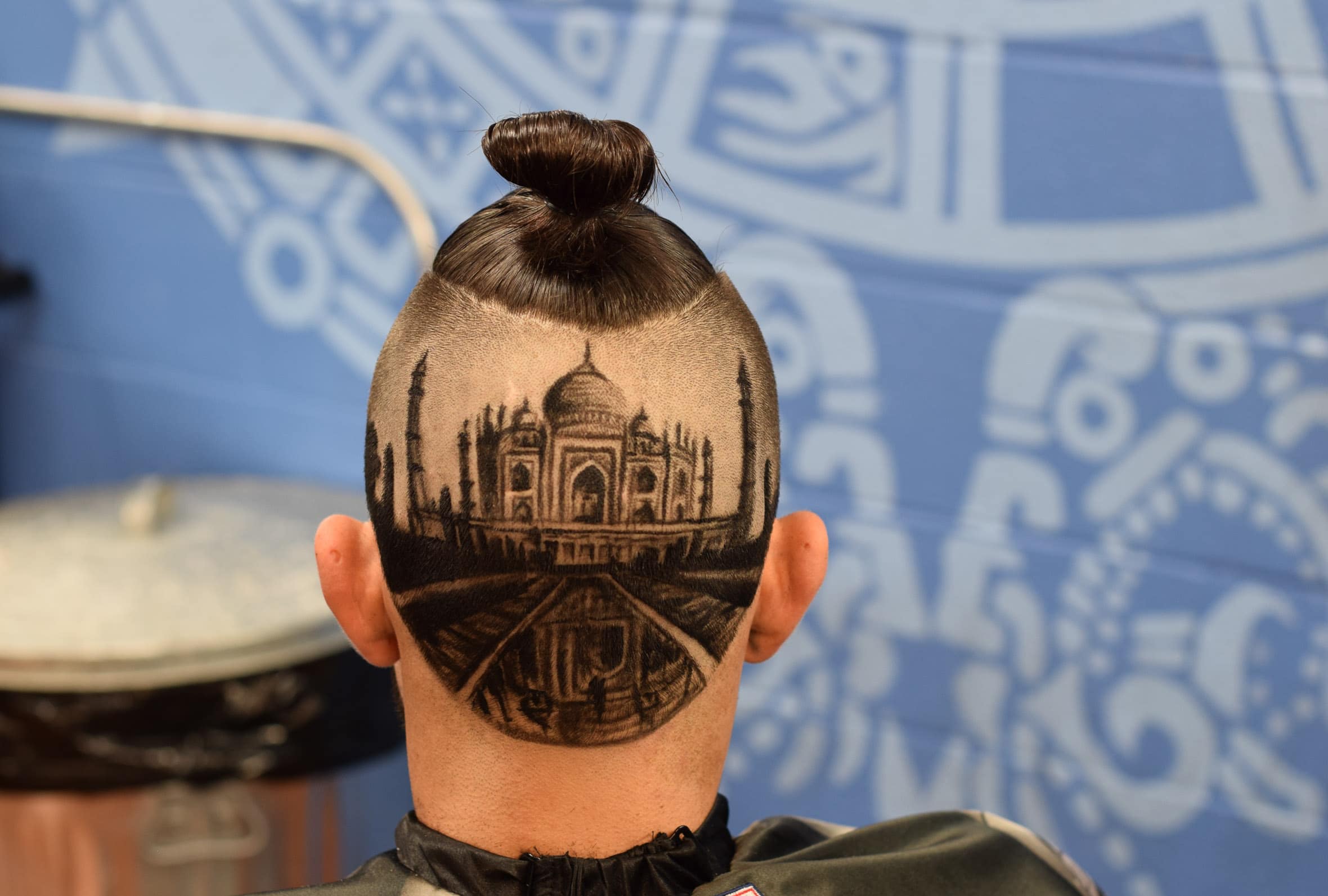 What have the reactions been like when you show celebrities portraits of themselves that you've done on someone's head?Everyone that sees themselves in a hair portrait is always in awe. They can't believe the resemblance. Most will immediately share on social media!
Hair art is difficult in the sense that you can't repaint a canvas – you can't instantly grow new hair. You're incredibly talented, but everyone makes mistakes. What happens when you do? I am proud to say I have never made a significant mistake that is noticeable.
Most of your art can only exist temporarily. Salt, dusty windows, carved foods, even hair grows out. Doesn't that bother you?It does not bother me that my art is temporary, I always take lots of pictures and videos.
How long on average does it take to cut a hair portrait? And which hair art piece took you the longest? On average a hair portrait can take me anywhere from 1.5 hours to 2.5 hours. The hair portrait that has taken me the longest was The Last Supper because of how intricate and detailed it was. It was definitely worth it because it gained a lot of attention and it has millions of views worldwide.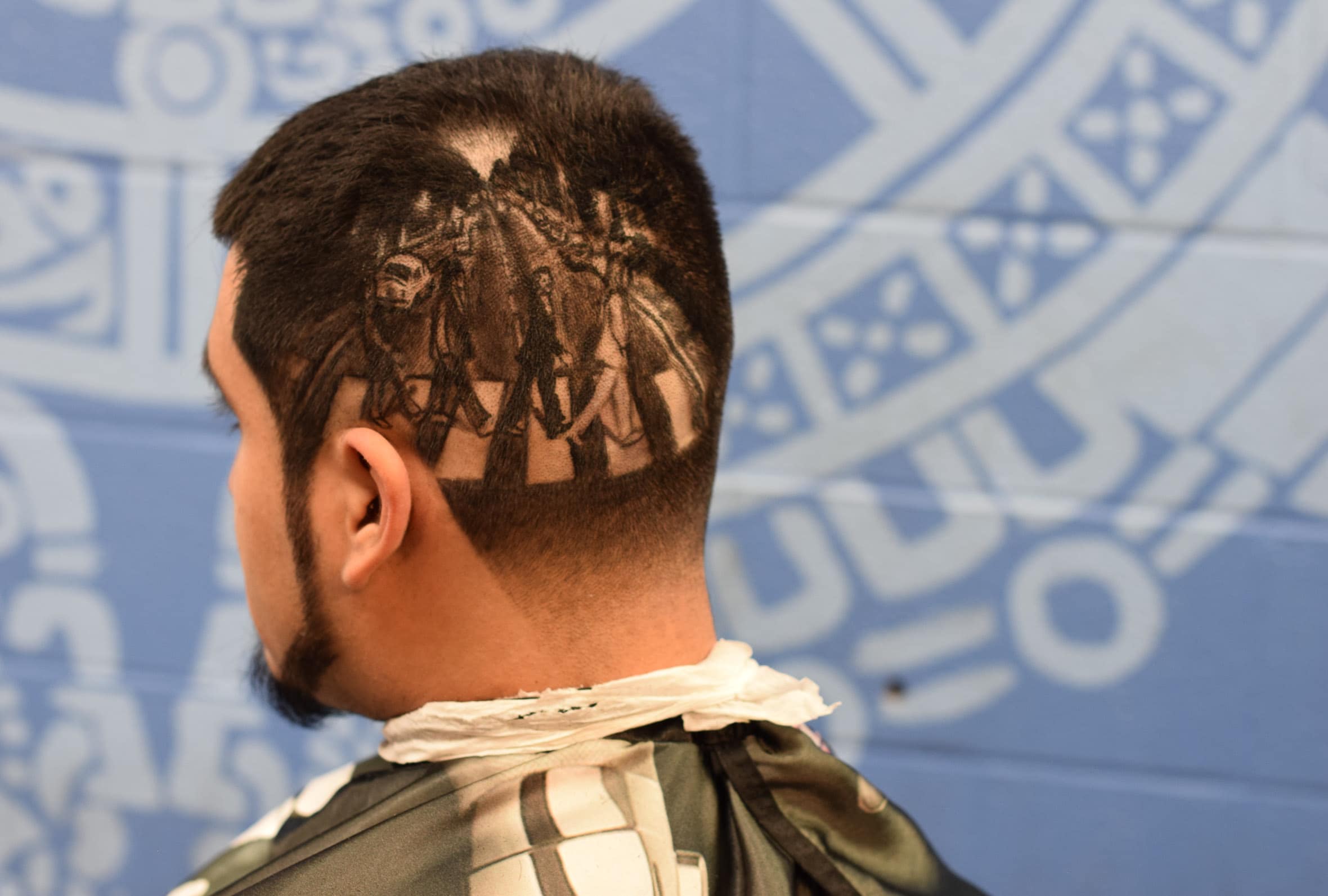 You wanted to be an artist before you became a barber, but ended up combining the two very well. Can you talk about your journey to this harmonious blend of professions, and why you decided against the traditional art route? Ever since I can remember I liked to create art. As a child I was handed crayons and a piece of paper to entertain myself and my parents would talk about how good I was at drawing. I never really thought about becoming an artist I just liked to do it as a hobby. Growing up, I had a lot of jobs that had nothing to do with art, such as:cook, construction worker, and jeweller. I am the 5th child out of 9 and we grew up having not a lot of money so I would cut my own hair as well as the hair of friends and family. I never looked at Barbering as a job but more like something that came to me out of necessity. One day I needed a haircut and my clippers were broken so I decided to go into a local barbershop. When I told the Barber that I cut my own hair, he offered me a job. I went back a few days later and started cutting hair. Young kids started coming in, asking for small designs and it came easy to me. One day, I decided to challenge myself and do something that I had never seen before: a hair portrait. My favourite rapper is Tupac and so I did his portrait. Now I make Artout of anything.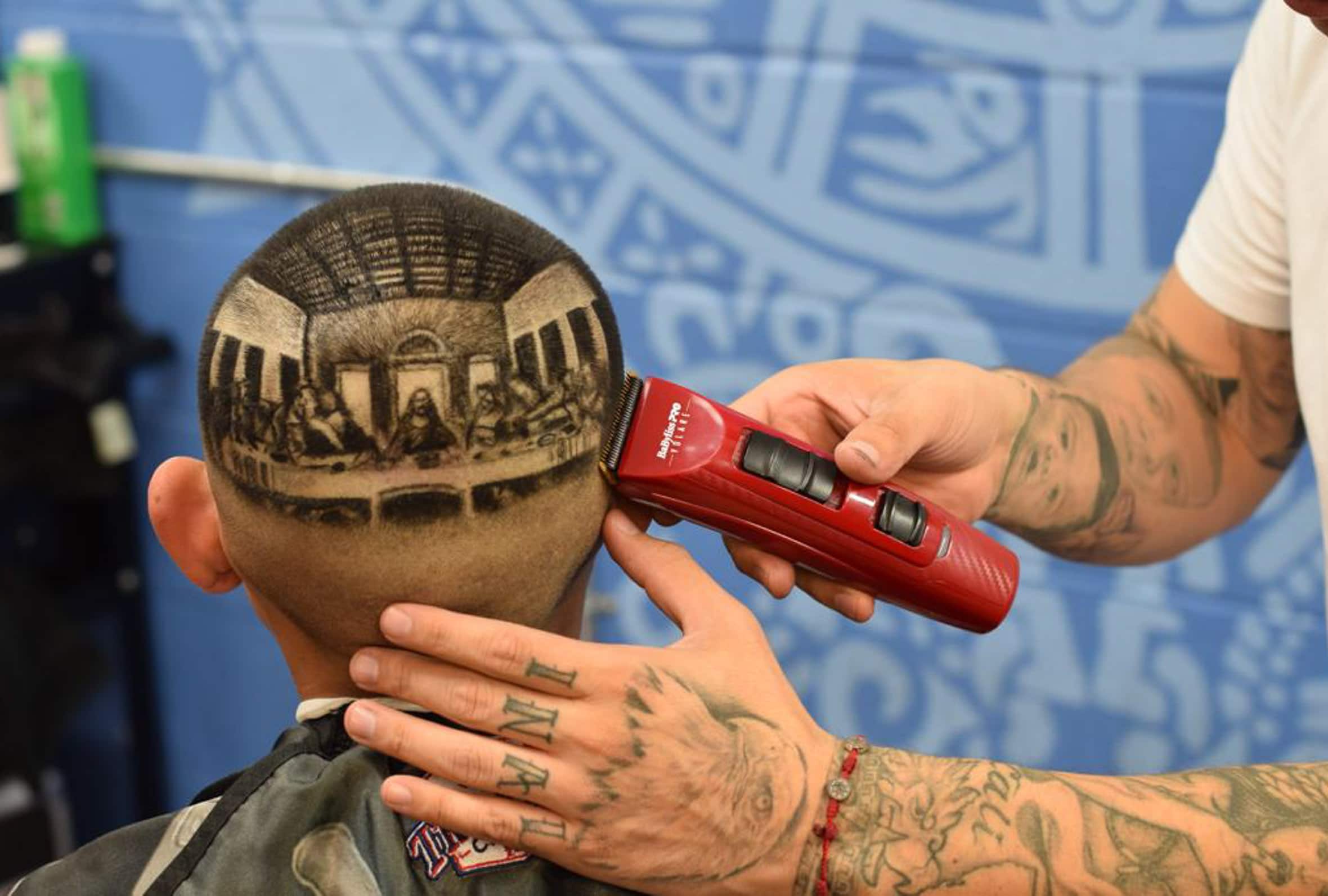 ANTHROPOLOGY OF HAIR
ANTHROPOLOGY OF HAIR
ANTHROPOLOGY OF HAIR
ANTHROPOLOGY OF HAIR
ANTHROPOLOGY OF HAIR
Sours: https://www.infringe.com/rob-the-original/
San Antonio's Rob The Original wins 'Barber of the Year' at star-studded American Influencer Awards
On Monday night, San Antonio's Rob "The Original" Ferrel accepted his award for "Barber of the Year" at Los Angeles' Dolby Theater before a crowd of celebrities like Kim Kardashian and industry big names including Jaclyn Hill, Winnie Harlow and Nikita Dragun at the American Influencer Awards.
The artist and barber told mySA.com the win is "another huge accomplishment for a Mexican that started cutting hair on the South Side of San Antonio."
The American Influencer Awards honor the most-notable contributors and talent in beauty across social media. The categories include celebrity hairstylists, makeup artists and nail artists. During his acceptance speech, Ferrel said he's a lifelong artist who started cutting hair as a necessity, growing up as one of nine children. His two talents combined to become a hobby and now a growing business which includes a heavyweight social media presence, star clientele and a shop at PicaPica Plaza, off Southeast Military Drive on the South Side.
READ ALSO:Work by a San Antonio artist to be featured in upcoming Netflix Selena series
The barber has created see-to-believe masterpieces depicting everything and everyone from members of the Spurs to 3D games of chess — all on heads of hair. But hair isn't his only medium, Ferrel can also make art pretty much out of anything he can get his hands on. He was recently tapped by the Spurs and H-E-B to create portraits of retired players out of cheese.
Ferrel's category included six other barbers from around the country. Nominees are selected based on public input, an advisory board, the creative content produced and engagement it garners, growth rate and "more importantly, the ability to positively influence," according to the American Influencer Awards website. Online votes coupled with the advisory board determines the winner.
"I hope you guys understand that if you really want something and you put your mind to it, you can achieve! Hard Work pays off, believe it," Ferrel told his more than 1 million Instagram followers in announcing his win.
Ferrel also recently launched his own limited edition clipper with BaByliss. The white clipper with gold accents is part of the company's "Limited Edition Influencer Collection."
Though Ferrel spends most of his time traveling for bookings, demonstrations and events, he says he's still living in San Antonio and running his South Side business.
Madalyn Mendoza is a breaking news reporter and general assignment writer. Read her on our breaking news site, mySA.com, and on our subscriber site, ExpressNews.com | [email protected] | @MaddySkye
Sours: https://www.expressnews.com/entertainment/arts-culture/article/San-Antonio-s-Rob-The-Original-wins-Barber-of-14850207.php
Rob the Original's disabled teen brother attacked, robbed in San Antonio crime spree
SAN ANTONIO — Famed San Antonio barber Rob "The Original" Ferrel said his 17-year-old brother, who is physically disabled, was assaulted and robbed Monday night at the intersection of Fredericksburg Road and Woodlawn Avenue.
Rob Ferrel, known for his creative, life-like hair designs, told mySA.com Tuesday his teen brother Antonio Ferrel was attacked, robbed, had his car stolen and left injured on the side of the road after he was set up by a teen girl he met on Facebook. His car was reportedly then used in another robbery and the teenage girl was arrested, according to police.
Antonio, who attends Stevens High School, was born with a radial club hand that limits movement and causes him to shy away from social interaction sometimes, Rob said. The barber said his brother's shyness was taken advantage of by a 16-year-old female he recently met on Facebook and had met at least once on Sunday.
RELATED: Alamo Heights student was a victim of bullying before committing suicide, family says
On Monday, the teenage girl was "persistent" about getting a ride in Antonio's 2005 Dodge Magnum. According to preliminary details from the San Antonio Police Department, the girl had asked Antonio Ferrel to pick her up so they could "cruise around town," and pick up her friends.
After initially refusing, Antonio gave in, picked up the girl and proceeded to pick up at least two male friends, who were also teenagers, according to SAPD.
Once the group was in the vehicle, Antonio Ferrel was allegedly forced to pull over so one of the males could drive. When he stepped out of the driver's seat, one of the suspects punched him in the face causing a laceration, according to police.
Rob Ferrel said his brother, who was at a physical disadvantage because of his disability, was kicked and punched, leaving him badly wounded on the road. A passerby found the beaten teen and helped him call his family. He was transported to University Hospital, the report said.
RELATED: North Texas man stole woman's belongings after she rolled her car, according to viral Facebook post
Later, a 21-year-old woman alerted police that she had been robbed by individuals matching the description of those involved in Antonio Ferrel's incident, according to SAPD.
A car matching Antonio Ferrel's Dodge Magnum was involved in the second robbery, according to police. Officers located the teen's car and found the 16-year-old female who had met Antonio on Facebook driving it.
She was arrested and booked for aggravated robbery as well as evading arrest/detention in a vehicle, SAPD said. Because she is a minor, police refused to provide the suspect's name.
Rob Ferrel said his brother was released from the hospital Tuesday morning after receiving treatment for a large gash on the side of his face. He said his hands are still hurting from Monday night's incident but he is staying positive.
The local hair artist has received national attention for his striking designs of Spurs and other celebrities in everything from hair, to salt, to ketchup. E Online
Sours: https://www.mysanantonio.com/news/local/article/Rob-the-Original-s-disabled-teen-brother-6753423.php
3D Hair Portrait Hairstyles - Cut By Rob The Original - San Antonio Barber
Review Rob The Original San Antonio Tx United States in Bexar
';

1 Votes

1 Votes
Rob The Original San Antonio Tx United States in Bexar910 SE Military DrBexar,Texas,United-states - 78214[email protected]
Keywords List : Barber shop in united states , Barber shop in texas , Barber shop in bexar , Barber shop in 78214 , Hair salon in united states , Hair salon in texas , Hair salon in bexar , Arts entertainment in united states , Arts entertainment in texas , Arts entertainment in bexar , Arts entertainment in 78214 , Original the , Rob original , San antonio tx , San the , The united states , Antonio san , Original san , Rob the original , San united the , San antonio original , Rob united , The original san , San antonio tx united states , Rob the original horse , Rob the original barber , Rob the original haircut , Rob the original trimmer , Rob the original babyliss , Rob the original clippers , Rob the original instagram , Rob the original net worth , Rob the original barber shop , Rob the original barber prices , Antonio tx , United states , The original ,
Frequently Asked Questions About This Location Qus: 1).what is the mode of payment accepted ? Ans: Cash , Credit Card and Wallets Qus: 2).What are the hours of operation ? Ans: Open all days from 9:30 to 8:30 and exceptions on Sundays Qus: 3).Do they have online website? Ans: Yes . They do have. Online website is - http://www.robtheoriginal.com/ Qus: 4).What is the Latitude & Longtitude Of the location? Ans: Latitude of the location is 29.3547592 Longtitude of the location is - -98.4847412 Qus: 5).What is the phone number Of the location? Ans: Phone number of the location is - (210) 744-5327
Sours: https://vimarsana.com/review/rob-the-original-san-antonio-tx-united-states-bexar-texas
Haircut price rob the original
Taking 200 or more flights per year and booking $500 haircut appointments isn't a common lifestyle for your typical barber from around the way. However, it's become routine for Rob The Original, a San Antonio-based barber who renders the likenesses of rap superstars into three-dimensional haircut portraits—and goes viral while doing it.
Born Rob Ferrel, the 33-year-old hairstylist most recently caught the internet's attention by shaving an image of J. Cole into the hair of one of his customers. With a near-exact replica of Cole's vaguely crooked smile, dreads and all—it's a piece that helps solidify the artistic barber's spot as an innovator.
"There's plenty of portrait artists, and now it was time to set that bar to another level, so that's when I started doing the 3-D," Rob tells XXL while phoning in from Chicago. "That was my, 'Hey, Rob's still here' [moment]."
While the 3-D portraits have earned him a lot of attention, Rob's been on for a while now. Since becoming a barber 13 years ago, he's become a social media influencer who spends more time at exhibitions than inside of an actual barbershop. With more than 800,000 followers on Instagram, an inventive mind and enough skill to elevate fresh cuts into a viral artform, Rob is set to continue making waves.
XXL spoke with Rob The Original about the process of creating his impeccable art pieces, paying homage to Nipsey Hussle via hair, responses from rappers and how you can get your favorite rapper etched into your own scalp.
XXL: How did you get started as a barber?
Rob The Original: It kinda came out on its own. I wasn't looking to be a barber. I grew up in a big family; I'm the fifth child out of nine. I grew up in Southern California from a Mexican family. We didn't have a lot of [money]. My dad was the only person really bringing in income. When I was 16, I started cutting my own hair because I wanted to look fresh for school. Once I picked up the skill, it was more like a hobby. I never really saw it as, "Ohh, I can make money off this" at all.
Later on, I was 20 and already living in San Antonio. I walked into a barbershop and I happened to be talking to a barber and telling them that I normally cut my own hair. He offered me a job. I was like, "Hell yeah." I have a background as an artist. Shortly after I started barbering in the shop, I started doing the designs on hair. I happened to be a natural and people loved it. Next thing you know, I was super busy. I was like, "Man, I'm gonna go to school for this." I went to school and got legit. I've been barbering ever since. With YouTube and all of that, I posted my stuff and started going viral.
You do a lot of art outside your haircuts. When did you become an artist? Between cutting hair and creating artwork, which came first? 
I've been drawing all my life. I'm self-taught, I've never been to art school or anything like that. Once I was getting a pretty strong following, I was like, "Well, why not show people that I also draw?" And I started doing art with other things. I started using sauce, dirty windows, cars. I started using food like tortillas and sauces, avocados, ketchup. I do portraits out of all that stuff. I also use a lot of objects, like clothing, gunpowder, wood stains. My concept is basically doing art out of anything you can think of that is rare. Because I can sit here and do a mural on a wall that's gonna take me weeks to do with paint and it's not going to get the same exposure as if I do art with ketchup on a table that's gonna take me only an hour to do. So I look for content that I can create that's gonna catch people's attention.
When did you first start doing rapper portraits?
I've been doing portraits since 2008. My very first portrait was of Tupac. I was very competitive, and I felt like a lot of people were doing some of the same artwork that I was doing. I wanted to do something like, "They're not gonna be able to top this one." So I did a portrait, and that's how that really started. Over the years, more portrait artists started coming out. It was time to set that bar to another level, so that's when I started doing the 3-D. That was my, "Hey, Rob's still here," you know? [Laughs].
You've done a lot of portraits at this point. Do you have a favorite?
The J. Cole one was pretty cool. Trippie Redd as well. I don't really favor too much of my artwork. If we're not talking about rappers, I did The Last Supper for someone's haircut. That's the one that's gotten the most clout. The J. Cole one was definitely one that I liked a lot. That kid was super stoked. He was happy. Another one that I did in New York recently was Jay-Z. That one was pretty cool because I actually did a bunch of little tiny dreads like his hairstyle.
Have any rappers given you feedback on the portraits?
Snoop [Dogg] has contacted me; they're like, "Hey, wanna do something?" But our schedules haven't matched, and I haven't been to California in a while. Same with Chris Brown and his team. They also wanted to do something. I think it's 'cause Chris Brown does art. I did a FaceTime with DJ Khaled, 'cause I know his barber, too.
How much does a cut from you go for these days?
Whenever I get hired to teach or anything like that—which is most of the time—I charge $3,500. If I do it for someone that flies in and wants to get it, I'll charge like $500 for a portrait. It takes two hours to do. Two or three hours.
Describe the process of designing a rapper's image into someone's hair?
Normally I shave the hair down to level one, one-and-a-half. I feel like you kinda have to be an artist to understand what I'm saying, but it's basically free-handing, you know? Just, starting with a certain area of the portrait. It could be the eyes, the mouth. I don't have any specific area where I start. I kinda just start wherever I feel like it. Once I start carving it, I'm basically holding my phone the whole time and looking at the image while I'm carving into the hair. Lately what I started doing is doing 3-D's—I add extension hair. For example, for the beard on Nipsey [Hussle], I balled it up and kinda knotted it a little bit, so it could be a little curly. It's basically like little sponge balls, but out of hair. I glued them onto his beard. Then I did a couple braids. I glued those with hair glue extensions. Glued them on his hair so it looked like real braids. After I cut the haircut, I touch up certain areas that need to be darkened with eyeliner pencil. Just like women fill in their eyebrows—there's hair there, but they're just filling it in. There's hair on the portrait, but I'm just darkening it so it looks realistic, more like a photo. That's my process.
And you did the Nipsey portrait after his death?
Yeah. I'm a big Nipsey fan. I feel like he was a little more underground because he was a 'hood rapper. I say underground because I feel like a lot of people didn't know who Nipsey was until now. There's a big buzz about him. When he passed I was like, "Oh hell nah, I gotta do a tribute." Because I was there already doing an event. I had to do portraits to do demos on these shows. I was like, "Man, I'ma get this done."
When Nipsey passed away I made a post on my page about him. A lot of people were commenting, "You gotta make a Nipsey portrait." I was already planning it, but people were requesting me to do a Nipsey portrait. The person that got it, she was working at the event. She was a little iffy at first, but I was like, "Come on, this is Nipsey. You not gonna let me put Nipsey on your hair?" When she got it, she was really happy with it. Everybody loved it. She was getting crowds around her, people taking pictures and stuff. It meant a lot to me, too. I was feeling hella inspired. It was a portrait that I wanted to really do. I was jamming out to Nipsey music the whole time.
See 65 Hip-Hop Albums Turning 20 in 2019
Sours: https://www.xxlmag.com/rob-the-original-haircuts-viral-portraits-favorite-rappers-interview/
Rob The Original Trims Queen Latifah
.
You will also like:
.
829
830
831
832
833