44 best free handwriting fonts to download right now
The best free handwriting fonts add a personal, authentic touch to your projects. Handwriting fonts are similar to cursive fonts, but with fewer constraints. You'll find a plethora of different styles and a range of executions, from delicate and swirly to blocky and bold, clean and simple, and everything in-between.
To save you time and effort, we've found the best free handwriting fonts you can download right now. That's right – you don't have to spend a single cent on any of these fantastic fonts. However, do make sure you check the terms carefully before downloading and using the fonts as you may need to request permission or make a donation for commercial use.
Want something a little different? Check out this selection of free script fonts, our favourite free brush fonts, and top free script fonts. If you really want to make your designs stand out, take a look at our top picks for fun fonts, the best Old English fonts, or dive into our comprehensive rundown of free fonts in all styles.
And once you've downloaded your font, see our post on how to add fonts in Photoshop if you're not sure of the next step.
The best free handwriting fonts
01. Art Typo
We'll kick off our list of best free handwriting fonts with a natural-looking, meandering script that will add lots of character to your designs. Like authentic handwriting, it's uneven and slightly jagged – and that's exactly why we find it charming. It's free for commercial and personal use.
02. Autography
This is a super-smooth font, in an upright signature style, with an ink effect straight out of an expensive fountain pen. It's free for personal use, but make sure you contact the creator for commercial projects.
03. Dancing Script
This is a super-lively yet beautiful font that is completely free to use commercially or personally. With letters that change size slightly, and caps that go below the baseline, this font is informal and friendly.
04. Wild Youth
Created by veteran font-maker Jeremy Vassey, Wild Youth is both beautiful and adventurous, with a rugged quality sitting alongside its elegant curls. It's a hand drawn brush font that we think is a perfect choice for quotes. It's free for personal and commercial use.
05. Brown Bag Lunch
Brown Bag Lunch is inspired by author Kevin Richey's mum. She used to write his name on his lunch bag everyday, and the font he has created has the feel of a hastily written note. The texture is like a marker pen and the slanted quality feels like a personal touch. It's free for personal and commercial use.
06. Shopping Script
If you're after a flowing handwritten font with its own signature style (no pun intended), Shopping Script could be the way to go. Created by Hungarian designer Roland Hüse, this handwritten font set covers your basic characters and numbers (A-Z, 0-9, both upper and lower case). Download the free demo version now for personal use. A full version can be found on Hüse's online store.
07. Timothy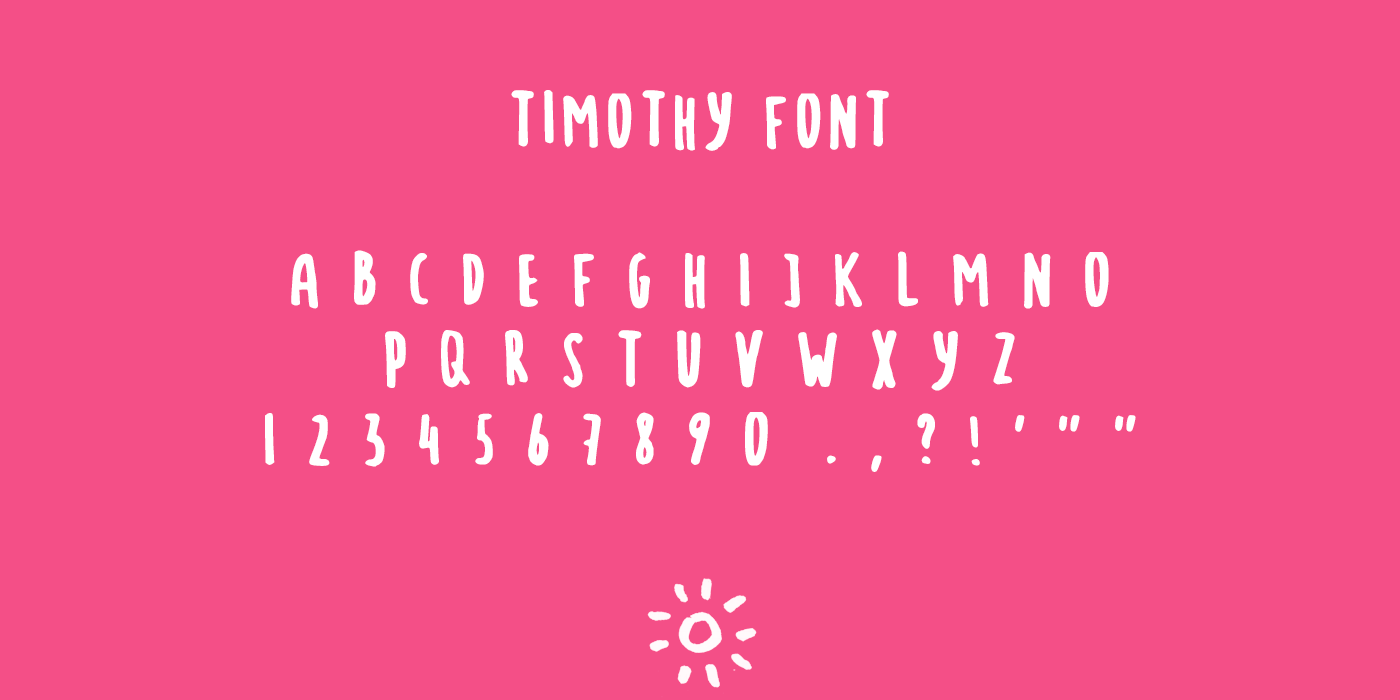 Proving that handwriting fonts aren't all swirly and delicate, Timothy uses block capitals and a chunky marker thickness to add a hand-written touch. Made by Ksenya Zoltsman, Timothy was inspired by designer Timothy Goodman. This font is free for personal and commercial use; we think it would be great for fun invitations.
08. Something Wild
Add an authentic feel to your designs with this gorgeous handwritten type design Something Wild. Available over on Pixelbuddha, Something Wild is free for personal or commercial use and will add a touch of personality to your designs, making it perfect for poster and flyer designs.
09. Stay Classy
This well-named free handwriting font is one of the classiest out there. Delicate and interesting without being fussy, make your designs ooze chic by using this for headers and short pieces of text paired with simple, tasteful backgrounds. It's free for personal or commercial use.
10. No Time
Graphic designer Paula Painceiras Martínez is the master behind this quirky, tongue-in-cheek handwriting font, No Time. On her Behance page she states: "Expressive, aggressive and different. This font was created by the handwriting of a stressed designer." It's a totally free license, with a request from the creator to accredit her name or link her profile. (Painceiras says she loves to see projects using this font.)
11. Ambarella
Ambarella is a beautiful free typeface from Polem Studio. Free for both personal and commercial use, the design includes various swashes, alternates and Western European characters.
12. Kristi
Designed by Birgit Pulk, Kristi is an elegant and quirky free handwriting font with flowing ligatures that remind us of fountain pen writing. The capital letter glyphs would work particularly well in headers.
13. Marrisa
Imperfections are beautiful, aren't they? Marrisa reminds us of enthusiastic hand-written notes we've received from relatives; all swooping ascenders and unpredictably sized ligatures. It's full of heart, and embraces its relaxed vibe and carefully curated 'flaws'. It's free for personal use only, but commercial licenses are available.
14. Over the Rainbow
"This font always makes me smile," says the designer of this sweetly named font, Kimberly Geswein. "Something about the style of the handwriting just makes me feel happy. It is slightly connected but not a true script by any means and will lend an upbeat feel to any project you use it on."
15. Stay Writer
Charming handwriting font Stay Writer is free for commercial and personal use. "A hand-drawn display font, every single letter has been carefully crafted to make your text look beautiful," the makers comment on Behance.
16. Fair Prosper
Another free handwriting font packed with personality, Fair Prosper is a marker pen font designed by Khurasan. Available free for personal and commercial use, this font set includes upper and lower case letters, numbers and symbols. It would look awesome on branding and designs that rock (and roll).
17. Claire Hand
The team at Australian-based design agency Team Scope are behind handwriting font Claire Hand. Available over on Behance, the team describe the design as: "fun, bold and friendly, and its handwritten style represents our commitment to creative spontaneity (you know how the best ideas get scribbled down on a napkin?). Because we're serious design tragics, we even created each letter in two different weights so it's even more individual."
It's free for personal use, and there's a small fee if you want to use it commercially.
18. Mightype
Free for both personal and commercial use, Mightype was created by designers Mats-Peter Forss and Adam Fathony. A hand-lettered script font, Mightype is great for packaging designs, branding and much more.
19. Reis
This handwritten design Reis was created by art director Marcelo Reis Melo. Great for posters, logos and much more, Reis is available free for personal and commercial use, with donations to the creator (as always) appreciated.
20. Bellaboo
In need of an authentic handwritten font for your latest project? Bellaboo, another design by art director Marcelo Reis Melo, may be just what you're looking for. A bold design, this free handwriting font is great for creating eye-catching headlines, posters and more. It even supports Spanish, German and Swedish characters.
21. Ludicrous
A free handwriting font from Missy Meyer, Ludicrous is great for giving your projects an authentic handmade feel. "With every font, I learn something new," she comments on Behance. "This time around, I did my first ligatures, and included the 15 lowercase letter pairs I thought were most common." It's free for personal use and includes one-user desktop commercial license.
22. Tragic Marker
As we've seen, Missy Meyer is a runaway talent when it comes to creating free handwriting fonts. With Tragic Marker she has created a satisfyingly chunky font that looks like it's been scribbled with a Sharpie. And most impressively of all, it was created in just one day while she learned more aspects of type creation.
23. Skinny
An oldie but a goodie, this handwriting font is, by far, the most popular of the type designs offered online by the artist known as notfon1234. The last update to the design saw a clean up to the spacing and characters, and the font is now completely free for commercial use.
24. Gunny Rewritten
Based on his older font Gunny Handwriting, type designer Vit Condak released this new free handwriting font Gunny Rewritten. Wanting a tidier version of his original (based on his natural handwriting style), Condak completely remade the design and now offers it as a free download for all to enjoy.
25. Halo Handletter
This elegant handwriting font was developed by graphic designer Mario Arturo. One of over 20 fonts created by Arturo, who specialises in fancy and script designs, Halo Handletter is perfect example of the latter. It's free for non-commercial use only; you'll have to pay to use it commercially.
26. Whatever It Takes
The Whatever It Takes free handwriting font harks back to our school exercise books. It's free for personal and non-profit use. However, its creator, designer Brittney Murphy does ask for a $8 donation for commercial use, which we think is still a bargain. There's a bold version, too.
27. L'Engineer
One of our favourite free handwriting fonts, this design by Ferdie Balderas comes in regular and italic as well as capital and lower-case letters. He's even made it supportive of a number of different languages including French, Spanish and Polish.
28. Calligraffiti
Spanning both the genres of handwriting fonts and calligraphy fonts, Calligraffiti is an elegant and simple free single-weight font with 228 glyphs, designed by Open Window.
Next page: more wonderful free handwriting fonts
Current page: Best free handwriting fonts 01-28
Next PageBest free handwriting fonts 29-44
Alison is a freelance writer and editor from Philadelphia, USA. She's been sharing buying advice and retail news for over a decade. When she isn't hunting for deals, Alison can be found teaching/training in martial arts, fawning over skincare, and indulging in her quarantine-borne hobby: cooking.

Sours: https://www.creativebloq.com/typography/best-handwriting-fonts-12121527
10 Creative Font Ideas for Your Business Logo
With the right typeface, words can tell a visual story beyond their literal meaning. While it's common for big brands to use a custom design, anyone can stand out by making a text-based business logo with the many free and low-cost fonts available today. From line weight to letter width, the flair you add to a wordmark differentiates your brand.
Do you think of fun and imagination the moment you see the custom-drawn Disney wordmark? Picture how Spencerian script captures the classic and festive spirit of Coca-Cola. What gives the Forbes wordmark its commanding, authoritative air?
Ready to make your mark in the industry? Get started on a winning design with these creative font ideas for text-based business logos.
First Things First: What Is a Font?
A font is a stylistic subset based on the treatment of a typeface. A set of letters with the same stylistic design is known as a typeface or font family. For example, you can change the size or width, create thin or bold lines, or slant the letters.
Common typeface categories
Serif
Serif typefaces have decorative structures, known as serifs, at the ends of letter strokes. Serifs give the type a more structural and formal look.
Examples: Garamond, Palatino, Bodoni.
Slab Serifs
Slab serifs have thicker and more pronounced serifs. The blunt serifs can create a sense of visual continuity because they line up horizontally.
Examples: Rockwell, Clarendon, Courier.
San Serifs
Sans serifs have no structural flourishes, resulting in simple, clean strokes. Many sans serifs have a minimalist look that is seen as forward-looking and contemporary.
Examples: Arial, Helvetica, Roboto.
Scripts
Scripts are naturalistic typefaces based on the fluid lines of real handwriting. They can be as decorative as calligraphy or freestyle, much like your unique handwriting.
Examples: Freebooter, Brush Script, Scriptina.
10 Logo Font Ideas to Distinguish Your Brand
1. Seaweed Script
Seaweed script is a great option if you love the hand-drawn trend. The slightly roughened strokes add a fun, crafty vibe to an otherwise fluid design. The handmade finish tones down the ornateness, making it perfect for craft, casual clothing, and restaurant logos.
2. Posterama
The Posterama typeface is a space-themed sans serif inspired by Art Deco and Art Nouveau. The family has 63 fonts with unique characters, such as concentric capital Os and Qs.
The type's diverse inspiration makes it work well art and folk applications, in addition to space and tech. Many variations have a hieroglyphic feel that can make in impact in a subtle wordmark logo.
3. Comfortaa
If you enjoy the sleek simplicity of geometric typefaces, Comfortaa is a good choice. The open, ultra-round letters have a friendly, modern look that works for almost any industry. Try using all lowercase letters to keep it youthful and contemporary.
4. Emily's Candy
Do you live to bring out the child in everyone? Emily's Candy is a playful font with curly serifs and hearts over the lowercase Is and Js. The look is sweet, feminine, and childlike. Try it out if you primarily sell snacks or women and children's products, such as ice cream, toys, or spa and salon services.
5. Kelly Slab
Kelly slab is a square slab serif with uniquely angled strokes. The end result is a futuristic font that combines traditional and artistic elements. The serif and geometric styles keep it attractive and readable. Yet, it's commanding and modern enough to make a great tech or skilled trade logo.
6. Nougatine
Nougatine is an eye-catching display font with cropped letter details. The abstract shapes and clipped forms fit with today's cropping trends in graphic design. Surprisingly, it embodies modernity while having a heritage feel. Consider using it to update a brand with a long history in the community.
7. Lobster
Lobster gets your message across when you want to merge fun and traditionalism. The freestyle script is bold and optimistic, but it also embodies heritage and family.
8. Monoton
Not for shy brands, Monoton is a bold serif display font with a multi-line design. While the letter structure is simple, the negative space creates power and motion. Consider using Monoton if your logo only has a wordmark or a minimal logomark.
9. Righteous
Righteous is another space-themed typeface with Art Deco influence. Small details like the rotated lowercase Es and rounded Ws make it beautifully alien. At the same time, its modern elegance could work for a clothing or music brand.
10. Satisfy
Satisfy is a straightforward script with a fluid, sophisticated look. You can use it across a variety of industries to signify quality, sweetness, or of course, satisfaction.
6 Real-Life Font-Based Logos from Our Customers
More Tips for Creating a Text-Based Business Logo
While readability is important, you can be more flexible and artistic with font ideas for logos. Many wordmarks use fonts at a large scale or in all caps, which can boost clarity. You can also change the proportions of a font or alter a letter or two.
Decide which styles you like and keep exploring them to find unique combinations. The most important thing is to create a visual symbol your audience can easily recognize. As long as the font closely represents your brand, feel free to be as classic or creative as you want.
Still need help choosing typography? Try our logo maker to test different fonts.
Sours: https://www.freelogoservices.com/blog/2021/01/14/creative-font-ideas-for-logos/
If you're designing a logo and want to stand out, cursive fonts are a fantastic way to differentiate your brand. From ornate calligraphy to cute lil' wiggles, we've hand-picked 24 of the best cursive fonts to use in 2021, plus examples from famous brands, and tips on designing your own script logos.
Let's take a look!
What is a cursive or script font?
Cursive is a style of handwriting that dates back to the 16th Century, designed to make writing quicker by hand, and more pleasing to look at. In today's context, cursive or script fonts are basically fonts that look like they were hand-drawn.
Note: Generally, most fonts are designed by hand, but cursive fonts – whether they're handwriting style, calligraphic, or brush-based – actually still look like a human being wrote them out.
Here are a few famous examples to get you started.
Famous brands with cursive logos
In today's digital landscape, using a script font for your logo is a unique way to add some much-needed humanity and flair. It could be subtle, like a gentle handwritten style font, or more decorative. It totally depends on the statement you want to make!
How to use a cursive font
On the face of it, it might not seem like there are any strict rules on when to use a script font, but as the above examples show, they suit some industries better than others. You're more likely to find script fonts associated with the following business industries:
Food and drink
Hospitality
Health and wellness
Beauty
Tattoo & piercing
Retro brands (e.g. barbershops)
Trades and equipment (e.g. auto-repair shops, instruments, or removals companies)
If you're thinking of using a cursive font for your logo, there are a few things to keep in mind. Ultimately, it comes down to what you want to achieve with your visual identity—how you want it to look, and feel, and how you want your customers to respond to it. Here are a few do's and don'ts:
Do use script fonts to add character, emphasis, and visual appeal
Do use a script font in display text, like logos, headlines, billboards
Do use script fonts for easily legible, short words
Don't use script fonts in long-form text – it can be hard to read at length
Don't use script fonts to convey important guidelines, instructions, or lots of information
Don't use script fonts in small sizes
What are the best script fonts?
Now that you're a cursive genius, let's look at some of the most popular fonts for this year. We've grouped them loosely by style to help you out.
Retro cursive fonts
Retro fonts work well across a wide range of goods and services. They're versatile, visually stunning, and full of nostalgia – they're also some of the easiest script fonts for reading!
1. Broadley
A bold hand-drawn script with a touch of vintage, designed by Henry Juanda in 2021
2. Monarda
A funky, energetic retro script released in 2019, designed by Terrance Weinzierl for Monotype
3. Rampage Monoline
A beautiful vintage-era script by Hartawan Studio, created in 2019
4. Raksana
A plump and playful script font with retro Indonesian flair, released in 2021
5. Hope Sans
Designed by Charles Nix for Monotype, Hope Sans is a 60's esque, modernized serif with beautiful script alternates.
---
Hand-written cursive fonts
Hand-written fonts work well with health & wellness, and lifestyle brands. But there are exceptions! Take a look at this logo from Wilbury Stratton, an executive search and intelligence firm based in the UK:
Here are a few of our favorite hand-written fonts from the last year or two:
6. Krysttal Spears
A casual script font released in March 2021 by Maulana Creative
7. Aesthetic Notes
Another 2021 dynamic script, this time by Henry Juanda for Letterhend.

8. Tahu
Designer Rizal Khurasan's bold script font is one of the most popular from the last couple of years.
9. Billie Sight
Released in March 2021, Billie Sight is another casual script font, perfect for health and wellness style brands. 
10. Bilanthy
Another banger from Maulana Creative. Bilanthy is a curly, swirly script with beautifully sharp edges that give it an easy-going elegance.
11. Youth Line
A simple, clean, casual, hand-written script font by the foundry Sakha Design and released this year.
12. Palmer Lake
A fun and child-like handwriting script by designer Jen Wagner
13. With You
Gorgeously dynamic, with alternating baselines and sweeping terminals (the end bit of a letter), With You is one of our favorites for 2021.
---
Elegant cursive fonts
Elegant script fonts are what cursive is all about! Big swirly bits, huge visual appeal, and lots of variety. Use elegant fonts to make a statement, in logos, headlines, or other short pieces of text.
14. Diary Angelique
Soft, visually rich, and elegant. Released March 2021. 
15. Estampa
No fonts list is complete without something from the mighty Latinotype. Here's Estampa, a recent favorite.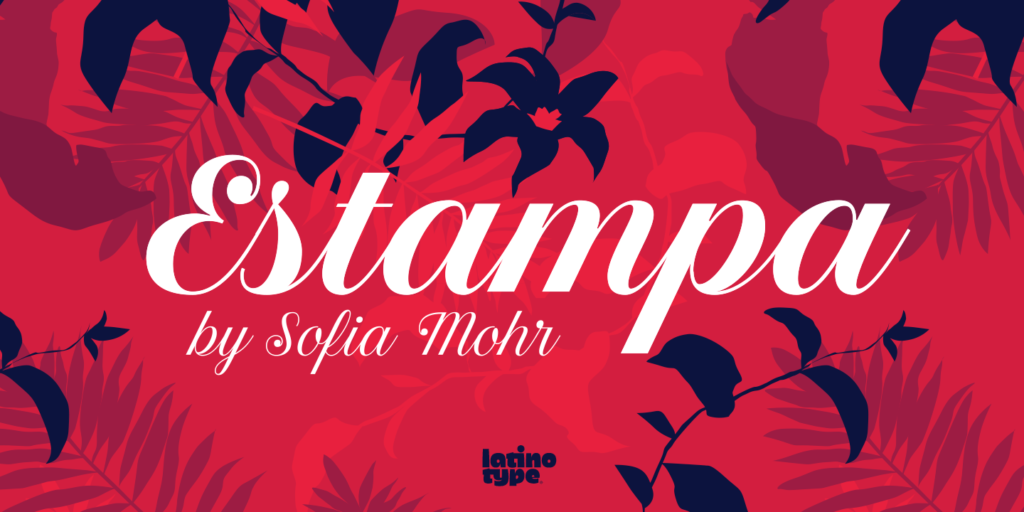 16. Stonington
A font that oozes wanderlust and adventure.
17. Buttermilk
As the name suggests, Buttermilk is a soft flowing cursive font that reads like a dream.
---
Brush cursive fonts
Brush scripts are dynamic and full of movement. At one end of the spectrum, you'll find grunge-style fonts that would be great for urban brands or streetwear. On the other, expect to see a lot of cute swirls and loopy bits.
18. Maghody
Hartawan's 2019 slapper, Maghody, is a raw brush font that reads like visual dynamite.
19. America
A modern brush font with a hint of classic Americana.
20. Challum
Maulana Creative has been on fire this year, with this excellent brush script, Challum.
21. Myteri Tattoo
Edgy, classic tattoo script, released early 2021 by Mans Greback.
22. Weathertop
Edgy, subtle, clean – Typotopia's addition to the best brush script fonts of 2021 is one of our absolute favorites. 
23. Guava Yogurt
A font flowing with yogurty deliciousness. Guava Yogurt would be ideal for restaurants, music festival flyers, or food-related products.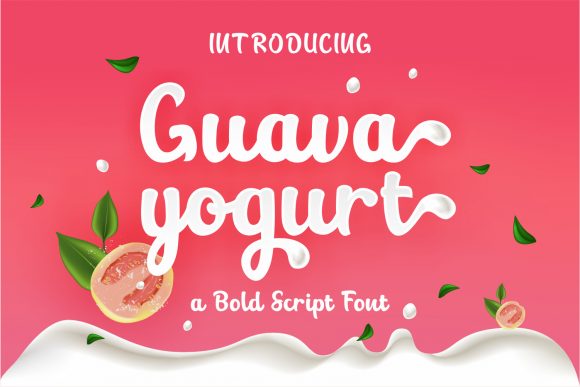 24. Little Bee
Finally, Little Bee is a brush-style font that adds just that bit of extra weight to the casual handwriting fonts we mentioned earlier.
How to make a cursive or script font logo
Now that you've got an idea of the diversity of script font styles out there, you can start thinking about creating your cursive logo.
Keep in mind that you don't have to use one style for a specific business category, although some cursive styles work better than others. Ultimately, ask yourself if your cursive logo suits the character of the brand you're trying to build.
Looka's logo maker offers a wide variety of cursive fonts to select from when building your logo. We'll give you a little taste with some examples of cursive logos made in Looka below.
Design a cursive logo for your brand in minutes!
Food and drinks
Food and drink is such a diverse business category because there are so many different products you can sell. As a result, almost any cursive style would fit.
Here, we've gone for a beautiful brush-style script font for a brewery (inspired by the Budweiser logo!) We've also added supporting text in a simple, unobtrusive sans-serif with some extra spacing between letters.
Takeaways:
Pairing fonts is a really cool way to tell a story and establish some authority. As a rule, combine cursive with low-visual information fonts, like sans-serifs.Looka's logo maker has a Suggested tab that offers hundreds of font pairings for you to explore.
If you do add a supporting font to your logo, make sure you get the positioning right. Look for natural areas of space, like just below the 'A' in this logo. This maintains the visual direction of the font without taking away from the appeal of the cursive lettering. (Hence the phrase, 'supporting' text.)
Clothing
Clothing is also a super diverse field, so many fonts would work. Here, we took inspiration from the Champion logo, going with a modern script font, a symbol, and bold contrasting colors.
Takeaways:
Use symbols when they complement the text, but don't make your symbol too busy. See how we've gone for a really minimalist one here? Let the script do the talking!
Color can be a great way to emphasize the mood and visual appeal of the cursive text. If you're using complementary colors, keep them in the same color register (don't use really vibrant colors against muted pastels. It looks weird!)
Retro
Retro or vintage logo styles are often used in a large subset of businesses, like tattoo parlors, barbershops, old-school garages, instruments, food-trucks…and so on.
Here, we were inspired by the Fender logo to create a powerful retro-feel name and logo that could work for multiple different businesses. What sort of product do you think it would go with?
Takeaways:
Keep it simple. You don't necessarily have to add supporting information to your logo to tell people what you do. Here, the visual appeal lies solely in the text itself. Cursive fonts are great for this. Use the natural visual power of the script to standalone, before you add any new elements.
Look at the silhouette of the script on its own. There is already so much visual information in a cursive logo that you don't need to go mental adding a bunch of containers, symbols, and extraneous details.
Health and Wellness
You could easily see this logo as part of a lifestyle brand, or a getaway retreat or spa. It has a human quality to it, but also vivaciousness and energy – perfect for a health and wellness company.
Takeaway:
Play around with capitals to get alternates on some of the brush and script fonts. Capitalizing letters in script fonts often display their alternate glyphs, and you can really start to add character (the S on this logo is actually capitalized, but adds to the 'wildness' of the script and the character of the logo overall.)
Don't curse, have fun with cursive!
Ultimately, cursive fonts are great for logos because they offer a different kind of visual appeal in today's digitally dominant, sans serif world. If you want to imbue your brand with style and character, a script font like one of the above is a great way to do it.
Just keep in mind the following core principles:
Script and cursive logos have a lot of information in them. Use short words and phrases, and make sure the lettering looks right
Start with black text and get a sense of your silhouette. Is your logo visually distinct, easy to read, and does it have a natural flow to it? This is what cursive fonts are all about
Let the raw visual energy of cursive speak for itself. If it needs supporting elements, add them sparingly, and only where they subtly complement your main logo text
Cursive fonts are all about expression. At the end of the day, you're trying to get the tone just right for your brand. Play around with different styles, and draw inspiration from brands you like. Beyond that, get as swirly as your heart desires. Good luck!
Oliver is a copywriter and brand strategist based in Fife, Scotland, currently studying an MSc in Psychology. Find him on IG @singen_______
Sours: https://looka.com/blog/best-cursive-fonts/
40+ HAND LETTERING IDEAS // Bullet Journal Fonts
Simple bullet journal fonts
Looking for bullet journal fonts to beautify your journal and improve your handwriting? Check out these amazing fonts for bullet journals that you can try today!
Although the original Bullet Journal system is intended to be quite a minimal and clean style, many bullet journalists – like myself – have found that they can use their journal also as a tool to spark creativity.
My bullet journal is definitely a mix of a planner system and a creative outlet at this point! And one area that I am working hard to improve is my handwriting and calligraphy skills.
So today I have created a post about journal handwriting fonts to give you some inspiration for journaling fonts you can try. If you love getting creative with your Bujo then you will love experimenting with bullet journaling fonts.
Not every font will be as easy to replicate. Make sure you take the time to practice your bullet journal handwriting. This is also the only way to improve cursive handwriting, so don't skip the practice.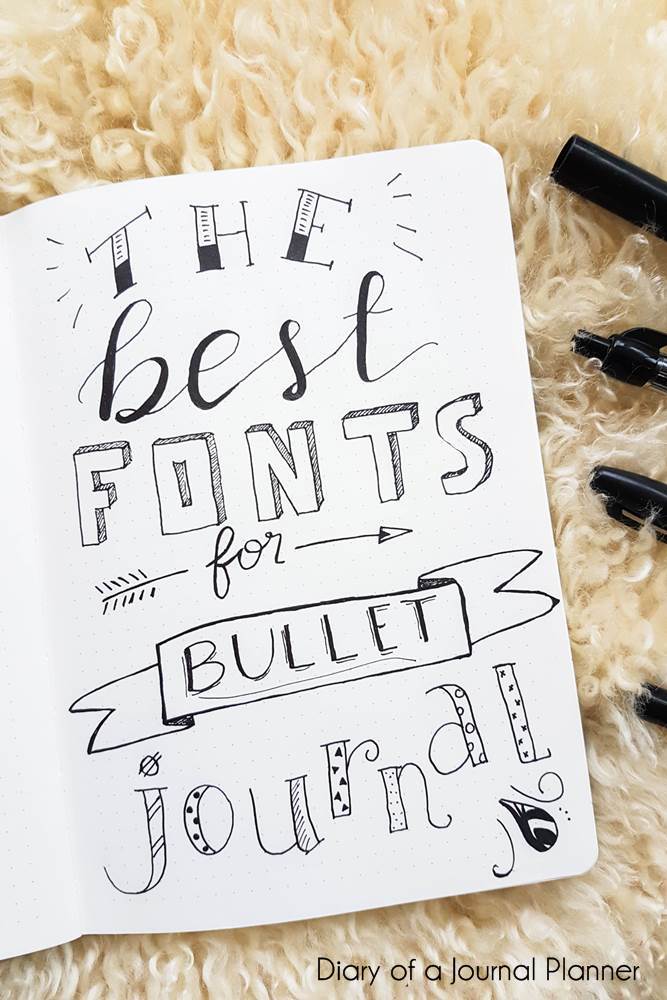 Bujo Fonts Supplies
On my journal I use a variety of pens and markers, but here are some of my favorites if you are a beginner. All of them will be perfect to use for one or more of the pretty font styles you will find below:
If you are interested in learning more about pens to use in your bullet journal, you can read my comprehensive article here!
How can I learn hand-lettering for bullet journaling
Before you try your hand at bujo calligraphy or bullet journal cursive here are some easy ways to help you improve your bujo handwriting:
Bullet Journal Handwriting Ideas:
If you hate making mistakes, why not leave blank pages in your Bujo just for handwriting practice. Or even have a special journal just for handwriting practice.
Try to use bullet journal cursive as often as you can, the more you use it the better you will become! You can use it for headings, days of the week, quotes, and special notes.
If you are really unsure about trying new bullet journal calligraphy fonts why not print them out first then trace over them, to begin with.
Use a pencil first then once you are happy with your attempt then try using a pen over the top.
Get good quality pens. It will make a big difference to your journaling font handwriting.
Be sure to use the dots in your bullet journal to help you keep your letter sizing even. The easiest way to make your handwriting look neat is to make it all a consistent size.
Watch videos on hand-lettering. There are some great videos on YouTube that will make sure you start your lettering in the right place and have the right flow.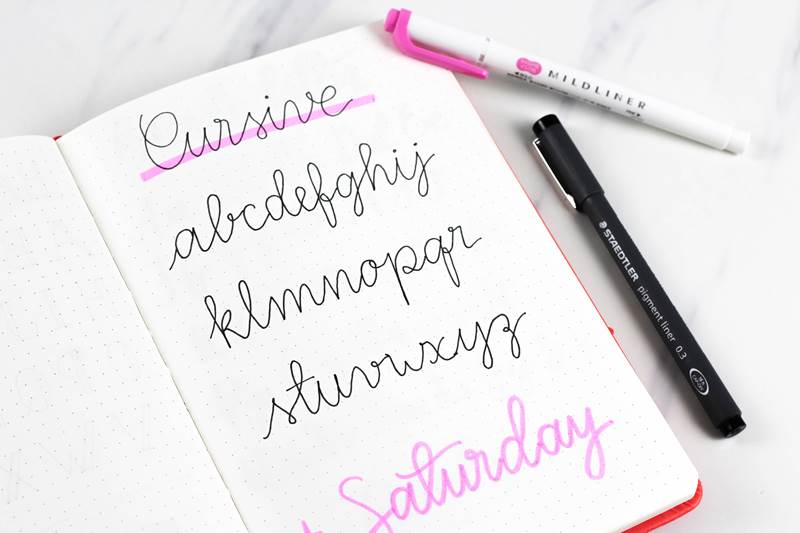 A cursive bullet journal handwriting font
Bullet Journal Font Ideas
Find out how to write bullet journal fonts below. I have made spreads with full alphabet and header ideas for how to use those fonts in your notebook.
I hope they give you plenty of inspiration to improve your regular journal font.
Straight line print bullet journal fonts
To those new to bullet journaling and handwriting, it is best to start with fonts that have a straight line.
Keep it simple and avoid complex designs altogether with these cool bullet journal fonts.
Once you have mastered these and improved your handwriting you can then experiment with other more challenging designs and bujo lettering.
Remember that the main goal of a bullet journal or planner is about functionality. The artistic side is a bonus that you can develop over time.
These straightforward fonts will give your bullet journal an extra level of embellishment while keeping things clean and neat, here are a few examples of print journaling handwriting.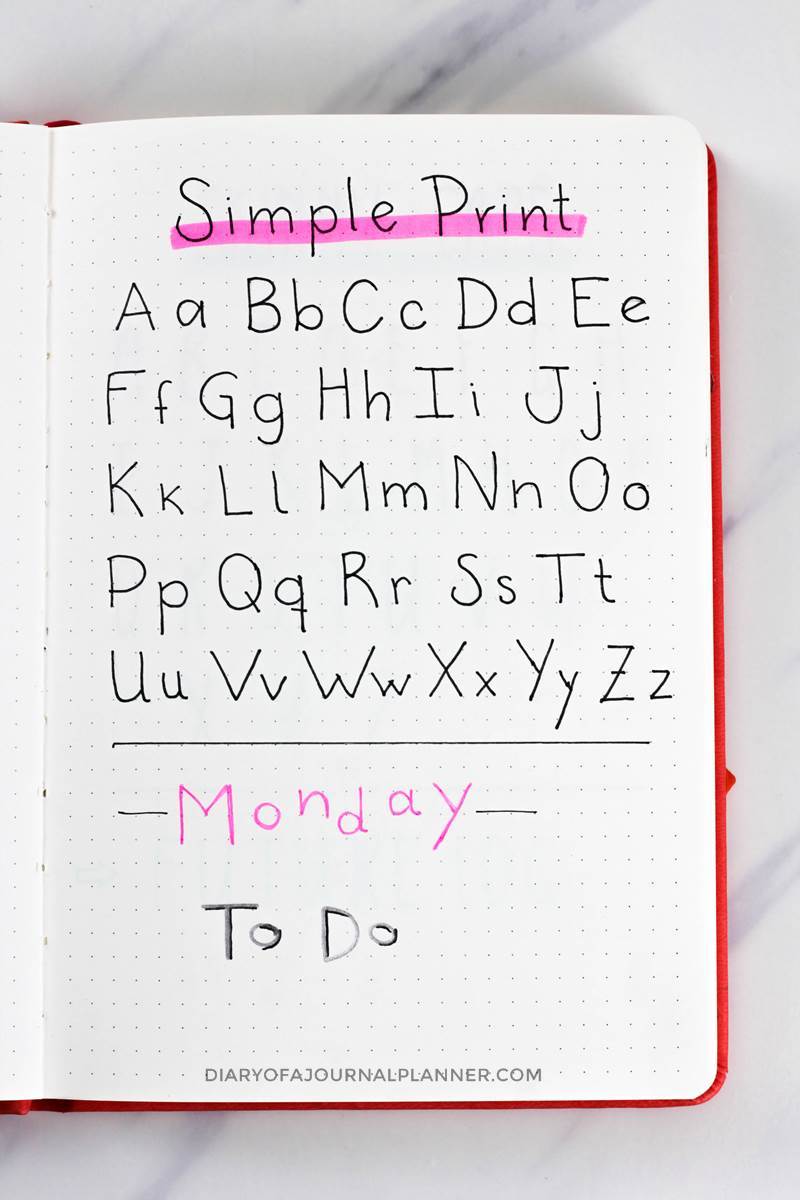 Print letters are easy fonts to write in your journal
No wonder kids learn how to write with print handwriting, because they are the easiest way to get the letters written in a uniform manner and readable when your handwriting is not well developed.
If you think they are too simple you can still add color or details around the letter to make your bullet journal visually appealing without spending a ton of time on it!
The Serif font is basically the simple print above with added serif. This is a great way to give a different look to your print handwriting.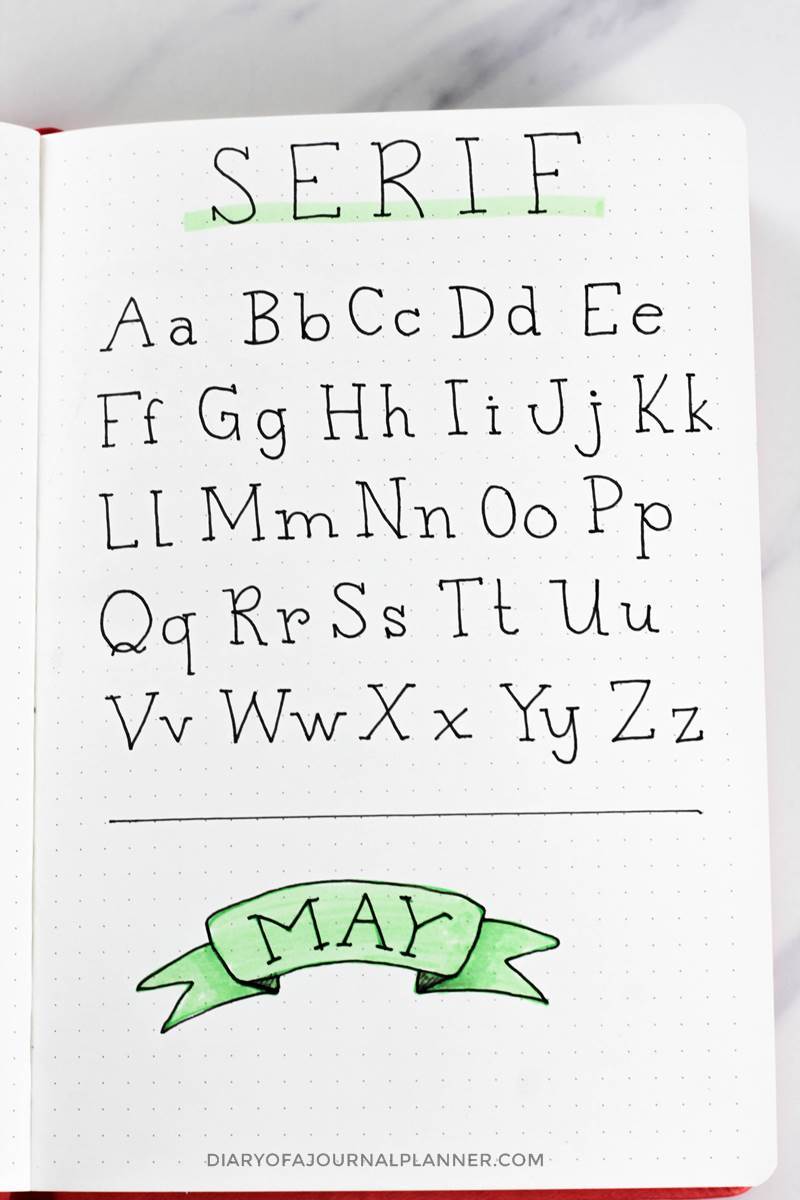 Add serif to the simple print font to give it another look!
Skinny uppercase is perfect for headers and banners inside your journal and also for making fun planner fonts. I like to use them for monthly titles or calendar headers. Add a little detail, a box, or a banner, and you are done!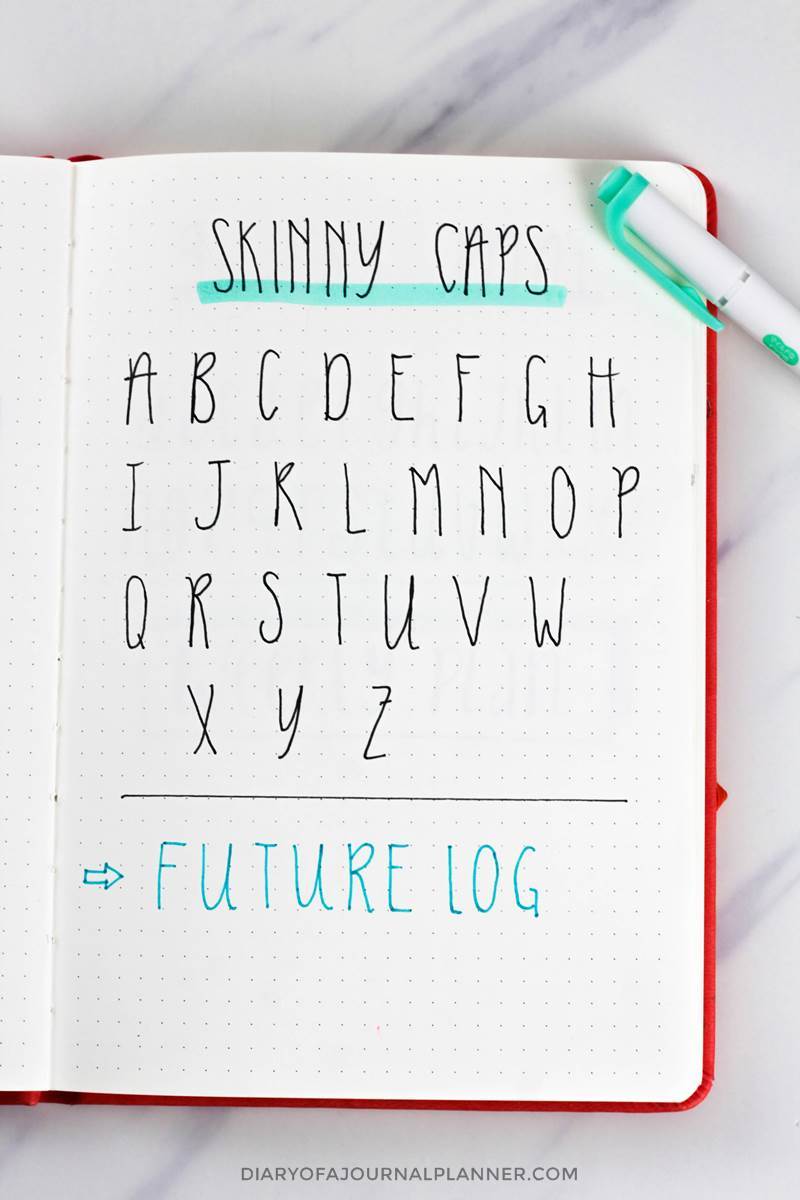 Skinny caps bullet journal lettering template.
This style is fun to use to give your journal some character. Basically, you write all letters with the same height, that is why I call it quirky.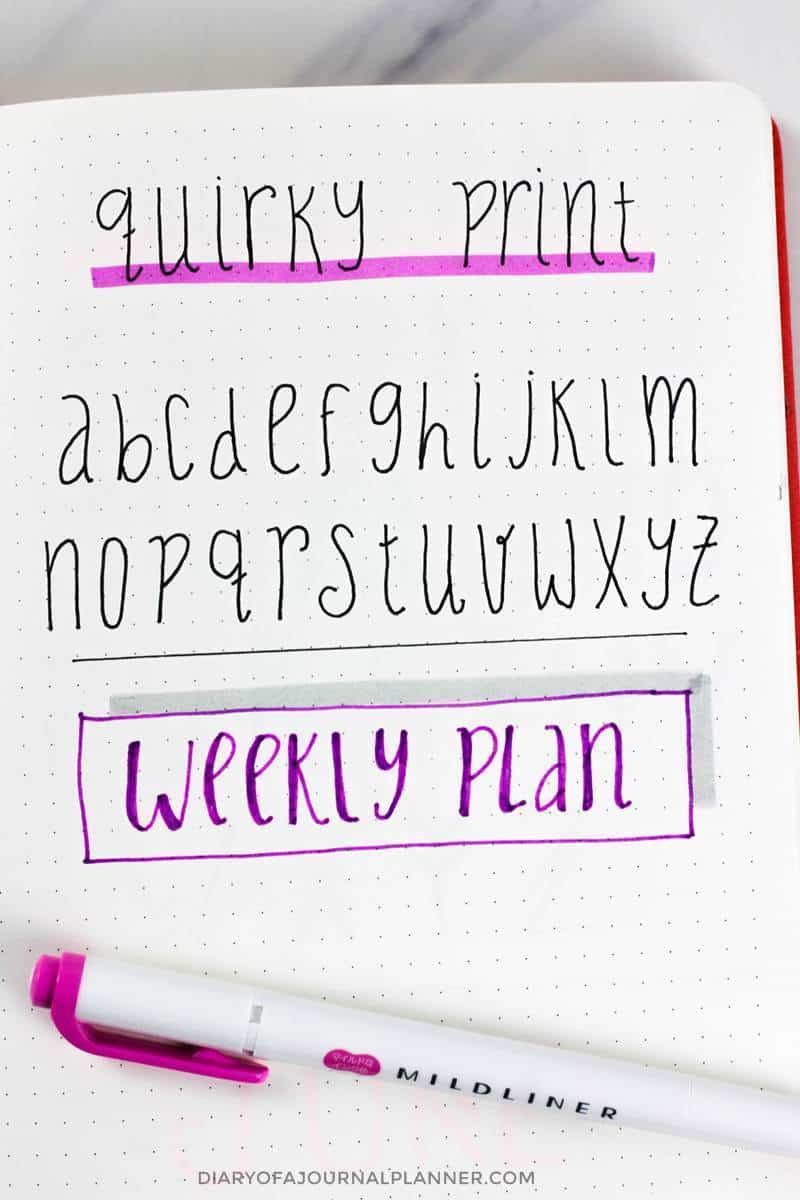 A fun bullet journal alphabet.
This one I actually found on pinterest but I could easily replicate it by hand by just following the straight lines and joining the dots on the paper.
Anyone can recreate this, and it's also perfect for banners and monthly spreads.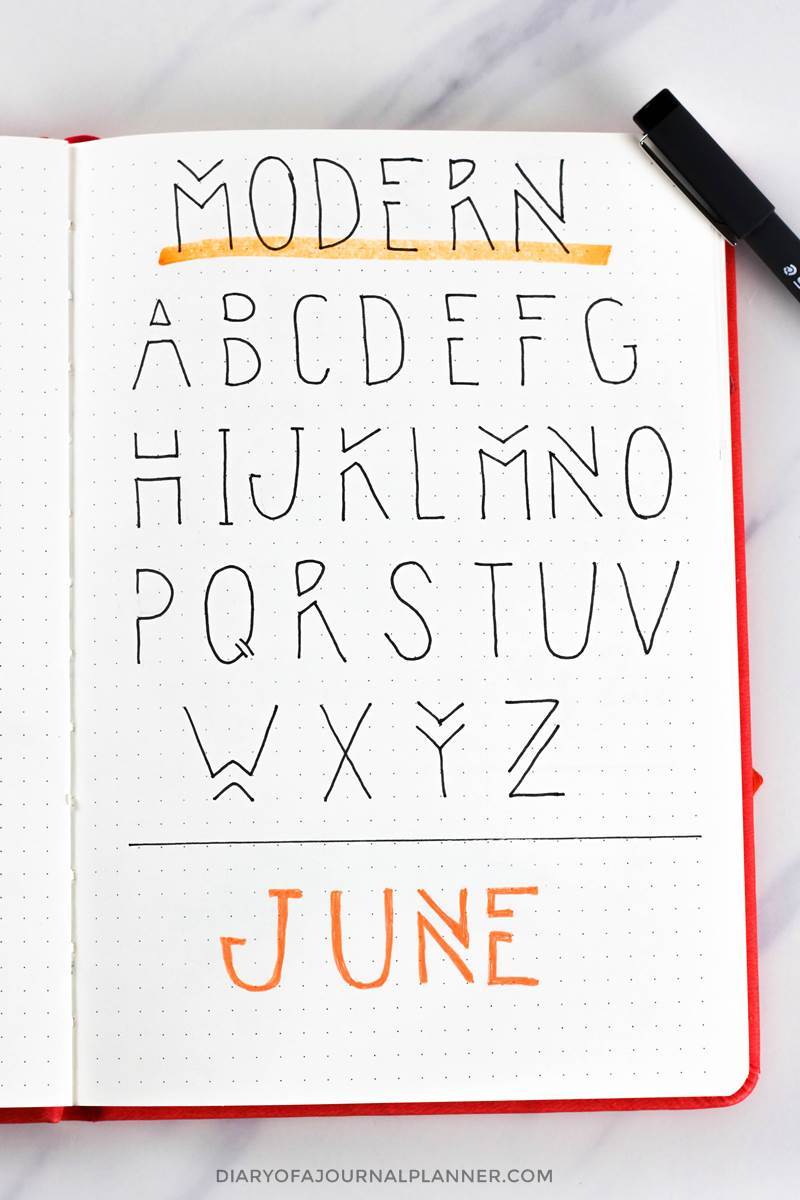 A modern font for bujo lovers.
Then you can add elements to all these print fonts to make personalized journaling letters that you can use on any page you want.
Here is an example of a beautiful font with a straight line that is super easy to create.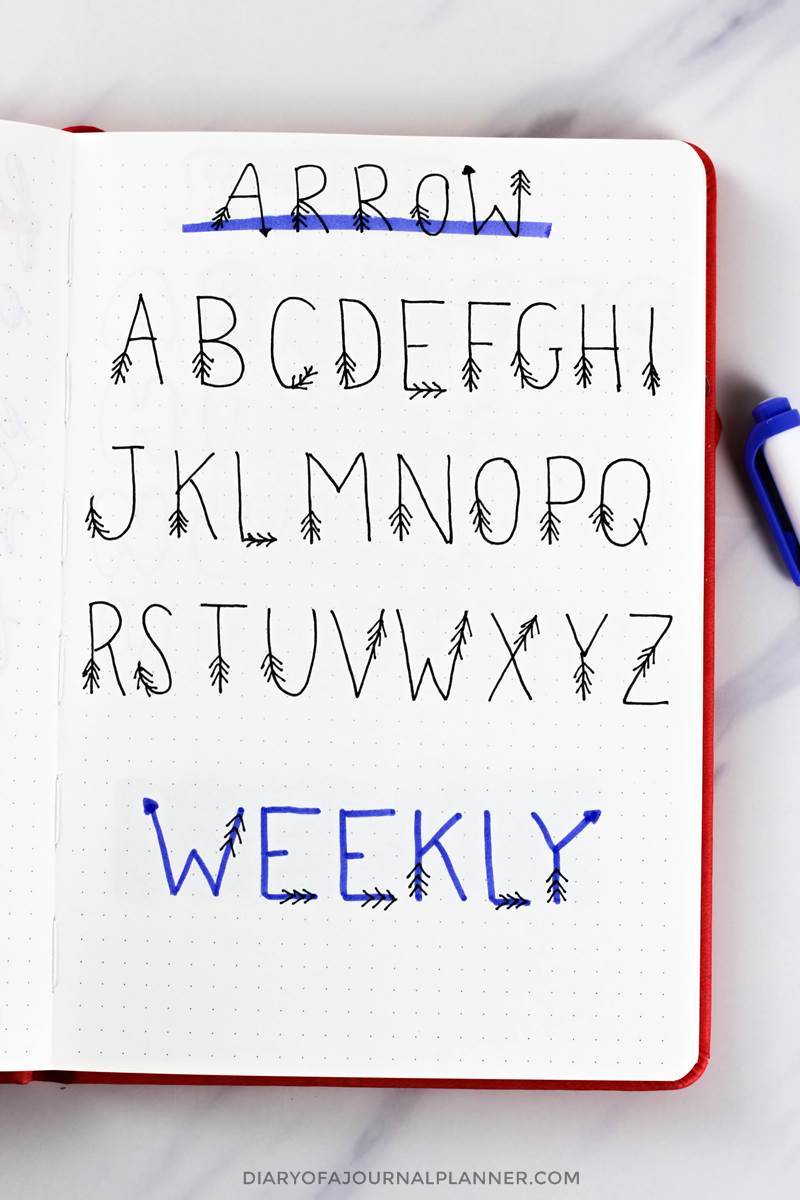 Make your own font for bullet journaling.
Block letter fonts for bullet journal
Block letters will add a fun element to your bujo. I like to use these large block letters for quotes, cover pages, or important headers.
The grid and dot paper in the bullet journal makes it easy to draw block letters, especially the square ones. Check out some of the examples below:
Block font for bullet journaling
The block font will give attention to your title. It may look fancy and difficult but with practice, anyone can do it too just by connecting the straight lines to make the block. Think of your dots as a grid for the alphabet.
You can also use a highlighter or any other pen with a chisel tip to make the block letter and then contour it.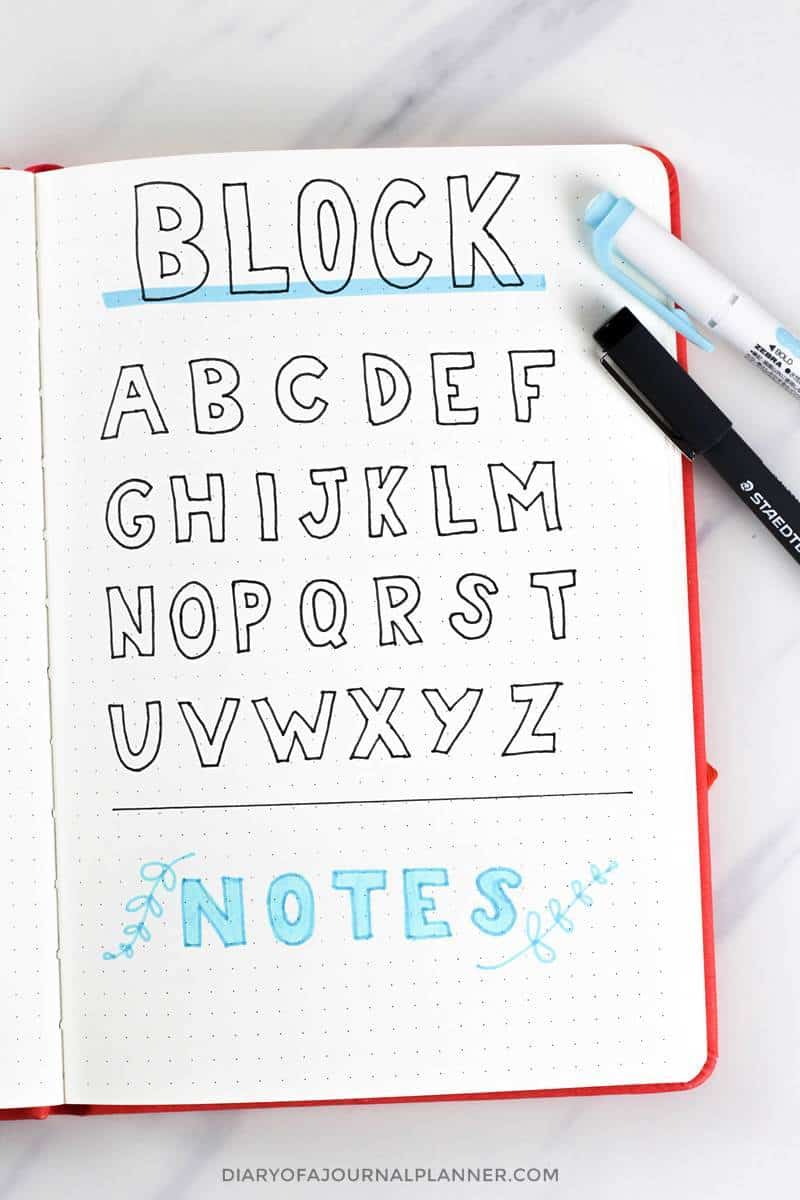 Block bullet journal lettering alphabet
If the block letters seem daunting to you then you can start with the half-block font. It's much easier to get the letters all the same size and height with this font than it is with the block letter.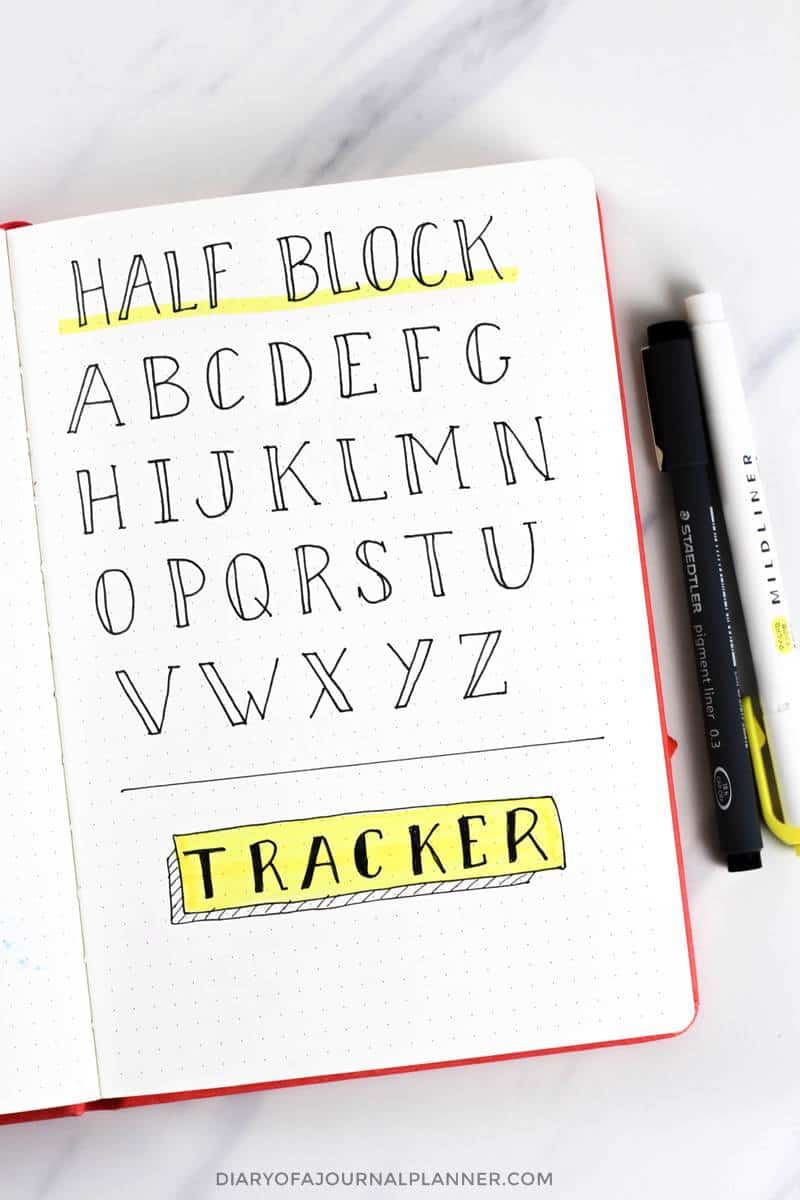 Half blocks or faux block font.
You don't need to keep it clean and straight though, block letters can also be sassy, curvy and they are cute fonts to draw. When I was a child this was the font I always had in my notebooks. Check out my alphabet below.
You can make either bubbles or balloons with this font.
Bubble or balloon font for bullet journals.
To give a 3D perspective you can add another dimension to the letters such as this one below.
This is not an easy font, it is easier just doing the plain block font but they are so therapeutic to draw and with practice, you can master this technique. Follow the alphabet below if you are unsure of how to create them.
–
Handwriting bullet journal fonts
I am always trying to improve my bullet journal hand lettering and penmanship. To achieve a level of beautiful handwriting practice is a must!
There is no other way to get better handwriting than by picking up a pen and paper and doing the repetitive work and practicing.
I write most of my bullet journal entries with cursive handwriting and then use the print and block fonts for titles and details.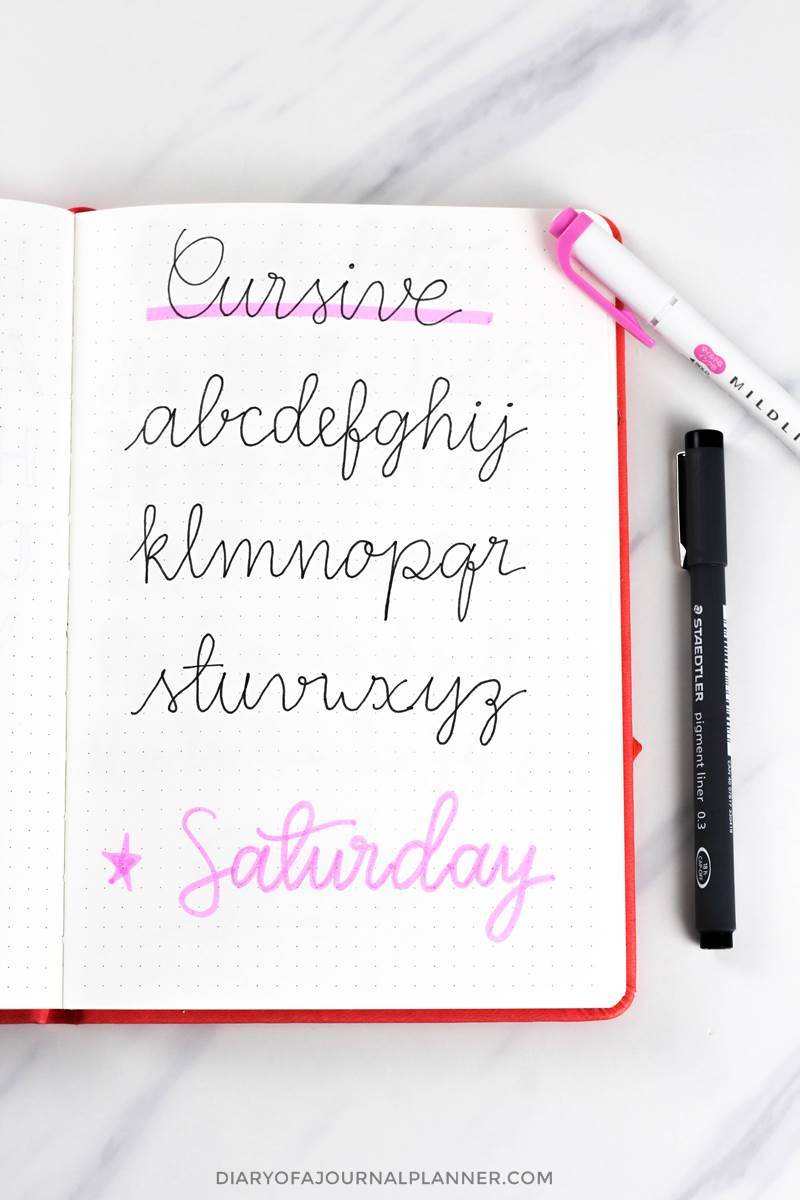 Cursive journaling fonts handwriting
Faux calligraphy bullet journal lettering
Calligraphy bullet journal fonts can be very tricky. Luckily there is another option!
Faux calligraphy is a great technique if you like the brush letter style but either, don't have the tools to make it or the skills.
You still need to do the cursive handwriting practice, because it will be the foundation of your faux lettering.
It consists of writing your text using your normal cursive writing and then adding the elements of brush lettering, basically faking the light-up stroke and heavy downstroke patterns.
Here is how the entire alphabet looks like in bullet journal faux calligraphy.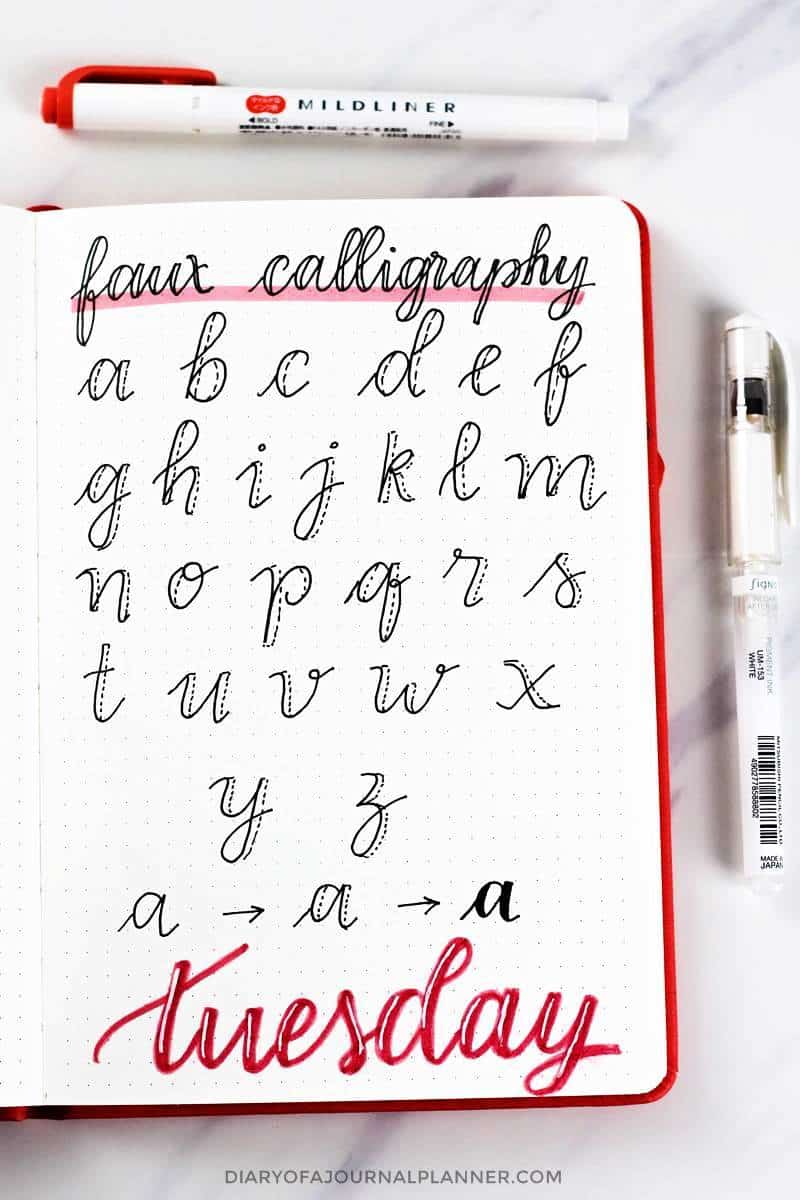 Faux calligraphy alphabet
Bullet Journal brush Lettering
Brush lettering can be used to create beautiful elements for bullet journals and many bujo enthusiasts have started to use popular brush pens such as the Tombow Dual brush Pens.
Brush lettering is a technique that anyone can learn too. You will need the right tools though and practice, luckily there are some great printable sheets for brush hand-lettering online.
Perfect for detail elements in a bullet journal, to bring attention to a header, or to make quotes for Instagram.
Even though the idea of basic brush lettering is not so complicated it does take quite a lot of practice to be able to produce remarkable brush calligraphy, and of course, using the proper supplies help a ton!
I suggest you grab a brush lettering sheet, print several times, and practice, practice, practice!
Every person has their own brush letter alphabet style, here you can see mine.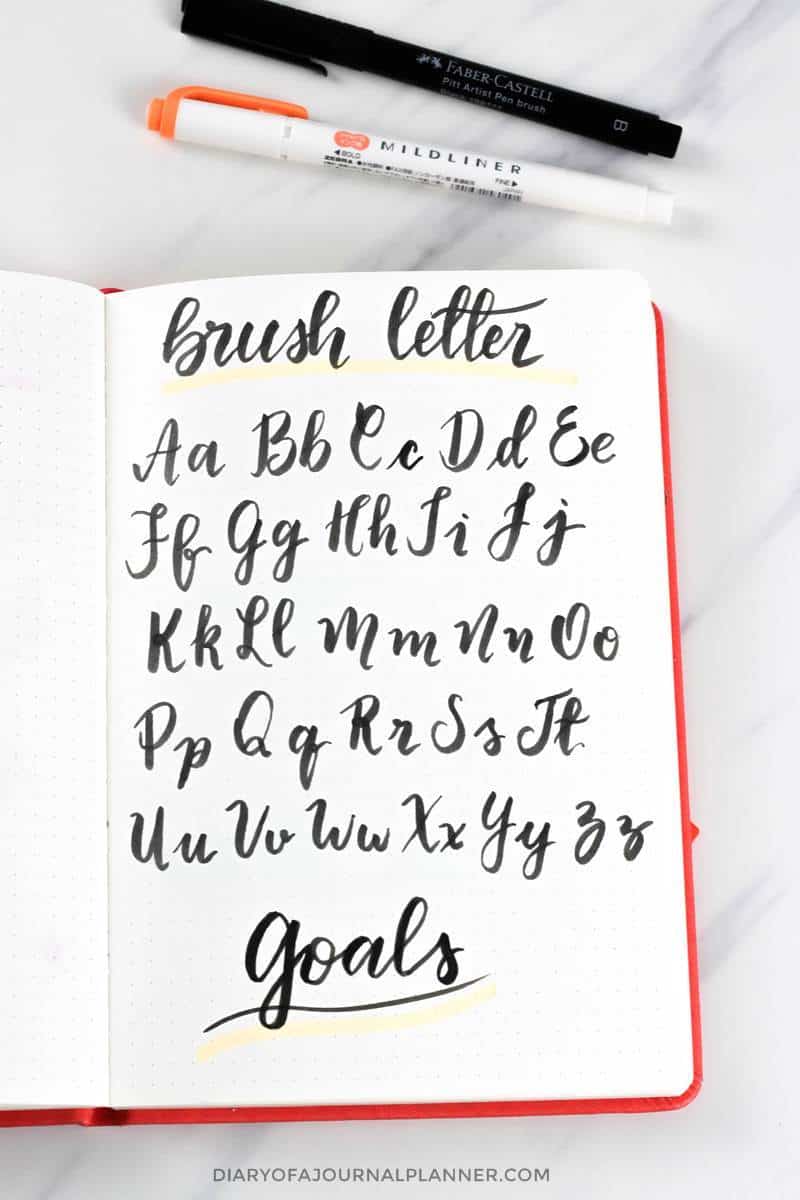 Brush lettering font alphabet
The fun thing with brush lettering is that you can add different elements to this font. You can have bouncy letters but there are also flourishing, shadowing, highlighting, and blending techniques that give a different aspect to the font.
–
If you don't know how to draw font shadows just imagine that there is a light spot on the side of the letter casting a shadow to the left, this is the way to create realistic shadows.
The shadow can be light or dark, thick or thin, close or away from the letter. Below I made a thin dark shadow: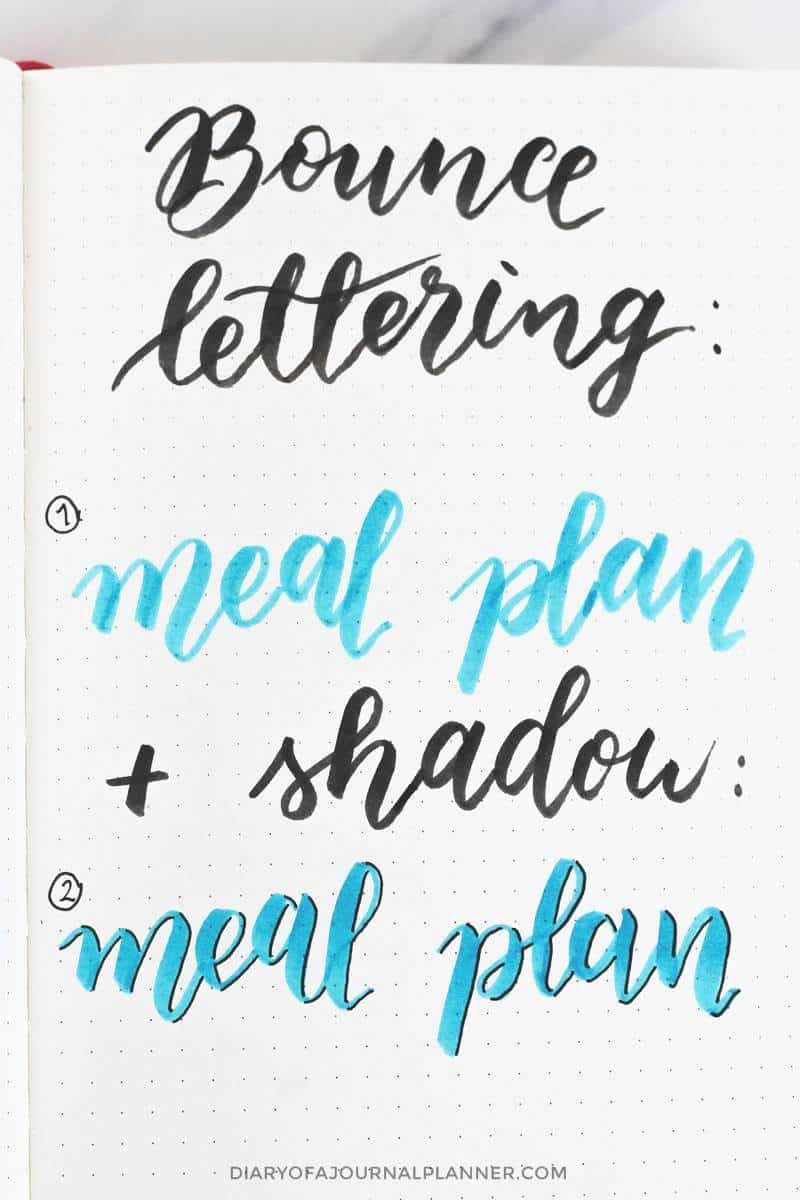 Shading bounce brush hand lettering
Finally, you can blend a few colors together to give an ombre effect to the lettering. You can do the same with faux calligraphy.
There are several different blending techniques, one that I used below was just writing with the lighter color, adding the dark tone to the bottom, and blending in the middle using another color tone.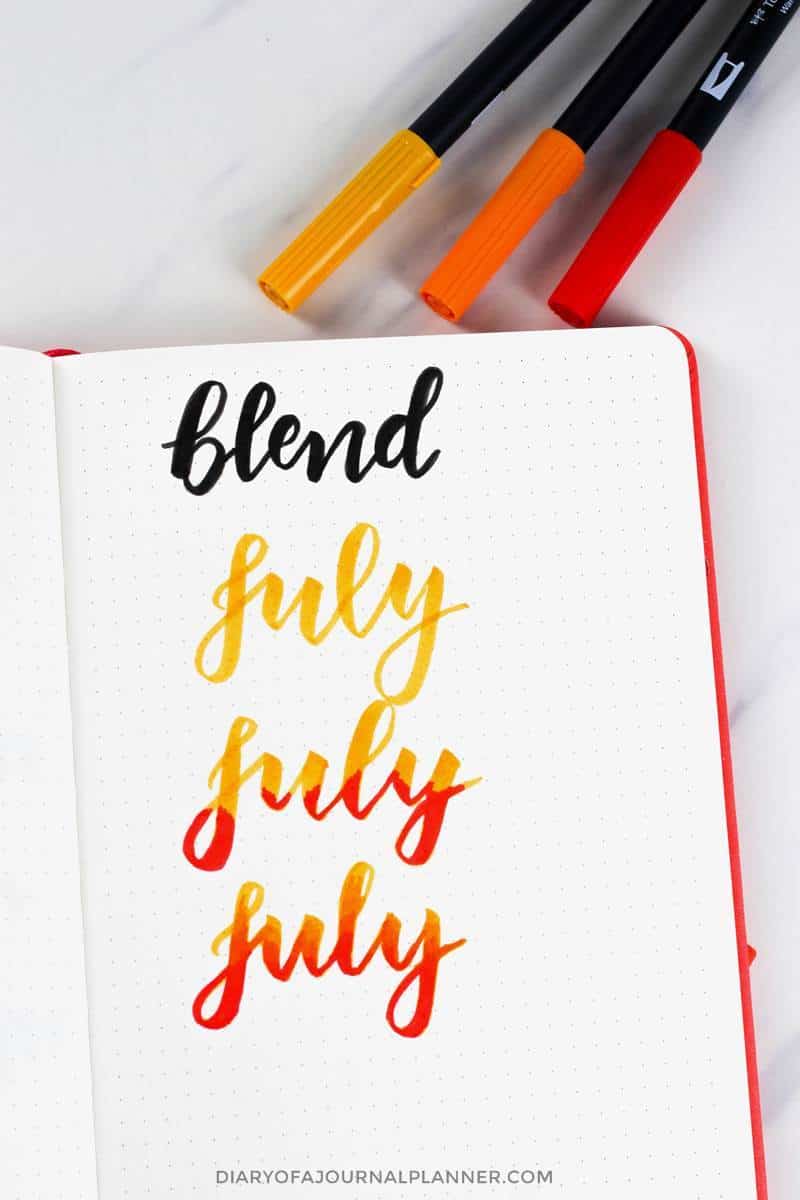 Blending brush lettering technique.
Bullet Journal Typography Supplies
Check out our favorite supplies for creating the perfect bullet journal writing font:
---
Did you enjoy our fave Bullet Journal Fonts? From bullet journal calligraphy to easy bullet journal lettering, we hope you found one of the best bujo fonts to try out.
Do you have a favorite one too? Let me know in the comments below!
PIN FOR LATER!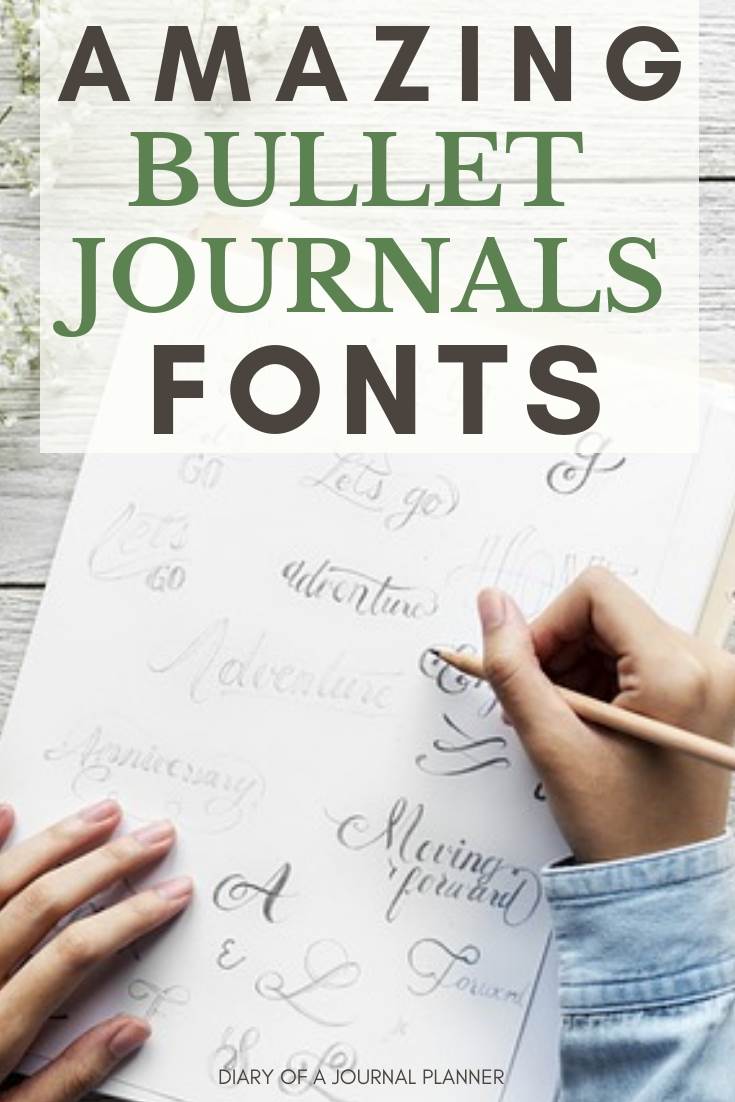 How to do bullet journal fonts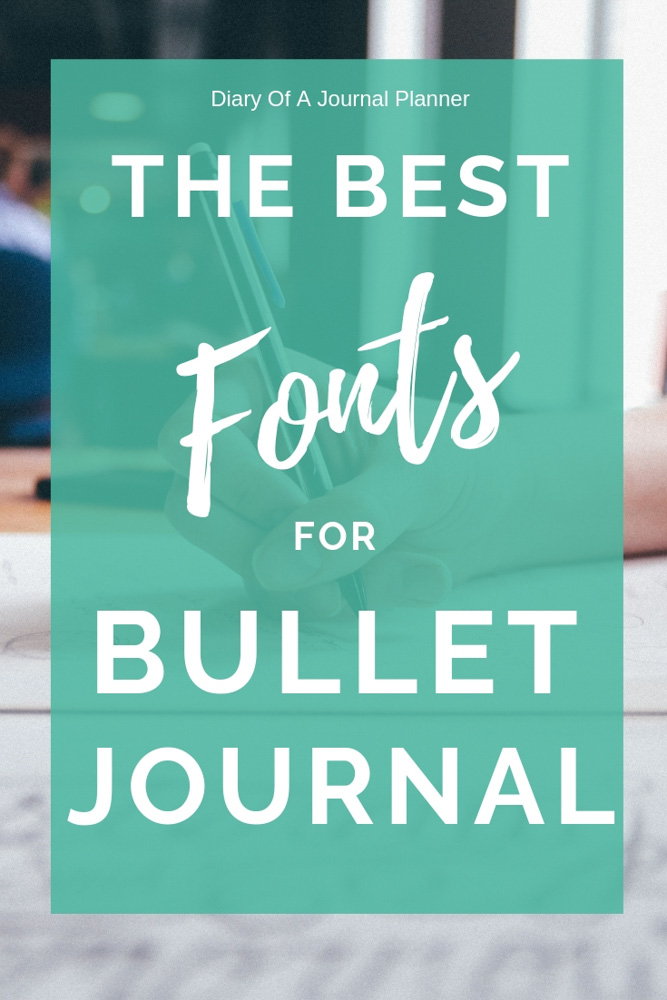 Sours: https://diaryofajournalplanner.com/bullet-journal-fonts/
Ideas writing font
Best Script Fonts: 35 Free Script Fonts
Script fonts are beautiful typefaces that resemble handwritten and calligraphic lettering styles. They can either be formal where they'll appear elegant or informal where they'll appear more playful.
Script fonts can also be connected, semi-connected or unconnected. This refers to the flow that exists between each letter. Connected fonts are designed with a careful approach to ensure each letter flows into the next in a smooth, continuous manner.
These types of fonts are mainly used on invitations, headings for announcements or advertising. They're rarely used on the web as a body text and work best when used for their intended purposes.
Here are 35 free script fonts.
1.Alex Brush
Alex Brush is connected, brush-script font designed by TypeSETit. It's a calligraphy font that works great when used for formal purposes. It comes in a single style and with over 250 glyphs.
Details/Download
2.Pacifico

Pacifico is a connected script font designed by Vernon Adams. It has a retro appeal as it resembles typefaces used around America in the first half of the 20th century. It comes in a single style with just over 200 glyphs.
Details/Download
3.Great Vibes

Great Vibes is an elegant, calligraphy-style script font designed by TypeSETit. Each letter is designed to connect to one another elegantly no matter what word you choose to type. It comes in a single style with over 400 glyphs.
Details/Download
4.Lobster

Lobster is a script font by Impallari Type. The studio spent a lot of time carefully designing this font to be as connected as possible that each letter transitioned smoothly to the next no matter what letter combinations you type. It comes in a single style with over 300 glyphs.
Details/Download
5.Allura

Allura is yet another elegant script font designed by TypeSETit. This one, though still elegant, is less careful and "tight" as the previous two fonts by this designer. It comes in a single style with over 350 glyphs.
Details/Download
6.Kaushan Script

Kaushan Script is a contemporary script font whose letters have a calligraphic style while the font has a modern appeal as a whole. The font comes in a single style with over 400 glyphs.
Details/Download
7.Grand Hotel

Grand Hotel is a casual script font designed by Brian J. Bonislawsky and Jim Lyles of Astigmatic. It was inspired by the typeface used on the title screen of Cafe Metropole, a 1937 film starring Tyrone Power. It comes in a single style with over 350 glyphs.
Details/Download
8.Windsong
Windsong is a condensed, calligraphic script font by Bright Ideas. It has a classic calligraphic style that resembles historical writing. It comes in a single style with over 250 glyphs.
Details/Download
9.Sofia

Sofia is a casual, semi-connected script font designed by Latinotype. It's a semi-connected script font as some letters connect elegantly with one another while others do not. It comes in a single style with over 200 glyphs.
Details/Download
10.Black Jack

Black Jack is a casual script font with a brushed design. It was designed by Typadelic. It's a simple font that comes in a single style and only a little over 150 glyphs.
Details/Download
11.Lobster Two

Lobster Two is the lighter, more upright form of Lobster. This one is also designed by Impallari Type. It comes in four basic styles that have over 350 glyphs.
Details/Download
12.Dancing Script OT

Dancing Script OT is a casual script font by Impallari Type. It was inspired by typefaces used around the 1950s. It's a simple font that comes in a single style and over 200 glyphs.
Details/Download
13.Arizonia

Arizonia is a playfully elegant script font by TypeSETit. It was inspired by the "flowing forms created by a sign painter's camel hair brush." It comes in a single style with over 250 glyphs.
Details/Download
14.Tangerine

Tangerine is an elegant, calligraphic script font by Toshi Omagari. It was inspired by the italic chancery typefaces used in the 16th and 17th centuries. It comes in two basic styles that include over 200 glyphs each.
Details/Download
15.Freebooter Script

Freebooter Script is an elegant yet extravagant script font by Apostrophic Labs. It comes in a single style that includes over 200 glyphs, but it also comes with a set of alternate characters.
Details/Download
16.Euphoria Script

Euphoria Script is an informal script font. It features the endings of a brushed script but started as simple letterform sketches, making it more playful and casual than most script fonts. It comes in a single style with over 200 glyphs.
Details/Download
17.Rochester

Rochester is an elegant, semi-connected script font by Sideshow. It was inspired by the calligraphic forms of the Victorian and Art Deco eras. It comes in a single style that includes over 200 glyphs.
Details/Download
18.Miama

Miama formal, calligraphic script font by Linus Romer. It comes in a single style that includes over 400 glyphs.
Details/Download
19.Dynalight

Dynalight is a decorative script font by Astigmatic. It was inspired by the lettering on a vintage luggage tag on the Southern Pacific 4449 Daylight steam locomotive. It comes in a single style with over 350 glyphs.
Details/Download
20.HenryMorganHand

HenryMorganHand is an extravagant yet format script font by Paul Lloyd. It comes in a single style with barely over 100 glyphs.
Details/Download
21.Scriptina Pro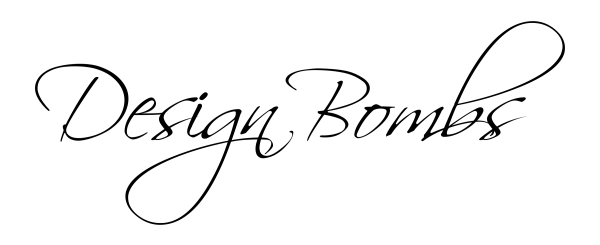 Scriptina Pro is a somewhat playful yet still classic script font by CheapProFonts. It's the updated form of the Scriptina font as the designer wanted to do something special for their 100th font. It comes in a single style with over 500 glyphs.
Details/Download
22.Bilbo

Bilbo is a calligraphic, non-connected script font by TypeSETit. It was designed to be a display font, but the designer states it can also be used in body text when a touch of warmth is needed to get a message across. It comes in two styles, one of which includes swashes with capital letters.
Details/Download
23.Ruthie

Ruthie is a stylized, semi-connected script font by TypeSETit. It's a formal font that features ornate caps. It comes in a single style with over 250 glyphs.
Details/Download
24.Promocyja

Promocyja is an elegant and even somewhat fancy script font by GLUK fonts. It comes in a single style that features over 600 glyphs.
Details/Download
25.Burlington Script

Burlington Script is a handwritten script font by ShyFonts. It features a permanent marker design rather than a calligraphic style. It comes in four different styles, each one a heavier font weight than the previous one. It comes with over 200 glyphs.
Details/Download
26.Dobkin

Dobkin is a non-connected script font by David Rakowski. It's a calligraphic font that comes in one style and with only 88 glyphs.
Details/Download
27.Sevillana

Sevillana is a decorative script font by Brownfox. It was inspired by the lettering on commemorative plates that exist on the walls of Andalusia, Spain. It was inspired by the folk musical styles of Seville, the capital of the region. It comes in a single size with over 200 glyphs.
Details/Download
28.League Script

League Script is a pencil-style connected script font by Haley Fiege. It's an elegant yet casual font that resembles handwriting done with a pencil. It comes in a single style and includes over 200 glyphs.
Details/Download
29.Condiment

Condiment is a soft and somewhat retro script font designed by Angel Koziupa and Ale Paul of Sudtipos. It comes in a single style that includes over 200 glyphs.
Details/Download
30.Aguafina Script

Aguafina Script is a semi-formal, semi-connected, elegant script font by Sudtipos. It's not as formal as some of the other calligraphic fonts on this list, but it's also not too casual, either. It comes in a single style that includes over 200 glyphs.
Details/Download
31.Italianno

Italianno is a soft, calligraphic script font by TypeSETit. The designers suggest using it for "warm, inviting situations." It comes in a single style that includes over 650 glyphs.
Details/Download
32.Kingthings Wrote

Kingthings Wrote is a casual script font by Kingthings. It features playful swashes and shapes. It comes in a single style that includes over 100 glyphs.
Details/Download
33.Qwigley

Qwigley is a contemporary script font designed by TypeSETit. It's an elegant, calligraphic script font that features stylized lettering. It comes in a single style that includes over 200 glyphs.
Details/Download
34.Milkshake

Milkshake is brushed-script font designed by Laura Worthington. The font was designed with a careful approach, the result being a typeface that's fun and captivating yet still highly readable and versatile. It comes in a single style that includes over 650 glyphs.
Details/Download
35.QumpellkaNo12

QumpellkaNo12 is a decorative script font designed by GLUK fonts. It comes in a single style that includes just under 600 glyphs.
Details/Download
Final Thoughts
We hope this list gave you a few new script fonts to use in your projects, whether personal or commercial. Check out our other font lists if you need more typefaces for the toolkit:
Sours: https://www.designbombs.com/best-free-script-fonts/
40+ HAND LETTERING IDEAS // Bullet Journal Fonts
Collection by
Julia - Bungalow Creative
Font Ideas, Font Inspiration, Fonts Alphabet, Fonts Handwriting, Fonts Handwritten, Font Combinations, Modern Fonts
FUN & FREE Summer Fonts [Commercial Use Included!]
FREE SUMMER FONTS for professional graphic design, logo, Cricut, Silhouette. Best, most popular top typography font family collection typeface. Bold thick fonts to thin calligraphy cursive script. Handwritten, modern, minimalist, masculine, feminine, cute, trendy, stylish, beautiful, elegant, clean, creative, cool, simple sans serif. Downloadable ttf files for Word Photoshop iPhone etc. Alphabet dingbats glyphs with tails. Free for commercial use license
10 New FREE Beautiful Calligraphy Fonts - Part 3 | Ave Mateiu
10 New Free Calligraphy Fonts - Art, Fonts and Calligraphy, Typography, Handwritten Fonts, Alphabet Fonts, Free Fonts, Script Fonts, Modern Fonts, Cursive Fonts, Design Fonts, Rustic Fonts, Calligraphy Fonts, Simple Fonts, Serif Fonts, Elegant Fonts, Professional Fonts, Beautiful Fonts
FUN & FREE Valentine's Day Fonts [Commercial Use Included!]
FREE VALENTINE'S DAY FONTS for professional graphic design, logo, Cricut, Silhouette. Best, most popular top typography font family collection typeface February. Bold thick fonts to thin calligraphy cursive script. Handwritten, modern, minimalist, masculine, feminine, cute, trendy, stylish, beautiful, elegant, clean, cool, simple sans serif. Downloadable ttf files for Word Photoshop iPhone etc. Alphabet dingbats glyphs with tails. Free for commercial use license
Sours: https://www.pinterest.com/bungalowcreative/font-ideas/
You will also like:
.
805
806
807
808
809