Laser Engraving Services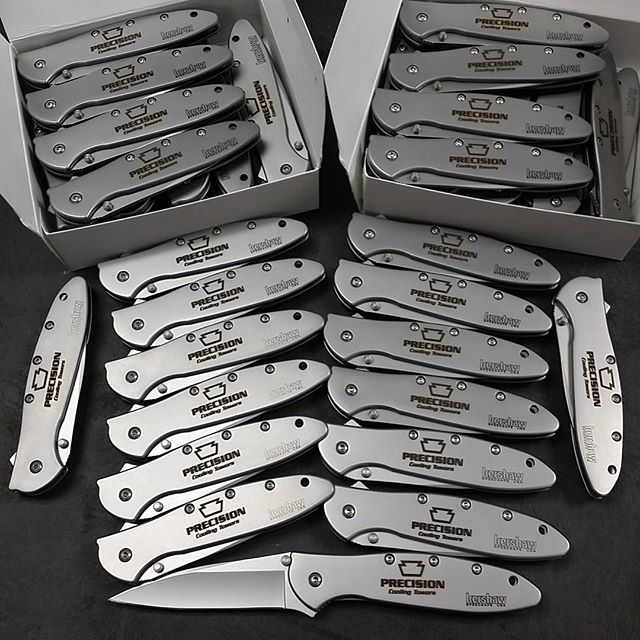 Personalize your Kershaw knives and tools with laser engraving and embroidery. Laser engraving and embroidery is great for groomsmen, company awards, and personal gifts. There is no job too small. There is no job too big either. If you have a big embroidery or engraving job, we want it!
We have laser engravers and embroidery machines on site - Adding laser engraving or embroidery is essentially no delay to your order.
Select "add laser engraving" and/or "add embroidered sheath".
At the bottom of the order form is a text box for you to specify what to engrave/embroider on your item(s).
Provide any special instructions in the text box. We accomodate most requests.
Graphics engraving such as images and company logos require a $25 digitizing fee. It is only necessary to pay this fee once because we'll keep your logo on file for future use. All future orders won't require the $25 digitizing fee and will be charged the orginary per-item laser engraving charge. Call us at (800) 458-1606 or email , and we'll work with you to get your laser engraving job done.
We welcome 3rd party jobs. In fact there are several well-known sites on the internet who send their laser engraving orders to us for fulfillment.
Laser engraving frequently asked questions (FAQ)
Q: Can I give you a .jpg or gif of what I want engraved?
A: Yes you can. That's what we are here for. In fact we can take just about any graphics file you have. Give us your artwork in any format and we'll get it done for you. If there are any problems with your artwork we'll be sure to let you know. Typically the files that cause problems are the small, poor quality files with lots of granulation. Large, high quality graphics are preferred.


Q: How many characters can you engrave on one line?
A: Typically about 33 characters per line, but remember the more characters per line the smaller the engraving. The engraving swath of our laser is about 4 inches wide. There is no setup fee for text engravings.


Q: What fonts can you engrave in?
A: Pretty much anything. If we don't have the font you want we'll try to download it off one of the many free font sites on the internet. If you want a specialized font that costs money let us know, and we can arrange this as well.


Embroidery frequently asked questions (FAQ)
Q: Can I give you a .jpg or gif of what I want embroidered?
A: Yes you can. The artwork will need to be simple in design and typically no more than 3 or 4 colors. You can see by the examples below the logos look really good when they are not complex. Please note that $25 logo setup fees apply for images and logos. Text embroidery does not require a set up fee.


Q: How many characters can you embroider on one line?
A: About 8 characters per line. While our embroidery swath is about 18 inches, the typical knife sheath has only about 2 inches of available space to embroider. If we try to bunch a whole lot of letters onto one line it starts not looking good. There are no setup fees for text embroidery.


Q: What fonts can you embroider?
A: We have about a hundred or so different fonts available for the embroidery machine. The embroidery machine takes special fonts so we are not able to download them straight from the internet. We typically break our fonts into two categories, script and block. If you need to have a specific font then what we would do is put the font into a graphics program and put it into an image. This would give us the ability to make the product look exactly how you want it. A $25 digitizing fee applies when we convert fonts to images.


Here are examples of our engraving and embroidery work in action: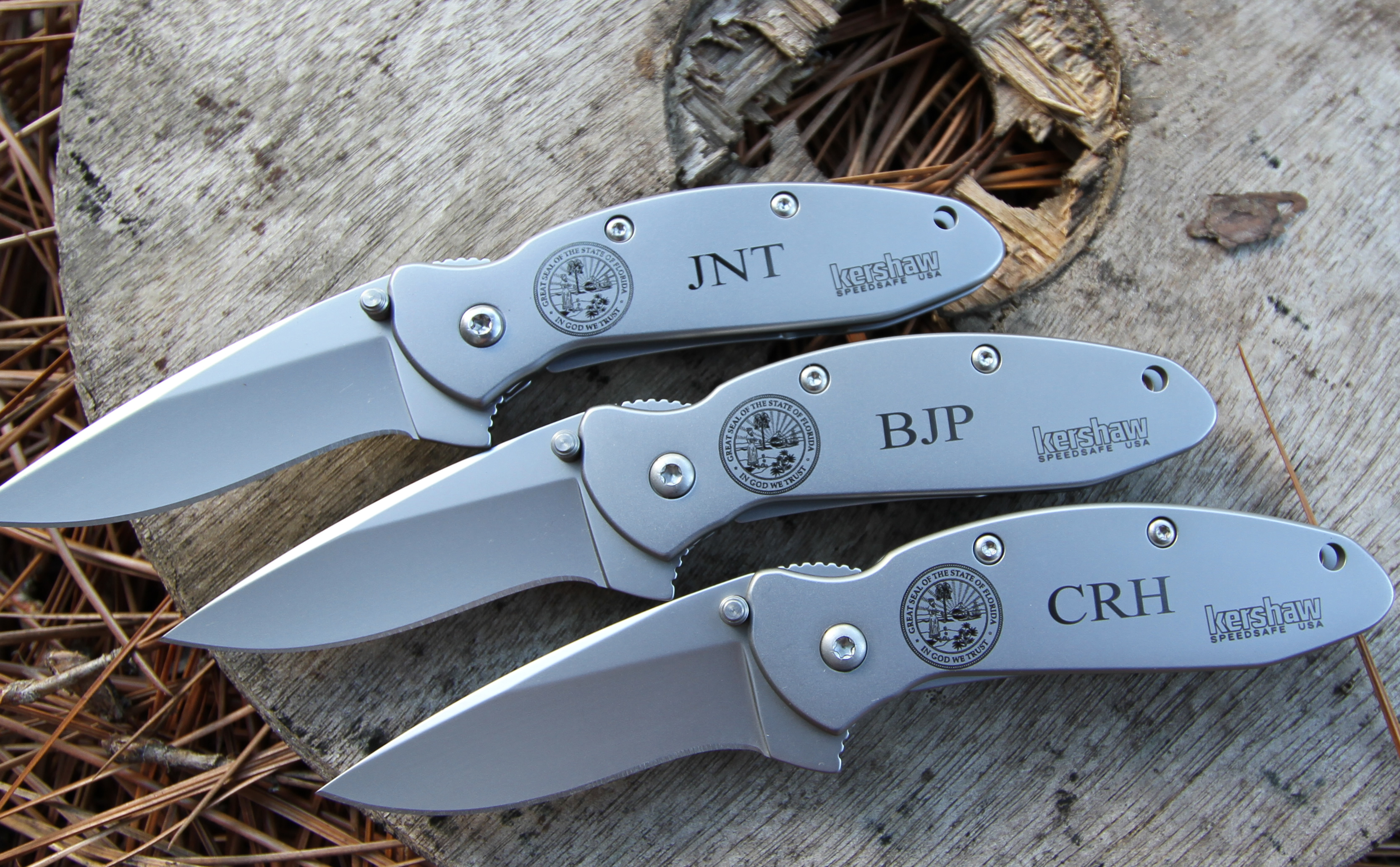 How detailed and intricate is our laser engraving? This is the Florida States Seal on a Kershaw Scallion. The engraving is about the size of a dime. Click on the picture to zoom in and see how detailed.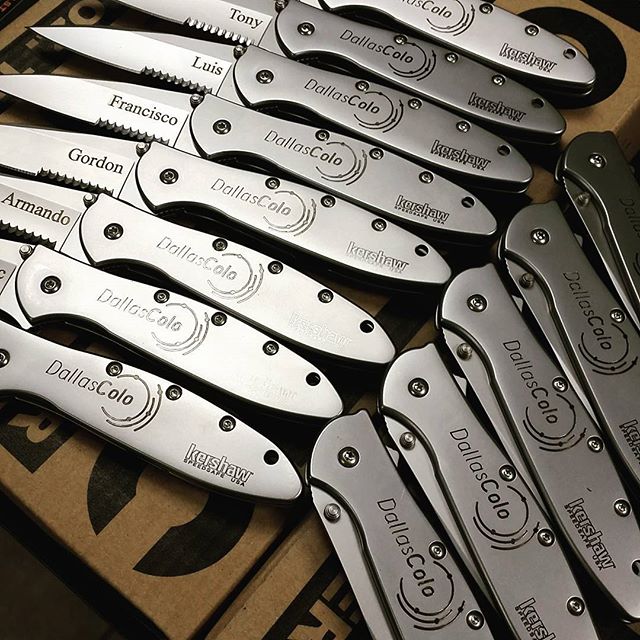 Kershaw Leek with Laser Engraving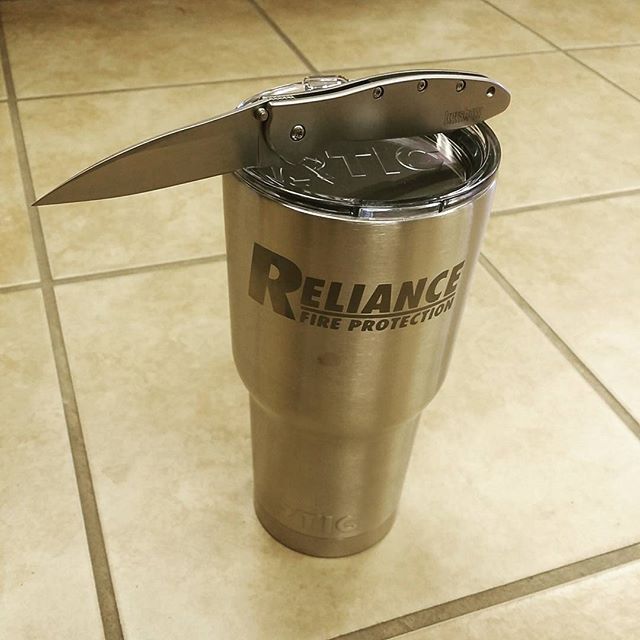 Kershaw Leek and Tumbler with Laser Engraving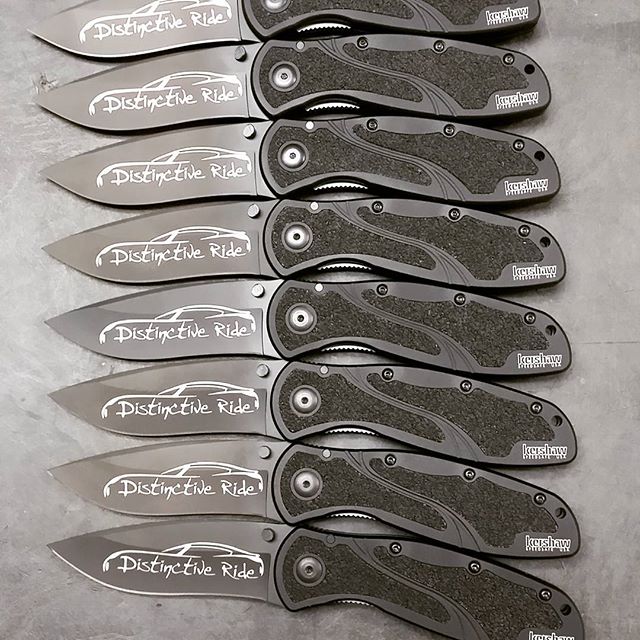 Kershaw Blur with Laser Engraving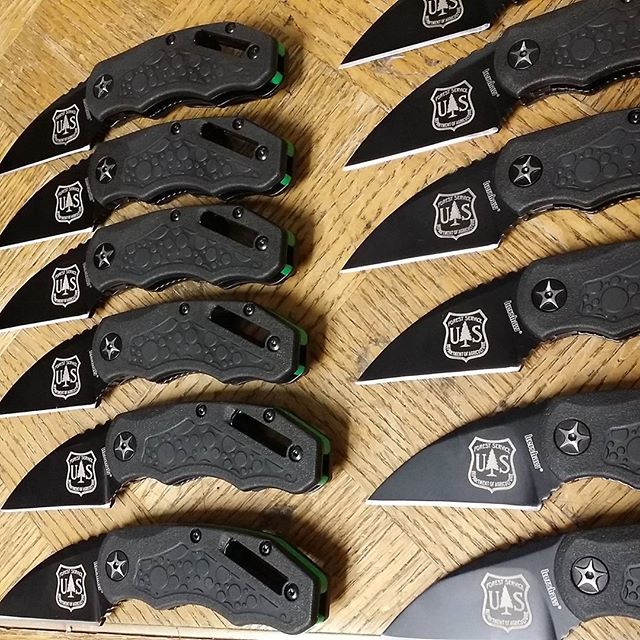 Kershaw Decoy with Laser Engraving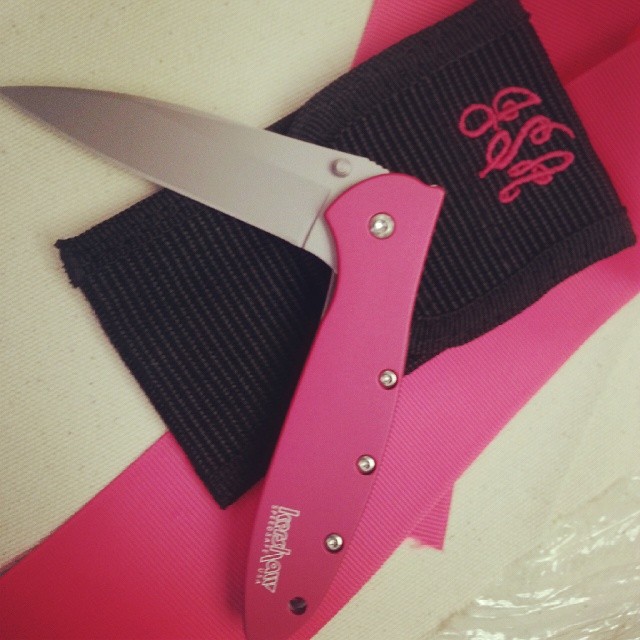 Embroidered sheath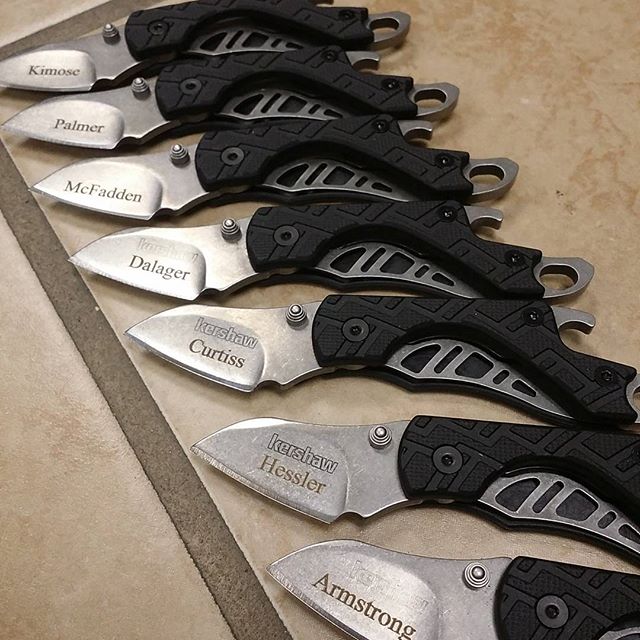 Kershaw Cinder with Laser Engraving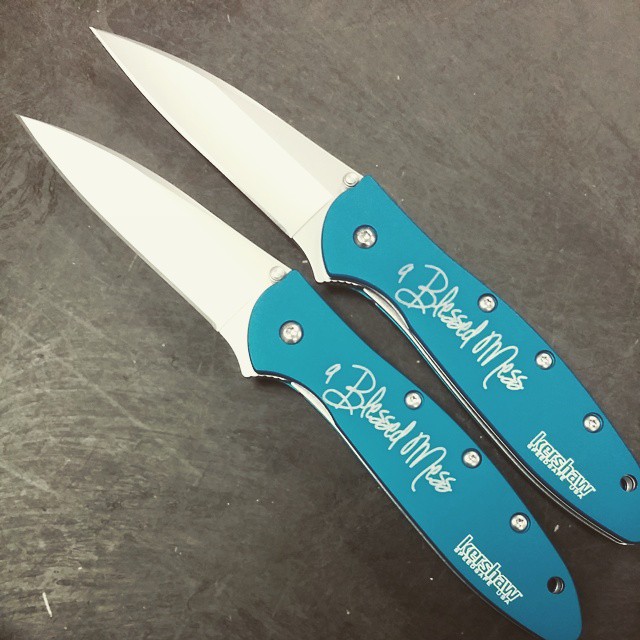 Kershaw Teal Leek with Laser Engraving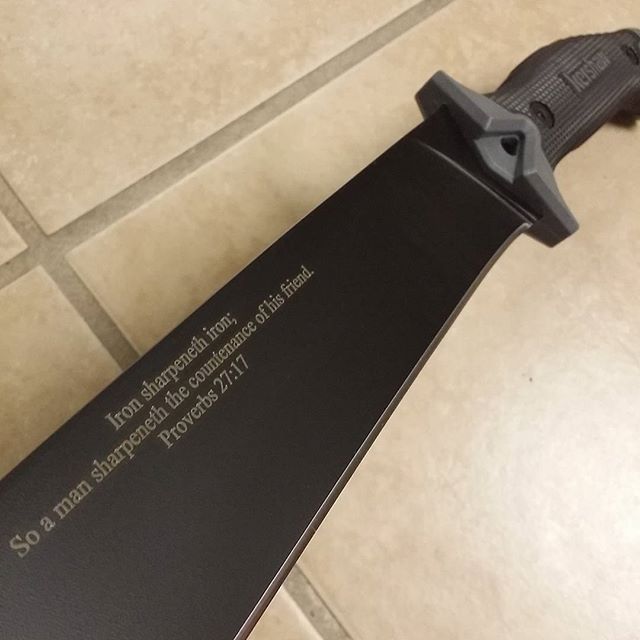 Kershaw Camp 18 with Laser Engraving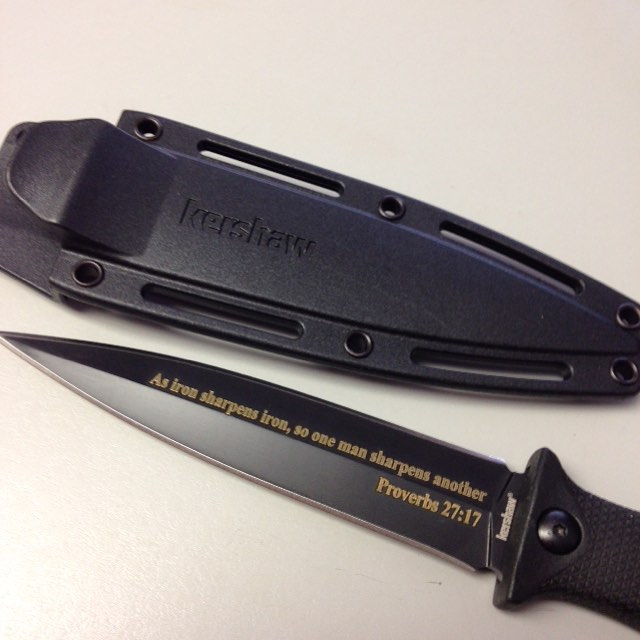 Kershaw Secret Agent with Laser Engraving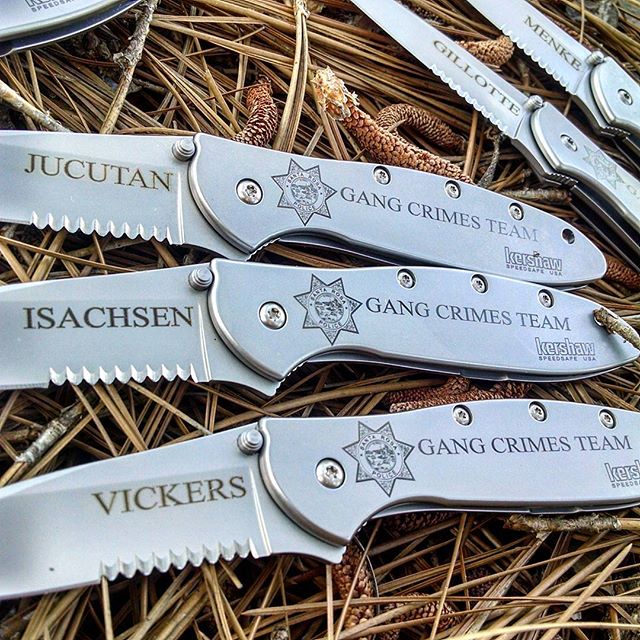 Kershaw Leek with Laser Engraving
So what are you waiting for? Let's get started on your laser engraving or embroidery project!
Sours: https://www.kershaw-knives.net/laser-engraving.htm
Kershaw Leek 1660CKT Personalized Engraved Pocket Knife, Made in USA, SpeedSafe Opening
EVERYTHING THE CLASSIC LEEK HAS, PLUS A DLC COATING OF MATTE BLACK
If you prefer your knife in basic black, this one just might be your perfect Everyday Carry. To create this matte-black look, Kershaw engineers ionize metal and deposit it on both blade and handle as a microns-thin coating. This process results in a coating known as DLC, or Diamond-Like Carbon, which is hard and scratch resistant.
With its 3-inch blade, the Leek is a good-sized knife, but not too big. The slim design makes it easy to carry and its razor-sharp blade of high-performance Sandvik 14C28N means it can take care of a full range of cutting tasks. The blade is a modified drop-point, so it's a good slicing knife, while the slim tip gives it piercing capability and the ability to do detailed work. The Leek features the SpeedSafe ambidextrous assisted opening system.
Whether you're left-handed or right-handed, just pull back on the flipper and the Leek's blade is ready to go to work.
For confident blade use, a super-secure frame lock keeps the blade locked during use and a Tip-Lock slider locks the blade closed when folded. The pocketclip can be configured for tip-up or tip-down carry and the handle is drilled to accept a lanyard.
PERSONALIZATION
Make this a knife that will be cherished forever by having the handle professionally laser engraved for free!
You can choose to have up to two lines of text engraved. Both lines of text will be the same size, unless you send us a message immediately after ordering, saying you would like one line smaller than the other.
The more characters you enter to have engraved, the smaller the font size will be.
Profanity or other inappropriate text will not be accepted.
Sours: https://www.amazon.com/PERSONALIZED-SpeedSafe-Christmas-Valentines-Anniversary/dp/B07D6H883C
Kershaw Knives With Your Corporate Logo
SpeedSafe® is the name of our assisted open capability. You can quickly and easily open with one hand, by pushing on the thumbstud or pull back on the flipper. This feature is built into many of the Kershaw best sellers.
Flipper: This protrusion on the back of the blade lets you pull back, or flip, and open the blade. It's available on some manual or assisted opening knives. It gives you a quick way to open, with 1 hand, left or right.
Frame Lock: This is a part of the handle that moves behind the blade to lock it into position when open. A smart safety feature that keeps the blade open when you are using it.
Want a Kershaw knife that you don't see here? We carry the entire line. Just email or call today.
Option: Personalize each knife with someone's name. $5.00 each knife plus $25 setup. Your order must still meet the minimum quantity, but you don't need to personalize every knife in your order. Please submit your list of names in a spreadsheet.
For personal service, email, or call today.




Sours: https://www.logo-knives.com/kershaw-knives.html
Kershaw Leek with Black Widow and Spider Web Engraved on Handle
.
Engraved kershaw knives
.
Kershaw Leek Knife with Giraffe laser engraving on handle
.
Now discussing:
.
781
782
783
784
785