The Medical Minute: What to do while you're waiting for the ambulance
No one is prepared for a medical emergency, but when the unexpected happens, you can help make a bad situation better – especially if you're a bystander.
The first thing -- and don't take offense here -- is get out of the way.
"Our priority is to make sure no one is putting themselves in danger. We don't need to have another person who needs emergency care," said Brandon Wattai, manager of transport/post hospital operations, Life Lion Emergency Medical Services at Penn State Health Milton S. Hershey Medical Center. "Often adrenalin and tensions are running high, and everyone wants to help as much as they can, but please step aside and let the emergency medical technicians and paramedics do their jobs unless they ask for your help."
The second thing -- keep calm.
"It sounds cliché and it is hard to do, but remaining level-headed is extremely important in helping us to help the patient better and faster," Wattai said. "The more heightened emotions there are when we arrive, the more uncertainty we have about what's going on, and the harder it is to immediately start giving the right care."
Of course, the unpredictability of the emergency situation -- whether on the side of the road after a car accident or at home when a medical crisis strikes -- means it's hard to talk in absolutes.
In general, however, start by having good information on hand when you call 911, including the address and a concise description of what happened. If possible, write down the patient's name and date of birth for the EMS crew if the individual can't speak for themselves.
"Flag us down as soon as you see us coming," Wattai said. "If you're at a residence, have someone outside to help us find the right house, especially if it's 3 a.m."
Two situations that call for pre-emptive action
There are two medical situations in which the help of a family member or bystander can truly make a difference in the outcome.
"If it's a cardiac arrest, we're a huge advocate of someone starting hands-only cardiopulmonary resuscitation (CPR) while we're en route," Wattai said. "This can buy us a few extra minutes that could turn an unsalvageable situation into a saved life."
Push hard and fast on the center of the chest, a recommendation backed by the American Heart Association. The 911 call taker will talk you through the process, Wattai said.
Profuse bleeding is another emergency medical situation where quick action can be lifesaving.
"If someone is having a significant arterial bleed, it only takes a couple of minutes before they lose enough blood that their life is in danger," Wattai said. "Apply hard, direct and constant pressure to the wound." Don't worry about finding a clean blanket or clothing item to use -- germs are the least of your worries in this scenario.
While you wait at home
After you've phoned for help, take a moment to survey the area where the paramedics will need access. Clear a pathway to the patient by moving furniture or clutter that will slow them down once they arrive.
Even if your dog is friendly or your cat never swats at strangers, it's a good idea to isolate them in another room just in case they react to the unpredictable situation.
"It's very helpful to write down a list of the patient's medications, allergies and medical history that you can send with the paramedics," Wattai said. "Also include the name and contact information of a family member if one isn't on site."
Make a plan for who is going to follow the ambulance to the hospital and pack a few of the patient's personal items into a small bag for that person to tote along. Don't try to load the first responders down with extra cargo.
While you wait after an accident
It's best to stay in your car, but if you must get out, be very aware of your surroundings at all times, especially if traffic is continuing to move past you on the road. "Again, our single biggest consideration is your safety," Wattai said.
When you're the patient
Draw confidence in knowing expert help is coming.
"Understand we have quite a few pieces of equipment and medication on our ambulance to take care of a huge array of medical conditions, and we'll treat you on the way to the hospital," Wattai said. "Be aware that we are in communication with the facility where we're taking you, so they are ready for you."
Be open and honest about how you're feeling and get over any feelings of foolishness that a loved one called for help or any protests that you're 'not sick enough' for an ambulance ride.
If you've been in an accident, don't try to get up. You may have injuries that will make recovery harder if you move too much, Wattai said.
When it's over and you look back at the emergency, some things may be a blur, but knowing you did the best you can do will go a long way toward feeling peace about the situation, Wattai said.
Related content:
The Medical Minute is a weekly health news feature produced by Penn State Health. Articles feature the expertise of faculty, physicians and staff, and are designed to offer timely, relevant health information of interest to a broad audience.
Sours: https://news.psu.edu/story/665900/2021/08/12/medical-minute-what-do-while-you%E2%80%99re-waiting-ambulance
If you need medical care when Student Health is closed:

Make an online appointment for the next business day. If your problem is not severe and you just want to make sure you are evaluated soon, you can request a sick visit with a Primary Care provider at SHS. If you check online and cannot find an appointment that suits your needs, please call SHS when the office is open (on-call providers do not set appointments for callers).
Call SHS for urgent questions that cannot wait.. We always have a person who is on call to address urgent medical questions. For example, if you are not sure whether your symptoms should warrant an immediate visit to the Emergency Department of the hospital, the SHS on-call provider can help you figure out what to do. Simply call our main phone number (215) 746-3535 and select option 3. This will take you to an operator at the Hospital of the University of Pennsylvania. Ask the operator to give your information to the Student Health on-call provider. You should provide your name, date of birth, and call-back phone number. The SHS on-call provider will get back to you soon.
Visit a local Urgent Care Center. There are several options in Philadelphia (you can search online for them), and their hours vary. Remember that you and your health insurance plan are responsible for any costs related to this care. Following are some examples, but listing them here does not imply endorsement of the services provided there:
Visit the Emergency Department (ED) of a local hospital if it is serious medical issue. Also, known as the "Emergency Room", this is where patients can be evaluated and possibly admitted into the hospital for more intensive treatment. Remember that you and your health insurance plan are responsible for any costs related to this care. Emergency Departments should not be used for mild conditions that can wait until SHS re-opens for business. We recommend one of the following Emergency Departments:

Hospital of the University of Pennsylvania (HUP) – 34th and Spruce Streets (entrance just south of Spruce)
Penn Presbyterian Medical Center (PPMC) – 38th Street and Powelton Avenue (just north of Market)
Pennsylvania Hospital (PAH) – 800 Spruce Street (Center City)
True Medical Emergency: If you are having a life-threatening emergency you should immediately go to the Emergency Department or call for emergency assistance…
From a campus phone, call 5-1-1 and tell them you have a medical emergency. Public Safety will dispatch an Ambulance and may also call the Medical Emergency Response Team (MERT) to help, since MERT can often get to you faster than the ambulance.
From off-campus but nearby, call 215-573-3333 and tell them you have a medical emergency. Penn Public Safety will dispatch an Ambulance.
From anywhere else in the USA, dial 9-1-1 and tell them you have a medical emergency.
Remember that you and your health insurance plan are responsible for any costs related to this care.
Sours: https://shs.wellness.upenn.edu/afterhours/
About Us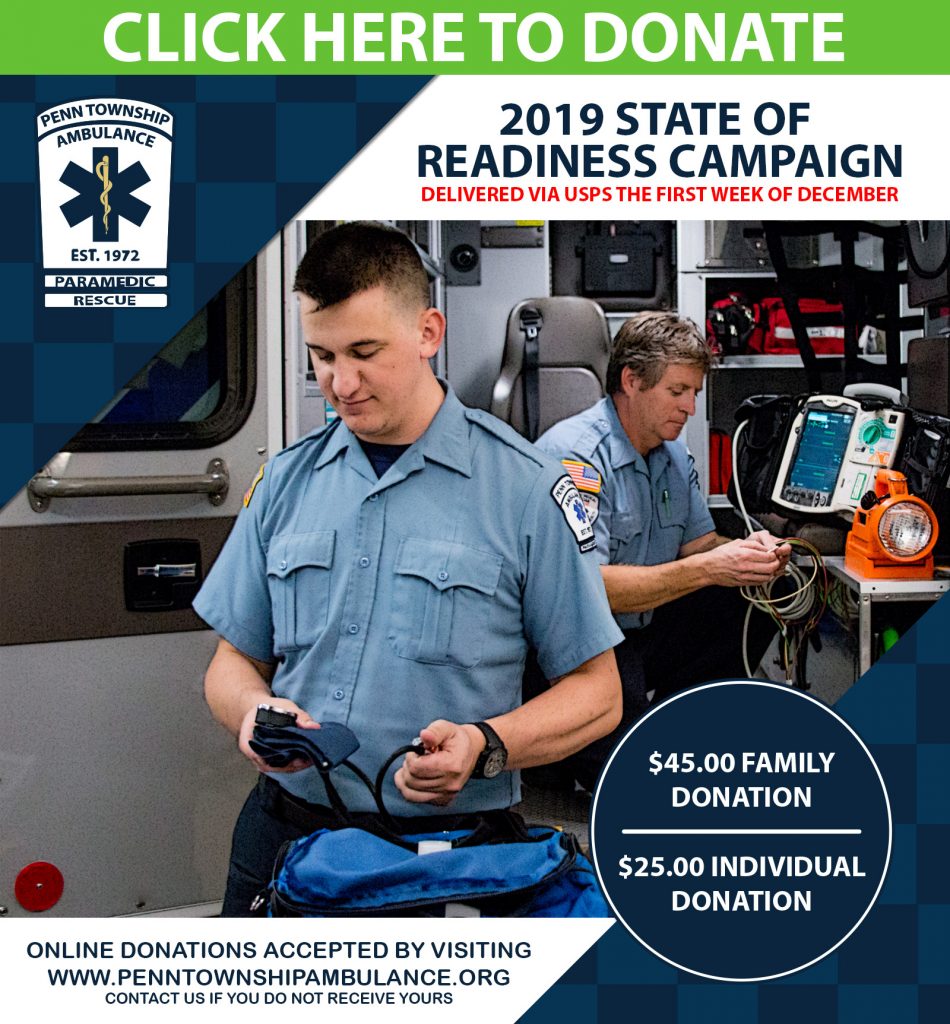 CLICK IMAGE OR HERE TO DONATE
Penn Township Ambulance Association was incorporated in 1972 and is a non-profit (501c3) charitable organization. Penn Township Ambulance is the primary emergency medical services provider (911 Ambulance Agency) for the Township of Penn and the Boroughs of Manor, Penn and Trafford. This represents about 38 square miles and population of about 30,000. Our service area is mostly a suburban setting.  However, light manufacturing and a few agricultural-livestock farms exist, along with commercial establishments. In addition we provide coverage to 11 miles of the Pennsylvania Turnpike. We employ 20 dedicated and motivated medical-rescue technicians. Our staffed ambulances deploy from our station seven days week, every day of the year.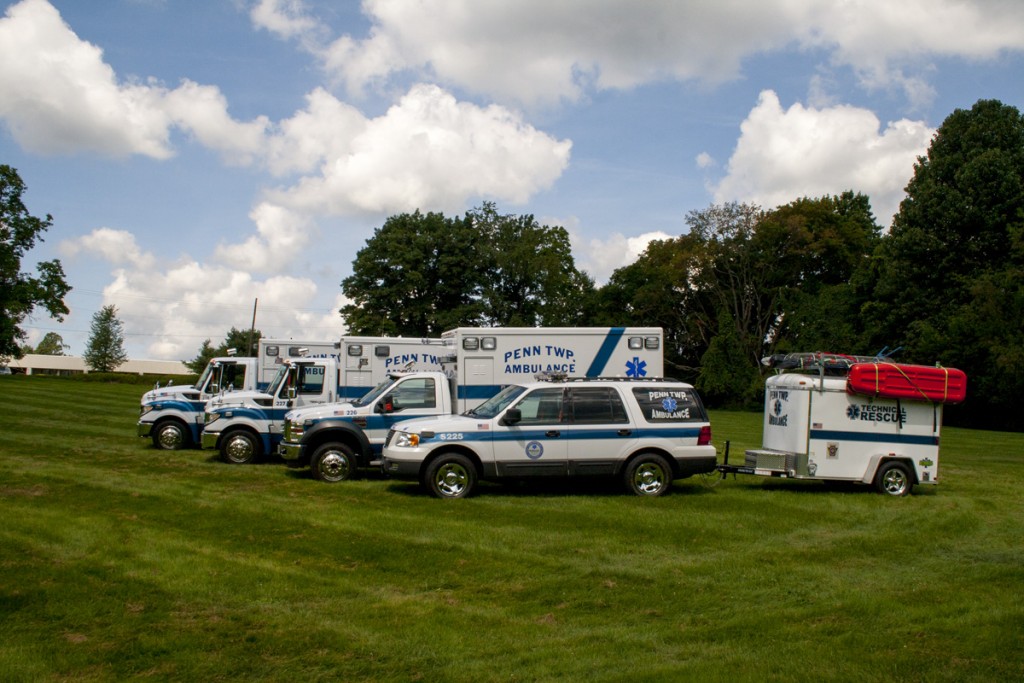 Sours: http://penntownshipambulance.org/
About Care Ambulance Service
Life Lion Emergency Medical Services and Critical Care
Whether you need help in an emergency or nonemergent transportation to the hospital in south central Pennsylvania, Penn State Health Life Lion Emergency Medical Services (EMS) and Critical Care Transport can help.
Life Lion offers 24/7 EMS and 911 response to numerous municipalities throughout Dauphin, Cumberland, Perry, Lebanon, York, Lancaster and Berks and Franklin counties. 
Our team of more than 400 professionals includes paramedics, emergency medical technicians, nurses, physicians, pilots, dispatchers and mechanics who are highly trained to deliver lifesaving services — including advanced and basic life support — that we deliver to the community. Our team also prepares patients for the level of care they'll need once they arrive at the hospital.
We serve:
Life Lion EMS Community Paramedicine Program
Life Lion EMS is one of the first in central Pennsylvania to offer a Community Paramedicine Program, in which specially trained paramedics provide in-home care and follow-up monitoring for patients after their hospital discharge. Our team works with primary care physicians to make the transition from hospital to home as smooth as possible. This helps reduce the risk for a return hospital visit. Community paramedic programs nationwide show great success in reducing the impact of disease on various patient populations.
EMS Special Operation
In collaboration with the Penn State College of Medicine EMS Fellowship, Life Lion brings advanced practitioners, emergency medicine physicians, specialized equipment and medications into the community for select 911 calls as needed. This program also supports mass gatherings associated with the Hershey Entertainment Complex, Penn State Athletics including Beaver Stadium events, and other area sporting events in central Pennsylvania.
Tactical EMS
Life Lion EMS paramedics with specialized training in tactical medicine support high-risk law enforcement and homeland security operations conducted by area police departments. Their special training allows them to focus on team occupation health and treat critical injuries should they occur during crisis situations.
Special Response Teams
The Life Lion EMS special response team is trained to treat and transport patients who might have a highly infectious disease or been exposed to a chemical, biological or nuclear agent. This team conducts several drills each year and supports all levels of hospital operations.
For many years Life Lion has also provided highly trained paramedics and physicians who are part of the Federal Emergency Management Agency's Urban Search and Rescue team, Pennsylvania Task Force 1. These paramedics have been deployed to many disasters across the country including the World Trade Center, hurricanes in the South and several local technical rescue incidents.
Critical Care
In an emergency, minutes matter. Life Lion Critical Care Transport saves precious time while delivering specialized care and treatment for the most critically ill and injured patients. Life Lion operates three medium twin helicopters under CFR Part 135 Federal Aviation Administration regulations. Our advanced aircraft technology and experienced pilots and crew allow the program to safety operate under instrument flight conditions. Two critical care ground ambulances provide a fully functional platform for patients most suited for ground transport. 
Since its inception, the Life Lion Critical Care program has transported more than 40,000 patients, including stroke and cardiac patients, accident and burn victims, infants and others, in urgent need of high-level care. 
Our Critical Care staff members are among the most highly trained clinicians in the nation. They attend countless hours of continuing education and attend advanced clinical rotations so they can provide the same level of critical care in the out-of-hospital environment during transport.
Sours: https://www.pennstatehealth.org/services-treatments/life-lion-emergency-medical-services-critical-care
Ambulance penn care
Penn State Health adds new, life-saving pediatric ambulance to its fleet
HERSHEY, Pa. (WHTM) — The Penn State Health Life Lion Critical Care Transport fleet has added its latest pediatric ambulance.
The new life-saving ambulance features several pieces of specialty equipment, including a transport isolette for infants, a ventilator, and a stronger oxygen system.
Get daily news, weather, and breaking news alerts straight to your inbox! Sign up for the abc27 newsletters here!
Program leader Justin Soulier said it also features additional space in the patient compartment, which gives space to as many as five caregivers to administer care and comfort during the transport of ill or injured infants and children.
"It has some protection equipment for the baby by protecting them from the outside environment and warming up their environment it helps keep them safe," Soulier said.
The newest pediatric ambulance is a mobile intensive care unit, providing the same advanced level of care as Penn State Health Children's Hospital, the region's only freestanding children's hospital. The ambulance is staffed by an emergency medical technician, critical care paramedic, and critical care transport registered nurse.
The enhanced ride was made possible by 317 thousand dollars raised during the Children's Miracle Network telethon in 2019. Penn State Health says it plans to keep learning and with that keep upgrading.
Copyright 2021 Nexstar Media Inc. All rights reserved. This material may not be published, broadcast, rewritten, or redistributed.
Sours: https://www.abc27.com/news/health/penn-state-health-adds-new-life-saving-pediatric-ambulance-to-its-fleet/
New ambulance technology to improve patient care in North East
Rotate Your Phone to Portrait Mode
Penn Alternative Response Unit (AR-1)
Schedule: Wednesdays through Saturdays from 6 p.m. to 4 a.m.
Location: Penn Patrol Zone: between 30th Street and 43rd Street, and between Market Street and Baltimore Avenue.
The University of Pennsylvania has partnered with the Philadelphia Fire Department on an innovative public-private program designed to encourage Penn students to call for emergency medical help by removing disciplinary and financial barriers to access care.
Students with non-traumatic injuries — from sprained ankles to intoxication and other medical conditions — will receive high-quality care and hospital transportation in the PFD's alternative response unit instead of an ambulance. The alternative unit is a marked SUV staffed by a paramedic lieutenant and an emergency medical technician. The AR-1 team works collaboratively with Penn's student-run Medical Emergency Response Team (MERT) and Penn Police officers.
"Penn has long had an amnesty policy to encourage students to seek medical treatment for themselves or their peers for intoxication, without fear of disciplinary action," said Maureen Rush, VP for the university's Division of Public Safety. "By eliminating the cost of the ambulance ride, Penn eliminates another obstacle to medical care, which may save a student's life."

Using the vehicle designated AR-1 to handle these types of calls also frees up ambulances to respond to more serious cases throughout the city. The PFD has 55 medic units that respond to about 800 EMS incidents every day in Philadelphia.
"The purpose of this partnership is to address low-acuity medical incidents of all types on the Penn campus," said Fire Commissioner Adam K. Thiel. "So if a student rolls their ankle in an Ultimate Frisbee game, the ARU will respond, if available, to care for and transport that student so PFD can release an ambulance for other calls."
AR-1 operates Wednesdays through Saturdays from 6 p.m. to 4 a.m. within the boundaries of the Penn Patrol zone: between 30th Street and 43rd Street, and between Market Street and Baltimore Avenue. AR-1 is also available for educational programming and response.
F.A.Q.
Q: How do I get in contact with the ARU if I need them to respond for me or a friend?
A: You can contact the ARU and MERT by:
Calling 215-573-3333 or 5-1-1 from any campus phone.
Picking up an Emergency Blue Light Phone in the Penn Patrol Zone.
Sending a Tip via the Penn Guardian App.
Requesting a transport from anyone at DPS, including Allied Officers.
Q: Who operates the ARU?
A: The ARU is operated by Philadelphia Fire Department medics and EMTs, in conjunction with Penn Public Safety and MERT, Penn's student service of professional EMTs.
Q: Who pays for the ARU medical transport?
A: Penn will cover the cost of medical transports within the ARU program: Thursday through Saturday evenings, from 6 pm – 3 am within the Penn Patrol Zone (between 30th St. & 43rd St., and between Market St. & Baltimore Ave.).
Q: Does Medical Amnesty still apply to ARU transports?
A: Yes. Penn's Medical Amnesty Policy applies to medical transports in the ARU pilot program. Students seeking help for themselves, or a friend, will not face Office of Student Conduct violations for alcohol or drug use. The Office of Alcohol & Other Drug Program Initiatives (AOD) will also continue to assist students who are struggling with drug or alcohol dependency after a related transport.
Sours: https://www.publicsafety.upenn.edu/about/fire-and-emergency-services/penn-alternative-response-unit-ar-1/
Now discussing:
.
677
678
679
680
681