Environmentally Friendly and Efficient Electric Forklifts
Manufacturing environmentally friendly, efficient, dependable and durable electric forklifts
Our electric forklifts are a quiet, environmentally friendly means of handling a wide range of unit loads including pallets, pallet boxes and stillages, giving you a comprehensive choice for any application. Designed primarily for use indoors, electric lift trucks like the Cat® EP16-20A(C)N range are the perfect choice for any materials handling operation, from lifting goods in and out of racking to moving loads at ground level around a site.
This well-established electric forklift manufacturer brings you benefits such as:
Advanced green AC power which gives greater performance
Longer shift cycles to improve efficiency
Simpler maintenance, meaning you can focus on what really matters
Versatile configurations which ensure our electric lift trucks have easily programmable operating characteristics which let you match machine performance with operator experience and load type
Our electric forklifts trucks are suitable for a wide range of purposes
For your warehouse applications, electric forklift trucks are ideal as they are both quick and easy to manoeuvre. This is especially true of our 3 wheel electric forklifts such as the EP14-20A(C)NT, which have some very tight turning circles. With maximum lift heights of up to 7 metres, our electric forklifts are suitable for most standard wide aisle racking operations.
For production environments, electric forklifts are perfectly suited to bringing supplies or components to a production line or clearing away waste packaging or other production by-products. They can additionally be used to load or unload heavy goods vehicles, either from the rear of the vehicle (via a raised loading dock) or from the side (from ground level).
What makes Cat Lift Trucks different to other electric forklift manufacturers?
To help you manage preventative and regular maintenance with minimum downtime, our electric forklifts are equipped with high energy efficiency, on-the-go system monitoring, self-diagnostics and fault memory monitoring. In addition, on all models, a built-in service reminder can be programmed so that maintenance can be scheduled at intervals to suit your shift patterns.
As with all Cat lift truck products, our electric lift trucks are built to last. Combining toughness and operator comfort with the most advanced technical features, our electric forklifts are a very adaptable, clean and powerful alternative to diesel or LPG forklift trucks and are suitable for many of your indoor and outdoor applications.
View our entire range of electric lift trucks below.
Sours: https://www.catlifttruck.com/products/counterbalance-forklift-trucks/electric-powered-forklift-trucks
HOUSTON – Mitsubishi Caterpillar Forklift America Inc. (MCFA), the provider of Cat® lift trucks in the United States, Canada and Mexico, today announced the new Cat EC15N-EC18LN electric cushion tire lift truck series. The 3,000-4,000 lb. capacity model is built to drive business forward by combining the latest in operator ergonomics and advanced AC technology.
With a focus on productivity and comfort, the new Cat lift truck series maximizes efficiency with less maintenance and greater uptime. With custom operating modes, operators have control over the truck's performance and ergonomic settings for their comfort.
"The new Cat electric cushion tire lift truck series is the best solution for maximum output," said Antonio Serrano, product marketing manager at MCFA. "With a smarter design and longer run times, the electric cushion tire lift truck series gives customers the tools they need for optimal performance in warehouse applications where operational space is a key factor and a compact truck is needed."
Key Features Include:
Longer-Lasting Run Times
Operators can get the job done without sacrificing performance with this truck's 3-phase AC technology and regenerative braking features. The EC15N-EC18LN series technology keeps the lift truck running for more hours.
Precision and Responsiveness
Separate drive, hydraulic and steer motors, maximize the lift truck's performance for greater productivity. Resulting in precise positions, controlled travel speed, responsive acceleration and braking.
Greater Comfort
The full hydrostatic power steering wheel requires exceptionally lower effort compared to other steering systems. The Standard Full-Suspension Vinyl Grammer® Seat reduces shock and vibration through 4-way adjustments, lumbar support, weight suspension and forward/backward adjustments.
Smart Design
Operator Presence Detection System (PDS) increases operator awareness and uses both audible and visual indicators to alert the operator of potentially hazardous situations
Adaptable Performance Modes
Preset operating modes help achieve balance between output and economy. Selecting the optimal performance for acceleration, travel speed and hydraulic speeds adapts the output for the application, enhancing efficiency.
To learn more about the Cat EC15N-EC18LN series of electric cushion tire lift trucks or the Cat lift trucks product line, visit https://www.mcfa.com/cat.
About Mitsubishi Caterpillar Forklift America Inc. (MCFA)
Manufacturer of High-Quality Material Handling Equipment
Mitsubishi Caterpillar Forklift America Inc. (MCFA) is a leading manufacturer of high-quality forklifts and warehouse products in North, Central and South America and the Caribbean. Based in Houston, Texas, the company distributes three distinct brands – Mitsubishi forklift trucks, Cat® lift trucks and Jungheinrich® warehouse products – through its extensive dealer network. All products are backed by industry-leading customer service and superior product support.  For more information about MCFA or any of its brands, visit Mitsubishi Caterpillar Forklift America, Cat Lift Trucks, Mitsubishi Forklift Trucks or Jungheinrich Forklifts.
About Cat® Lift Trucks
Cat® lift trucks is one of the most trusted forklift brands in the world. For nearly 50 years, customers have relied on the Cat lift trucks brand for quality and reliable forklifts backed by exceptional service and support through its trusted dealer network. With capacities ranging from 2,500 to 36,000 pounds, Cat Lift Trucks delivers fuel-efficient lift trucks for greater productivity and advanced electric forklifts with longer run times and a lower total cost of ownership. Cat lift trucks are manufactured and distributed by Mitsubishi Caterpillar Forklift America Inc. (MCFA), a leading manufacturer of forklifts distributed throughout North, Central and South America and the Caribbean. For more information, please visit Cat Lift Trucks, Cat Lift Trucks on Facebook, Cat Lift Trucks on Twitter, Cat Lift Trucks on YouTube  and Cat Lift Trucks on LinkedIn.
News stories are submitted by member companies. Publication of a story does not indicate an endorsement of any product, event, or company by MHEDA.
Sours: https://www.mheda.org/news/mitsubishi-caterpillar-forklift-america-inc-introduces-new-cat-3000-4000-lb-capacity-electric-cushion-tire-lift-trucks
CAT® forklifts and lift trucks have become one of the most popular brands in the industry for a reason. When it comes to quality, reliability, and customer service, you can't beat a CAT® forklift. And to ensure you get the very best, Naumann/Hobbs carries all classes of CAT® lift trucks — ranging in lift capacities from 2,500 to 36,000 lbs — as well as pallet jacks for all of your material handling needs.
Class I – Electric Counterbalance Lift Trucks:
2,500 – 10,000 lb capacity Pneumatic Tire Lift Trucks
3,000 – 12,000 lb capacity Cushion Tire Lift Trucks
Class IV – Internal Combustion Cushion Tire Lift Trucks:
3,000 – 15,500 lb capacity Cushion Tire Lift Trucks
8,000 – 15,500 lb capacity Paper Handling Chassis Lift Trucks
Class V – Internal Combustion Pneumatic Tire Lift Trucks
3,000 – 36,000 lb capacity Pneumatic Tire Lift Trucks
CAT® Pallet Jacks
5,500 lb capacity pallet jack
If you're ready to add a CAT® lift truck to your warehouse or operation, give our team a call at (866) 266-2244 and see what Naumann/Hobbs can do for you, or visit your nearest location.
Available brands and products vary by location.
See more CAT Products
Sours: https://www.naumannhobbs.com/forklifts-and-lifts/forklift-brands/caterpillar-forklifts/
Mid-size Electric Cushion Tire Forklift - SAF Holland Customer Review - Cat Lift Trucks
CAT Forklifts
Benefits of CAT Lift Trucks
Exceptional Reliability
CAT forklifts are built to endure the demands of your operation. When you choose CAT, you're choosing a lift truck that you can rely on for years. Each LPG, diesel, and electric forklift is built with a sturdy chassis, easy to use controls, and excellent visibility. This ensures reliable and safe operation for all applications.
Leading Resale Value
If you're looking for equipment that maintains its value over time, CAT forklifts are second to none. This is especially true regarding the resale values for each of their machines. When it's time to update your fleet or turn out older equipment, CAT lift trucks retain their value better than any other brand on the market.
Massive Parts Inventory
Leavitt Machinery has access to thousands of high-demand CAT forklift parts. This allows us to remain well-stocked at all times, providing you with the parts you need as soon as possible. In addition to their exceptional availability, CAT replacement parts are built to adhere to the highest performance standards. This ensures a longer usable life. By getting quality parts to your operation quickly, you spend less time waiting for your order and more time on the job.
Sours: https://www.leavittmachinery.com/new-equipment/by-brand/cat-lift-trucks
Forklift cat electric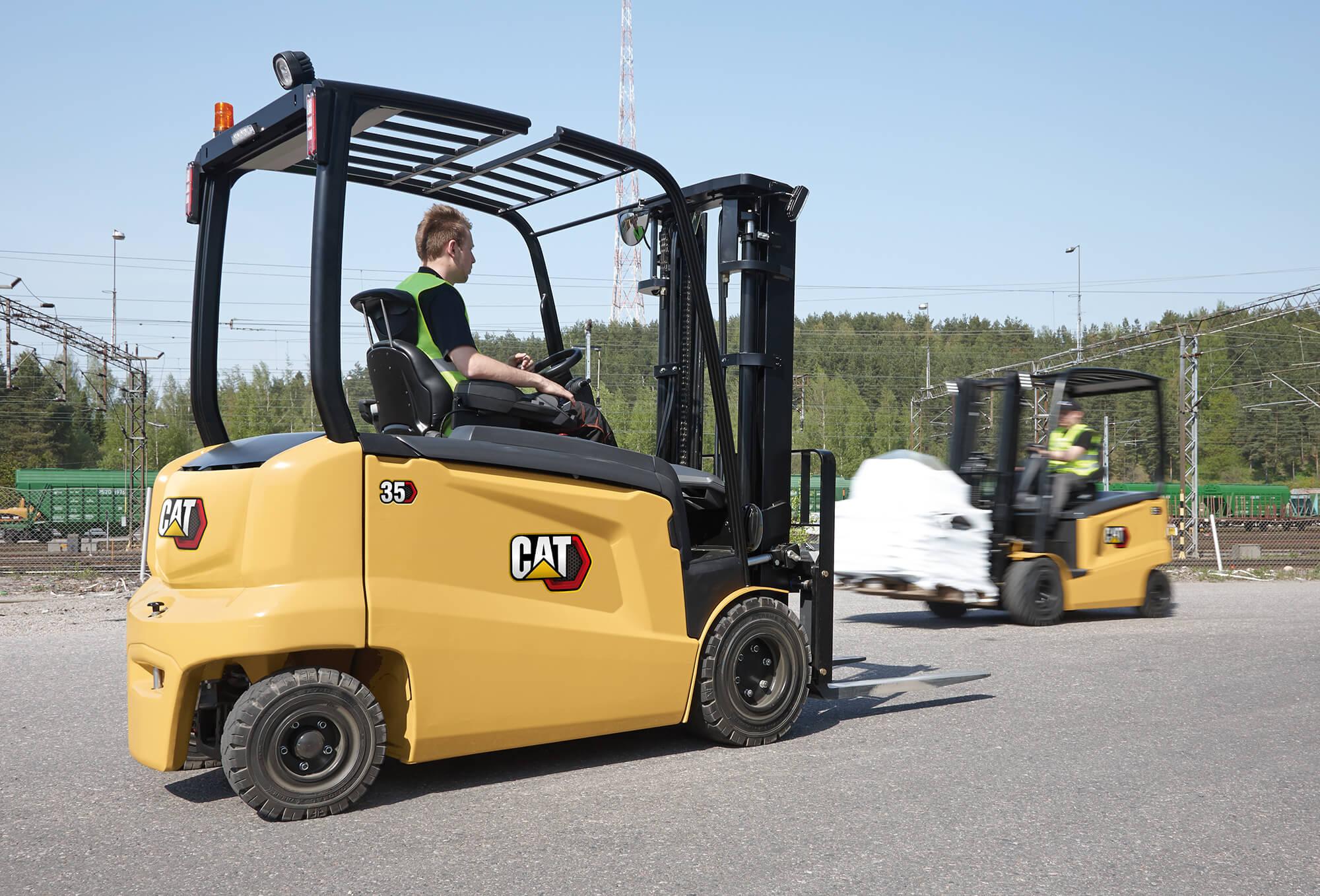 Environmentally Friendly Electric Forklift Trucks
Learn more
Forklift trucks and materials handling solutions
Cat® Lift Trucks are one of the leading manufacturers of forklift trucks and materials handling equipment with a network of dealers across Europe, Africa and the Middle East. With over 80 years' experience in the materials handling industry, we've developed a range of robust, efficient and performance enhancing forklift trucks and warehouse equipment; ensuring your applications are completed efficiently, safely and smoothly.
Finding the right lift truck for you
Cat® Lift Trucks are supported by network of dealers across Europe, Africa and the Middle East. No matter your location, we should have a dealer nearby who will be willing to help with your forklift truck and warehouse equipment needs. Find a dealer near you, here.
Choose your ideal forklift truck from our comprehensive, durable range of forklifts and warehouse equipment. Try our forklift truck selector to find the right truck for you.
Eureka magazine
The magazine for the materials handling professional, available online.
www.eurekapub.eu features all the issues published to date: you can subscribe and receive email alerts.
Visit eurekapub.eu
Sours: https://www.catlifttruck.com/
CATERPILLAR 4 WHEEL ELECTRIC FORKLIFT 2
.
You will also like:
.
643
644
645
646
647