BIOS
The GIGABYTE Aorus firmware has two different modes for users to sink their teeth into. The clean looking Easy Mode sets the stage, while for more experienced users, an advanced mode which allows users to tweak CPU, memory, storage, networking and PCIe related settings. It has a simple design which consists of a primarily black background, white text, and orange accents at the top and bottom. The advanced mode can be accessed by pressing the F2 key, with other functions such as the Smart Fan 5 utility accessible by pressing F6, and Q-Flash for updating the board's firmware with a press of the F8 key.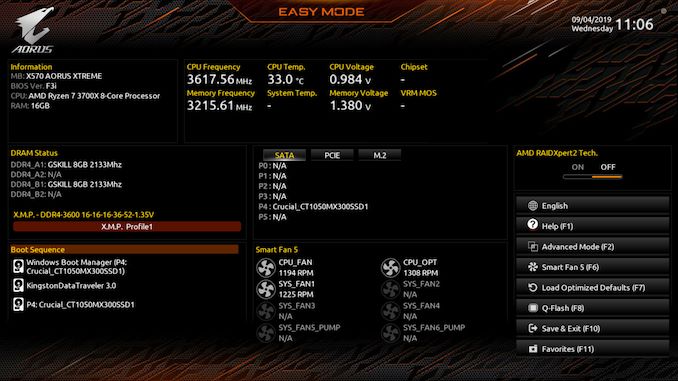 Looking at the initial splash screen upon first entering the firmware, the Easy Mode is designed to give users an easy to use and navigate the area in which they can customize basic, yet primary settings. These include being able to enable or disable memory X.M.P profiles at the click of a button, change the boot sequence, and enable AMD RAIDXpert 2, or disable of course. Basic information on the current fan and pump header speeds are shown in the central section at the bottom part of the screen, while along the top is a basic set of information on the model, firmware version, and the processor installed. To the right of this are details of the current CPU frequency, current CPU temperature, with both CPU and memory voltages also displayed. Along the right-hand side, users can navigate through a menu of clickable options including the advanced mode, the Smart Fan 5 utility, reset the firmware settings back to default settings, and access the Q-Flash firmware update tool. Each menu is represented with a corresponding key eg, F2 for advanced mode, F8 for Q-Flash etc.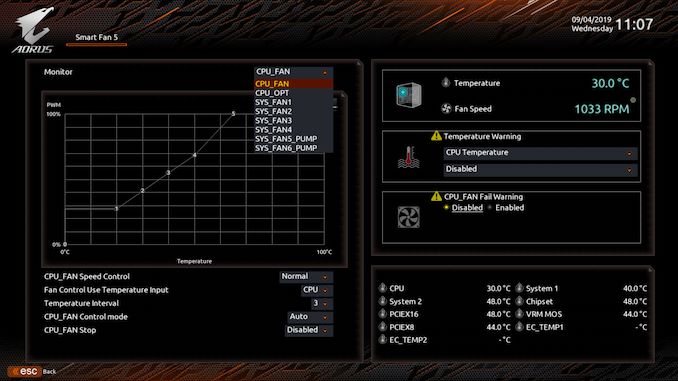 Pressing F6 from the Easy Mode allows users to access the Smart Fan 5 utility. This allows users to control and set fan speed parameters based on different presets including normal, full-load, and less aggressive profiles. The option is also available to set fan profiles based on a curve with speed set to a relative temperature. Other options available with Smart Fan 5 includes giving the users the ability to set CPU Fan fail warnings so that if a CPU fan fails during operation, an alert is given to the user to warn them as it could potentially cause damage to the system.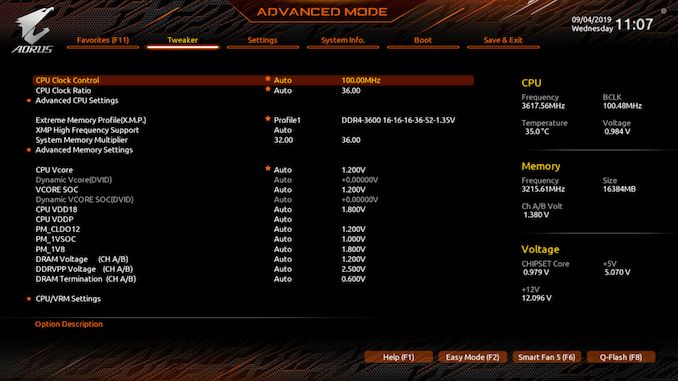 Within the Advanced mode which can be accessed by pressing the F2 key opens all of the more functional settings. This includes the Tweaker section which allows users to overclock the CPU and memory, and customize a variety of power-related setting such as Precision Boost Overdrive, LLC configuration, and voltage settings. Users looking to customize their memory settings deeper can do so under the advanced memory settings which allow primary, secondary, and tertiary memory latency values to be changed. Below is a list of limitations when using the current firmware for settings such as CPU VCore, CPU frequency, DRAM frequency, and the Infinity Fabric/FCLK frequency. It should be noted that most of these maximum values won't even be able to be reached, even with extreme cooling methods:
Maximum CPU Frequency = 6.375 GHz
Maximum CPU VCore = 1.8 V
Maximum DRAM Frequency = DDR4-6000
Maximum Infinity Fabric/FCLK Frequency = 3000 MHz
Overall GIGABYTE's Aorus firmware is effective, simple to use and very easy to navigate with two highly user-friendly modes to switch between; the Easy and Advanced modes. The firmware itself is stable and responsive, and if earlier revisions of the firmware stood in line with other vendors at launch, those infancy issues are certainly worked out now. There is plenty of options for overclocking, tweaking and customizing settings including power-related settings. There aren't quite as many overclocking settings as models such as the MSI MEG X570 Godlike, especially in terms of memory latency settings, but the GIGABYTE Aorus firmware looks good and works well.
Software
For such a high-end motherboard, GIGABYTE's software suite doesn't quite have the clout in terms of applications compared with the likes of ASUS, but they do include a functional set of applications which all focus around the hub like GIGABYTE App Center. Unlike a lot of vendors who provide its software and drivers bundled onto a disc, GIGABYTE provides users with a USB which is more modern, and practical due to the decline in optical disc drive usage. Some of the more functional utilities which come with the X570 Aorus Xtreme include the RGB Fusion 2.0 software, the SmartFan utility, the EasyTune overclocking software, and the @BIOS firmware updater.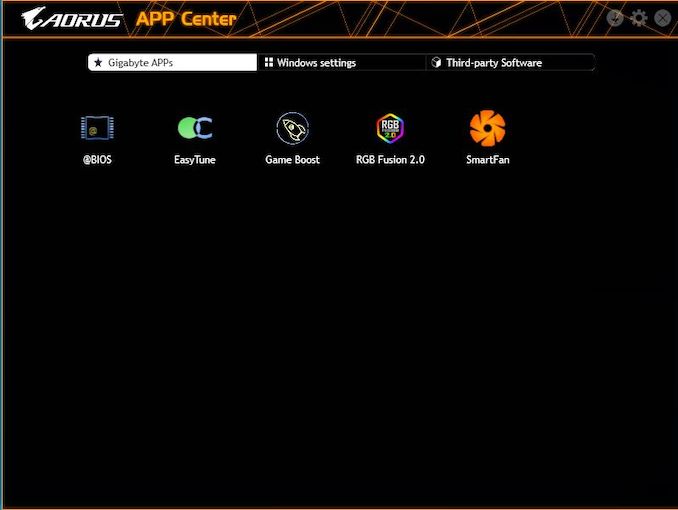 The GIGABYTE APP Center acts as the plexus for compatible applications and offers a couple of notable benefits. The first is it keeps all of the GIGABYTE's utilities in one place which makes it easier and more accessible for users to locate which app they are looking for. Secondly, the APP Center allows users to access Windows 10 based applications with a simple click including the device manager, power options, and even allows users to access Windows network-related settings. In the top right-hand corner, users can use the Live Update utility to keep drivers and GIGABYTE's software up-to-date.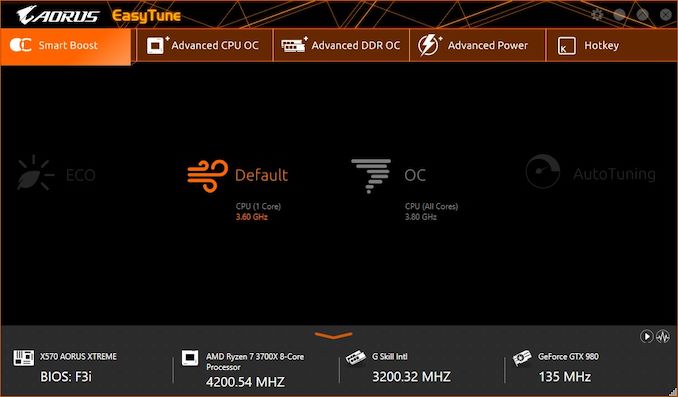 Looking at the Aorus EasyTune application, this gives users the ability to overclock their system within Windows, and although it comes across very basic in its delivery, it does include plenty of useful settings. This includes options to alter the base clock, CPU ratio and plenty of voltage settings including CPU VCore, SoC voltage, and CPU VDDP voltage. The Advanced DDR OC is a little underwhelming and only offers options to increase memory frequency and enable or disable X.M.P; hardly advanced in comparison to the AMD Ryzen Master utility which is favored about GIGABYTE's variant.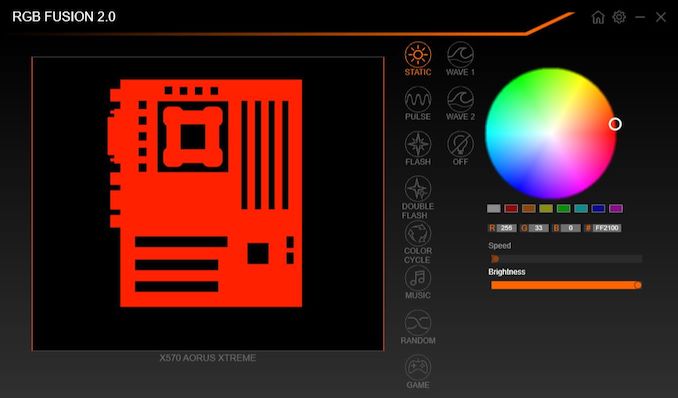 Over the last year, we have seen many implementations of RGB customization across many vendors, but the GIGABYTE RGB Fusion 2.0 is one of the most primitive-looking, but most functional pieces of software at the same time. Users can navigate and set a multitude of different RGB awe-inspired effects such as flash, double flash, and two wave settings; there are ten different RGB LED light settings in total as well as having the option to turn them off completely. I would expect something a little more flashy for a $700 flagship motherboard such as the X570 Aorus Xtreme, but it works and that's the most important thing.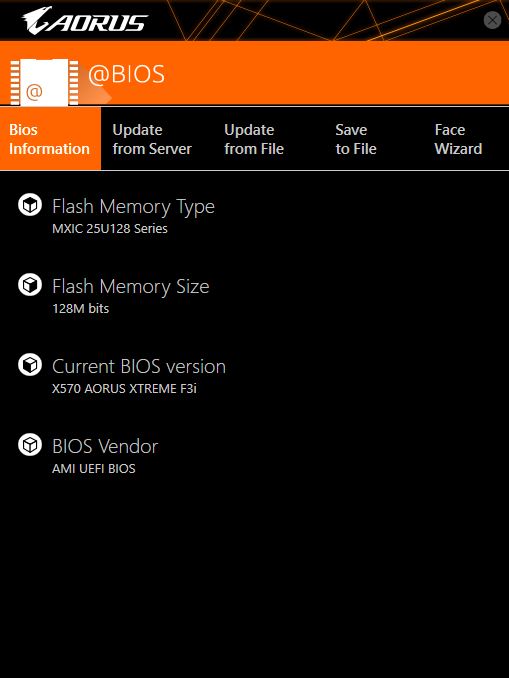 One of the more pertinent applications in the software bundle is the @BIOS utility which affords users with the ability to keep the board's firmware up-to-date. The integrated Q-Flash utility within the firmware and the related switch on the rear panel board offer the most reliable method to update the firmware, but users can download the latest version through the @BIOS utility with ease, or search for the latest version located at the official product page.
The GIGABYTE X570 Aorus Xtreme comes supplied with a software variant of its Smart Fan utility, but we failed to get it to fire on our operating system. A piece of software excluded from the bundle which is a reoccurring theme of late is a form of audio control. Users can download a version from the Windows store and given GIGABYTE's insistence in providing uprated audio componentry onboard, it's something that would be expected to come supplied with the board as standard. The bundle with the X570 Aorus Xtreme is a little underwhelming for a board of this pedigree, with the EasyTune software looking a little bare, but users can download the Ryzen Master overclocking utility for free and from all the vendors own overclocking software so far for Ryzen 3000 processors, AMD's seems to offer the most customization at present.
AT Deals: Alienware AW2720HF 27-inch 240 Hz Gaming Monitor Now Only $300
SK Hynix Announces Its First HBM3 Memory: 24GB Stacks, Clocked at up to 6.4GbpsBest Internal Hard Drives: October 2021
TWEETS
IanCutress: @pvtbanner @RawbGun No longer at that price, unfortunately
IanCutress: @PhoenixLumen 3.5-inch.
IanCutress: @hnapel Always worth avoiding unknown sellers in that instance and paying a bit more to ensure a proper replace contract
IanCutress: @hnapel When you need 10s of TBs, SSDs aren't possible.
IanCutress: @Urotsukidoj1 Will see what happens. I'll fill it up today, but it's pretty much cold storage
andreif7: @jonnyevans_cw https://t.co/TPws1rG12u 8.58mm x 12.55mm = 107.68 mm2
andreif7: @gabesalkin No, it's all the same.
andreif7: No Pixel 6's in BeNeLux, nice.
andreif7: @engineeringsloh We have to buy one like you.
andreif7: @Cox_Pt This is a pointless discussion, there's nothing in GB5 that would avoid it scaling like any other workload.
RyanSmithAT: @IanCutress @denis20731349 Isn't it 2 external displays + 1 internal display?
RyanSmithAT: @oliviaselenic @OldGreyHorror An NVIDIA CUDA core is 1 FP32 ALU, not 1/32 of an ALU. An ALU processes one FP32 oper… https://t.co/AEJwJVs5uk
RyanSmithAT: @oliviaselenic @OldGreyHorror Apple's current GPU architecture offers 128 FP32 ALUs per "core", which is similar to… https://t.co/HVRy0GcHMi
RyanSmithAT: And just to respond to myself here, Andrei reckons that based on Apple's images, it's 432mm2 for the M1 Max. That's… https://t.co/rJneX19zmk
RyanSmithAT: @Jimmy78926787 Apple is fortunate that they can charge so much for their products
ganeshts: A Thunderbolt 4 / USB4 hub from @plugable at a very attractive price point (considering the USBC-HDMI value add). A… https://t.co/DiJZS8MmF9
ganeshts: @JamesDSneed @IanCutress Yes, NAND has the ability to store dynamic sector remap information - this is not only for… https://t.co/J0NYC9oCZk
ganeshts: @AG_1138 Micron has a history of doing these silent changes. The P2's silent move from TLC to QLC resulted in worse… https://t.co/UfmTilvFi1
ganeshts: @ricswi Looks like that requirement is Home-only. Other editions will still allow local accounts. I can't remember… https://t.co/qOvPnduAuY
ganeshts: @Laughing_Man @hnpn914 Benson, is there an update planned for the Twinkie PD to support EPR? I still use the USBC-T… https://t.co/D6g5nmQvB5
Follow @ANANDTECH
Sours: https://www.anandtech.com/show/14807/the-gigabyte-x570-xtreme/3
You will not need to do this in the future versions of Ubuntu when support for this Driver propagates. Hopefully not long now...
Common problem for Ubuntu 20.04 since year 2020
Just got it working personally now, but google directed me to your post.
Assuming your version of the Gigabyte Z950 Aorus Elite AX has the same 2.5GB Ethernet Chip. Then the below should work.
Download Linux Driver direct from Realtek website. Below link works now, but google if it doesn't. https://www.realtek.com/en/component/zoo/category/network-interface-controllers-10-100-1000m-gigabit-ethernet-pci-express-software I selected released
Download and extract downloaded tar archive
Open terminal and install build essentials..
In extracted directory type
If the above steps work fine, and Ethernet cable connected, nothing obvious forgotten, then your Ethernet connection should be up immediately without restart needed
answered Jun 13 at 12:32
Sours: https://askubuntu.com/questions/1345309/how-do-i-get-drivers-for-my-motherboard-z590-aorus-elite-ax-for-ubuntu
Gigabyte's Aorus 15G is great at gaming, but not much else
Gigabyte's refreshed Aorus 15G for 2021 has a subtle, all-black design that takes a page from the company's more svelte Aero lineup of creator-focused laptops. It's a nice upgrade, but there aren't many other changes from last year's model, for better or worse. It offers the same wide variety of ports (including the all-too-rare full-size SD card reader), and impressively, Gigabyte fit an excellent 15.6-inch display into a 14-inch wide chassis. But at the same time, the keyboard is cramped and the nostril webcam is awkward to use.
There are some other swings and misses, but it nails what it's really focused on: gaming. The bump up to Nvidia's RTX 3070 graphics chip inside is the biggest change, and it helps this thin-and-light gaming laptop run most games beyond 60 frames per second, crossing the bar for reliably smooth gameplay.
That kind of performance is great — and not necessarily a given just because a laptop has this graphics chip. Manufacturers can set its power level to balance performance and efficiency as they see fit. So, despite having a compact chassis, I was surprised to see it perform better with games than the Asus TUF Dash F15. It's generally much quieter, too. Gigabyte found the sweet spot, and if you plug in an external mouse and keyboard, this machine is a blast to use.
The $1,799 configuration Gigabyte provided for review has the aforementioned Nvidia GPU, Intel's 10th Gen Core i7-10870H with eight cores, 32GB of RAM, a 512GB NVMe SSD, a 99Wh battery, and its 15.6-inch 1080p display with a 240Hz refresh rate is Pantone-certified for color accuracy with 100 percent coverage of the sRGB color gamut. This isn't Gigabyte's top-of-the-line model, but it's close. The step-up config for $200 more has the RTX 3080 and double the storage. A more affordable $1,499 model with the RTX 3060 is also available.
Even though, technically, a laptop with the RTX 3070 is middle of the road between Nvidia's low- and high-end graphics chips, it can deliver fantastic results. Gigabyte's Aorus 15G would probably like to credit its gimmicky built-in Microsoft Azure application that automatically optimizes performance with AI, but it's capable out of the box with default settings. There wasn't a huge difference in gameplay with or without the Azure app running, nor when I set the GPU and CPU to boost in Gigabyte's pre-installed Aorus Control Center app. That's fine by me; the less tweaking required, the better.
Getting right into game performance, Red Dead Redemption 2's built-in benchmark running on ultra hit a steady average of 66 frames per second, dropping to just 44 frames per second at the lowest. Shadow of the Tomb Raider running at ultra settings with medium ray-traced shadows ran at an average of 93 frames per second. Bumping up the ray tracing to ultra knocked it down to 69 frames per second, which is still a smooth experience. None of these results come close to taking full advantage of the fast-refreshing screen, but older or less demanding games should be able to hit far higher frames per second.
Outside of benchmarks, Cyberpunk 2077 running at ultra ray tracing settings was easily my highlight testing the Aorus 15G. This machine had little issue keeping the game running above 50 frames per second in a more barren or enclosed environment, and it rarely dropped below 40 frames per second in crowded outdoor environments — again, that's with the most demanding graphical settings cranked up (ultra with every ray tracing setting and DLSS on). The performance here will make a lot of people happy. I was also impressed by Gigabyte's cooling system, which keeps things surprisingly quiet and cool under pressure. This is the rare gaming laptop you can actually keep safely on your lap while gaming.
I'm fascinated with Nvidia's new RTX 30-series graphics chips. Not just because they're good, but because they sometimes provide wildly different results depending on the laptop they're in. For instance, in the MSI GS66 Stealth, its RTX 3080 delivers very similar performance to the chip inside of Gigabyte's laptop here, even though it should blow it away. The reason is because this chip has a higher clock speed and power draw than what's inside of MSI's laptop.
Specifically, this 3070 tops out at a 105W power draw with 1,290MHz clock speed, whereas the 3080 in question is at 95W maximum power and 1,245MHz clock speed. In short, you're getting a lot of power in this thin $1,799 machine. Paying $200 more for the Aorus 15G with the RTX 3080 might not get you all that many more frames per second, as it also has a 105W maximum power draw but a slightly slower 1,245MHz clock speed. You might know all of this info, but you might not. Nvidia requires manufacturers to share it, though some of them are still being cagey about it. For the record, Gigabyte is one of the more transparent companies about its GPU specs. I'm keeping tabs on other manufacturers right here.
Outside of gaming, the Aorus 15G is unfortunately a less convincing product. It's able to run my usual workload flawlessly, consisting of Affinity Photo, about 10 Google Chrome apps, Slack, and Spotify. Given the specs inside, I expected this. What came as more of a surprise is that they don't translate so well to video production. During an Adobe Premiere Pro test that exported a five-minute, 33-second 4K video, it took about seven minutes each time to render.
There are several other trade-offs that might give you pause if you need a laptop as much for productivity as you do for gaming. The typing experience is fine but not helped by the cramped keyboard layout. It has a tiny trackpad, and its nostril-gazing webcam didn't cut it for me. Also, Gigabyte claims up to eight hours of battery life, but I averaged around six hours per charge. The new Asus TUF Dash F15 excels at all things Gigabyte didn't quite land and costs less, but its lack of a webcam is a huge red flag.
This is a fantastic machine if all you want to do is get 60 frames per second (and often, better than that) in most of your games without tweaking many settings. Doing that for under $2,000 is an achievement worthy of praise. But if you care less about mobility and having a thin form factor that Gigabyte's Aorus 15G provides, MSI's GP66 Leopard takes the RTX 3070 even further. Its thicker, heavier chassis affords the chip even more headroom to get better performance in games — for the same $1,799 price, no less.
Photography by Cameron Faulkner / The Verge
Sours: https://www.theverge.com/22299226/gigabyte-aorus-15g-review-gaming-laptop-price-specs-features
Gigabyte X570 Aorus Master - How to setup RAID1 \u0026 how to install Windows 10 on RAID from flash drive
Recommended minimum drivers for a Gigabyte B550 Aorus Elite AX V2 and AMD Ryzen 5 3600?
It's a Gigabyte B550 and you really shouldn't need to download any drivers if you installed Windows while connected to the internet...?

You have a 3600. Literally requires nothing extra from you in February 2021. Audio (ALC1220) will be fetched by Windows. AX200 Wifi should be fetched by Windows. If your BIOS AGESA is even remotely up to date (AGESA 1004, 1006, 1002v2, 1081, 1100B/C/D), then the CPU's not going to lose its mind because you didn't install the Ryzen power plans. NVMes shouldn't require any extra drivers.
All that's left is getting drivers for your graphics card, which you'll get directly from AMD or Nvidia.
You can go get the chipset drivers from AMD if it makes you feel better, but we're a year and a half in - there's no performance difference to be had between Windows plans and Ryzen plans. Windows is still gonna get the chipset drivers, it just won't fetch the power plans for you.
The only thing that wasn't quite plug and play on my 4650G with the B550I Aorus AX was the iGPU drivers because Vega 7 leaves Windows a bit confused. But it's an APU. Everything else Windows update was smart enough to do by itself.
If you happen to run into specific issues with AX200 Wifi or BT, or the audio, then go to GB's website and fetch a different driver. Otherwise, if it ain't broke, don't fix it, unless you go around looking for trouble.
Sours: https://www.techpowerup.com/forums/threads/recommended-minimum-drivers-for-a-gigabyte-b550-aorus-elite-ax-v2-and-amd-ryzen-5-3600.278357/
Drivers aorus
AORUS Drivers Download
SCHENKER Laptop Drivers, Software
by DriverNew • • 0 Comments
Advertising
Additional Information.
If you do not know how to connect an additional device to your computer, and you need instructions on how to connect it correctly, you can use the search bar on this website (located in the upper right part of any page) or write to us.
To use any computer device, software (driver) is required. It is recommended to use the original software that came with your computer device.
If you do not have the software, and you cannot find it on the website of the manufacturer of the computer device, then we will help you. Tell us the model of your printer, scanner, monitor or other computer device, as well as the version of the operating system (for example: Windows 10, Windows 8, etc.).
Find operating system info in Windows 10
Find operating system info in Windows 7, Windows 8, Windows 8.1. Read more.
Find out which macOS your Mac is using (Use About This Mac to see the version of Mac operating system installed on your Mac, and find out whether it's the latest version).
From the Apple menu in the corner of your screen, choose About This Mac. You should see the macOS name, such as macOS Mojave, followed by its version number. If you need to know the build number as well, click the version number to see it.
Driveris a computer programthat operates or controls a particular type of device that is attached to a computer.
Advertising
Connection, repair and maintenance of computer devices
If you do not know how to connect an additional device to your computer, and you need instructions on how to connect it correctly, you can use the search bar on this website (located in the upper right part of any page) or write to us.
The site provides information on the use of computer hardware and software. Also on the site you can find answers to complex questions that arise when using printers, scanners, monitors, laptops and other computer devices.
Categories
Computer hardware drivers
A driver provides a software interface to hardware devices, enabling operating systems (Windows, Linux, Mac, etc.) and other computer programs to access hardware functions without needing to know precise details about the hardware being used.
Sours: https://drivernew.com/?p=16064
intel 11th Gen Core i7 11700 GIGABYTE Z590 AORUS ELITE CORSAIR VENGEANCE LPX GTX1060 Gaming PC
Gigabyte's Aorus engine is a GPU overclocking and system monitoring utility program. The app enables you to optimize your GPU's performance and evaluate all parts of your system.
The AORUS Graphics Engine is a graphics card companion program for Gigabyte graphics cards. This software is the final piece of the puzzle. This program makes it simple to overclock a supported graphics card. Depending on your needs, you can also increase or reduce the fan speed. It's never been easier to keep track of your graphics card's performance.
Probably the most intriguing feature is the OC scan. It tells users how much they may increase the clocks on a card without causing damage to it. Extra-careful overclocking is a good name for this feature. The LED control display is another characteristic that is unique to Aorus products. Determine the colour you want your card to be in order to provide ambient lighting within your case.
This line of graphics cards was produced by the company to complement the Aorus motherboards that have already been released. As a result, some of the tools provided will also work with certain Gigabyte Aorus motherboards.
If you are a PC gamer and you place a high value on system performance to ensure a seamless gaming experience, the Aorus Engine is the best choice for you. The software is helpful for overall control and monitoring of game execution, as well as customizing other components. Continue reading as we will walk you through all you need to know about the Aorus engine software and present you with a 100% working download link.
Why To Get Gigabyte Aorus Engine
Aorus engine is a GPU system utility software. It allows you to control the PC's many functions, such as fans, lights, and system monitoring, and it assists you in getting the most out of your GPU. You may use the app to control the RGB of your GPU, as well as alter fan speeds for optimal cooling and other components of your PC.
The engine includes a user interface to assist you in achieving your objectives as effectively as possible. The Aorus engine allows you to control and configure your PC's processes and hardware settings. With the app, you can simply manage your CPU settings and modify various factors like fan speed, voltage output, overclocking, auto-tuning, LED lighting, and so on.
The software allows you to efficiently change the CPU utilization, core voltage, power usage, and many other parameters. You may also instantly monitor the processes from the window. For the software to handle your PC's particular overclocking operations, there are auto and manual GPU tuning choices.
Also download Gigabyte RGB Fusion 2.0 from here.
To get the maximum performance out of your PC, you can alter various variables manually or use the program to auto-tune it. Overclocking is also an option in the app. You may fully overclock your GPU with the software's assistance to improve your processes and give you a longer run duration. You can bring out the best and utilize your GPU to the fullest with the Gigabyte Aorus engine software.
Aorus Engine Features
The Aorus engine boosts your GPU's utility and provides you comfort and efficiency. Let's take a quick look at the exciting features of the Gigabyte Aorus Engine software.
Monitoring of the system's state.
Customizable CPU energy, voltage, and other parameters.
Increase or decrease the fan speed.
Overclocking the graphics card.
Options for automatic tuning.
Effective auto-PC optimization.
Simple to use interface.
All-in-one utility application.
Management of LED lights.
The Gigabyte Aorus Engine Download
The aorus engine software is referred to as a Utility Engine, is compatible with Windows. The most recent version of the software is speedier and more feature-rich. With Windows 7/8/10, the engine software operates reasonably smoothly. With an intuitive interface, the software enables you to take complete control of your PC. The software assists you in managing your computer's processes and allows you to thoroughly monitor them. You can adjust and monitor the fan speed, lights, and overclocking to ensure a stable run time. Here we are providing you the latest version of Aorus Engine.
Download Gigabyte AORUS Engine
How To Install The Aorus Engine Software
The Aorus engine software is a proprietary application from the Gigabyte.  It is an efficient GPU utility, and its installation process is very straightforward. To get this software on your device without any hiccups, follow these few easy steps.
Simply click the download link.
Save the file to your computer and extract it.
Install the setup file that was downloaded.
Rename the file and save it in the desired location.
Run the software as administrator.
How To Use The Aorus Engine Software
Aorus engine software is a fast and easy-to-use application. It features an intuitive user interface that ensures a positive user experience. With the software's assistance, you can effortlessly track and customize CPU processes and swiftly overclock your PC. Utilizing the software will assist you in optimizing the performance of your PC. Here we will be giving you a short guide to use the features of Aorus engine software.
Here's how to use the Aorus Engine software:
When you launch the app, you'll see the homepage, which highlights the available settings and allows you to overclock the window's menu. You can choose from a variety of methods from this menu.
Choose a profile and begin optimizing your GPU. Slide the GPU boost bar to increase or reduce the clocking. Additionally, this page allows you to alter the memory clock, GPU voltage and clock, and temperature.
To set and change your fans manually or automatically, click on the fan choices.
At the bottom right corner, click on the system monitoring choices to view various system utilization statistics.
To modify your RGB lightings, click on the LED lighting options and select the desired colour or lighting effect. You may easily change the colour of your GPU from here.
How To Fix Aorus Software Not Working
The Aorus engine application is exceptionally dependable and efficient for monitoring, adjusting, and overclocking your computer. The software has plenty of functional requirements, yet beginning the app can occasionally be a challenge. It can happen that the Aorus engine does not pick up your device or cannot manage them. This problem might cause because outdated drivers and incompatible components.  So make sure you go through the list of compatible devices for the Gigabyte Aorus Engine on the Gigabyte's official site and match your components to see whether they are consistent with the Aorus engine or not. Also, the software sometimes does not open correctly or at all, which might be a problem for users. Fortunately, there is a workaround for the program not beginning.
The following are the procedures to resolve the Aorus engine apps not starting issue:
Remove the software and re-download the app.
Reopen the app and modify the app's settings.
The app may occasionally become damaged, in which case re-downloading will resolve the issue.
Is It Safe To Use The Aorus Engine Software?
The Gigabyte Aorus engine software does not require any information about your PC, making it extremely safe to use and download. It does not have any malware-related difficulties. We tried the software with ten antivirus programs and discovered no malware issues. Your computer data is also secure. Overclocking does not interfere with any of your PC processes or put your components at risk. It functions perfectly and without issue. There will be no data loss or breach of privacy as a result of using this program. It is entirely risk-free for your device to utilize the software.
Is The Aorus Engine Software Worth Using?
The Aorus engine app allows you to optimize and improve your computer's performance. It is incredibly effective at enhancing your in-game experience. The software will enable you to manage your computer's processes, which might assist you in optimizing your machine. By manually overclocking, you can choose which feature to use for gaming—this aids in the early spike of your game. The program allows you to increase the clock rate of your GPU to get the most out of your gaming experience. With the app, you may quickly raise your clock count. You can also display your usage count to keep track of the consumption rate.
In addition, the light management options are excellent. You may change the colours of your PC parts and create presets to match your preferences. The app assists you in creating profiles to save your lighting customizations. The app allows you to effortlessly alter your fan settings. It will enable you to choose between multiple fan settings to provide the best possible cooling for your GPU.
You might be concerned about malware and privacy issues, but The Aorus engine app is malware-free and never puts your data in danger. It is a handy program for customizing and tracking your computer's custom parts. So the Aorus Engine is definitely worth it for players who want to spend quality time playing games.
Overall, Gigabyte's Aorus engine software is a fantastic piece of software to work with. You can efficiently manage and monitor the processes and system settings on your computer. You may tailor the GPU's performance to your specific requirements by utilizing multiple modes and other components. The options for modifying each and every feature are simple to navigate through. As a result, there is never any concern about having errors. Convenient cooling options are provided by the automatic and manual fan custom modes. With the app, anyone can quickly and easily adjust and tune their cooling to meet their specific demands. Additionally, the app's lighting management features are convenient and effiecint. The software is entirely secure to use and does not pose any privacy risks. You can quickly download the software and customize it to meet your specific requirements.
We can assure you that the Gigabyte Aorus Engine proves to be really useful and effective. This software is an absolute must-have for any and all gamers out there.
Frequently Asked Questions
What is Aorus engine?
The Aorus Engine software is a small, lightweight tool that is intended to be a one-stop-shop for monitoring your video card, controlling RGB lighting, and overclocking all in one place.
How To uninstall Aorus engine software on PC?
Remove AORUS GRAPHICS ENGINE from your computer by accessing the Add/Remove Programs option in the Windows Control Panel's Add/Remove Programs window. As soon as you locate and select the software AORUS GRAPHICS ENGINE, choose one of the following actions to complete. Windows Vista, Windows 7, Windows 8, and Windows ten: Select Uninstall from the drop-down menu.
Can I monitor my systems with the Gigabyte Aorus Engine software?
With the Aorus engine software, you can quickly keep track of the processes and systems running on your devices. It displays a window that displays information like CPU and GPU utilization, temperature, fan speed, and so on.
Is the Gigabyte Aorus Engine the right software for gamers?
The Aorus engine application is a fantastic gaming tool. It offers to overclock modes that allow you to get the most incredible performance possible during gaming sessions. It turns off unneeded processes and provides you with suitable frame rates and clock time.
Sours: https://techartful.com/aorus-engine-download/
Similar news:
.
577
578
579
580
581