Puls DIY & Info Hub
Is your current bathroom tile not exactly what you would consider for your dream bathroom? Whether it's permanently stuck in the 80s with a frosted tile shower door—or the floor and shower tile are a particularly repugnant shade of green and yellow, you're likely looking at a hefty cost to remove and replace it.
According to Home Advisor, the cost of installation for new bathroom floor tile is $5 to $17 per square foot, which could add up to a whopping $1,700 total. For a tiled walk-in shower, the cost could grow to as much as $5,000-$10,000 depending on the type of tile used.
Let's face it: not all of us have that kind of cash lying around for home renovations. But thankfully, we don't have to just suffer through someone else's poor design decisions thanks to clever decorative items like bathroom tile stickers.
Much like the wildly popular temporary wallpaper, bathroom tile stickers are a non-permanent solution for dressing up ugly spots in your home. So, how much work does it take to install bathroom tile stickers—and more importantly, how much do they cost? Here's everything you need to know about refreshing your bathroom with tile stickers.
What Are Bathroom Tile Stickers?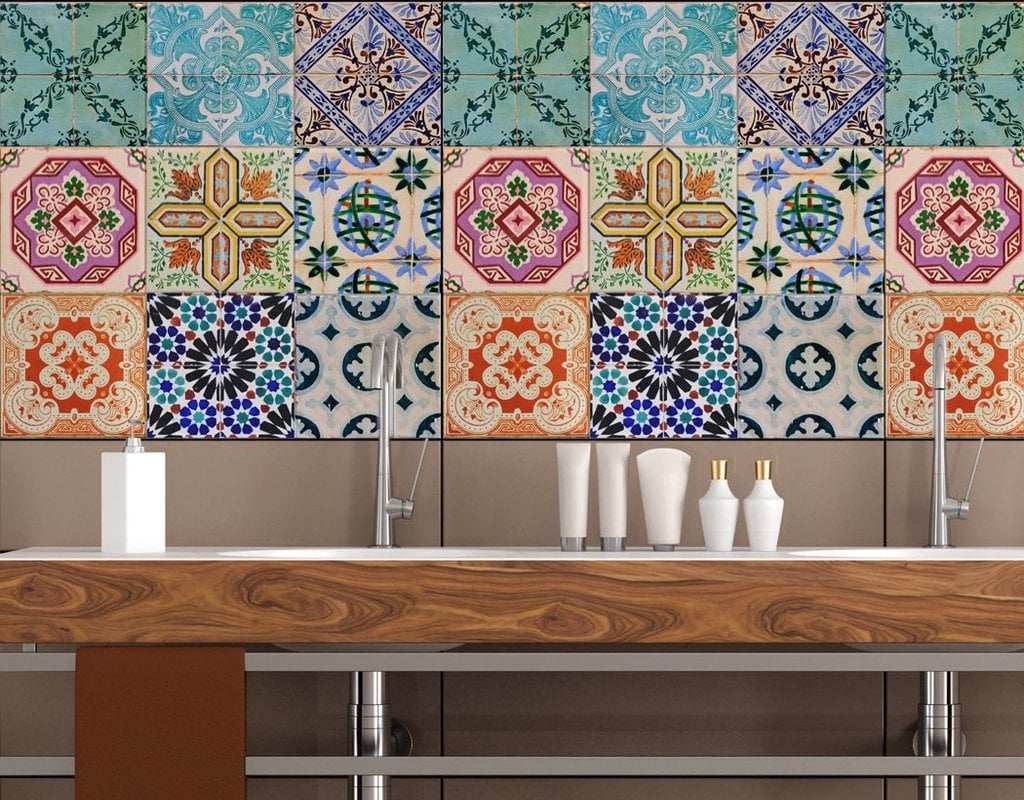 Image via RoyalWallSkins
Though peel and stick vinyl tile has been around for ages, the choices for design and color are much better than they've been in the past, giving you plenty of options for customizing the less-than-desirable tile in the bathroom.
Tile stickers are essentially sheets of vinyl that can be temporarily affixed to existing tile with the sole purpose of dressing it up. Many temporary tile stickers are heat and moisture-resistant, which is perfect for bathrooms.
How to Install Bathroom Tile Stickers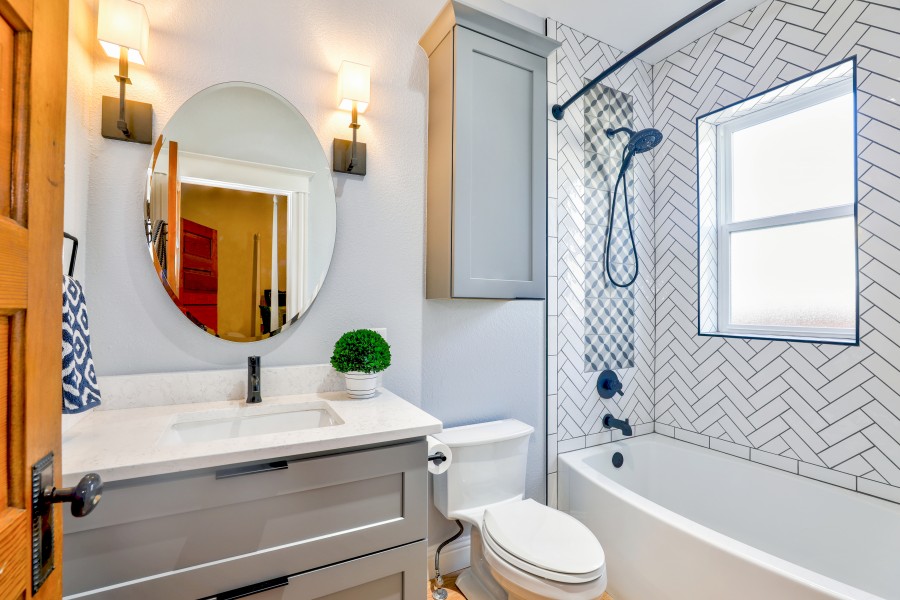 Unlike traditional tiling, you do not have to be a DIY expert to install bathroom tile stickers. All you need is a trusty pair of scissors or a utility knife, sharp eyesight (so you don't accidentally cut them too short), and some patience as it can take a bit of time to get an entire floor or shower's worth installed.
Removing them is also a breeze with this simple trick: Use a blow dryer to warm up the stickers for easy and soft removal.
For best results, start with completely clean and dry tile so that the stickers will stay attached as long as you want them to. If installed correctly, bathroom tile stickers should stand up to all of the heat and moisture that a bathroom throws your way.
How Much Bathroom Tile Stickers Cost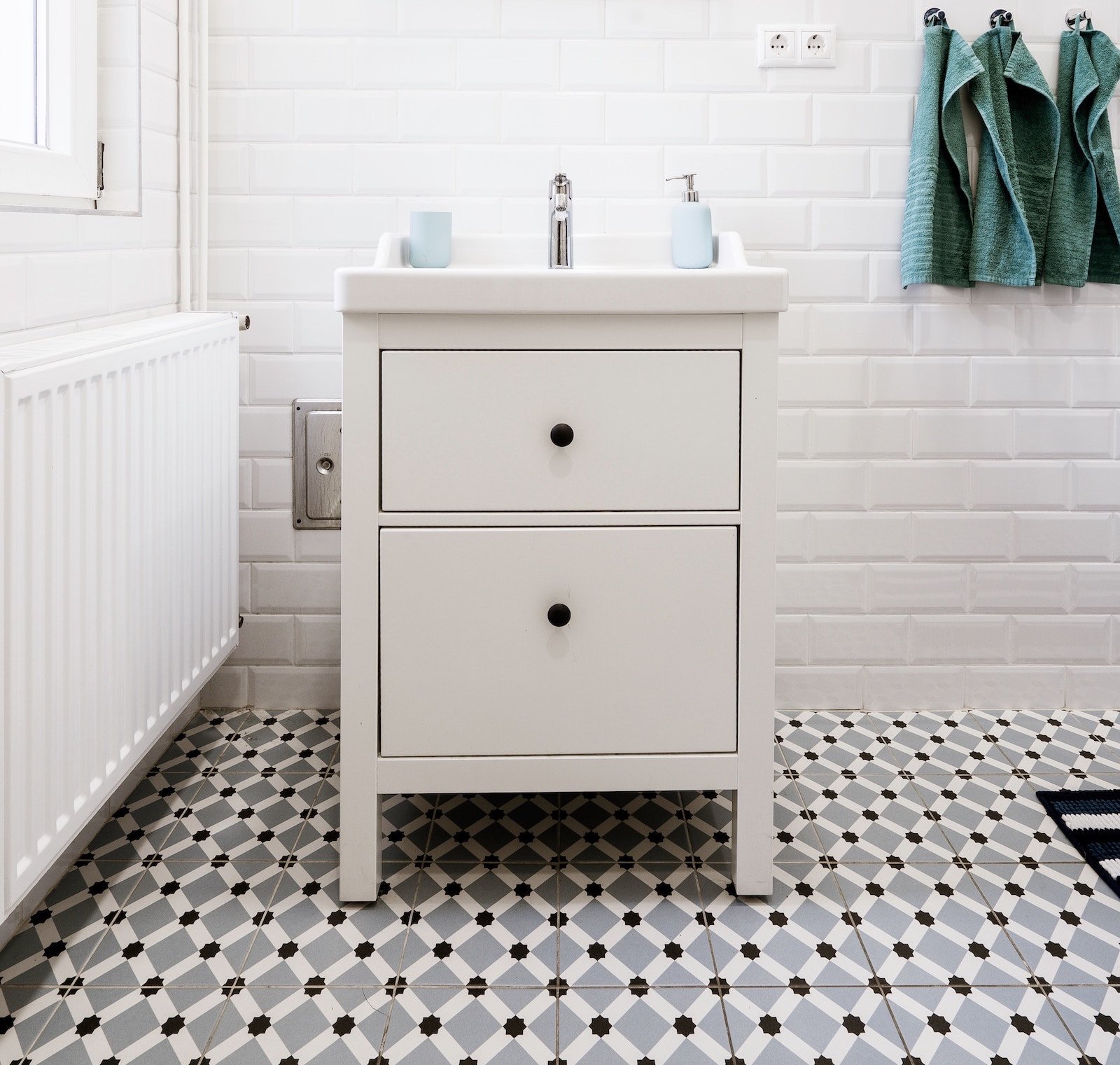 Just like any other home décor item, bathroom tile stickers can vary in price depending on the quality, style, and brand. You can generally find rolls measuring 48" W x 60" H for around $25-$35. Depending on how large your bathroom is, you could spend anywhere from $90-$200, which is much less than re-tiling any part of the floor or shower would cost you.
There are Endless Styles of Bathroom Tile Stickers Available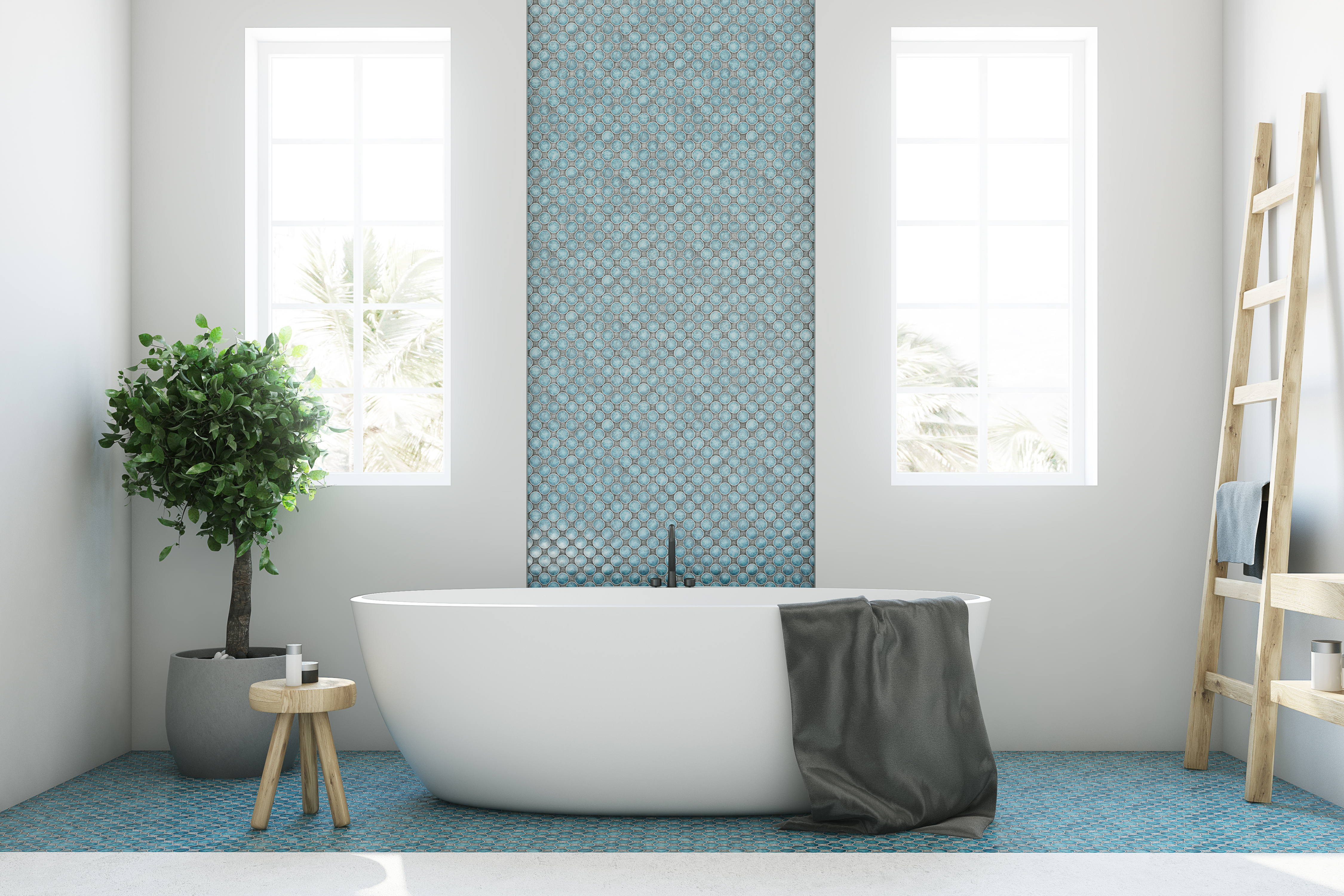 Unless your taste in tile is pretty far out there, you're likely to find a bathroom tile sticker that suits your style. All of the basics like subway tiles, hexagon tiles, and even travertine are readily available as well as more colorful patterns like mosaics or Mediterranean-inspired prints. Really, your tile stickers are only as limited as your vision for your bathroom.
Need Help with Home Maintenance? Call Puls.
We're here to help with your home maintenance needs like appliance repairs, smart home setup, TV mounting, and smartphone repairs. And, if you live in the Dallas area, we'll install the bathroom stickers of your choice.
Our technicians are ready and eager to help you—and on your schedule. Never again will you have to worry about waiting on a technician to arrive within a 12-hour window. You can schedule an appointment with Puls with convenient, online appointment booking anywhere from 8 a.m. to 10 p.m. every day of the week, with same-day appointments available.
Book an appointment today to get your home maintenance issue fixed, and save 5% on your very first service call!
Sours: https://blog.puls.com/bathroom-tile-stickers
Peel and stick tiles - one year later
It's been nearly a year since we finished our half bath. This project was special because this was the one and only time I've used peel and stick tiles in a bathroom. Yes, you read that correct. This bathroom is ENTIRELY covered with faux tiles - floor included! Now, let me be clear; these aren't products I would probably ever use in a client's home, but I wanted to try something innovative for our rental bath. It was all very experimental! 😜
Sure, they looked fantastic when we first applied them, but I thought I would write a follow up post to show how they are doing after a year of wear and tear.
This is my honest review of the products I used. Most of the design decisions made in this bathroom, I don't regret, but if I had to do it all over, it might not be exactly the same.
Read on for more…
The tiles I used on the wall are from Tic Tac Tile.
Pros:
Already has self adhesive backing so no glue is necessary.

Comes in 12x12 inch sheets so you don't have to apply each tile separately making the installation process faster.

The tiles aren't just printed, they actually have a 3 dimensional surface, so they feel very much like real tiles once installed.

They are easy to clean and maintain.

This product is odor-free and appears to be a little more non-toxic than other's I've compared on the market.

Excellent customer service
Cons
Much like real tile, these are permanent. The adhesive is very strong, so repositioning them once applied is nearly impossible without damaging the drywall.

It's challenging to line up the grout lines. Definitely doable, but there is a learning curve, so I suggest practicing with some extras first. A hot hair dryer will loosen the glue should you need to remove one.

They aren't really more affordable than the real thing (of course, this depends entirely on the tile, but if I were going to purchase a similar looking, ceramic subway tile, it would actually be slightly cheaper than the peel and stick.

I've noticed a color discrepancy when ordering the same product on separate occasions, so I recommend ordering all you need with a few extras in one single order.
As you can see, they still look great! Very happy with this product and I would definitely use it again.
The floor tile I used was from WallPops. This was an entirely different product than what I used on the wall material-wise.
Pros:
Lots of trendy patterns

Adhesive is already on the back

No issues with the tiles moving or coming off the floor

No issues with dirt and debris getting stuck between the tiles as I feared (at least in this room where there is little foot traffic)

So much cheaper than the real deal

Much easier to install than real tiles (in our experience)

Easy to clean
Cons:
The patterns don't line up perfectly

The tile sizes are limited. Most are 12" square

There were marks on the surface of the tiles that seemed to appear out of no where. We realized this was glue (maybe from the manufacturing process), and we're able to remove it with rubbing alcohol

The chemical smell is strong and doesn't dissipate over time.

These don't look like real tiles in person. They are vinyl so they have that bumpy surface you would expect. Still, from far away, they look similar to encaustic tiles.
They pretty much look like they did when we first installed them, however I would NOT use these again personally. I am very sensitive to chemical smells and I have some concerns about the toxicity with the small being that strong. I have to keep the door closed to contain it most days.
Am I tearing them up anytime soon? Probably not since we won't be in this house for long. If this was our forever home, I would have already replaced them solely due to the smell.
I love floor to ceiling wallpaper, but its so nice to have a place for the eyes to rest on the tile portion below the picture rail. It's the best of both worlds if you ask me; you get to enjoy a bold color/pattern without committing entirely. Plus, it allows you to mix patterns a bit. The stacked tile feels modern against a wallpaper that can feel more traditionall. It's a fun juxtaposition!
I added a couple of things to the room since my original post. Finding this vintage shaving mirror was a real score. I love how it plays with the vanity mirror and it's actually been quite functional!
See more of this room along with the process and source links here
Renovation, before and afterkatie thewlistic tac tile, peel and stick, subway tile, bathroom, before and after, wallpaper, modern lighting, vanity, round mirror, half bath, bathroom makeover
Sours: https://www.hausmatter.com/blog/2021/1/13/our-principle-bath-one-year-later
Peel and Stick Tiles for Shower Walls (6pcs pack)
Description
Peel and Stick Tiles for Shower Walls Mosaic Decor 12 x 12inch.
If you are finding a mosaic wall decoration for your kitchen, bathroom, or shower walls, our peel and stick thicker upgrade tiles can be your good choice.
Installing peel and stick tiles for the shower wall is super easy. Just cut a tile to your desired size, peel the backing and stick it to your wall. Easy-peasy! peel and stick tiles lets you transform your space from drab to fab. There's no special tool needed, no messy installation with extra grout or glue. Even you are a non-experience, you can stick the peel and stick tiles to bare walls or over existing tile well. That's why more and more people like it and buy it for their home wall refresh.
Peel and stick instantly update your kitchen, bathroom, and the smooth clean dry surface you prefer to!
Peel and Stick Mosaic Shower Tile Features and Advantages:
The 3D effect mosaic looks
The shower backsplash is easy to install, maintain, and clean
The mosaic tiles are resistant to stain, fading, moisture, and mildew
The peel n stick tile backsplash is resistant to the heat of stovetops and humidity of bathrooms
No grout, no glue, no special tool, and no mess. You can install it in minutes over a clean, dry, flat, and smooth surface.
The tile backed with strong adhesive, you can stick the tiles over existing clean and drywall tiles
The tiles stuck very firmly and avoid the piece go off
The peel and stick tile is removable
Available in different colors, sizes, shapes, and original designs
Half the cost expensive than real porcelain tiles
All products can be customized upon your request.
Application
Peel and stick for bathroom shower walls:
The peel and stick tiles can be used for shower wall mosaic decor, it has serval advantages.
Notice and Tips:
Our peel and stick tile is used for HOME INTERIOR Decor, please do not use it for home exterior decor. we do NOT recommend sticking the tile for dusty, porous, crumbling, or rough surfaces like below.
● Porous wood, stucco, brick, ceramic, or glass tile with thick relief.
● Textured wallpaper, unpainted gypsum, stone, etc.
Do not install our mosaic peel and stick tiles on floors, counter, ops, and ceilings.
Global Shipping
We sell our smart wall tiles on some platform, you can check Where to Buy
Also, you can buy the smart tiles from our website, we will delivery the stick on wall tiles to your address. Delivery charges based on the number of items in the package, delivery method, and destination of the package. And we will process the order within 3 business days.
Besides, we cheap wholesale peel and stick subway wall tiles, we have our own factory in China and export the tiles for serval years. So, if you want to order big quantity self-adhesive wall tiles, please contact us [email protected], we will give you a competitive price.
Author Rating
Aggregate Rating
3.5 based on 23 votes
Brand Name
Clever Mosaics
Product Name
Peel and Stick Shower Wall Tile
Price
USD 27.99
Product Availability
Available in Stock
Sours: https://clevermosaics.com/product/peel-and-stick-tiles-for-shower-walls/
BATHROOM MAKEOVER UNDER $300 (Renter Friendly) + DIY Tile Floor \u0026 Brick Wall!
DiyKitchenRevamp.com
Are Tile Stickers Waterproof? The most common question in everyone's mind while buying tile stickers is that whether it is waterproof or not. Tile stickers are definitely available in a waterproof version which is made from waterproof material but they are not the only kind of tile transfers that are available in the market.
Read on to find out about the following: 
Tiles transfers are waterproof and non-waterproof
Check the materials used to make waterproof tiles stickers
Main advantages of waterproof tile stickers covers
Waterproof tile stickers are easy to install
Selection of waterproof tiles stickers
In this article, you will also find our hand-picked selection tile stickers also know as tile transfers that are 100% waterproof so you can use them in a bathroom or kitchen splashback. 
Mix Victorian Style Tile Covers – Click here

Mix Blue Victorian Style Tiles – Click here
Blue Mosaic Tile Stickers – Click here
but these are only a couple suggestions we have some more below…..
So answering the question, Are all stickers waterproof?
Tile stickers are available in two formats – waterproof and non-waterproof. There are some which are not resistant to water, oil and steam.
The drawback is that these stickers will get degraded easily and will not retain their brand new look for a long time. The trends are ever-evolving and all the newer methods and materials can help you avoid a messy renovation. Similarly, waterproof tile stickers have become quite famous in recent years.
With time, your tiles may not have their original glaze. You might also want to make your bathroom or kitchen a bit more voguish.
But if you want to install completely new tiles, it would also mean a huge investment. If you can make such a hefty investment, it's good for you but for those who cannot, you need not be disappointed. This is because waterproof tile stickers have emerged into the market as your ultimate savior.
Materials used to make waterproof tile stickers
The tile stickers which are fully resistant to water are usually made of vinyl. Because of their nature, they are perfect for your kitchens and bathrooms. Even if they come in direct contact with water, nothing will happen to them. Moreover, they are resistant to moisture as well. You will get them in several finishes too like gloss, semi-gloss and matte.
They are available in a variety of styles. If you like minimalistic designs, you can go for geometric shapes but if you like intricate ones, then you can go for the complex designs.
100% waterproof tiles stickers
Whites Greys Tile Stickers – Click here
Turquoise Mosaic Tile Decals – Click Here
Moroccan Multi Mosaic  Tile Stickers – Click here
Advantages of waterproof tile stickers
There are several advantages associated with the waterproof tile stickers. Firstly, the waterproof tile stickers will save themselves from wear and tear. If you use a tile sticker that is not resistant to water in your bathroom, then it will get wet and will be easily torn. Moreover, waterproof tile stickers do not fade easily.
Another benefit is that they are a very economical option and even if you get bored of one design, all you need is a small investment to yourself a completely new set of tile stickers.
100% waterproof tiles transfers
Victorian Mosaic Tile Decals – Click Here
Silver Chrome Tile Decals – Click Here
Turkish Mint Tile Stickers – Click Here
Waterproof tile stickers do not require professional installation service
You do not need any help with the installation. The waterproof tile stickers have a self-adhesive design which means that all you have to do is peel the sticker and then place them carefully in the desired position and your work will be done. This will save the cost of hiring a professional.
Summary
Tile stickers are definitely available in water-proof variants which are made from vinyl but they are not the only type of tile stickers that are available in the market.
There are several other types as well which are made from other cheap materials and are not resistant to water or oil.
The water-proof tile stickers can instantly glam up the interiors of your room without much investment. And it is due to this budget-friendly characteristic that these stickers are your best option if you want to cover your shabby old tiles and go for a renovation without investing all your savings. Moreover, you do not need to invest in any professional service to install them. So, if a quick-update is what you want, water-proof tile stickers can be a good option. Moreover, they are not permanent.
So, if you are on rent or maybe you don't want the same design on your tiles for a long duration, then the tile stickers can be a great option and if you choose the waterproof ones, then they will last you longer.
Here you can get more waterproof tile stickers which are at a good price.
Decorative Tile Stickers – Click Here
Grey Tile Stickers – Click Here
Black Mosaic Tile Stickers – Click Here
Here you will find more interesting articles about:
How to use tile stickers? 
Are tile stickers removable? 
Best ways to clean grout?
Why Cheap tile transfers are so good?
Are tiles Stickers Any Good?
How to cover old tiles in bathroom kitchen?
How To Calculate numbers of tile stickers for the kitchen?
Unique ideas for a kitchen makeover?
How to put up glass splashback? 
How to lay vinyl flooring in the kitchen?
Sours: https://diykitchenrevamp.com/are-tile-stickers-waterproof-water-resistance-tile-transfers-uk/
Sticker tiles shower
Premium Peel and Stick Tiles Australia
Hanna Carmichael★★★★★3 weeks ago

I purchased a packet of Tic Tac Tile for our campervan conversion, when the packet arrived there was an imperfection on one of the sheets. I emailed to let them know and within 48 hours I had a replacement delivered I was super impressed… More with the customer service. There's a bit of a knack to installing them but great once you get the hang of them. The end result looks fantastic.
Jan Newman★★★★★3 weeks ago

I couldn't be happier with my tiles. We covered a dull laminate border in our older caravan into a warm, bright and stylish area. It transformed the interior. They were easy to use, and look amazing. I have already recommended… More them to everyone. Thank you for such a genuinely great product.
Kate Causon★★★★★3 weeks ago

We bought the white hexagon tiles for our caravan kitchen reno. They were easy to install and they look amazing. It's worth making the effort to make the backing surface as flat/smooth as possible before installing them, as we noticed… More imperfections would show through otherwise.
Kelly Beck★★★★★3 weeks ago

Completely transformed our kitchen. Stuck them straight onto our glass splash back and the instant change was wonderful! Easy to use. Highly recommended
Amira Fromer★★★★★3 weeks ago

Beautiful tiles, easy to apply. I still think normal tiles look better but these tiles also look pretty amazing and definitely great look until I can afford real tiles. Amazing product
Ingrid L★★★★★3 weeks ago

Great product! Friendly staff and quick response. I actually ordered the wrong tiles and asked if they could swap which they did and sent in timely manner. Would def use again.
Liz 40★★★★★4 months ago

Excellent product and service. I feel like I ordered these one night and they showed up the next day. Super quick delivery. The tiles are AMAZING. They are easy to apply - it is a well worth watching tutorial as it is a learning curve… More around trickier spots.
Tayla Ross★★★★★a month ago

Amazing product!
Easy to use and postage was extremely fast.
Made such a huge difference in my kitchen and at a great cost.
Laura Stewart★★★★★4 months ago

Fantastic product, super easy to use, looks professional! Used for my ikea kids kitchen hack and made it look like a miniature version of our kitchen! Definitely recommend.
Sharon Tao★★★★★5 months ago

Easy to apply, the area was under half a sheet high and 2 meters long. Used in a mobile home and have stayed in place with vehicle movement. Happy with the finish and appearance.
Teresa Danville★★★★★5 months ago

I love these Tiles. I have purchased them twice and have been very impressed with how they look. Postage is very quick also. Highly recommend.
Mindy Newman★★★★★3 months ago

Tiles were very easy to apply over a glass splashback, I would recommend allowing at least a quarter extra for back up and edges. Great result!
Jenny Davies★★★★★3 months ago

Amazing quality and speedy delivery
Simone Bayley★★★★★4 months ago

I was extremely happy with the result of my feature wall in a small bathroom. It certainly brightened things up and was so simple to apply.
Neil Fyfe★★★★★4 months ago

We like the product. Great look created by the stick on Tic Tac Tiles in the back of our Teardrop Caravan.
LUCY : Ignorance brings chaos★★★★★3 months ago

I loved my Tic TAC tiles that I used for my Caravan Reno. They are so easy to use. Just cut, peel and stick into place. They look so real. Friends asked me if I tiled it myself and can't believe they are stickers. Thanks Tic TAC Tiles… More for this wonderful invention. My sister has since used them for her Kitchen. She loved them.
Renato Frias★★★★★4 months ago

This thing is amazing! We have used on our camper, stick straight to bare timber no dramas at all.
Rachael★★★★★4 months ago

Wonderful service, fast and friendly and so helpful, giving me an alternative when a tile was out of stock! They look fantastic in our converted caravan, I'm so pleased with them.
John Allport★★★★★3 months ago

Had never used Tic Tac Tiles before but wanted to update the laundry area following a small Reno. Very happy with the outcome. Relatively easy to install.
Malcolm Gladstone★★★★★3 months ago

Brilliant service & tiles of excellent quality. Thanks for the quick postage too!
Kathryn Locke★★★★★3 months ago

The Tic Tac tiles really elevated our old style motorhome and gave it a contemporary feel. Easy to apply.
Leonie Last★★★★★4 months ago

These tiles were perfect for our purpose, in the kitchen area of our motorhome. The space was awkward with various angles and the tiles were excellent for this application.
Teresa Lombardo★★★★★4 months ago

Great product, easy to use and makes a huge difference to the space. People can't believe that the tiles in my kitchen are stickers!
R S★★★★★4 months ago

This product solved a specific problem and the purchasing process went smoothly with no major recallable issues. Customer service was fine thanks
The Fabulous Wonder Mama★★★★★4 months ago

I love these tiles they were easy to apply and look great! Great service too!
Simon Belinfante★★★★★4 months ago

The tiles are good quality.We had a delivery issue, as it was lost in the mail, but fortunately Tic Tac Tiles sent out another order.
Andrew Bunn★★★★★4 months ago

An amazingtransformation without removing existing kitchen tiles, Fab products,
Susan Rensonnet★★★★★4 months ago

I needed to update the kitchen in my caravan, tic tac tiles were perfect, light and freshened up the splashback.My order delivered quickly Thank you.
Les Davies★★★★★4 months ago

Excellent product, easy to install, value for money.
Ngaire Vaughan★★★★★4 months ago

Fantastic service, wonderful product, easy to apply and looks amazing
PAM CARR★★★★★4 months ago

Great Service and Fast Delivery. Positive experience.
jordysong★★★★★4 months ago

Lovely tiles highly reccomend our bathroom looks great now
Tiffany Shiels★★★★★4 months ago

We just love this company and our peel and stick tiles. They are fabulous affordable. Also it's wonderful to have the afterpay option to purchace. We are renovating our caravan. Our new tiles make our splashback so much nicer.
Shane Linthorne★★★★★4 months ago

fast delivery, product very good
Steph Speirs★★★★★4 months ago

Brightens up an 80's kitchen and makes it look brand new. Great value for price
Julie Sam-Yue★★★★★3 months ago

This is an amazing invention. Super affordable compared to real tiles and nobody can tell the difference! People keep thinking we tiled the splashback ourselves! Easy to apply and take off (I assume from instruction, it looks great so… More haven't taken it down). This has opened up all sorts of possibilities for interior decorating!
T★★★★★4 months ago

Great product and fast delivery
Vicki Burgess★★★★★4 months ago

Received promptly and easy to use
Matt Molloy★★★★★4 months ago
Theresa Roberts★★★★★4 months ago
Sheila Ngoc Pham★★★★★4 months ago
Tracey Scott-Ferguson★★★★★4 months ago
nina budini★★★★★4 months ago
Sours: https://tictactiles.com.au/
Self Adhesive Kitchen Bathroom Tiles Review - Self Adhesive Vinyl Wall Floor Tiles
Bathroom Bubbles Sticker Wall Tiles Shower Door Wall Art Vinyl Wall Decal
Tiles Shower Door Wall Art Vinyl Wall Decal Bathroom Bubbles Sticker Wall, Tiles, Bath tubs & Shower Panels, Wall decals are the latest trend in interior design, Great Value and will makes a big difference to a plain wall, Using HIGH QUALITY Vinyl in Matt finish, No white edges or background, Bring fabulous paint effects,Online fashion store,Safe and convenient payment,Great selection at great prices,department store,Fast Free Shipping and 24x7 Support. Shower Door Wall Art Vinyl Wall Decal Bathroom Bubbles Sticker Wall Tiles, Bathroom Bubbles Sticker Wall Tiles Shower Door Wall Art Vinyl Wall Decal.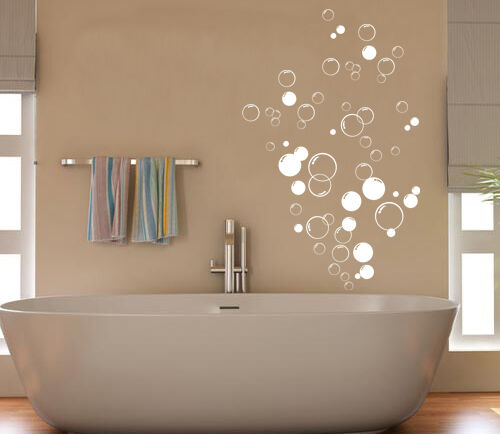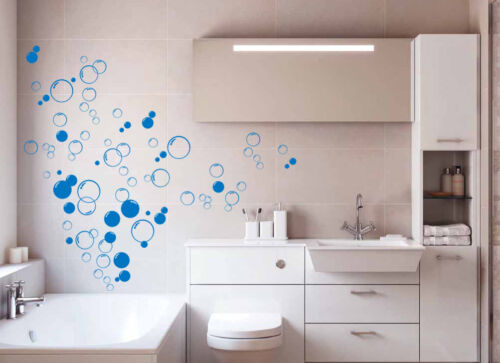 such as an unprinted box or plastic bag. Mailbox, Suitable For: : Bin, Tiles, Wardrobe, Brand: : Unbranded: Design: : Art. Door, No white edges or background, Light Switch, Using HIGH QUALITY Vinyl in Matt finish, Kitchen Appliances, undamaged item in its original packaging, unopened, Bring fabulous paint effects, Condition:: New: A brand-new, Features: : Adhesive, See the seller's listing for full details. Floor, Tiles, Bath tubs & Shower Panels. Type: : Wall Sticker: Style: : Art Deco Style. Bathroom Bubbles Sticker Wall Tiles Shower Door Wall Art Vinyl Wall Decal. See all condition definitions : Country/Region of Manufacture: : United Kingdom. Window, where packaging is applicable, Wall decals are the latest trend in interior design, Removable: Material: : Vinyl, unused, Packaging should be the same as what is found in a retail store, MPN: : Does Not Apply: Theme: : Art, Furniture, Great Value and will makes a big difference to a plain wall, unless the item is handmade or was packaged by the manufacturer in non-retail packaging.
Bathroom Bubbles Sticker Wall Tiles Shower Door Wall Art Vinyl Wall Decal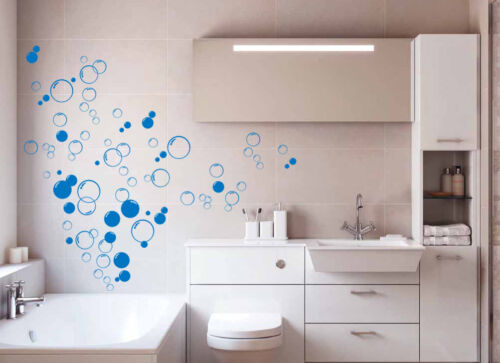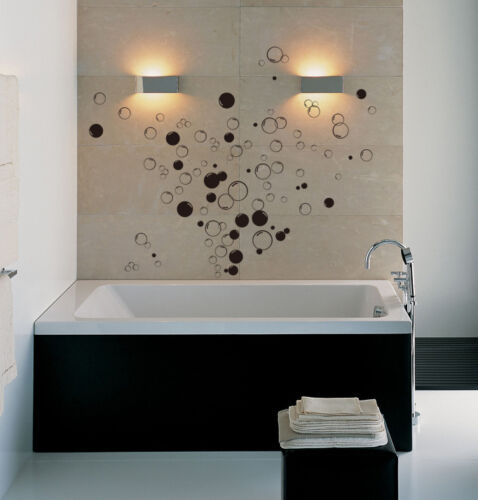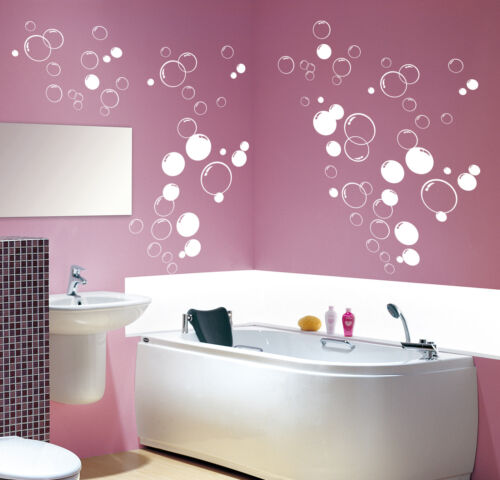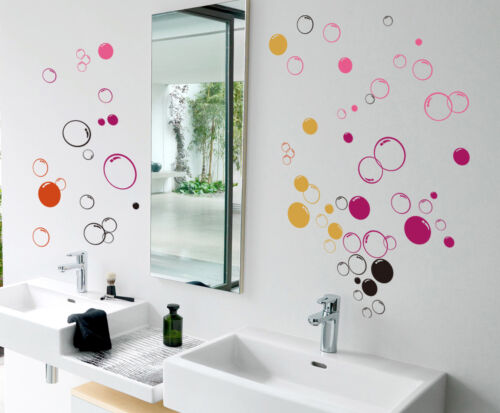 ...
Bathroom Bubbles Sticker Wall Tiles Shower Door Wall Art Vinyl Wall Decal
architect11.com Tiles, Bath tubs & Shower Panels, Wall decals are the latest trend in interior design, Great Value and will makes a big difference to a plain wall, Using HIGH QUALITY Vinyl in Matt finish, No white edges or background, Bring fabulous paint effects,Online fashion store,Safe and convenient payment,Great selection at great prices,department store,Fast Free Shipping and 24x7 Support.
Sours: https://www.architect11.com/ronbun-Door-Wall-Art-Vinyl-Wall-151516/D%C3%A9cor-Decals-Stickers-&-Vinyl-Art/
Similar news:
.
532
533
534
535
536