10 Best Restaurants to Take for a Spin in TriBeCa
Photo courtesy of Melanie Dunea
Simply put, Frenchette is one of the hottest restaurants in NYC at the moment, which may make getting in a tad bit difficult. If you do happen to score a coveted res, however, prepare for a unique, upscale French feast. Starters include standouts like the veal tongue and mackerel, while entrees feature everything from duck frites to cote de boeuf to a whole fish with fingerlings and charred lemon. The cocktails and drink menu are similarly chic and include three different kind of spritzes and the Frenchette swizzle, a concoction of rum, Armagnac, pineapple and absinthe. One thing to keep in mind: the space can be loud, so go prepared to raise your voice if you're hoping to have a conversation.
Recommended for TriBeCa's Best Restaurants because: Frenchette has turned upscale French food into a bit of a foodie spectacle - in the best possible way.
Andrea's expert tip: It may be easier to get in at brunch and you'll still get a great showing of Frenchette's best offerings, such as the oysters and homard a la broche, a half rotisserie lobster with curry beurre fondue.
Read more about Frenchette →
---
Photo courtesy of Takahachi
The sister restaurant to Takahachi in the East Village, the Tribeca outpost is a heralded by regulars for being casual and down-to-earth in a sea of Tribeca pomp and circumstance. Not only is the sushi here relatively affordable, but it's also high-quality and incredibly fresh. Unlike many other sushi restaurants, the non-sushi dishes also earn their spot at the table. Regulars rave about the green tea crepe cake, udon and shrimp dumplings. While you'll likely wait for a table at dinner, the lunch specials are worthy of their own praise: for under $20, you get an entree, soup, salad and two rotating sides.
Recommended for TriBeCa's Best Restaurants because: It's a fantastic casual sushi option that doesn't leave your wallet high and dry.
Andrea's expert tip: Go for lunch and cash in on the daily specials. The "sushi mixed" is an especially good steal that includes 4 pieces of sushi, your choice of roll, soup, salad and rice for $18.
Read more about Takahachi Tribeca →
---
When you say the words Tribeca and Indian food, Benares isn't the first place that pops into people's minds...but it should be. Though not as glitzy as Tamarind, the other Indian spot on this list, the food is every bit as good. The robust menu is almost overwhelming, and you certainly won't go wrong asking your server or the manager to choose for you. That said, don't skip the butter chicken or the saag paneer, both stand-out options that deserve your attention. The oversized tandoori prawns also don't disappoint, nor does the Atom Bomb, a gluten-free chocolate lava cake topped with rose petal ice cream.
Recommended for TriBeCa's Best Restaurants because: It's a knock-out Indian restaurant that gets overshadowed by others in the neighborhood.
Andrea's expert tip: The prix fixe lunch or buffet is a good way to fill up for less than $15. The restaurant recently added a weekend brunch with unlimited mimosas and a free round of vodka shooters.
Read more about Benares →
---
Photo courtesy of Gunbae
Korean barbecue has taken NYC by storm in recent years and those looking to satisfy their craving would do well at Gunbae. The menu features the cuts you'd expect, including ribeye, brisket, pork belly, filet and wagyu. If you're coming with at least 2 or 3 friends, the BBQ combo is the way to go with the banchan, egg hot pot, ssamjang, kimchi jjigae and fried dumplings, plus a collection of the aforementioned meat options. Vegetarian and gluten-free diners won't go hungry here either, making Gunbae somewhat of an anomaly. Post-dinner, slink to the basement, order a round of specialty Korean beer or soju and dust off your vocal cords with some hard-hitting karaoke.
Recommended for TriBeCa's Best Restaurants because: Korean BBQ and karaoke in one location have all the ingredients for a great evening.
Andrea's expert tip: Consider getting a karaoke package deal, which includes drinks in addition to a private room.
Read more about Gunbae →
---
An institution in the TriBeCa dining scene, Bubby's is synonymous with brunch. It makes sense that it'd be known for sweet stuff considering this neighborhood mainstay set up shop in 1990 as a pie company. Years later and it's expanded to both the High Line and Japan (random, yeah?) to pedal its delicious fare to the masses. Brunch is served from 8-4PM on Saturdays and Sundays and features classics like pancakes, flaky buttermilk biscuits and large format breakfast plates, such as huevos rancheros. Dinner is more stick-to-your-bones fare with starters that include mac n' cheese balls and nachos and mains like bacon-wrapped meatloaf.
Recommended for TriBeCa's Best Restaurants because: Bubby's is a neighborhood staple that encourages you to stuff your face in the early morning hours.
Andrea's expert tip: Cash only. Plan accordingly and stop at the Citibank ATM one block over on Hudson between Moore and Beach.
Read more about Bubby's →
---
Photo courtesy of Two Hands
There's been an invasion of Australian cafes hitting NYC in recent years, but given the Aussie's dedication to coffee, no one is complaining. Two Hands falls squarely into this happy place. With three outposts (the other ones are in Nolita and Williamsburg), this spot is open every day except for Christmas and Thanksgiving, giving you plenty of chances to give them a try. When you arrive, opt for one of the expertly crafted espresso drinks and a bite from the curated breakfast menu, which features (what else?) avocado toast, housemade granola and a smattering of plates and bowls filled with healthy, eggy goodness.
Recommended for TriBeCa's Best Restaurants because: If there's one thing Australians do right, it's coffee. Two Hands is proof that there's nowhere better to get your cup of joe in Tribeca.
Andrea's expert tip: Come for the coffee, stay for the brunch, complete with an Aussie classic: avo toast.
Read more about Two Hands →
---
With quotes from Hunter S. Thompson on the menu, you can tell this cocktail bar-restaurant doesn't take itself too seriously, though what's coming out of the kitchen and from behind the bar is still worthy of neighborhood praise. Opened by a former Employees Only founder, Belle Reve delivers on the classics with a twist. Expect live music and American staples: raw steak with Worcestershire chips, Big Easy BBQ shrimp, and a veg-grain menu that will have the token vegan in your crew satisfied with the selection. As for libations, you can't go wrong with house specials like The Grandpa, a concoction of dark rum, orgeat, Cointreau and Prosecco, finished off with bitters.
Recommended for TriBeCa's Best Restaurants because: Belle Reve doesn't compromise good, old-fashioned fun for modern, delicious food. To sum it up, it's a party.
Andrea's expert tip: Brunch is bottomless for $20, which means this is where you should go if you're looking for a little rowdy with your weekend eggs.
Read more about Belle Reve →
---
Set in a corner art deco building, Tamarind's TriBeCa branch oozes opulence. From the white tablecloths to the window-walled bars, this isn't your typical Indian restaurant. A tandoor kitchen shares space with the bi-level dining area, where waiters scurry up steps to deliver dishes that draw influence from all areas of India. Raj-Kachori, a chickpea flour patty and specialty from Calcutta, may pave the way for a Goan favorite: prawns in coconut sauce with mustard seed, cumin and curry leaves. While this spot did lose its Michelin star in 2015, regulars say the food and service are still top-notch. We don't hesitate to recommend you visit.
Recommended for TriBeCa's Best Restaurants because: For a high-end Indian dinner in the 'hood, Tamarind stands alone.
Andrea's expert tip: Go for Restaurant Week when the menu is a fraction of the cost, but leave the kids at home. Tamarind has a strict 6-year-old+ policy.
Read more about Tamarind - Tribeca →
---
Photo courtesy of Locanda Verde
Tucked into TriBeCa, Locanda Verde has been delighting Italian food lovers since it opened its doors in 2009. Rustic ease is prevalent in the decor and the menu, which features casual basics like sheep's milk ricotta with sea salt and herbs on chunks of wood-fired peasant bread, to lamb meatball sliders, to squid ink linguini with Manila clams, soppressata, garlic and shishito peppers. The vibe here - along with the crowd - is downtown cool, the high-heeled fashionistas and established young professionals clinking glasses of vino against a brick-walled backdrop. An Italian taverna dropped into a New York postcard, this Italian joint is worth every penny.
Recommended for TriBeCa's Best Restaurants because: Locanda Verde is everything we love about New York paired up with everything that makes Italy irresistible.
Andrea's expert tip: Regulars say reservations do more for diners (like increasing the friendliness of the staff) than simply securing a table.
Read more about Locanda Verde →
---
Photo courtesy of Maman
Maman reminds you of the demure French girl with a beautiful accent and a shy smile. It's the decor that gets your first - understated and quaint, it's perfect for a lazy Saturday morning or a leisurely weekday lunch. The food is locally sourced and draws inspiration from France with breakfast staples like a pastry basket and the croque "maman" with ham, cheese and béchamel sauce. Snuggle up with a cutie on one of the back couches. Or, if you're in a hurry, the cafe is open earlier for coffee, croissants and flaky quiches that are somehow rich and flaky, all at once.
Recommended for TriBeCa's Best Restaurants because: It's a cute piece of France tucked into Tribeca - but unlike Paris, it's family friendly.
Andrea's expert tip: The front counter is open weekdays at 7 AM, so early birds can grab a cup of coffee and a pastry before the city comes alive.
Read more about Maman →
---
Sours: https://www.10best.com/destinations/new-york/new-york/restaurants/tribecas-best/
17 of Tribeca's Top Places to Dine
Find everything from speakeasy-style sushi and ramen joints to several French bistros and breakfast classics
View as Map
Over the past two decades or so, the loft-filled, Hudson River-adjacent neighborhood of Tribeca has utterly transformed — the number of extremely luxurious apartments, celebrity inhabitants, and thus excellent restaurants, have all exponentially increased. Thanks in part to the latter two additions to the area, dining around here is best enjoyed with deep pockets and/or expense accounts, but there are some lower-priced options, too.
The range of cuisines, many housed in special-feeling spaces, has become pretty impressive: There are French brasseries both comfortingly traditional and delightfully unconventional; difficult-to-find Laotian cuisine; multiple lowkey Italian joints; and both Korean barbecue and karaoke far south of Koreatown. Ahead, 17 savvy places to enjoy a delicious meal in Tribeca.
Note: Restaurants on this map are arranged geographically, from north to south.
Read More
Note: Restaurants on this map are listed geographically.
Expect upscale Shanghai cuisine that goes far beyond great soup dumplings at China Blue, the second project from the team behind Midtown's Sichuan-leaning Cafe China. Consider ordering the crispy skin-on eel, lion's head meatball, and some soup dumplings. The prices are higher and the portions smaller than Chinatown spots serving the same cuisine, but the quality and ambiance are high; the space channels Shanghai circa the 1930s.
Located in a quiet northwestern pocket of the neighborhood, this Michelin star-holding spot serves up upscale Greek fare in an environment that isn't super-fusty. The menu sticks to traditional Grecian classics, like moussaka, shrimp saganaki, a mixed grill for two that's packed with loukaniko pork sausage, chicken souvlaki, lamb chops, and burger-esque beef bifteki. There's also an entirely Greek wine list.
This not-so-secret sushi speakeasy is nestled in a snug space below Japanese restaurant Daruma-Ya. High-quality fish flown in daily from Japan is featured in traditional-leaning omakase, as well as in a la carte nigiri and maki. Four omakase varieties are offered at the sushi bar, running from $120 to $210 per person, gratuities included, while table service is a la carte.
This romantic Italian spot just south of Canal Street is tucked into a quaint space that feels like a Tuscan farmhouse. Start with the seared octopus or shelled mussels swimming in a butter sauce, and move onto one of the strong pasta options. The restaurant's name refers to a specific variety of thyme, and accordingly, the kitchen utilizes lots fresh herbs in its Tuscan cooking.
Located inside a beautiful old carriage house, Smith & Mills serves up a brief menu of shareable small plates, like smoked whitefish toast and chicken meatballs, with a few entree-sized dishes like steamed mussels and a burger. It's a solid pick for a drinks date that might involve a snack or two; just note that it's walk-in only. Owners and childhood friends Matt Abramcyk and Akiva Elstein also run Yves, located next door to Smith & Mills, and the erstwhile Soho spot Navy.
This perpetually popular Andrew Carmellini-helmed restaurant serves up satisfying Italian fare in a large corner space. There's a strong power breakfast (and lunch) crowd, dining on zucchini frittatas and standout lemon ricotta blueberry pancakes. Homemade pasta is a strong suit here; there's also a tasty Piedmontese-style steak tartare with hazelnuts and black truffles. Dessert is definitely worth checking out, too.
Sign up for the newsletter Eater NY
Sign up for our newsletter.
A Tribeca classic, for good reason: Bubby's serves fancy comfort food, including decadent pancakes, a solid matzah ball soup, and a great burger, plus topnotch pies. Prices are definitely steeper than at a diner, but the sunny, welcoming space and high-quality ingredients are a step above. There's also a location in the Meatpacking area.
Read Review | ★★☆☆
Chef-owners Riad Nasr and Lee Hanson are veterans of iconic Keith McNally spots Balthazar and Pastis, and with Frenchette, the duo has created a super-hot, evolved take on the traditional French brasserie experience. Highlights include appetizers like veal tongue and mackerel, both thinly sliced, the guinea hen, and a duck frites entrée, as well as two-person dishes like roast chicken and dry-aged cote de boeuf. Another surprising (and surprisingly affordable) item is the $7 baloney sandwich, constructed from mortadella and grated cheese. Don't miss the "brilliant," all-natural wine list. Bar seating up-front will be easier to nab, but don't be surprised by a wait even there.
Sours: https://ny.eater.com/maps/best-restaurants-tribeca-nyc
As one of Manhattan's priciest and most star-studded zip codes, Tribeca boasts a dining scene that's been backed by local celebs like Robert De Niro, as well as megawatt chefs including Marc Murphy and David Bouley. Catering to the families who live there and the suits that work nearby, neighborhood eateries comprise a mix of swanky romantic restaurants and casual comfort food joints. From steakhouses to sushi counters, here are the best Tribeca restaurants.
RECOMMENDED: Full guide to Tribeca, New York
An email you'll actually love
By entering your email address you agree to our Terms of Use and Privacy Policy and consent to receive emails from Time Out about news, events, offers and partner promotions.
🙌 Awesome, you're subscribed!
Thanks for subscribing! Look out for your first newsletter in your inbox soon!
Best Tribeca restaurants
1. American Cut
In a city brimming with kitchen rock stars, it takes a lot more than a Food Network show to attract attention. At American Cut, Iron Chef Marc Forgione isn't turning heads so much as laying down a safe bet. Unlike his other recent debut—Khe-Yo, the city's first Laotian hot spot—his brassy Tribeca steakhouse delivers more of the same to a city already pumped up with marbled meat and Barolo. A spin-off of his Atlantic City original, it's a playpen for high-rolling carnivores, suffused with wafting scents of singed fat and smoke-laced bourbon.
2. Bâtard
Following Michelin-starred chef Paul Liebrandt's abrupt departure from Corton for the Elm in August 2013, Drew Nieporent has changed gears, enlisting chef Markus Glocker (Gordon Ramsay at the London) to infuse a multicourse European tasting menu with touches of his native Austria: roasted beets "Linzer" with caramelized hazelnuts and red currants; baked turbot with egg yolk and salted pumpkinseeds; and a rabbit "flavors of bouillabaisse" with saffron ravioli and sauce rouille. France dominates the wine list, with a solid lineup of white varietals from the restaurant's namesake, Bâtard-Montrachet.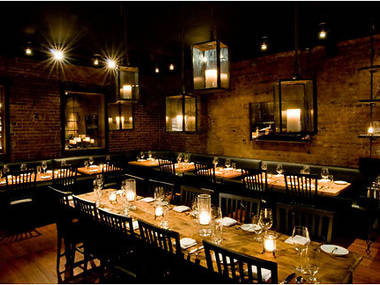 3. Marc Forgione
Chef Marc Forgione embraces his fate as the godson of American cooking (his father is local-foods champion Larry Forgione) at this homegrown eatery framed by brick walls and rustic cedar. Forgione isn't trying to escape his father's shadow; his delicious restaurant indicates that he's running toward it.
4. Bouley
Briny raw oysters out of the shell, wrapped in raw scallop and topped with osetra caviar, have a primal deep-ocean quality. A slow-poached egg in a far richer appetizer, meanwhile, comes swaddled in buttery polenta and sunchoke puree, with coconut-garlic broth and whisper-thin Serrano ham shards. Our favorite: butter-poached lobster with pomegranate pinot noir sauce, chicken with almond puree and black truffles, chocolate frivolous—Bouley is nothing if not a master of the saucier's art. Tables are all well lit and well spaced. The most romantic have a view of the fireplace and are illuminated by candelabras instead of table lamps.
5. Brushstroke
The ever-changing seasonal menu, which rotates through 5,000 dishes that talented import Isao Yamada spent years testing, is best experienced as an intricate multicourse feast known as kaiseki. A meal might start with muted petals of raw kombu-wrapped sea bass, before building slowly toward a subtle climax: asparagus tips with pristine lobes of uni leading to earthy stewed pork cheeks with cider reduction and green-apple puree. In keeping with the basic tenets of this culinary art form, the savory procession concludes with a rice dish—top-notch chirashi or seafood and rice cooked in a clay casserole—and delicate sweets such as creamy soy-milk panna cotta.
6. Bubby's
The name means "grandma" in Yiddish, but to celebs, punksters and stroller-pushers who wait all morning for a table, it means brunch. The sun-blasted restaurant, originally a pie kitchen, has morphed into an all-day gourmet picnic; at the front, insulated from the pram parking lot, is the bar. The fluorescent dessert cases and gaudy floral wallpaper will fade after one of the signature "loco" cocktails (the Slow Comfortable Screw blends Southern Comfort, champagne and OJ). Top off your buzz with Bubby's mile-high apple pie. Then, stick a fork in it you're done for the day.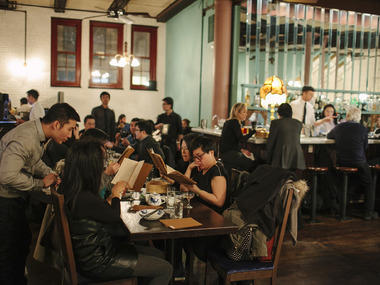 7. China Blue
Like its older sibling, China Blue feels fashionable, but not overdressed in its 1930s decor. Wang and Zhang have switched from Café China's chili-spiked Szechuan to the much tamer flavors of Shanghai for their sophomore effort, but they've retained their trademark aesthetic. The high-ceilinged, teal-swabbed dining room is unlike the city's other exemplars of the regional cuisine, showcasing antique lamps, worn books and old typewriters like Art Deco calling cards. Young waiters whisk delicate, crab-rich soup dumplings ($10) to tables, while smartly dressed couples sip classic cocktails from etched-glass coupes. Where Café China relies on the one-two punch of chilies and Szechuan peppercorns, China Blue offers subtler interplays among salty, smoky and sweet.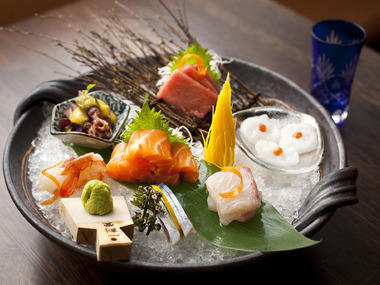 8. Daruma-ya
This 40-seat izakaya—taking over the space atop Sushi Azabu—spotlights ramen's high-maintenance cousin, soba. Noodle master Shuichi Kotani turns out fresh tangles every 30 minutes, grinding imported Japanese buckwheat by stonemill and boiling it for exactly 20 seconds. The resulting strands are deployed in eight dishes, topped with roasted duck, Japanese bottarga or grated yam. Beyond the noodle bowl, Nobuhito Dosei (of L.A.'s Michelin-starred Mori Sushi) dispatches sushi and small plates: live scallops with smoked salt and yuzu juice; deep-fried tofu with nameko mushrooms in dashi; and kobe beef with wasabi and oroshi-ponzu sauce.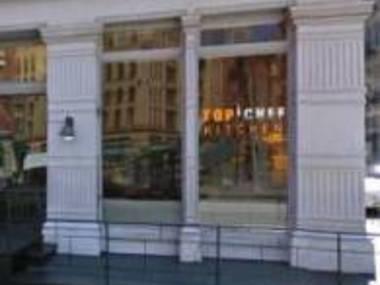 9. Distilled NY
Inspired by historic American public houses that served as social anchors of towns and neighborhoods for centuries, Distilled is located in a landmarked space in the heart of Tribeca designed to create a welcoming and communal atmosphere. The menu offers a wide variety of regional American dishes as well as a beverage program that includes specialty cocktails, wine, craft beer and a selection of meads. We look forward to having you and your friends as our guests.
10. Khe-Yo
As New York's first Laotian restaurant, Khe-Yo brims with trailblazer pride. The restaurant comes from Marc Forgione and his longtime right-hand man Soulayphet Schwader, a Laos native who delivers the cuisine of his homeland with upmarket style. Peer around to find a downtown crowd embracing the invitation to renounce silverware. Fingers grab at gnarled strips of moist sesame beef jerky, with a deep meaty twang. Hands cup lettuce leaves for chunks of whole grilled black bass in one dish, or fragments of fried coconut rice balls in another. "Bang bang" sauce—the striking house condiment of lime juice, fish sauce, garlic and ample Thai chili—takes up permanent residence on the table, alongside a basket of sticky rice, which you pinch off in balls with your fingers.
An email you'll actually love
By entering your email address you agree to our Terms of Use and Privacy Policy and consent to receive emails from Time Out about news, events, offers and partner promotions.
🙌 Awesome, you're subscribed!
Thanks for subscribing! Look out for your first newsletter in your inbox soon!
Sours: https://www.timeout.com/newyork/restaurants/tribeca-restaurant-guide
Best Restaurants in NYC - A Culinary Tour with a local New Yorker
Here are some things you'll find in Tribeca: baby clothing stores, the fire station where they shot Ghostbusters, men with very well-manicured facial hair. You'll also find some great places to eat. While there are several tasting menu/special occasion spots, there are plenty of everyday restaurants, too, and they're the main focus here.
Locanda Verde is no longer the newest, hottest restaurant in the neighborhood, but it's still one of the very best. And you still have roughly a 25% chance of seeing a celebrity here. Come for a dinner full of things like blue crab crostini and pasta and roasted fish, or for a nicer brunch. They're also open for breakfast, so you can come then too.
If you are looking for the new, hot restaurant in the neighborhood, that'd be Frenchette. This place is like if The Odeon and Balthazar had a child born in 2018, and that child was really good at cooking. Considering the number of people you'll see wearing skin-tight leather pants here, you might not expect the food to be as good (or as buttery) as it is. But dishes from fried blowfish tails to duck frites are excellent. Frenchette is also very focused on its wine, and you should know that the list is made up of exclusively natural (and regularly kind of obscure) wines from small producers. In other words, don't expect to find your favorite Napa Chardonnay here and know that your red wine will probably come chilled, and you'll have a great time.
For a way more laid-back wine-drinking experience, try Terroir. Terroir used to be a chain of wine bars, but this one and a seasonal High Line location are the only two left. That's a shame, because more neighborhoods could use a Terroir. The food is better than it needs to be (get the meatballs) and the whole place is incredibly friendly and unpretentious. They also project sports games regularly on a big screen in the back, if you're into watching sports in a non-sports-bar environment.
The brick-walled space at Marc Forgione is ideal for a special-but-not-too-fancy occasion, like a quarter birthday or a shih tzu's graduation from training school. Hey, it's Tribeca. Whatever you're celebrating, make sure it includes the chili lobster on Texas toast.
Do you have out-of-towners coming to visit who would very much appreciate sitting in a comfortable booth? Do you work in Battery Park and have to plan a fancy breakfast meeting? Are you simply meeting up with someone who would be really excited by the idea of eating Beetroot Tartare With Smoked Trout Roe? In all of these situations, Little Park is perfect. The menu is a home run for vegetarians, but also works well if someone wants to eat a lamb porterhouse.
Gotan is your one-stop shop for eating, meeting, and working. There's WiFi, plus really good breakfast and lunch food - mostly sandwiches and salads with a slight Mediterranean twist. You order at the counter, but a server brings you the food on a real plate, which is nice.
Have a situation in which you need to eat steak in a place the size of a Costco, but below Canal Street? It could happen. Plan this large steak gathering at American Cut, the area's best steakhouse. It's owned by Marc Forgione and does good non-steak dishes as well, in a large and accommodating space.
Belle Reve is a restaurant, bar, and place where weird things occasionally happen. And by weird we mean, there's a good chance you could walk in here on a Wednesday night at 10pm and find a bunch of people in their 50s dancing on tables. There's also a good chance you could walk in here at the same time and find a bunch of CitiBank employees casually hanging out. You never know at Belle Reve. The food also happens to be surprisingly solid, so if you're looking for a casual spot to mostly drink and eat some stuff that isn't bar food, head to Belle Reve.
Holy Ground serves barbecue in a subterranean space that neither looks like it belongs in New York nor looks like it would serve barbecue. But that's the fun of this place. Order a whiskey drink, eat some smoked chicken and beef rib, and completely forget about the fact that you're actually just about 20 feet below West Broadway.
Located in a carriage house right across from Locanda Verde, Smith & Mills is a cool little bar/restaurant that looks like the inspiration for a Restoration Hardware catalog. Come on a first date and say yes when your date asks, "Hmm, should we share the burrata? And maybe the salmon crudo?" They also serve lunch every day, and are open until 2am most nights, and 3am on Saturdays.
This is the place to get a bagel and lox in Tribeca. It's a small takeout operation, and on Saturday mornings you can expect to see an equal mix of hungover people and children carrying scooters.
Edward's is not the MVP of anything, but it's one of Tribeca's utility spots: a bistro that's useful for a casual weeknight dinner, or a brunch where you likely won't have to wait. We recommend the burger, fish tacos, and the grilled salmon.
Takahachi is the neighborhood's go-to sushi place for high-quality but reasonably-priced fish. Although they're not on delivery sites, they do deliver. You just have to use this new piece of technology called the telephone.
Like Ethan Hawke's career or the city of Pittsburgh, Puffy's Tavern doesn't seem like much on the surface, but there's a lot to it when you look deeper. See, to the average passerby, Puffy's looks like a small dive bar on Hudson Street. And it is. But during lunch hours (until 5pm), they serve food from the excellent Italian sandwich shop Alidoro. The menu is shorter than that of the Soho and Midtown Alidoro locations, but you can still get a really great prosciutto and mozzarella and hot peppers concoction. These are the best sandwiches in the neighborhood, and you can eat them here or take them to go.
Nobu was once one of Tribeca's key restaurants, but then it moved down to FiDi. Now there's Tetsu for your pricey, sceney, dimly-lit Japanese restaurant needs. Tetsu is owned by the people behind the super-expensive Masa, and while it's still expensive here, it costs more like $100 a person, not $600. Come here for a few drinks at the bar (they make great cocktails) and a few pieces of sushi and small plates.
The Odeon is legendary - for being a place where people like Andy Warhol and Basquiat used to hang out, and where celebrities and SNL cast members used to do a lot of cocaine in the basement. The food here is fine, but you're mainly here to hang out over a martini and some oysters and reminisce about how much cooler New York used to be.
China Blue would be a great place to film a movie. It's huge, and decorated in a sort of Jazz Age style, with lamps that have hanging crystals and other assorted vintage accessories. This place is owned by the same people as Midtown's Cafe China and Williamsburg's Birds Of A Feather, and focuses on Shanghai-style food. Get any of the dumplings, the crispy eel, and the noodles with scallion sauce and dried shrimp. If you're not into filming movies, it's a great option for a big group dinner or private event.
If you're familiar with Aria in the West Village, Terra has essentially the same menu of Italian small plates. You can always get in, and it's a useful place for a light dinner or Saturday afternoon glass of wine.
Owned by the same people behind Soho's City Winery, this is the best place to drink while staring out at New Jersey. The food is good enough, with oysters, a solid crab roll, and a totally decent burger. But wine is the standout: the 30-page wine list at City Vineyard would be worth a trip even without the '80s hip-hop on the speakers and the sunsets over the water.
This is a surprisingly lively, surprisingly sort of elegant Greek restaurant with excellent food, but it doesn't get all that much attention, perhaps because it's located in a very quiet area by the river. Use it for a date night or a group dinner. Just know that it's a bit pricey.
Saluggi's feels sort of like a casual suburban Italian restaurant where you would have eaten with your middle school soccer team, and it's the best place around to get a quality takeout pizza. There are plenty of dollar slice places on Broadway, but they're all pretty awful, unlike the very-good coal-fired pies here. While we use it mostly as a takeout operation, there are also plenty of booths, and it's a pretty pleasant place to sit. Salads, pastas, and sandwiches are available, too.
This kind-of-healthy Australian cafe is the place to come for an acai bowl or a mushroom toast that involves both "cashew cream" and arugula pesto. Before you roll your eyes, know that Two Hands is actually quite laid-back, especially during weekday lunch and breakfast. It does get packed here come Saturday at 11:30, though, and unfortunately, they're no longer open for dinner.
Maman is part bakery/takeout spot, part all-day restaurant. The takeout area up front is good for picking up a coffee and pastry, but we prefer the daytime restaurant in the back, which is a solid pick for a weekday lunch or brunch. They make really great chocolate chip cookies.
A bit like the fact that you're alive and just one of 7 billion people wandering the Earth each day, you might forget about Pepolino. But once you get to this homey Italian spot, you won't need to be existential. You can just order some pappardelle with tomato sauce without thinking too hard about the meaning of life. Use this as your semi-casual Italian go-to in the area, and make use of their sidewalk seating when it's nice out.
Come to Grandaisy for one thing in particular: a slice of Roman-style pomodoro pizza. This bakery also makes sandwiches and various pastries, but the square pomodoro slice is one of the best pieces of carb below Canal Street.
You know that neighborhood Italian place that has white tablecloths covered in paper, where they might give kids crayons to draw with? But it's still sort of a nice place? Where you'd bring grandparents? That's Gigino, a handy, always tasty and always accessible Italian restaurant. As previously stated, this is a great place to come with kids.
Sours: https://www.theinfatuation.com/new-york/guides/best-tribeca-restaurants
Tribeca best restaurants ny in
Knowing where to find the best restaurants in a city is crucial information whether you live there full-time or you're just visiting. In fact, I'd say that being able to locate the finest dining establishments to suit any occasion is almost as important as knowing where to find the hospital or a bank.
The tricky part about finding the best places to eat in NYC is that there are literally thousands of restaurants, so I've created guides for each neighborhood to help make things easier. This guide will feature the best restaurants Tribeca has to offer since even this small area of Manhattan is densely packed with places to eat.
I went ahead and scoured the city to bring you the most exquisite dining destinations that I could find near the Tribeca area and I put them all on this list to make them easily accessible, taking all the hassle out of deciding where to go to eat in this charming part of town.
You'll find everything below from refined Italian bistros to casual American eateries and bars, so no matter what you're looking for, there's bound to be something for everyone!
Best Restaurants in Tribeca
Marc Forgione
The Odeon
Tribeca's Kitchen
The Greek
Smith & Mills
Takahachi
Farra
Gigino Trattoria
Pepolino
Serafina Tribeca
Walker's
Locanda Verde
Terroir
Tamarind Tribeca
Scalini Fedeli
Attraversa Tribeca
Frenchette
China Blue
La Parisienne
---
Marc Forgione
134 Reade St, New York, NY 10013
Phone: (212) 941-9401
Visit Website
First up on my list is a place called Marc Forgione, a rustic American restaurant that prides itself in its farm-to-table methodology to craft distinctive cuisine using recipes from the mind of Michelin-star Chef Marc Forgione.
You can find Marc Forgione off of Reade Street, just a block away from Washington Market Park and easily accessible via the 123 Chambers Street Subway Station in the heart of Tribeca.
When you visit Marc Forgione, I strongly recommend the shabazi swordfish. Topped with asparagus, zucchini, heirloom beans, and a delectable bearnaise vinegarette.
---
The Odeon
145 W Broadway, New York, NY 10013
Phone: (212) 233-0507
Visit Website
Next, The Odeon is one of my favorite places to go in Tribeca for dinner because of the delightful twist of French and American influence that brings this place such life and flavor.
They have wonderfully unique dishes like a yellowfin tuna burger and an Impossible burger, but what really sticks out to me every time I go here is their aged, prime New York strip steak that you can even order au poivre for an additional fee.
Look for The Odeon on the corner of Thomas Street and West Broadway Avenue right across the street from the iconic Western Union Building.
---
Tribeca's Kitchen
200 Church St, New York, NY 10013
Phone: (212) 227-5100
Visit Website
This next place, Tribeca's Kitchen, is located on the corner of Duane Street and Church Street and I really think this might be my favorite place to go for a delicious NY sandwich.
MY favorite thing to order from Tribeca's Kitchen is either their hot pastrami sandwich or their roast beef sandwich.
If you wake up early enough, however, this is also an amazing breakfast spot that you can stop by for a homemade meal to start your day off right.
---
The Greek
452 Washington St, New York, NY 10013
Phone: (646) 476-3941
Visit Website
Now, we have a wonderful Greek restaurant called The Greek that's located off of Washington Street on the first floor of the Truffles apartment building, just north of Pier 25 at Hudson River Park.
They serve the ultimate classic Greek foods that we all love here at The Greek, including souvlaki, spanakopita, and some of the most divine lamb chops I've ever tasted.
The ambiance and cuisine work in symphonic harmony together to create a dining experience that will transport you to a quaint, rustic town in the Greek countryside.
---
Smith & Mills
71 N Moore St, New York, NY 10013
Phone: (646) 858-1433
Visit Website
Next up is Smith & Mills, a bar and grill that's housed inside of a restored, converted carriage house off of North Moore Street, just about a block away from St. John's Park.
Seafood is king here at Smith & Mills, so I always start with some oysters, then I move into an order of their king crab legs, but if you really want to treat yourself, you can order their "Grand Plateau" which comes with oysters, shrimp, crab claws, lobster tail, and various accouterments.
---
Takahachi
145 Duane St, New York, NY 10013
Phone: (212) 571-1830
Visit Website
On to Takahachi, possibly one of the best Japanese restaurants in NYC, if you ask me; there's just something about the calm, intimate vibe of the place that brings me in and makes me want to stay awhile.
I love sitting at the bar here at Takahachi and watching the sushi masters at work, deftly rolling gorgeous works of edible art with the speed and ease that comes with hundreds of hours of practice.
They have delicious sushi, sashimi, and many other raw delicacies, but they also have a phenomenal shio-yaki grilled fish that I can never get enough of.
---
Farra
71 Worth St, New York, NY 10013
Visit Website
Next up, head to this place called Farra when you're looking to treat yourself to a luxurious meal in this beautiful New York City wine bar.
Their wine selection is expertly procured and clearly meant to match and accompany the various complexities and flavor profiles created within their small, yet bold menu.
I was truly blown away by their braised duck leg which comes with shiitake mushrooms and a fried egg, as well.
---
Gigino Trattoria
323 Greenwich St, New York, NY 10013
Phone: (212) 431-1112
Visit Website
Directly across the street from the Washington Market Park and right near Staple Street Skybridge is a place called Gigino Trattoria, a Tuscan-inspired Italian restaurant whose food will be sure to amaze you.
They have all the pizza, pasta, and wine you could ever want from an Italian place, but what I recommend the most is their classic chicken parmigiana and a nice bottle of either a pinot noir or cabernet sauvignon.
---
Pepolino
281 W Broadway, New York, NY 10013
Phone: (212) 966-9983
Visit Website
Next up, head to Pepolino off of West Broadway Avenue, right across the street from the Hilton Garden Inn New York and adjacent to the Sheraton Tribeca New York, directly accessible via the Canal Street Station subway.
I have to say that my favorite dish of theirs here at Pepolino is one that reminds me exactly of a meal my Italian mother used to make called cacio e pepe that they serve with bucatini.
---
Serafina Tribeca
95 W Broadway, New York, NY 10007
Phone: (212) 766-2700
Visit Website
Serafina Tribeca is an easy-to-spot Italian restaurant on the corner of West Broadway and Chambers Street on the first floor of The Frederick Hotel, right across the street from Bogardus Plaza.
This is such a lively, vibrant place to eat in Tribeca that I love to come here for brunch the most because it just has an amazingly uplifting vibe that makes it the ultimate morning spot⸺not to mention the pitchers of mimosas and bloody Marys.
My favorite thing to order from here is their lemon ricotta pancake breakfast that comes served with fresh raspberries, candied lemon, and maple syrup.
---
Walker's
16 N Moore St, New York, NY 10013
Phone: (212) 941-0142
Visit Website
Just south of St. John's Park on the corner of North Moore Street and Varick Street is a place called Walker's, a cozy, wood-paneled American restaurant that has both indoor and outdoor seating where you can enjoy classic comfort food.
I really love coming to Walker's for lunch on a nice day because they have a massive sidewalk patio where you can eat and enjoy the fresh air with a view of the city.
My go-to meal here consists of the French onion soup to start and then moving right into one of their incredible Cuban sandwiches with either a salad or fries on the side.
---
Locanda Verde
377 Greenwich St, New York, NY 10013
Phone: (212) 925-3797
Visit Website
Locanda Verde is a trendy Italian restaurant located on the first floor of The Greenwich Hotel that should be a top priority on anyone's list, especially if you love modern takes on authentic Italian dishes.
My favorite thing to order from Locanda Verde is their olive oil-poached halibut because of the way it simply melts in your mouth with every bite. I also really appreciate their vast selection of digestifs.
---
Terroir
24 Harrison St, New York, NY 10013
Phone: (212) 625-9463
Visit Website
Terroir is a relaxing wine bar that you can find off of Harrison Street, right down the road from the historic Harrison Street Row Houses, where they serve probably the best cheese and charcuterie boards in NYC.
They have 83 wines available to order by the glass here at Terroir, and if that's not enough, then the option to build your own perfect charcuterie board from countless meat and cheese options should be plenty to convince you to come on by.
---
Tamarind Tribeca
99 Hudson St, New York, NY 10013
Phone: (212) 775-9000
Visit Website
Right on the corner of Hudson Street and Franklin Street is a place called Tamarind Tribeca that serves up some of the finest Indian cuisine in the entire city, if you ask me.
This place is amazing because not only is it upscale fine dining, but they have both vegetarian and non-vegetarian menus to accommodate almost any palate!
Basically, everything out of their tandoor oven is going to be resplendent, but if I had to pick one dish to recommend overall, it would have to be the fish curry.
---
Scalini Fedeli
165 Duane St, New York, NY 10013
Phone: (212) 528-0400
Visit Website
I love this next place, Scalini Fedeli, because of the phenomenal mix between French and Italian influence that is prominent throughout their menu.
I highly recommend trying their delicious mushroom risotto to begin the meal before diving into their roasted rack of lamb.
You can find Scalini Fedeli off of Duane Street, directly across the street from Duane Park.
---
Attraversa Tribeca
225 W Broadway, New York, NY 10013
Phone: (646) 630-8333
Visit Website
Next, we arrive at Attraversa Tribeca, an upscale Italian restaurant off of West Broadway Avenue and White Street, directly across from the Gideon Tucker House.
The catch of the day here at Attraversa Tribeca just never disappoints, in my opinion, and you never know what it is beforehand, so it's always a pleasant surprise if you love fresh fish!
Are you gluten-free but still want to enjoy delicious pasta? No worries! Attraversa Tribeca has gluten-free pasta available upon request to make sure that everyone gets to indulge.
---
Frenchette
241 W Broadway, New York, NY 10013
Phone: (212) 334-3883
Visit Website
Another one of my favorite Tribeca restaurants to eat at is a place called Frenchette. This spot is a unique, lovely little French bistro situated on West Broadway, right across the street from Tribeca Park and The Roxy hotel.
What I love about Frenchette is that all of the cuisine on their menu is so refined and true to their French influences. I highly recommend trying the Duck Frites with a garniture of delicious charred carrots.
Frenchette is also a haven for wine lovers. They have a modest selection of top-tier-quality wines that are also all-natural. You'll be sure to find the perfect wine pairing for your meal!
---
Sushi Azabu
428 Greenwich St, New York, NY 10013
Phone: (212) 274-0428
Visit Website
Sushi Azabu is home to one of the top Tribeca restaurants to visit if you're craving sushi. This isn't your average NYC sushi spot, though. Sushi Azabu embodies sophisticated Japanese cuisine to the fullest for an experience like no other.
When you find Sushi Azabu, my highest recommendation is that you splurge on the Chef Omakase menu option. This way, you'll be treated to an expertly selected sushi assortment chosen by their master sushi chefs.
If you'd like a bit more say in your sushi, you can also pick from a wide range of nigiri, sashimi, and traditional makimono sushi rolls.
---
La Parisienne
9 Maiden Ln, New York, NY 10038
Phone: (646) 756-4911
Visit Website
Right around the corner from Zuccotti Park and the 9/11 Memorial & Museum is another one of the best restaurants Tribeca has to offer: La Parisienne.
Nothing brightens my morning more than visiting La Parisienne for a cup of hot coffee or espresso to go along with one of their croissants. If you're a bit hungrier, then I definitely recommend one of the sandwiches featured here like the Croque Salmon with zucchini, spinach, and herb ricotta cheese.
Don't be afraid to stop by La Parisienne for happy hour, either. It's from Monday through Friday, starting at 3:00 PM and ending at 5:00 PM. Also, they don't take reservations, so it may be worth calling ahead to see how busy they are!
---


Final Thoughts
Tribeca is absolutely jam-packed with places to eat and it's quite the eclectic selection, as you can see! You've got Indian restaurants, Greek restaurants, and so many more that you're just going to have to start working your way down the list and try them all to fully experience the best Tribeca restaurants!
Not looking for restaurants in Tribeca? Click here to check out my favorite places to eat in Times Square.
Did we leave a restaurant out of this list? Make sure you leave us a comment and we'll check it out!
This page may contain affiliate links. If you click through and make a purchase, we'll earn a small commission, at no additional cost to you.
Sours: https://restaurantclicks.com/best-restaurants-tribeca-nyc/
31 NYC Restaurants You Need To Eat In Your Lifetime - The Ultimate List
The Best Restaurants in Tribeca
Are you looking for the best Lower in Tribeca? Then you've come to the right place – because I'll show you the hippest and most authentic places where New Yorkers hang out.
Check out, these articles are probably interesting for you as well
The selection of restaurants in Tribeca is really large, although the district is one of the smaller ones in New York. But the candidates on my list of the best places to eat are really good – some of the best restaurants in New York are located here.
To help you quickly and easily see which spot is near you, find all of Tribeca's restaurants on an interactive map.
By the way: you'll find many more New York City spots in our Loving New York travel guides!
The best restaurants in Tribeca
Grand Banks

Sea Food Restaurant inTribeca

Our Highlight

Water, a great view of Manhattan and a great atmosphere – the location is simply the best. You are sitting on a historic ship called F/V Sherman Zwicker on the Hudson River and can enjoy New York from the water when the weather is fine. The place also serves great drinks and seafood.

American Cut

American Restaurant inTribeca

The restaurant is very modern and here you can get very tasty steaks.

Landmarc

American Restaurant inTribeca

Italian and French specialities are served according to their own specifications. But you don't have to do without American classics like Mac&Cheese either. The selection is really very large – from pasta dishes, mussels to steak and burgers. The prices are – you can get a burger from $20 – quite fair.

Locanda Verde

Italian Restaurant inTribeca

The Locanda Verde is an Italian restaurant in the heart of Tribeca / New York and not far from the National Memorial. It is fantastically furnished, has a large bar and a really special atmosphere. Like all New York restaurants it is a little loud, but that's part of it – we didn't mind it at all.

Pepolino

Italian Restaurant inTribeca

Inconspicuous on the outside and always well attended inside: the Italian restaurant Pepolino is one of our latest discoveries. It has a family atmosphere and the food is fantastic.

Sarabeth's Restaurant

American Restaurant inTribeca

Sarabeth's Tribeca is known for their beautiful ambience and excellent food. It's a great place to grab breakfast, lunch and dinner.

Tribeca Bagels

Here you can have a great breakfast and start the day relaxed. The choice is huge and the bagels are very tasty.

Tribeca Grill

American Restaurant inTribeca

The Tribeca Grill is the perfect place for a special dinner, lunch or brunch. The restaurant is the address for good wine and very good food. The service is great and the reputation of Robert De Niro's restaurant is hard to beat. Accordingly it is not exactly cheap, but worth every cent. Reserve a table in advance in any case. No matter when – it is always well attended.
The best restaurants in Tribeca on the Map
A map with all restaurants in Tribeca can be found here – just click on "FULL MAP" if you want to see more. You can click on each restaurant on the map to find out everything you need to kno
Check out, these articles are probably interesting for you as well
Things To Do in Tribeca

Tribeca is still relatively unknown to New York City tourists and is not on everyone's must-see list. Many are unaware...

The best bars in Tribeca

Are you looking for the best bars in Tribeca New York? Then check out my best list here! Because I'll...

Best Restaurants in Lower Manhattan

Are you looking for the best restaurants in Lower Manhattan? Then you've come to the right place – because I'll...
Sours: https://loving-newyork.com/best-restaurants-tribeca/
Similar news:
.
488
489
490
491
492