40 Ways to Effortlessly Rock Curly Hair With Bangs
If you're like me, you grew up believing your head of curly hair meant you could never wear bangs. You spent years dreaming of fringe and all the hairstyles you'd never get to try. And then, if you're really like me, you cut them yourself and spent two full years growing them back out. Here's the thing: Despite all that, whoever told me curly-haired girls can't get bangs was lying.
In fact, there are so many different (and absolutely rad) ways to wear bangs with curly hair. Think Stevie Nicks, Dilone, and Georgia May Jagger. But the cut will change your styling process. So in order to understand everything you need to know post-chop, we reached out to a few of our hairstylist favorites—Ryan Richman, Justine Marjan, Bryce Scarlett, Laurie Heaps, and Streeters artist Holly Mills. Below, find 40 great, expert-approved styles of curly hair with bangs.
Curly Pixie with Fringe
This cut breaks all the curly hair "rules," which is exactly why we love it so much. This super short pixie with piece-y spiral fringe is edgy and fun. "If you have a specific length you want to keep up," says Heaps, "you will need to be on a trim schedule and see your stylist every four to six weeks (depending on how fast your hair grows). Many salons will offer free bang trims in-between haircut appointments as well—so be sure to ask your stylist."
Mid-Length Shag with Longer Bangs
A mid-length shag is ideal for a curly texture with slightly longer bangs that graze the eyebrows. "Like the rest of your curly hair," Scarlett says, "the key to taking care of your bangs is a good air-dry. Moroccanoil Treatment Light ($34) is great for curls because it's light and doesn't weigh down your hair but continues to give you volume."
Curtain Fringe
If your hair is on the wavier side, you can rock some curtain fringe parted down the middle. Georgia May Jagger's bangs almost graze the jawline.
All-Over Ringlets
Zendaya's full head of spiraling ringlets is accented with equally curly bangs. "Ask your stylist to cut your bangs dry, while your hair holds the texture you normally wear," recommends Richman. "You can always cut them a little shorter, but there's no going back if you've gone too short."
Modern Mullet
This top-heavy style is a truly current take on the mullet. Once a relic of the '80s, today's mullets are full of volume and couldn't be trendier.
Wet-Look Bob
Fringe doesn't always have to be straight across the forehead. Rihanna's wet-look bob features a few shorter pieces that hit around the apples of her cheeks, adding dimension to a mostly single-length cut.
Side Fringe
Side-swept bangs, like Sandra Oh is rocking here, are a bit easier to manage than the kind that cuts straight across. No matter the style you're going for, Scarlett say, "The key to curly bangs is to start cutting them very long—to your cheekbones at a minimum. Then, reassess as you go and watch where your natural curl falls."
Seamless Layers
We love these short, choppy bangs paired with "seamless layers" adds so much life to previously limp curls. Marjan suggests spritzing a shine serum and scrunching it into your hair if your strands tend to be lackluster. We love Kiehl's Silk Groom Serum ($18).
Lifted Roots
Rita Ora's lifted roots and dramatically curled side bangs have an old Hollywood starlet vibe. If you don't have naturally curly hair, you can achieve this look with a curling iron and some hairspray for a special occasion.
Afro-Textured Bangs
There really is no limit when it comes to bangs. If you have super curly or afro-textured bangs, you can absolutely rock a fringe, and it looks amazing. This full, voluminous cut gets a boost from well-placed balayage highlights.
Vintage Pin-Curl Waves
Janelle Monae's fluffy waves have a vintage pin curl effect. We love the soft waves rippling over her forehead, and the round, cloud-like shape the hair takes as it moves out from her head.
Choppy Ringlets
Wispy blonde ringlets and lifted roots give Jasmine Sanders a cool, choppy appearance. Add some grit to your curls with a texturing spray like Oribe Dry Texturizing Spray ($46) scrunched into wet or damp strands.
Loads of Layers
Short, choppy layers like Sarah Hyland has here can create the illusion of a side-bang, without the effort involved in styling.
Baby Bangs
Yara Shahidi's baby bangs and curly lob are so trendy, yet timeless. Be prepared to finesse your bangs: "If there's one curl or piece of hair out of place, just touch it up with a curling iron to get the curls going in the right direction," suggests Mills. "I would advise doing this on a medium setting, depending on how good you are with an iron (don't forget you are super close to your face)."
Braided Bangs
If you're rocking protective braids, you can still do bangs. Lupita Nyong'o demonstrates a cool braided bang with a twisted up 'do and decorative beads gilding the fringe.
Micro Spirals
Kerry Washington's micro-curls look so good with bangs. "It is important to note how your curls naturally fall from day to day," says Heaps. "If a client has a lot of cowlicks, this can make styling fringe more of a challenge."
Barely-There Bangs
FKA Twigs' barely-there baby bangs are not for the style faint-of-heart but they are oh so cool. Wispy little curls frame the very top of her forehead while the rest of her curls are piled up in a choppy up 'do.
Windswept Fringe
Lily Collins' windswept bangs almost seem like a fruitful style accident, but truthfully a lot of effort likely went into getting them to look that way. Marjan breaks it down: "Diffuse your dry hair with the diffuser attachment on the Ghd Air Professional Performance Hairdryer ($199) if it's necessary to style. Diffuse the front strands forward so they hang on the face, and, when ready, cut each curl individually.
Beachy Bangs
For a beachy take on curly bangs, take a page from Lizzo's book. Her bangs have a slight wave to them that mirrors the loose curls cascading past her shoulders. Sun-kissed balayage adds even more vacation vibes.
Artsy Triangle Hair
This is what the stylists at Mousey Browne Salon in Brooklyn, New York call the "deliberate triangle." The dreaded "triangle hair" is often whispered about like a warning among those with curly hair, but here's proof that you can do it on purpose and have it look great.
Finger Waves
Finger waves are a gorgeous way to cheat curls on a super short pixie cut. Rowan Blanchard's take features a delicate face-framing curl that both serves to get her bangs off of her face and adds to the vintage splendor of her look.
Supersize Curls
Trends be damned—Natasha Lyonne is pretty much always sporting signature big curls and wavy fringe. To get the curly bangs of your dreams at the salon, Marjan says: "Have your stylist hold the end of the curl and gradually cut with the shears facing downward (as they slowly open and close their shears) so the ends are lighter. This will give a more defined curl pattern that isn't too heavy around your face."
Pseudo Bangs
Not ready to commit to the upkeep that comes with curly bangs? Fake them by pulling your hair up into a tight ponytail with the ends of the curls positioned just over your forehead like fringe.
Fluffy Bangs
Tracee Ellis Ross' fluffed up bangs contrast so well with her slicked-back bun. To achieve this look, you'll need to straighten your hair and have lots of gel and hairspray on hand to keep your strands in place. As far as the bangs go, the curlier the better!
Curly with Straight Bangs
Channel the early '00s with a more modern take on straight bangs paired with a curly base. Maisie Williams' fun pink color and dark shadowed roots add some edge.
Super Long Shag
This super long shag cut has adorable bangs that curl out slightly from the face. "Aim for two inches longer than you think, then work up to shorter lengths if you need to (as curly hair shrinks into itself and bounces up when cut)," says Marjan.
Center Parted Fringe
The center part is trending, for good reason. It's both modern and retro, and, as Tessa Thompson shows us, it can absolutely work for curly hair as well as straight. We love her brow-grazing fringe and layered ends.
Messy, Textured Bangs
Juno Temple's full head of curls with choppy bangs has loads of texture. The key to keeping your bangs in tip-top shape between washes, according to Scarlett, is using a curl refreshing spray, which "will also not weigh them down, and gives them new life come morning." We recommend Ouidad Botanical Boost Curl Energizing & Refreshing Spray.
Grown-Out Fringe
This ash-brown ombré by stylist Cherin Choi features gorgeous, grown-out '70s fringe that frames the face and melds seamlessly into the layered waves tumbling over the shoulders.
Cascading Short Fringe

A close-cropped pixie cut with short, curly bangs that cascade across the forehead in layers from shortest to longest looks so flirty and youthful on actor Joey King. A lightweight mousse like DevaCurl Frizz-Free Volumizing Foam ($26) can add lift and shape without leaving behind a crunchy cast.
"Keep in mind where you live," notes Richman. "If you live in a wet or humid environment, take that into consideration as climate can alter the shape of your curls. It's best to discuss how your curl pattern changes with your stylist."
Geometric Curls
Solange's edgy curls have a wide, geometric shape with a section lifted at the crown for a totally '80s vibe that works beautifully with her natural hair. We especially love the microbangs framing her forehead.
Circular Bob
We're not exactly sure how to describe Alison Brie's sexy curly 'do. Rounded bob? Hip version of a bowl cut? Either way, her perfect ringlets paired with smudged black eyeliner are totally sultry and cool.
Betty Boop Bangs
Alia Shawkat's Betty Boop bangs require minimal styling and look so cute with a simple oversized bow tied around the crown. No matter your length, Richman suggests a lightweight primer with thermal protection if your hair is prone to damage. He recommends using Paul Mitchell Neuro Prime ($25) and twisting the curls with your finger before using a diffuser.
Tight Curls with Fringe
These tight, layered red curls get the bang treatment thanks to the stylists at Mousey Browne. The key to most successful curly cuts, including this one, is the dry cut technique. Look for a hairstylist who will work on dry hair, when your curls are at their truest length.
Razor Bangs
We hope to have more than proven by now that you do not need to straighten your bangs by any means. But Kat Graham's cute, razored fringe with long ombré waves is a fun, modern take on the straight bangs/curly body contrast.
Long S-Shaped Fringe
Take a page from Ilana Glazer's book and embrace your texture on slightly longer bangs. "You may find you need to restyle your bangs in the morning even though you didn't wash your hair," says Richman. "Wet them carefully and pat dry with an Aquis Lisse Luxe Hair Turban ($30) as it's less harmful than a cotton towel (it leaves the cuticle smoother as your hair dries)."
Cheated Bangs
Would you believe us if we told you that @mominakhterr doesn't actually have bangs? Per the caption, she faked them: "I didn't cut my front pieces too short, I just applied my stylers a bit closer to the roots at the front and scrunched!" A genius hack.
Curly Faux Hawk
Storm Reid's curly faux-hawk is such a unique way to style medium-length or long curls. The choppy fringed pieces at the front create a longer bang that falls just past her eyebrows.
Half-Up Half-Down
Curly bangs work incredibly well with a half-up, half-down situation. We love this loose, wavy triangle fringe.
French Bob
This chin-length French bob is capped off by loose, wispy curls at the ends and flipped-out bangs.
How to Save Money By Trimming Your Own Bangs
Sours: https://www.byrdie.com/curly-hair-with-bangs
25 Great Celebrity Fringes To Inspire Your Next Haircut
Cutting a fringe might seem like a small change, but it can make a serious impact on your overall look. It's frightfully easy to get it wrong, but transformative when done right. 
Read More: Low-Cost, High Impact: These Affordable Hair Accessories Are It-Girl Approved
Celebrities – with the help of their glam teams – are particularly experimental when it comes to trying a side fringe or straight-cut bangs. Dakota Johnson does the fringe particularly well – it's full, but not too full; fluid, but not stringy; and always well matched with her overall hairstyle. But that's not the only way to style your bangs, as proven by more and more celebrities cutting them into their mullets and bobs.
Read More: 16 Times Dakota Johnson's Fringe Made Us Want To Cut In Bangs
Below, let Miss Vogue introduce you to your next fringe hairstyle muse, from Zendaya to Miley Cyrus, Mahalia to Bella Hadid.
Sours: https://www.vogue.co.uk/gallery/fringe-hairstyles
When it comes to styling your hair there are many kinds of options that can be experimented with. There are short hairstyles, there are braided hairstyles and then there are long hairstyles. However, there are few hairstyles that are not for all and definitely are genres out of the box.
Such hairstyles are not for casual styles but for few people who really want and love experimenting. This grunge hairstyle is a style that has quite a bit of history. It originated not as a style but from a cult and there lies the entire eccentricity and uniqueness of the Grunge Hairstyles.
The History and Origination of Grunge Hairstyles – The Peak into the Classical Era
The grunge hairstyle initially had its origin in the early 90's era where this style was much celebrated. It is basically a style that is indeed a low-maintenance one and there is something very cool about the entre vibe that it creates.
With its classical aura, the style is a mixture of hipster, indie, and rocker chic. It can be styled into great updos be it low ponytails that are slightly messy and high pigtails.
To complete your look you can always add a beanie or a Vandana which is the printed cloth and achieve an actual and quintessential 90s look, a throwback into the bygone era of classic cool.
Grunge Hairstyles
Also, there are few believed notions that the grunge hairstyle is a very greased or oily dirty hair but that is not at all the case. More on the daring fashion statement the grunge hairstyle has always portrayed a very bold look. The style is on purpose a very carefree style lacking the poise and dainty, fair lady charm.
The word grunge means more of a lifestyle in the early 90's where the lifestyle of grunge was more like rock music and bands like Pearl Jam and Nirvana. Going in hand with dirty guitar and singing songs that had a note of a reality that was gruesome is what the grunge attitude was all about.
The grunge adapted the punk culture along with the rock vibe with it and in totality it became the grunge style. The sweat of the style was raw, real and rock. Hence the grunge hairstyle accumulates the flavor of all these things and accentuates into a single style- the grunge hairstyle.
In today's contemporary fashion experimentation has become a major part of being stylish and thus the comeback of this grunge in hairstyle has turned the trends on. Representing the current pop culture the grunge hairstyle has made its mark and quite authoritatively is it seen dominating the season. Hence the final comeback is a definite showdown.
Below enlisted are the top 20 great grunge hairstyles especially picked for you to explore and experiment with:
1. The Basic Grunge Hairstyle
In this particular look, the hairstyle plays the majority part in deciding the entire outlook of the appearance. This grunge hairstyle is dyed blonde with greying undertones or rather greyish lowlights that are extremely contrasting and this stark contrast brings out the element of surprise in this style.
The makeup along with the hair is equally quire and out of the box. There is the smoky eye that adds the punk element that is a subtle embodiment of the grunge style.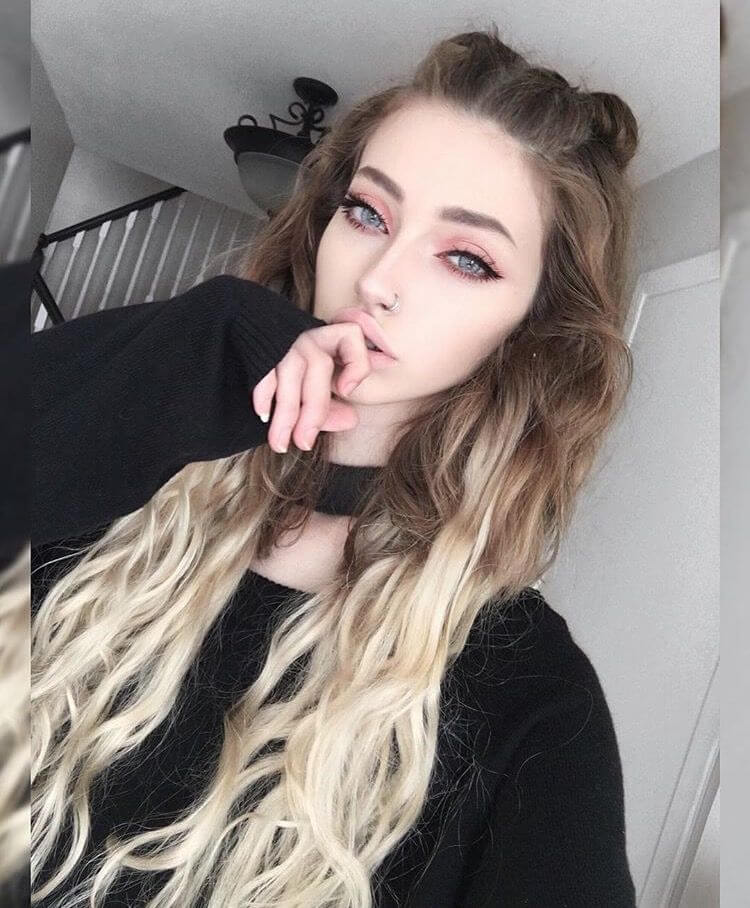 2. The Messed Up Knot Hairstyle
This hairstyle is great not because it is very charismatic and has clean neat hair but because this hairstyle has a very raw feel to it this hairstyle looks attractive. This hairstyle consists of two knots on either side of the head and the hair color is grey mixed with cobalt blue.
The blue color gives a very subtle yet morbid effect to the entire look and it is this look that makes all the difference. The messed-up look brings the grunge hairstyle. The unkempt look adds a very serious tone to the appearance.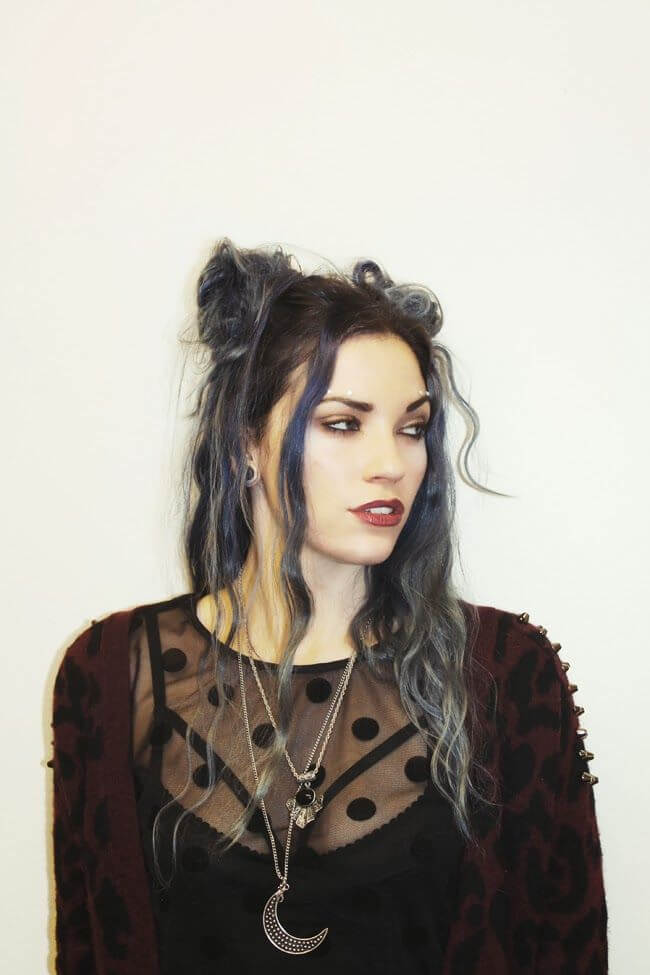 3. The Bob Grunge Hairstyle
This hairstyle is also a very interesting hairstyle. The front section is cut out and partitioned in an encircling manner and the sides have a very messy texture. In between the blonde shades, there are sneak peeks of grey tones highlights that add the element of surprise to the entire grunge style.
Also, the look is very interestingly set with subtle Indian notes of ethnicity added to the punk style through the incorporation of the bindi with this classical style.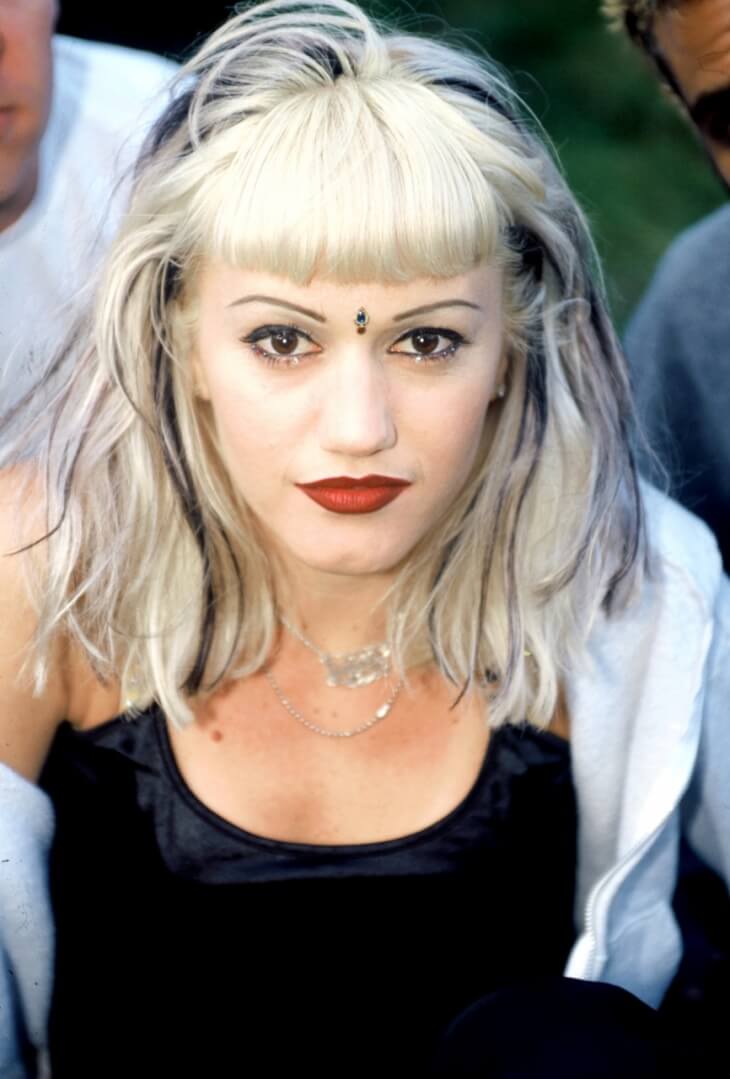 4. The Braided Knot
This hairstyle is all about sporting a very cute look yet maintaining the punk style. In this hairdo, the focus area is the crown region and the rest of the hair is left as it is. The front area is middle parted and sectioned to a narrow hair volume where the braiding is done on the scalp itself.
After the initial braiding is done on the scalp from the very end where the braid stops, taking the remaining hair a knot is made and secured with pins. This same thing is repeated on the other side and thus there are formations of two knots along with a braid on either side. This hairstyle can be clubbed with hair bids if wanted.
5. Front Aligned Grunge Hairstyle
Well, this hairstyle is all about keeping it short sweet simple yet as the style genre states it has the grunge effect in it. That is it holds its messy vibe. This hairstyle is done on short hair where the front alignments are such that it covers the cheek area and overall gives a sleek look to the face.
This hairstyle is indeed a perfect one for summertime fashion. The color of the hair also matters. The rich gold and burgundy hair color really make the look even brighter.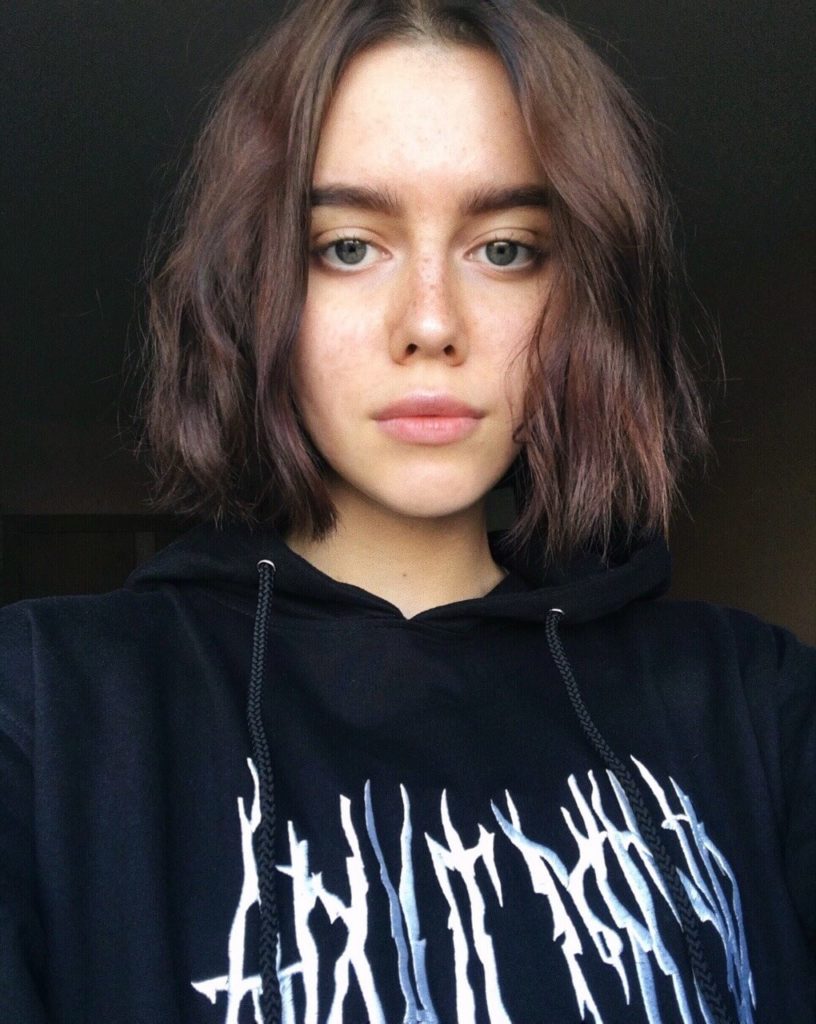 6. The Blood Red Hairstyle
This hairstyle is a sure show stealer. Women who love fashion because of its essence of exploring out of the box will agree that this is one hairstyle that will need some guts to be flaunted. The hairstyle is done on long hair length.
The hair is colored blood red and there are two knots that are tied on either side of the head. On the back end, a tall very quire braid is done that brings a subtle note of Gothic style in the hair. This hairstyle here is teamed up with some moon-chime hair accessory that brings out the grunge style more efficiently.
7. The Unicorn Pom-Pom Style
This hairstyle will just grab people's attention like anything. The hair color here is the actual USP.
The unicorn color comprises shades of blue and purple and here in this particular style the hair color is done in a stark and distinctive way where one half is blue and the other half is purple and the two tie-up knots are done exactly segregating the color divisions to give a bold look.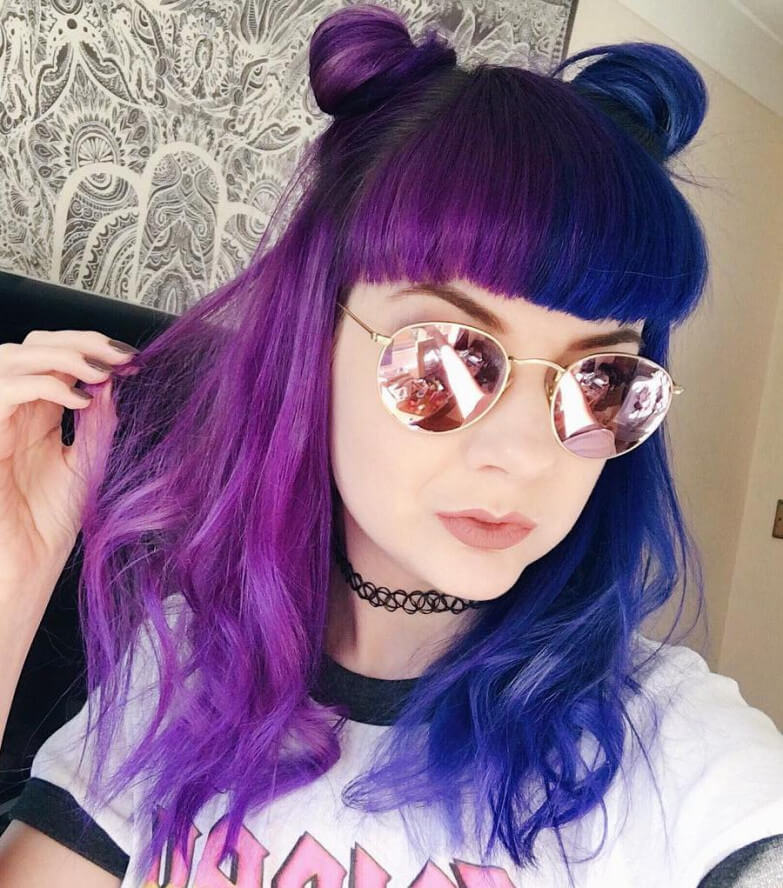 8. The Orange Ombre Hairstyle
This hairstyle has a very bright effect and the best part is it definitely is a complexion enhancer. The bright color makes the look very vibrant. The color palette of this hair encircles between shades of yellow, orange, burgundy and blonde all mixed such that the shade comes from dark to light colors.
The messy side part and the subtle wavy texture add a lot of oomph factor to the entire look. This look can be jolly well paired with denim pant and jacket and a sunglass will surely complete the ultra-cool look.
9. The Tri Braided Side Hair
Well, this looks quite an intimidating style however the play is not that complicated. The look has a very strong sense of style. The entire style exuberates a fine note of sturdiness.
To get this hairstyle all you need to do is just side part your hair and on the opposite side of your fall make three individual braids one below the other and then tie it with bands.
In this hairstyle, the side part is the main highlight. You can also use some hair accessories to decorate this entire grunge hairstyle.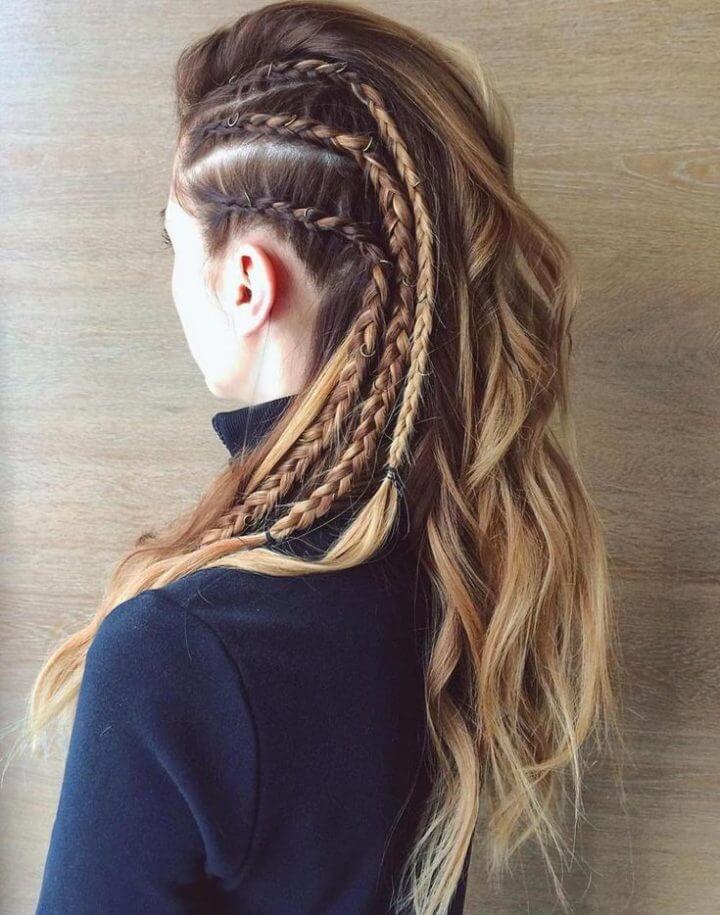 10. The Safire Bond Grunge Hair
This style is very colorful and the best part it suits all face types. In this hairstyle florescent orange and florescent pink are the colors that are added to the hair and the crown area has a slight puff buffet-like hairstyle that adds the touch of grunge and the sides ends are curled.
This is quite a fun and pretty style that no wonder will uplift the spirit of any event. A gracious and charming style, this particular one is for women who love the dash of colors.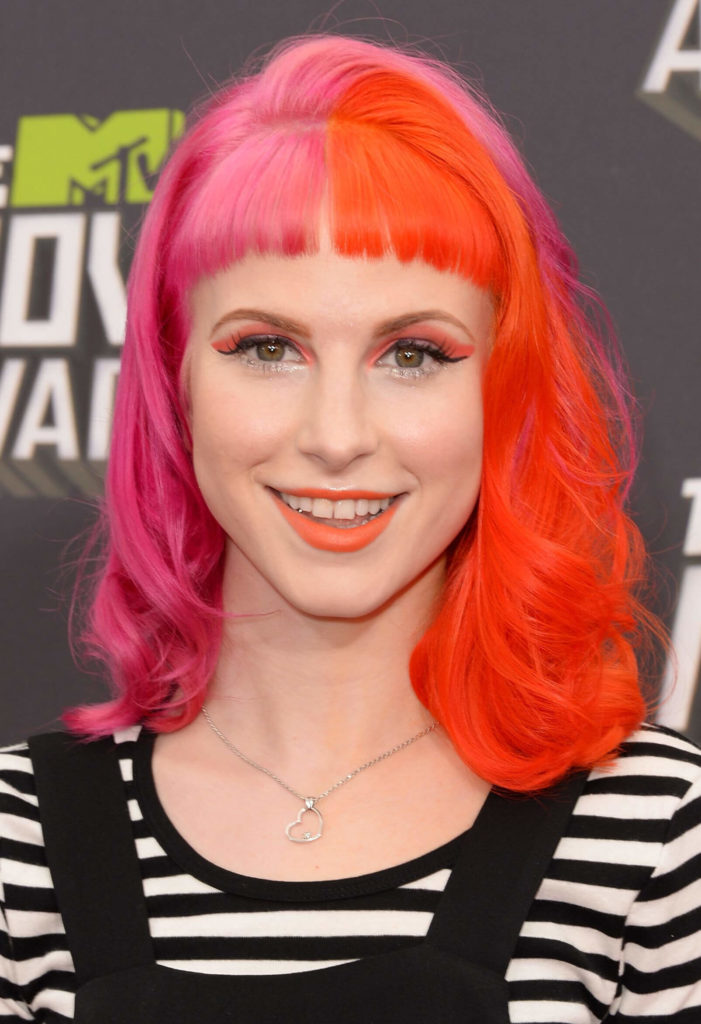 11. The Pink Grunge Hair
Have you ever given a thought that how would it look if your entire hair was a dash of fluorescent pink color? Yes, this particular grunge hairstyle is all about that color.
This hairstyle has a soothing vibe in spite of the color. There have been two-strand braids made that enhance the beauty of this entire look. For young women who love this color, this hairstyle is a must-try on.
12. The Lock Braid Grunge Hairstyle with Grey Tone
This hairstyle has a greyish undertone. The element about the grunge hairstyle is that there is a slight tone of grim vibe. There is a persona that goes beyond the nomenclatures of being common. The style enhances the boldness of the look.
Also, the two side locks are made in a braid that adds a subtle cuteness quotient to the entire look. So overall this look is definitely a spottable and energetic grunge look that makes for a great style. Try out the look and you will find the gaze that is attracted to you.
The grunge style is all about being out there sporting a quire classical genre that is distinct and different from the common clutches of fashion.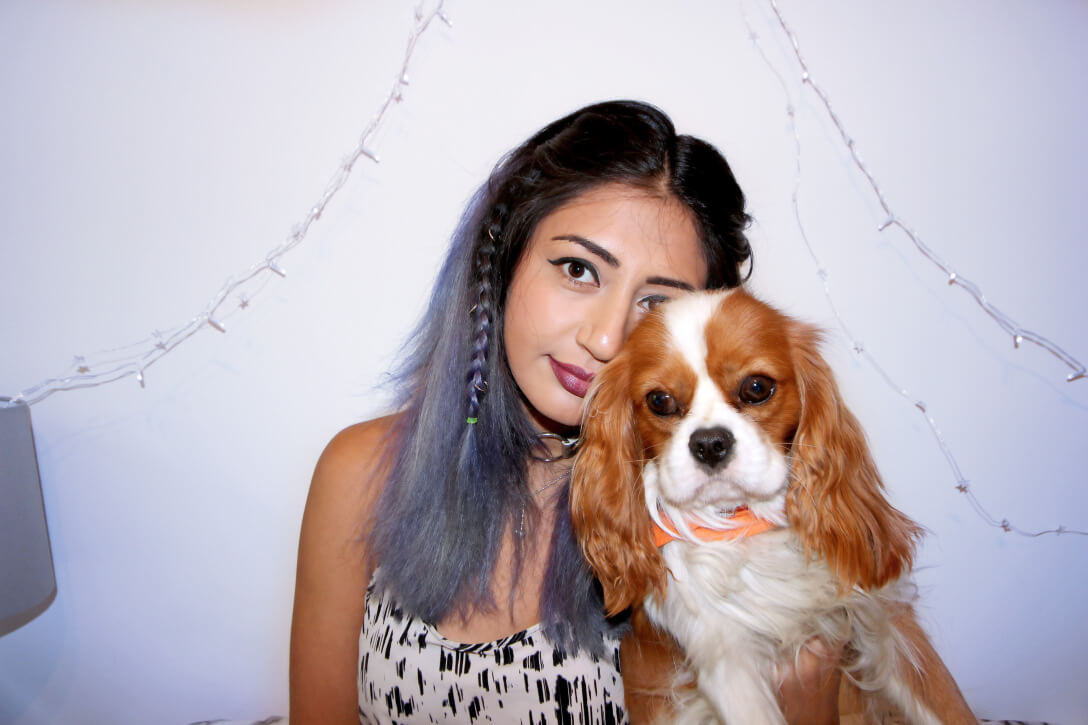 13. The Baby Pink Hairstyle
This hairstyle is indeed a great hairstyle. It is chic, classy and women with short hair can easily sport this. In this hairstyle, the front portion is in a very light pink color and also the blonde color and the pink frontline together have a very soft and girly charm added to this specific grunge style.
As the hairstyle is on softer tones the grunge style is beautifully brought through a tiny nose ring to add that punk element to the look.
14. The Burgundy Red Grunge Hair
This hairstyle is a very versatile one and slightly different from the others where the others cannot be sported in any particular event as such, but this one is not like that.
The burgundy and the brown mix also with the feather layer cut together gives a great normal everyday look which is super stylish and also very much wearable.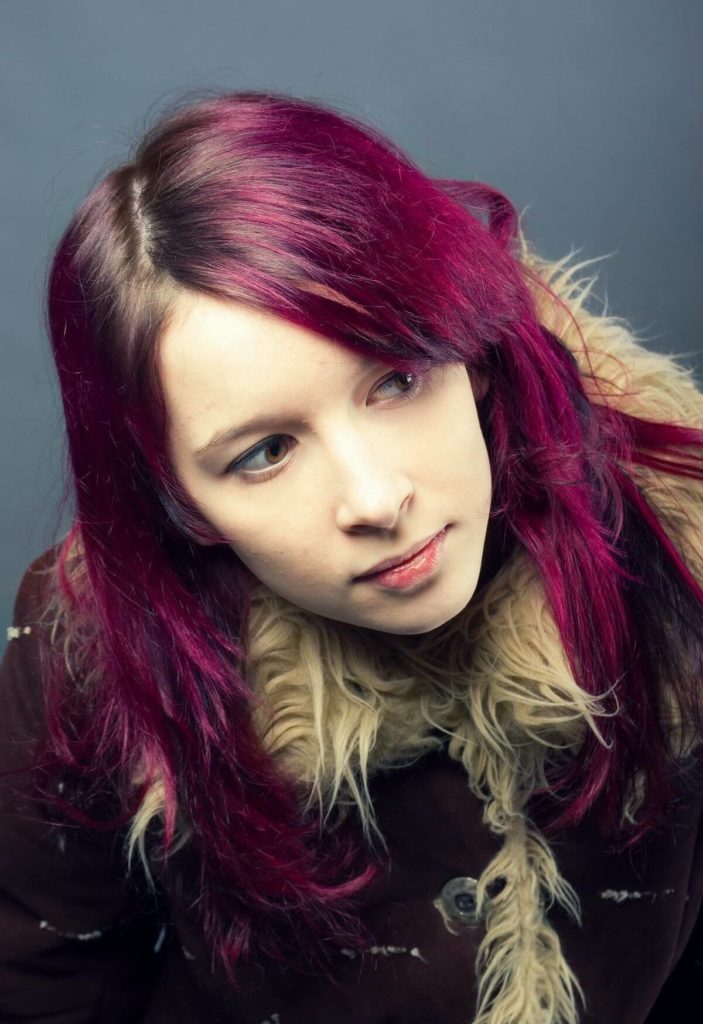 15. The Centre Top Bun
Are you someone who is bold, a bag of funny bones then this can be your go-to style? This is cute, fun, bold and has a very carefree vibe that adds to the entire look.
So just sport the hairstyle and grab a coffee and walk in confidence. Yes, this look is all about that style, that cool confidence that can be rocked anywhere anytime and in all glee.
16. Criss Cross Fringed Grunge Hairstyle
This hairstyle explicitly depicts the grunge style. The grim and sturdy look comes from the eye make-up that is beautifully balanced by the hairstyle. The hairstyle has a stern fringe line at the front covering the entire space in the forehead.
This also will make a great hairstyle for women who have a very broad forehead and want to make it look small. The side of this hairstyle has inverted alignment such that the front lock is longer and it gets shorter as the locks go towards the back.
Thus this hairstyle overall is a great trendy hairdo that can make for a really stylish hairdo. This hairstyle has its own charm, a bold and solid look. The criss-cross goes from the crown area hairline.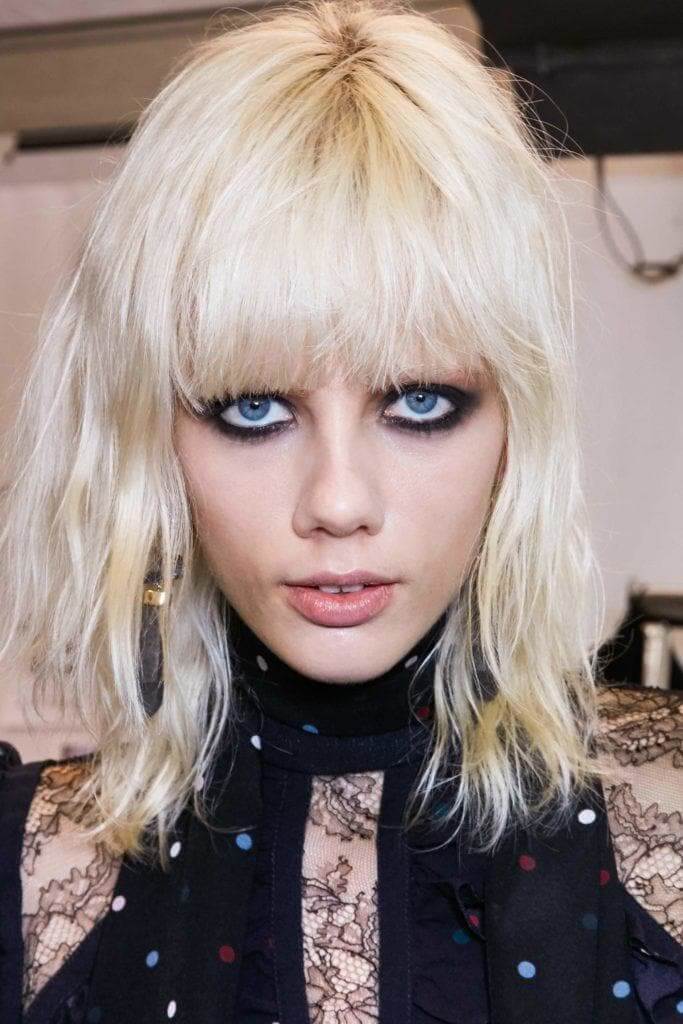 17. The Punk Green Grunge Hair
This is definitely an out of the box look and the grunge style comes out beautifully through the green color of the hair.
Also, the cut is made in a style that the front side portion of the hair has bob curls. The complimentary uniqueness of this hairstyle is the colored eyebrow that matches the hair. It is undoubtedly one of the best of the grunge style.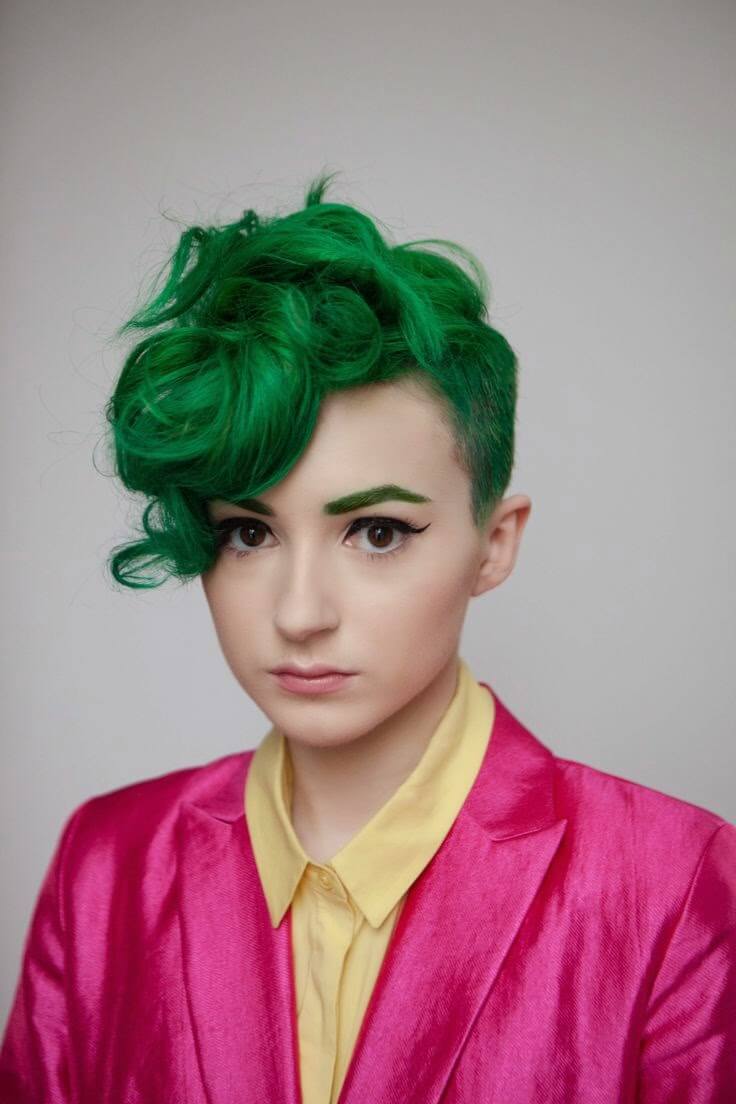 18. The Concave Hairline
This style is distinct. The hairline cut is the uniqueness of this hairstyle. The crown has a dome shape that is balanced by the side-aligned locks which are angular in look.
This hairstyle gives a very futuristic vibe to the entire look. Thus this is one grunge hairstyle the fashion trend of which is never going to go out of the league.
19. The Heightened Knot
This hairstyle is cute. It adds height as the knots are tied in an elongated manner from both the top corners of the crown area. Also, the front fringe displays a fine ray of colored string that makes for the fun element.
This hairstyle can often be spotted on the ramp and because of its fashion sense, it will always be the most sported ramp style ever. There is a definite note of color and balance in the hairstyle. The makeup in comparison is kept dull almost to a placid neutral level.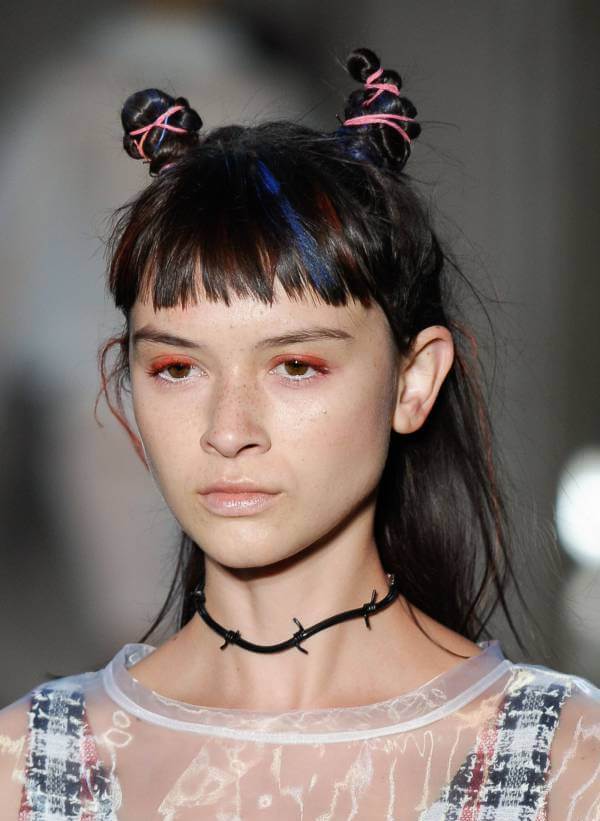 20. The Lose Blend Bun
This hairstyle is more of an everyday style that can be sported in colleges and also parties. This is one such hairstyle that can be flaunted by women who have hair that is either long or medium. The hair is combed and tied on the two ends of the crown area and the buns are done.
The style is a non-messy clear and cute one that imparts a more or less neat look. The element of grunge comes out with the buns on the two extreme ends that use the two side halves. One can team up a monochrome blouse like a red or a blacktop.
21. Ocean Blue Balayage
Pastel colors are bold and not for the meek-hearted. An asymmetrical lob is beautifully transformed into grunge by an ocean blue balayage.
Gradually descend from deep aquamarine blue to sky blue. Let the sky blue fade into shiny white.
Apply a thick layer of eyeliner to be consistent with the vibrant hair color, and you will be angelic.
22. Play With Blue Pixie
Bored of the regular short boyish pixie. How about going grunge?
The feathered layers on the top are shaded in light blue. Platinum blue highlights are added in the front for contrast.
Don't limit your game to your hair. Go for a blue eyeliner and eye shadow and complete the look.
23. Cotton Candy Wavy Hair
Long wavy brunets are every woman's dream but are it too plain for you. Cotton candy pink can do the trick.
A schmutz shade of pink is sure to make a statement. The outgrowing brunets add to the vibrancy of this hue.
A great choice if you are more inclined towards the girly vibe and not the bold element.
24. The Elf Buns
The imaginary character of an Elf is known for its triangular face shapes and quirky hairstyles. But, well, they forgot to patent it.
Make two high ponytails with your hair on both sides, and then instead of wrapping your hair around it, start curling your hair inwards. Tie them around with your hair, or you can use extensions.
Let the bun ties be of a lighter hue than your natural hair to add texture.
25. Grunge Salt And Pepper
Curls are feminine and full of texture. The salt and pepper style amplifies those textures. But it is too common for a grunge lover like you. So why be limited to those two shades.
Add subtle violet highlights to enhance those greys. To create disparity, let turquoise layers frame your face.
A perfect summer outdoor look. Apply little or no make-up as the hair as your hair adds color to your face.
26. Variegated Pink Curls
90's inspired curly high ponytail style is chic enough to turn heads. But grunge hairstyles are not complete until they are over the top.
Dye your hair pink. Start from a deep pink shade gradually fading in pearly hues.
Black round sunglasses with deep lipstick and tattoos, Funk is the only word that comes to mind.
27. Thick Ocean Green Bob
A thick, dense bob was always wild. But you can go vile by combining a deep pastel color to this style.
The ocean green color successfully blends gothic elements in your hairstyle. Let the green fade in silver for a messed-up feel.
Wear green lenses and a light lip color, and you can cosplay an anime character well.
28. Bleed Blue Pixie
A mushroom pixie with side-swept bangs is a dramatic hairstyle. But you cannot have grunge without a stretch.
Silver blue hair is not an everyday sight. Wear it with confidence as all eyes are going to be on you.
Show your love for being different with silver and blue lipstick and eyeshadow.
29. Neon Choppy Bob
Neon shades are reserved for the lion-hearted.
The choppy face-framing waves with side bangs show off your sharp features. What better way can there be to create contrast as well as brighten your dark eyes.
Apply thick winged eyeliner for a strong effect.
30. Space Buns
Space buns have recently made a comeback in grunge hairstyles. They are easy to style and a perfect way to manage long hair.
Pair them with uneven, fuller bangs and wispy locks. Let the buns be messy with hair let loose. Go for a smudged eye make-up to fit the grime concept.
It is somewhere true that a hairstyle has the ability to change the entire look of an individual. However, there are certain hairstyles that not only change the look of an individual but also they do bring out some innate preference or personality of the women sporting this style.
Hence these styles will definitely make you look different and will surely bring out the best persona in you. So explore the unexplored with the new Grunge hairstyle.
Categories HairstylesSours: https://www.hairdohairstyle.com/grunge-hairstyles-to-take-a-glimpse-of-classical-era-fashion/
how to achieve a *poppin* shag hairstyle.
20 Easy Grunge Hairstyles for Killer Looks
When Nirvana and Pearl Jam were music icons in the '90s, there was no denying that grunge hairstyles were thriving. As fashion trends cycle back into current pop culture, we are seeing '90s grunge hair again. Grunge looks are perfect when you want to let out your inner rock star or when you just want an undone, carefree look.
Bring on the Grunge
We know that 90s hairstyles are making a comeback and there are many different haircuts and hair colors for girls looking to achieve the grunge look. From effortlessly cool hair to amazing grunge updo hairstyles, here are 20 of the best, easy grunge hairstyles for your inspiration!
#1: Messy Denim Bob
There is nothing more grunge than your typical platinum blonde, messy hair look. This messy grunge hair is perfect since it's versatile and easy to do. To achieve this look, simply tousle your hair, add a bit of volume, and top it off with dark makeup. This look works well with medium length hair.
#2: Half-Up Space Buns
There is nothing more '90s than space buns, which is why this look by YouTuber, Zoe London, simply had to be on this list. This half-up, half-down look paired with two buns really compliments her vibrant, two-toned hair. An unforgettable grunge look that you can get too by following Zoe London's tutorial.
#3: Rose Gold Highlights
Rose gold doesn't necessarily mean girly, it can also be a killer look when styled in a grungy way. Start off by leaving your roots dark while gradually lightening to the ends with a platinum rose gold. Style in waves for the colors to stand out and to it give a soft grunge look.
#4: Kinky Curls Grunge
You can rock a grunge style with kinky curls. Experiment with your hair by playing with different braids on the top of your head and let the curls naturally flow free at the ends. Endless volume and tousled strands create an effortless, grungy look.
#5: Braided Pony with Undercut
Here's a classic grunge updo that is perfect for long hair: the easy and simple messy pony. Pull all your hair back and up to the top of your head and tie in a tight ponytail. The pony showcases your grungy darker roots. Finally, tousle the ponytail strands to achieve the messy grunge look.
#6: Purple Ombre and Side Braid
Having a grunge hairstyle can also look glamorous! Take this look by YouTuber, Stella Cini. Her grunge look starts with dark hair with some soft violet at the ends, styled into a sleek, straight finish, with a braid added to the side for the final touch. Tip: use your makeup to emphasize the grunge and glamour. Learn how to get Stella's look by watching her tutorial.
#7: Center Parted Ombre Hair
If your style is grunge but you want something more natural and low-maintenance, try this toned-down cut and color. Leave your base color natural or darker and add some blonde to the ends as well as a few steaks around your face. Style your hair in messy, tousled waves and you will have an effortlessly cool look.
#8: Short Hair with an Edge
Short hair can be grungy too. Many grunge short hairstyles out there look amazing. Add some color to your pixie cut and style it by flipping the top to one side to create an edgy, asymmetrical look.
#9: Intertwined Grunge Braids
This intricate, half-up, half-down braided hairstyle is a gorgeous grunge option. Although it looks complicated, it's simply using various braiding techniques on different sections of hair, intertwining them all into one half-up style. The best part about this hairstyle is that even if you mess it up, it will still look good!
#10: Pink Roots
Instead of adding color to the ends of your hair, as usual, add a vibrant color to your roots and leave the ends natural. Pink roots give you a cute, grungy look and the vibrant color really pops.
#11: Messy Grunge Bun
Messy buns are always convenient when you are in a rush or simply can't be bothered with your hair. Plus, they can add a bit of grunge to your look. To get this look, style your hair in a messy bun and pull out some stray strands. Check out YouTuber Jade the Libra's tutorial for another way to get the grungy, messy bun.
#12: Silver Waves
Thinking about changing your hair color to something a bit out-of-the-ordinary? This dreamy, wavy hair in a silver balayage is the perfect option for a grungy, disheveled look. The messy, textured waves really add character and volume to the hair, giving it some extra edge.
#13: Purple Braids
A classic hairstyle that is appropriate for school can also showcase your grungy style with this vibrant color. Interlocking the braid at the top like a corset also adds a fun and unique twist to regular pigtail braids.
#14: High-Top Grunge
Add a bit of grunge to the classic half-up, high ponytail with YouTuber Evelina Forsell's tips. Let the top and front of the hair look sleek but add some curls throughout the rest of your hair for a voluminous and messy look. Check out Evelina's tutorial to get this perfect grunge hairstyle.
#15: Braided Faux Hawk
This trendy look is one that will add personality and edge to your style. Part your hair in a deep side part and braid the smaller side into three french braids. Add little ring hair accessories throughout the braids for some extra grunge. For a final touch, curl the loose hair on the other side into soft waves for more texture.
#16: Mermaid Hair
Who said mermaids can't be grungy? This beautiful blend of turquoise, violet, and blue tones goes from mermaid to grunge in seconds when styled with some messy curls and a bit of volume. Remember to protect your color-treated hair from styling damage with some heat protectant spray.
#17: The Pink Shaggy
Another option for short hair is this shaggy cut styled in a tousled, messy mop. Top it off with hints of pink and platinum for some grungy, edgy texture. This is a great look for girls that simply don't have a lot of time in the morning since it's so simple to style.
#18: The Twisted Bun
This twisted braid updo is a one-of-a-kind grunge look. By braiding your hair with your head flipped upside-down you can create this beautiful braid and top it off with a topknot. This is not your traditional braid or topknot and it will get you noticed.
#19: Choppy Fringe
Don't be afraid to go for a razor cut to get a grunge look. The key part of this hairstyle is adding bangs to match the bob. This will add more texture to the look and looks perfect when tousled and paired with your '90s choker.
#20: Glitter Space Buns
Retro grunge meets trendy hair glitter. This hairstyle blends old and new trends by mixing space buns with hair glitter. It's a lot easier than you think, just divide your hair into two pigtails and do a reverse French braid, twisting them into a bun at the ends. Add some glitter to your roots and you're all set.
It's always fun to play with hairstyles that make us look effortlessly cool. These 20 looks are perfect for anybody who is looking to add some personality and edge to their style while channeling their inner '90s wild-child. Whether you lived through the grunge era or you're experiencing it for the first time, we guarantee you will look killer in these looks.
Sours: https://therighthairstyles.com/grunge-hairstyles/
Hairstyle grunge bangs
Curtain, blunt, side-swept or French, fringes are taking the beauty world by storm. "Now is fringe season," expert hair stylist, Dionne Smith, told GLAMOUR. Our hair may have grown out over the past year, but now that salons are back in full swing and the summer is upon us, it's time to switch things up with a new 'do – and there's no easier, cheaper or more transformative way than with a fringe. In fact, it's so easy, you could even try it yourself at home (although, you should probably check out our failsafe how-to guide first).
But before you grab the scissors, you might want to think about the type of fringe you want. From side swept, to micro, fringes are as versatile as they are stylish. This season though? It's all about the curtain fringe, i.e. the universally-flattering, 70s style fringe that flicks out at the ends to perfectly frame the eyes. Plus, they look equally as great when grown out, making them one of the lower maintenance options.
"The modern curtain fringe is easy to wear, easy to maintain and suits a variety of face shapes," says Declan Haworth, Colour Director at Blue Tit hair salon. "It's also a great way to add shape to your hairstyle if you're not ready to commit to a full fringe."
From The Shag to The Collarbone Cut: These are the biggest haircuts that will dominate autumn 2020
16 Photos
That said, there's plenty of other styles to consider. Here's a few things to think about before you make the cut.
FRINGE OR BANGS?
Let's just clear this up first of all. Bangs and fringes are entirely the same thing, but bangs is the commonly used term in America, while the British are more likely to use the word fringe.
THE STYLE
Before committing to one fringe, take inspiration from celebrities and from Instagram, saving the ones you like to show your hairdresser. This will help the two of you to settle on the type of fringe that best suits your face as well as your taste.
You could try the nonchalant, French-girl fringe (a low maintenance option that's less structured and so can be worn pushed to the side or all at the front), or the micro-fringe, a favourite of celebrities like Emma Watson and Rooney Mara who have previously adopted the look.
Then there's classics like a long, side swept fringe (great if you don't want a huge change), blunt-cut bangs like Taylor Swift's or Naomi Campbell with the popular curtain fringe, made modern with longer layers.
THE MAINTENANCE
Before you leave your hairdresser, ask for a quick tutorial on everyday maintenance - especially if it's your first fringe. Fringes can require slightly more effort than the lengths of your hair - they are more likely to get greasy as they are in constant contact with your forehead (which might be a consideration if you are prone to breakouts or have acne), and can also be more prone to the effects of bed head.
You might want to stock up on the dry shampoo, as well as invest in some styling tools that will fix up your fringe in a flash. If you go for a blunt fringe, some straighteners will help you to achieve a sleek finish, whereas if you have a French girl fringe, comb through with a wide barrel brush and a hair dryer to give it some volume, and finish with a texturising styling product to mess it back up.
Here's some of our favourite Insta inspiration to get you started...
The full fringe
The bardot fringe
The curly fringe
The frenchie fringe
The curtain fringe
The side-swept fringe
The lash-skimming fringe
The corkscrew fringe
The wispy fringe
Keep scrolling for some celebrity inspiration...
Sours: https://www.glamourmagazine.co.uk/gallery/fringe-hairstyles
easy hairstyles (extra cute with bangs)
.
Similar news:
.
392
393
394
395
396