Garage Bar Build - Abbreviated Post
This was a pretty big project! Here's the basic run down of what was done, but for more detailed instructions (and more photos!), see my other posts:
https://www.hometalk.com/40900161/bar-build-garage-storage-part-1
https://www.hometalk.com/40963042/bar-build-garage-storage-part-2
This is my son's garage space that he wanted to finish so that it would serve two purposes:
1. A place to hang out with friends, watch sporting events and drink a few beverages.
2. Create storage space for tools, paint cans etc. and have a general workspace area for those odd jobs that come with being a homeowner.
Here is the before shot to show you how bare it was except for a very rugged shelf and a laundry tub. The floors were already completed with ceramic tiles when he purchased the house.
The first task was to touch up the sheetrock with plaster and paint it, he chose a gray paint for the top portion and black for the bottom. Next was to create an outline for the shape and size that he could build a Bar. The framing was done with 2 x 4 boards and 3.5 " galvanized nails, it was not secured to the floor because once it was built the weight of it would anchor it.
To figure out the height for the top his dad suggested to put the bar stools that he was going to use in place. Then he got him to sit in place to get a feel for where the top would be a comfortable height.
Oh and as the project was only getting started when the boys needed a television installed as you could have guessed! Like father....like son, a T.V. is a must!
The front of the bar was covered in with the same faux barnwood sheeting as the accent wall. A new rectangular boxed light was purchased and installed above the bar as well. The bar was going to have a very special bar top, a piece of live edge wood that was salvaged from the Fort McMurray fire. My son along with thousands of others evacuated and fled the engulfed town, very scary moments but luckily these are happier times.
Next were the countertops, he chose to finish them with a laminate sheeting product called Arborite.
It was relatively inexpensive and it was installed using contact cement. Once the contact cement had set up enough to adhere the two surfaces together it was given a firm pressing and smoothing out by hands and using a dry cloth. You must ensure both surfaces have adhered without any air pockets.
The Arborite was given mitred and straight cuts for fittings to the wood base by scoring it and then cutting with a utility knife and straight edge.
The last instruction for the completion of the bar was to secure the bar top with brackets underneath at the back. The inside edge of the wood was given a straight edge cut as seen below. You'll notice extra sheets of Arborite are shown in the upper right, thats the size they were purchased as.
Following the same pattern of using 2 x 4 boards for the framing portion and white shelving for the interior, the guys created a row of cupboards. It went to from drab to fab now he had hidden storage space for tools, paint cans, etc. In the photo an empty slot remains where two drawers are going once they are built. Sorry I don't have a pic of the process of the drawers being built.
The backing of the cupboards is 1"x 6" Pine that will be stained with Classic Gray Min Wax. The cupboard doors were made with a white beadboard center panel and trimmed with 1"x 2" boards that were stained with Ebony Min Wax.
The corners were given a 45 degree mitred cut then wood glue and 2" Finishing Nails secured all pieces in place. The doors were laid flat for a few hours to allow the glue to dry, meanwhile they kept assembling the other doors.
Here is a close up view of the finished look but our son hadn't put the handles on them yet. He bought basic silver handles to match the silver hinges, nothing fancy afterall it's just a garage!
Now to add icing to the cake he bought blue rope lights to hang underneath the bar top. Pretty cool heh?
The cupboard doors weren't installed inside the bar at this point but they were later. The bar top, as seen here was stained with Classic Gray Min Wax stain. You'll also see that a black wooden strip was added to the countertop edge to give it a finished look.
I forgot to note that a foot rest was added to the front base of the bar built with 2" x 4" sides and a 2"x 10" top. It was also given a coating of the classic gray stain. The joins and edges in the barnwood paneling were concealed with the black 1" x 2" black trim boards, again it gives it a nice finished look.
So he got his wish...a bar section to entertain friends and a workspace to store tools and a worktop surface with his laundry tub left in place at the end where it initially was.
One last update to the garage, it was all spiffy inside so he wanted to do the same with the outside by adding these magnetic door handle kits. Two sets of rustic hinges and two large handles per kit!
They are moveable but yet still quite strong when put in place and add a nice, inexpensive update to garage doors.
I hope this project inspired some of you to tackle a problem area in your home to make it more personalized for your household. Thanks for viewing!
Sours: https://www.hometalk.com
How to Build a Home Bar: A Step-By-Step Guide
Editor's note: DIY projects range from the practical to the insane, but there's only one project you can really call essential: building your own bar. We tapped the carpentry team of Crisp & Son -- professional home renovators who also happened to build two of our favorite New York drinking spots, Whiskey Tavern & Whiskey Brooklyn -- to give us a layman-friendly, step-by-step guide to erecting a bar in your very own home, apartment, or dilapidated shack. Because when you have a bar, who cares what the rest of your place looks like?
We are building our new, home-watering hole to be 8' long and 24" deep. You can customize your own to fit most comfortably in the mancave, basement, nursery, garage, or whatever room your roommate/significant other allows. Standard bar height is 42" from the floor and depth is 24". Options for shape and size are virtually unlimited, but it's important to maintain the standardized height and depth. We've chosen a peninsula style, where our bar extends perpendicularly from an adjacent wall.
Rough Construction
Or framing, of your new work of (p)art(y). It's important to pay close attention to all measurements to ensure clean cuts, seams, and finishes. As Grampa always said, "Measure twice, cut once."
Tools You'll Need: Table, circular, and chop saws; impact screw gun; caulk/adhesive gun.
Materials You'll Need:​ 3 sheets of ¾" cabinet-grade plywood; 5 lbs box of 1⅝" coarse drywall screws; construction adhesive of your choosing.
Using a table and circular saw, cut your plywood sheets to the following dimensions: (1) to 87" x 40½" as barface, (2) to 40½" x 13¼" as barface ends, and (1) to 96" x 22" as bar top. You'll be taking the overlap dimension of the barrail into account when cutting your bartop piece, planning for the overall depth dimension to be 24". You're also allowing for another ¾" of height to be added by the hardwood finish material you'll eventually add to the bartop.
Trim & Dressing
Like the beard and hardpart on this masterpiece. This is where you make it your own. We have chosen a clean, classic hardwood top and rail, while our barface will be distressed picture moldings -- classy, with an edge. Oversized, colonial base moulding will round out the look.
Tools You'll Need: ​chop saw, finish-nail gun, air compressor and hose, caulk/adhesive gun, impact screwgun, random orbital sander, regular screwgun and drill bits.
Materials You'll Need:​ 12' of oak barrail; 8 x 8' pieces of standard, PFJ basecap; 1 bundle of gunstock, oak flooring; 1 x 12' piece of 5½" baseboard molding; construction adhesive of your choosing; small box of 1¼" finish-gun nails; 1⅝" drywall screws; 36" piece of 2" angle-iron.
Before installing your super-professional barrail, you want to lay out a few courses of the oak flooring and the barrail on the bartop to establish your stopping point. In the case of our selected barrail, six full courses of oak will bring where we need to be.
Standard 5½" colonial base molding along the bottom edge of your barfront will add classic character and subtle finish. Use a 45° mitre cut on the outside corner of the barfront. We're going with box mouldings on the barfront, a la your favorite Irish pub.
Start by laying out your boxes in a preferred pattern and spacing; this is totally based on personal preference. We are using standard PFJ basecap as the moulding for our boxes, but you should select whatever detail-moulding profile tickles your fancy.

Finishes
We're using an acrylic, honey-colored stain for the classic hardwood top and red and black water-based paints for the barface distressing. Over both the top and face finishes, we will apply multiple layers of an acrylic clearcoat to protect this beauty from any late-night, warm-buzz shenanigans.
Tools You'll Need: ​2 ½" angled-tip paintbrush, ​shop rags.
Materials You'll Need:​ 1 quart each of black and red, interior eggshell water-based paints; 1 quart of satin-finish, acrylic clearcoat; black pipe and fittings as per your footrail layout.
Accessorize your bar how you see fit. We went with a single kegerator set-up. We installed our tap handle on our bar top, which adds a killer element of authenticity. You can add bar mats, napkin holders, a garnish tray, mini umbrellas, tiny hula dancers -- you get it.
Your bar's foot rail should be 6" from both the floor and the barfront, and can be constructed from a variety of materials. For resilience and look, we're using standard gas pipe, fittings, and flanges to make ours.
Black pipe and fittings are available at your local home-improvement store. Remember to bring a tape measure along when you go to select your lengths and fittings; there is a lot of adjustment cushion in black pipe connections, which will help make spacing and symmetrical assembly pretty easy.
Now lace-up an apron, roll up your sleeves, and get your Brian Flanagan on. You've built yourself a kickass bar, and there's only one way to enjoy. Cheers
Need a quick refresher? Check out this time lapse video.
Our Newsletter
Sours: https://www.thrillist.com/drink/nation/how-to-build-a-home-bar
Freestanding Dry Bar
I recently took on a garage makeover as a gift to my father. He's a Harley-Davidson enthusiast and loves to ride motorcycles. One thing he also enjoys is to have a little area to hang out in the garage after a long ride. That being said, I decided to build a freestanding dry bar to go along with this garage transformation. The main goals here were to be able to build it quickly and relatively inexpensively but also have it look good and seat 6 people comfortably. We ended up building it in about 2 days of off and on building and spent about $750 on it. It could be done for less or a lot more depending on the materials that you choose.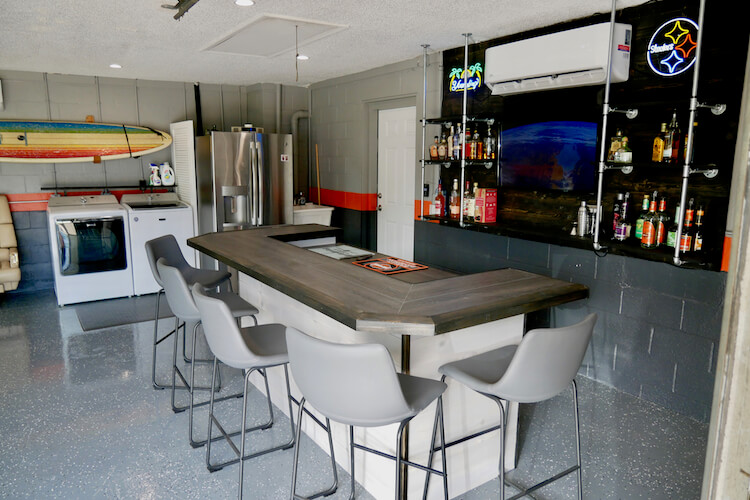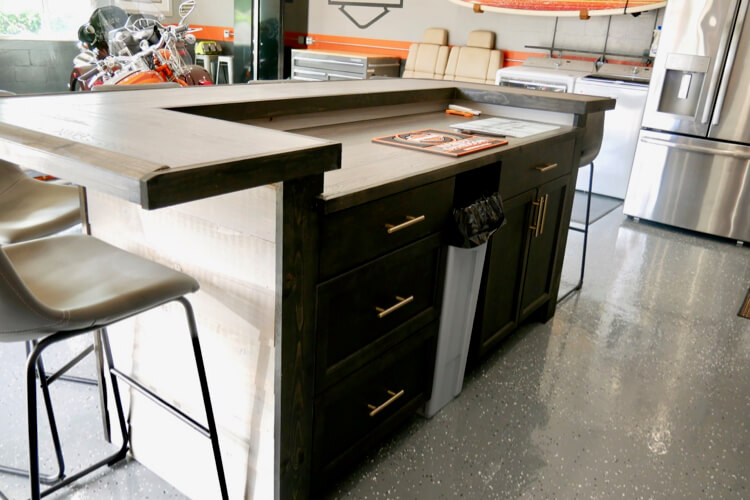 If you love this stuff as much as we do, you might want to consider following us on Instagram where we post sneak peeks and behind the scenes stuff in our stories. Also, did you know you can get tons of projects plans from all around the web when you follow us on Facebook and Pinterest!
Disclosure: The links provided in the "materials" and "required tools" sections are affiliate links. If you would like to support our site and help keep our content free come find out more about how we can make money with no extra cost to you.
Dimensions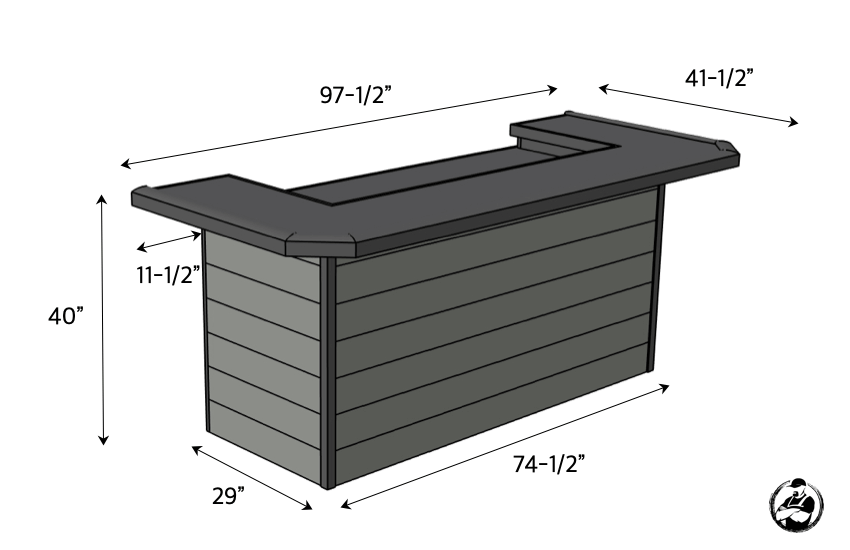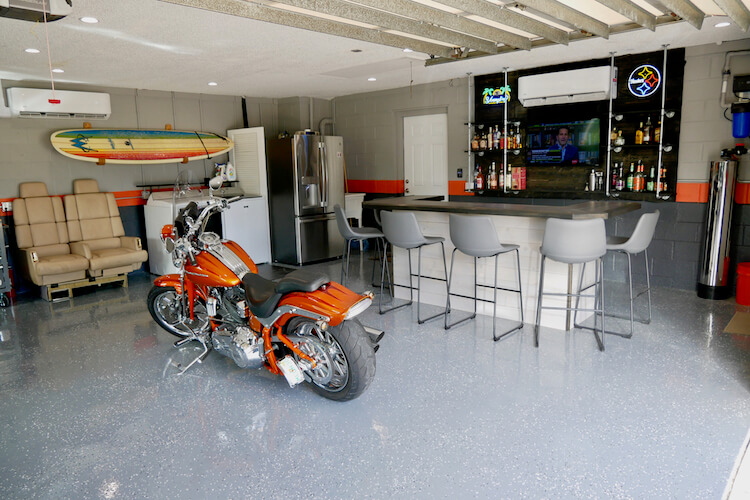 We love the way it turned out and there really isn't anything I would do differently. If you want to learn more about the total garage makeover go check out this article. And if you want to get the specifics on the epoxy floor check that out here.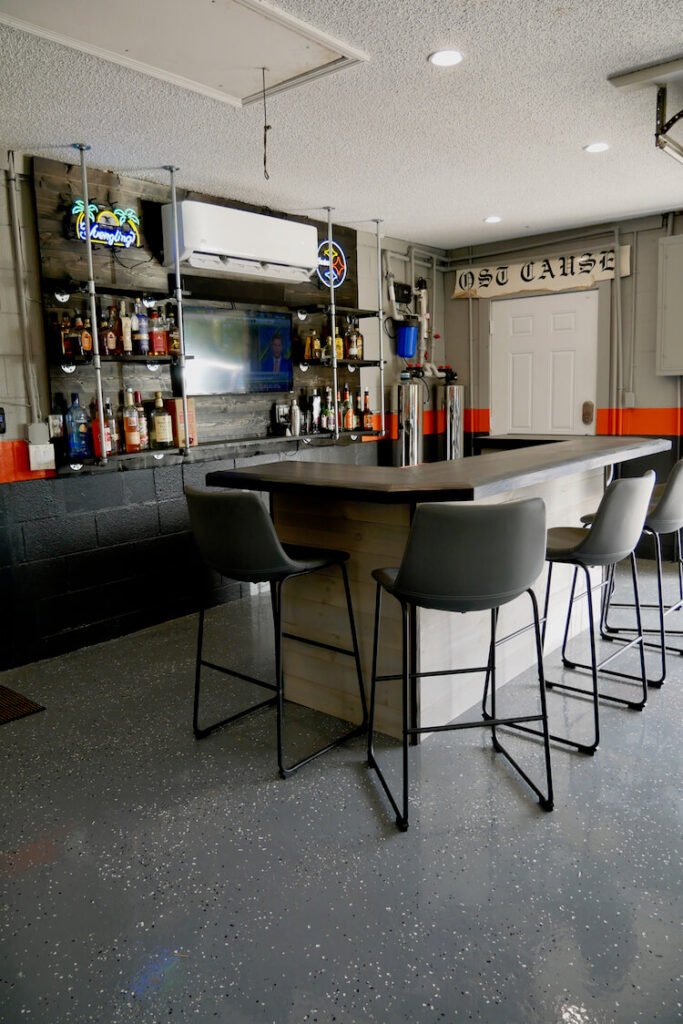 Sours: https://rogueengineer.com/diy-dry-bar-plans/
DIY Budget Bar Build - Under $100$!!
When I moved into my first home I didn't have a large budget, so I figured out how to build a bar on my own. Here are my tips to build a home bar and DIY bar plans with a bar cut list that simplify your project.
Woodworking Needed Experience to Build a Home Bar
I had ZERO woodworking experience at the time, but I decided to learn how to build a bar because I couldn't afford to pay someone to build it.
I had basic knowledge and skills with tools as a former aircraft mechanic, but no experience with woodworking.
There is a sense of accomplishment that I get from building things and making things work again.
So, I knew I could figure out how to build a home bar if I took my time with this DIY project.
If you don't have much woodworking or tool experience then this a good place to start.
You can build a basement bar to the exact specs and size that fits your space with our detailed bar plans.
As always, when in doubt, consult a professional.
Things you Should Read To Make a Basement Bar
Everything that you need to know to build a bar is in this post, but if you want to simplify your project we have 3D images of this bar and bar cut list.
The instructions included in the DIY bar plans are very detailed and easy to understand, so a beginner can build a bar.
Standard Home Bar Measurements
I did not follow these measurements exactly, but these are a good guidelines to keep in my when building your home bar.
If you are a beginner with woodworking than you will also find our lumber guide helpful.
Home Bar Measurements
Standard home bar height is 42 in
The overhang should be at least 8 in
Most bar stools are 30 in tall but make sure it wills suit your before purchasing
Normal bar top is 16 to 20 in. wide, including the molding
Chicago bar rail for resting your arms
The drink rail is nice but I didn't include this in my bar
A drip lip keeps spills contained to the bar top
A lower counter is not necessary for a home bar and adds complexity, but you're welcome to add it
2 feet per bar stool is the standard but the more the better
The foot rail should be 7 to 9 in. off the floor
DIY Bar Plans
When I moved into my first home I knew that I wanted a home bar in the basement as an additional hangout space for friends and family.
At the time I didn't have the budget to pay someone to build a home bar for me, so instead I made my own DIY bar.
I decided to share my instructions in this post and I also created 3D bar blueprints, so you can easily learn how to build a bar too!
Size of My Home Bar
My home bar is about 8 feet long on the front side, 5 feet on the on the left side, and 3 feet on the right side.
Keep in mind the bar top will overlap on both sides of the bar and be much wider than this.
It is recommended to mount a bar to a wall to prevent any tipping even if your floor feels level.
Rock Solid Rustic DIY Bar Plan – Bar Blueprints!
Rock Solid Rustic DIY Bar Plans include 3D models to build your home bar from the frame to finish.
Everything you need to know is in this post, but the detailed instructions on how to build a bar are 30 pages in length.
The home bar plans include a bar cut list to save you a ton of time and guess work.
DIY Bar Plans also help simplify how to add shelving, decorative accents, bar rail, and more to your home bar build.
If you have any other questions while building your home bar, you have us!
We typically respond with in 24 hours after receiving your comment on this bar post, if you have any questions.
Over 500 DIY Bar Plans Sold
Many customers have said that they never built anything in their life, but with our bar plans they were able to easily make a home bar.
Everything you need to know is listed in this post, but it is a long read. These 3D plans will make your project even easier!
Tools Required to Build a Home Bar:
How to Build a Home Bar Frame
I used basic wood screws and 2×6's to make my basement bar frame.
It's easier if you lay it on the ground and construct it in 3 pieces (walls if you will), then put it together.
There are two 2×6's on each end of the large wall just wide enough so that the other smaller wall 2×6's attach to it and provide additional support.
I think the height is 40ish inches. Standard bar height is 42, but the bar top will add a few inches.
Make Sure Your Bar is Level
It's important that the tops of all sides are level at this point or it can cause problems down the road, like an unlevel bar top.
It is recommended to mount a bar to a wall to prevent any tipping even if your floor feels levels.
I made the mistake of not checking this and my bar top is not level on the one side, but it still looks and works fine.
Don't mind the beer cans in the picture. Beer isn't required, but it is recommended.
Mounting the Bar
There is nothing attaching the basement bar to the wall at this point, so be careful not to tip the bar while working on it.
You can attach it if you want, but you definitely won't want to at this point as adjustments may need to be made.
It is strongly recommended to mount a bar to a wall to prevent any tipping.
How to Build a Bar Frame
Next I added the plywood to all exterior sides with 3/4 inch pine plywood.
Pine is softer wood but it keeps costs lower and looks nice and grainy.
Plus, I haven't had any problems with it, but here a few things to remember.
When screwing it into the frame, I pre-drilled my holes.
Pre-drilling will make your life much easier and prevent the wood from cracking.
At this point I didn't use wood glue to attach to the frame but you can if you want.
Building a Home Bar Frame Tips
When I was building a home bar frame, I did make the mistake of not putting shims on the bottom of the plywood where it meets the floor.
My bar frame kind of just rested on the ground when I screwed it in.
Ideally, you probably don't want it touching the ground.
Elevating slightly will protect your bar in case of a basement leak or you move the bar to an uneven area.
It's okay if there's gaps on the corners, as these will be covered later by trim pieces.
I randomly placed screws on the perimeter of the frame, where I knew it would be covered by trim.
It's important not to put it in the center of the frame where it will be seen later.
How to Add Trim to a Home Bar
Next I added 1×8's of pine to the bottom of the bar then I used wood glue and finish nails to adhere the trim.
Finish nails look cleaner and are easier to conceal when building a home bar.
I recommend pre-drilling your holes to prevent the wood from cracking.
Again, I made the mistake of not using shims to have it slightly elevated off of the ground.
The side and top trim pieces are 1×4's of pine.
Then I used wood glue and finish nails to attached the trim to the sides of the bar.
Final Touches to the Trim
Now that the trim pieces have been put on it is starting to come together.
At this point I haven't even touched the inside of the home bar yet.
If you want complete home bar blueprints for this exact bar with measurements, bar cut list, and shopping list, then you will like our DIY Bar Plan!
Also, it is recommended to mount a bar to a wall to prevent any tipping even if your floor feels levels.
Home Bar Trim Design
I added a basic pattern to the front of the home bar, figuring 4 bar stools would fit nicely.
Measuring out a space for where each bar stool would sit then used 1×6's, wood glue, and finish nails again.
I also, measured the sides of the bar to add the same pattern to the sides.
The trim pieces on the bar are adhered with wood glue then pre-drilled for the finish nails.
Pre-drilling allowed the finish nails to attach to the studs (frame) behind it, but an extra nail or two wouldn't hurt.
If you want to avoid adding all of the trim pieces and save yourself all the cuts then you can add shiplap instead.
Adding shiplap or similar wood planks will save time on cuts and measurements.
These are basement bar design ideas that you haven't seen before!
FIRST BAR TOP
When building a DIY home bar you will have two "layers".
The first layer, or sub bar top, I needed two pieces to span the bar.
I needed two pieces because one couldn't fit the length of the bar.
These pieces can just be any standard 3/4 inch plywood because another plywood piece.
Pine or wood of your choosing will go on top of this for added stability.
It's also needed for the Chicago bar railalong the edges, if that's what you choose.
Again, this piece is NOT the top of your bar yet and will not be seen.
Refer to the layout at the top of the page for measurements accounting for how much should overhang.
How to Attach Bar Top
The bar top is attached using wood glue and screws into the top of the frame with pre-drilled holes again.
I did not do a drink rail in the back but you're welcome to give it a shot.
I measured this about 16 times before cutting because you can see each piece is "L" shaped.
They needed to align seamlessly (in reality they don't because another piece will cover it).
This piece hangs over 8 inches in the front and roughly 4 inches in the back.
One regret I have was not making the bar top a little bigger.
Even though the bar top is plenty big, it's just personal preference.
SECOND BAR TOP
Before measuring and cutting the top later, make sure you look up directions on the bar rail that you're getting!
The bar rail that I used was from Home Depot. It is a 1-1/8 in. x 4-1/2 in. Oak Chicago Bar Rail Molding.
Unfortunately, I don't have a picture after stacking the second layer of the top.
It was about 1 1/2 inches shorter in the front (any place the bar rail will touch) than the bottom piece.
Make sure to read the directions on the Chicago bar rail you're buying before measuring and cutting the second top piece.
I strongly recommend this because this what the bar rail rests on (see above).
The top piece was pine plywood then adhered with wood glue and wood screws.
I drilled the wood screws in from the BOTTOM, so that the screw heads weren't visible.
Make sure that the screws won't penetrate the top when screwed in.
If you are ever in doubt, then hold a screw next to it to see how far it'll go into the next piece.
How to Pour Epoxy on Bar Top
After building this home bar, I poured epoxy on the top to add shine and protection.
This was my first time pouring epoxy, so I didn't realize how tedious it could be.
I have made several other bars since this bar, so I learned a few tricks to pour epoxy.
Follow these tips to prevent bubbles in your epoxy with our tips and tricks.
How to Build Bar Shelves
Building the shelves for your home bar first involved creating a frame on the bottom.
The frame is made of basic 2×4's and attaching to the frame of the bar.
Then I cut a shelf to fit the frame size, with leftover pieces of pine from the bar.
The shelves are attached with finish nails.
It is best to build the shelves as you go, building it upward.
Meaning don't just put on the back wall, it has to be stacked as you go.
It will be more clear as your read on while looking closely at the pictures.
You could to do this another way, have at it because I probably made this more complex than it needed to be.
If you are still struggling with the shelves, we have complete home bar blueprints for this exact bar with measurements.
The instructions provide 3D models of this home bar and shelves, a bar cut list, and shopping list.
How to Build Bar Shelves
The top bar shelf is supported by 1×4's in the front support then the back wall as the back support.
To get the 1×4's in the front to actually support the shelf, but still look clean in the front.
I attached another cut 1×4 piece to the back of the front 1×4's (basically attaching two 1×4's to each other) with wood glue and finish nails.
The shelf could then rest on those (back) 1×4's while still having the front 1×4 untouched.
Bar Shelf Support
For support of the back of the shelf, I cut one of the 3/4 plywood pieces that will go against the back, and the shelf rests on that.
I put trim on the bottom of the shelf to hide the frame with 1x4s again.
Make sure the shelf is level in all directions before permanently attaching them. Aka, drop a pencil on it and see if it rolls.
Again, I did a sandwich type technique to cut another piece of the back of the bar and rest a shelf on top of that, while sandwiching 1×4's together again for front support.
Attaching the Shelves
Wood glue and finish nails were used when attaching all pieces involving the shelving, since they hide better than screws.
Below is the semi-finished product. You can still see gaps in the corner, which were later covered with quarter round.
I used 1/2 inch Birch for the very top shelf only because I had it left over from another project, but the other shelves were again, 3/4 inch pine plywood.
Then I covered the front edge of the plywood with basic 3/4 inch wide trim pieces.
Basement Bar Shelving Ideas
If you don't like the look of my basement bar shelves then here are some other bar shelving ideas from our customers.
These shelves were designed by our customers to perfectly fit their space and storage needs.
Adding Chicago Bar Rail to Your Home Bar
The bar rail is a separate process in itself because you cut the top of the bar.
Scroll back up to read about the 2nd bar top process. (remember there's two pieces of plywood stacked on top of each other).
The very top piece should be cut slightly shorter than the bottom piece because the bar rail is notched so that it kind of steps up to the next piece.
Cutting Chicago Bar Rail Tips
When cutting the Chicago bar rail, you have to build a jig so that it gets cut exactly like it sits on the bar.
Constructing the jig is basically putting two pieces of wood together, with the same 1 ½ inch gap just like the top of the bar.
This should be explained further in the instructions of the bar rail if needed, which is probably easier than I can explain it here.
Even with the jig, I found it to be virtually impossible get the corners to line up perfectly.
I cut the wood multiple times and adjusted the angle, but I couldn't get it to fit just right.
To fill the gaps I used, wood putty then sanded it like crazy to get the bar rail smooth where other pieces joined together.
The wood putty and sanding really helped to join the pieces together, for a smooth finish.
If you want complete bar blueprints for this homemade bar with measurements, bar cut list, and shopping list, then you will like our DIY Bar Plan!
FINISHING TOUCHES
This is the finished back of the bar, as I added one more trim piece, and then lined the back of the bar top with a couple pieces of 3/4 inch trim to hide the edge of the plywood.
The top of the smaller trim pieces lining the top of the bar, as you can see, actually is "L" shaped that it covers the bar top and back.
This is the finished front of our basement bar.
You can see where two pieces of bar rail joined based off the wood putty mark.
I also needed wood filler on bar top where the two pieces joined.
Finishing Touches – How to Stain the Bar
I sanded the entire bar and stained the bar Kona Semi-Gloss Stain.
It took 2-3 coats of Kona stain to get the shade shown here.
This stain has the stain and polyurethane built in, so I did not need to add a top protective coat to the stain.
How to Epoxy the Bar Top
TWO PARTS EPOXY – It's the shiny glass that protects the bar top. Check out our post here to learn how to epoxy the right way to prevent bubbles!
Bar Lighting
I did add the LED light strip that you see in the top picture for added effect.
I can change the color on those or keep them off altogether.
Since it's an LED strip, it is hidden underneath my Chicago Bar Rail.
This of course is optional but everyone seems to enjoy it.
Home Bar Stools
We purchased bar stools that are 30 inches in height, which are perfect for our homemade bar.
If you like the look of our bar stools, then here are similar bar stools to ours.
The great thing about these bar stools is that they have a foot rest built into the bottom of the stool, so I didn't even need to add the bar rail to the front of my bar.
Bar Rail for the Bottom of a Home Bar
The bar rail is the foot rest that sits at the bottom a bar, but is optional.
I am yet to add this because they can be rather expensive, but I do think they take the bar up a notch.
A home bar doesn't have to be tedious or complex, and can be made without wood working experience.
The hardest part is just getting started, so go to the store and buy pieces for the frame.
After you have built the frame, then go back to the hardware store to pick up more wood for the next step.
Buying Wood for the Bar
I found it easier to go back and forth the hardware store for wood instead of trying to figure out all of the math ahead of time.
My wife thought I was trying to avoid her nagging by spending so much time are the hardware store.
Which is kind of true, but I really did find it easier to take the bar section by section so I didn't get overwhelmed.
Once that frame is built, it adds a whole new level of motivation.
If you're looking for directions on building the super simple accent wall, then check out my other blog post.
If you want complete blueprints for this exact bar with measurements, bar cut list, and shopping list, then you will like our DIY Bar Plan!
Be sure to comment below and let me know how yours turns out. I'll try to answer any questions!
Other Bar Related Posts That Might Interest You:
AMAZON AFFILIATE Rocksolidrustic.com is a participant in the Amazon Services LLC Associates Program, an affiliate advertising program designed to provide a means for sites to earn advertising fees by advertising and linking to Amazon.com. This can include installing cookies. By using this website, you agree to our terms of service.
Sours: https://rocksolidrustic.com/2019/03/17/build-your-own-home-bar/
Bar plans garage
If you want to learn how to build a man cave bar we've found the 10 best step by step guides available online to help you build your own home bar.
Having a bar in your man cave where you can hang out with your friends is the perfect alternative to going out and spending $8 per drink. Besides saving some beer money, you and your friends will be more comfortable and better able to relax.
You know your friends are going to be coming over to have a drink when the bar is finished, so don't be afraid to ask them to help you build it. Below are 10 step by step DIY home bar plans to get you started.
1. DIY Bar with Foot Rail
This project isn't for a beginner, but if you have experience with carpentry it takes about 2 days of work so you'll be able to finish in a weekend. It will cost just under $450. The cozy bar is the perfect spot to store beverages and drinkware to help you entertain during the games. The guide is complete with photos and measurements to help you get the job done. View step-by-step guide from This Old House
2. Durable L-Shaped Home Bar
If you are looking for a little larger size bar, this L-shaped bar is great and also very durable. It fits perfectly in the corner of your man cave, as long as you have the room. The guide contains a complete list of supplies needed such as lumber, connectors, and fasteners. It will also take you through the building process with detailed photos. And the best part? Depending on the materials you choose, it can be an inexpensive project. View step-by-step guide from Strong-Tie
3. The Stylish Oak Bar
Want to impress your guests with a stylish bar that you created on your own? This oak bar is high-quality and absolutely amazing. The detailed tutorial shows you how to create the plan and build the frame, including cabinets! The bar also comes with a fancy bar rail and shelves. A helpful YouTube video is embedded into the post so that you know how to build everything your bar needs from wine racks to the back bar. It is a more expensive option, but it is also the real deal. View step-by-step guide from John Everson
4. Peninsula Style Home Bar
This guide comes with step-by-step sketches and measurements to help you get the job done right. Being prepared is always key and this guide comes with detailed construction steps and photos of the tools needed. It also gives you tips on how to add a beer tap for the complete wet bar. If you are looking for a bar with options, this is the bar for your man cave. View step-by-step guide from Thrillist
5. Step-by-Step DIY Dry Bar
If you have a big space for a good size bar, this large L-shaped bar is an excellent option. There is no sink, so the dry bar is actually an easy project, even though it is fairly large. Using Oak Veneer plywood, it gives off a sophisticated and old-fashioned look. Complete with photos and measurements, this thorough step-by-step bar can store bottles and glassware. View step-by-step guide from Milligan's Gander Hill Farm
Not sure if you need a wet bar or dry bar? Check out Wet Bar vs Dry Bar: What's The Difference?
6. The Basic Home Bar
Looking for a basic home bar to simply store the essentials and a place for people to gather around during the games? This basic home bar is ideal for a small area. The guide offers tips for accuracy with photos and a list of the tools needed. Plus, they lay out the groundwork for you. The tutorial also gives you instructions on how to customize the paneling. The guide is brief but gives you a good idea of how to build the bar if you already have a grasp on construction and building. View step-by-step guide from Instructables
7. Garage Man Cave Bar
Do you have your own man cave set-up in your garage? You can still build an impeccable bar for your garage! This tutorial shows before and after photos along with detailed instructions. The curved bar takes up a little more room than a straight bar, but if you have the space, we recommend this sleek bar. You can also give it your own unique look with fun countertops and under-bar lights. View step-by-step guide from Home Talk
8. Simple Wet Bar
A wet bar can be a little more challenging to build than a dry bar, but this simple wet bar makes it a little easier. The guide lists all the materials and tools needed along with accurate measurements. The assembly video is extremely detailed, but very helpful, especially when it comes to building the bar rail. The free bar plan also gives you more freedom when it comes to customizing the bar. View step-by-step guide from Bar Plan
9. Bar on a Budget
Did you know you can build your own bar for just under $100 bucks? Yes, all of the materials included in this tutorial totals less than $100. The video is only 9 minutes long but gives you all of the details you need to build your own bar on a budget. You may have to watch it a few times, but luckily it is a quick tutorial that will give you all the information you need to complete this budget-friendly bar. View step-by-step guide on YouTube
10. Small Basement Bar
Once you get past the cheesy intro and get over the voice over work, this is actually a pretty good tutorial if you give it a chance. You have the option to choose whichever lumber you would like, so you have the freedom to set your own budget. Just make sure to carefully watch the video for the tools needed and the exact measurements. If you don't want to have to read along or look at photos, this video is a handy way to show you how to build a simple bar for your man cave. View step-by-step guide on YouTube
Building Your Man Cave Bar
As you can see, some bars are going to be bigger projects than others. But in the end, it will be well worth all of the research and work. With these DIY bars, you can transform your man cave into the ideal hangout. Now call up some friends and get to work!
Once your home bar is done, you're going to need a good set of bar stools and maybe a new kegerator.
Sours: https://mancaveexpert.com/how-to-build-a-man-cave-bar/
Rustic Bar in Pole Barn
Top 50 Best Garage Bar Ideas – Cool Cantina Workshop Designs
If reaching into a battered cooler for a beer while you tune up your car isn't your style, the garage bar may just be more your speed.
Here is your one-stop cantina + workshop, where you can pull up a seat any time in between projects and auto perfection. And if you don't actually use your garage for car storage and DIY repairs– well, even better.
A garage bar is equal parts retro throwback and modern counterpart; bound to no definitive style or décor, it runs the full gamut, from rustic to contemporary and rockabilly to uptown lounge. Perfectly suited to the auto enthusiast and cocktail aficionado alike, these garage bar ideas are your personal speakeasy, a top notch watering hole in the last place you'd expect to find one.
For those who can't bear to part with their garage's assemblage of trophies, auto gear, tools, and beloved bric-a-brac, what better way to personalize your bar than with your own personal paraphernalia?
It's said that every room of one's home is potential in waiting, and the garage is no exception. Purposely designed for your household's grittier tasks, who's to say it can't also be a designated point of refinery and refreshment?
Sours: https://nextluxury.com/home-design/best-garage-bar-ideas/
Similar news:
5 Easy Steps For Planning Your Home Bar
Having a space of your own to enjoy a few drinks with friends and family is a goal of many a homeowner or apartment dweller. Whether it's in a basement, garage, backyard patio or spare room, building a home bar can be a fun DIY project that will provide years of enjoyment and become the gathering place for all kinds of celebrations.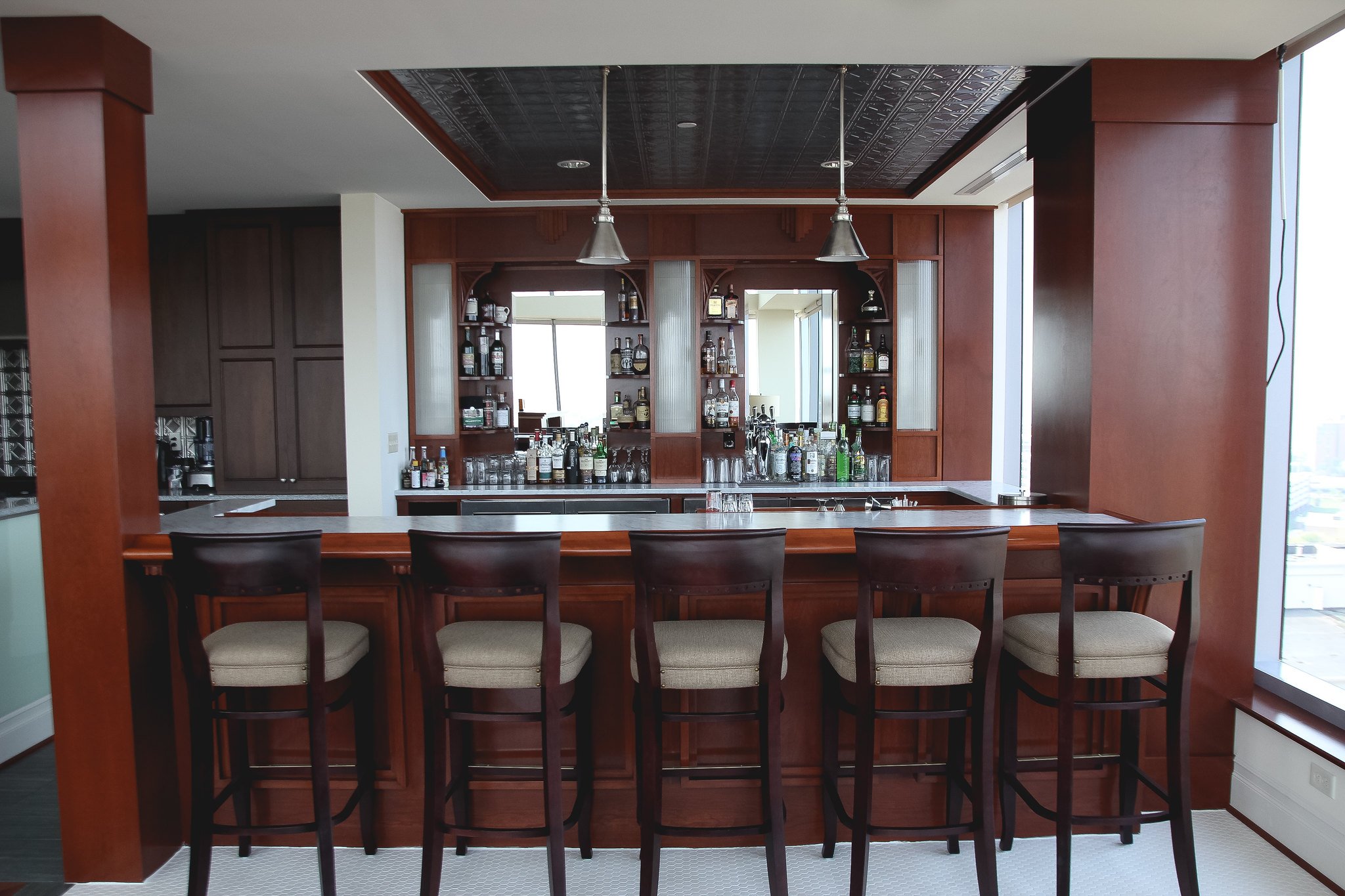 ---
How To Plan & Build Your Home Bar
There are tons of options to consider when you're building your home bar, so you'll have to make some key decisions upfront.
Step 1: Determine Where Your Bar Will Go
The first question you'll want to ask is where do you want to set up your home bar. Think about where you do the majority of your entertaining. That is more than likely the area where you'll want it to set up a bar, or in a space adjacent to it.
Depending on the size of the space you've identified you may need to decide if this should be a permanent addition to your home or something that can be moved around. Those with limited space will want to be able to relocate their bar into a corner or even collapse it to free up space when it's not in use, especially if the room is used for things other than entertaining.
If your home bar build is part of a project to create a new space for entertaining, such as finishing a basement or adding a patio to your backyard, then you can be more creative with your home bar plans because it doesn't need to be retrofitted into an existing space
Wet Bar vs. Dry Bar
Those that want the option of having a wet bar will need to take the proximity to plumbing into account when deciding on a space. A wet bar gives you the convenience of having a fully functioning sink in your bar area for emptying and rinsing glasses. This is especially handy if you plan on making a lot of cocktails behind your bar. It would also be a welcomed addition if you are entertaining in a space that is not in close proximity to or on a different floor from your kitchen, or if you're building a bar outdoors.
Modern design, however, has made the classic wet bar a bit outdated in certain aspects as open kitchens and living spaces have given people easier access to their kitchen sink. If you're not in the mood to tackle a plumbing project, then a dry bar can be an ideal option for entertaining. Adding a dry sink to your bar gives you the ability to chill drinks or temporarily discard waste.
Home Bar Design Ideas
Here are some popular home bar design concepts if you're in the need of some inspiration.
Living Room Bar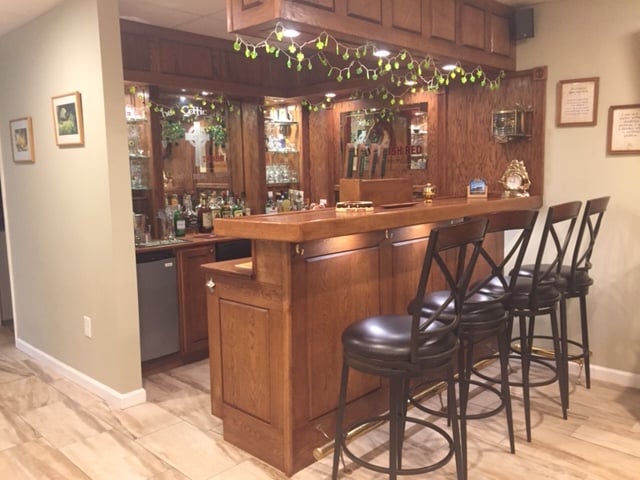 A home bar would be a welcomed addition for those that use their living room, great room or family room for entertaining. The amount of space you have will determine the size and style of the bar you add, but there are plenty of choices available.
A bar cart or simple shelving is a basic option for those with not a lot of room or if you need a portable solution. Setting up a liquor cabinet or bookcase bar will provide you with plenty of storage. They are also easy to close up and secure with a lock when the party's over to keep the kids away when mom and dad aren't around. Repurposing an older piece of furniture into a bar cabinet can make for a fun DIY bar project while giving you an interesting conversation piece.
When it comes to something permanent, building a simple, podium-style linear bar with room for some stools makes for an excellent space for making drinks while mingling. You can add some shelving underneath or behind the bar to house your spirits, mixers and glassware.
Basement Bar
A basement is a perfect space for building a bar because you have this whole floor of your house that you're not doing anything with. It's even possible to create a dedicated space for a bar even if you use part of your basement for storage or you have an area for doing laundry.
It could be as simple as setting up a bar and some stools with a kegerator or a refrigerator, or you could finish your DIY basement bar with insulated walls and flooring to create a space for hanging out and enjoying some drinks. Think of an unfinished basement as a blank canvas where you can use your imagination to create the ultimate home bar from the (under)ground up.
Garage Bar
Why use your garage to park your car or store your lawnmower when you can use it as a place to drink with your friends! A garage bar is similar in concept to a basement bar or man cave, but it has a couple of features that make it unique. First, it gives you a place to entertain without actually having to invite people inside your house. Plus, if your garage is completely detached from your dwelling, you can make a little bit more noise than inside your home when you have kids or anyone else trying to sleep or not wanting to socialize.
It's easier to furnish than a basement bar because you won't have to carry anything (equipment, fridge, keg, etc.) down a flight of stairs. On top of all that, it's a pretty cool feeling to open your garage door and have an awesome bar right in front of you.
Pub Shed
The Pub Shed (or She Shed/He Shed) has become the Man Cave of modern times as this concept spread from the U.K. to the U.S. Instead of hanging out in a basement or garage a pub shed allows you to sit outside while enjoying a few pints or drinks with friends.
Depending on your setup you can build a pub shed with room for interior seating or have your guests sit outside and receive their drinks from the interior bar
Outdoor Bar/Patio Bar
There's nothing better than enjoying a drink in the great outdoors, so it's an excellent spot to build a bar. You have a wide range of options when it comes to outdoor bars, whether you build something permanent or a portable bar that can be put up during the spring and summer, and then taken down when the weather turns cold.
Liven up your backyard patio, deck or pool area by adding a bar for mixing and serving drinks. You could keep it as simple as a dry bar with an ice bucket, a collection of mixers and spirits, cocktail glasses and a cooler filled with beer and soda or a full patio bar with a kegerator, fridge for keeping drinks icy cold and a space for your backyard grill.
When building an outdoor bar, be sure to use materials and fixtures that are designed to be exposed to the elements. This includes bar foot rail with a weatherproof finish that won't rust and outdoor kegerators that won't break when exposed to moisture.
Our DIY wedding bar is an excellent example of a temporary solution for an outdoor bar that allows you to serve draft beer, wine or cocktails on tap. This portable bar is ideal for any type of outdoor event.
Tiki Bar
If you subscribe to the tropical lifestyle or you're just a fan of tropical tiki drinks, then you might want to create an island paradise. You can choose to purchase one of the many pre-built tiki bars that are available through various retailers or build your own. Whether you want to build it completely from bamboo or use basic wood and add a bamboo façade with a thatched roof, the level of detail and authenticity is up to you. Make sure to outfit it with plenty of tiki mugs, tiki-themed bar tools and tiki cocktail ingredients.
---
Step 2: Layout & Design
Completing the layout and design of your home bar is where it gets exciting and your vision starts to come together. Going through this important part of the planning process will help you determine what size bar your space can accommodate, what type of bar furniture and beer refrigeration you'll need and the time and resources that you'll need to make the dream a reality.
Measuring & Planning
More important than what you want, is what you can actually have. Identify possible restrictions and obstacles in your home, particularly in the room where you will be building your home bar.
Factors To Consider:
Ceiling height
Doorway and stairway widths
Sump pump location
Electrical outlets
Cable TV hookups or Wi-Fi availability
Access to water lines
How To Develop A Blueprint For A Home Bar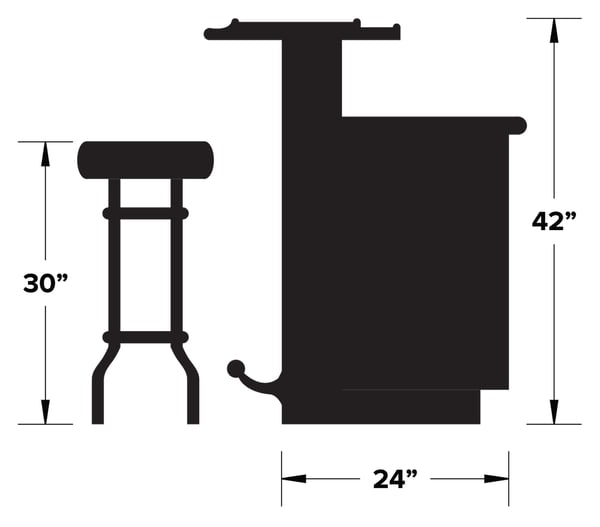 When coming up with the design for your bar, keep in mind that the average home bar is 42 inches high and 24 inches deep. Of course, you can customize your bar's size to fit the area that you have available and your preferences. Just remember that most bar stools are 30 inches tall, so your bar should not be much lower than 42 inches high, to allow for comfortable seating for your guests.
Take comfort and accessibility into account when deciding on the length of your bar. Typically, you want about 2' of space between bar stools to have enough room to navigate in and around the stools. Most standard home bar designs are at least 6' long to accommodate three bar stools or an 8' bar that will give you room for four stools.
You'll also want to think about the shape that you'd like your bar to be. There are several options to consider, including L-shaped, horseshoe-shaped or straight bar designs.
Layout The Floor Plan
If you're starting your project in an area with a concrete floor, it's smart and simple to outline your layout on the floor where the bar will be in chalk. If you're working in an area with finished floors, it is still important to make an outline – you'll want to use string or painter's tape to protect your flooring.
Remember that your bar will be three-dimensional. The outlines on the floor won't visually take up as much space as your finished bar will, once height is incorporated.
---
Step 3: Choose Design Elements & Materials For Your Bar
Before you start building there are a few other things to consider adding to complete the look of your home bar. Constructing a back bar or installing bar rail molding and foot rail can give your home bar a more authentic look and feel, as well as provide some added storage or comfort.
We suggest that you start your planning process by visiting your favorite taverns and/or restaurants and take a close (sober) note of what you like in a bar.
Pay close attention to the elements you like. For example: Do you like a big glass mirror behind the bar? What types of stools and bar rails fit your style? Take special note of the bar's structure – how it was made and what it is made of. Snap a photo with your phone to reference later – pictures always help!
Design Elements To Note:
Overall look and feel
Bar surfaces
Bar stools
Carpentry
Draft beer system styles (including beer towers, tap handles)
Bar foot rails
Bar décor, like signage
Bar Rail Molding
Bar rail molding or Chicago bar rail gives the exterior of your bar top a finished, professional look while providing a place for your guests to comfortably rest their arms while they enjoy a beverage. Arm rails can also prevent spills or glasses from going over the edge of your bar and onto the floor below.
Check out our post on how to install bar rail molding to learn more.
Bar Foot Rail
Installing a run of bar foot rail to your home bar adds a touch of style and class while providing your guests with a place to rest their feet as they sit or stand. KegWorks bar foot rail kits provide you with everything you need to install a straight run of bar rail. Bars with an angled layout can use an elbow fitting to connect runs of bar rail around a corner. Use our guide to Planning & Installing Bar Foot Rails to learn more about adding foot rail to your bar.
Back Bar & Shelving
For those that have the extra space, adding a full back bar will give your home bar a professional look just like your favorite commercial establishment. It provides you with an area for drink prep, plus shelving for bottles and glassware as well as the possibility of adding cabinets for storage or back bar refrigeration. Placing liquor bottle shelves along your back bar will give you additional space for storing bottles and a chance to show off your collection of high-end spirits.
In addition to any shelves you build underneath your bar, adding shelving to a wall behind or adjacent to your bar will give you the ability to store and display liquor bottles or glasses without having to spend additional time and/or money on building a full back bar.
---
Step 4: Account for Appliances In Your Bar Design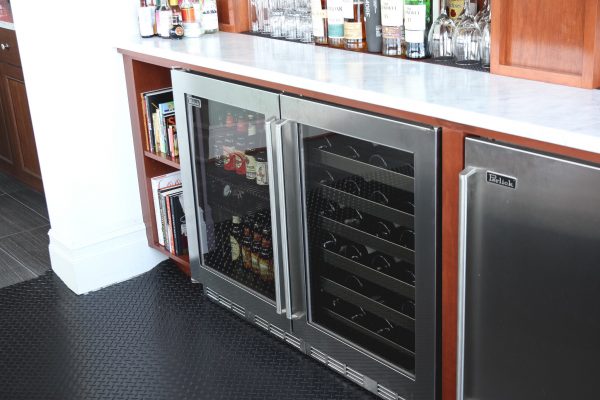 During the planning stages, you will also need to take any appliances or fixtures that will be housed behind or under the bar into consideration, particularly sinks and refrigeration units.
Bar Refrigerators & Kegerators
A bar fridge is pretty much a must-have for any home bar, that way you don't have to run back and forth to your kitchen whenever someone needs a drink. They are the ideal option for chilling and storing bottled or canned beverages and mixers. Big wine drinkers may also want to install a separate wine refrigeration unit for their favorite bottles. Your exact refrigeration needs will depend on which kinds of beverages you plan on serving the most and how much you want to keep on hand.
Installing a kegerator gives you the option to serve draft beer on tap, so it's a wise option for any beer drinker to consider. Buying kegged beer is a more economical option for buying beer over time, and having a kegerator adds a bit of "wow factor" to your home bar that might want to make your friends come over even more. Even if you're not a beer drinker, you can install a draft system that pours kegged wine or batch cocktails to fill your glasses with.
Be sure when you are choosing a kegerator for your home bar to purchase an under-counter kegerator unit. This style of kegerator is designed to be installed in an enclosed space because it can properly expel warm air from the refrigeration unit. Free-standing kegerators exhaust air from the back of the unit, which can get trapped without proper ventilation behind it. This greatly reduces the life of your kegerator. Learn more by checking out our video on how to set up a kegerator.
To install a built-in kegerator, you will need to cut a hole in your bar top for the draft tower that is big enough to feed the draft lines from the kegerator up to the draft tower as well as four holes for mounting screws to secure the draft tower in place. This process may be challenging depending on the surface of your bar top as granite and marble can crack when drilling. If you're using a professional to install your bar top, then inquire if they can drill the holes needed for your tower ahead of time.
You'll want to seal the gap between the top of the kegerator and your bar top to minimize any loss of cold air while reducing the possibility of your beer being exposed to warm air. Using PVC tubing or pipe to help run the draft lines to the tower can help close that gap. Be sure to insulate your tubing to help keep your lines cold and the beer chilled as it runs from the kegerator to the tap to prevent foaming.
Bar Sinks
Sinks are usually placed under the front bar but putting them in the back bar is not unheard of. The location of your existing plumbing may play a part in where you decide to build your bar or install the sink and drainage. From simple, shallow one-bowl hand sinks to standard bar sinks (with legs, up to three bowls and a drain board) you'll have tons of options when selecting a sink to best fit your space, needs and design.
Ice Machines
A built-in ice machine or ice maker may be considered a luxury to some home bar owners, but if you're using a fair amount of ice, it can save you lots of time, hassle and money in the long run. Consider how much entertaining you plan on doing, the proximity of the nearest ice source and how much money you typically spend on bagged ice when deciding on adding an ice machine to your bar.
---
Step 5: Decide on a DIY Home Bar Build vs. Hiring a Contractor
When putting in a home bar, you initially have three basic options. You can purchase and install a ready-to-assemble (RTA) home bar, build a custom bar yourself, or hire a contractor to do the custom job for you.
The right option for you depends on the amount of free time you have, how handy you are, the size of your budget, and the time frame in which you want to complete the project. If you go the DIY route, consider how many capable buddies you have who might be willing to help (in exchange for an open invite to your completed home bar) and other important factors like access to tools & materials.
Hiring A Contractor
For big or complex projects you'll probably want to seriously think about hiring a general contractor. A home bar has many facets and could require the expertise of several different craftsmen. A contractor will handle all the plumbing, electrical, carpentry, permits (if needed) and cleanup. The contractor can also work with you on design and they'll alert you to any potential problems and/or concerns. Most likely they will get the job done quickly, with minimal stress on your end.
Before you start, get a few estimates. They are typically free and you will have greater bargaining power on price in the end if you do.
Have your wish list ready in writing, so that neither you, nor the contractor overlooks anything. Take the advice from above, sketch out your ideas and plans, and have this ready as well.
Once you receive your estimates read them over carefully! A good estimate will include a contract, price breakout, total cost, and payment terms. Make sure every element that you want in your bar is included in the estimate, before you select the right contractor for the job.
Once you select a contractor, make sure you discuss a timeline for completion. Have the contractor include this date in the contract, along with a penalty clause if they don't meet it. Most reputable contractors will do this. Beware of the guy who has six jobs going at once! You want your contractor to show up everyday and get the job done.
It is wise to purchase all of the refrigeration units, sinks and large-scale items that you will need for your bar, before your contractor begins on your project! Don't let the contractor guess on sizing – have all of items at your house. This will eliminate unpleasant surprises and greatly reduce the potential for screw-ups.
Building The Bar Yourself
If you're up for the challenge, building your own bar can be a very rewarding experience! If you're fairly handy or have fairly handy friends who might be willing to work for beer, your home bar project could be a darn good time.
Check out some real life bar building advice, learned from experience:
Make like a boy scout and be prepared! Get everything you need before you break out the hammers. You should plan, measure and then build.
It never hurts to have extra materials on hand. Mistakes and surprises happen and when they do, having extra pieces and parts available can save a lot of headaches.
Don't be ruled by dollars alone. Staying within your budget is important, but the quality is pretty important too! Inexpensive components don't always last and when you've gotta fix 'em or replace 'em, you're losing valuable time that could be spent relaxing in your bar.
If you are enlisting the help of friends, have them over to check out your drawings. Get everyone on the same page. The masterpiece that you're envisioning might be different from your buddy's dream bar—so make sure he knows what he's in for.
'The more the merrier' might sound like a good philosophy, but realistically one or two helpers at any given time are plenty. The more people you have helping you at once, the more likely it is to morph from making progress on your project to a social occasion. You and your friends can hang out after the bar is built!
If you have a workstation located in another area, keep in mind that you will need to be able to get every piece of the bar from your shop into the actual bar room. There's nothing worse than putting something together, only to realize that it won't fit through the doorway.
Don't crack open too many beers until after you're done working for the day—especially if you're using power tools.
---
Outfitting Your Home Bar
The next step after building your home bar will be stocking it with the proper supplies and adding any finishing touches to the decor of your new headquarters for tipping back a few beverages. Just like having the right materials and tools was important for building your bar, having the proper tools for drinking is the key to any proper home bar.
Home Bar Supplies & Accessories
Keeping your bar neat and organized not only provides for a better-looking area to impress your guests, but it also makes it a lot easier to make drinks because you know where everything is. You'll want to add some of the following bar service supplies to keep your bar in order:
Stock Your Bar
The most important part of your will be, of course, the booze! You'll want to stock your bar with plenty of your favorite drinks since you'll be the person spending the most time in it, but we have put together a list of home bar essentials for when it comes time to invite friends and family over a few drinks.
Personalize Your Bar
Decorating the room or space where your new home bar is built will complete the look of your project. Every good bar has a few humorous bar signs on the wall, a bar mirror that features the logo of your favorite beer or drink or some neon/lighted signs. If you plan on using your bar area for watching sporting events or movies, then a television or home theater system will be a must-have.
Classic bar lighting, including overhead hanging lamps or billiard lamps, provide you with some options for illuminating your space as opposed to traditional room lighting.
Once your home bar project is finished and fully stocked, you can sit back with a good drink and enjoy the fruits of your labor. All that's left to do is invite your friends over for some company, and so they can marvel at the work you've accomplished.
Sours: https://content.kegworks.com/blog/planning-your-home-bar
383
384
385
386
387