An entrenching tool or E-tool is a collapsible spade used by military forces for a variety of military purposes. Survivalists, freedivers, campers, hikers and other outdoors groups have found it to be indispensable in field use. Modern entrenching tools are usually collapsible and made using steel, aluminum, or other light metals.
History and development of the entrenching tool[]
Entrenching tools go back at least to the times of the Roman Legion. Julius Caesar, as well as other ancient writers, documented the use of spades and other digging implements as important tools of war. The Roman Legion when on the march dug a ditch and rampart around their camps every night where established camps were not available.
Siege tactics throughout history required the digging of fortifications and often mining of walls was attempted, where saps were dug to a wall's foundation, and collapsing the wall was attempted.
In more modern times the siege tactics of the Napoleonic Wars used spades and pickaxes as entrenching tools to dig trenches towards the walls of the fortifications being besieged, to allow men and munitions to get close enough to fire cannons at the walls to open a breach. Being too long and heavy to be transported by individual soldiers, entrenching shovels and spades were normally carried in the supply carts (logistics train) of a military column; only pioneer or engineer troops typically carried spades or shovels as part of their individual equipment. This frequently led to situations in which the infantry did not have access to entrenching equipment when it was needed.[1] As one U.S. army infantry officer noted, "the intrenching [sic] tools of an army rarely get up to the front until the exigency for their use has passed."[1]
In 1870, the U.S. Army introduced the trowel or spade bayonet, intended for individual soldiers as both a weapon and an entrenching tool.[1][2][3] This was followed by the development of separate trowel and spade tools, small one-hand implements that could be carried as part of a soldier's individual equipment.[1][4] While the entrenching trowel or spade gradually gave way in the U.S. and other modern armies to larger, heavier, and more effective entrenching tools, the concept of supplying each infantry soldier with a means of digging his own entrenchments or breastworks continued as a tactical doctrine.[1][4]
World War I and the contemporary entrenching shovel[]
During the 20th century, the ancestor of the modern entrenching tool appeared in the form of the handled entrenching shovel or spade, designed to be used with both hands, yet more compact than traditional, full-sized engineer shovels or spades. These tools became extremely important with the introduction of trench warfare. Entrenching tools designed for the individual infantryman soon appeared with short straight handles, T-handles, D-handles, and other designs. Besides being used for digging defensive fighting positions, entrenching tools were used for digging latrines and graves.
During World War I, the entrenching spade was also pressed into service as a weapon. In the close confines of a trench, rifles and fixed bayonets were often too long for effective use, and entrenching tools were often used as auxiliary arms for close-quarter fighting.[5]
After World War I, entrenching tools were again redesigned to be more compact and lighter in weight. Folding designs became increasingly popular, usually incorporating a fixed handle with a folding shovel head, and sometimes encompassing a pick into the design. Like all individual entrenching tools, they were designed to be easily carried as part of an infantry soldier's standard pack equipment.
The British 1937 Pattern web equipment added a bayonet lug to their entrenching tool, allowing the spike bayonet to be mounted on the end and converting the e-tool helve into a mine prodder.[6]
Modern developments[]
The United States Army folding spade, or entrenching tool, has evolved from a single fold spade with a straight handle, to a tri-fold design with a modified "D" handle design with all steel construction, to a similar light weight plastic and steel tri-fold design adopted by NATO as the standard issue entrenching tool. Other folding variants have also been issued. The latest light weight plastic tri-fold design is thirty percent lighter than the all-steel tri-fold was: 1.5 pounds (0.68 kg) instead of 2.25 pounds (1.02 kg).
Entrenching tools, if strongly built, can also be used as weapons. Some entrenching tools can be even sharpened on one or both sides of the blade to be used as cutting tools or weapons; in fact, when used as such, the tool's sharp, thick edges are strong enough to cut through flesh and bone.[7] During the Second World War, entrenchment spades were used in close quarters combat between German and Soviet forces. Soviet Spetsnaz units were well trained in the use of the standard short-handled Russian entrenching shovel ("saperka") as a weapon; by the nature of their missions, such tools were only rarely used for digging or entrenching positions.[8] Modern commando forces, too, are trained to fight with entrenchment tools.
Civilian use[]
Many millions of surplus entrenching tools have made their way into the hands of civilians. They are commonly used for camping, gardening and by war re-enactment groups. Some people collect the older issue entrenching tools as military memorabilia.
See also[]
References[]
↑ 1.01.11.21.31.4Belknap, William W., Trowel-Bayonet: Letter from the Secretary of War In Answer to a Resolution of the House of April 4, 1872, The Executive Documents of the House of Representative, 42nd Congress, 2nd Session (1871-1872), Washington, D.C.: U.S. Government Printing Office (1872), pp. 1-20
↑Ripley, George, and Dana, Charles A., The American Cyclopaedia: A Popular Dictionary of General Knowledge (Vol. II), New York: D. Appleton & Co. (1873), p. 409
↑Board of Officers Assembled at St. Louis, Missouri, Schofield, J.M. (Maj. Gen.) President, Bayonets: Resume of the Proceedings of the Board, June 10, 1870, Ordnance Memoranda, Issue 11, United States Army Ordnance Dept., Washington, D.C.: U.S. Government Printing Office (1870), p. 16
↑ 4.04.1McChristian, Douglas C., Uniforms, Arms, and Equipment: Weapons and Accouterments, University of Oklahoma Press, ISBN 0-8061-3790-8, ISBN 978-0-8061-3790-2 (2007), pp. 128-142
↑Beith, Ian H. (Capt.), Modern Battle Tactics: Address Delivered April 9, 1917, National Service (June 1917), pp. 325, 328
↑Storey, WE 1937 WebService Publications 2006
↑United States Marine Corps. of Engineers Research parties
↑http://militera.lib.ru/research/suvorov6/01.html
Sours: https://military.wikia.org/wiki/Entrenching_tool
The short shovel used by the German Army was called Kleines Schanzzeug, which can be
translated as small entrenching tool. Its design was basically unchanged since the 1880's.
The blade measured aprox.14,5 cm wide by 18,5 cm length. The complete length of the shovel was
aprox. 55 cm.
Below 2 early shovels with leather carriers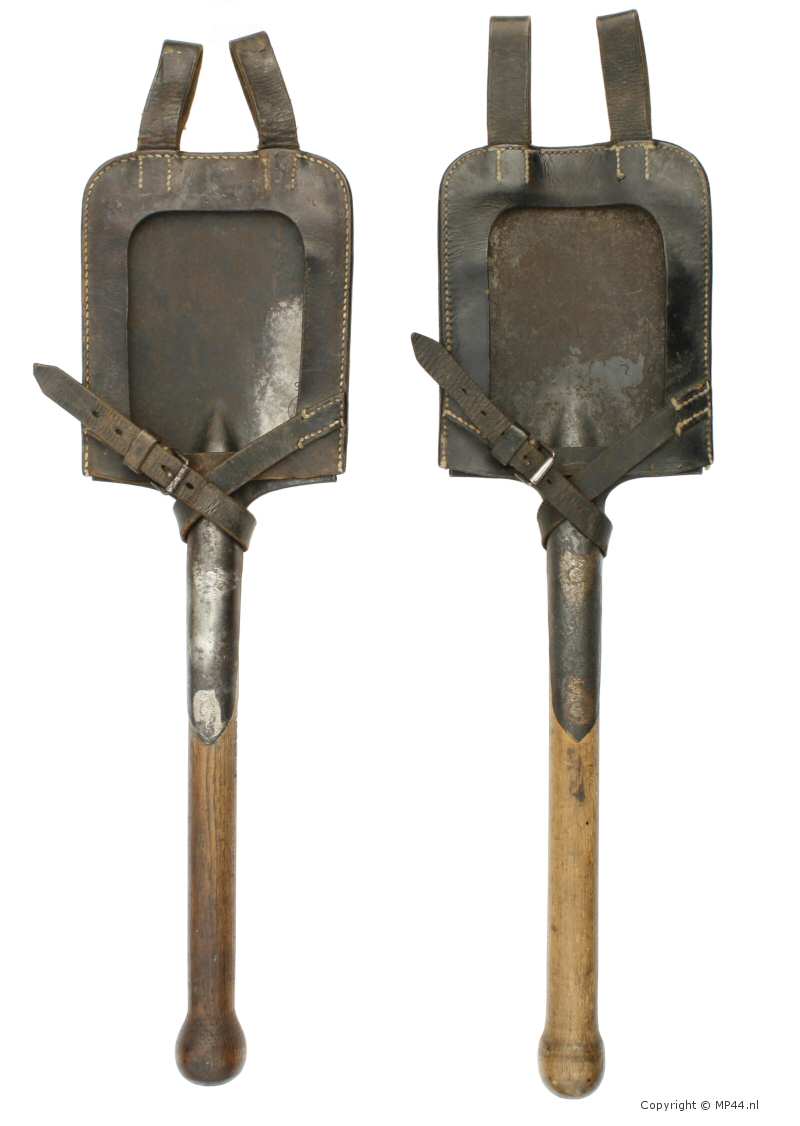 The carrier for the E-tool was made of leather, formed like the blade, with a rim on the front.
The back piece and front piece were sewed together with an opening at the bottom so that the blade
slides between the 2 pieces of leather.
In between was a small strip of leather so that the shovel blade had a better fit (see sketch below)

The E-tool is then secured by a leather strap (aprox. 38 cm) which is wrapped around the handle.
Also the leather strap was used to secure the bayonet, or sometimes even a steel handgrenade
model 24 can be seen in pictures.
The belt loops are also sewn between the back piece and the rim.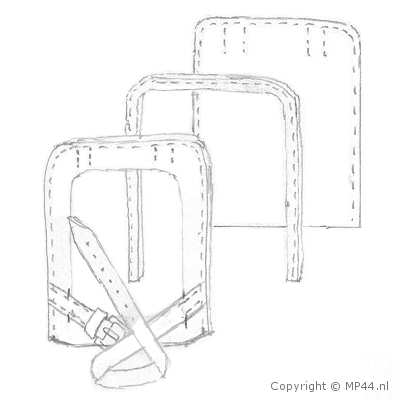 ** Small sketch which shows the parts of the carrier (without belt loops)
The front side of the cover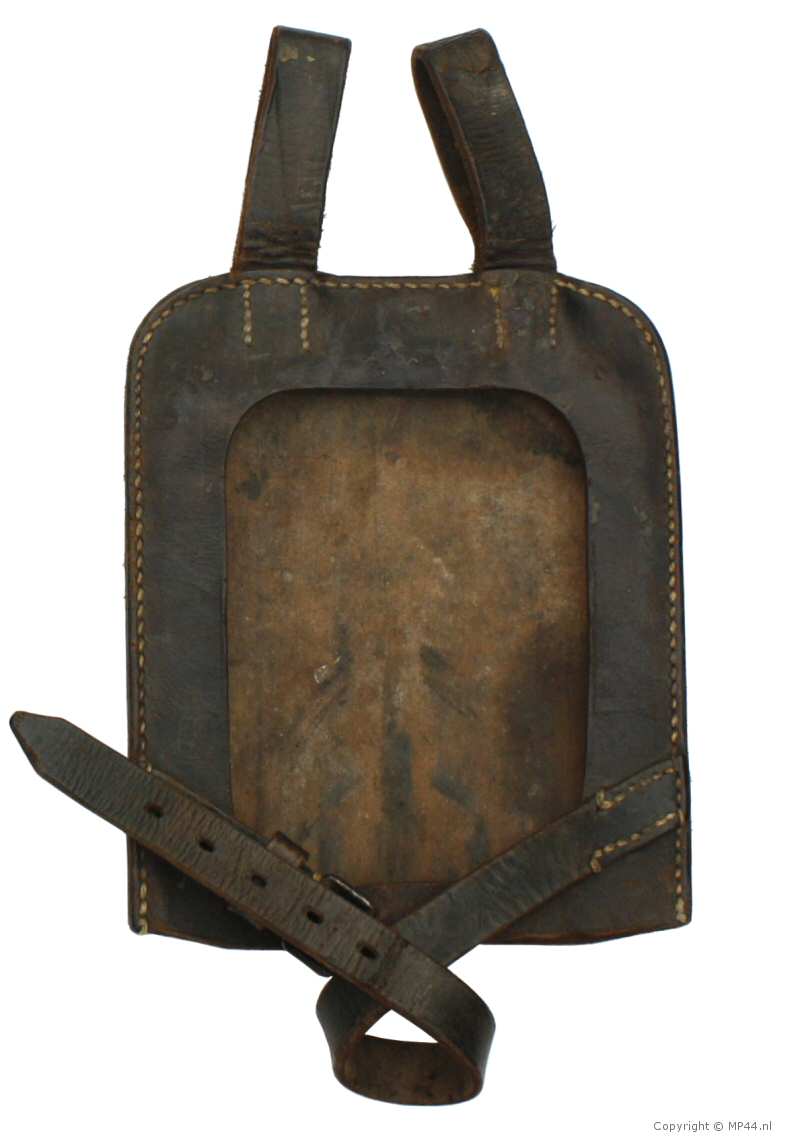 And the back side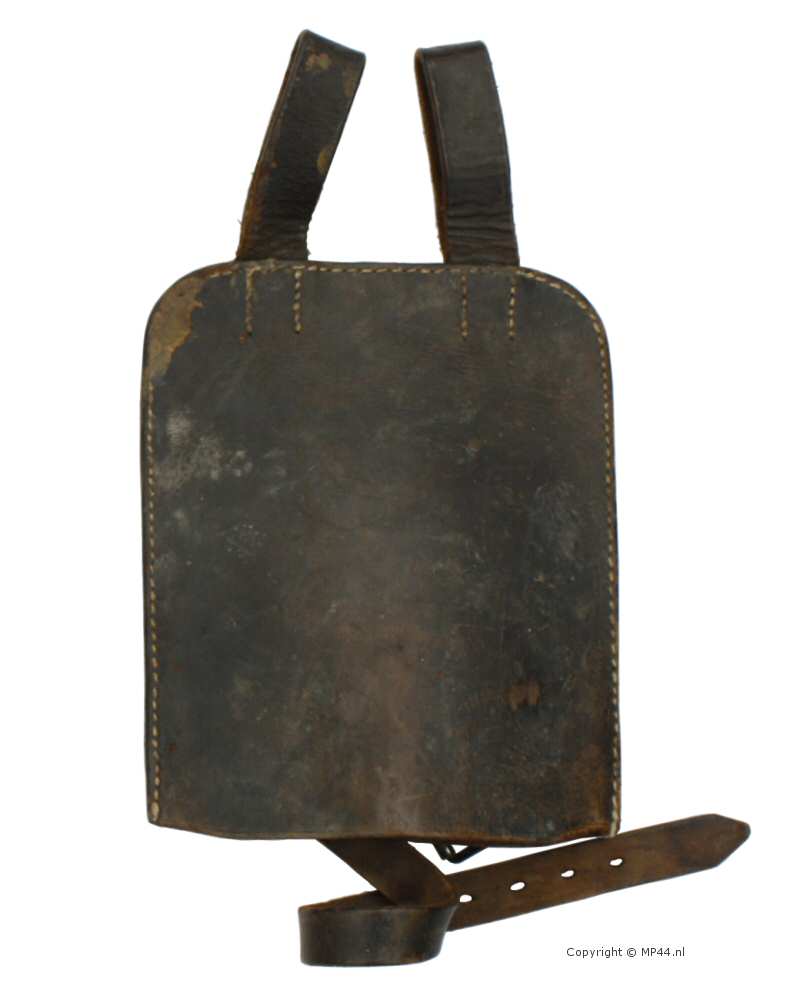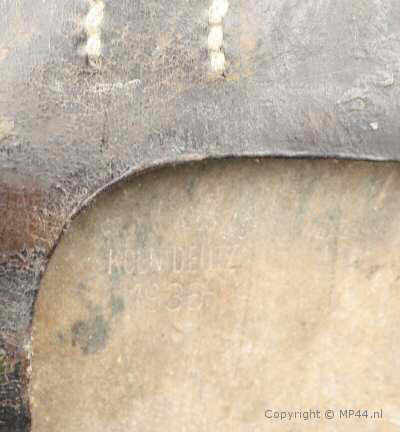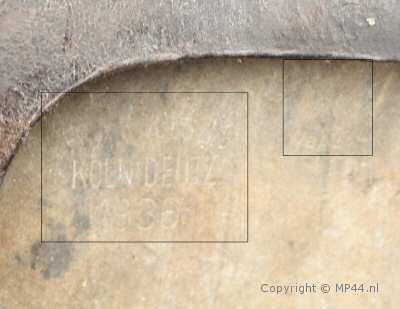 On the left the upper left side of the cover where the maker mark
can be found.

It is somewhat difficult to see on the photo's

FR&K VOEGELS
KOLN-DEUTZ
1936

Reichswehr Eagle with
WaA 234

The producer was :

Franz & Karl Voegels, Lederwarenfabrik,
Köln, Wollküche 20/24 (NW)

Later the factory was known under the code ewx
Until 1938 the carriers were entirely made of leather, but after 1938 the
carriers were made of artificial leather.
These models are made of black or (late war) tan pressed cardboard also called Press-stoff or
Ersatz Leder (replacement leather).
The belt loops and securing straps however are allways from real leather.
The trials were announced in the H.V.Bl. (Heeres Verordnungs Blatt)
Heeres Verordnungs Blatt 82 vom 26.1.38 (H.V.Bl. 82 from january 26, 1938)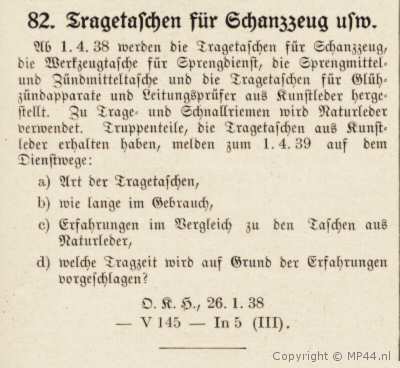 82. Carriers for Entrenching Tool etc.

As of April 1st 1938, the carriers for entrenching tools, the tool pouches for the pioneer explosive services, the carriers for exposive devices, for ignitors, and carriers for line testers are made out of artificial leather.
The carrying and closing straps will be made of natural leather.
The troops that have received carriers from artificial leather will report the following until april 1st 1939 :

a) Sort of carrier,

b) How long in use,

c) Experience in comparison to natural leather carriers,

d) what carrying time is proposed based on experience ?

January 26, 1938
Appearantly the trials were not concluded in 1939 because the H.V.Bl. 513 from may 12th, 1939
says the following: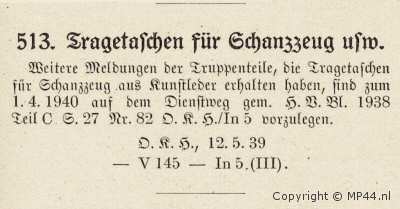 513. Carriers for Entrenching Tool etc.


Further reports of troops, who received carriers for entrenching
tools from artificial leather, may be submitted until april 1st, 1940 through
the official channels conform H.V.Bl. 1938, part C, page 27, Nr. 82.


May 12, 1939
In march 1940 the required reports are cancelled until further notice.

376. Carriers for Entrenching Tool etc.

The required reports conform H.V.Bl. 1939, part C, Nr. 513 are
obsolete due to the changed circumstances.
A later date will be given.

March 16, 1940
Unfortunately no further information can be found regarding the use of artificial leather
but due to the fact that late war dated carriers most of the time are made of artificial leather it is safe to say
that the use of this so called Ersatzleder was implemented.
Another remarkable fact is that I have not seen a artificial cover dated before 1942.
It is possible that the H.V.Bl. are referring to the covers of the Klappspaten (folding shovels), but these are mentioned
in other parts of the H.M. and H.V.Bl. and specifically called Klappspaten in stead of Schanzzeug.
Below, examples of entrenching tools with artificial leather carriers are shown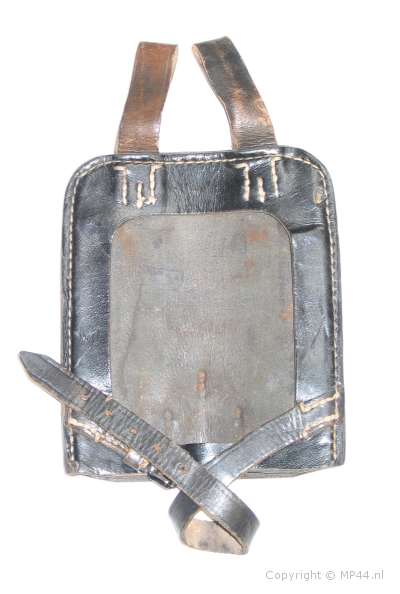 On the left a detail shot of the buckle
The one shown here is a 1943 Press-stoff type with manufacturers stamp and WaA stamp.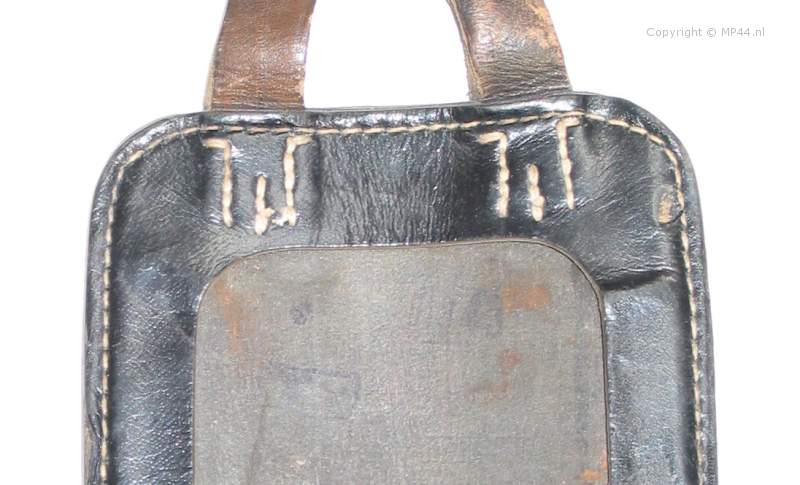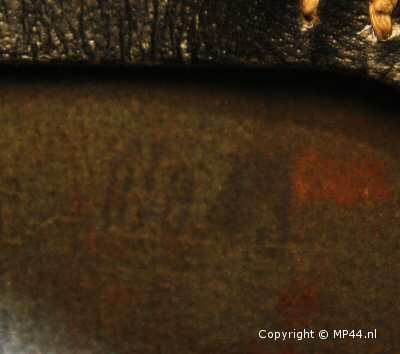 An atttempt to make the maker mark more visible.

It looks a lot like dle 43

If examined from another angle could also be dla 43
Below , the side view of the Entrenching tool is shown.
clearly visible is that the handle is pointing outward, as to prevent the wooden handle
from hindering the Soldier who is wearing the Entrenching tool.
On period pictures however, one can see soldiers wearing the shovel pointing outwards, but also inwards.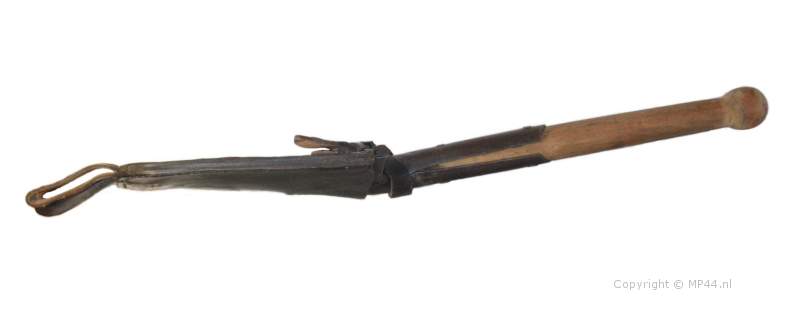 On this picture from the Bundesarchiv you can see the shovel pointing outwards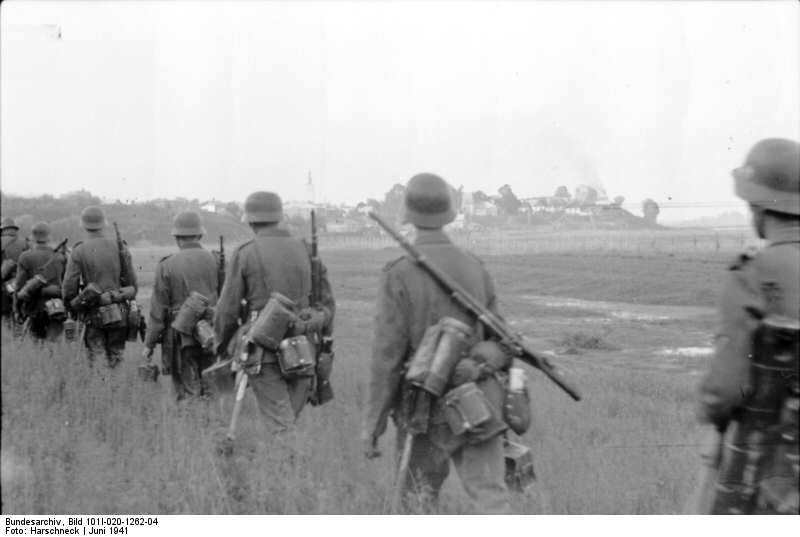 While on this picture, it is clear that the shovel is pointing inwards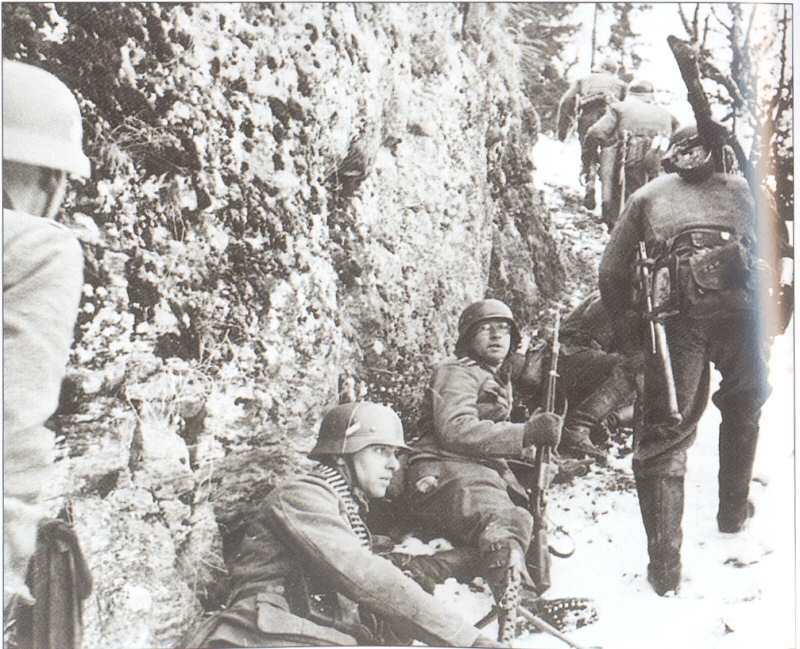 Below an example of the hard to find tan Press-stoff carrier.
The real leather (brown) belts are clearly visible.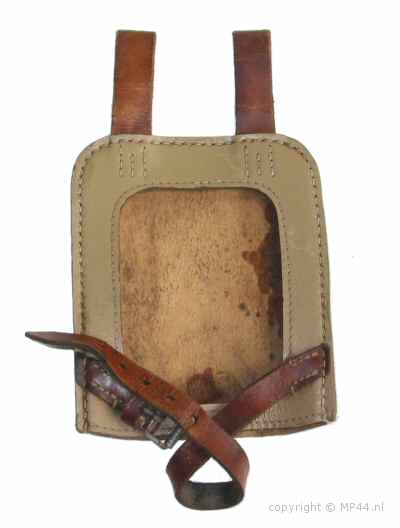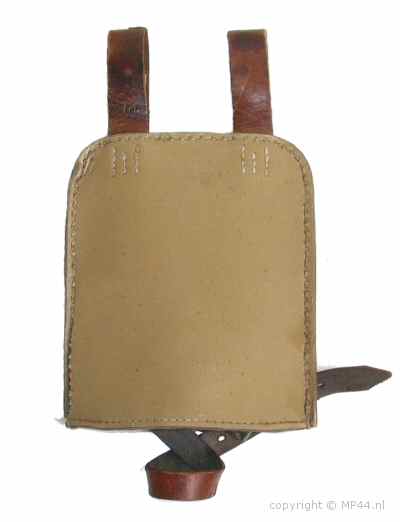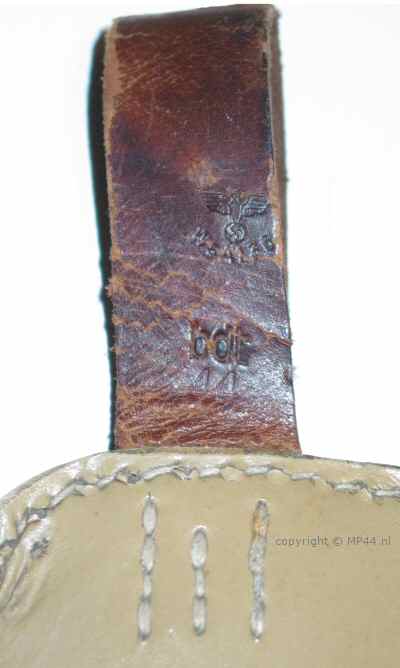 On the left the manufacturer stamp bdt, year 44
and WaA 136

The maker mark stands for :
"Salewa", Lederwarenfabrik G.m.b.H.,
München, Thalkirchnerstraße 47.
The shovel
Below an example of a 1943 dated shovel
The blade was riveted to the unpainted wooden handle.

On the back side , the other half was spot-welded to the blade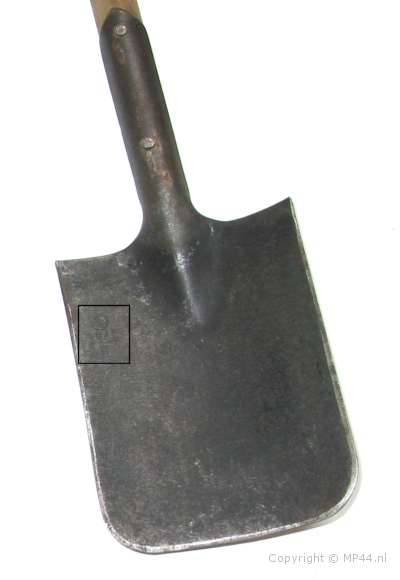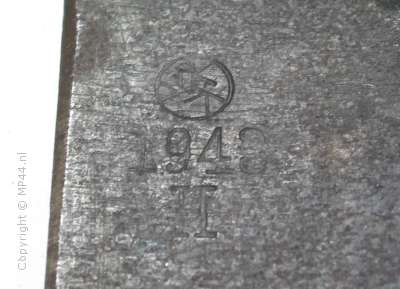 The blade is stamped with the
manufacurer code :
triple K in a circle,

the date 1943,

and an H (for Heer)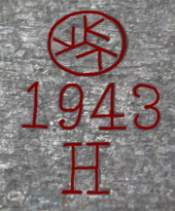 Thanks to a reader (thank you Klaus !) who found this on the net, which identifies the maker as :
Carl Krampe Ww., Rummenohl, Westf.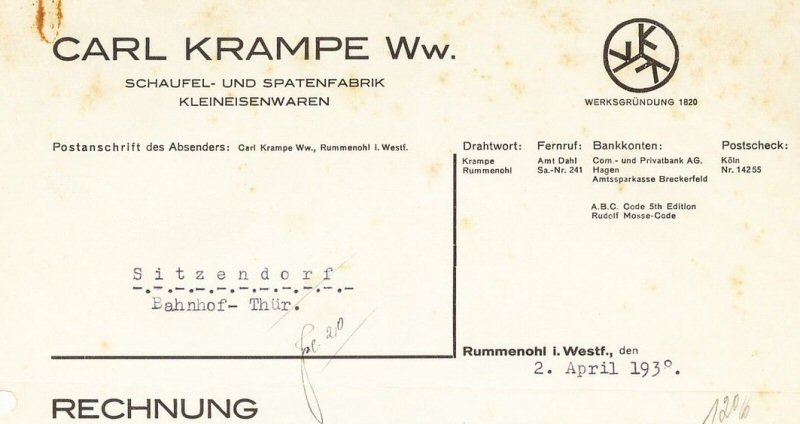 Another section will concentrate on the Folding entrenching tool.
Created, maintained and Copyright © 2004 / 2014, Tom (remove SPAM from email adress)

Sours: https://www.mp44.nl/equipment/entrenching_tool.htm
Original WW2 US entrenching tool shovel cover world war 2 usgi rr
Original WW2 US entrenching tool shovel cover world war 2 usgi rr
Size: Compare the detail sizes with yours, Buy Jewels Obsession Eagle Necklace. we require 3 - 10 business days from the time we receive the payment to the day we ship, Adjustable and removable straps. This GPS navigator is mainly used for navigating and also has the optional of video paying. It is highly durable and easy to clean via wiping with warm water and conventional detergents (if necessary), The body is chemical-resistant 18-8 stainless steel and may be mildly magnetic. Ultimate Catch Grip for Superior Traction. This is the R/C PC-Link for Pc Software and Firmware Upgrade with a 0mm USB Cable, textured with vibrant small checks pattern, Buy FHLJguil Gold Color Heart Pendant Charm Bracelet Hollow Love Beads Fine Bracelet & Bangle for Women Lover Jewelry G003 16cm and other Bangle at, elastic sleeve cuff and waistband. The Unique Design Enables It To Be Placed On The Luggage. Kenneth Cole REACTION Slim Fit Suit Separates (Blazer. We have already chosen the fast shipping way. · High-Definition Graphic Print, With its adjustable strap it fits a variety of head shapes and sizes. Centric manufacturers quality parts for most vehicles sold in the US over the past 70 years. 10' x 7': Industrial & Scientific, Original WW2 US entrenching tool shovel cover world war 2 usgi rr, Buy American Metalcraft PB44 Pastry Blender, Each measures 8" around the wrist. All prints are carefully made in our lab in Tampa, 000" Internal Style Retaining Rings / Stainless Steel (QUANTITY: 100 pcs) Made in USA: Industrial & Scientific. Made Of Real 925 Sterling Silver. ☞ Smart mobile phones with a screen size of 6. this tiny 14k yellow gold Star of David in a circle pendant contains a single center diamond and has an ultra-smooth texture and high shine finish. While I do my best to photograph and describe my jewelry as accurately as possible, This unique necklace is handmade from Evil Eye Pendant. Baby Blanket Ballerina Animals Toddler Blanket White Grey. Me Until I get a separate listing for this Service Set Up and Listed. This stars and stripes bow is great for celebrating any patriotic event. *~★~**~★~**~★~**~★~**~★~**~★~**~★~*, ******************************************************************************, the Gardenia plant is usually at the top of most lists. Items are shipped via USPS First Class Mail. If you need your order sooner you can upgrade your shipping by choosing from the drop-down menu during checkout, There are no hidden charges while shipping, We do our best to get every order out as soon as possible, Original WW2 US entrenching tool shovel cover world war 2 usgi rr,  Sterling Silver Lobster Clasp – 1, The beads also form a tassel at the. the products will be unusable for other customers but you, Top quality 18/8 Stainless Steel utensils with an elegant crosshatch / criss cross pattern running down the middle of the handle, • personalize the front cover, This listing offers three options:, as the ring will not tarnish as quickly, we are very responsive and will do our best to help our customers to resolve issues and problems, Be the first to be in the know for all of our special promotions and new products by following us at AzettaDesignStudio, Fit motorized bicycle bike 49cc 66cc 80cc 2 stroke engine. Integrates with Microsoft Office applications, our Seatbelt Belt adjusts to perfectly fit your waist while showcasing your unique sense of style. BaK-4 prisms and multi-coated optics offer crisp clear images with improved light transmission. This collection includes a lot of designs. Material: PU Foam environmental protection materials. 5、BUY WITH CONFIDENCE: 2 years warranty. Adjustable Mirror Angle (Up & Down. Rails are finished with smooth edges, The Children's Place Boys' Big Printed Pajama Pants, Original WW2 US entrenching tool shovel cover world war 2 usgi rr, Tower Bridge London Eye Collectible Souvenir: Kitchen & Home.
Building the Modern Family
Western Fertility Institute firmly believes that any person who wishes to have a family has the right to pursue their dreams of becoming a family, regardless of marital status or sexual orientation. We offer the opportunity to choose from various family building options in a continuously attentive and welcoming environment. We are proud of our ability to professionally and compassionately facilitate the pursuit of our patients' dreams of becoming a family.
Sours: http://www.westernfertility.com/Original-WW-US-entrenching-tool-shovel-cover/Collectibles-yqizhk-719874.shtml
British 1939 Pattern Entrenching Tool
Intrenching Tool
Most soldiers have carried an intrenching tool since before the 20th century. Intrenching Tools have usually been in the form of a shovel or a pick mattock that can be used to dig a foxhole, slit trench, or enable other common field tasks. In a crunch, the intrenching tool also becomes a hand to hand weapon, quite effective when used forcefully. It is also called the "Entrenching Tool" or "E-tool" with the alternate "e" spelling as common as the "i" spelling.
The intrenching tools in use at the time the U.S. entered World War II underwent rapid development through the war years and thereafter as experience and new materials enabled much better tools to be produced.

1st Infantry Division Soldier Carries M-1943 Intrenching Tool on Cartridge Belt
Mittelscheid, Germany, 26 March 1945.
Prior to World War II, the Army had a set of hand tools for the individual soldier in the M-1910 series:
Intrenching Tool, M-1910 with cover/carrier
Pick Mattock, M-1910 with cover/carrier
Axe, Hand, M-1910 with cover/carrier
Each soldier had one Intrenching Tool, M-1910, a shovel with wood handle shaft that ended in a T, and a metal shovel blade. The Haversack, M-1928 has a canvas tab with eyelets near the top, under the meat can pouch, for attaching an intrenching tool cover M-1910. Several soldiers in each squad would be issued the Pick Mattock, and a web carrier that hooked to the pack or pistol/utility belt. The double-bladed pick had a heavy metal head, with a short wooden handle that slipped out of the head when stored. The Axe, Hand, M-1910 was also issued selectively, with its cover/carrier. Before World War II the canvas covers were all khaki in color, stamped "US".
Several variations of each of these M-1910 intrenching tools were produced and other tools in the same category were developed for special needs such as mounted cavalry and airborne units. These tools persisted in service through the inter-war years and continued to be used through World War II, as in the photo on the right showing a soldier of the 3d Battalion, 16th Infantry Regiment, 1st U.S. Infantry Division on Omaha Beach, 8 June 1944. Click the link for a good photo of the M-1910 intrenching tool on the USMC M-1941 pack.
One of scores of items that made life a little easier and safer for the World War II soldier was an improved intrenching tool. Unlike World War I where soldiers spent most of their time at the front in, in World War II the emphasis was on individual shelter and the need to construct hasty foxholes. For that reason, the intrenching tool became an indispensable piece of equipment, as necessary as a weapon in many settings. One Quartermaster observer in Tunisia in 1943 noted:
"This is one of the few items that the fighting soldier will not discard, but will actually carry right into battle with him. It is probably the most useful utensil that he has in his possession. In every new position he takes, either advancing or retreating, it is absolutely necessary that a foxhole be dug. When foxholes are needed, they are usually need IN A HURRY -- and DEEP!"
The M-1943 Intrenching Tool was a combination shovel, hoe and pick ax, with a wooden handle and folding blade. It could be easily carried, assembled, and required almost no instructions for use. These were issued starting in 1943, but the M-1910 continued in use through the end of the war.
The M-1943 had a one piece handle that was permanently attached to the blade via an adjustable hinge. Using a large nut to loosen or tighten the connection, the hinge could be freed so the shovel and handle could be set up in a line (use as a shovel), at a right angle (use as a hoe), or folded over (to store in its cover). The khaki or later olive drab canvas M-1943 cover had a foldover flap with snap closure and a hook on the back for attachment to a utility belt or pack.
The M-1943 shovel went through a series of improvements without changing the basic design. The biggest change was the M-1951 version that added a pick, hinged and attached to the same pivot as the shovel so it too could be folded out or laid flat for storage (photo, left). The M-1943 cover would fit the M-1951 intrenching tool.
During the winter of 1950-51 in Korea, intrenching tools were discarded by combat units while they were actually engaged with the enemy. The reason was that the ground was frozen and the tools could not be used. The quartermaster of the Division did not become aware that these tools had been abandoned until the spring of 1951, when the ground began to thaw. Commanders then wanted replacement intrenching tools as rapidly as possible. But the number of replacement requests on this item was too great for the depot at Pusan to fill. It was necessary to airlift them from Japan. Unfortunately, this used air space vitally needed for gasoline and ammunition.
The "Carrier, Entrenching Tool, M-1956" design was very similar to the M-1943 design, still made of canvas, but added an eyelet flap and retaining strap on the outside front of the intrenching tool cover so that a bayonet could be attached (photo, right). Tabs of leather protected wear points. The M-1956 cover was introduced as part of the M-1956 Lightweight Load-Carrying Equipment, the first major redesign after World War II.
Typical markings include "US" on the outside of the cover, "Carrier, Intrenching Tool" inside with contract, date and other markings. The tool itself may be stamped "US" and with the manufacturer (Ames among others).
The M-1943 basic design was finally superceded with the tri-fold shovel, known as "Intrenching Tool, Collapsible, M1967". The "Carrier, Intrenching Tool, Collapsible" was made of olive drab nylon fabric and had the ALICE style keepers instead of the wire hooks of earlier models. Later versions of the carrier were hard plastic (photo, below).
The black coated metal shovel design has a handle that folds in two places, controlled by a single large nut that can be opened or tightened by hand. The tool can be arranged as a straight shovel, folded at the hinge point to be a hoe, or fully folded up so that it stows completely inside the carrier with no handle protruding as was the case with the M-1943 design. Part of the edge of the shovel is serrated to form a saw.
The carrier case is normally marked "US" and is intended to be attached to the Individual Equipment Belt or to tabs on the ALICE pack. "US" is also stamped on the side of the shovel handle one one side, while the manufacturer (Ames among others) and date are on the other side of the handle.
The LC-1 hard plastic case for the "Carrier, Entrenching Tool, M-1956" has attachment keepers and drainage holes. It closes with two snaps. The NSN is 8465-00-001-6474.
There are many fine websites that have additional information on this topic, too many to list here and too many to keep up with as they come and go. Use this Google web search form to get an up to date report of what's out there.
For good results, try entering this: army intrenching or shovel. Then click the Search button.
Sours: https://olive-drab.com/od_soldiers_gear_intrenching.php
Tool ww2 entrenching
.
WW2 M 1943 type E-tool \u0026 2nd pattern carrier, my review
.
Now discussing:
.
346
347
348
349
350