Fluids & Filters
ACDelco 12378521 RTV Engine Sealant283792.00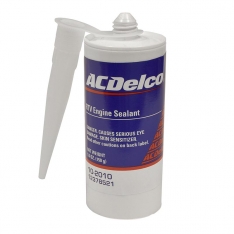 1.0051
ACDelco 12378521 RTV Engine Sealant$15.98
The ACDelco 12378521 RTV Engine Sealant is the sealant used in GM engine plants. Reseal your engine components with the same high-quality sealer used in the GM Production Line. ACDelco RTV Engine Sealant is a one-component, room-temperature vulcanizing (RTV) sealant. It is a high viscosity product that cures when exposed to air. The cured material has superior adhesion and elongation properties and is resistant to engine oils and coolants. It is also oxygen sensor safe and will not corrode metal surfaces. Features: OEM Sealer GM Part#: 12378521 AC Delco Part#: 10-2010 AFE 44-FF019 Pro-Guard D2 DFS780 Fuel Filter270053.00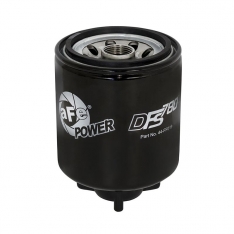 AFE 44-FF019 Pro-Guard D2 DFS780 Fuel Filter$29.44
The AFE 44-FF019 Pro-Guard D2 DFS780 Fuel Filter delivers increased flow and efficiency that is demanded by your modified diesel engine. High performance and high flow all in one quality engineered filter. This filter has a 4 micron rating (@ 99% efficiency), 1"-14 center thread, 4.23" OD and 5.80" long. Features:For Use With DFS780 Fuel System4 Micron Filtration @ 99% Efficiency AFE 44-FF020 Pro Guard D2 In-Tank Primary Fuel Filter Replacement314221.00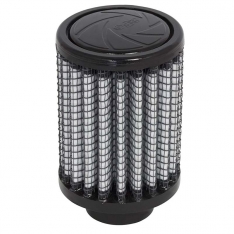 AFE 44-FF020 Pro Guard D2 In-Tank Primary Fuel Filter Replacement$21.27
The AFE 44-FF020 Pro Guard D2 In-Tank Primary Fuel Filter delivers the increased flow and efficiency that are demanded in the Diesel environment. This fuel filter is designed for maximum filtration and minimal flow restriction. This ProGuard D2 Fuel Filter is a direct replacement filter for the DFS780 Full-time Operation systems with in-tank fuel filters. Features: High Flow Rates and Outstanding Filtration Direct Replacement For Easy Installation AFE 44-FF025 Pro-Guard HD Fuel Filter816402.00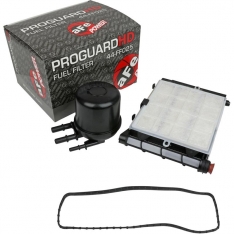 AFE 44-FF025 Pro-Guard HD Fuel Filter$59.29
The AFE 44-FF025 Pro-Guard HD Fuel Filter includes upper fuel filter in the engine bay and lower fuel filter on the frame of your 2017-2020 Ford 6.7L Powerstroke. This Pro GUARD HD Fuel Filter delivers improved efficiency with increased flow that are required in modern diesel engines. This fuel filter is manufactured with minimum flow restriction and excellent filtering in mind. The Pro GUARD HD Fuel Filter is designed to be a direct factory replacement to for a perfect fit and trouble-free installation.Features:2 Filter SetHigh Flow Rate Outstanding FiltrationDirect-Fit Replacement Ford Cross Reference#: FD-4625-AAAFE 44-LF024 Pro-Guard D2 Oil Filter230801.00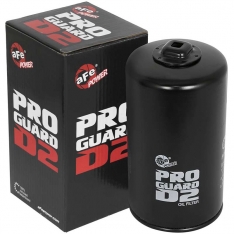 5.0051
AFE 44-LF024 Pro-Guard D2 Oil Filter$29.44
The AFE 44-LF024 Pro-Guard D2 Oil Filter for your 2011-2021 Ford 6.7L Powerstroke delivers increased flow and efficiency that is demanded from heavy duty diesel applications. They are constructed with a high strength steel canister and a heavy duty coil spring. They also feature a 3/8" nut/ratchet drive with a 1" square boss built-in to the filter for easy removal. This oil filter comes with a built-in seal for a leak free installation.Features: Maximum FiltrationMinimal Flow Resistance3/8" Ratchet Drive with 1" Square Boss Built-In AFE 90-20001 75W-90 Pro-Guard D2 Fully Synthetic Gear Oil245752.00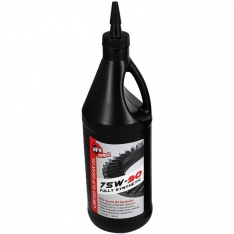 AFE 90-20001 75W-90 Pro-Guard D2 Fully Synthetic Gear Oil$21.27
The AFE 90-20001 75W-90 Pro-Guard D2 Fully Synthetic Gear Oil is competition proven and utilizes next generation synthetic oil technology to provide consistent limited slip differential performance no matter what type of vehicle you drive. Ideal for both clutch type and torsion type differentials. It outperforms conventional gear lubricants and delivers outstanding performance in all heavy duty applications from towing/hauling to extreme environments like off-roading, UTV'S and rock crawling. Group IV synthetic base: This competition proven formulation utilizes a group IV synthetic base along with a proprietary additive package that reduces drag, resist foaming and maintains its viscosity under extreme heat and high loads. Usage: The PRO Guard D2 Synthetic 75W-90 limited slip gear oil exceeds the performance requirements of API GL-5 recommended for both open and limited slip applications. Features: Consistent Limited Slip Operation Exceeds API GL-5 Specifications High Temperature High Shear Stability Lowers Operating Temperature Group IV Synthetic Base Oil Note: Not for use in transmission. Do not mix with other fluids.AFE 90-20101 75W-140 Pro-Guard D2 Fully Synthetic Gear Oil245772.00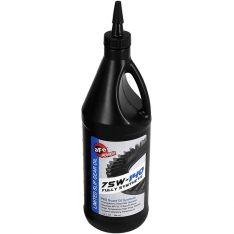 AFE 90-20101 75W-140 Pro-Guard D2 Fully Synthetic Gear Oil$21.27
The AFE 90-20101 75W-140 Pro-Guard D2 Fully Synthetic Gear Oil is competition proven and utilizes next generation synthetic oil technology to provide consistent limited slip differential performance no matter what type of vehicle you drive. Ideal for both clutch type and torsion type differentials. It outperforms conventional gear lubricants and delivers outstanding performance in all heavy duty applications from towing/hauling to extreme environments like off-roading, UTV'S and rock crawling. Group IV Synthetic Base: This competition proven formulation utilizes a group IV synthetic base along with a proprietary additive package that reduces drag, resist foaming and maintains its viscosity under extreme heat and high loads. Usage: The PRO Guard D2 Synthetic 75W-140 limited slip gear oil exceeds the performance requirements of API GL-5 recommended for both open and limited slip applications. Features: Fully Synthetic Exceeds API GL-5 Specs High Temperature High Shear Stability Lowers Operating Temperature No Extra Additives Required Consistent Limited Slip Operation Group IV Synthetic Base Oil Note: Not for use in transmission. Do not mix with other fluids. AFE 90-30001 Diesel Fuel Booster329311.00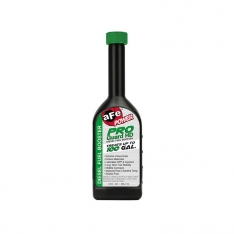 AFE 90-30001 Diesel Fuel Booster$18.08
The AFE 90-30001 Diesel Fuel Booster is an extreme concentrate for use in your diesel engine. aFe POWER Diesel Fuel Booster restores engine performance and protects diesel fuel systems from performance-robbing deposits. Ideal for all diesel engines, Fuel Booster will not harm after treatment devices or EGR systems and contains no alcohol. This all-around fuel improver includes a concentrated dose of the most important additives to keep your diesel engine running at its peak tune. Additives include a Cetane Maximizer to improve performance and a Lubricant for the HPP (High Pressure Pump) and injectors. The Fuel Stabilizer provides for long term fuel stability by keeping your fuel tank and engine free of rust and corrosion while an anti-gel formula helps to prevent diesel fuel from clogging the fuel lines, tank and filters and works to improve flow in extreme temperatures. Features: Extreme Concentrate Cetane Maximizer Lubricates HPP and Injectors Long Term Fuel Stability Inhibits Corrosion Alcohol Free Dosage Information:The minimum recommended dosage of AFE Pro Guard HD Diesel Fuel Booster is one (1) ounce per ten (10) gallons of diesel fuel. Vehicles that haven't been treating their fuel system with a fuel additive can safely use one (1) bottle per fuel tank during the initial "Clean Up" period. Initial Treatment: 1 bottle per fuel tank. Continued Treatment: 1/3 bottle per fuel tank. AirDog FF100-10 Replacement Fuel Filter (10 Micron)274042.00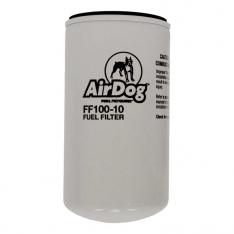 5.0052
AirDog FF100-10 Replacement Fuel Filter (10 Micron)$25
The AirDog Replacement Fuel Filter FF100-10 is a direct replacement Fuel Filter for your AirDog Fuel System. The life expectancy for the AirDog Fuel Filter could be up to 25K miles or a year. However, those figures can change drastically depending on fuel quality. Order a few extra and keep them in your cab or toolbox. The 10 micron filter is ideal for use in cold climates. Features: Ideal For Cold Climates 10 Micron Filtration RatingGenuine AirDog Replacement Fits All AirDog and AirDog II Kits AirDog FF100-2 Replacement Fuel Filter (2 Micron)18792.00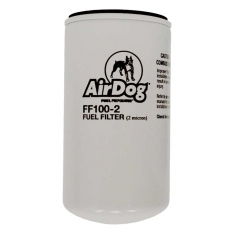 5.0054
AirDog FF100-2 Replacement Fuel Filter (2 Micron)$25
The AirDog Replacement Fuel Filter FF100-2 is a direct replacement Fuel Filter for your AirDog Fuel System. The life expectancy for the AirDog Fuel Filter could be up to 25K miles or a year. However, those figures can change drastically depending on fuel quality. Order a few extra and keep them in your cab or toolbox. Features: 2 Micron Filtration RatingGenuine AirDog Replacement Fits All AirDog and AirDog II Kits AirDog WS100 Replacement Water Separator18802.00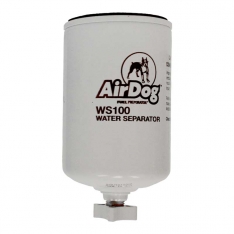 5.0054
AirDog WS100 Replacement Water Separator$28
The AirDog Replacement Water Separator WS100 is a direct replacement for your AirDog Fuel System. The built-in drain allows you to empty any water from the filter during routine maintenance. The life expectancy for the Airdog Water Separator could be up to 25K miles or a year. However, those figures can change drastically depending on fuel quality. Order a few extra and keep them in your cab or toolbox. Features: Fits All AirDog and AirDog II Kits Genuine AirDog Replacement Replaces Part# WS80 Alliant Power AP0511 LUBRIGUARD Diesel Fuel Treatment818104.00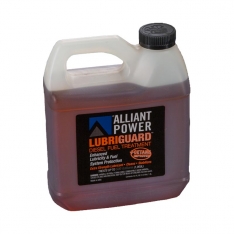 Alliant Power AP0511 LUBRIGUARD Diesel Fuel Treatment$20.56
The Alliant Power AP0511 LUBRIGUARD Diesel Fuel Treatment will improve the quality of the diesel fuel you are running by improving the lubricity and cetane rating. Developed using a unique combination of additives, this highly concentrated diesel fuel treatment is engineered to supplement dry fuels that are known to cause premature wear of the fuel system. This additive improves the fuel cetane improves combustion and reduces the ignition time while offering faster cold start. Increasing the lubricity minimizes the average diameter of the wear mark of the base fuel, resulting in reduced friction and wear of the crucial components of the fuel system.Features:Restores Engine Power and TorqueCleans Internal and External Injector DepositsLubricates Fuel System Reducing Friction and WearIncreases Cetane for Improved Engine CombustionARP Ultra-Torque Fastener Assembly Lubricant59071.00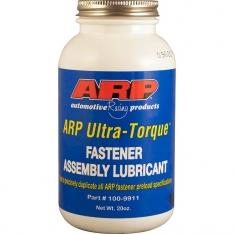 5.0053
ARP Ultra-Torque Fastener Assembly Lubricant$1.99
ARP Ultra-Torque Fastener Assembly Lubricant has been specifically designed to reduce tension preload scatter and eliminate the need to cycle high performance engine fasteners before final installation. ARP Ultra-Torque far surpasses all requirements offered by previous ARP lubricants in terms of fastener preload repeatability and performance lubricating properties. Features: Metal Free360° F Melting PointPrevents Seizing and Galling On Threaded FastenersStabilizes Preload Levels Within 5% Between A Group Of FastenersMaintains Installed Preload Levels Within 5% On All Subsequent CyclesObtains 95%-100% Recommended Installed Preload On First Cycle, Allowing Fasteners To Reach Proper Preload On The First Pull Without Cycling BD-Power 1050340-PFF Fine Particle Fuel Filter205064.00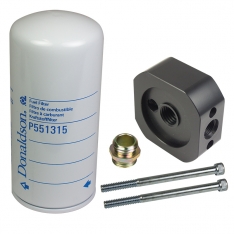 BD-Power 1050340-PFF Fine Particle Fuel Filter$76.95
The BD-Power 1050340-PFF Fuel Filter Kit is designed to be used with your BD-Power Flow-Max Lift Pump. The fully modular design allows for the addition of water separator and or high efficiency low-micron filters using non-proprietary cartridges that can be purchased at most auto parts retailers. Features: Fine Particle Fuel Filter Fits Flow-Max Lift Pumps BD-Power 1050340-WSP Water Separator205074.00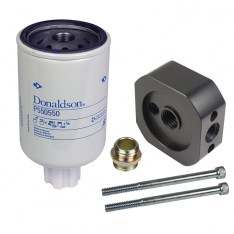 BD-Power 1050340-WSP Water Separator$81.95
The BD-Power 1050340-WSP Water Separator is designed to be used with your BD-Power Flow-Max Lift Pump. The fully modular design allows for the addition of a water separator and or high efficiency low-micron filters using non-proprietary cartridges that can be purchased at most auto parts retailers. Features: Water Separator Fits Flow-Max Lift Pumps BD-Power 1064046 Transmission Filter Service Kit1064952.50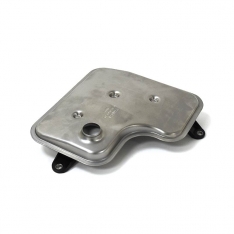 BD-Power 1064046 Transmission Filter Service Kit$81.95
Service the BD-Power 6R140 automatic transmission in your 2011-2020 Ford 6.7L Powerstroke with the BD-Power 1064046 Transmission Filter Service Kit. This kit includes the correct sump filter you need for your transmission. Each filter is manufactured to meet or exceed OE specs and is a direct bolt-in for your BD-Power built transmission. Features: Sump Filter For BD-Power Built Transmissions Application Notes: This filter kit may also fit a stock transmission but is intended for use on BD-Power built transmission packages.Bestop 11211-00 Vinyl Cleaner309662.00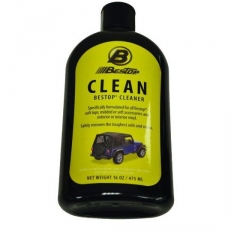 Bestop 11211-00 Vinyl Cleaner$14.99
The Bestop 11211-00 Cleaner Bestop Cleaner is ideal for use on vinyl soft tops or Trailmax II seating. Deep cleaning action helps lift dirt and dust away for a better-looking soft top. Environmentally safe and biodegradable. 16-oz bottle. Not for use on Black Twill fabric. Features: Great For Bestop Tonneau Covers Works On Exterior and Interior Vinyl Safely Removes The Toughest Soils and Stains Bestop 11212-00 Vinyl Protectant309672.00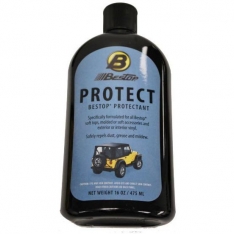 Bestop 11212-00 Vinyl Protectant$19.99
The Bestop 11212-00 Vinyl Protectant helps prevent color fade and degradation due to suns UV rays or harsh climate conditions. Helps protect against grease stains and mildew as well. Environmentally safe and biodegradable. Features: Great For Bestop Tonneau Covers Works On Interior and Exterior Vinyl Safely Repels Dust, Grease, and Mildew CAT 435-5142 Coolant Filter287152.00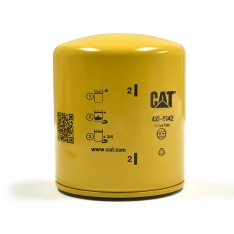 4.5052
CAT 435-5142 Coolant Filter$26.95
The CAT 435-5142 Coolant Filter is a spin-on replacement filter that can be used with XDP Coolant Filtration Systems. This conditioning coolant filter features a non-pelleted filtration design with a filter thread size of 11/16-16-2B. Trust the filtration on your truck with CAT filters! Features: Genuine CAT FilterNon-Pelleted Filtration11/16-16-2B Filter Thread Size Fits XDP Coolant Filtration Systems Champion 4013 Pro-Grade Synthetic Blend Snow Plow Hydraulic Oil356072.00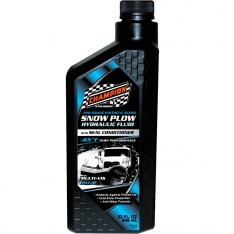 Champion 4013 Pro-Grade Synthetic Blend Snow Plow Hydraulic Oil$9.2
Ensure the performance of your snow plow system, even in the most extreme temperatures, with the Champion 4013 Pro-Grade Synthetic Blend Snow Plow Hydraulic Oil. This long-life hydraulic oil is formulated using wax-free base oils with extremely low pour points and features top-tier anti-wear performance, excellent demulsibility and air release, as well as high thermal and oxidation stability. Due to its very high viscosity index, Champion's Snow Plow Oil delivers exceptional viscosity and cold-flow, protecting against freeze-up in temperatures down to -65F! Perfect for use in residential and even the most demanding commercial applications. Features:Synthetic BlendConditions SealsWax-Free Base OilsExcellent Cold-Flow Properties-65F Temperature PerformancePrevents and Protects Against Freeze-Up
Sours: https://www.xtremediesel.com/mm5/
DISCLAIMER
Generally, parts which alter or modify the original design or performance of a motor vehicle pollution control device or system are NOT LEGAL FOR SALE OR USE IN CALIFORNIA or other states with similar regulations. Such aftermarket parts are subject to governmental emissions standards regulated by the California Air Resources Board (CARB). In order for such parts to be legal for sale or use in the State of California, or other states with similar regulations, the part must acquire a CARB EO number so as to make it legal for use on a specific year/make/model of vehicle. CARB approved parts will include a sticker containing the CARB EO number. This sticker must be displayed in a visible location in the vehicle's engine bay for smog inspections. Any order placed for a non-CARB compliant part to the State of California, or other states with similar regulations will be automatically canceled and refunded. You may contact us with any questions regarding CARB or to verify whether or not a part has a CARB EO number.
Sours: https://rudysdiesel.com/i-30498858-oem-motorcraft-oil-filter-for-11-17-6-7-powerstroke.html
Product Specs
| | |
| --- | --- |
| Height | 6.630 |
| Inside Diameter | 1-16 Th'd |
| Outside Diameter | 3.689 |
| Anti-Drainback Valve | YES |
| By-Pass Valve Setting | 20 PSI |
| Base Gasket I.D. | 2.460 |
| Base Gasket O.D. | 2.808 |
| Base Gasket Thickness | 0.203 |
Where to Buy
Installation Instructions
View Components
Installation Instructions
Use proper protective gear. Used motor oil should not come in contact with bare skin. Engine oil may be hot.
Place a drain pan under the oil filter and unscrew oil filter.
Clean mounting base, making sure the O-ring from the old filter is not stuck to the filter mount.
Apply film of clean oil to filter gasket. Do not use grease.
Screw new filter on until gasket reaches base contact. Then tighten according to instructions on filter using tightening guide markers.
Check owner's manual for correct oil specification, viscosity and amount.
Add oil to "full" on dipstick. Idle engine for 5 minutes and check for leaks.
Shut off engine and recheck oil level after 5 minutes and top off as necessary.
*FRAM Group testing of average filter efficiency of PH8A, 3387A and 4967 or equivalent FRAM TG or XG models under ISO 4548-12 for particles greater than 20 microns.
**Greater than 3X the functional life of Nitrile ADB when tested per SAE HS806 hot oil and Anti-drain-back test.
ꝉNot all features are available on every part number in the product line.  Check the package for specific features of individual filters.
Sours: https://www.fram.com/parts-search/PH10890
2017-2019 Ford F-250 fuel filter change. 6.7 power stroke
.
Filter 2017 powerstroke oil
.
2017-2019 FORD SUPERDUTY 6.7 OIL CHANGE
.
Similar news:
.
338
339
340
341
342