Living Beautifully in Her She Shed: How a Vintage Camper Became Her Personal Oasis
By Megan M. Seckman
Jill uses her vintage Singer Featherweight machine for one her sewing projects. Photos by Melissa Donald. Photos were taken on the grounds of the Farmington Historic Plantation.
If her husband and two teenage sons can't find her, they know to check her she-shed, Jill Evans' renovated 1972 Airstream camper — usually parked in the backyard of her Highlands property — that is her personal oasis. "It is my space. The feeling I get when I walk in is instant comfort. My husband might get frustrated — and it's not like they even want to come in — but they know it's my place," Jill says.
Jill has carefully picked out furnishings that give her camper a comfortable and cozy ambiance.
Jill's Airstream, Georgia, a name she chose for a daughter had she had one, is the embodiment of her passion for the past. For eight years she co-owned and operated the antique mall Crazy Daisy before selling to her partner. She now enjoys the antique pastime of quilting and works part-time at a quilting shop in Middletown. Jill relishes the nostalgia in old things: the smells, the simplicity. "The smells in the camper help me identify with my youth; there are no pretenses in there. I go there to read and quilt, to escape."
The Airstream is filled with earth elements, wood and geometric accents, woodland animals, and natural light. Inspired by Fixer Upper's Joanna Gaines' design, it doubles as a prop for weddings and photos, and has been featured in Country Living's Girl Camper Fair. Jill laughs that she has 100 followers on her personal Instagram, but over 1,000 for her Airstream profile.
"I love to stylize, to individualize a space, and I love a project. Every piece in my Airstream, I know where I found it. It has become my hobby. Oh, I had to get a little boat and station wagon to go with it — I'm way in!"
Jill says her oldest son is to blame for her she-shed addiction. He is an avid bass fisherman and his hobby schlepped the family out to countless fishing tournaments in rural areas without any nearby hotels. In order to follow him on the weekends, Jill, a glamper, not a tent-camper, suggested they invest in a vintage camper. The family first purchased a "canned ham" Shasta that Jill and her husband renovated themselves. Over time though, the Shasta became too small for a family of four, and the boys found it a little too "girly" with Jill's enthusiasm for design. So, when Georgia fell into Jill's lap at the right price, she was sold.
View of the twin bed area and kitchen
Airstreams can go for up to $100,000, but Jill was able to find this 209-square-foot fixer-upper for $15,000. It was in good condition and could accommodate her family with two beds, a kitchen, and even a bathroom complete with a shower and tub — and it only needed aesthetic updates. With help from her husband and father, Jill DIY'd the updates (paint, new countertop, upholstery, and appliances) for $2,000. Jill says her husband "has never told me no" and has always supported her vintage camper obsession. He even purchased a generator for her for Christmas.

Georgia is used for more than her looks, though. Jill's family will be taking it to Zion National Park this summer, and she has a women's trip planned in Texas this April. It's already debuted at campgrounds and neighborhood backyard wine nights.

"It is an addiction, but it's not an empty one." Her older son is away at college now, and her younger will be out of the house in a couple of years. "We raised kids for 10 years and now we are getting back to what appeals to us as adults. When we get the boys through college, we're going to take off. But I think I want a pop-up next…"
Related
Sours: https://www.todayswomannow.com/2018/04/living-beautifully-in-her-she-shed-how.html/
Last year when I began looking for she shed ideas, and vintage camper interiors did I ever think my dream would come true.
Yet almost a year later as I write this post, I am sitting in my very own she shed, glamper, vintage camper, or whatever you want to call it. I just call her Beatrice.
Our camper renovation is complete! I couldn't be more pleased with how she turned out. She turned out just as I envisioned. I feel that she is a reflection of my style and I now have a home for many of the things that I love.
Many of you, my dear readers, have followed along and I have heard so many wonderful things from everyone.  I have to tell you that Beatrice has inspired me to take this blog in a somewhat new direction. I can't share all the details yet (I still don't know myself). I have been struggling to find my voice in among a sea of travel bloggers the last few months. I have absolutely loved sharing this journey and based on my top blog posts, my readers have too. I want Beatrice to play a major role going forward. Anyway, I will be doing much soul searching about this.
---
Now YOU can share my Beatrice renovation story with the children in your life! Or even for yourself.
Order Beatrice The Little Camper Gets Rescued the first children's book based on the true story about a little vintage camper's rescue and renovation.
This colorfully illustrated 32-page picture book is the beginning of my passion project to bring my very own Beatrice the Little Camper to life! find out more!
Get your copy of the first book in the Beatrice the Little Camper series at Amazon and Barnes and Noble!
---
Check out my tour video. I apologize for the portrait mode. Video rookie 🙂
The last thing we needed to do with Beatrice was polishing and resealing the windows, which I was not looking forward to. She is now parked in her permanent place in the backyard after getting the outside painting finished and her decal applied. We do have some minor landscaping to do, but for now I am so happy to be able to work in her. Oh, and I would love to get an awning for her, but that may wait for a bit.
Back to the windows. Yesterday we took one out. I had ordered this California Custom deoxidizer and polish from Amazon. I had heard good things and read the positive reviews. Giving a few other products a try on the door frame and not getting the results I wanted, I wanted to try these products.
Well, call me crazy, but these products worked great! First we removed the window. We also put in new screws when we reinstalled it.
You first apply the oxidizer and let dry. It will turn the aluminum almost white, but this is a good thing. You work in a small section. Now my aluminum was pretty ugly looking and the rust around the screw holes was bad. It took little effort to remove that rust! After that dries, you apply a small amount of the purple polish to a terry cloth rag and rub lightly until you can see the metal shine. Your rag will be black. It takes minimal elbow grease! Work in small sections. Then go back with a clean terry cloth towel and buff. I was amazed! I can highly recommend these products. I typically do not do product reviews, but since I used this on Beatrice and had amazing results, I could not keep it to myself! Well worth the money.
You can buy them here
So I want to share a few pictures that I snapped yesterday.
Update:
We also added a Sew Country Awning onto Beatrice! I love how the black and white looks don't you? If you are interested in a Sew Country awning or any others, I purchased mine through Etsy.
---
---
Hope you enjoyed the pictures and the video from Beatrice! Please share and come subscribe to my newsletter and follow me on Facebook, Twitter, and Pinterest.
Go explore! The world is waiting
Lori
This post contains affiliate links. Please see my Disclosure page for more information. I offer my sincere opinions on all the products, books, and services I recommend
Sours: https://lorilovesadventure.com/vintage-camper-renovation-interior/
In December, I had a potting shed-camper/she-shed built. Due to city restrictions (permits & property taxes), I had it built on an old heavy duty farm trailer. Thus, since it has wheels, it's not technically a shed. Because of the cost and a tight budget, I am finishing out the inside and painting the exterior trim myself. I've insulated between the studs and am using jute coffee sacks to cover the walls. (It won't have electricity.) I also like to recycle, so one of the four small windows is a divided pane window with wavy glass and another is Victorian stained glass. The door is also Victorian (found at a garage sale for $25.).

Here is where I need input: Someone in my neighborhood threw out 10 filthy plinth blocks from an old Victorian house. Plinth blocks are decorative molding usually located at the bottom of door casings. These plinth blocks weren't perfect, but I cleaned them up, re-stained them, and applied several coats of tung oil. I'd like to use them in the shed. The issue is they are normally installed at the bottom of door casings, and I'd like to use them at the TOP corners of each interior window and the door. Do you think this would look crazy? They are all 12" long.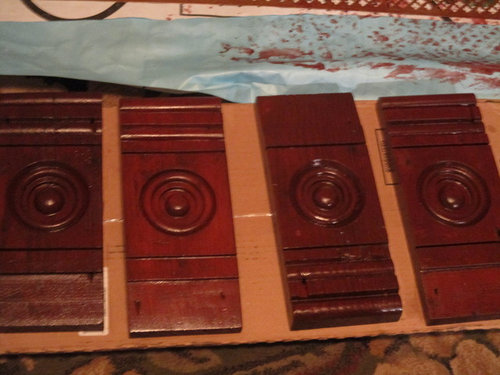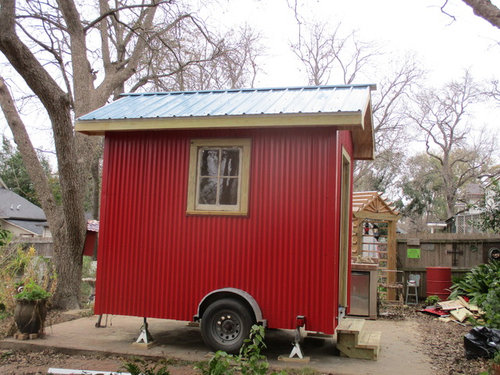 As you see from the photo, I've not painted the trim yet nor installed the skirting. Thank you in advance.
Sours: https://www.houzz.com/discussions/5598449/potting-shed-camper-she-shed-caravan
Sinéad O'Connor - Nothing Compares 2U [Official Music Video]
.
For sale shed campers she
.
Creating Camper She Shed Reveal
.
You will also be interested:
.
290
291
292
293
294