Shipping Labels 101: How to Create a Shipping Label and More
A shipping label… it's just a sticker on a package, right? Actually, things aren't quite that simple. As an e-commerce seller, have you ever stopped to really think about just how important a shipping label is? Your shipping labels are a crucial element of your supply chain, so having a good understanding of their value is critical.
In this blog, we'll take a look at the anatomy of a shipping label, how to print a shipping label, and much more. Want to get to some down-and-dirty shipping label FAQs? Jump down to the bottom of this post!
What is a Shipping Label?
A shipping label, sometimes called a package label, identifies many things about your package: its point of origin, its destination, its weight, the carrier's name, and so on. These labels are used by humans and their machine counterparts to understand where your package came from, where it needs to go, and what stops it may have made along the way.
Without a clear shipping label, packages can be delayed in transit, delivered to the wrong address, or lost completely. Any of these scenarios may lead to either a financial loss or a loss of customer trust, which makes the shipping label extremely important!
A Sample Shipping Label Explained
Shipping labels between the major carriers—USPS, FedEx, and UPS—all have slight variations, but they generally contain the same information. Here's a shipping label example that highlights the various elements you'll see on a carrier's label.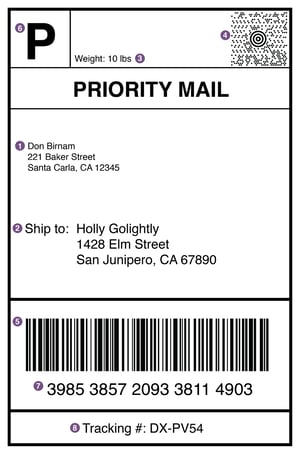 1. Sender Name & Address, or return address, where it will go in case of non-delivery.
2. Recipient Name & Address, the package's destination.
3. Package Weight, including the item being shipped and the box/packaging.
4. Unidirectional Code, or maxicode, designed to be read by a machine in any direction.
5. Postal Barcode, or IMpb code, the recipient's scannable zip code.
6. Service Type, the method of shipping, i.e. Standard, Express, Priority, etc.
7. Routing Number, which informs sorting where to route the package.
8. Tracking Number, which customers can use to track the package online.
If this seems daunting for those of you just starting out, don't worry—much of this information will be automatically generated by the carrier or shipping software!
How to Create a Shipping Label
Even if you're only shipping a few packages a week, purchasing labels at your carrier's office is throwing away money because you're paying for postage at the retail rate, which is the most expensive way to go (you also waste a lot of time standing in line in order to ship packages from your carrier's office).
To save money and time, you'll want to create a shipping label yourself. In doing so, you can take advantage of postage discounts and make pickup arrangements from your home with the carrier. You can do this by printing a shipping label through the carrier's website or by creating them with shipping software solutions (see how to print a label in our software GFSTM).
Creating Shipping Labels Through a Carrier
You can create a shipping label manually through your carrier's online services. It's not the fastest method, but it's fine if you're shipping a low volume of packages. Simply visit the carrier's website, fill out the shipping label template, and then download the file and print it out. Here are the major carrier sites for reference where you can do this:
Creating Shipping Labels Through Software Solutions
There are a variety of shipping label software solutions available online that easily integrate with your e-commerce software platform. There are some that follow the pay-as-you-go model, ideal for small-to-medium volume sellers, or monthly fee-based models ideal for high-volume e-commerce sellers.
What's really great about these solutions is that most of them do more than just provide labels. Regardless of the payment model you choose, you generally get substantial carrier discounts and access to a dashboard offering a number of reporting tools.
3 Shipping Label Best Practices
Here are a few other things to remember regarding shipping labels:
1. Special Instructions
If the contents of your package require special instruction, make a note of it on the package. This could mean labeling it "Fragile," "Perishable," or "Flammable" (carriers will often ask this as well). You may also want to note if a package needs to be "This Side Up." Noting these special requirements will help ensure your package arrives at your customer's doorstep in perfect condition.
2. Label Placement
Labels should be placed on the top of your package (especially if there is a "This Side Up" instruction). Make sure the label is fully visible and not folded over any edges, as this could obscure important information or make it unscannable. Also, be sure to flatten any bumps after sticking it down as this could also make codes unreadable. If you cover your label with transparent tape or place it in a plastic wallet for protection, just be sure the whole label is legible.
3. Packing Slips
A good e-commerce seller always includes packing slips, sometimes called a "waybill." This goes inside the package (or outside, in a plastic wallet) and basically serves as a receipt. The slips should include your company contact information, the customer's address, the order date and number, the items included in the package and their quantity, a customer service number, and any additional comments or information about returns, refunds, etc.
Using Product Shipping Services
Most e-commerce sellers eventually find that they spend too much time packing boxes, printing labels, and shipping packages. After all, they have more important things to do, like growing their business! When this happens, they may turn to a product shipping service, otherwise known as a third-party logistics (3PL) company.
With a 3PL, you can store your products in their warehouses and, when orders come in, they will label and ship your products properly, you just need to cover the shipping charges.
If a 3PL sounds like a good solution for your business, choose The Fulfillment Lab. At The Fulfillment Lab, we store inventory strategically across domestic and international centers to reduce shipping costs with major carriers and increase the speed of delivery.
We also use proprietary warehouse management software to ensure order accuracy and to offer you valuable metrics. Interested in customizing your packaging? Through an online portal, you can tailor packaging to your customer based on demographics and data analytics, delivering a more personalized, unique customer experience that won't soon be forgotten.
To learn more about The Fulfillment Lab, the services we offer, and what we can do for you, visit our website or contact us today.
Shipping Label FAQs
Where can I get a shipping label?
You can get shipping labels from individual carriers in-person or online, by printing a shipping label at home through personal shipping software, or by letting a 3PL handle it (you only pay for shipping).
Do shipping labels cost money?
It's free to create a shipping label but, of course, you aren't free to ship the package until you've paid for postage.
What is a prepaid shipping label?
Some companies will pay for the shipping of items that are being returned for repair or refund, and some non-profit organizations will pick up the shipping cost for items being donated. They do this by sending you a prepaid shipping label to stick on your package or giving you a web address where you can print it out.
How do you fill out a shipping label?
Follow the instructions provided by a carrier; if you're uncertain about what anything on the label means, check out the section "A Sample Shipping Label Explained."
Can I print a shipping label at home?
Yes. For more on how to make shipping labels, read the section "How to Create a Shipping Label".
Can I handwrite a shipping label?
Absolutely (as long as your writing is legible), however, some information, such as the barcode, will need to be generated from the carrier prior to shipping. Because of this, online tools are much more efficient.
Can you tape over labels for shipping?
Yes, just be sure it's clear tape and that the label is completely visible. Try not to allow any air pockets underneath the tape for a smooth affixture.
Do I need a special printer to print shipping labels?
You should be able to print a shipping label on any modern printer, however, if you want to use self-adhesive shipping labels (instead of gluing or taping them on the package) you'll want a thermal printer that can accept them. Check out the 8 best thermal printers here.
Where should I put a shipping label on a package or box?
Place your shipping label on the side of the package with the largest and most visible surface. Labels can warp if placed on edges, making them unreadable to machines, to be sure not to wrap them around corners.
Do shipping labels expire?
If there is an indicated "ship by date" on a label and the date has passed, the label does expire. Some delivery services may still ship it past the expiration date, but complications can arise so it's best to keep an eye on that date.
Are there size requirements for shipping labels?
A standard shipping label size is 4" x 6", but different carriers may have different standards so you should be sure to check with them if you're creating your own shipping label.
Sours: https://www.thefulfillmentlab.com/blog/understanding-the-basics-of-a-shipping-label
16+ Shipping Label Templates – Free Sample, Example Format Download
100,000+ Ready-Made Designs, Docs & Templates to Start, Run and Grow your Business
Subscribe to Download
Shipping label template is a tool similar with mailing label template that focuses on the contact information of the receiver either a letter or product will be delivered. Shipping label can be seen for most cargo ship and people who will send a letter or package to someone. Utilizing a template will saves much time and effort to prepare for a shipping label. You can also see Address Label Templates.
AI
MS Word
Pages
PSD
Publisher
Download
Sample Shipping Label Template
AI
MS Word
Pages
PSD
Publisher
Download
Mail Shipping Vintage Label Template
AI
MS Word
Pages
PSD
Publisher
Download
Free Sample Shipping Label
Free Download
Packaging Shipping Labels Format Download
Barcode Label Shipping Vector Sample
Customs Sample Example Format Shipping Label Template
Vector Illustration Of Sail Sample Ship With Label
Oceanic Label and Shipping Label Format
Classic Gold Red Black Example Shipping Label
Example Vintage Books Label Shipping Label
Sample Example Format Travel Wise Shipping Label
Black and Gold Format Shipping Label
Shipping labels seen in online template are formatted in a manner ready to be used for downloading and printing. These  Label Templates offers free samples of shipping label that suits the needs of most companies. Customizing the example chosen will also help you for easy printing afterwards.
You may also like
18+ Inventory Tag Templates – Free Sample, Example Format ...

20+ Return Address Label Templates - Free Sample, Example ...

Mailing Label Template - 10+ Free PSD, Vector AI, EPS Format ...

15+ Address Label Templates – Free Sample, Example Format ...

171+ Box Templates – Free Word, PDF, PSD, Indesign Format ...

Blank Ticket Template – 21+ Free PSD, Vector EPS, AI, Word Format ...

Inventory Spreadsheet Template - 5 Free Word, Excel Documents ...

Wine Label Template - 24+ Free PSD, EPS, AI, Illustrator Format ...

Delivery Note Template - 22+ Free Word, PDF Format Download ...

10+ Tag Templates - Free Sample, Example, Format Free ...

17+ Product Label Templates - Free PSD, AI, Vector, EPS Format ...

Blank Order Form Template – 34+ Word, Excel, PDF Document ...
© Copyright Template.netAll Rights Reserved 2021
Sours: https://www.template.net/design-templates/labels/sample-shipping-label/
With the growth of e-commerce, shipping labels on letters or packages that you send to customers are an essential part of the delivery process. As a business owner, these labels provide important information to you and also the customer. The easiest method of creating labels to use for your business is by using a shipping label template.
Shipping Label Templates
What is a shipping label?
A shipping label template contains the contact details of the receiver of either a product or a letter. Before sending anything out, make sure that the label contains accurate information. That way, the letter or item you send doesn't get lost. Using a template can save your business effort and time and make the process better as the old-fashioned way are not usually liked by people.
Why do you need this template?
A shipping or package label template is important because it contains information about the product you're shipping out and this information is essential all throughout the supply chain. With this, the movement of your item all the way to your customer's doorstep improves.
The label contains the required information to help both machines and men to understand the origin of the customer's item and its destination. Simple as it is, the design of this label and its purpose are highly efficient. But you should also choose the right template for your business – and this depends upon your requirements.
You can either download a shipping return label template then customize them or make your own from scratch. Create labels for all kinds of shipping needs to make it easier to conduct your business. Since shipping is one of the most common business functions in many organizations, this template is essential.
Package Label Templates
The different sizes used
Simply put, a shipping label template is a document consisting of a label layout. From this definition, you can start designing your template easily. If you have the skills, you can create your own template. Otherwise, you can download a template, customize it for your business, and use it.
Before that, you must know the size you need first. Shipping and package label templates come in the following sizes:
Letter Size
This is the most common standard size used in the USA. The dimensions are 8.5″ x 11″. These sheets contain several labels with varying sizes. You can add several labels as long as they fit into the paper size. The letter size is commonly used in schools, businesses, and churches, among others.
Legal Size
Although less popular than the letter size, this is also considered a standard size in the country. The dimensions are 8.5″ x 14″. Most printers used for letter-size labels can also print on legal size sheets. Use this when you need to add labels at the bottom part of a letter-sized sheet.
Tabloid Size
Here's another standard size in the US although it's not used as frequently. The dimensions are 11″ x 17″. Unfortunately, you cannot print this size if you only have a small office printer.
A4 Size
This is an international standard size for shipping labels. It has almost the same dimensions as the letter-sized label. Use this when shipping items to other countries.
A3 Size
Like the A4, this is another international standard size with dimensions of 420mm x 294mm. It consists of two A4s sheets placed side by side.
You can find different sizes of templates online. As long as you know what you need for your business, you can find the right-sized template and download it.
How do I get a label template in Word?
If you know how to use Microsoft Word, you can design your own shipping and return label templates quickly and easily. First, you need to get the free shipping label template in Word. To do this, follow these steps:
Click the Mailings tab.
Click on Labels.
Choose Options.
Click New Label.
That's it! Then all you have to do is input the name and measurements of your new template. You can get this information from label manufacturers.
return label templates
How do I create a shipping label?
As a general rule, you would use a shipping label template to create labels during the ordering process. Carriers have their own specific requirements for shipping labels. It is, therefore, not recommended for you to fill out a label or create your own template by hand.
Before you make a shipping label for your business, you must first know the carrier's requirements so that you can comply. For this you can either:
Visit the post office in your locale and ask for a sample of their labels for shipping.
Make the label yourself using your computer.
Buying labels from the post office means that you're buying postage at a retail rate. Just remember that this is the costliest tier of pricing when it comes to shipping labels. If you own a business and you ship items out regularly, making your own labels is the more economical way.
This offers more benefits including postage discounts and scheduling pickups of packages rather than waiting at the post office. Furthermore, that are also ways to automate the process, which leads to minimizing manual input as much as possible. You can learn how to make your own shipping labels through the following methods:
Use online tools to create your template
This is very convenient as each carrier has their own online tool where you create the labels that fit their specific specifications. Visit their website, input the required information, and forward the file to the printer.
But there is a downside to this. This is not the quickest method because, for each carrier, you have to visit the website and input the information manually.
Use a software to make your template
This method allows you to download a carrier's template for shipping labels. After the download, you can access the template on your computer and input the required information. You also have the option to customize the process with the possibility of automation, as well as, the option to work offline.
Use a shipping tool
With this, you can automatically gather order information from several platforms and carriers so that you can fill forms faster and more efficiently. If you acquire a good shipping tool, you can connect directly with carriers, acquire the order information you need for the label, and automatically generate the labels using the appropriate template.
GraphicsLabelShippingShipping Label
Sours: https://printabletemplates.com/graphics/shipping-label/
How to set up WooCommerce Shipping Label-Wordpress plugin
.
Format shipping label
.
Shopify How to Print a Shipping Label to Fullfill an Order with USPS Flat Rate
.
You will also be interested:
.
2669
2670
2671
2672
2673