Main Content Starts Here
Nowhere else would a bundle of freshly-picked flowers feel more at home than in a beautiful vase. Get started on vase decor for your home with these trends and tips.
Vases as centerpieces. Even if you choose to leave your vase empty, it will still work beautifully as a centerpiece. You can place vases directly on the table's surface or over a tablecloth or table runner – just make sure to choose a color that will stand out!
Vases on bedside tables. A vase in the bedroom is a wonderful idea – choose a design and color you love to complement your bedroom's style. Bonus points if you include fresh flowers!
Vases as entryway décor. Place a vase with your favorite flowers in an entryway or foyer to greet your guests with statement style – and sweet aroma! Whether placed on a console table, shelf or accent table, vases are great ways to help a space feel defined.
Vases as kitchen décor. The kitchen isn't just for cooking – it's also for decorating! Place a vase near the sink, along the windowsill or up on a shelf. (Note: Kitchen cabinets also make great storage spaces for vases; especially if you have more vases than you can use at one time, and/or want to store away your summer vases during the winter months and vice versa.)
Seasonal vases. Speaking of summer vases, switching out your vase decor as the seasons change is an easy, affordable way to keep your aesthetic fresh. During the autumn months, look for vase colors associated with falling leaves, crackling fireplaces, and fresh autumn fruit like apples, pumpkins and acorns. During the winter months, look to vase colors like blues, silvers – and, if you're feeling festive, Christmas reds and greens. During the summer months, bright yellows, pinks, oranges and greens will fare best and make your space feel hot-weather ready; during spring, opt for vases in pastel yellows, greens and pinks to match the budding gardens.
Vases as gifts. Yes, these designs do make perfect gifts for friends' and families' birthdays, housewarming parties, or "just because!" What makes an even better gift? A vase filled with the recipient's favorite flowers! (Housewarming parties in particular are hotbeds for vase gift-giving, and for good reason: These designs are easy to decorate with, blend in with most home decor styles and make fun accessories – for the new homeowner, they're the perfect gift!)
Vases for symmetrical décor. If you want a room to feel balanced, these designs can help. All you need are two identical vases – each one placed opposite the other. For example, in a bedroom with two nightstands (one on either side of the bed), place a vase on one stand and its twin on the other. The result of "symmetrical pairing" is a timeless, pulled-together aesthetic. (You can also do this in the living room if your sofa has an end table on either side of it!)
Sometimes, a home décor purchase as simple as a vase is all it takes for a home to feel "new" again.
What does that mean?
While the site is in maintenance mode some features won't be available. This includes adding items to the cart, viewing your order history, placing orders, customizing items, checking delivery times and delivery status.
You can still browse our products during this maintenance.
Thank you for your patience!
---
This maintenance is scheduled to end in about 69935424 hours and 45 minutes
---
No schedule found, reverting to max values
What does that mean?
Once the site goes into maintenance mode some features won't be available. This includes adding items to the cart, viewing your order history, placing orders, customizing items, checking delivery times and delivery status.
You can still browse our products during this maintenance, and items that you place in your cart before maintenance begins will still be there after we're done.
---
This maintenance is scheduled to start in about 69935424 hours and 43 minutes, and should last just a few seconds
---
No schedule found, reverting to max values
Sours: https://www.livingspaces.com/departments/home-decor/home-accents/vases
If you have been here for any time it must be evident that I LOVE flowers and flower arranging. I love large wild arrangements with branches and vines and small posys in unique containers. Over time I have transitioned from traditional vases to interesting and unususal containers to better fit my aesthetic and make my arrangements a littl more interesting. Today I thought I would share 15 Unique vase ideas from rustic to classic, in the hope that you might get inspired to use something different for yur next flower arrangement. I'm also including some shoping sources for you, so be sure to look for those!
This post contains affiliate links.
1) Vintage Champagne Buckets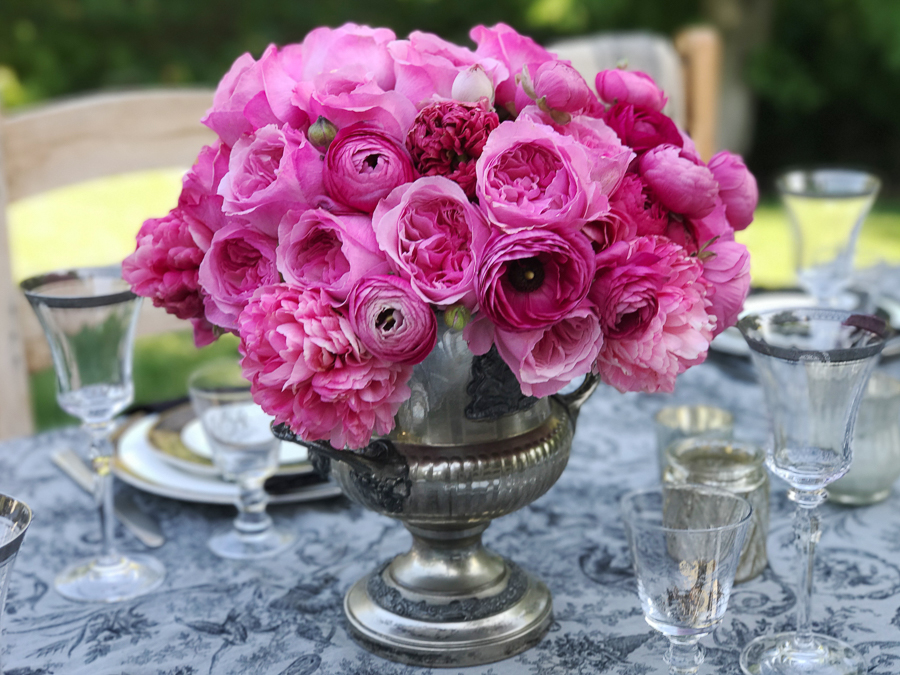 I LOVE using vintage silver pieces for my arrangements and centerpieces, and this champagne bucket is one of my all-time favorites! I've previously shared an easy centerpiece tutorial, showing how to create a similar look by mixing fresh and faux flowers.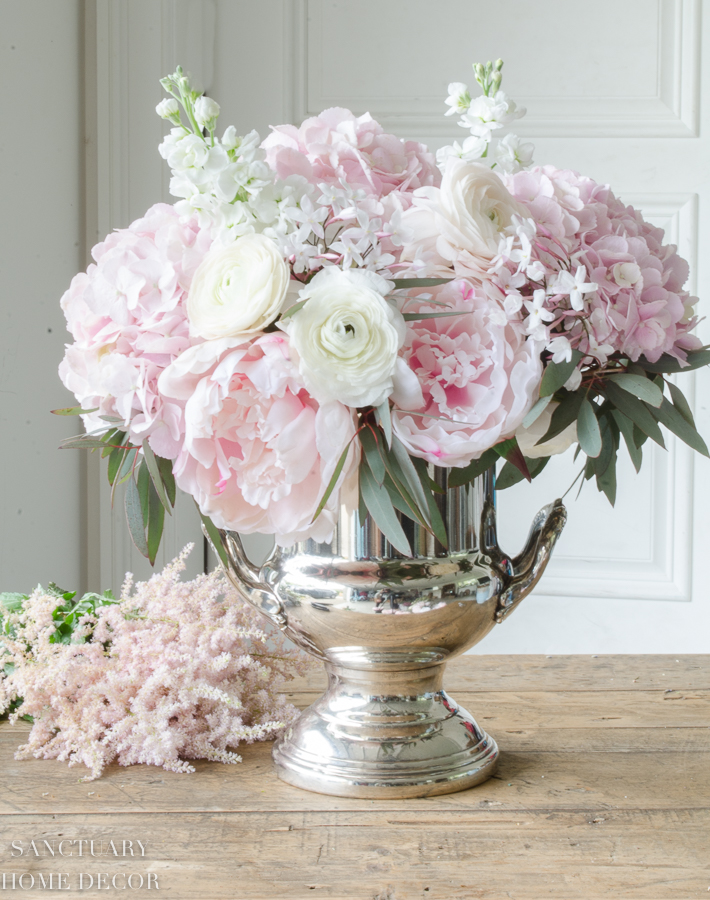 2. Footed Bowls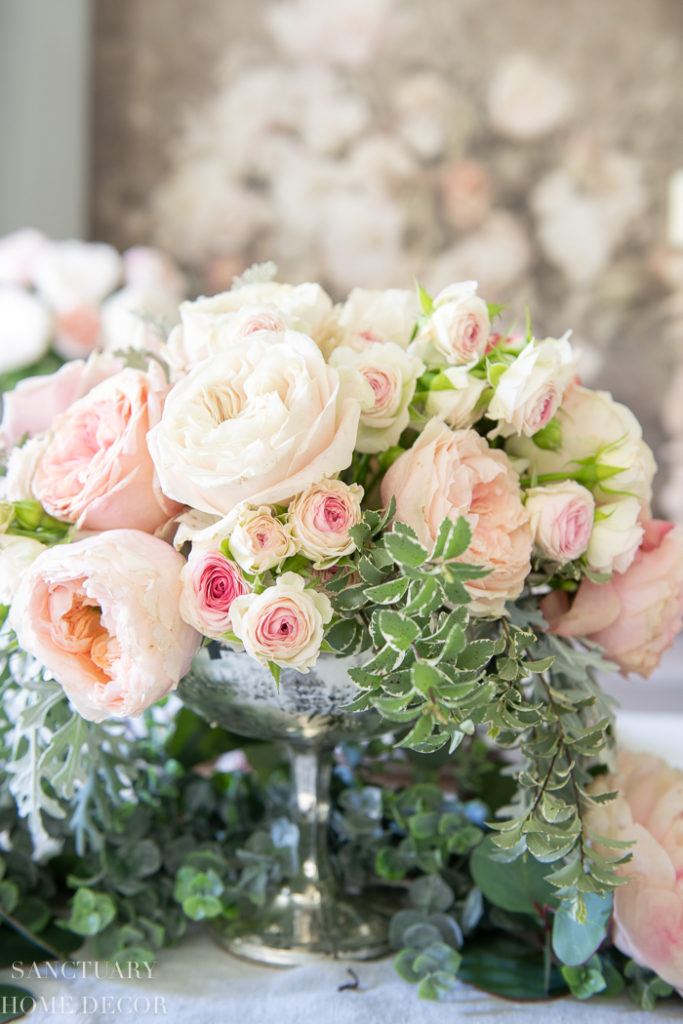 One of my absolute favorite floral container is a footed bowl. There are a ton of beautiful options available in every metallic finish and also in ceramic.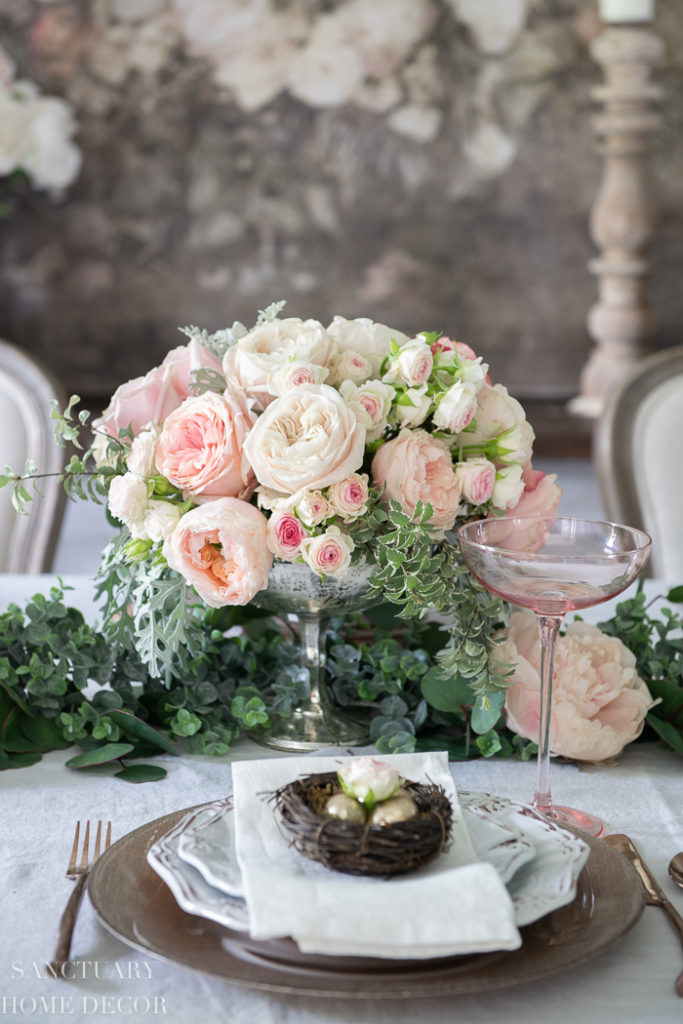 You could also use a footed compote that you might ordinarily use for food. Be creative with this option. You probably have something in your house you never thought of using!! This Spring Table Setting is one of my all-time favorites!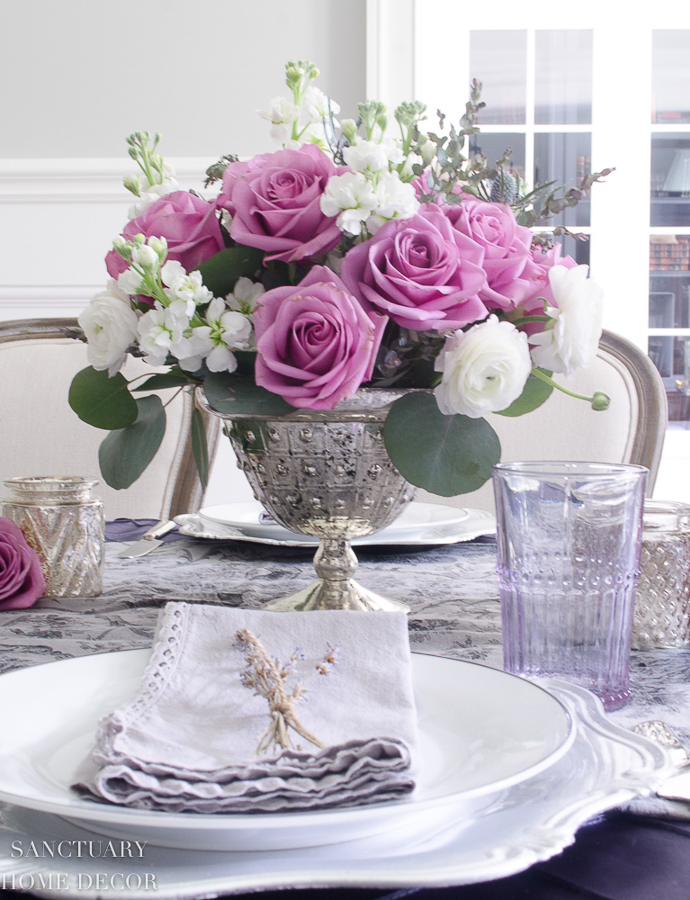 I shared all of the details about how to make a rose centerpiece in a footed bowl awhile back..
3. Vintage Coffee Pots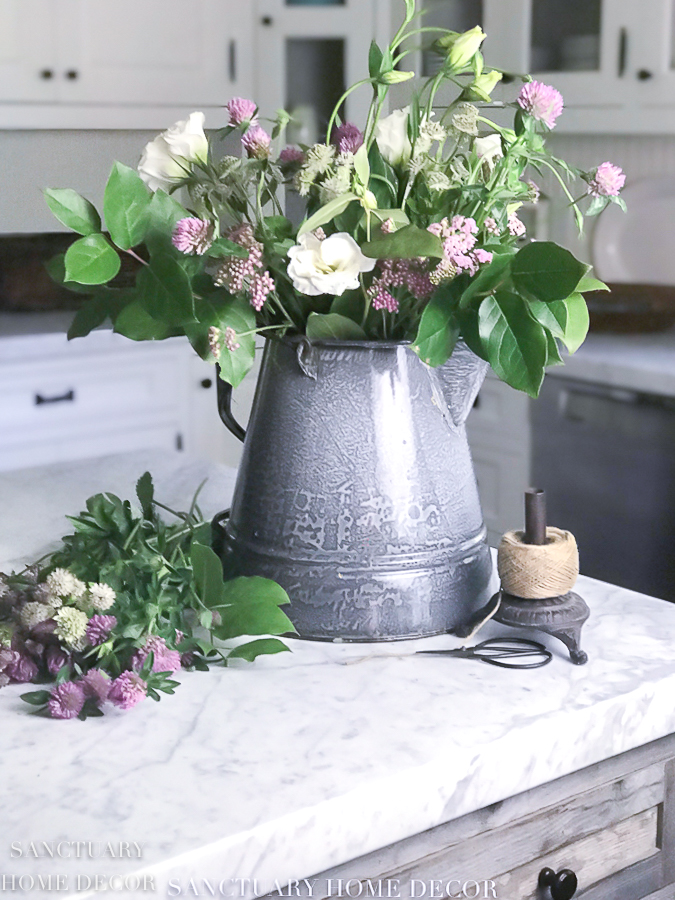 I found this vintage coffee pot at one of my favorite second hand stores in Montana and use it nearly every week for greens and wildflowers. This is the perfect size for a kitchen center island or dining table.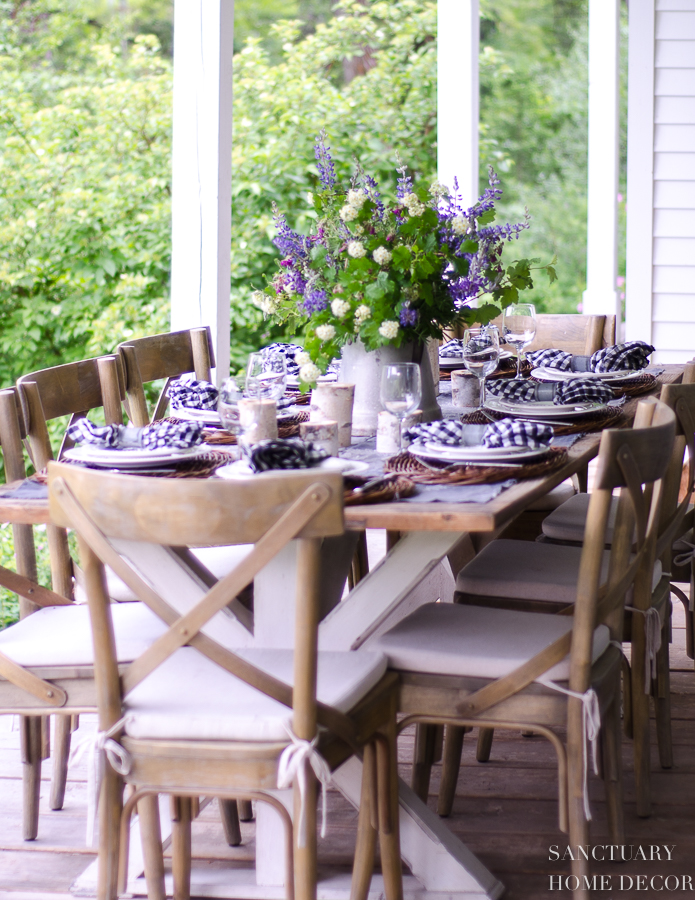 I also have a great zinc coffee pot that works perfectly for our outdoor dining on the porch.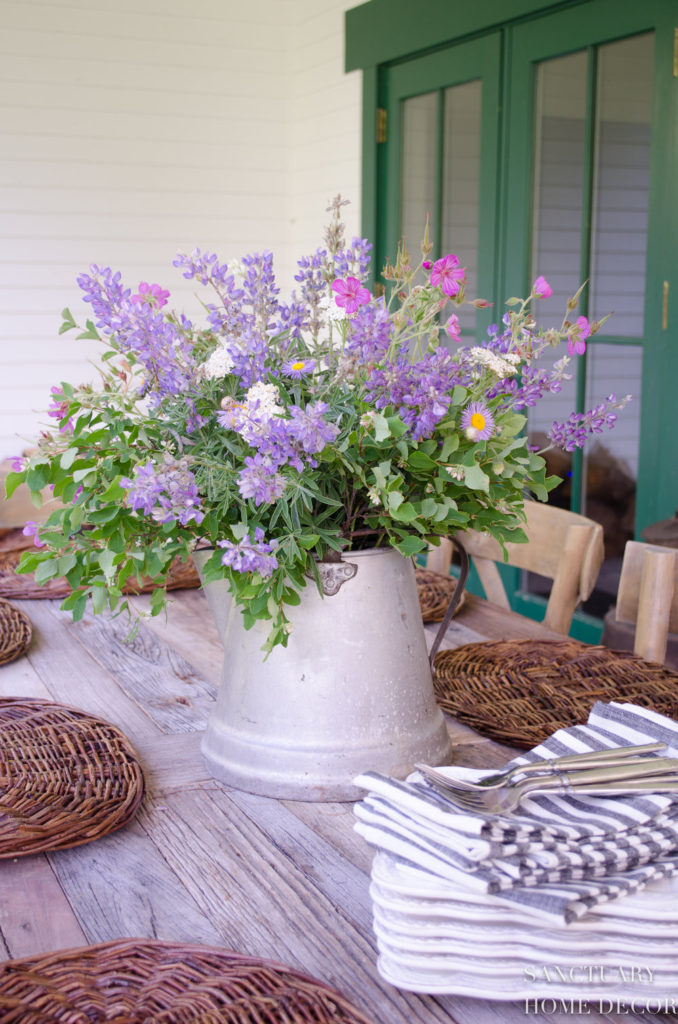 Click to see a tutorial on how to make a wildflower arrangement using a vintage coffee pot.
4. Urns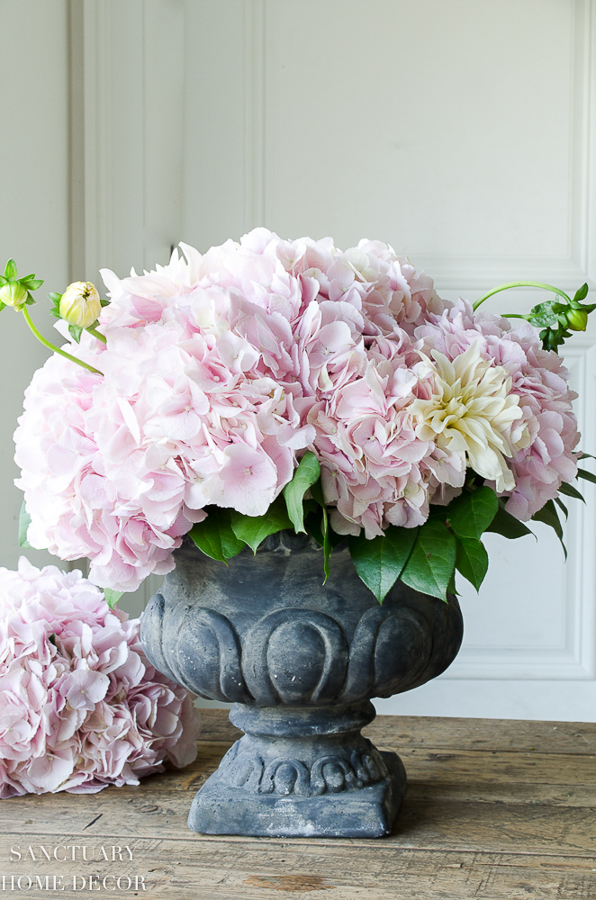 I found this cement urn at a vintage shop many years ago and have used it as a flower container for quite awhile now. I love how solid and bulky it is, especially with beautiful greenery spilling over the sides. I have used this urn for spring arrangements with pink hydrangeas and for a stunning Thanksgiving centerpiece on my holiday table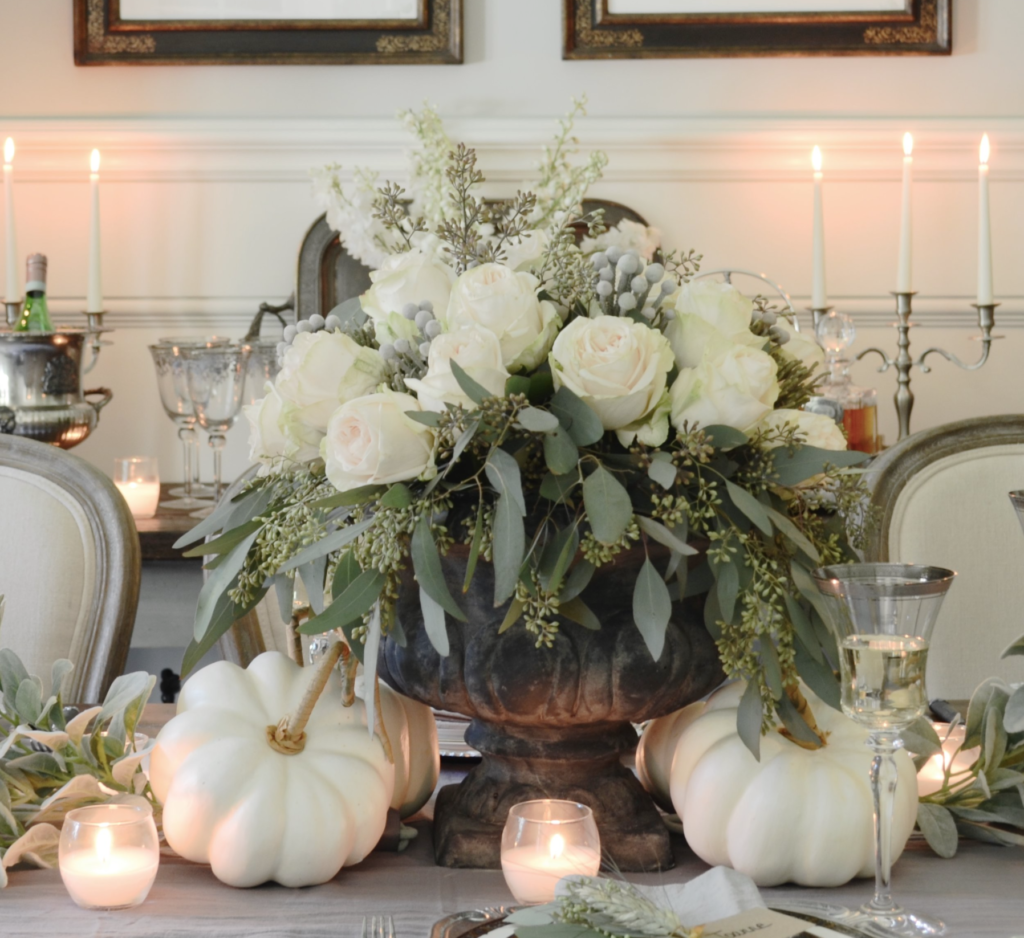 I also use this beautiful metal urn that I found at a vintage shop last year for oversized floral arrangements. In order to make sure it is watertight, I add plastic lining before I arrange the flowers.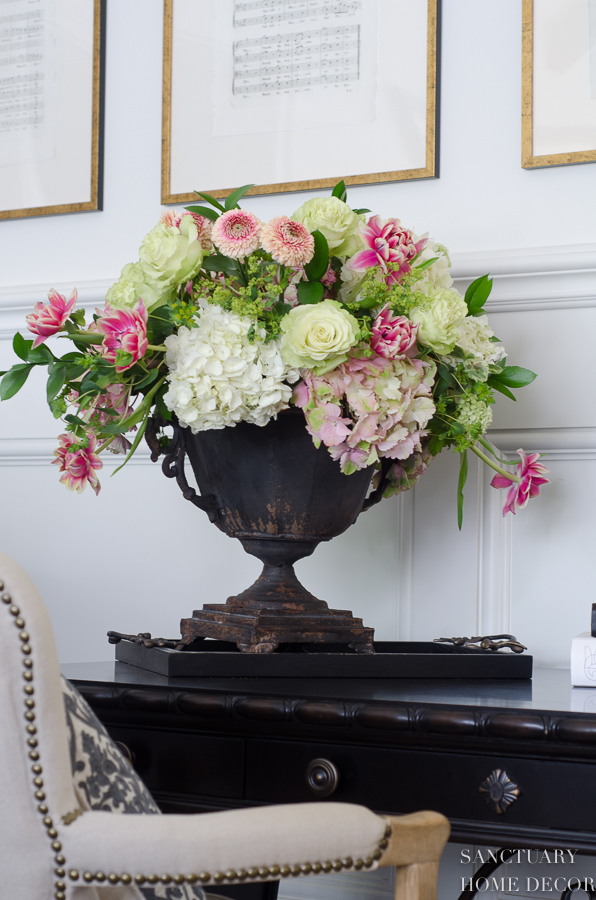 And these vintage cast iron urns are staples in my home. I use them not only for fresh flower arrangements, but also for faux flower centerpieces in those in between months.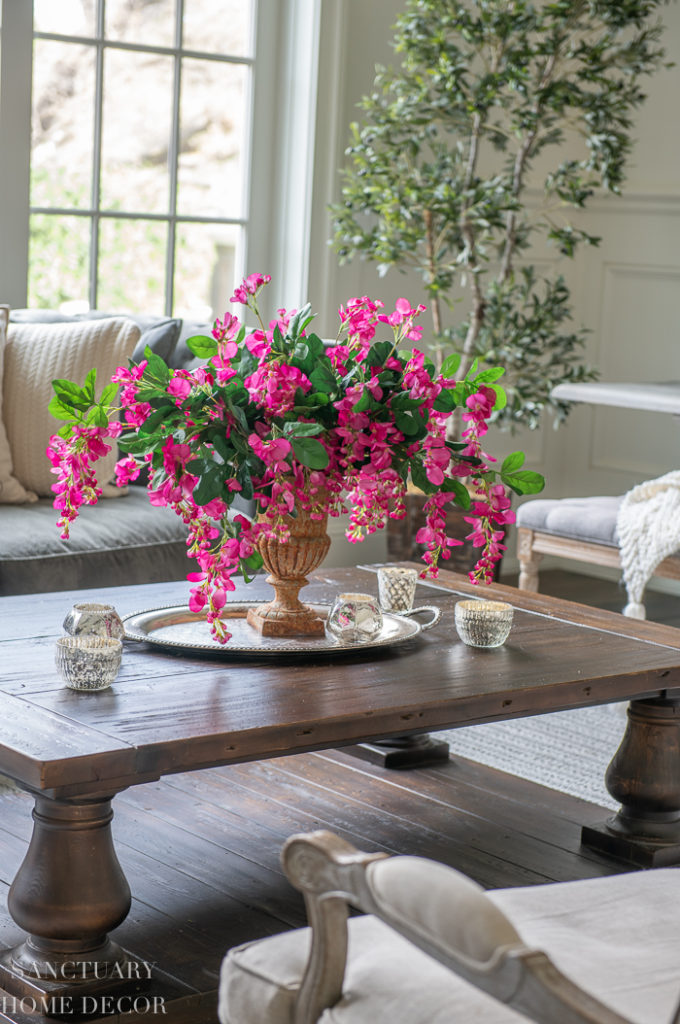 A pair of cast iron urns are the perfect vessels for my favorite faux peonies!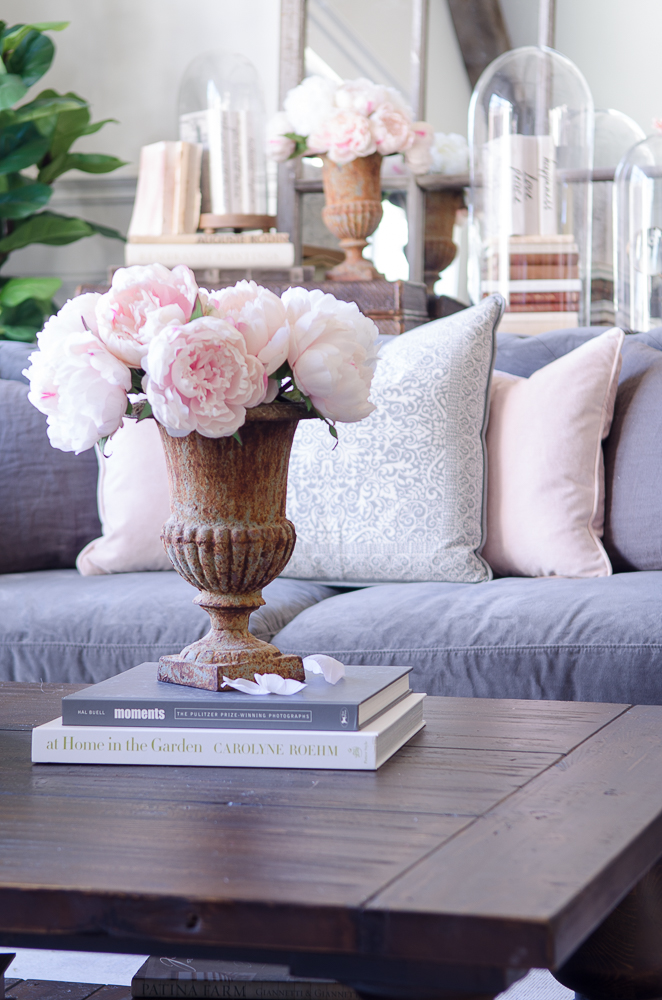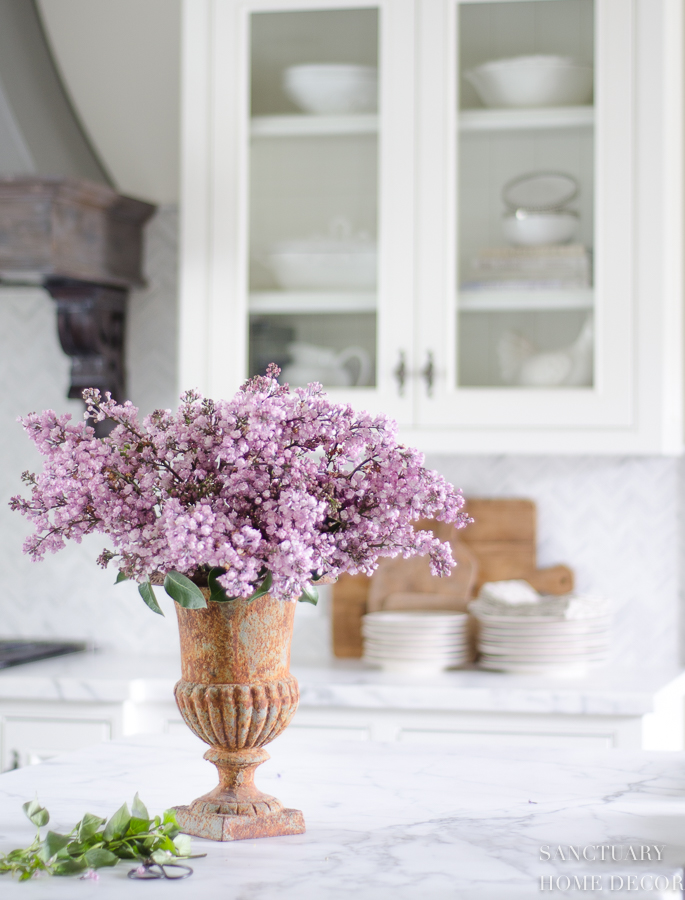 5. Fishing Creels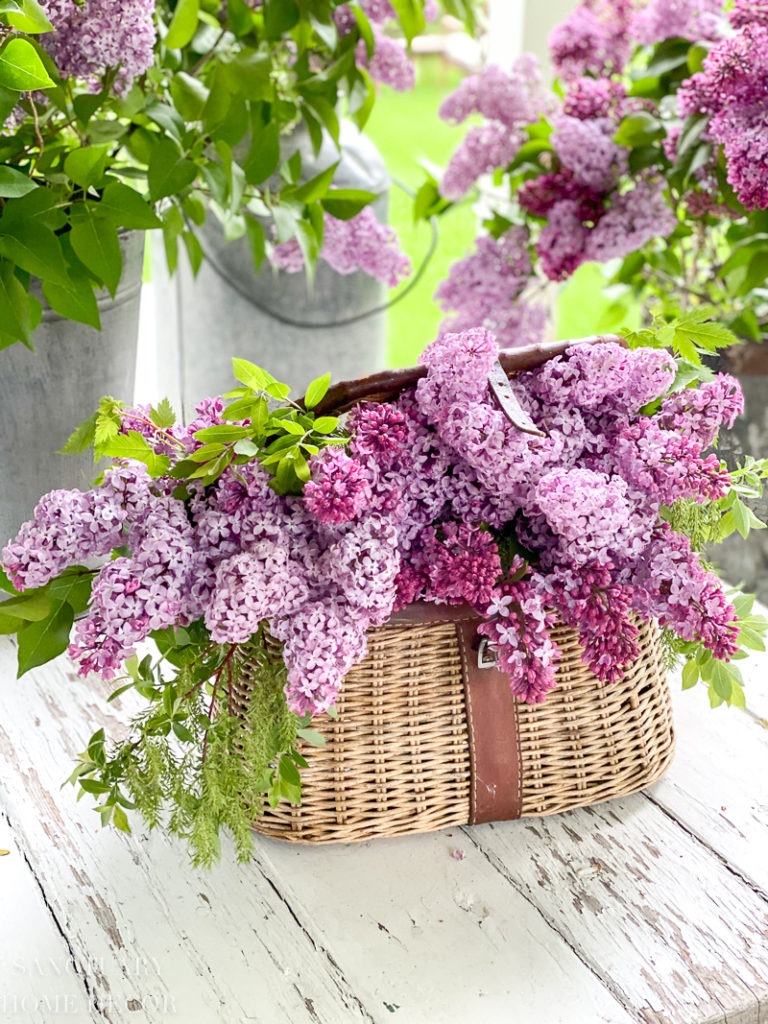 Baskets are a great way to display flowers in a unique container and nothing is more perfect than vintage fishing creels. I started collecting these when we found our ranch in Montana and decided they looked much prettier filled with flowers than they did filled with fish!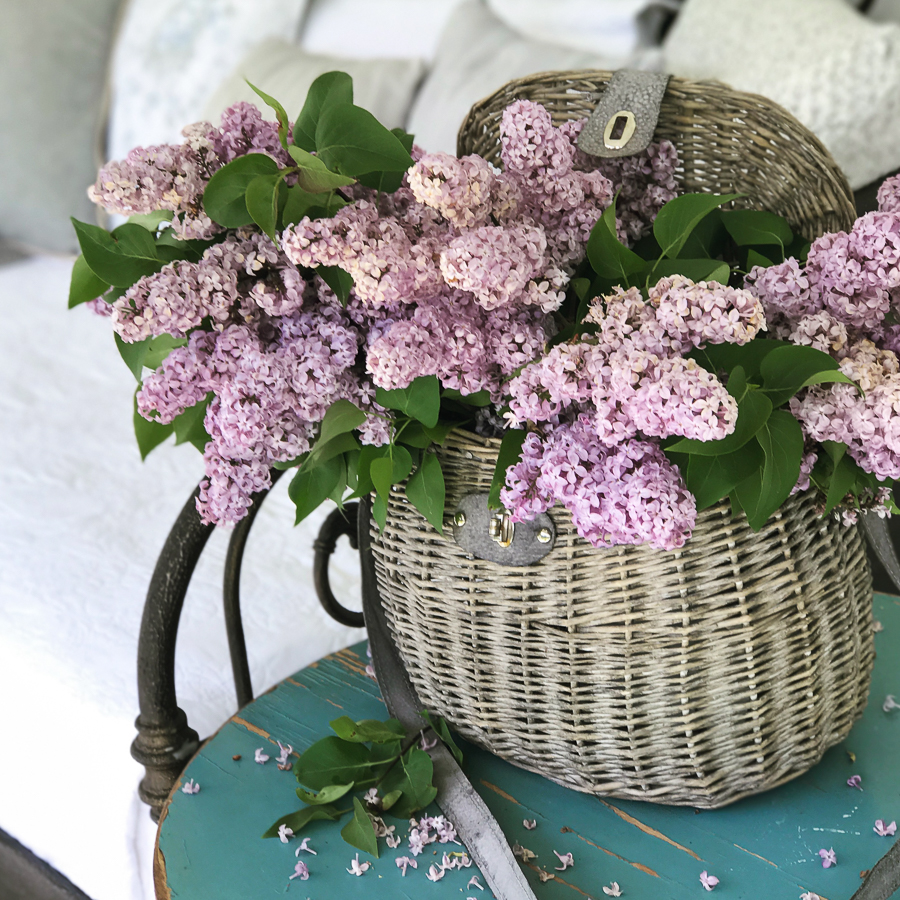 I shared a step-by-step guide for arranging flowers in a basket on a recent blog post.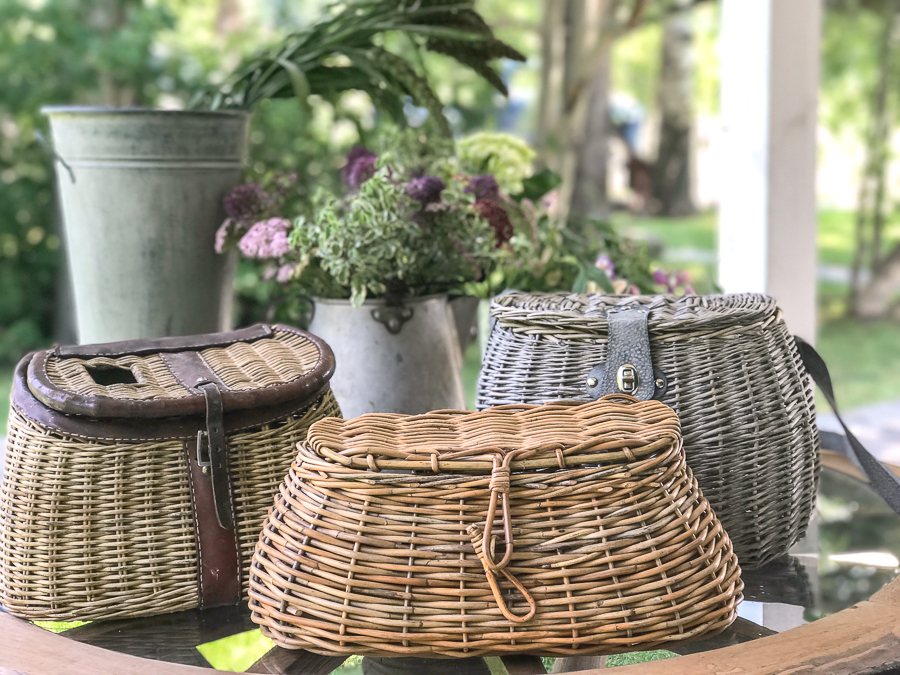 The great thing about these types of baskets is they can sit on a table or hang on a door or wall! I think this is a great way to display fresh flowers in a basket and wrote a whole blog post about how to create this look.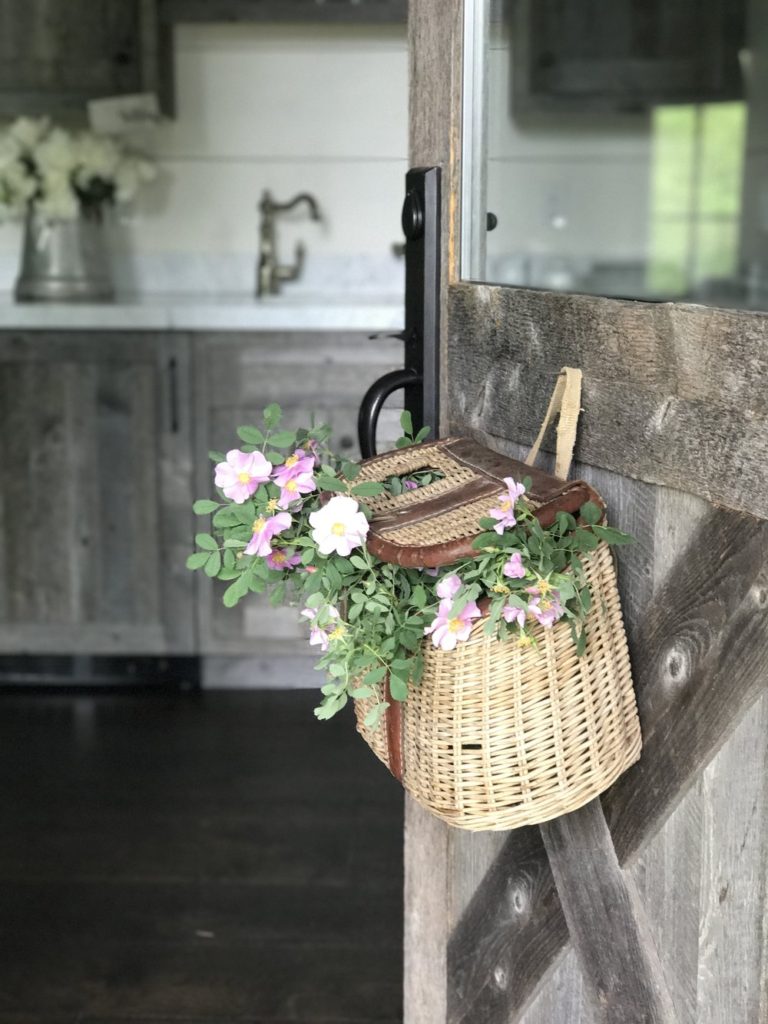 6. Wooden Boxes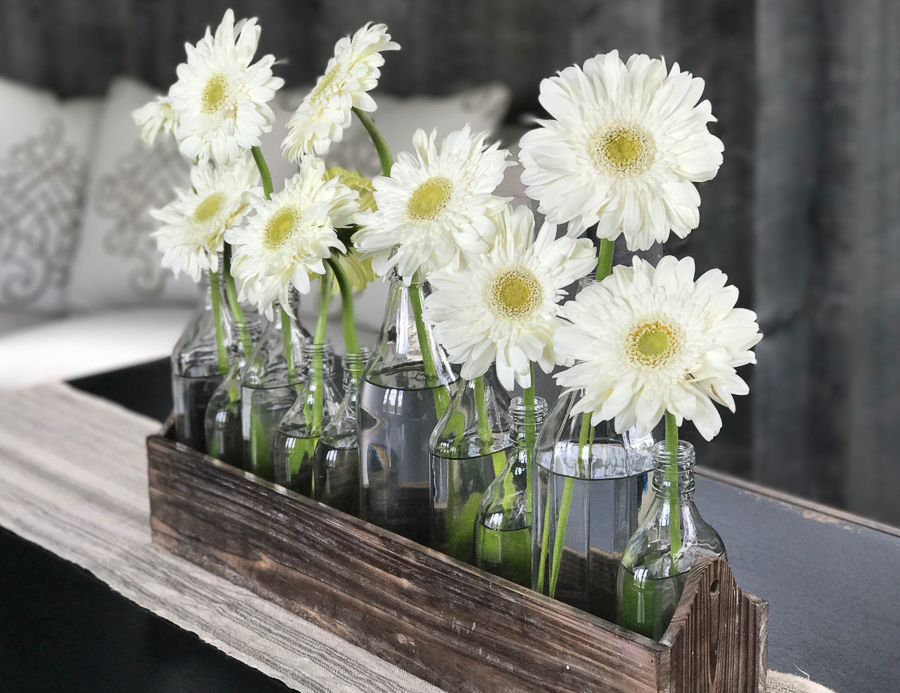 This is one of my all time favorite EASY centerpieces! Filled with bottles it is so easy to create a beautiful centerpiece with this look. I cannot tell you how often I grab a bunch of flowers at the market and put them in this vase. I always get questions about it and have given the source to many friends!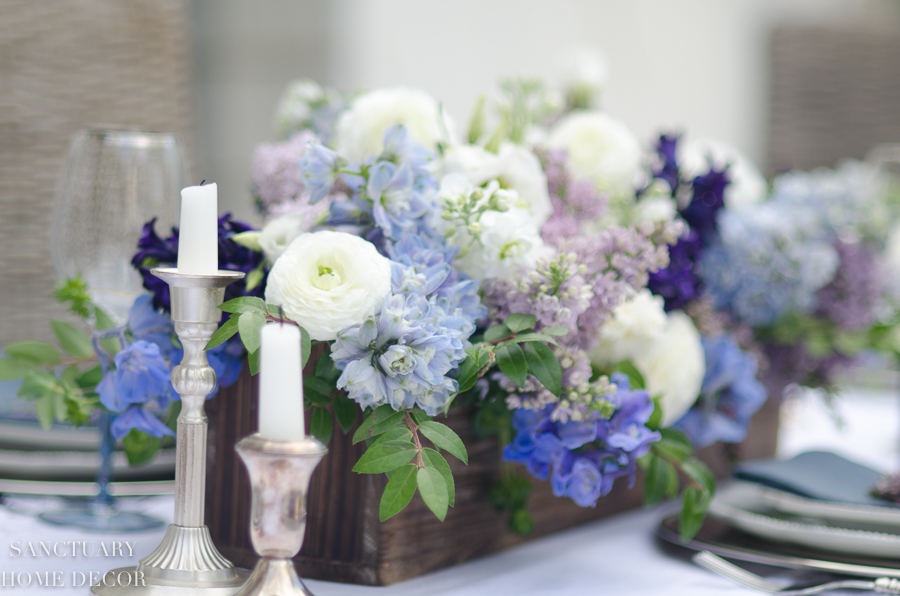 And without the bottles, a plastic liner and a bit of chicken wire of floral foam transforms this box into a beautiful centerpiece for any table. I created this beautiful orchid and rose centerpiece in just three simple steps and it was absolutely stunning.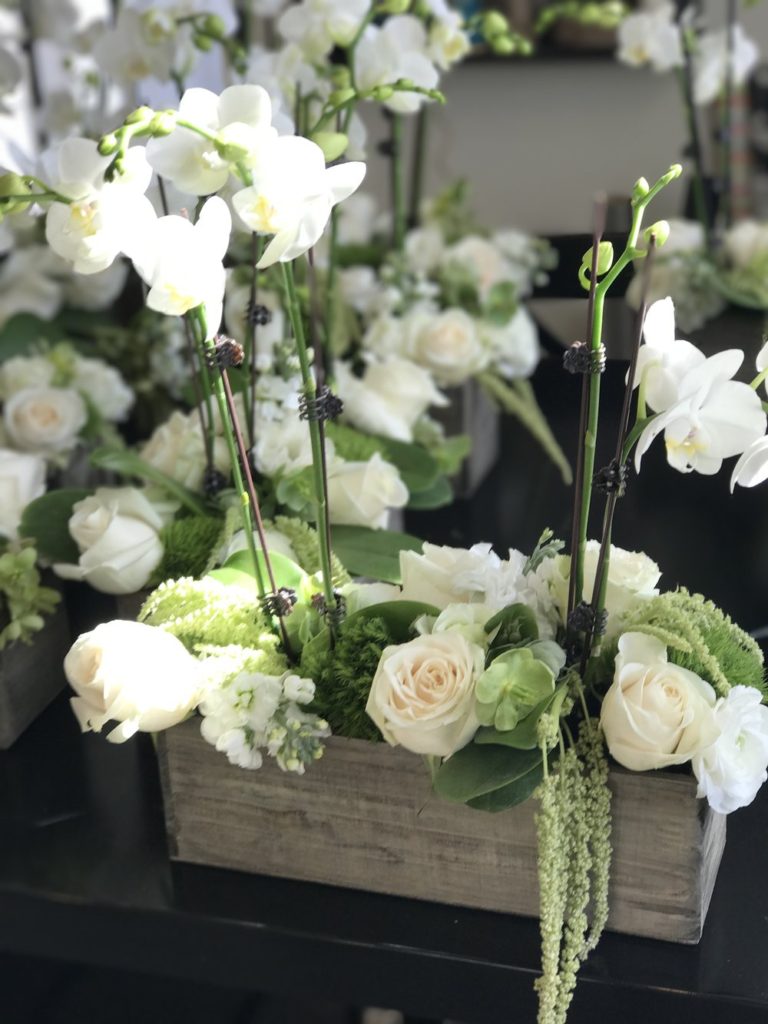 7. Clay Pots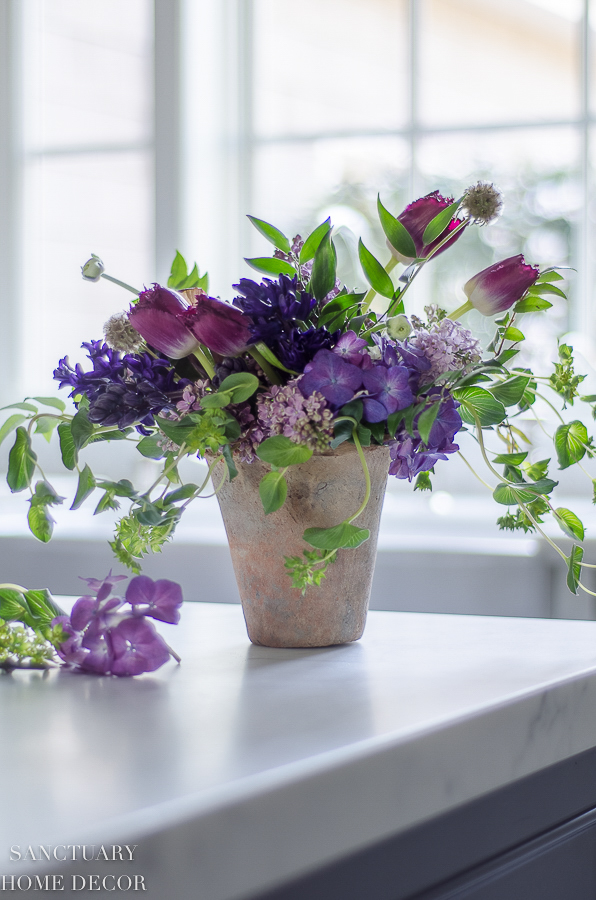 Although not traditionally used for fresh flower arrangements, clay pots are a great way to give an arrangement that fresh from the garden feel. Just line the pot with plastic to keep it water tight. I created this pretty spring arrangement using market flowers and they magnolia arrangement was made using beautiful faux stems!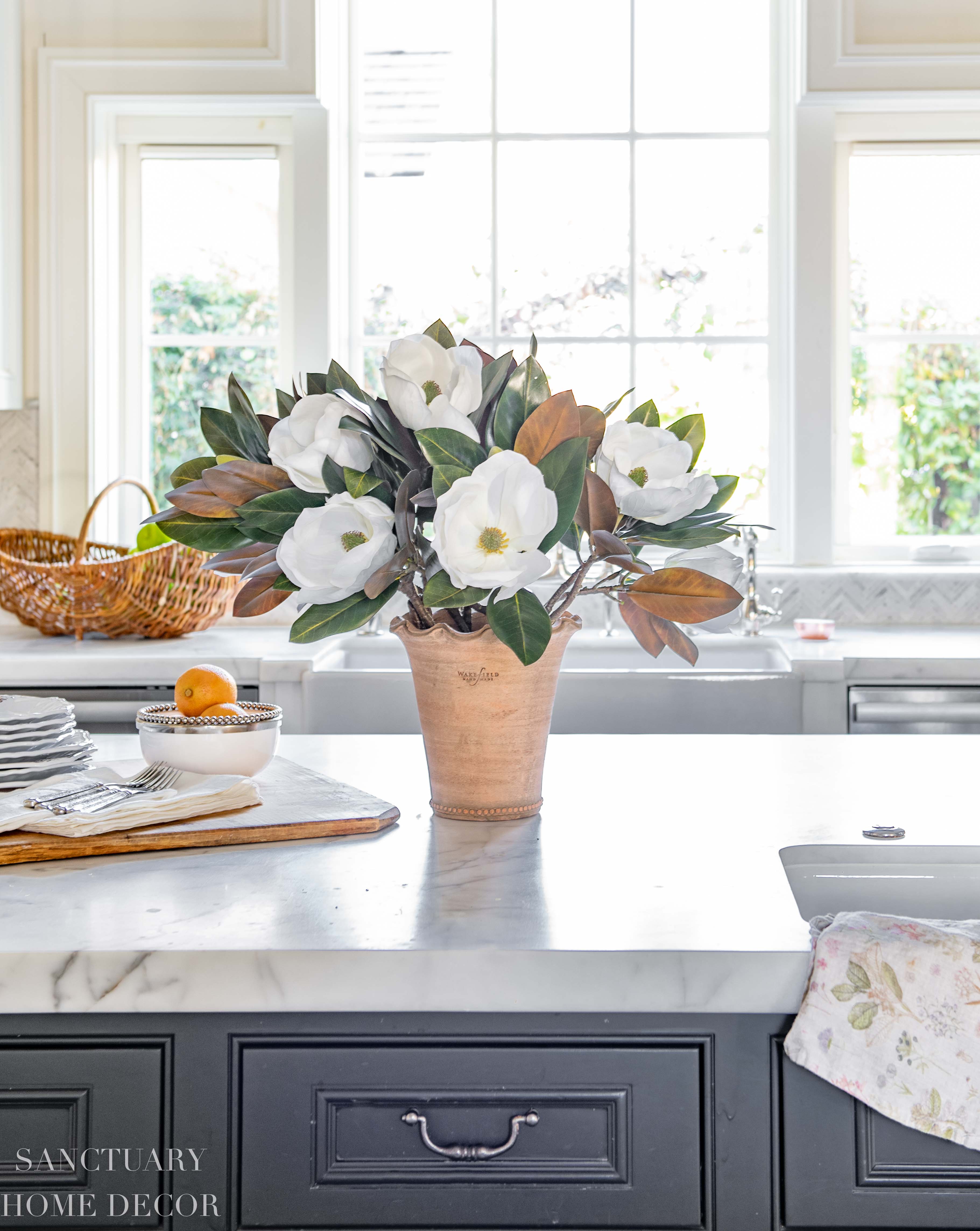 8 . Old Buckets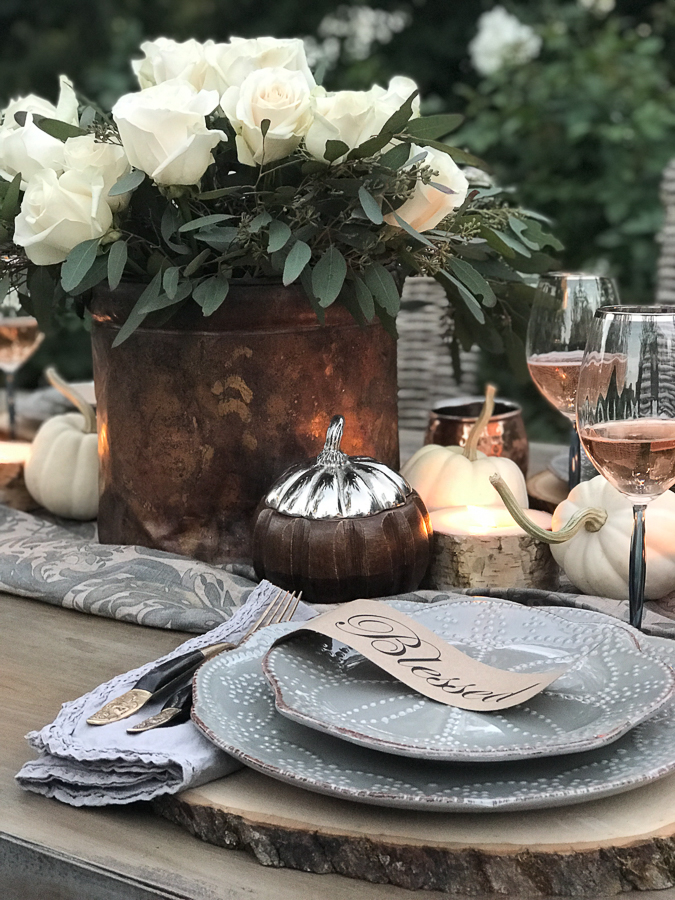 I would not normally use a dented old copper bucket for a table centerpiece, but sometimes it is just what is needed. In this case, I wanted a rustic feel and was using some copper elements on the table, so I put some eucalyptus and roses in this bucket and it was the perfect container.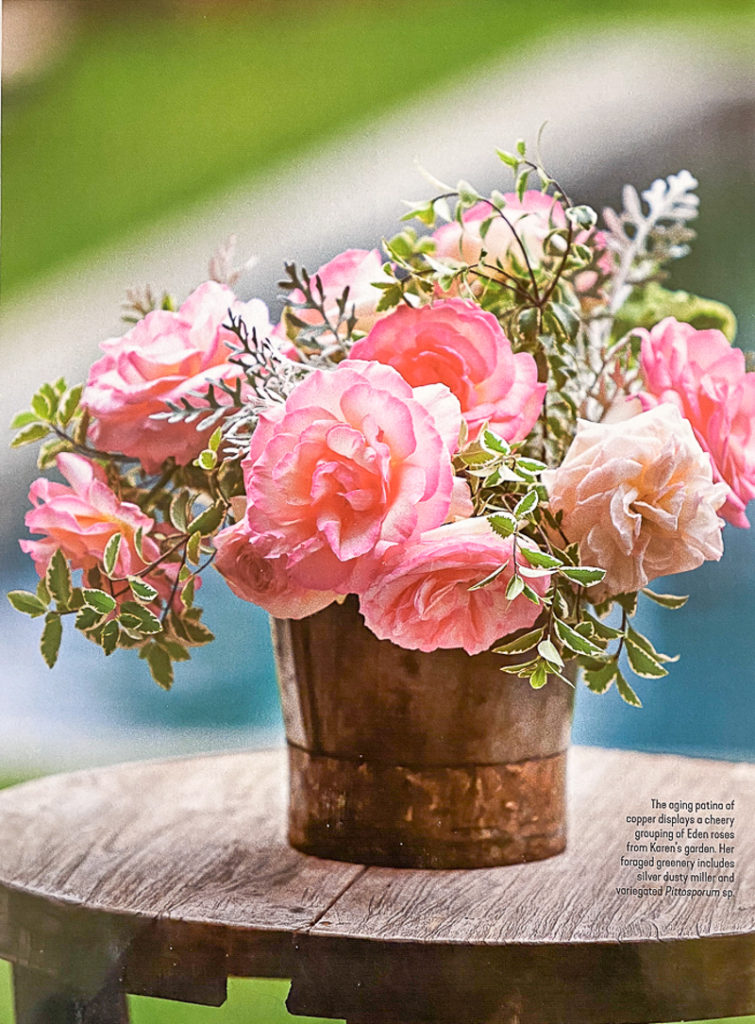 This vintage French bucket was the perfect vessel for my garden roses when Country Gardens Magazine came over for a photo shoot!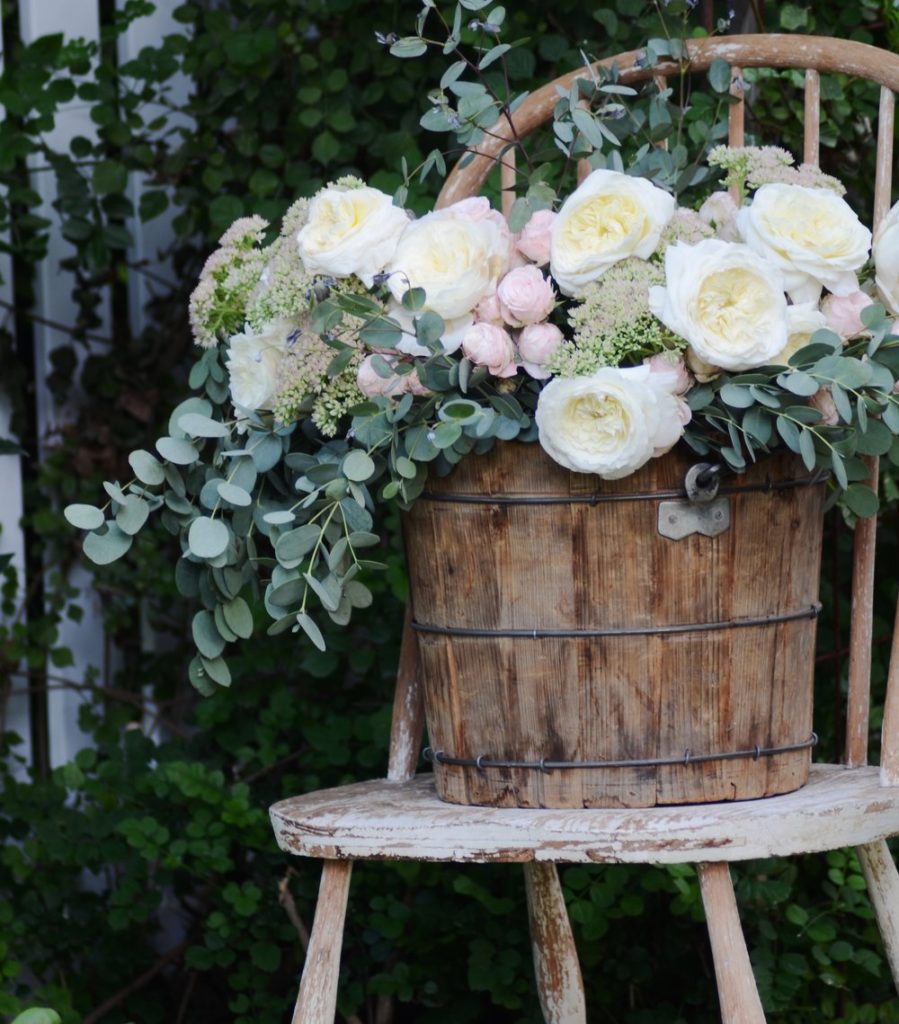 Similarly, this old wooden bucket is the perfect vessel for garden roses and eucalyptus. I put a watertight vase inside the bucket to keep the flowers fresh.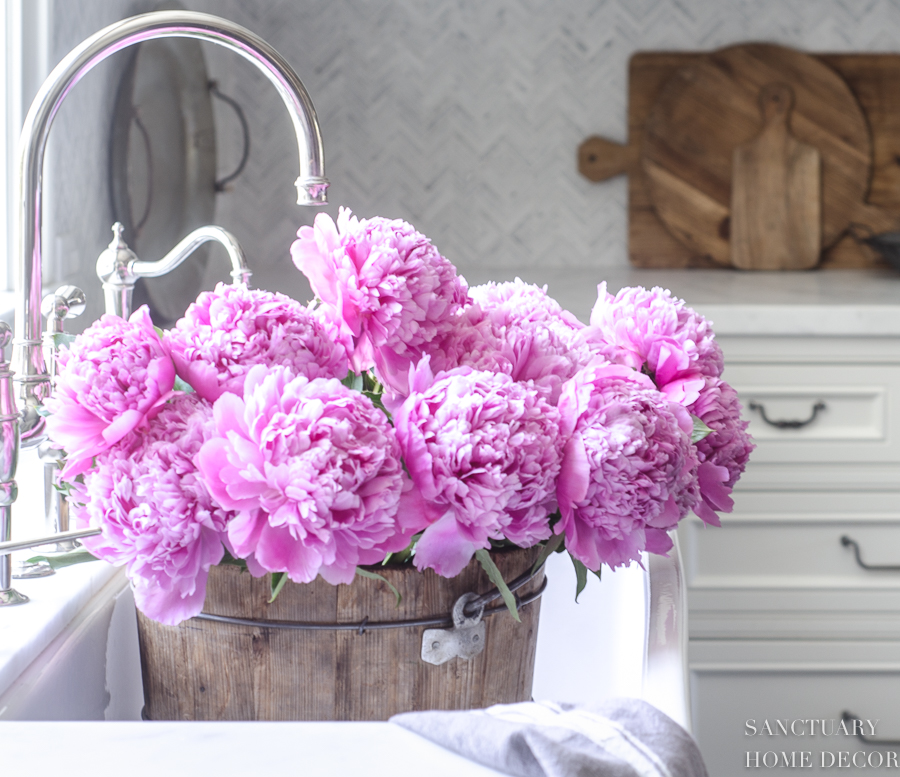 9. Silver Beverage Buckets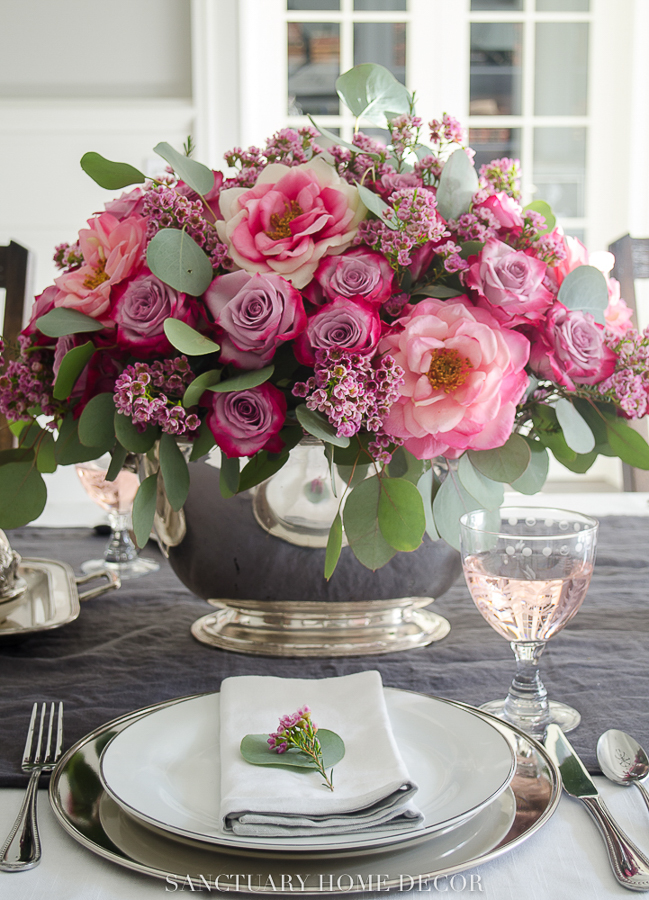 If I'm having a party, I often use this beverage bucket to chill wine or sparkling water, but sometimes I need a large vessel for a centerpiece and this is always a go to item. I use floral foam inside the bucket to keep all of the blooms fresh and in place. This was an incredibly dramatic centerpiece for a pretty spring tablescape. (By the way…some of these flowers are faux…can you tell!?)
10. Picnic Baskets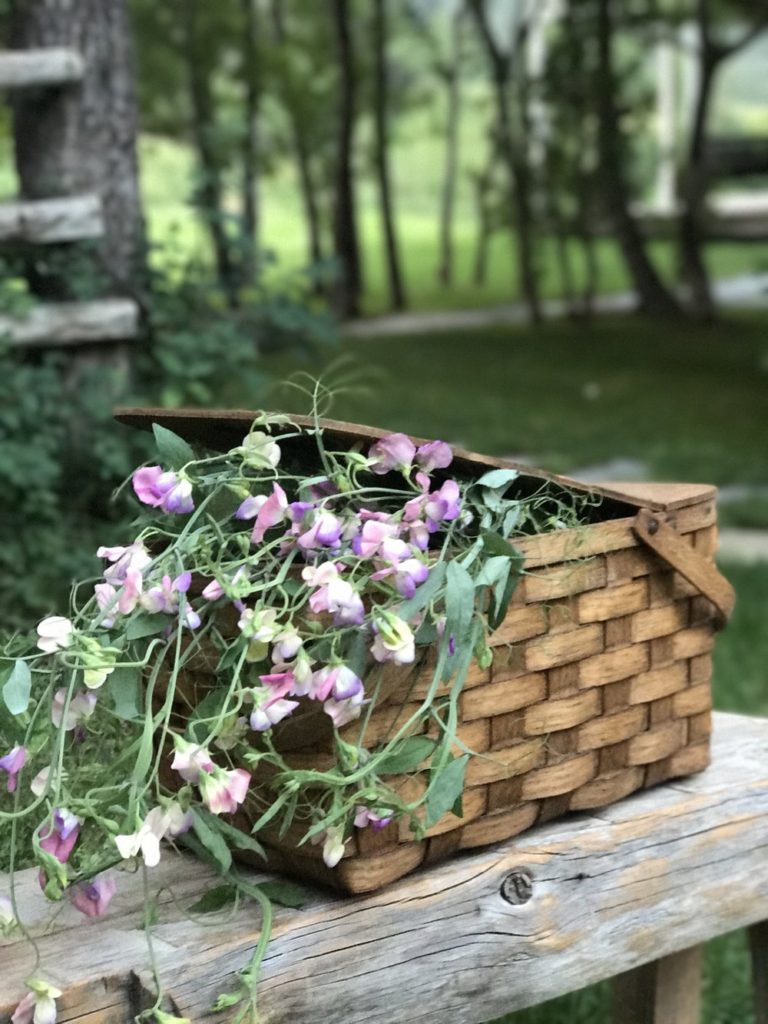 What is prettier than a bunch of fresh flowers spilling out of a picnic basket? I love this look so much and often use these on my kitchen island or in the middle of a casual dinner table. The same technique can be used that I describe for fishing creels. Get all of the details HERE.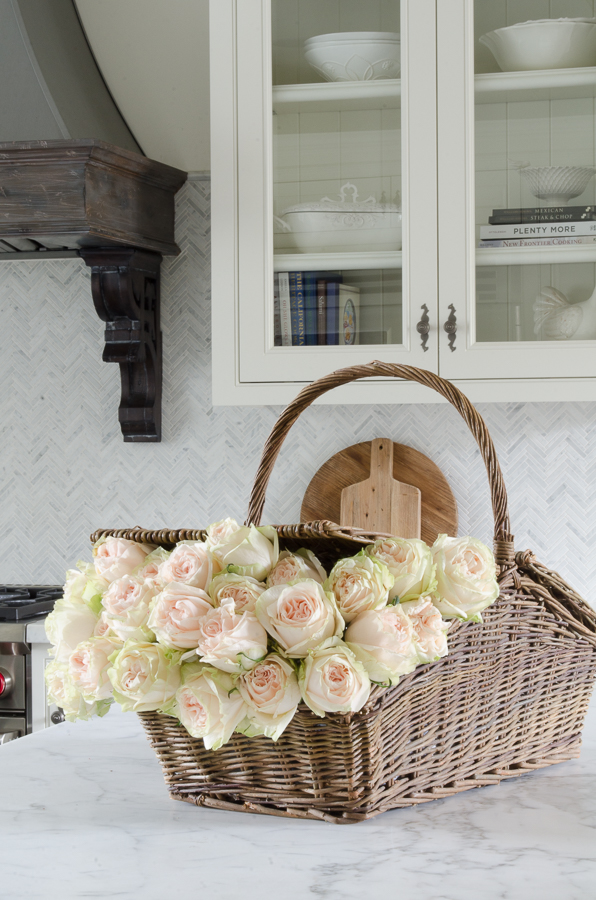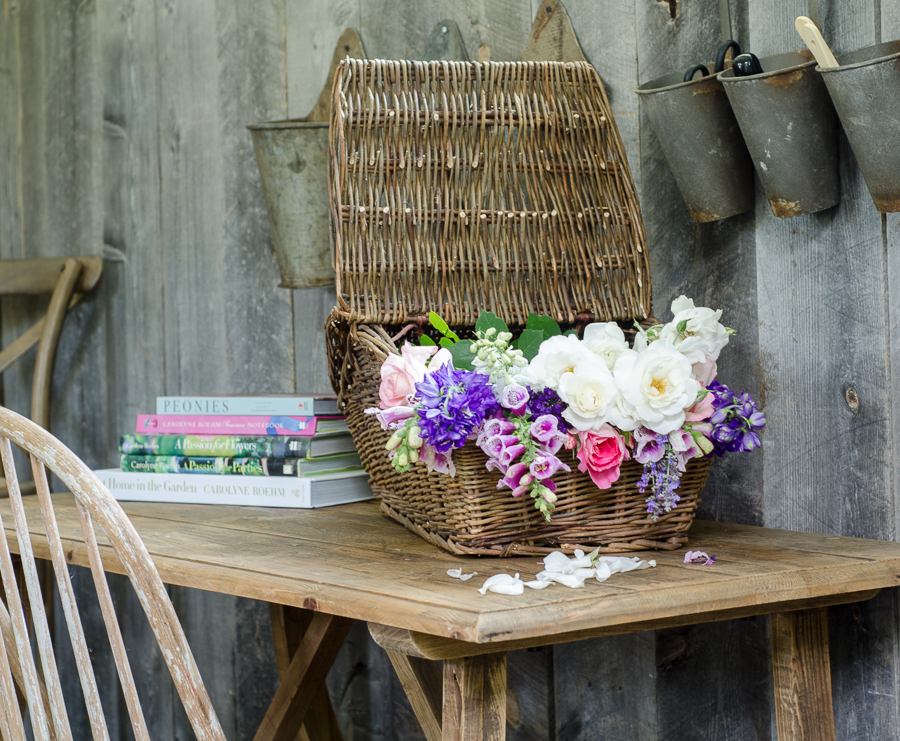 11. Sugar Bowls
When it comes to unique vase ideas, this is one of my favorite petit containers to grab for a small arrangement. I have several sugar bowls that often just sit in my cupboard, so when I need a little arrangement for a bathroom or small table, they are the perfect size!
12. Tin Cans and Pencil Holders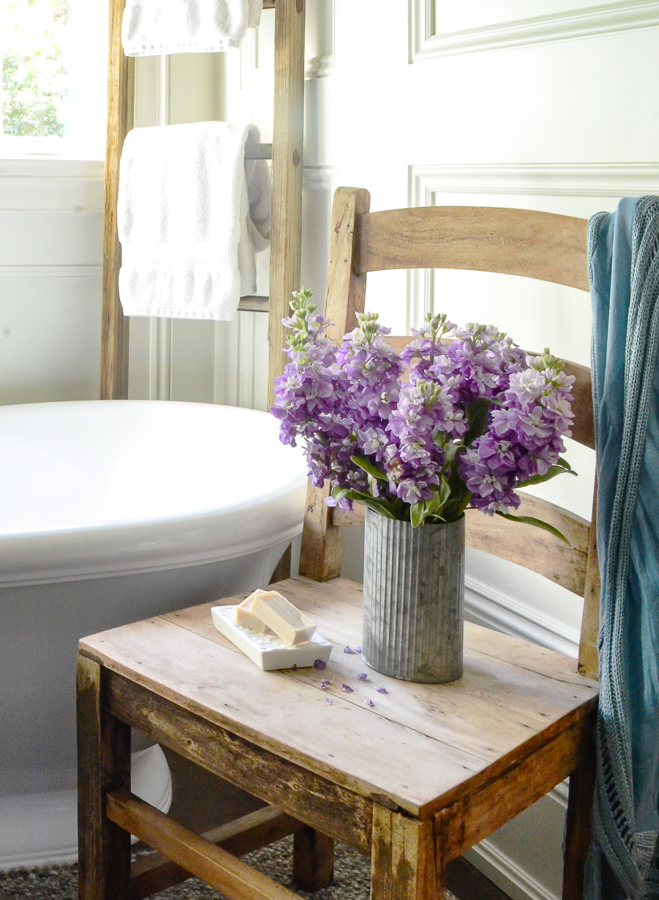 On occasion, I have been known to empty out my pencil holder and put fresh flowers in it. The same is true with the tin can from last night's dinner. Just take off the label and you have a great rustic country arrangement.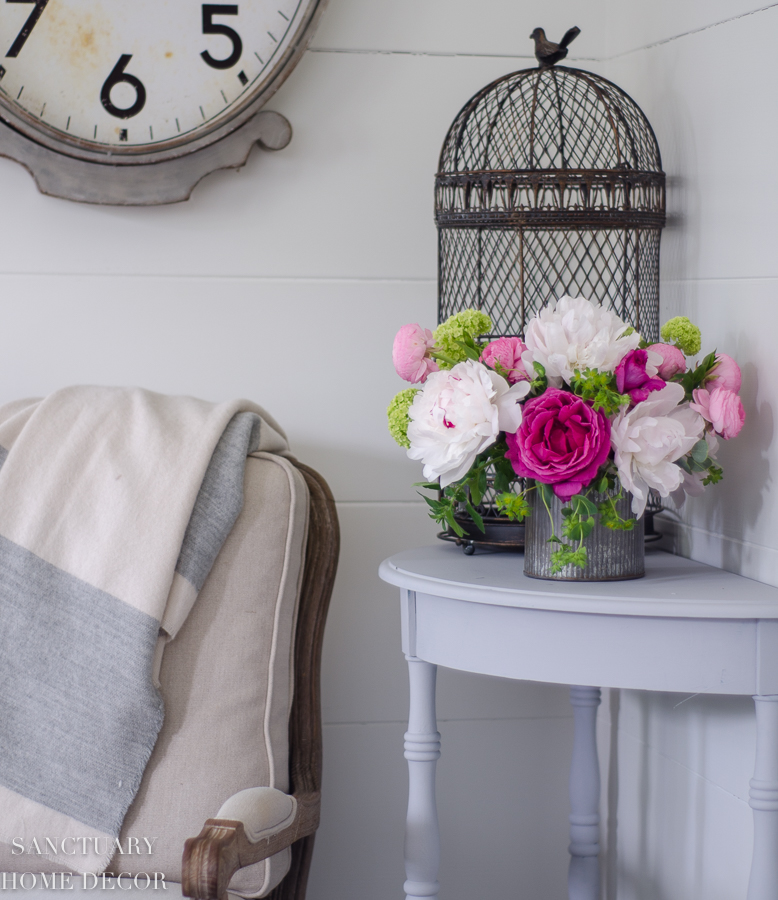 This simple spring arrangement was so easy to make in just minutes
13. Rectangles & Squares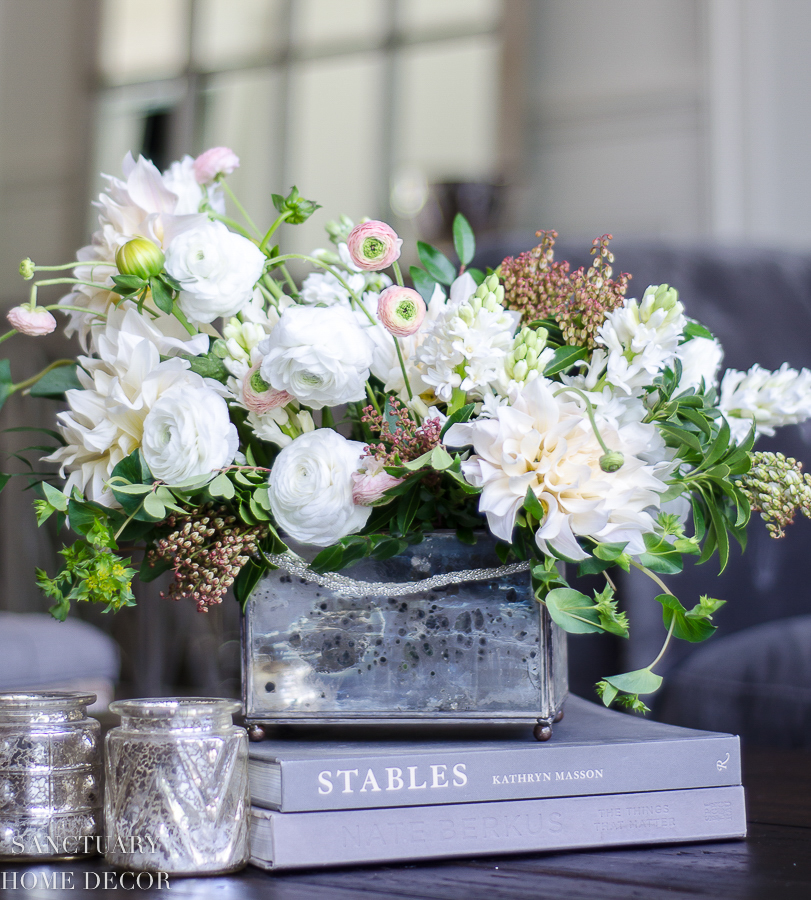 I love to move away from traditional round containers and explore some different shapes. This pretty mercury glass container has held candles in the past, but with the addition of some chicken wire inside, it becomes the perfect vessel for an elegant arrangement.
Wood or cement squares are great for a more structured arrangement. Use a plastic insert to keep the container watertight and some wet floral foam to keep your arrangement secure. I posted a tutorial on how to make this white rose arrangement in 3 EASY STEPS a few weeks ago.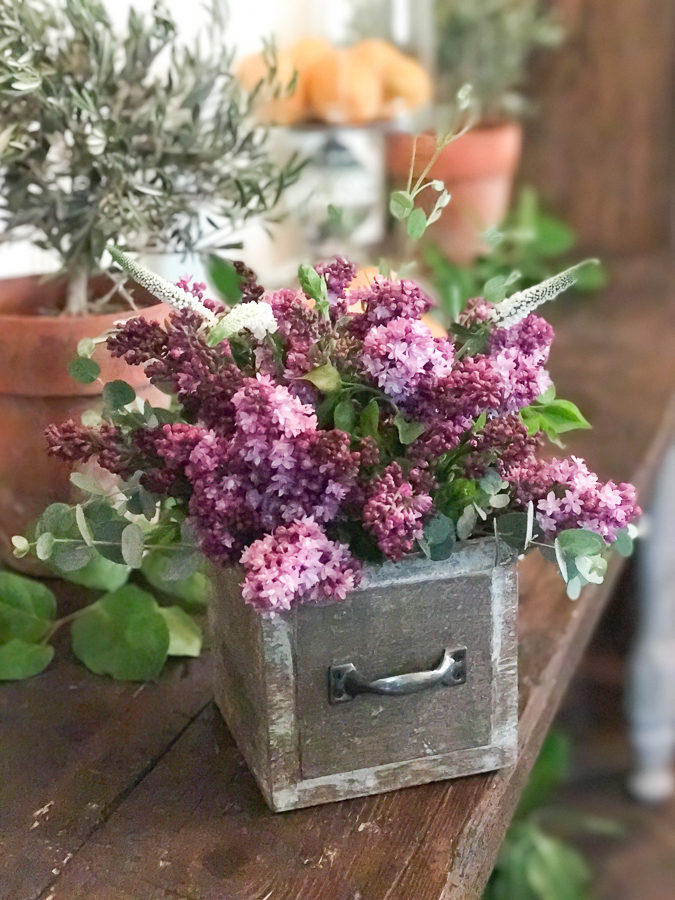 14. Vintage Milk Cans
Another vintage find that I have been collecting for awhile is vintage (and some reproduction) milk cans. I love these as vessels for larger branches. They are often not watertight, so my solution is to put a large vase inside the milk can to hold water and keep my flowers fresh.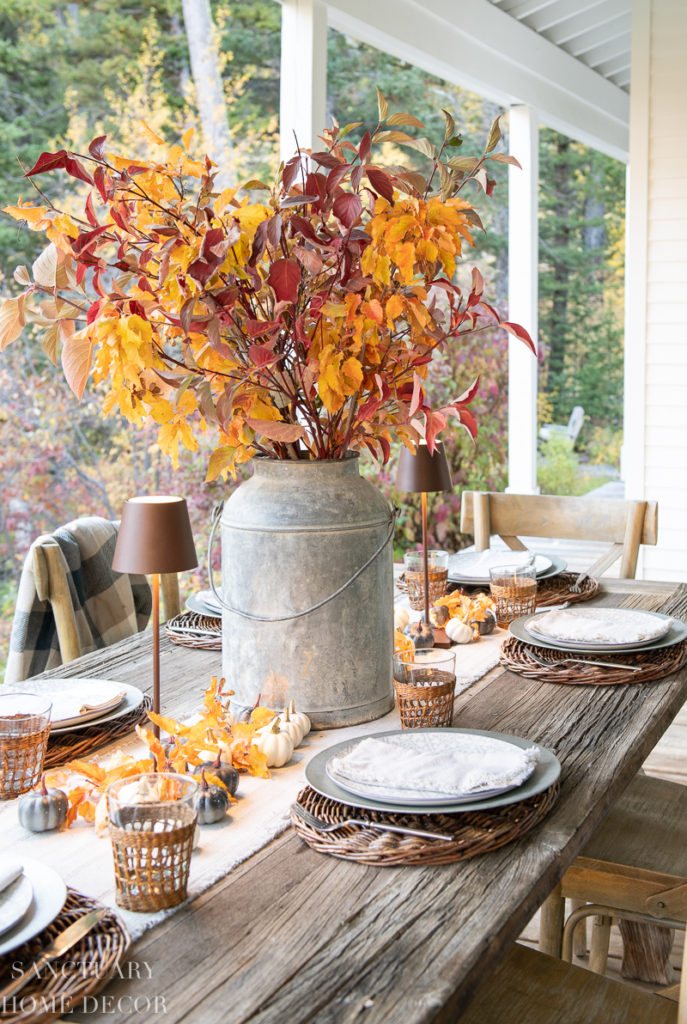 There are some great reproductions available that work great for large and small arrangements.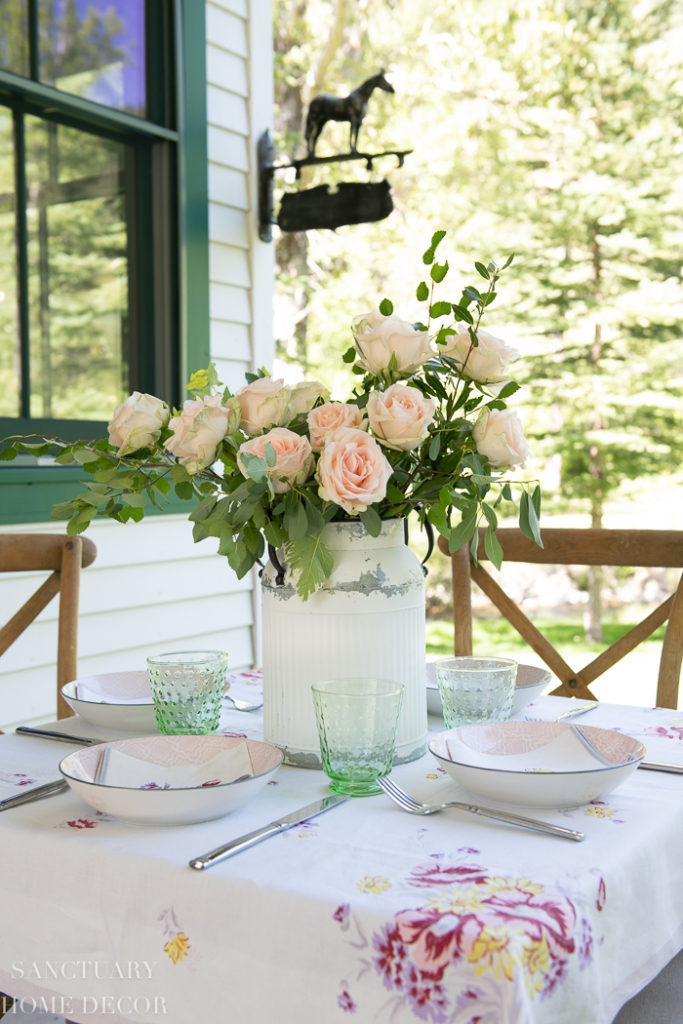 15. Pitchers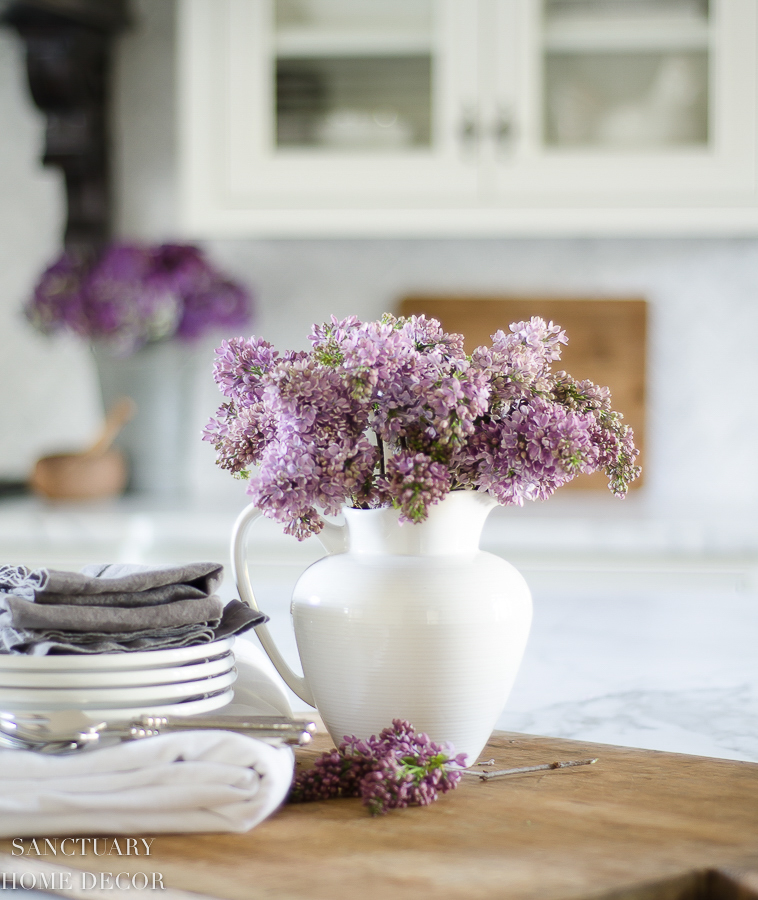 Maybe not the most unique but often the prettiest in it's simplicity. I love to use my water pitchers for an easy arrangement in any season.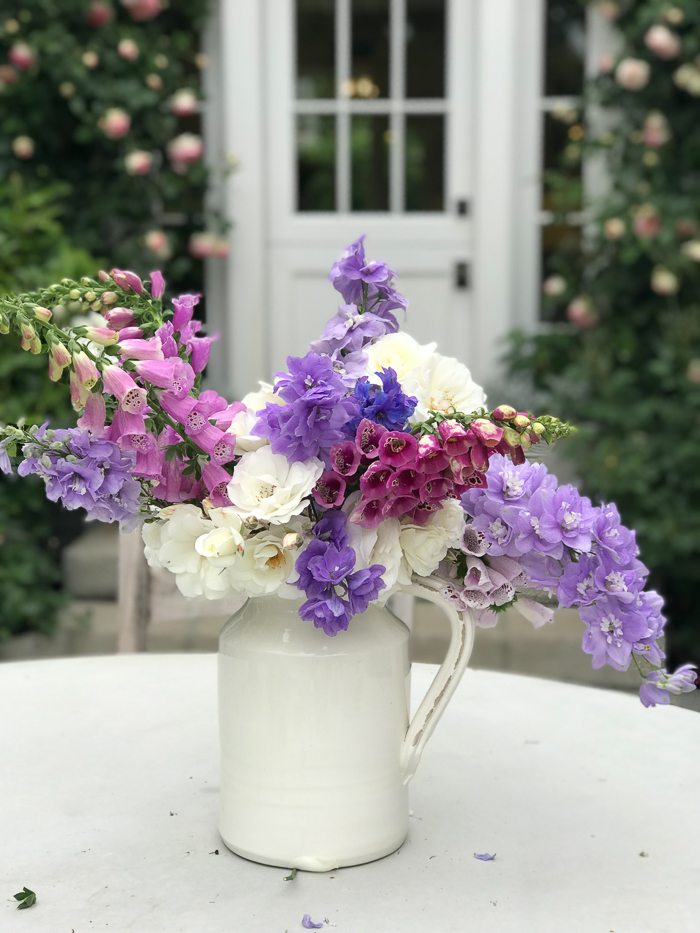 Whether filled with fresh flowers from the garden or realistic faux branches, a simple ceramic pitcher is always a great choice for a unique vase.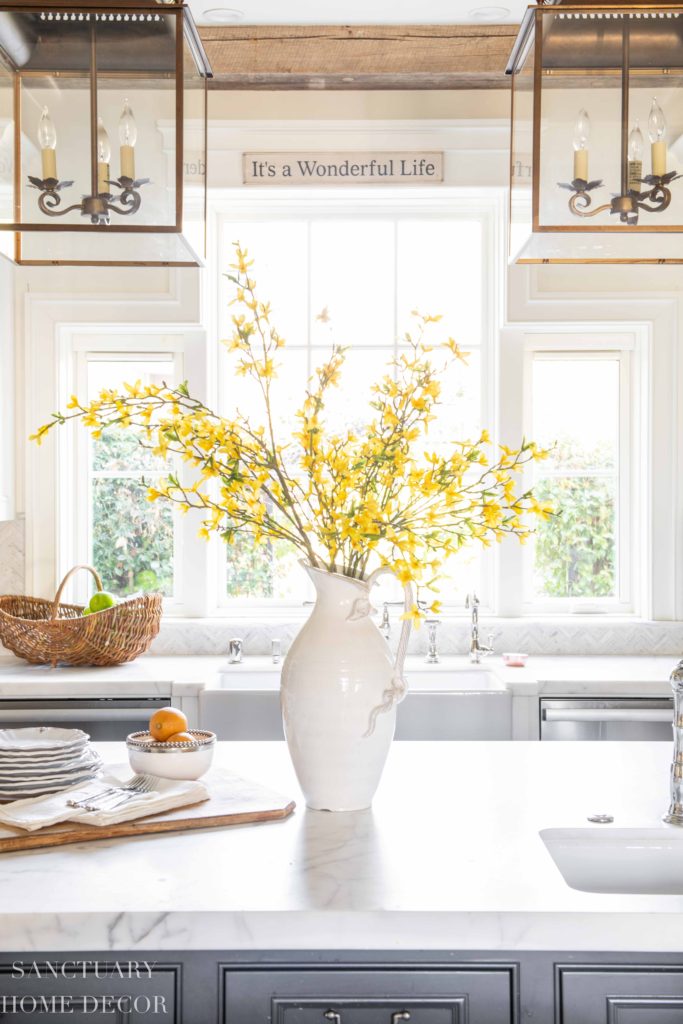 I hope these photos give you some unique vase ideas that you might even have at home for your centerpieces or flower arrangements. Many of my containers are vintage finds from second hand shops, that I have had for years. I am linking a few vessels below that are available online and would work great for any of these applications, but keep your eyes open the next time you are antique shopping or maybe just in your garage or china cabinet…I bet you have some pretty amazing "vases" you never knew you had!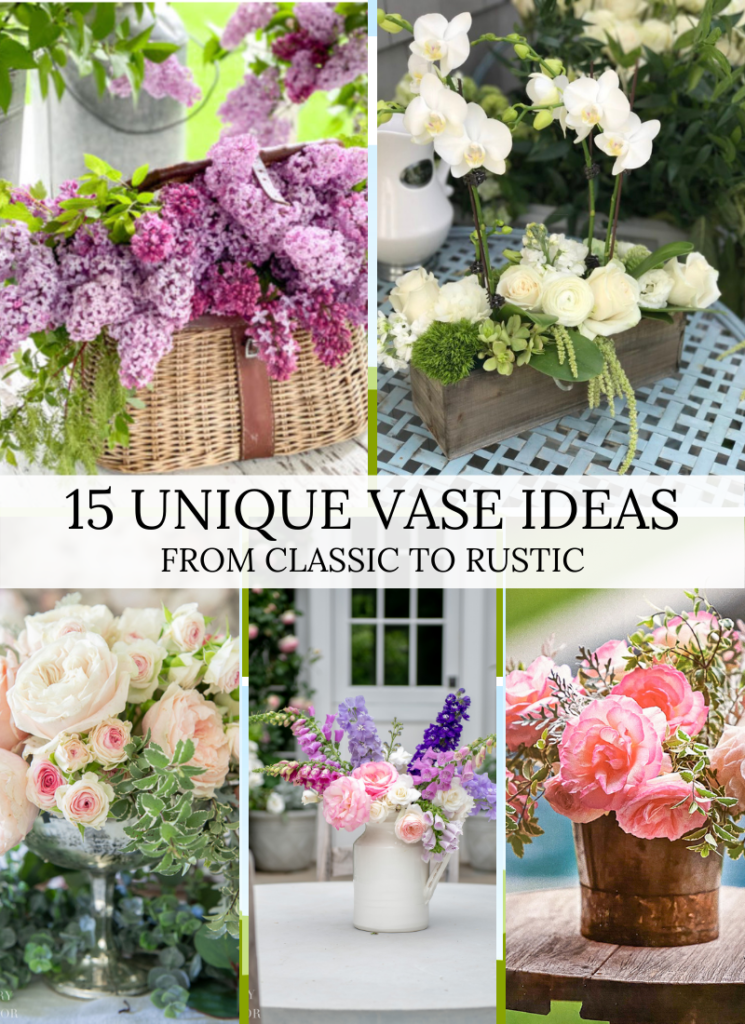 Sours: https://sanctuaryhomedecor.com/friday-flowers-15-unique-vase-ideas-from-rustic-to-classic/
Sharing ideas for decorating with vases in your home plus a collection of beautiful and affordable vases to decorate. These are perfect to add to your collection and go with just about every design style and budget.
Looking for an easy piece of decor to add to your space to spruce things up? Try a couple of vases! They are such easy, effortless things to add to your home to change the look or to add some color and texture. They're fun to decorate with and fun to see where in your home you like them best – on a table, countertop, mantle, you name it!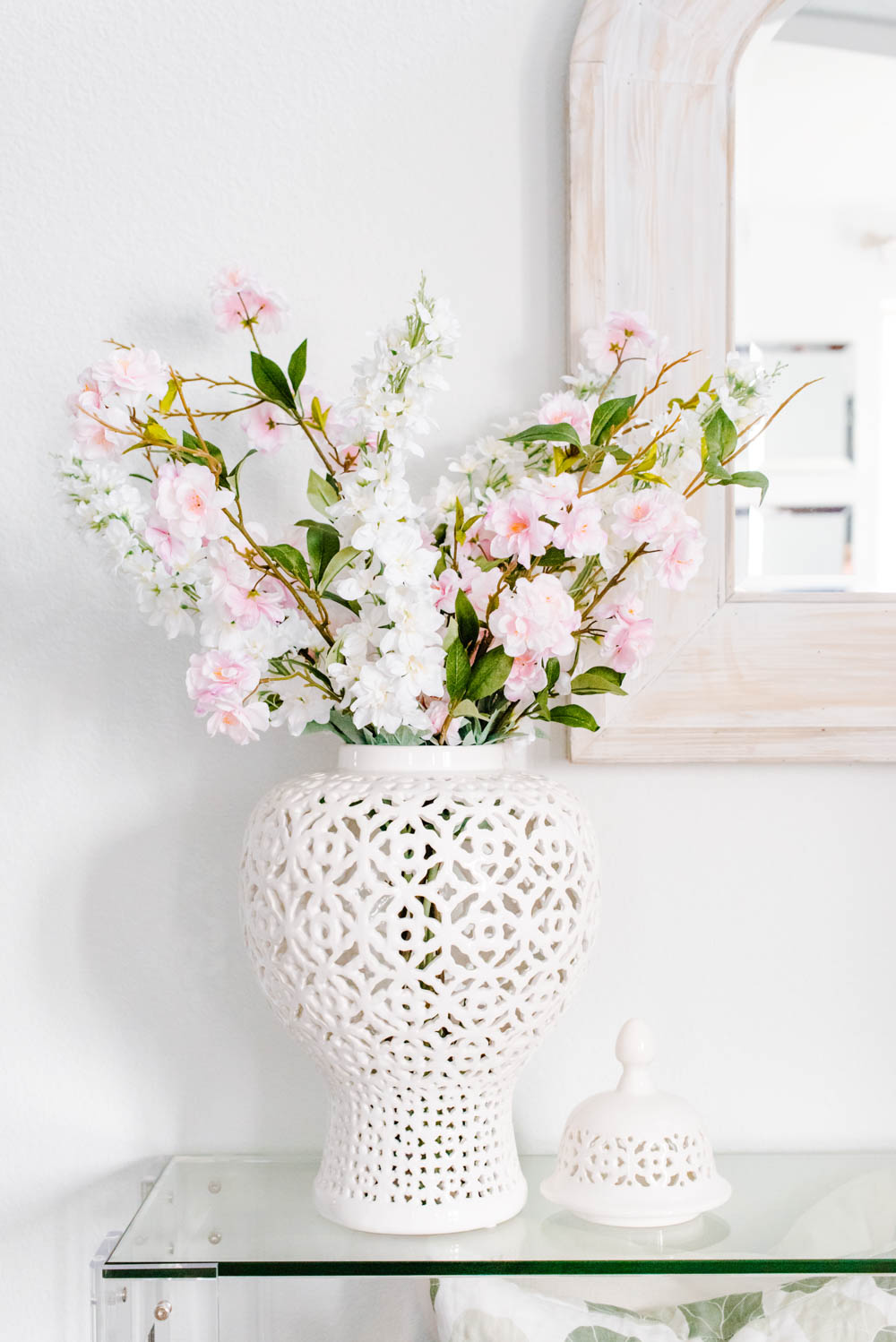 Here are some of my favorite ideas on where to put decorative vases and even how to decorate with empty vases.
Ideas for Decorating With Vases:
With fresh flowers from the grocery store or your yard
Stacked on books on your coffee table
Tucked into a corner on a countertop
Clustered together on your mantle or entryway table
filled with season filler to brighten a bookcase or table
The ideas are endless and these are just a few of my favorites!
How to Select Flowers for Your Vase:
I also wanted to show you a quick video on how I like to select flowers and put them in my vases. I shared this on Instagram a while back and think it is super useful for knowing what flowers to select when you are at the store and how to place them in your vase.
After you have selected the right flowers and fillers then it is time to pick the perfect vase.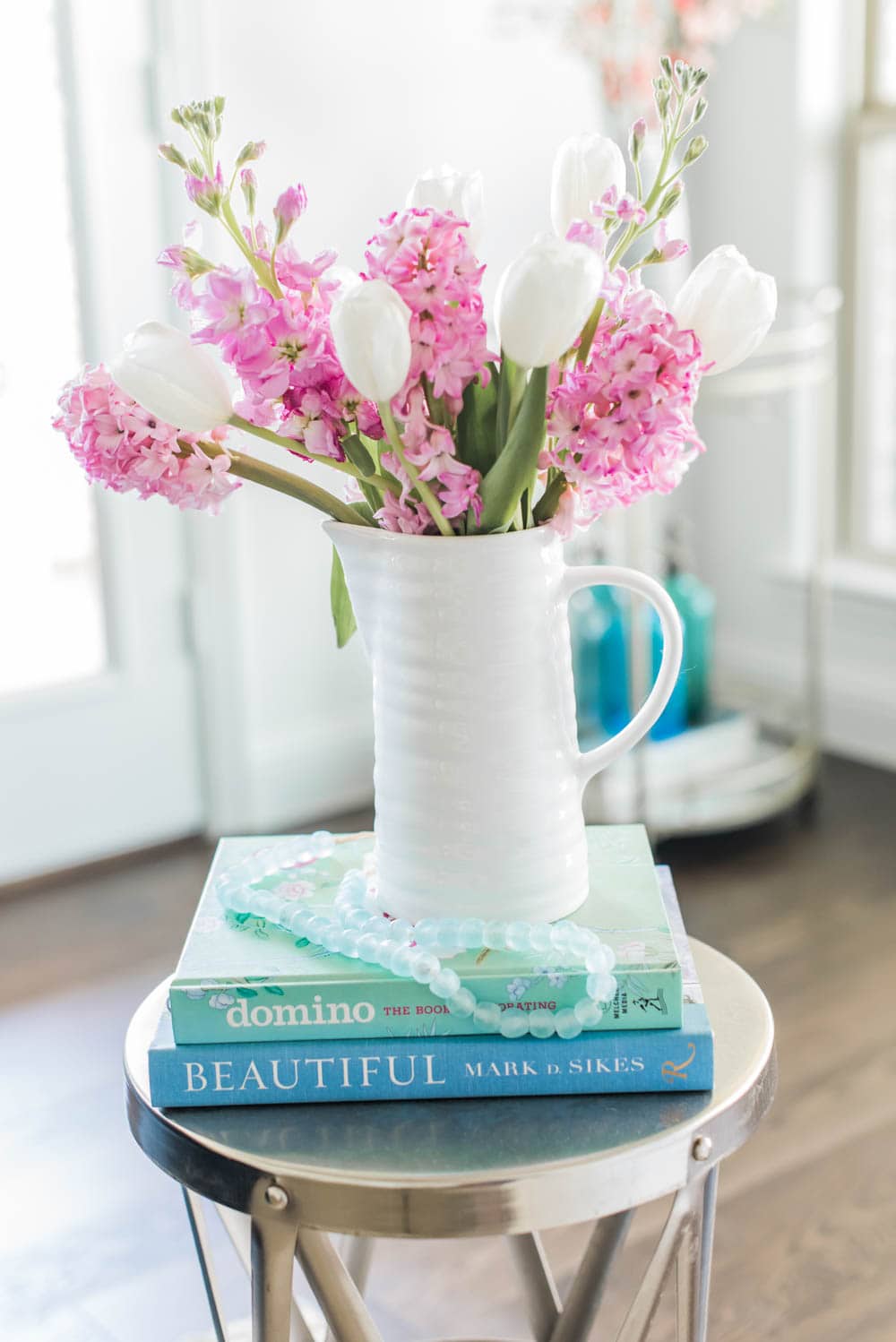 I've been doing lots of home decor shopping and looking for new pieces for spring (and even looking ahead to summer and beyond, too!). So I wanted to share some of the most beautiful, affordable vases I've found with you all.
If you're looking for a new vase, you're bound to find one or two that you love here! These also make great housewarming gifts too. Happy shopping!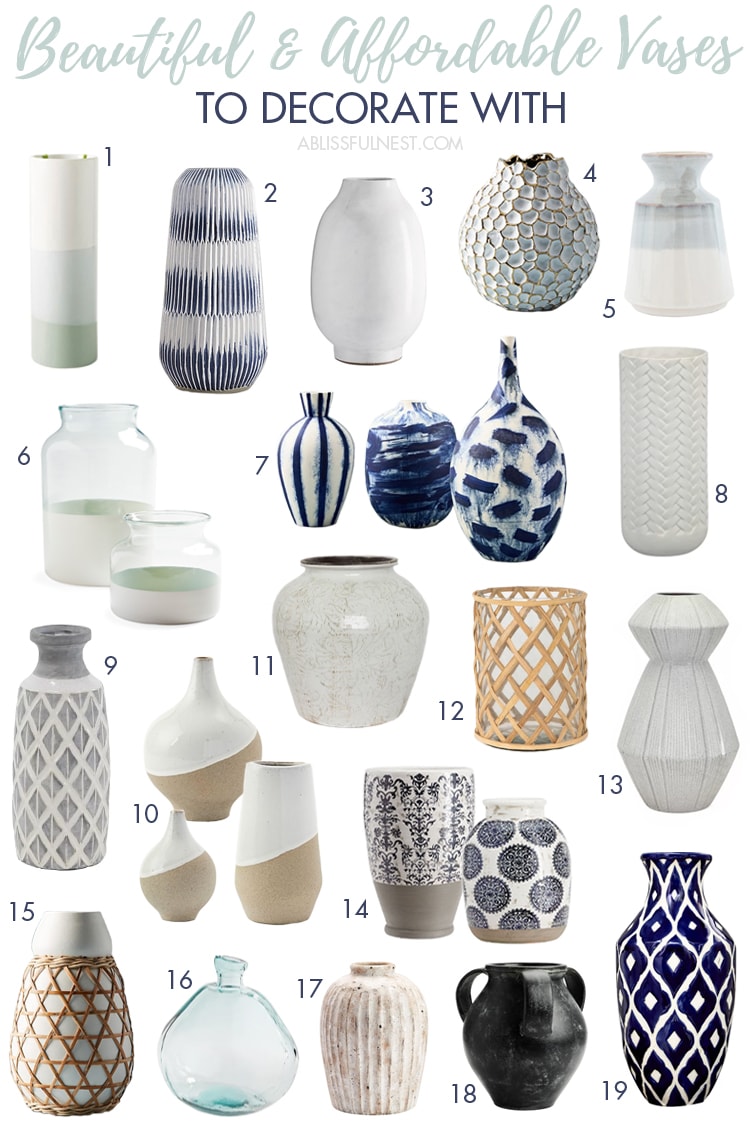 1 | 2 | 3 | 4 | 5 | 6 | 7 | 8 | 9 | 10 | 11 | 12 | 13 | 14 | 15 | 16 | 17 | 18 | 19

This post contains some affiliate links for your convenience. Click here to read my full disclosure policy.
Beautiful Affordable Vases For Any Design Style:
1. Tall Colorblock Vase: this under $50 vase is so springy, different and just so beautiful! I love the simplicity of it.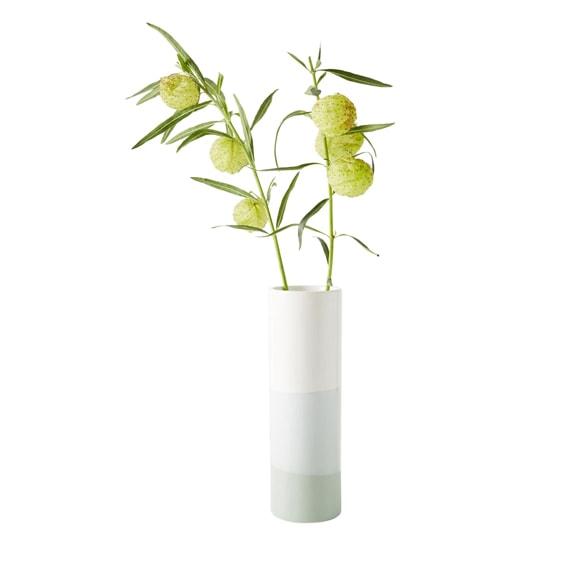 TALL COLORBLOCK VASE
2. Blue & White Vase: the pleating and hand-painted look to this vase is what drew me to it instantly! It's something so different and will make a beautiful statement filled with flowers in your home.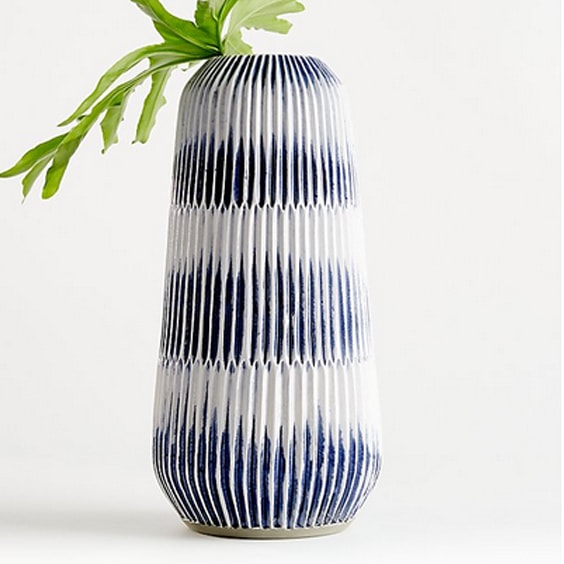 BLUE & WHITE VASE
3. Ceramic White Vase: sometimes a simple, white vase is all you need to brighten up your decor! This is so simple and goes with every style, and would make a really great gift idea. I would love the way this would look on an entryway table filled with flowers!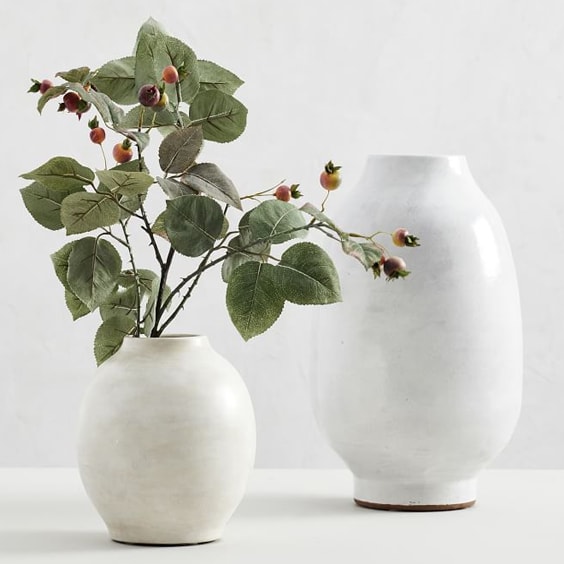 CERAMIC WHITE VASE
4. White & Gold Honeycomb Vase: I'm picturing this being the perfect vase to sit atop your nightstand or on a dresser! It's the perfect size and is one that looks beautiful just as a piece of decor or with flowers in it.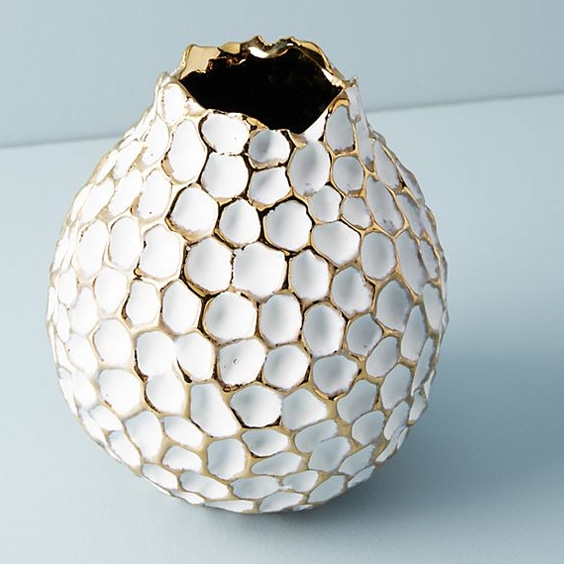 WHITE & GOLD HONEYCOMB VASE
5. Gray Dipped Vase: this gray dipped vase is the perfect neutral piece and I love that the gray dip has a hint of blue to it! This one comes in a small and large size too.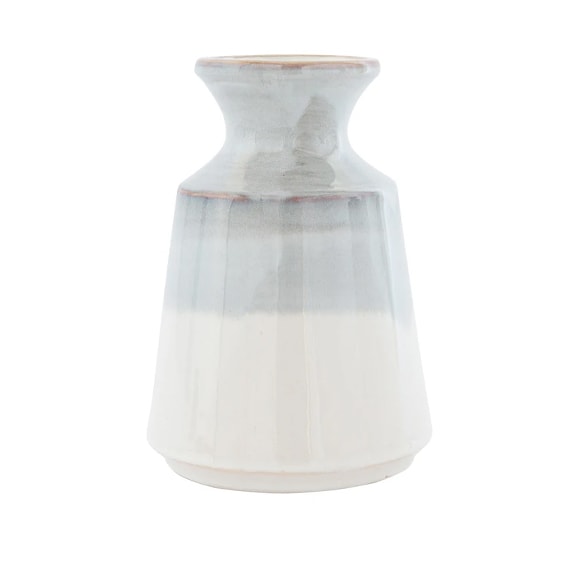 GRAY DIPPED VASE
6. Contemporary Colorblock Vase: these painted colorblock vases are MUSTS if you are a fresh flower lover! They're so pretty and come in two sizes. Place one (or both!) of these on your table, a mantle or even in a guest bedroom.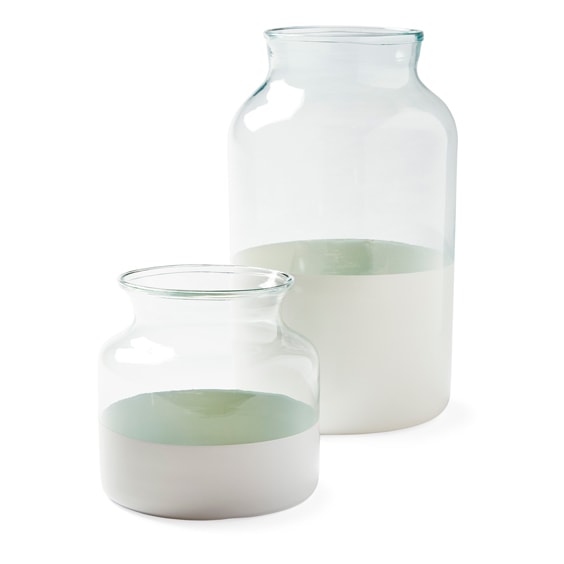 CONTEMPORARY COLORBLOCK VASE
7. Abstract Indigo Vases: while all three of these patterned vases are so beautiful, I couldn't imagine displaying them any other way than all together! The patterns complement each other SO well and these are true conversation pieces because of how different they are. I love them so much, I may have to fit these into my home somewhere! They are handcrafted in Thailand and are the perfect additions if you're looking for something in this palette.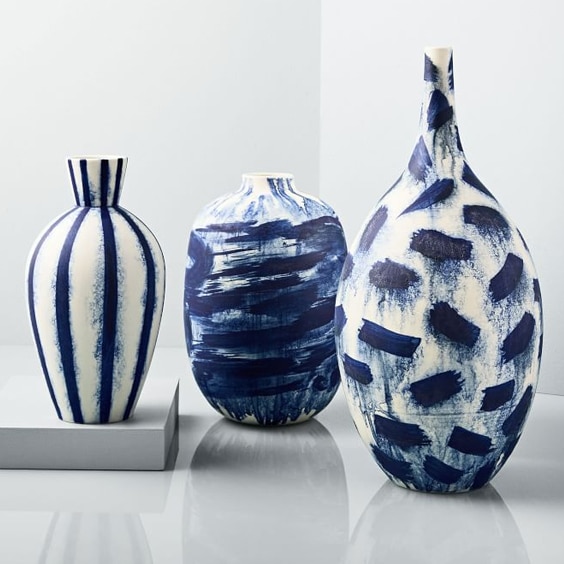 ABSTRACT INDIGO VASES
8. White Ceramic Basket Weave Vase: you won't believe it, but this vase is $28. $28!! I love the basketweave detailing – so different and simplistic without being too much or not enough. This is perfect for every home!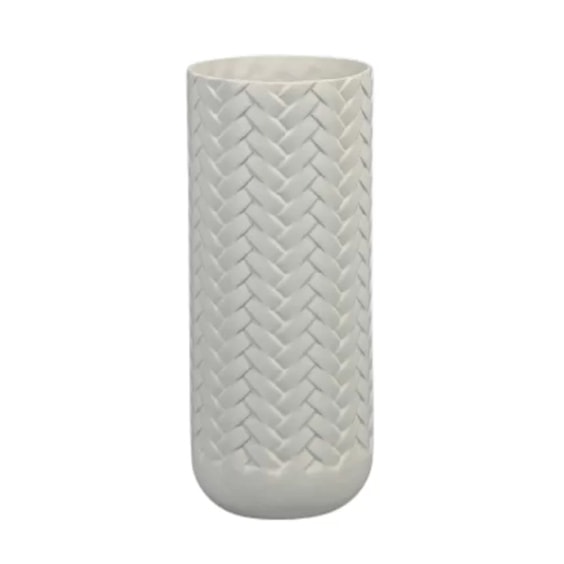 WHITE CERAMIC BASKET WEAVE VASE
9. Criss Cross Table Vase: this is a super simplistic vase that would look perfectly placed on your mantle or even your kitchen counter. It's neutral enough to match all color palettes and styles but still isn't too plain. It's also under $50!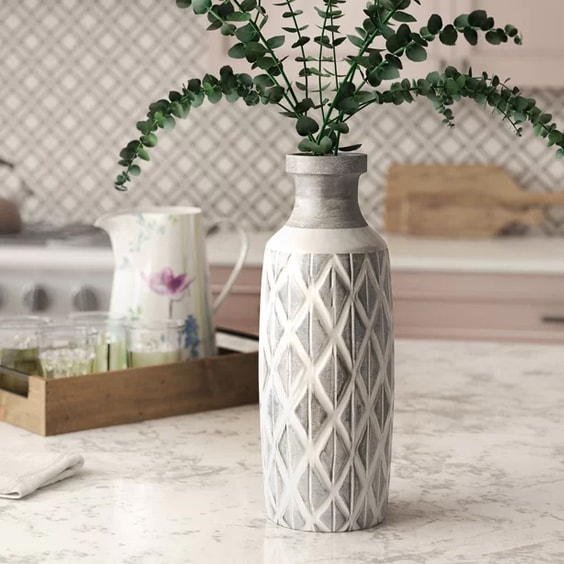 CRISS CROSS TABLE VASE
10. Half-Dipped Stoneware Vases: I absolutely LOVE the look of the half-dip on these vases! The entire collection is beautiful and would look amazing in just about every single home. There are five size varieties, which you can see below, and you can't go wrong with any of the sizes you choose!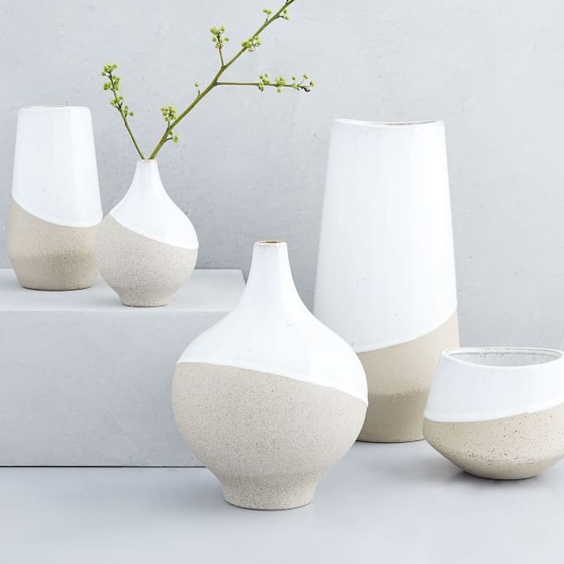 HALF-DIPPED STONEWARE VASES
11. Delicate Floral Printed Vase: this under $100 vase has the prettiest floral design that is so delicate and understated, it's SO pretty. It comes in small and large size and is made of ceramic.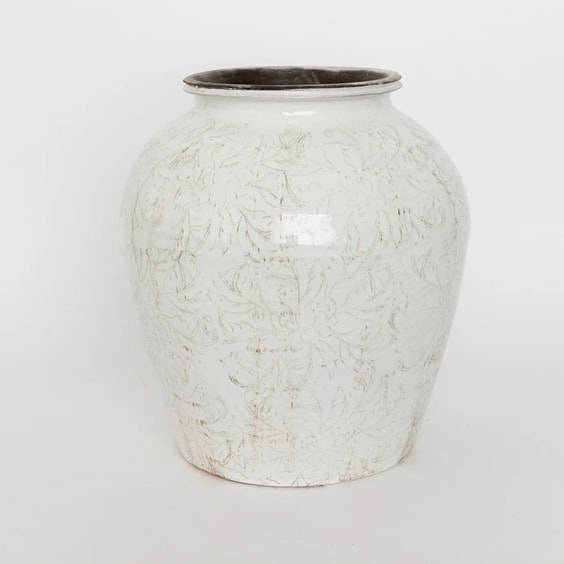 DELICATE FLORAL PRINTED VASE
12. Woven Bamboo & Glass Vase: isn't this such a different and fun vase?! I love what the woven bamboo adds to a simple, glass vase. This also comes in two sizes and they'd look so cohesive paired together.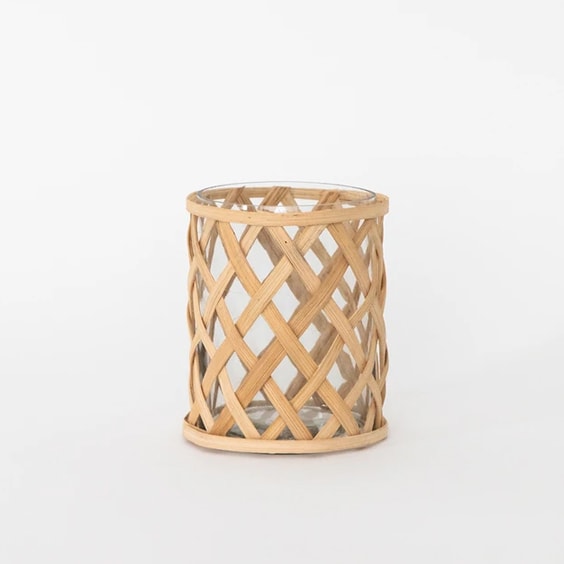 WOVEN BAMBOO AND GLASS VASE
13. Textured Table Vase: how fun is the shape of this vase? It's so different and under $100!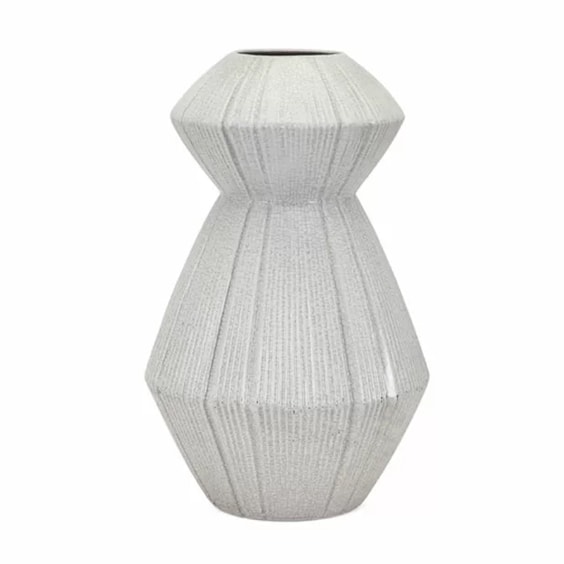 TEXTURED TABLE VASE
14. Blue Floral Rustic Vases: I think these would look so beautiful filled with big, white flowers in them! They're statement-makers for sure and the patterns on each vase complement each other SO well.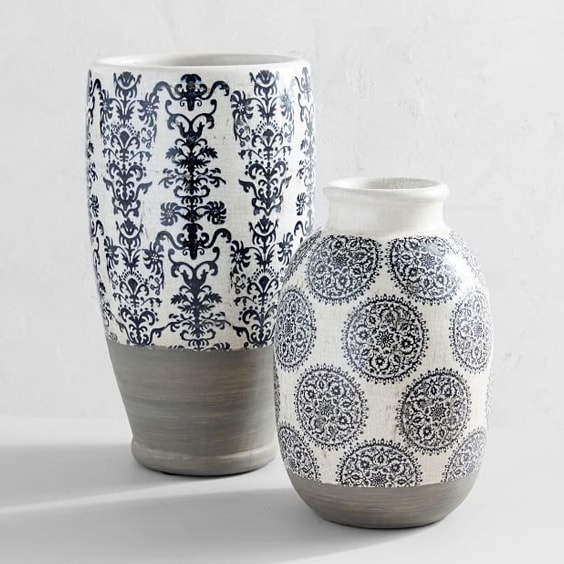 BLUE FLORAL RUSTIC VASES
15. Woven Grass Vase: this under $30 vase is just the perfect addition to your spring and summer decor! I love the size and the rattan weaving is so different and beautiful!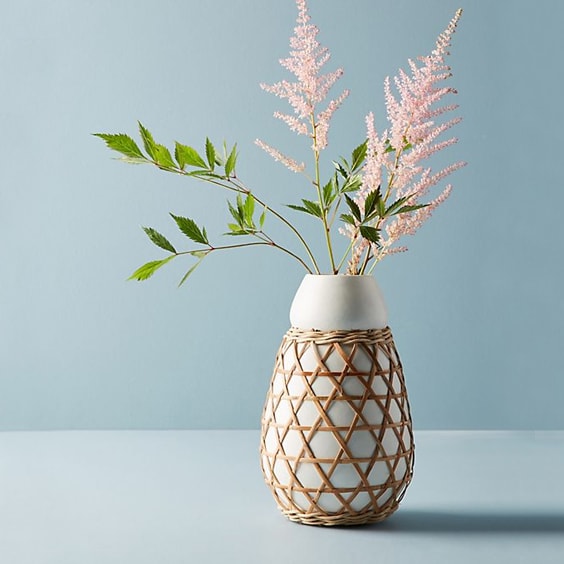 WOVEN GRASS VASE
16. Recycled Glass Bottle Vase: these gorgeous, natural-looking vases come in two sizes and both are under $50! They're perfect for a coastal designed home especially, but you really could make these work with any style because they make such a subtle statement.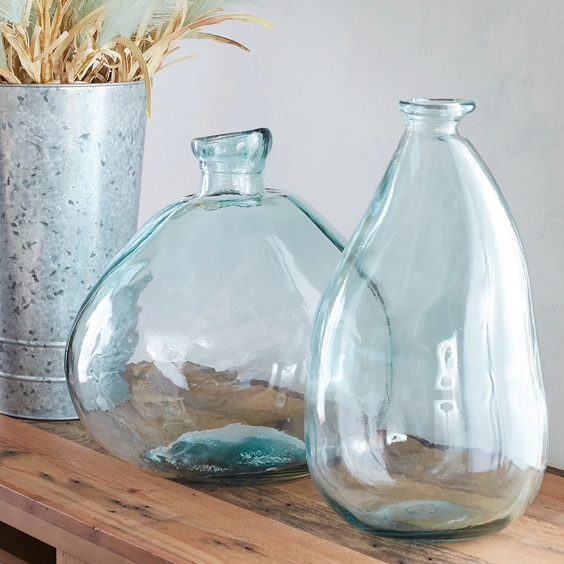 RECYCLED GLASS BOTTLE VASE
17. Weathered White Stone Vase: here's another vase that comes in two sizes and is just so pretty! It's simple but the weathered look of the stone adds so much texture and beauty. I love the idea of using one of these for a floral centerpiece this spring and summer!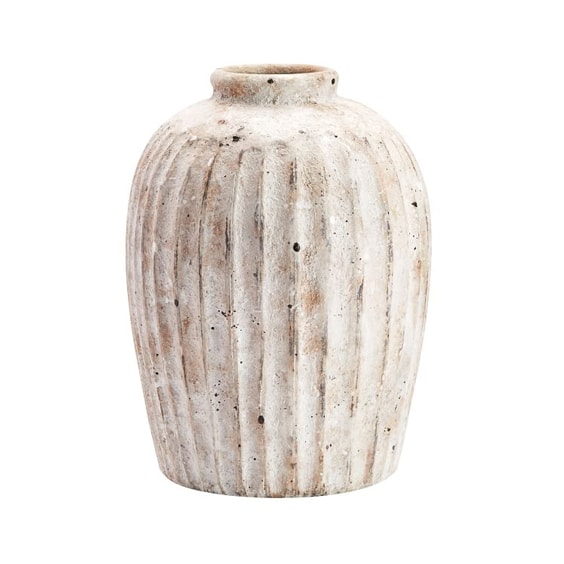 WEATHERED WHITE STONE VASE
18. Black Ceramic Vase: this black, ceramic vase comes in three sizes and would look so great paired all together! It'd be pretty filled with flowers, greenery or even as decor with nothing in them.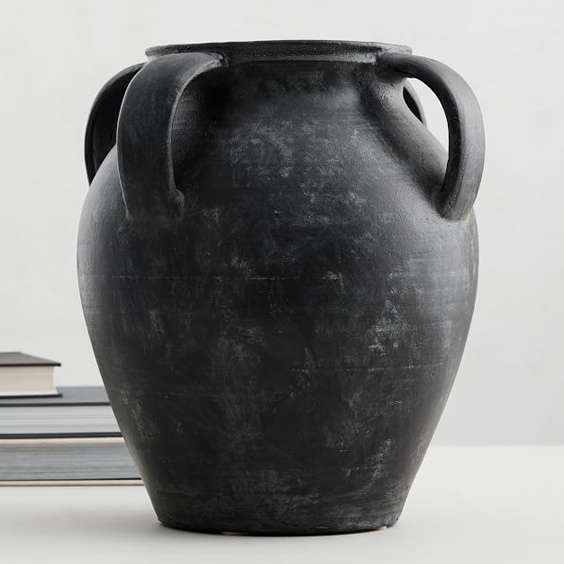 BLACK CERAMIC VASE
19. Blue Geometric Patterned Vase: I have been eyeing this vase for a while now… It's so big and I love the hand-painted look to it! Whether you use it as an accent piece or add flowers to it, you can't go wrong with this piece.
BLUE GEOMETRIC PATTERNED VASE
If you are looking for some new decor for your home, I hope these vases have given you some inspiration to finish up your spring decor!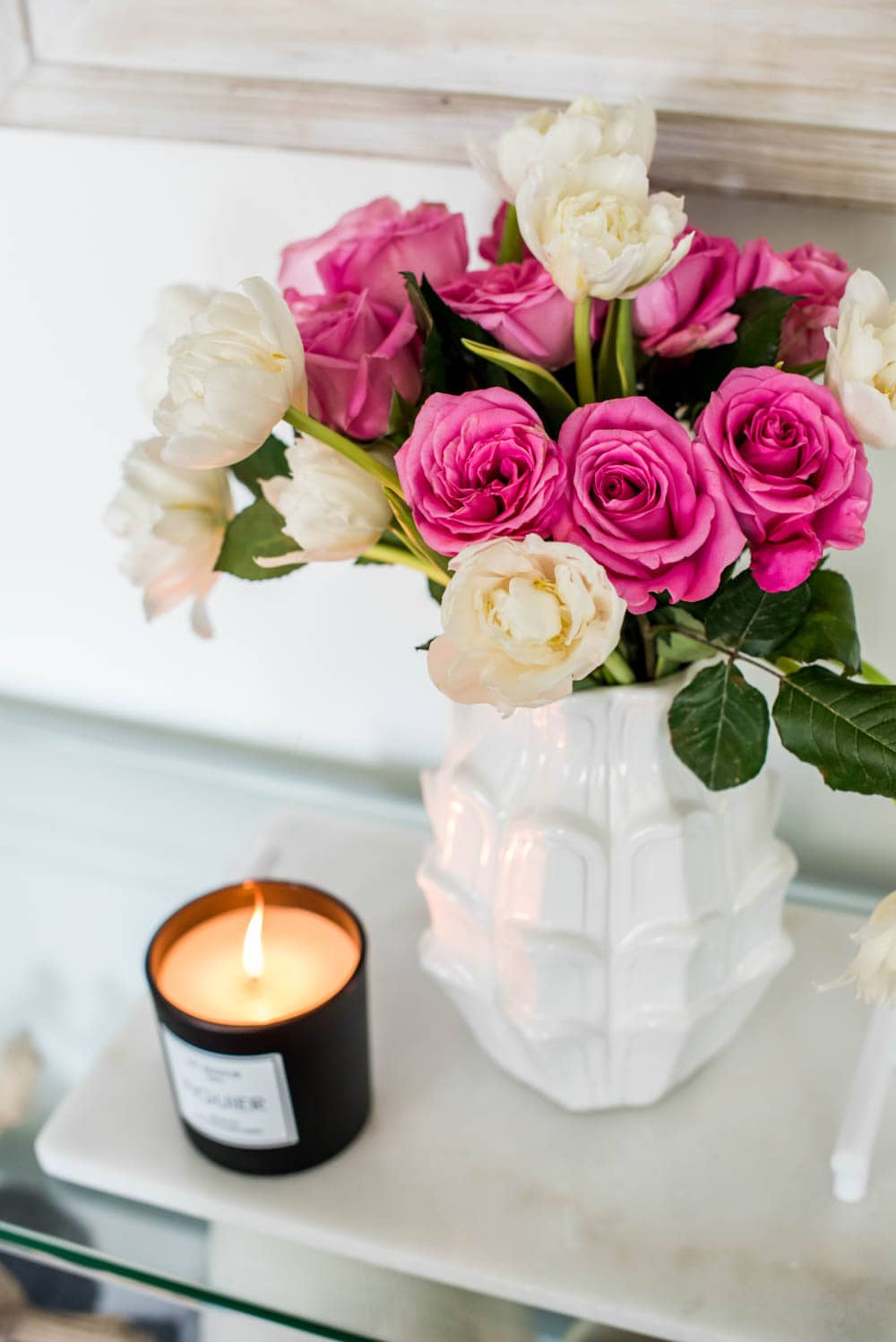 Follow along to get more of my tips on home decor, DIY and lifestyle on the following:
Pinterest | Instagram | Facebook | Twitter
Sours: https://ablissfulnest.com/ideas-for-decorating-with-vases/
.
Decor vase
.
.
Now discussing:
.
2642
2643
2644
2645
2646