50 Astonishing Ideas for a Bob Haircut with Bangs
Who says that short hairstyles aren't chic? You just need to find your perfect length, shape, and color. The trendy bob with bangs will seal the deal.
The bob with bangs 2021 can find its way to everyone's heart. Follow our selection of ideas and get your fresh hairstyle inspiration.
1. Long Bob with Parted Side Bangs. Subtle waves and volume at the roots make the long bob look classy yet casual.
2. Beach Blonde Bob with Feathered Bangs. The crisp straight hairstyle with wispy bangs suits women of all ages. The fringe adds a touch of mystery and softens the look.
3. Wavy Bob with See-Through Bangs. This hairstyle is simple but cute. The layered cut looks beautiful with subtle beach waves and a light eyebrow-grazing fringe.
4. Classic Straight Blunt Bob with Long Bangs. The blunt long bob with side-swept bangs is the manifestation of elegance and chic within a short hairstyle.
5. Choppy Bob Haircut with Side Bangs. The side-swept bangs add more volume and vibrancy to the otherwise basic bob.
6. Messy Curly Bob with Bangs.Curls, curls, and curls – here, they're featured in both the bob and bangs. It's undeniable that they look stunning, with the color gradually changing from dark brown at the roots to natural blonde at the ends.
7. Medium Layered Bob with Baby Bangs. If you do not feel like getting a long bob haircut, try this layered medium-length style. Besides, whatever your age is, baby bangs always look gorgeous with a layered bob!
8. Layered Bob with Fringe. This bob haircut with bangs boasts jagged edges and a deep fringe that hides the forehead, eyebrows, and even cheeks, meaning that this style will flatter round faces in particular.
9. Straight Bob with Parted Side Bangs. This choppy bob haircut with bangs is good for thick hair and dramatic looks.
10. Very Short Bob with Piece-y Bangs. The jaw-length bob and a short fringe are styled with subtle waves. The slightly messy look with massive boho-style earrings is bold and eye-catching.
11. French Bob with Uneven Bangs. Refer to the sweet old classic times with this fancy French bob with bangs. Look younger and powerful with your hair hugging your face nicely. Add messy bangs to your bob, and you're ready for any occasion!
12. Blonde Bob with Long Side Swept Bangs. These bangs can cover the whole face if they aren't swept to the side. The tigress-esque look will show everyone who the real queen is.
13. Stacked Bob with a Wispy Fringe. The angled bob with bangs is slightly shorter in the back. This way, the neck is in the spotlight, while the face contours are hidden.
14. Long Messy Bob with Bangs. Want a bob haircut while keeping your long hair? Then get a new look drawing inspiration from this long bob with bangs. You can add color, texture, play with lengths, and enjoy your customized lob with bangs in no time!
15. Wavy Short Bob with Bangs. A wavy bob hairstyle with bangs is all over Instagram and you can easily see it in the streets. So, feel free to try a bob cut with bangs and look cute, chic, and confident all the time.
16. Classy Jagged Bob with Bangs. If you want a simple cut, this is the hairstyle for you. A classy angled bob in the right length will give off that elegant feel. Match with uneven bangs for the French vibe!
17. Long Wavy Platinum Blonde Bob. Shock everyone with this new hairstyle! Platinum blonde is already gorgeous – what more to ask for when it's also a trendy bob hairstyle with bangs?
18. Brunette Shaggy Bob with Bangs. A shag haircut and the bob shape? What a cute hairstyle! Achieve that casual shaggy hair and look effortless in every style and outfit.
19. Long Layered Bob with Side Bangs. Have that classy hair with a layered shoulder-length bob. The swoopy bangs provide an elegant look! Choose a lighter color for the lengths and dark roots for the complete transformation.
20. Classic French Bob with Bangs. Are you afraid to experiment with your hair and try radically new hairstyles and cuts? You can never go wrong with a classic bob cut and eyebrow-skimming bangs. Enjoy the hairstyle you're familiar with but add something little, like babylights or sliced layers, etc., to make it feel fresh!
21. Highlighted Shaggy Bob with Jagged Bangs. This bob cut with bangs has jagged edges, shaggy layers, and a color gradient from dark-brown to bleach blonde.
22. Wavy Shaggy Bob with Bangs. Already have colored hair? No problem. Enjoy and emphasize your sophisticated hair color with a wavy shaggy bob. Bring in waves and highlights to try a new vibe!
23. Wavy Short Bob Haircuts with Bangs. An extremely short fringe that covers the upper forehead combined with a medium-to-short wavy bob creates a sophisticated look.
24. Classic Bob with Piece-y Bangs. Want a stunning hair transformation? You'll never look dull rocking this cropped bob haircut with bangs. Add a shaggy finish to the top to complete your look and be runway-ready, anytime, anywhere!
25. Beach-Waves Bob with Fringe. A deep, thick fringe that completely hides the forehead looks even more stunning when it completes a choppy chin-length bob with highlights.
26. Long Side Bangs and Angled Bob. Straight bob haircuts always look upgraded if enriched with trendy hair colors and highlights. A long side-swept fringe also adds some freshness to the regular angled bob.
27. Stacked Bob with a Long Choppy Fringe. Such bob hairstyles with bangs give an impression of organized chaos with the seemingly perfect geometry of multiple layers.
28. Short Bob with Side-Swept Bangs. A couple of subtle waves and a side-blown fringe soften the face. And look at these partial highlights!
29. Short Blonde Blunt Cut with a Fringe. This is a classic short bob with bangs that almost touch the eyebrows.
30. Flirty Short Wavy Bob with Bangs. Waves are a good way to style a bob with bangs, even if it's a short length and solid natural brown hair color.
31. Graduated Bob with Arched Bangs. With the short length, sleek finish, and arched face-framing bangs, the hairstyle delivers the popular 1920s look.
32. Red Bob with Curtain Bangs. A bright, accurate hairstyle that shades the eyes and calls attention to the chin. A mysterious and intriguing vibe is guaranteed.
33. Short-Length Bob Hairstyle with a Feminine Fringe. One of the most successful short bob haircuts with bangs makes use of a deep, well-set fringe. This look is delicate and elegant.
34. Medium-Length Hairstyle with Layers and Bangs. Volume at the roots adds vibrancy to the short fringe and long, slightly wavy bob.
35. Lip-Length Bob with a Wispy Fringe. A voluminous brunette bob with partial blonde highlights and dynamic bangs. What can be more eye-catching? All attention will be yours.
36. Shoulder-Length Straight Bob with Full Bangs. The long polished hair that covers the ears but opens the face, along with full deep bangs, creates an air of elegance and modesty.
37. Jagged Shaggy Bob with Neat Bangs. An intentionally messy blowout and volumized roots create a well-shaped bob for fine hair.
38. Bob with Half-Moon Short Bangs. The rounded arched fringe can cover big foreheads and slim down round faces. Pair with tousled mid-shaft waves and dimensional highlights on the sides.
39. Front Bangs and Short Large Waves. The waves and almost-full bangs hide the contours of the face, attracting the eyes to your lips and chin.
40. Black A-Line Bob with a Blunt Fringe. This black bob is all about straight lines and geometry. By the way, it has the perfect length – in case you want to wear your hair half up sometimes.
41. Long Bob with Voluminous Bangs. You have to work on your volume to ensure a vibrant look. Make subtle waves and use a round brush when drying the eyebrow-length fringe.
42. Mid-Length Blonde Blunt Bob with a Fringe. This modern hairstyle works with straight hair and features layered side bangs that almost reach the chin and well-finished edges.
43. Shoulder-Length Bob with Bangs. The full bangs create an intriguing look. The long bob with bangs is slimming and adds dynamics to flatter the round face.
44. Delicate Chin-Length Bob with Bangs. The subtle waves of this blonde bob with bangs bring volume and texture to otherwise flat fine hair.
45. Short Messy Bob with a Wispy Fringe. Just add some chaotic waves to the classical jaw-length bob, and the look will transform from classic to modern. Check those very flattering colored roots!
46. Undercut Bob with Feathered Bangs. Blow the feathers of your bangs to one side to show the undercut on the other side.
47. Messy Jaw-Length Bob with Curtain Bangs. The slightly shortened wavy hair delivers all the volume you may desire. Style with a bit of product or just wash and air-dry without combing.
48. Asymmetric Bangs and Stacked Bob. This combination has to be a bit messy to make your chin-length bob with choppy bangs look extra stylish.
49. Black Curly Bob with Neon Highlights. Here is a short layered bob with cropped bangs that features waves and bright partial highlights to provide more volume.
50. Mid-Length Bob with Diva-Curls. Large diva curls styled to the side deliver a red carpet look. Just add enough hairspray for them to stay in place longer.
Are you still confused? It's certainly true that the modern bob with bangs is incredible in its diversity. The good thing is that you can try a few of them: you just need to choose whether to start from a shorter crop or a longer cut. Take the pictures you like to your hairdresser and have a successful makeover!
Sours: https://www.hadviser.com/bob-with-bangs/
Welcome to today's up-date on the best long bob hairstyles for round face shapes – as well as long, heart, square and oval faces, too! I've included plenty of wavy long bob hairstyles for fine hair and for thick hair, layered long inverted bob hairstyles with amazing hair color ideas! (Update: and here are more lobs you may love.)
Trendy extreme asymmetrical long bob hairstyles for smooth thick hair
Credit
This is a great hairstyle for an oval to round face shape. It's really a classic long, angled bob hairstyles' idea but it's been brought bang up-to-the-minute by the trendy extreme asymmetry between each side. The shorter side has a chin-length short layer to break the line and the angle from the back is very steeply cut.
Bouffant big hair long bob hairstyles with vintage twist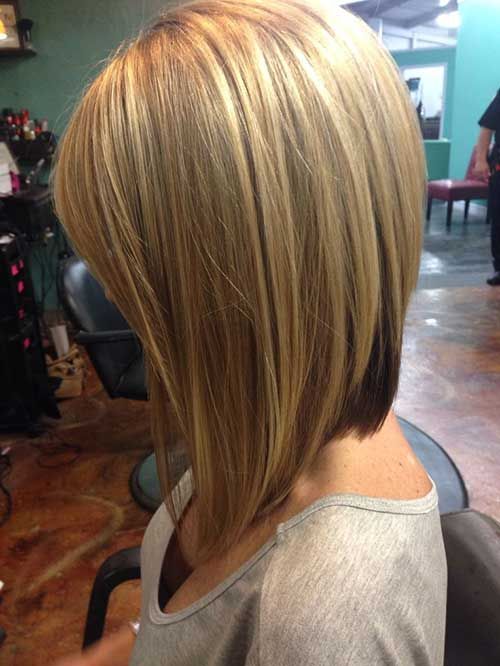 Credit
This long, layered bob hairstyles' idea has a rounder shape than long bob hairstyles for fine hair, giving it a trendy 1960's look. The lovely tear-drop shape has extra volume around the crown and back with sliced layers tapered down to the tips. Blonde-over-brunette hair color ideas create depth and texture on long bob hairstyle updates!
Long blonde angled bob hairstyles with gray & brown low-lights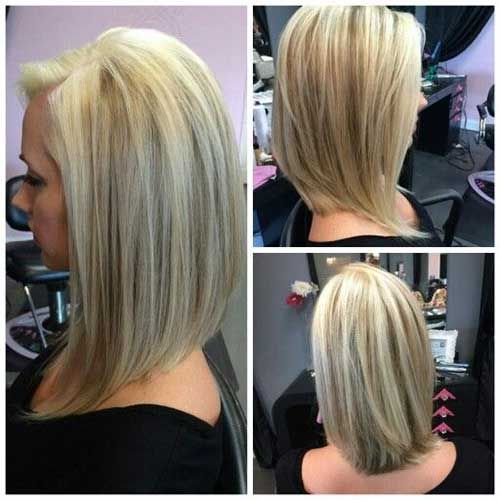 Credit
This new hair color idea shows we are moving, very gradually, towards the ash-blonde/gray/ash-brown hair color trends that were such popular hairstyles in the 1960's. Harsh salon lighting doesn't do justice to this color, which in better lighting is a softer look adding lots of texture and movement to blonde, inverted bob hairstyles.
Sexy swept-over asymmetry on bright blonde long bob for oval face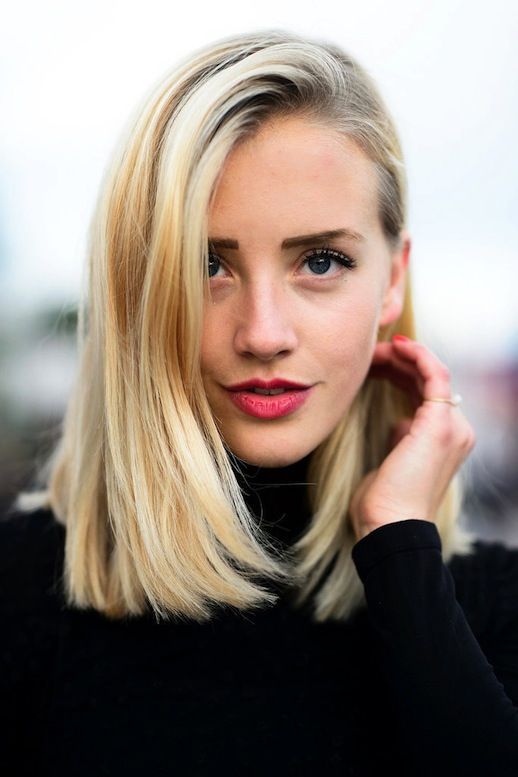 Credit
There's something about peek-a-boo long bangs that men find irresistible and this is a great long bob hairstyle for fine hair, too. Although it's a glam look, it's also a natural and easy hairstyles option cut to one-length with blunt-cut tips and dual-blonde highlights. This long bob hairstyles' idea for fine hair is suitable for casual and formal occasions!
Shapely medium-long bob hairstyles for fine hair with purple patch!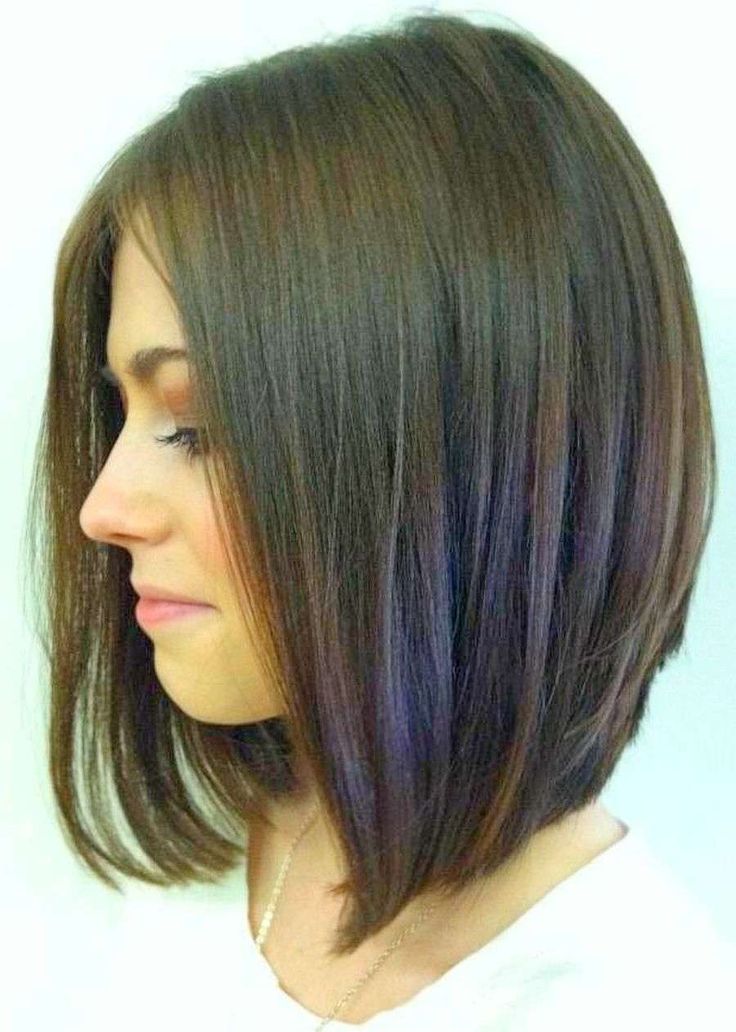 Credit
Here's a chic long bob hairstyles idea that's perfect for anyone with medium/fine hair, as it's a sleek look without volume. The cut is a long inverted bob hairstyle with just a little layering at the tips to shape the ends. And to prove it's a truly trendy long bob hairstyle, there's a cute random patch of purple gloss on the left profile!
Super-casual long tousled bob hairstyles with trendy bronde hair color ideas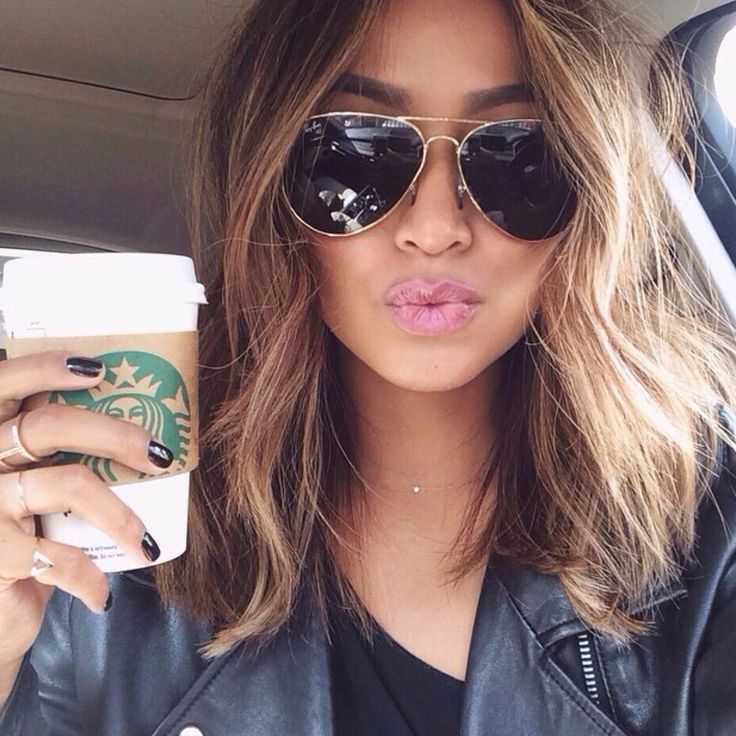 Credit
Here's an all-American look complete with super-cool aviator sunspecs, black leather-jacket and take-away coffee. The beautiful blend of neutral brown and blonde shades make this long layered bob into a fantastic bronde hair color idea for a long bob hairstyle that's totally hip! Long wavy bobs with center partings suit oval/square face shapes.
Smooth & confident extreme long angled bob hairstyles for brunettes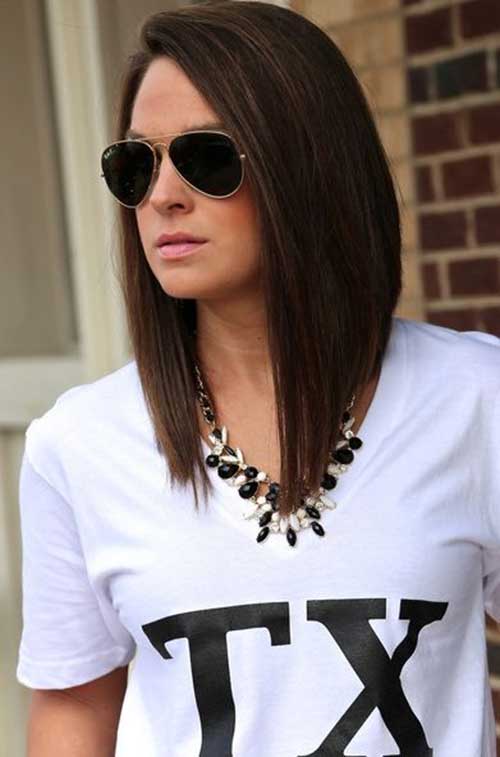 Credit
This is a confident contemporary look with a side-parting, to suit a round face. The hair is quite thick, allowing a steeply graduated line from the shorter back with a drop of about 8-inches to finish just past the collar-bone. The straight lines, touch of height above the bare forehead and length all help make round/heart/square face shapes look more oval!
Glam golden-blonde over platinum long angled bob hairstyles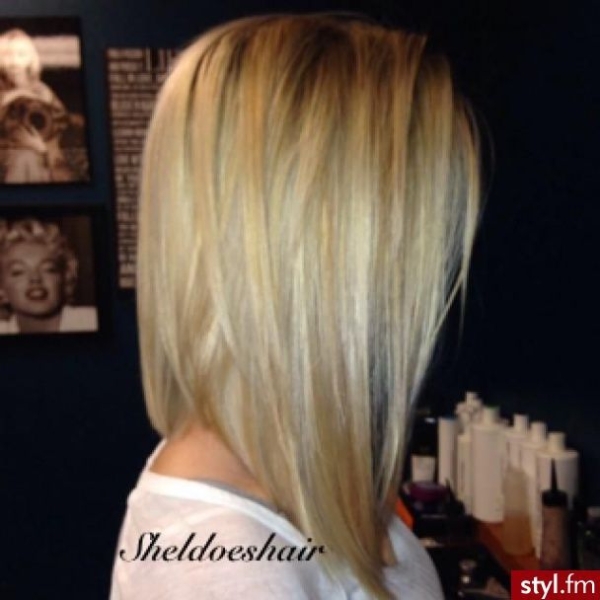 Credit
The pic of Marilyn Monroe inspires this talented stylist's 'futuristic' blonde-bombshell, long angled-bob hairstyles! This is a very creative year – as this profile shows in the 'collar-length' back with a steep graduation. But the styling is the star with golden top layers loosely woven to reveal platinum blonde beneath! Gorgeous party look for medium/fine hair.
Cute choppy long bob hairstyles with golden blonde to white fade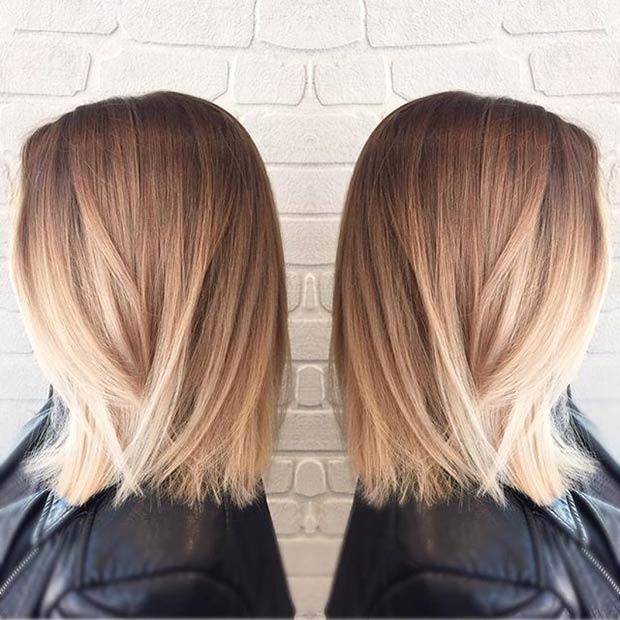 Instagram / hairbykaitlinjade
Medium blonde shades are the most flattering blonde shades to anyone over-25, and the subtle blending of gold into pale blonde shades at the front make this a hair color idea that will suit a wide range of skin-tones. The ends are a fabulous mix of blunt-cut and textured tips, with strands arranged to create contrasting movement in the side-sections.
Boho brunette long bob with neutral blonde highlights for round/square faces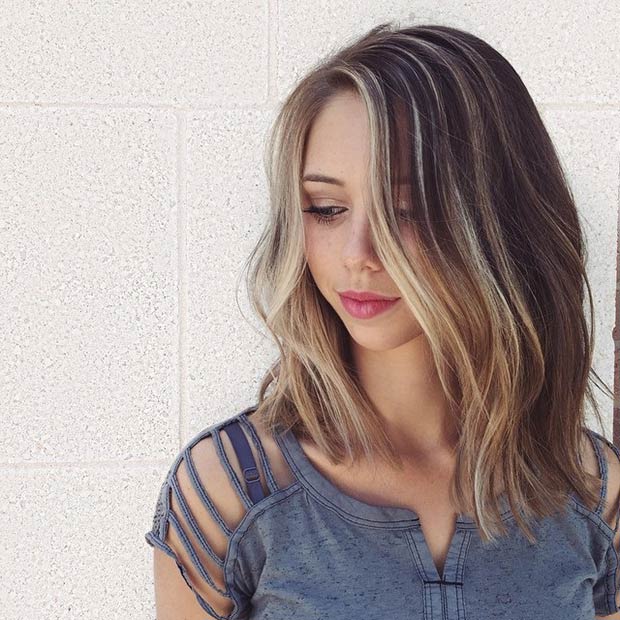 Instagram / hairbyjessica_
Back in fashion and decorating long layered bob hairstyles, this hair color idea's previously only been seen on short vintage hairstyles, so it's a great new look for long angled bob hairstyles! With forehead-covering diagonal strands and a soft wave at chin-length, this lightly angled bob hairstyle's a chic, boho look for round/square and heart faces.
Special-date long bob hairstyles with hot contrasting hair color ideas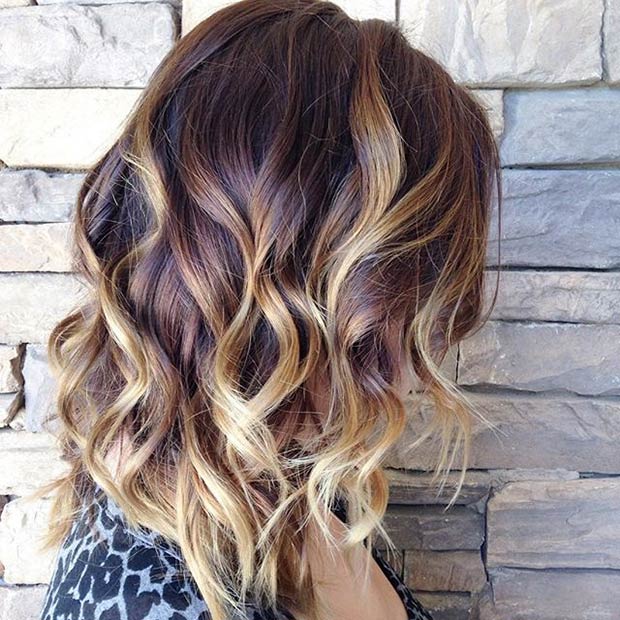 Instagram / ellaschair
The basic cut is a long angled bob hairstyle with layers added in the lower lengths and sharply tapered, wispy tips. The rest of this look is far from basic and the rich chestnut brown is covered by dainty blonde defined waves that add lots of 3-D dimension. The tips are full of lively movement in a cute eye-catching look for prom, party or wedding!
Pure glamor platinum-blonde long bob hairstyles for round face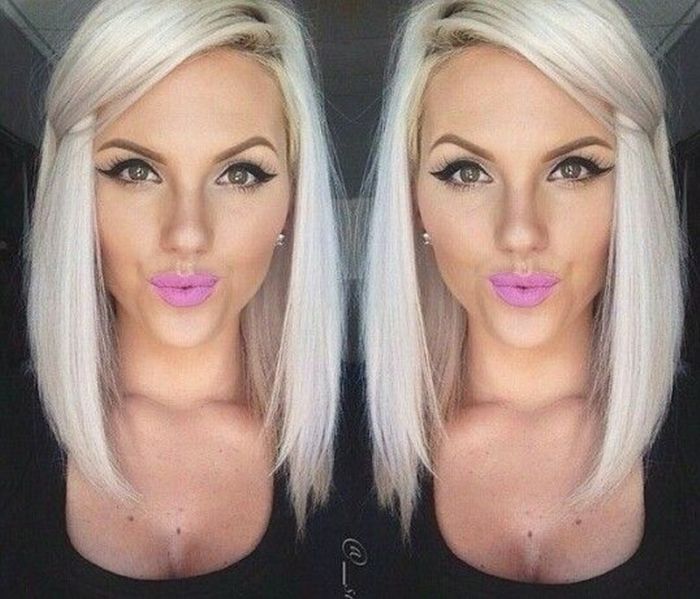 Credit
Long platinum-blonde bob hairstyles need deep-conditioning to keep the hair soft, but if you've got the time this is a real blonde-bombshell look!  The deep side parting and swept-across bangs cut the symmetry of a round face and the length draws the eye down.  Heavily textured tips just above the decolletage are a great way to highlight your cleavage!
Hi-fashion blonde with brown lowlights on long angled bob hairstyles
Credit
This tv presenter looks very stylish with this great cut and hair color idea for long bob hairstyles with bangs. The side parting with swept-across bangs adds asymmetry to hair graduated in an extreme line ending with shaggy, textured tips at the front. With brunette balayage in random sections, this relaxed long bob hairstyle with bangs is a classy, high-fashion look.
Hot hair color ideas on wavy layered bob hairstyles & long inverted bob hairstyles!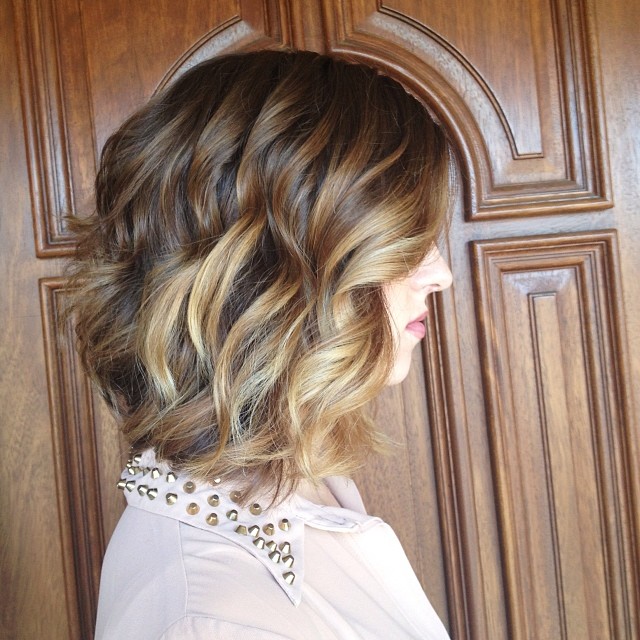 Credit
This wavy bob combines chic hair color ideas with cute waves, for a great party, prom or wedding hairdo! Asymmetric waves on long layered bob hairstyles look great on thin or angular faces/strong jawlines and heart faces, as waves soften the face. Fab texture, lively movement and blonde ombré create a lovely, long layered bob.
Radical new multi-layered cuts on long layered bob hairstyles
Credit
This is a totally new look for thick hair, creating a fantastic layered finish at the back in a development from the stacked-back cut. 'Sliced' vertical layers are cut to form a gently shaggy graduation on long layered bob hairstyles. With dual highlighting accentuating the exciting new texture and movement, it's set to be one of this year's most popular and original long bob hairstyles!
New stacked-back-&-sides multi-layered brunette bob haircuts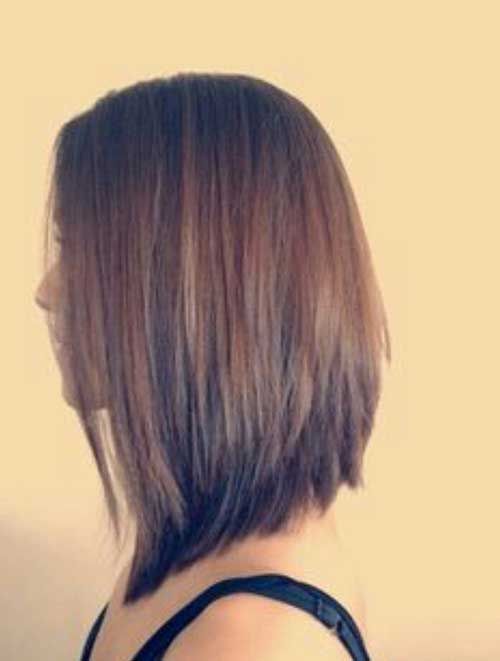 Credit
Here's another creative long layered bob hairstyles' idea to try, if you have thick hair! The basic shape is for long angled bob hairstyles with added, 'random', layers. This long inverted bob hairstyles' inspiration has a fabulous hair color ideas, too. Dark roots and tips are separated and softened by a groovy horizontal band of light brown.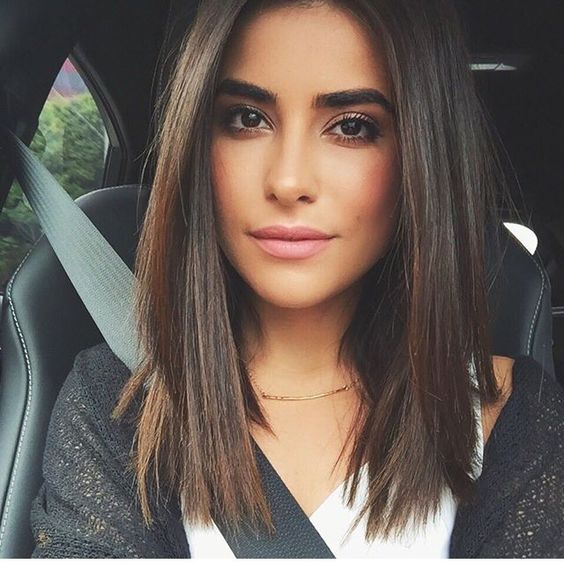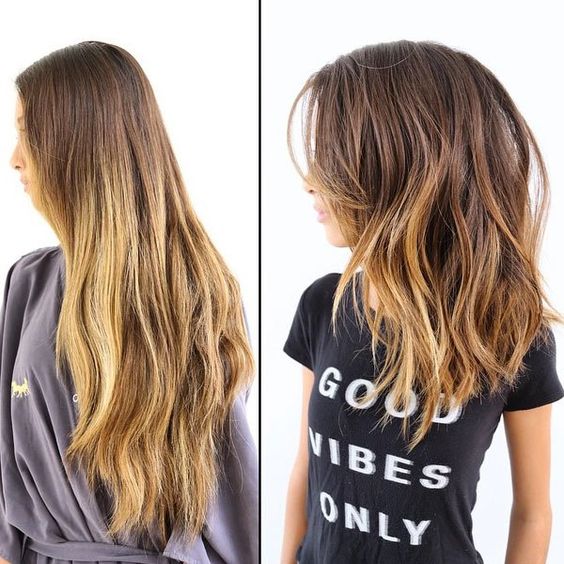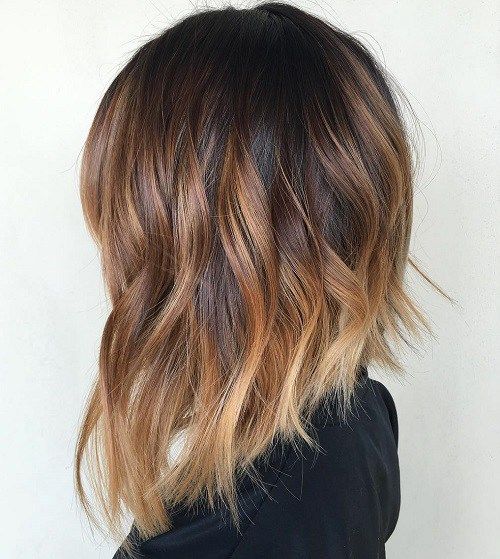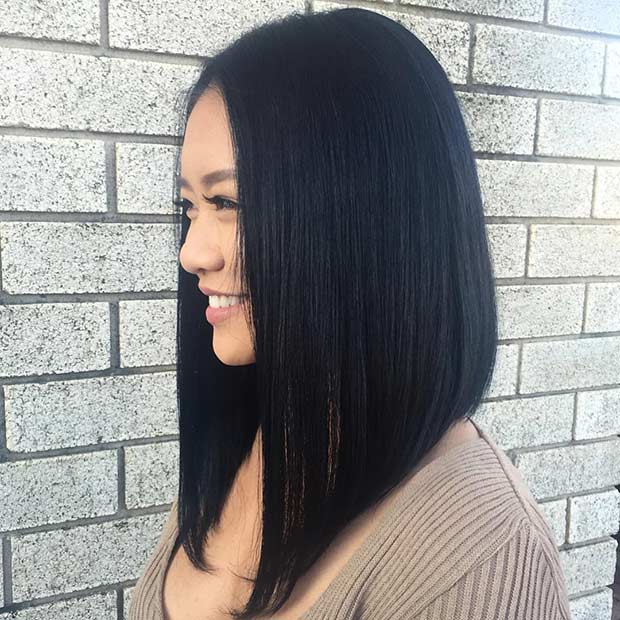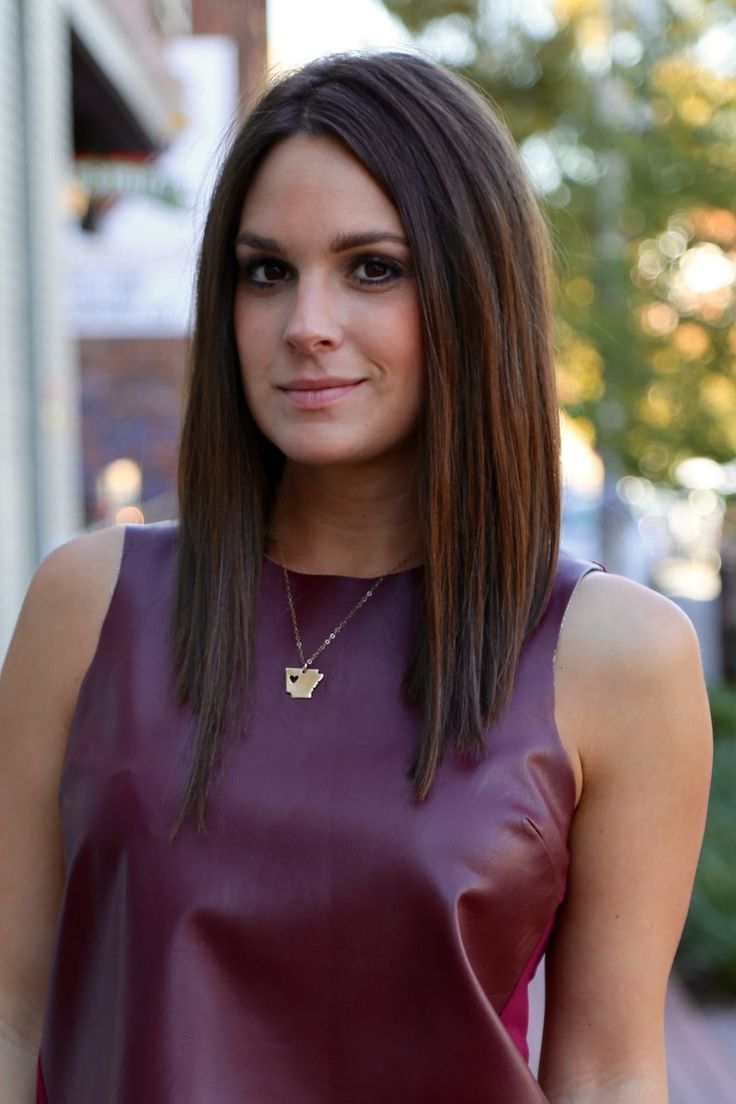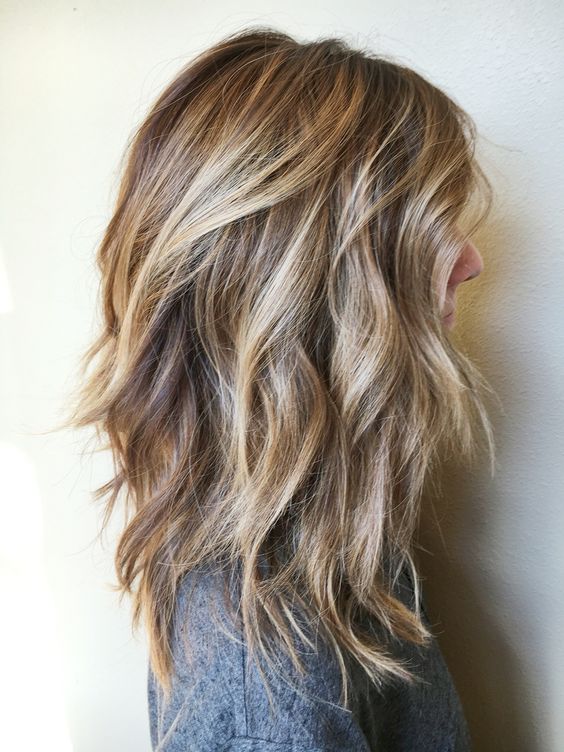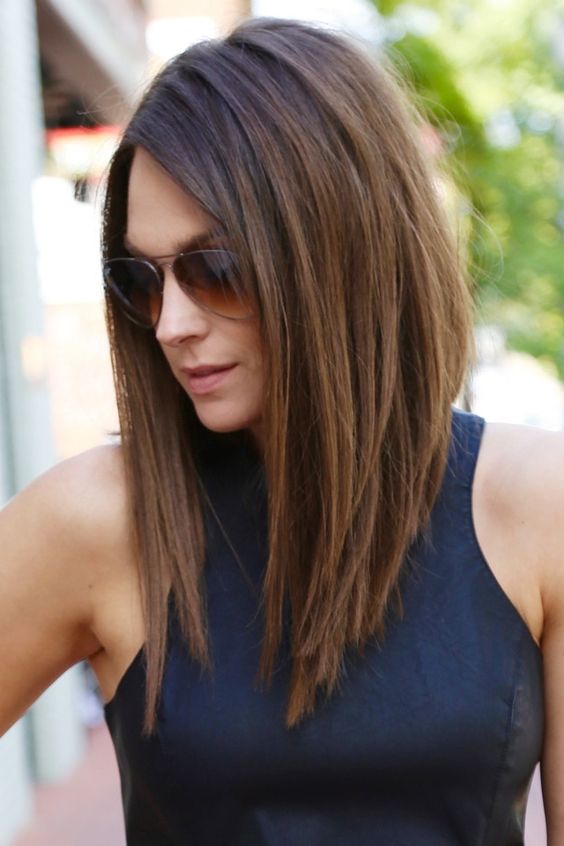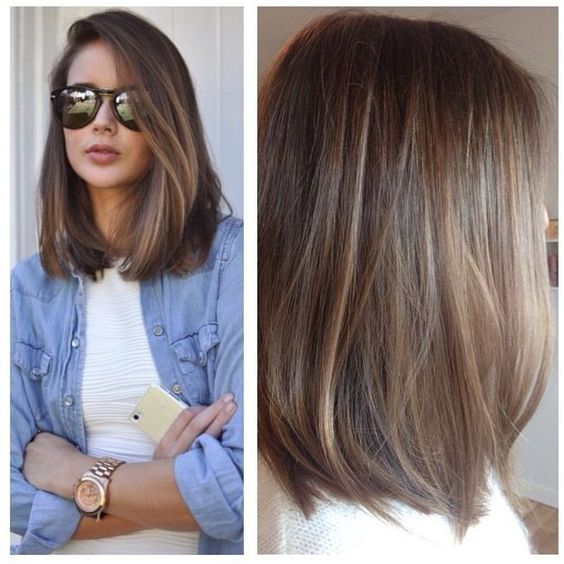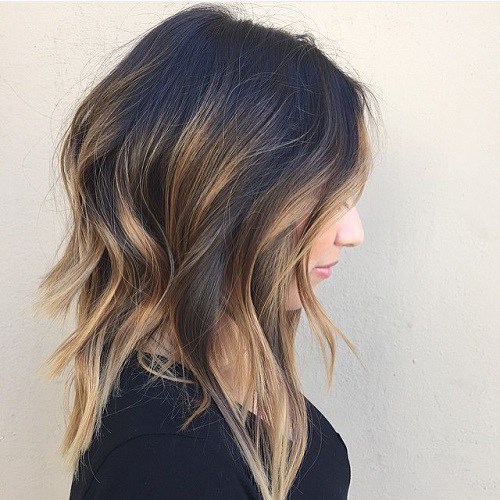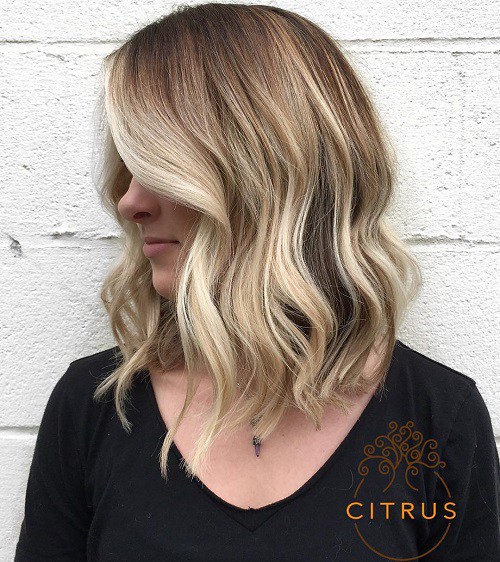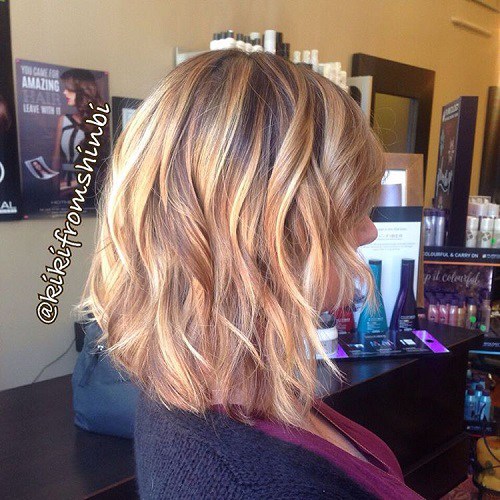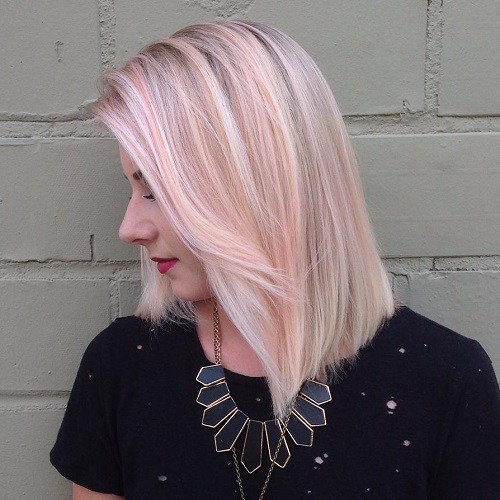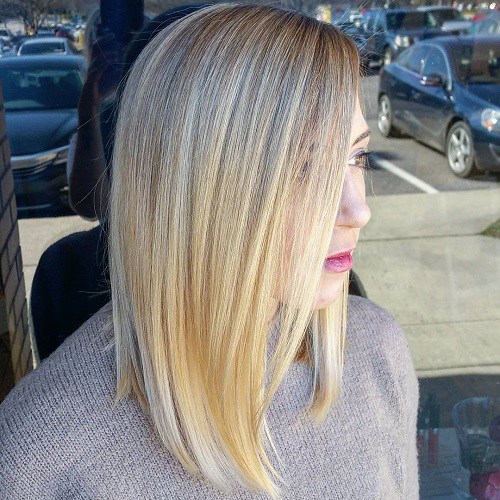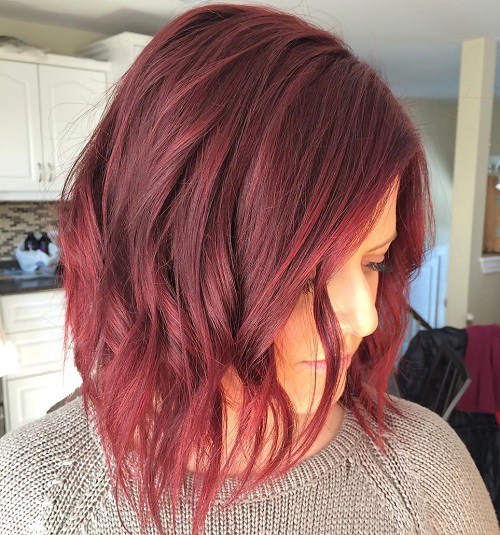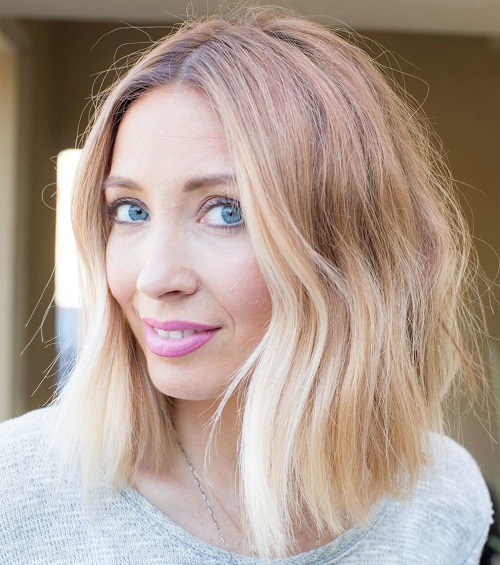 Hope you've found yourself a trendy new look from today's gorgeous gallery of long bob hairstyles and easy lob haircuts, to keep you looking and feeling fantastic!
Sours: https://hairstylesweekly.com/perfect-long-bob-hairstyles-easy-lob-haircuts/
22 Trendiest Long Bob with Bangs Women Are Asking For Right Now
Messy Layered Lob with Very Long Bangs for Fine Hair
Instagram @jarahshair
The messy layered lob with very long bangs for fine hair is effortless to create. Pulling off a long bob with bangs like this one is totally doable by adding lots of layers to create volume. This makes the super trendy messy bob look like it's coming out of L.A. It also looks more natural on a dirty blonde shade.
Blunt Bangs on a Long Bob
Instagram @emilianhaircolor
This sleek lob with bangs is cut shorter underneath and longer on top, making it more fitting for women who are looking to add a little edge to the popular lob trend.
Remember to consider how much time you're willing to spend styling it in the morning. A fringe with a long bob is more maintenance but can be so edgy and fun. It's a great way to change your appearance without making a big chop.
Blonde Lob with Bangs for Thick Hair
"The lob cut is an edgy haircut when the front is longer than the back."
Lindsay Porteus who's a hairstylist at the Capricci Ricci Salon in Winter Park, FL tells me this.
"Bangs with a long bob are maintenance, but if you ask your hairdresser to really show you how to style them, it could be a game-changer.
Her styling secret? "To style the bangs, a good round brush will do the trick."
Curly Long Bob with Curly Bangs
Rocking a curly bob with curly bangs is a chic way to flaunt natural hair texture. Go for this long bob style if looking for an easy-to-maintain haircut for kinks. It's best to keep the length where it touches the shoulder to maintain its body and fullness. This long curly bob with bangs needs a boost of moisture to look its best.
Q&A with style creator, Nubia Suarez
Salon Owner / Hair Stylist @ Rezo Salon in New York, NY
How would you describe this?
This curly bob with curly bangs is a rëzocut. The 3D bangs have volume and were styled with rëzo Curl Control Shampoo for intense hydration. Try rëzo Curl Define Hair Gel for perfect definition.
What's your best advice?
Rëzo bangs really are perfect for all hair types. They're versatile and so can be worn to either the right or left side. Or they can be worn as big dimensional bangs, regardless of where you normally part your hair. The dimension of rëzo bangs is customized depending on the face structure. A little longer frame at the bottom with seamless elevations will soften a round face.
Textured Lob with Curtain Bangs
Instagram @hirohair
The middle part, curtain bangs on a long bob is perfect for those with small foreheads but want the bangs experience.
A-Line Long Bob Cut with Blunt Fringe
"This A-line lob with fringe haircut is strong and elegant."
Hairstylist and colorist Leo Telaku from the Salon Contrasto in Florence, Italy interviewed with me for this haircut.
From his experience, "a long bob and bangs can help to make the face look longer on women who have more of a round shape."
"The strong deep fringe is good for women who want to give more value to their face," he adds.
Asymmetrical Bob with Long Bangs
This is a stunning asymmetrical long bob with side bangs and razored layers.
It was created by Noelle Weatherwax the Owner of Concrete Rose Salon in Santa Cruz, CA.
To style this long bob with long bangs, Noelle suggests using a smoothing cream "to ensure a sleek and shiny blowout and finish with a dry wax to piece it out and shatter it a bit."
To finish, "blow dry up and away from the face with a large round brush to create soft movement and volume."
Noelle said this long asymmetric bob with side bangs will help elongate a round or heart-shaped face. It does this "because of the dramatic angle and length around the face and the height added by the shorter layers."
Medium-Length Bob with Side-Swept Bangs
Instagram @tzhair
There's so much to love about this long bob with side swept bangs! Play with different styles like this tousled up strands with bangs brushed to the sides. Even try a deep side-part.
Want to see more? Check out some of the best long bob hairstyles this year.
Flattering Choppy Long Bob for a Round Face
Instagram @yukistylist
This is a flattering choppy long bob for a round face. The jagged ends and choppy layers add texture to a long bob haircut with bangs like this. This flatters round faces and gives an illusion of a longer length.
Shaggy Medium-Long Bob with Brow Skimming Bangs
Instagram @rainasbythesea
Blow drying helps keep the volume on a shaggy medium-long bob with brow-skimming bangs. The edginess brought by the bangs and the mess is the right kind of punk and professional.
Weave Lob with Feathered Bangs
Instagram @wehairspa
Change up your hair any day of the week by investing in bob weaves. Long bobs with feathered bangs cover up the edges for flawless wear.
Ideal Textured Lob for Thin Hair
Instagram @bel_pipsqueekinsaigon
An ideal textured lob for thin hair is a type of cut that allows hair to have a thicker, fuller look. Cutting fine hair shorter boosts its volume and shape. Opt for this long bob with bangs if you're looking for versatile hair that's very easy to manipulate.
Shoulder-Length Bob with Side Bangs
Stylist Jaylen Zanelli from The High Priestess Salon in Glendale, CA describes this as a  "textured, shoulder-length long bob with fringe, styled in a classic way."
Not quite long, not quite short. Ah, a long-length bob side bangs looks about right.
"A shoulder length bob with bangs is very versatile and depending on your natural hair texture." Jaylen advised.
Balayage Blonde Long Bob with Swoop Bangs
This gorgeous long bob hairstyle with bangs was created by hairstylist Dante Pimpo of Ciao Bella Hair Studio in Kenmore, NY.
She described the cut and color as "unconstructed with a warm base with a blonde balayage. The focus on this cut is movement and ease."
Dante's best advice? "This hairstyle is not for ladies who want a predictable style. Humidity products and styling tools will determine the style, such as flat iron waves with a texture spray as a finish!"
Lob with Side Bangs and Layers for Thick Hair
This is the perfect lob with side bangs for thick hair. Hairstylist Madison Justice at Balance Salon Spa in Tampa, FL is a huge fan of this chic cut for its low maintenance.
She described it as "a creative hairstyle that can fit almost any face shape and look different on each woman."
For how to cut and style a long bob like it, here are some things she said to keep in mind.
"It doesn't do well on coarse/tightly curled hair. It is more suitable for straight, medium density, or wavy hair."
Lastly, "a quick flat iron curl or wand is all it takes to style a gorgeous long layered bob cut like this."
Beach Waves Wavy Bob with Asymmetrical Bangs
Instagram @tristanopeluqueria
Notice how this beach waves wavy bob with asymmetrical bangs looks so full of life. It softens a square face shape. Though this choppy lob haircut with bangs looks better on straight hair, waves and curls do level it up. This is the type of long bob thats more flattering with a wavy texture to emphasize those choppy layers. It requires minimal effort in styling, too!
Choppy Layered Long Bob with Straight Bangs
This choppy layered long bob with straight bangs is trendy, modern, and a little bit edgy.
It's a version done by Kelly Wiesner, a hairstylist from Caruso Hair & Esthetics in Pittsburgh, PA.
Her best styling advice? "You need a little extra time in the morning to make sure the bangs are styled. Fry texture spray is this haircut's best friend to achieve the perfect tousled lob."
Long Inverted Bob with Long Side Bangs
This long inverted bob with bangs is rich, sleek, and chic.
It was created by master stylist Alyvia Robinson at My Salon Suites in Palm Harbor, FL.
"Long bobs with bangs are incredibly versatile and look amazing on most face shapes," Alyvia tips.
Lob with Short Bangs
Instagram @hairby_tiger
Opt for a lob with short bangs to add softness around the face. The micro fringe on a long bob can be personalized, so most women can pull it off. Don't hesitate to soften the fringe, sharpen it, or add texture to it. If the hair is too flat and lacks movement, soft curls at the ends can do magic.
Blunt Bob with a Deep Side Part and Angled Bangs
Instagram @demetriusschool
Here's a blunt bob with a deep side part and angled bangs. This longer haircut is a type of a blunt A-line bob with side-swept bangs and a deep side-parted style. The fringe is what can frame a heart face shape. Hair becomes more versatile if its length lands right at the shoulders.
Angled Long Bob with Wispy Bangs for Straight Hair
This long angled bob with bangs is shorter in the back and longer in the front.
Kayla Whitley from the Sleek Salon & Spa in Chesapeake, VA comments on her masterpiece.
"It's designed to move the hair toward the face."
As a pro hairstylist, Karla advises that "this long bob cut is best for fine hair because stacking makes volume and fullness."
Wispy bangs are a great way to hide the shape of your forehead.
Kayla describes this look as a medium-maintenance style. While it's modern and trendy, it's also practical and able to be pulled back if need be.
Her final advice? "Photos help stylists understand what is expected on our end, but anatomy gives every individual their own unique look for a long angled bob with bangs!"
Stacked Bob with Long Choppy Bangs
Instagram @hairxjojo
Consider this stacked bob with choppy bangs if you're searching for a good reason to get a cut. To ensure its versatility, choose the length that grazes the neck or shoulders. The outcome? It can be sleek or wavy but would still look glamorous! If hair needs a little texture and dimension, partner it with a blonde balayage.
Sours: https://www.latest-hairstyles.com/long/bob-with-bangs.html
DIY Long Bob Haircut Tutorial
40 Amazing Long Bobs with Side Bangs to Try
Long bobs with side bangs look awesome on women if styled properly. Bobs are a classy hairstyle that is always the main part of trendy dos. Whether asymmetrical, choppy or perfectly symmetrical, bob styles are always eye-catching. Add side bangs to the mix and an air of contemporary mystery is created.
Which Bangs Styles Will Suit Your Lob?
Lobs have made it big on the fashion trends this time. And why wouldn't they? They are so cool and stylish that ladies find it hard to resist them. Lobs get better when some bangs are added to them, don't they?
From a long bob with side bangs to vintage pinned up bangs, all the bang styles are lovely and trendy. So, if you have a lob and want to add some bangs to it then hold on for here is a guideline on which bangs style will suit your long bob style.
Blunt Bangs for Straight Sleek Lob
If you have a black sleek lob and want to keep things natural yet stylish then go for blunt bangs. These bangs end at your eyes and make you seem intense and severe. You can have them cut longer too if you want to.
Choppy Bangs for Thick Wavy Lob
If you have thick hair styled in a wavy and well-layered lob then choppy bangs are perfect for you. They draw major attention to your eyes while making your hair look less thick and more natural.
Side Swept Bangs
Side swept bangs are great for your lob if you have fun and easygoing loose curls in your lob. They make you look stylish and young while covering most of your forehead in an asymmetrical way.
How Lob Differs from Bob?
Lob and bob are both impressive and popular hairstyles. A lob is sometimes referred to as a long bob too since it is same as a bob with a greater length. A bob skims the surface of the jawline usually while a lob touches your shoulders. The women who love short hair but do not want to risk cutting their hair too short can go for a lob as it falls in the category of medium length hair. Bob is more focused around the face, draws major attention there while a lob is longer, and is suitable for all face cuts and shapes.
Chic Long Bobs With Side Bangs
This hairstyle is also called lob with side bangs/fringe. Here is a list of 40 stunning long bob styles with side bangs we really love!
1. The Classic Long Hair Bob with Side Bangs Look
The elements of a good long bob with side bangs is one in which the bob drops just below the nape of the neck with a noticeable side-sweeping bang. Celebrities love this style as we often see them wearing it on the red carpet or a night out on the town.
They are easy to maintain and can readily have extensions added for a different expression of self. Women with this hairstyle look really cute if it suits with the face!
2. Red and Fabulous
Add a bit of flare to your lob with side bangs by giving it a bit of color. This deep red with dark undertones adds a bit of flash to an already gorgeous look. Not a red head? Go blonde! Also, there is the option for highlights to make this cut that much more fabulous!
3. The Long Bob with Inverted Side Bangs
The long bob and side bangs combo hairstyle enables you to take on a variety of looks including an inverted side bob with side bangs!
4. Asymmetrical Long Bob with Side Bangs
This look is neat, long and yes, the side bangs are there. The image is asymmetrical, but it's a clean and sleek cut that will turn heads. Most girls with triangle and oval face shape look fascinating with this style.
5. The Creative Long Bob with a Side-Bang Pin
Get creative with your side bang! Add a pin to tuck your bangs back while still showing off the beauty of this cut. Your hair is still long enough for more than pinning those bangs. While the long hair bob with side bangs might be your chosen hairstyle, there is still room to alternate hairstyles. You can also switch things up by pinning your hair into a sweeping up-do.
6. Long Layered Bob with Side Bangs
Layered bobs are a great hairstyle for women with thick hair. You'll get more manageable hair and can wear it with cute side bangs and wavy body.
7. Long Angled Bob with Side Bangs
A chic hairstyle featuring side bangs, this long straight angled bob is rich in auburn color. The ends are slightly flipped so they curl into toward the face.
8. Side Part with Side Bangs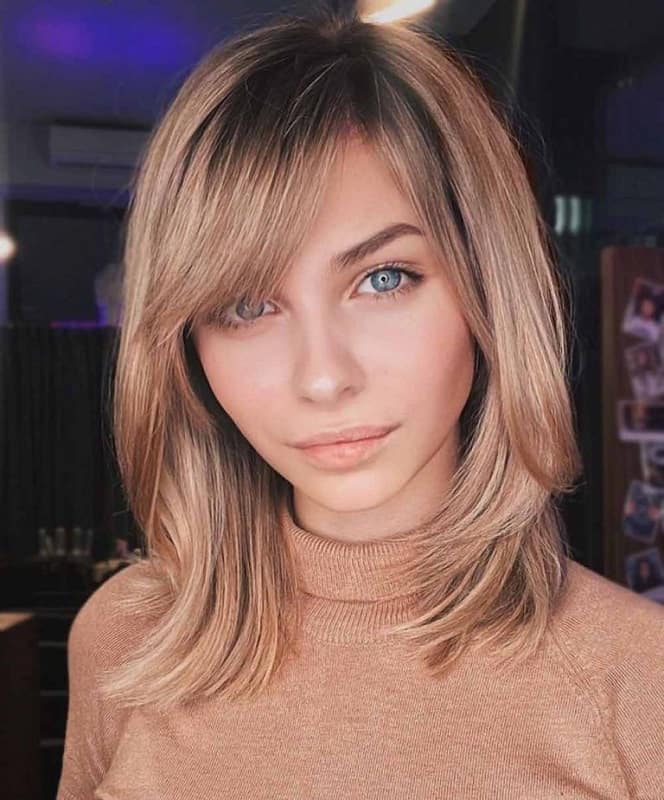 Many hairstyles feature a center part and a side bang, but this medium blonde hairdo builds the side bang off a side part. It flatters a multitude of face shapes, like this heart-shaped one.
9. Long Curly Bob with Side Bangs
For curly hair, cut it short to bob-length and work the texture with product. A choppy side bang gives this look edge and beautiful contrast.
10. Long Thin Bob with Side Bangs
For thin hair, a long bob with straight locks and side bangs is a gorgeous option for youthful face-framing. This look also features an off center part, creating small volume in the process.
11. The Messy Long Hair Bob with Side Bangs
While some of the cutest bob styles for women are proportioned and cleanly-cut, some of the most beautiful long-haired bobs with side bangs are messy or rich with cascading waves that help to lighten the look. Messy does not mean unkempt but instead, a hairstyle that is gloriously carefree.
12. Tousled Lob with Messy Bangs
Who doesn't love messy tousled long bob running down the sides of their face? This lovely lob has untamed messy bangs swept to a side which make you look young, carefree and fun loving. Embrace it with edgy classy hair color and see how everyone appreciates your style sense.
13. Long Bob with Flowy Side Bangs
This chic and modern style is particularly attractive due to the modern grey highlights on the natural base of brown or black hair. These flowy side bangs are sure to get you all the attention that you want to have.
14. Soft Romantic Bangs
What is more feminine than soft blond locks? You can get an even more soft and romantic look with your hair highlighted around the tips while rocking a long bob with side bangs.
15. Long Side-Part Lob
This long bob comes in a lovely blond shade which has a side part. The bangs at the front are more of a fringe as they go lower than the eyes and are swept to a side delicately.
16. Natural-Looking Side Swept Bangs
Do you want to look cool and chic, but want to keep things natural too? This lovely lob with natural side-swept bangs is a nice style for you to achieve that. It is perfect for those who prefer to have that class apart natural look in the crowd.
17. Choppy Cut
This beautiful and attractive choppy cut is cool as the lob has many exquisite layers. The choppy bangs swept to a side add more character and loveliness to it.
18. Highlighted Bob with Side Bangs
For older women wanting an updated look, try this short highlighted bob with side bangs. The layers are mostly up front around the face for gorgeous framing.
19. Side Bangs for Oval Faces
A layered bob with side bangs is a good look for women with oval faces or wide foreheads. Make them mostly straight and fill the body with soft waves; you can even add highlights!
20. Ash Grey Messy Side Bang
Pump up the volume on a layered short bob with messy side bangs. The ash grey color looks great against darker skin tones. Use hairspray to tease in volume.
21. Straight Side Bangs with Highlights
If you prefer to wear your hair straight, you'll love the way this straight long bob with its thick side bangs looks. Add chunky highlights in light blonde for shine.
22. Soft Side Bangs on Long Hair
For a professional hairstyle you can wear to work or a formal look for special occasions, straighten your long hair and wear it with a side bang, teasing the hair at the crown for volume.
23. Asymmetrical Bob with Side Bangs
On oval and heart-shaped faces, asymmetrical bobs with side bangs are a flattering cut. Leave your hair the natural color or choose a light shade like blonde.
24. Blonde Side Bangs
These extra long side bangs glow with different shades of blonde. They style is a stunning nod to Faith Hill's sexy teased short hair circa 1999.
25. Thick Side Bangs for Black Women
If you're updating your natural black hairstyle, rock tight spiraled curls, a heavy side part, and thick bangs. This is definitely a dramatic look great for parties!
26. Choppy Cut with Side Bangs
For your balayage or ombre medium length hairstyle, add in a small section of side bangs and fill the hair with large curls.
27. Light Blonde Straight Bangs
Emma Stone once rocked this long straight hairstyle with side bangs. Her round face proves how soft and chic blonde side bangs can flatter your angles.
28. Blunt Side Bangs
Jessica Alba's brunette wavy hairdo features bluntly cut side bangs. They aren't thick but they still make a statement because they come past eyebrows, drawing attention to the eyes.
29. Ombre Hair with Side Bangs
To liven up your long straight hair, add side bangs and go for ombre in blonde and a light pink at the ends. A few blonde highlights scattered throughout lighten up a dark brown base.
30. Teased Hair with Side Bangs
For a vintage spin on a medium or long hairstyle, go for smooth side bangs and an ultra teased crown for volume. Wear it as is or add a colorful bandana.
31. A-Line Bob with Side Bangs
This highlighted A-line bob shows off a thick side bang, a great hairstyle option for women with small faces.
32. Choppy Short Haircut
Whether you have thin or thick hair, load up the body with choppy waves and pair with a smooth side bang.
33. Red Highlights
Another way to style up your asymmetrical bob and swooped side bangs is with light red highlights on dark red hair.
34. Bright Yellow Bangs
If you aren't afraid to take a chance on an out-there look, add bright yellow to short hair with teased body and long side bangs.
35. Thin Hair Side Bangs
For this side bang hairstyle, concentrate short layers at the bottom half of the hair.
36. Caramel Highlighted Bangs
On brown and caramel balayage hair, a side bang is the gorgeous finishing touch.
37. Curly Side Bangs
Instead of wearing your super curly hair down and simple, shape it up with side bangs.
38. Long Messy Side Bangs
Not all side bangs are short and sweet. These extra long ones cover one eye and look gorgeous with teased and messy choppy body.
39. Short Bob, Short Bangs
While Taylor Swift has rocked many great looks over the years, this short straight A-line bob and cropped side bangs is one of the chicest and sleekest.
40. Grey Balayage Bob
Adding volume to the crown of your head on ash balayage bob is the easiest way to create a sexy look with side bangs.
There are many ways to wear the long hair Bob with side bangs. There is no hard rule to stick to when it comes to wearing this style. You have the option to wear this style bone-straight, add color or highlights or even a few waves and curls.
The key thing to remember is that flexibility of this hairstyle will take you a long way whether you're going to the gym, shopping, a night on the town or a formal event.
Sours: https://hairstylecamp.com/long-bobs-with-side-bangs/
Haircut bangs long lob with
At this point, it's nearly impossible to troll for hair ideas without coming across a lob haircut—or several. The long bob—hence lob—entered the mainstream around 2015 and has held on as a fave among celebrities and Insta girls ever since. There's a reason the cut, which ranges from mid-neck to collarbone length, is so popular. It's universally flattering since the short length brings all the attention to your face, it looks great on all hair textures, and it's super versatile.
"A lob gives you the look of a shorter haircut, but with the feeling of longer hair," says Ryan Trygstad, co-owner of New York City's Mark Ryan Salon. "It has the option to look both long and short, and has so many styling options. They can be waved for a beachy look, air-dried for a lived-in cool-girl look, or flat-ironed for a sleek, polished look." 
Long bobs are also ridiculously easy to maintain. "Lobs are great for low-maintenance girls," says Trygstad. "They're low-commitment because they grow out to a long hairstyle pretty easily." However, to keep the cut looking fresh, he recommends getting a trim every six to eight weeks. 
Since lobs are so flexible, there's a style to suit everyone, whether you prefer your hair stick straight, full and curly, or somewhere in between. Scroll on for the best lob haircut ideas. As these photos prove, there's really no going wrong.
Sours: https://www.glamour.com/gallery/best-lob-haircuts
DIY Long Bob Haircut Tutorial
20 Modern Ways to Style a Long Bob with Bangs
Thinking about giving your medium hair an update? Try a sassy and versatile long bob with bangs. The lob is a great choice for women of all ages because it's classy, timeless and suitable for different types of hair and face shapes.
Inspiration for Your New Lob with Bangs
You may be asking yourself what's so great about it, and if you should try it out? Well, we've found 20 of the hottest hairstyles on Instagram that highlight why the lob with various kinds of bangs is so popular. That, and the fact that it's typically flattering to most face shapes and hair textures. Get ready to be inspired!
#1: Tousled Lob with Messy Bangs
A bold color? Check! An edgy cut? Check! There's so much to love about sophisticated colors as they're eye-catching and modern. While the layered cut and the tousled styling enhance naturally wavy or curly textures.
#2: Bob with Flowy Side Bangs
The thing that stands out about this light and airy look is the color: highlights rooted in your natural color (especially when they are blond and brown) are pretty and ultra-modern. Wearing a lob with bangs is almost definitely a way to get noticed. However, a lob with long side bangs is a guarantee.
#3: Voluminous Blonde Lob
If your hair is not naturally voluminous, a guaranteed way to achieve volume is with a stacked bob, but that's not the only way. A long bob haircut with bangs and choppy layers can also create a more full-bodied appearance, especially if it's styled in sweeping layers and slightly tousled throughout.
#4: Soft Romantic Bangs
There's nothing better than beautiful, flowy locks, and a shoulder length bob with feminine bangs can be exactly what's needed. Plus, highlights perfectly frame your face – especially when they are focused towards the tips.
#5: Messy Long Hair Bob
One of the greatest things about lobs is that they are so cute, even with minimal styling. Take the messy bob for example: You may think she's just stumbled out of bed, but the beauty of the cut and its strength is in its effortlessness.
#6: Angled Long Bob
For a refined appearance, opt for a sleek angled bob. The best thing about it is that it's sharp and edgy without being too provocative – and it's worth it, even if you believe an angled bob is a little harder to maintain.
#7: Minimally Styled Lob
If you were searching for pictures to provide you with inspiration on what a long bob with bangs could look like, then this is a fine example. One of the pros of having longer hair is that you can afford a large number of different styles, with subtle beach waves being one of the most popular among them. When worn in a natural way, it's absolutely stunning.
#8: Gorgeous Lob for Thin Hair
A lob haircut with bangs is a great choice for women with thin hair, because unlike many other styles it does not make your locks appear flat. To enhance the cut, create a blend of your natural color and nuance highlights – which will leave you looking super elegant.
#9: Lob Bangs for Fine Hair
Want a no-fuss look that is chic and easy to style? A long bob is exactly that. For fine hair, create texture with layers, or simply use your curling iron to achieve a little volume at the ends.
#10: Extra-Long Straight Bangs
A longer A line bob tends to be much more versatile than its shorter counterparts, and is particularly flattering when worn with long bangs, as it creates interesting dimensions. Don't let the long bangs put you off, while they may seem tricky to wear for everyday (there's nothing more annoying than having your locks in your face) they are actually easier to style than you think.
#11: Blonde Side-Part Lob
One of the many wonderful things about a long bob with side bangs is that it's chic, but also has a laid back, casual-cool vibe about it. But that's not the only reason to love it: Blonde can be especially gorgeous with dark roots (of course we're not talking about cms of regrowth, but rather just a bit of your natural color peeking out).
#12: Long Platinum Bob
Platinum is a difficult color to pull off because even the smallest imperfection (like split ends) is instantly highlighted. However, an effortless way to disguise the condition of your locks is to wear them in a choppy lob. The centre parting of the layered fringe also makes it easier to pull off, while complementing the bold color.
#13: Natural-Looking Side Swept Bangs
There is something about a long bob with side swept bangs that just screams "cool girl." This lob is simple enough to maintain, but also seductive, thanks to the elegant fringe and gentle waves – perfect for women who want to create a sophisticated appearance.
#14: Choppy Cut
Naturally thick hair can benefit from an inverted bob (as it removes some of the heaviness), but so too can feathered layers. The rugged cut frames the face, making it appear softer. And it's absolutely lovely!
#15: Fuss-Free Long Bob
In need of a fuss-free hairstyle? Look no further! The long layered bob is classic and timeless, yet the side bangs add a more youthful element to it. But the very best part is that the lob requires minimal effort to style – and you still get maximum style points.
#16: Lob with a Modern Twist
This cut is interesting and creates volume, but the best part is undeniably the color. If you want a 'do that's sure to grab attention, then a high-contrast color with a root fade will create a truly individual image. Plus, the edginess of the hues work well with the femininity of the side swept bangs.
#17: Bob with Bronde Balayage
If there's one thing you should always remember, it's don't be afraid to play with color! Dipping your tresses in a sort of ombre balayage effect can create a striking statement. Plus, layers and bangs tend to work very well together.
#18: Lob with Deep Side-Part
A traditional lob is simple, but bangs make it fashionable. The deep side part of the bangs frames the face beautifully, and looks polished. This hairstyle also benefits from a solid color – in fact, the long bob with side bangs is especially striking on black hair because the darker hue makes the cut more expressive.
#19: Straight Hair and Striking Bangs
What is there not to love? We'll tell you: nothing! This fashion-forward image is proof that lobs work for just about any texture, including straight. While the platinum blond is a real head-turner.
#20: Bob with Dramatic Parting
Don't be afraid to go bold with your weave. The combination of the asymmetrical styling and dramatic side part makes it a truly standout hairstyle, creating an overall image that is sexy and feminine – common to long bobs with bangs. Not to mention that the two different colors are very striking.
If you want to update your appearance and go with a medium length hairstyle, there is nothing better than a long bob with bangs. In fact, if your hair is currently short, you may be tempted to grow it out, because, as these pictures prove, having great hair gives you the confidence you need to go out into the world and do your best!
Sours: https://therighthairstyles.com/long-bob-with-bangs/
Similar news:
35 Killer Ways to Wear and Style Long Bob Hairstyles
The long bob haircut is having a moment with a bunch of celebrities sticking to the style and rocking it in all kinds of ways. Polished, messy, straightened, wavy, blunt or layered – the diversity and flexibility make this cut one of our favorite. And since it's not as short as the classic bob cut, it leaves a possibility to bother with updos, when you wish to. But today, we are going to focus on how to wear it loose and chic depending on your individuality.
Modern Lob Haircuts by Hair Type
"The lob makes all hair look thick and healthy. Also, the strong lines draw attention to bone structure and help frame the face," said celebrity hairstylist Matt Fugate to InStyle. We can only add that you need to identify which lob haircut will be suited for your hair texture since there are so many options to choose from. Razored tips are great for lavish manes, taming them and making look lighter. The swing bob will show fine strands to the best advantage since its multi-layered back creates dimension. Wavy locks scream for a messy hairdo with some layering to enhance their texture. Further, you'll see more examples for various hair types.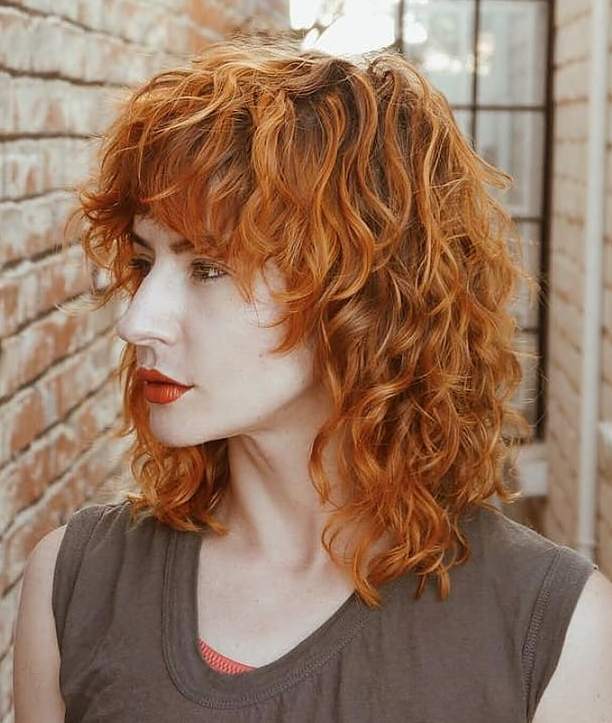 via @ramireztransalon
Red is just the color to make curly hair sparkle, while the lob with shaggy bangs leaves enough space for ringlets to bounce.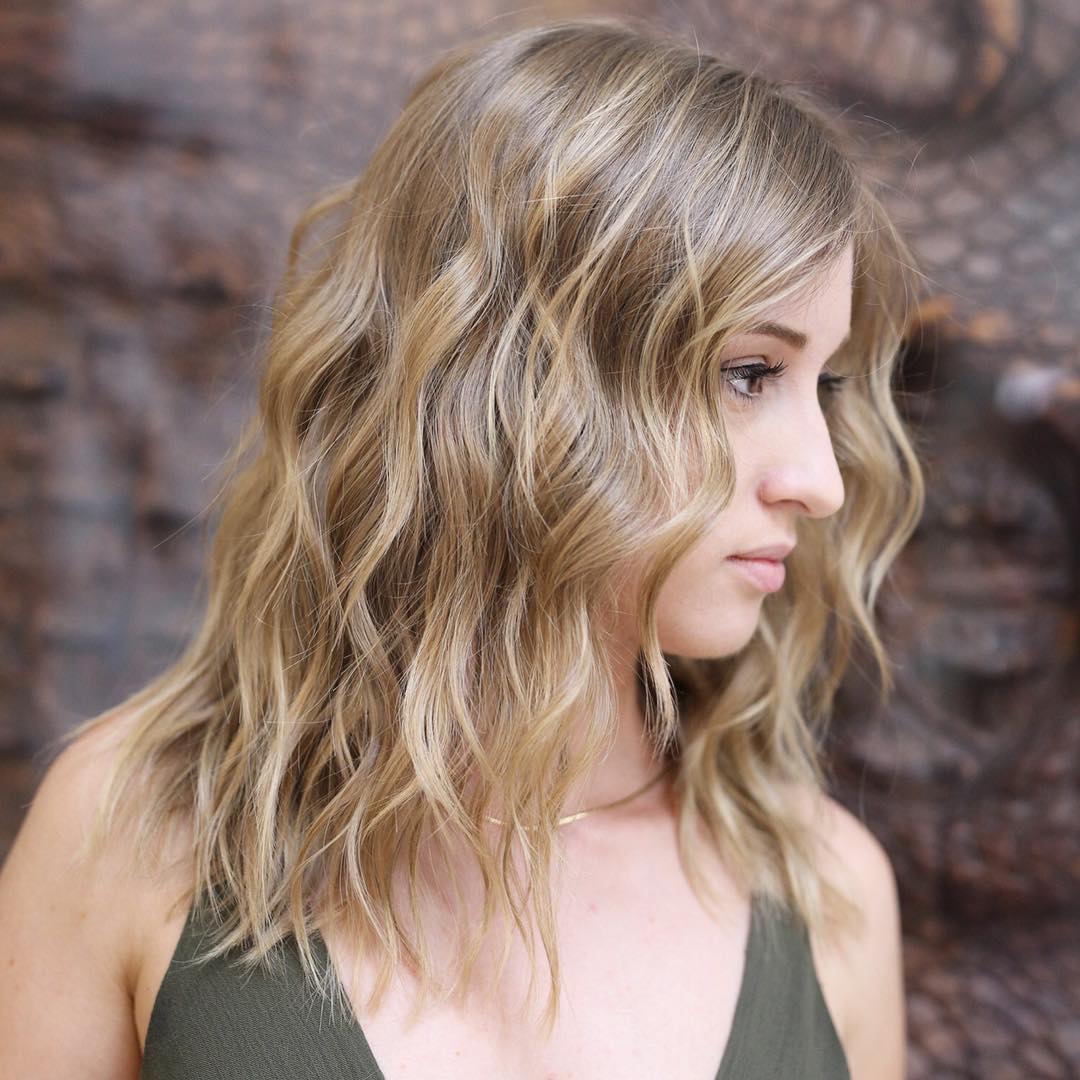 via @christinesilvermancolor
This girl rocks awavy long bob softened with a natural balayage. It's subtly layered to give the fine hair some extra density coupled with a seamless look.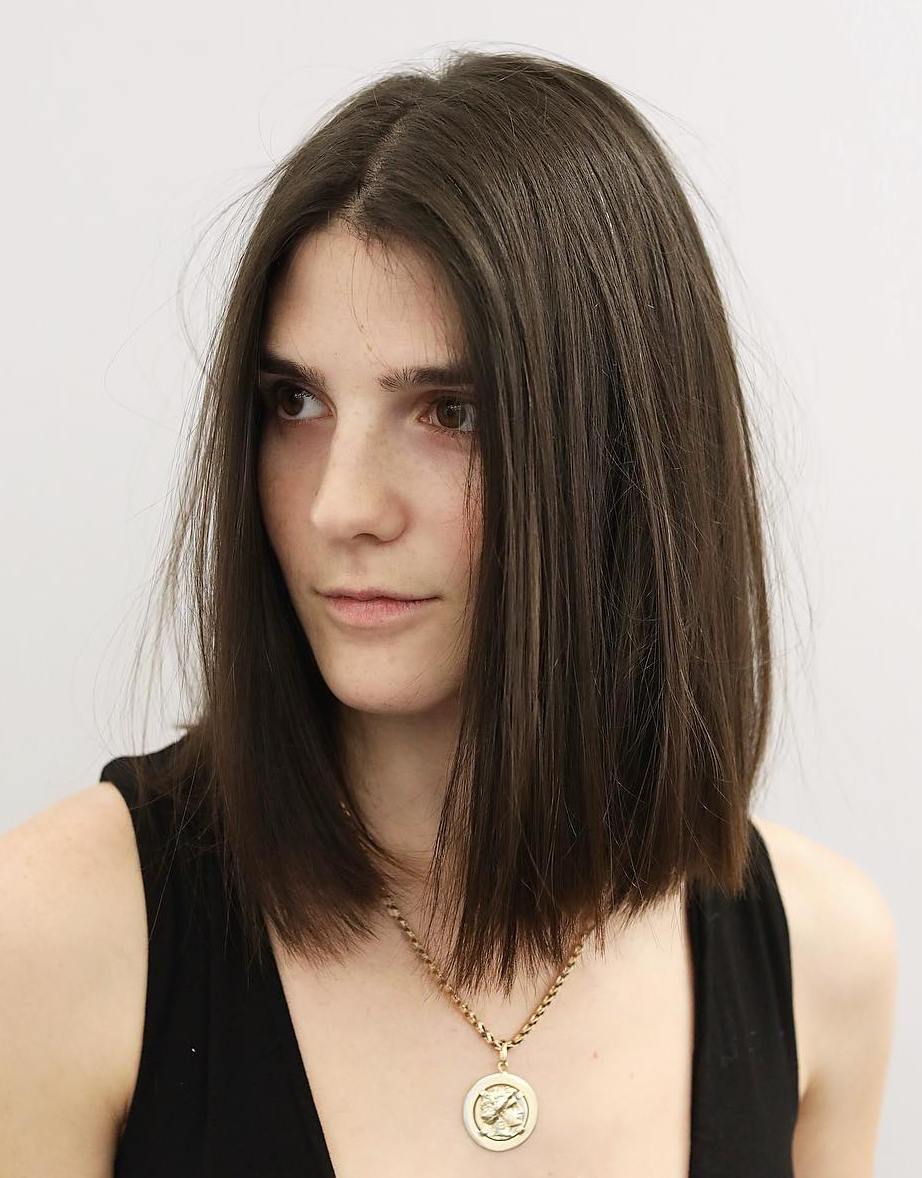 via @anhcotran
Straight medium-to-thick hair will benefit from a one-length hairdo that is slightly textured through point-cut tips.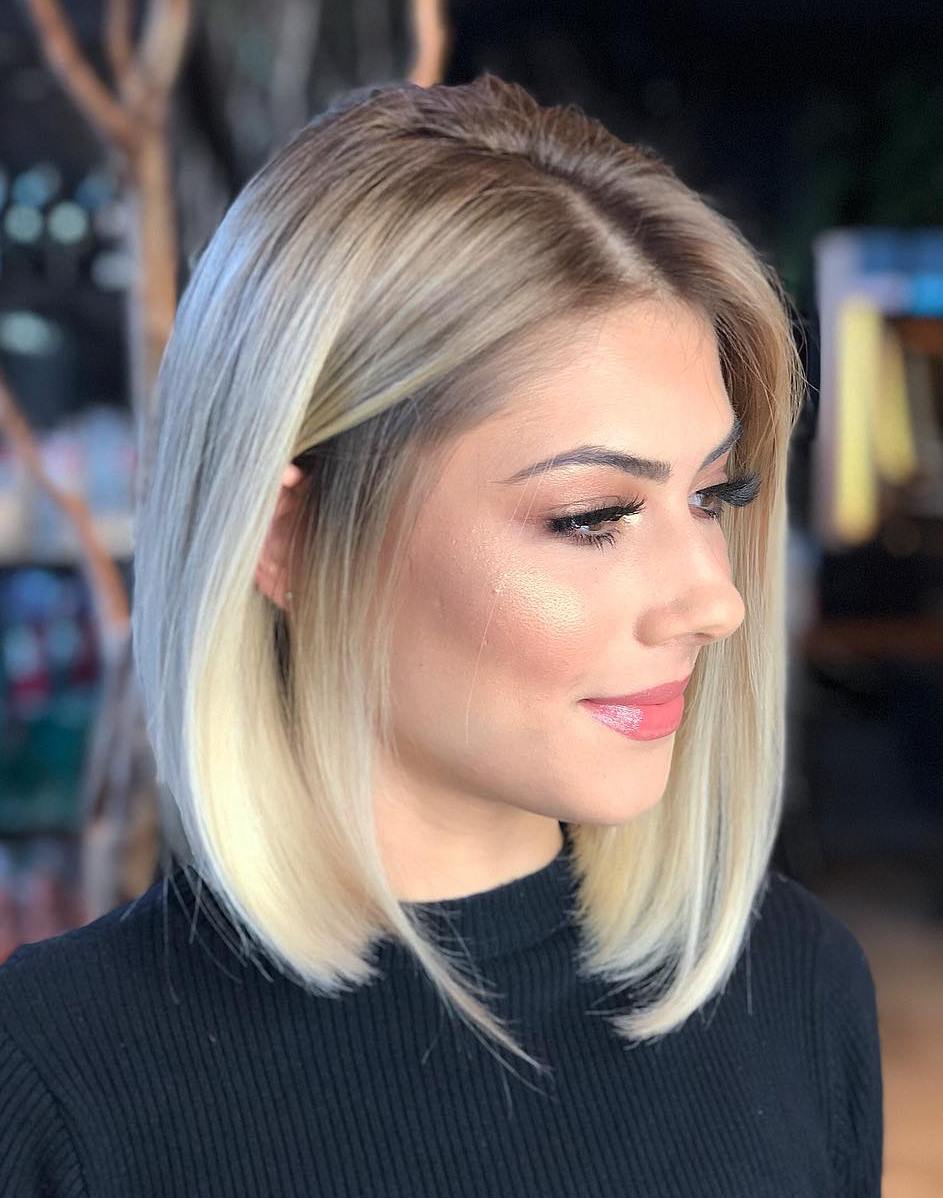 via @rafaelbertolucci1
A blunt lob is a go-to option for thin locks, creating a strong contour on the bottom. Don't forget to add some lift at the roots and steal this behind-the-ear styling to switch up your look.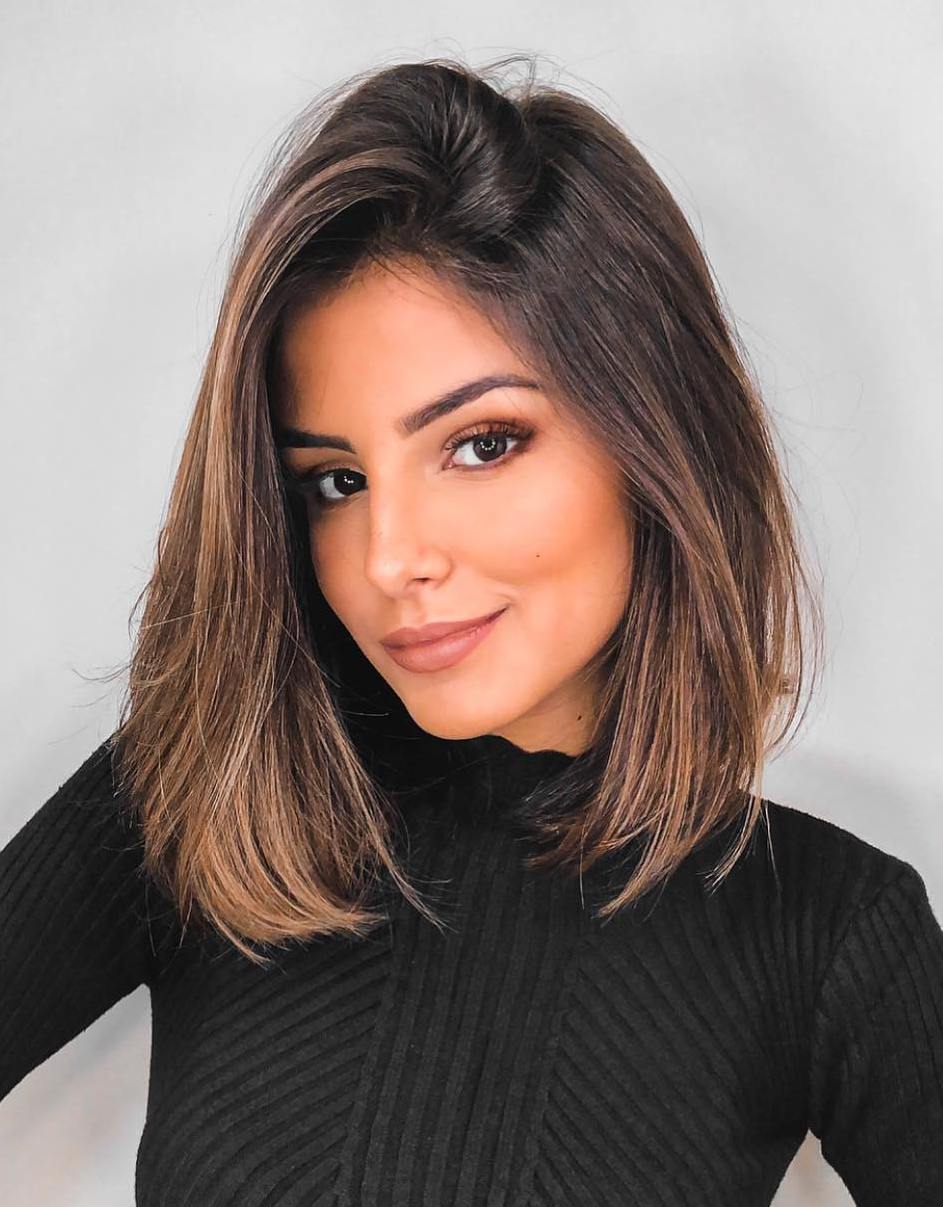 via @petermenezes
Though lush and voluminous, this thick hair might lack vibe, if not for the delicate highlights, emphasizing its round-brushed bottom.
Flattering Lobs by Face Shape
Probably, adaptability is the best attribute of lobs. The length that varies from under the chin to collar bone flatters almost any face shape, giving them a slimmer look. If you have angular facial contours, soften them with curves; if your face is round, get a lob haircut with added angles – it's really that simple.
The only rule is to avoid extra long options when having an oblong face. "Lobs are lengthening to begin with and can elongate a long face even more. So, by adding width with slight layers and incorporating texturizing products into your regimen, you can balance out the length slightly, reducing how much it elongates your face," says Bryce Scarlett, hairstylist behind Gigi Hadid, Rosie Huntington-Whiteley and Margot Robbie, to Cosmopolitan.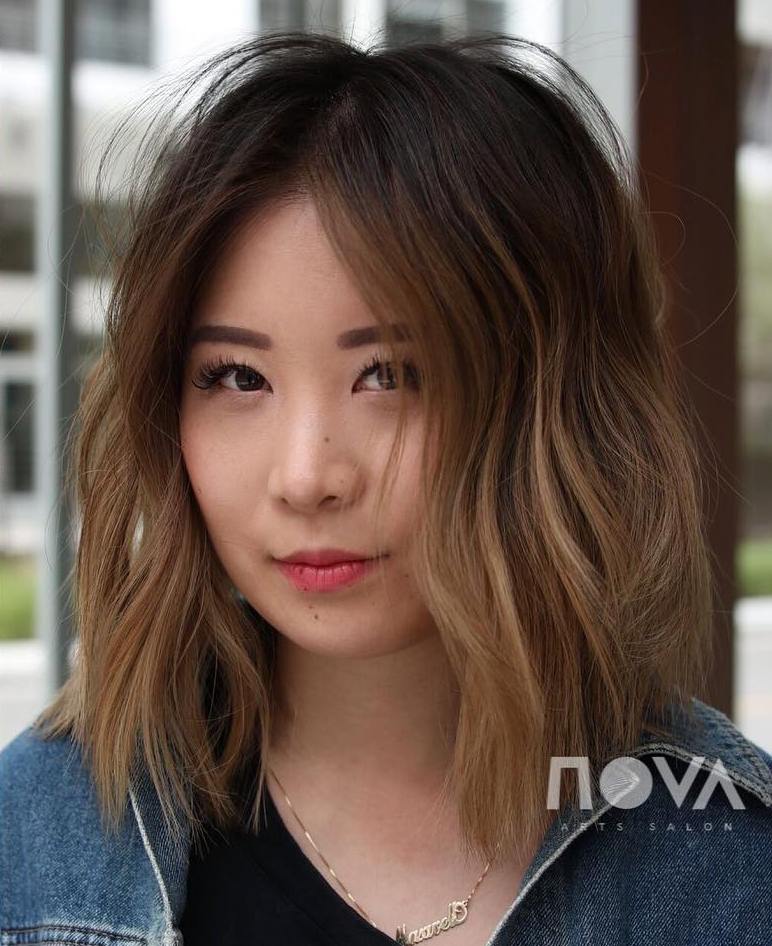 via @mizzchoi
A shoulder-length bob and angled bangs styling deliver enough elongation to balance anyround face.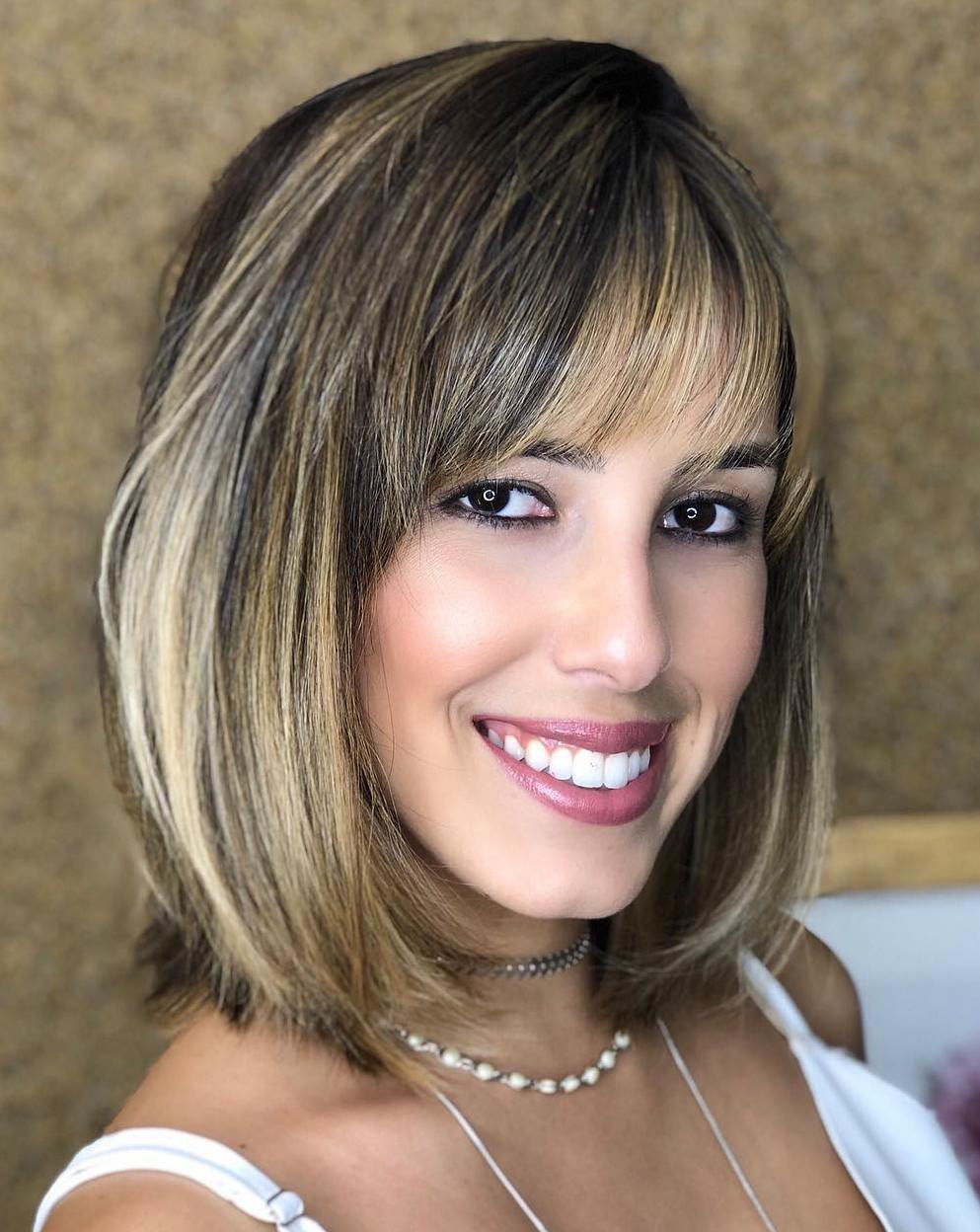 via @maxwellmathson
For girls with long faces and fine hair, it makes sense to choose a shorter lob version with added volume and density through highlights, a side parting and full feathery bangs.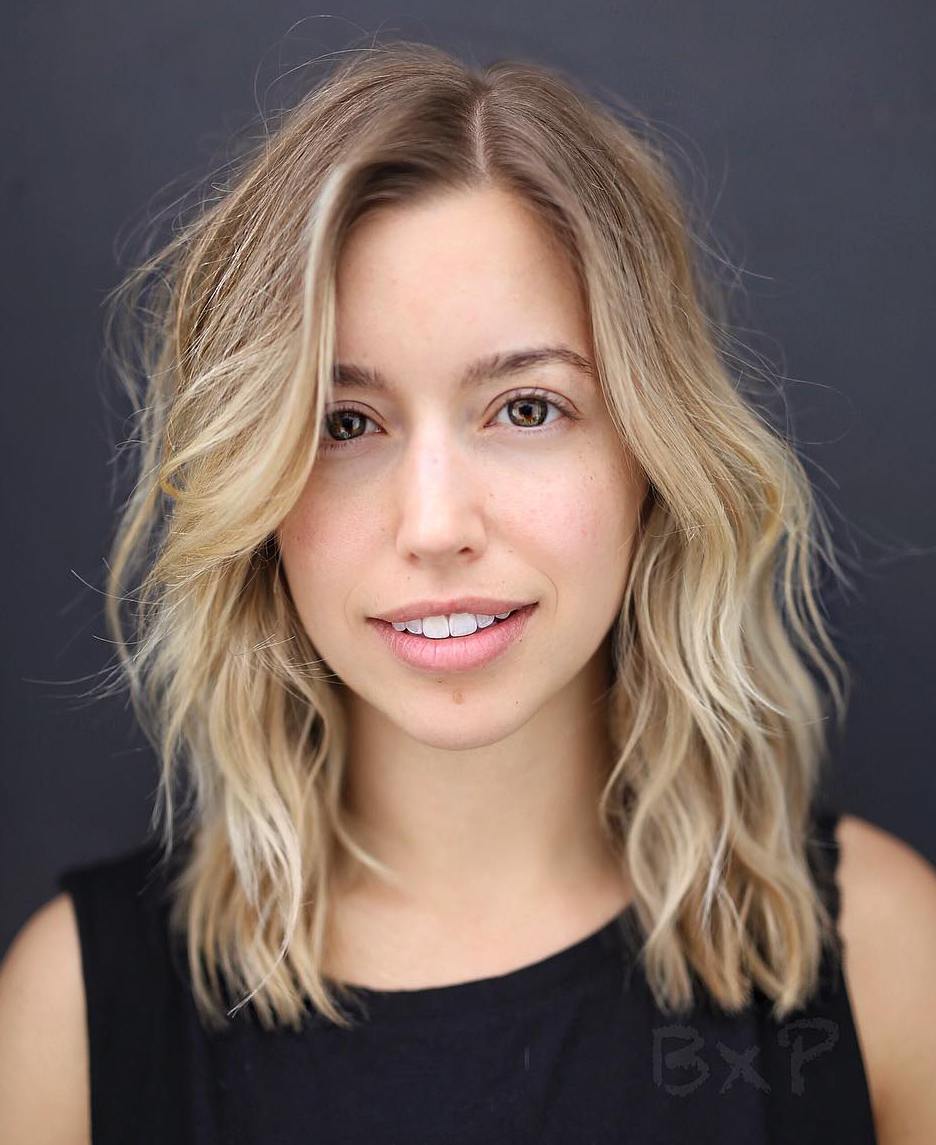 via @buddywporter
Though oval faces pull off any lobs, you can opt for a side parting to mitigate a dragging down effect that comes with the length.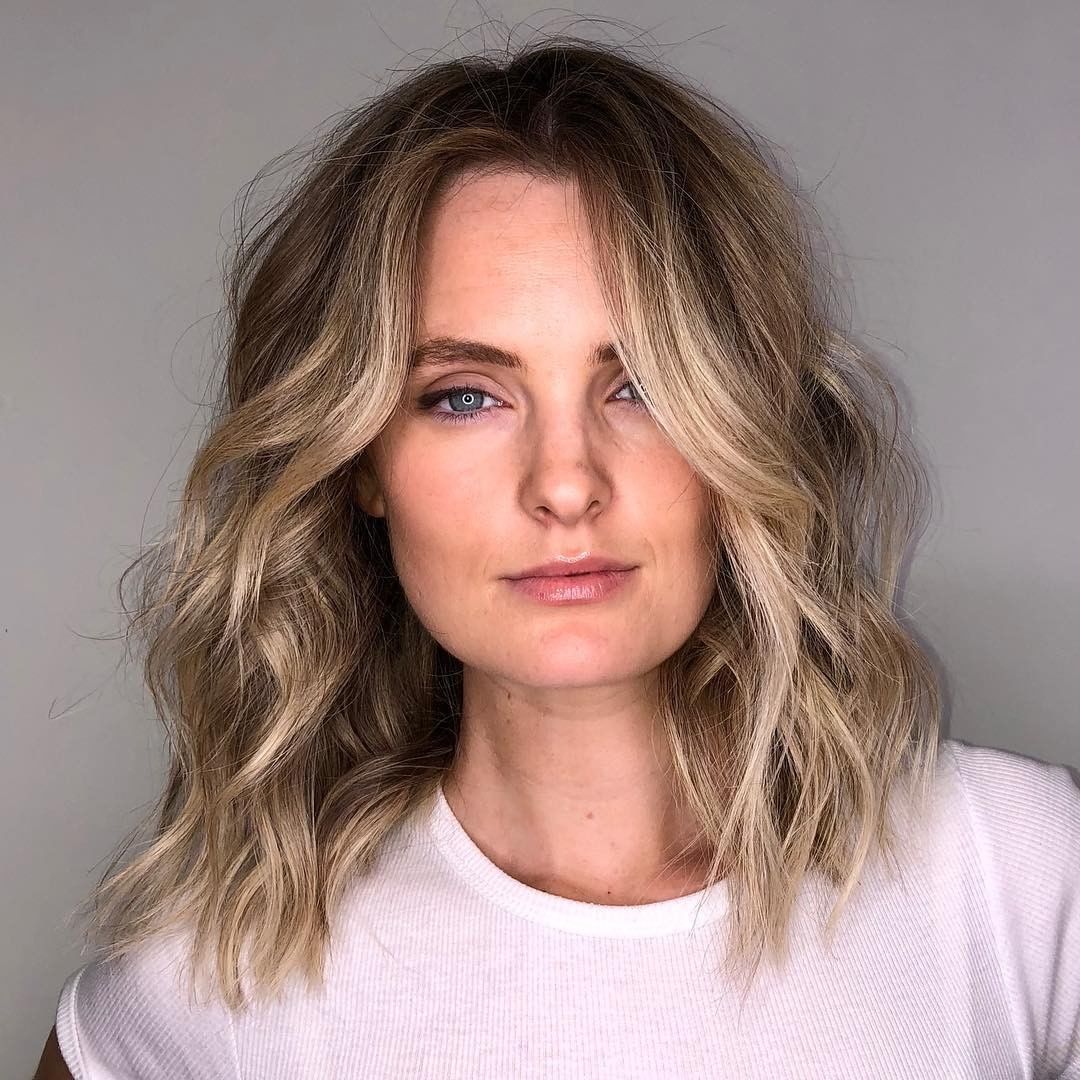 via @medullacoyorkville
A wavy lob with soft face-framing tresses is good for square faces, since it shifts the focus away from the strong jaw line and adds curves for improved proportions.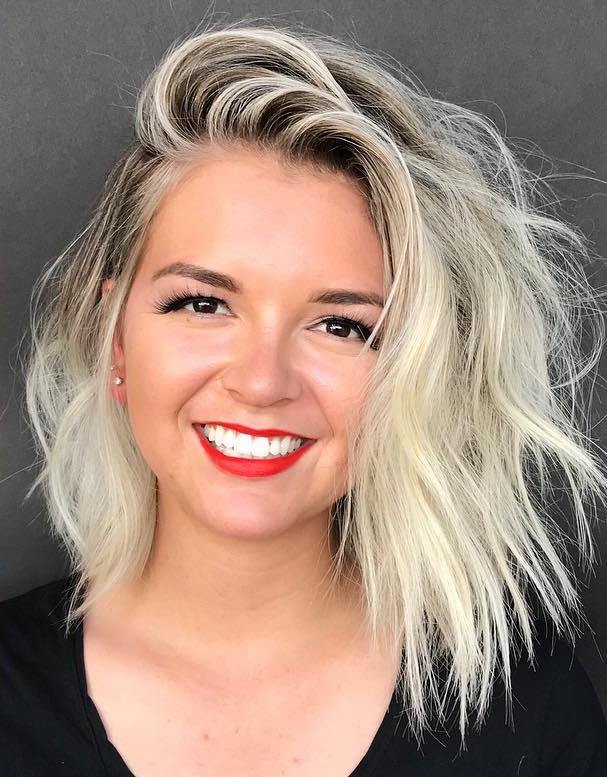 via @brianacisneros
If you have a heart-shaped face, try to avoid highlightingof the pointed chin by redirecting attention to the eyes and cheekbones.
Long Length Layered Bob To Be a Smash Hit
Why go layered when there are signature Kim Kardashian's blunt lob and stunning J.Lo's Met Gala look? Well, at the very least this will help your hairstyle last longer with minimal in between trims. "The good thing about a lob is that they're usually cut in a choppy, layered way, so you know it will look good for the next three months as it grows out," Frankie Foye, who gave Alessandra Ambrosio her brand new lob, told Cosmopolitan.
Sure, it's not the only reason to tilt toward layering. Go reverse with shorter layers at the back to have an elevated top or get cascading in the front for a flattering face-framing effect. Explore further how you can make it.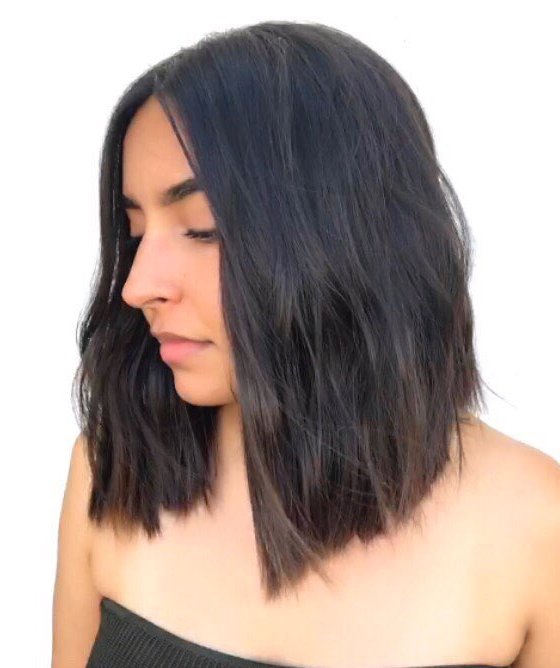 via @hannahburdy
This angled lob is slightly layered to give some texture and volume to the very subtly highlighted dark hair, while removing the extra sharpness of the color.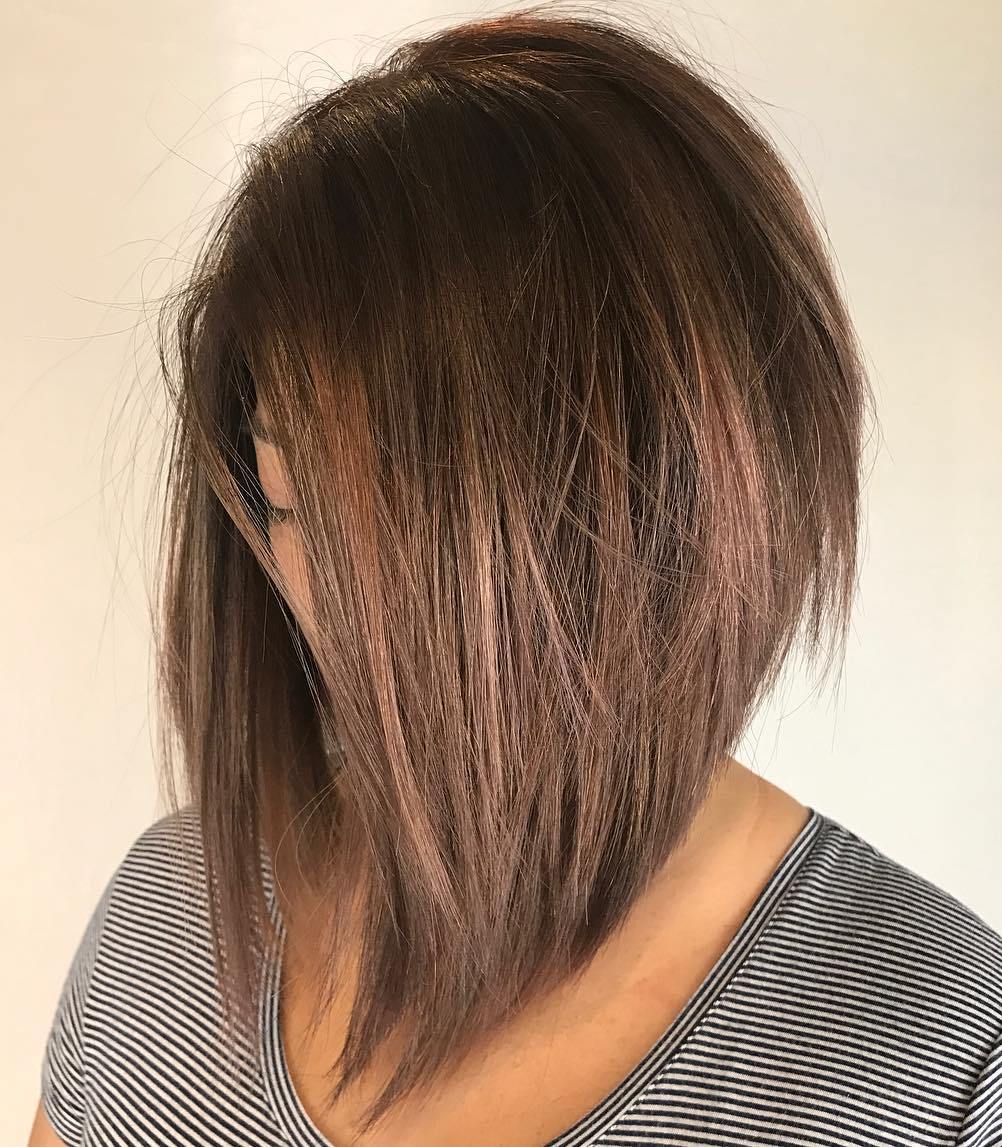 via @hairbyedwin
If your hair is thick, opt for an inverted bob with razor-cut layers to take off the excess bulk and wear the cut sleek or messy on different days.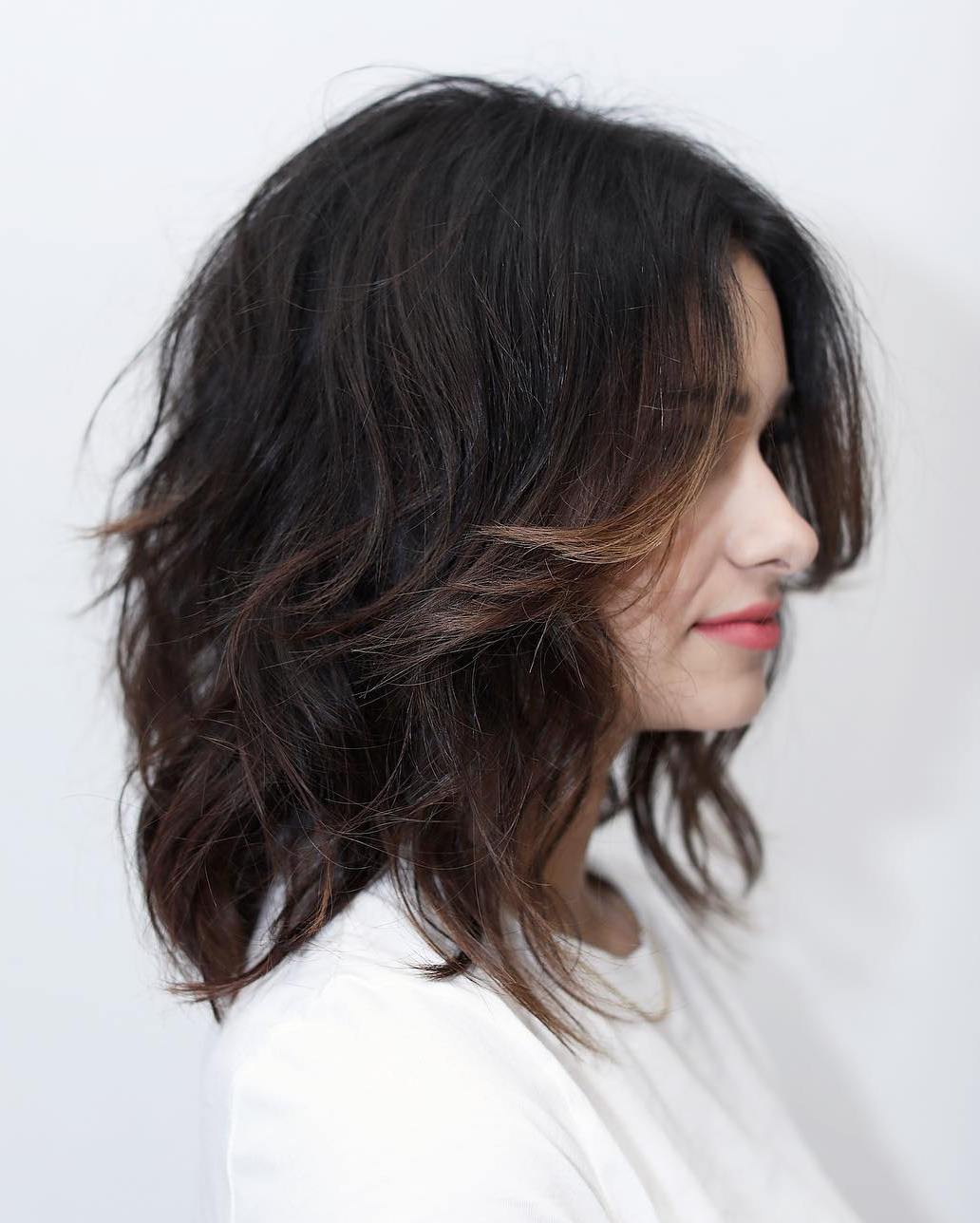 via @anhcotran
This girl nails a trendy lob with beachy waves and a tousled finish. It's juiced up with layers that frame the face without dimming it thanks to the flipped out and highlighted tips.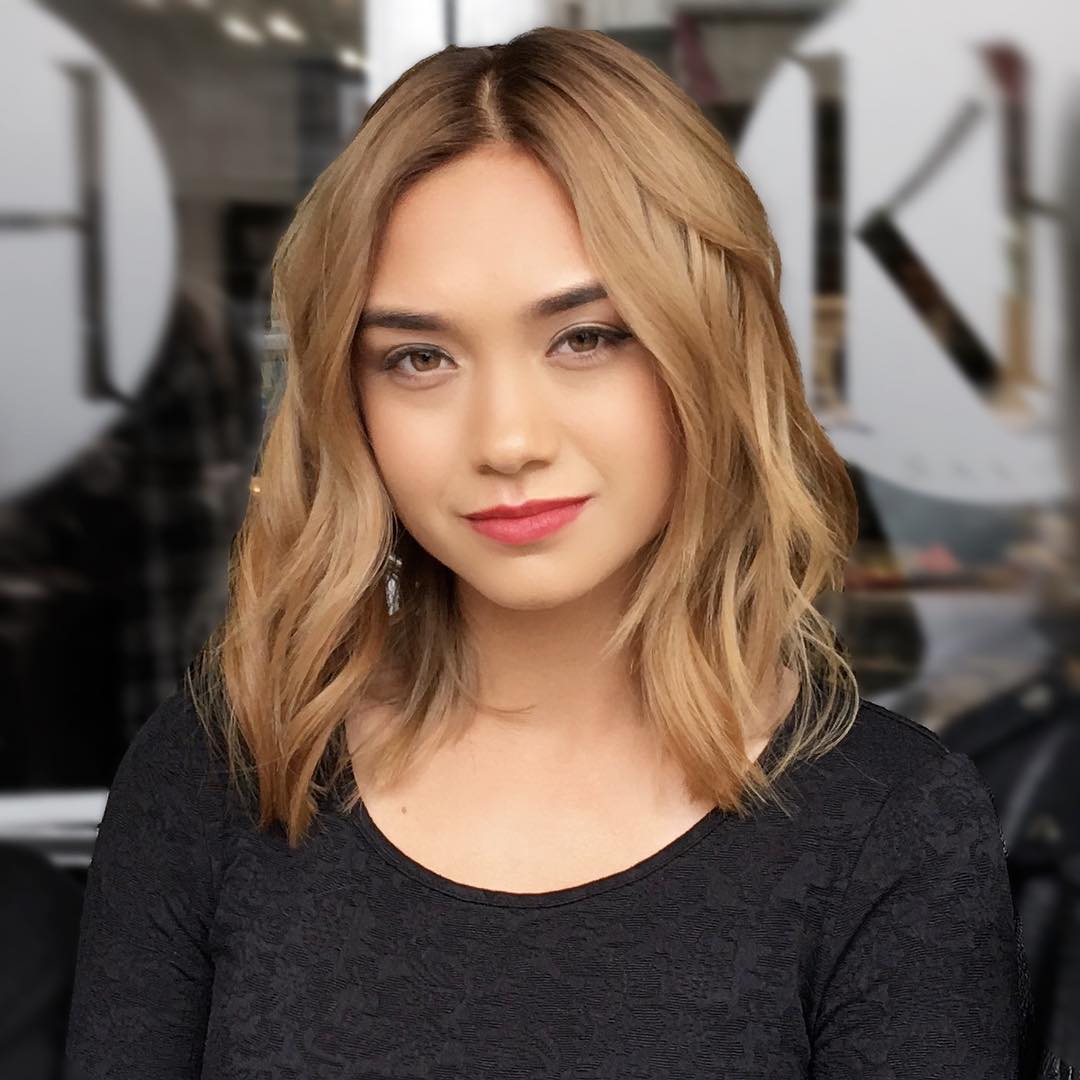 via @victorval
Here is a good lead to follow for ladies with round faces – this cascade of side tresses hits just right to produce an elongating effect.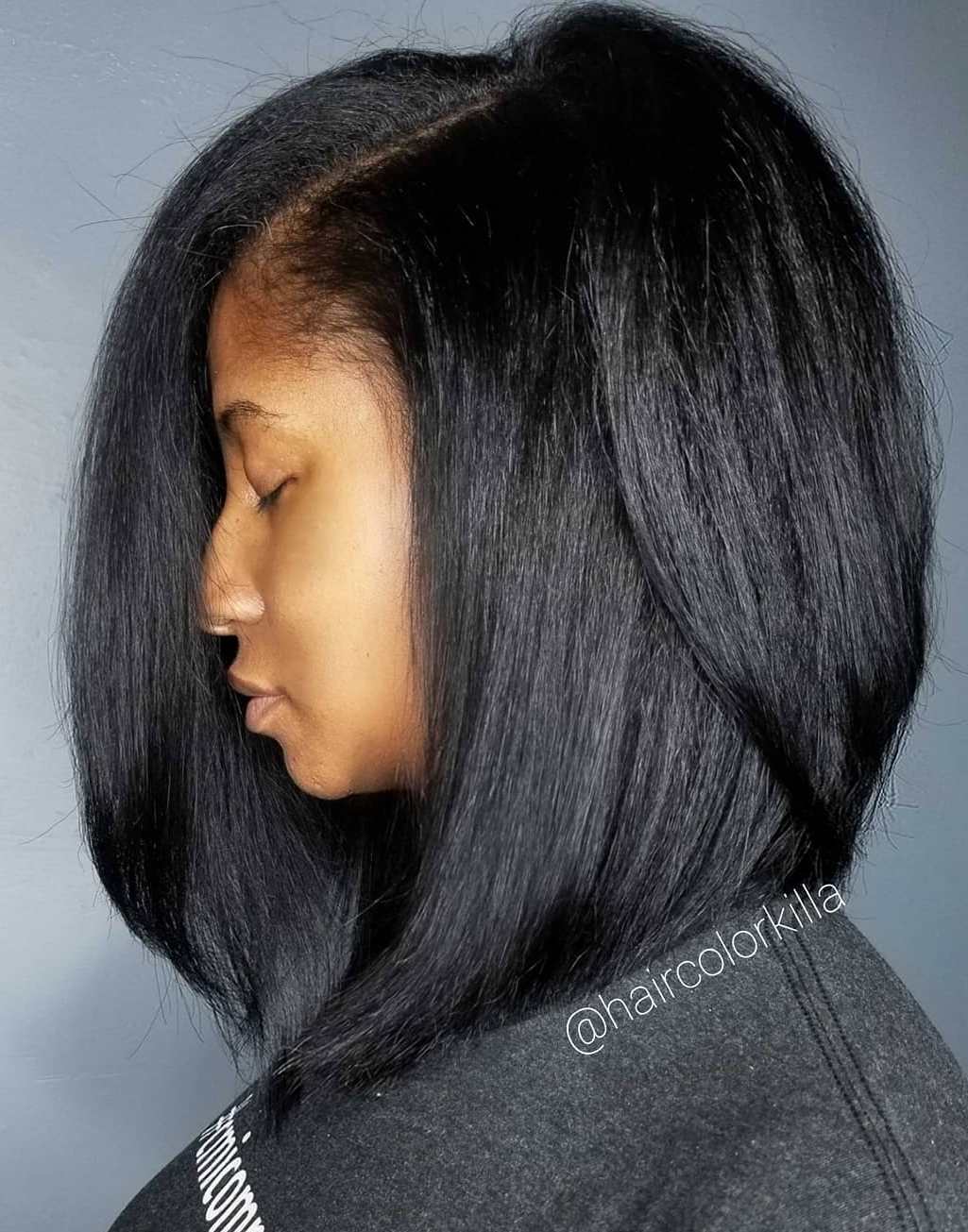 via @haircolorkilla
And look how black hair shines with this long bob tapered to the front! Find even more dimension with a deep side part and an elevated back.
Long Bob with Bangs to Make a Splash
"Adding a bang is a great way to create a 'new' style without the commitment of a drastic haircut or length change. You can keep the lob you already love and just enhance it with this mini snip. Depending on the fringe style, you can always camouflage the bang easily if you decide the look is not for you,"says celebrity hairstylist Laurie Heaps to InStyle. To avoid such a challenge, expend some effort to find out what fringe type will work best for your long bob haircut. Don't forget to factor in your face shape, hair texture, and even styling habits, since you may not like the idea of blow-drying your bangs after every hairwash.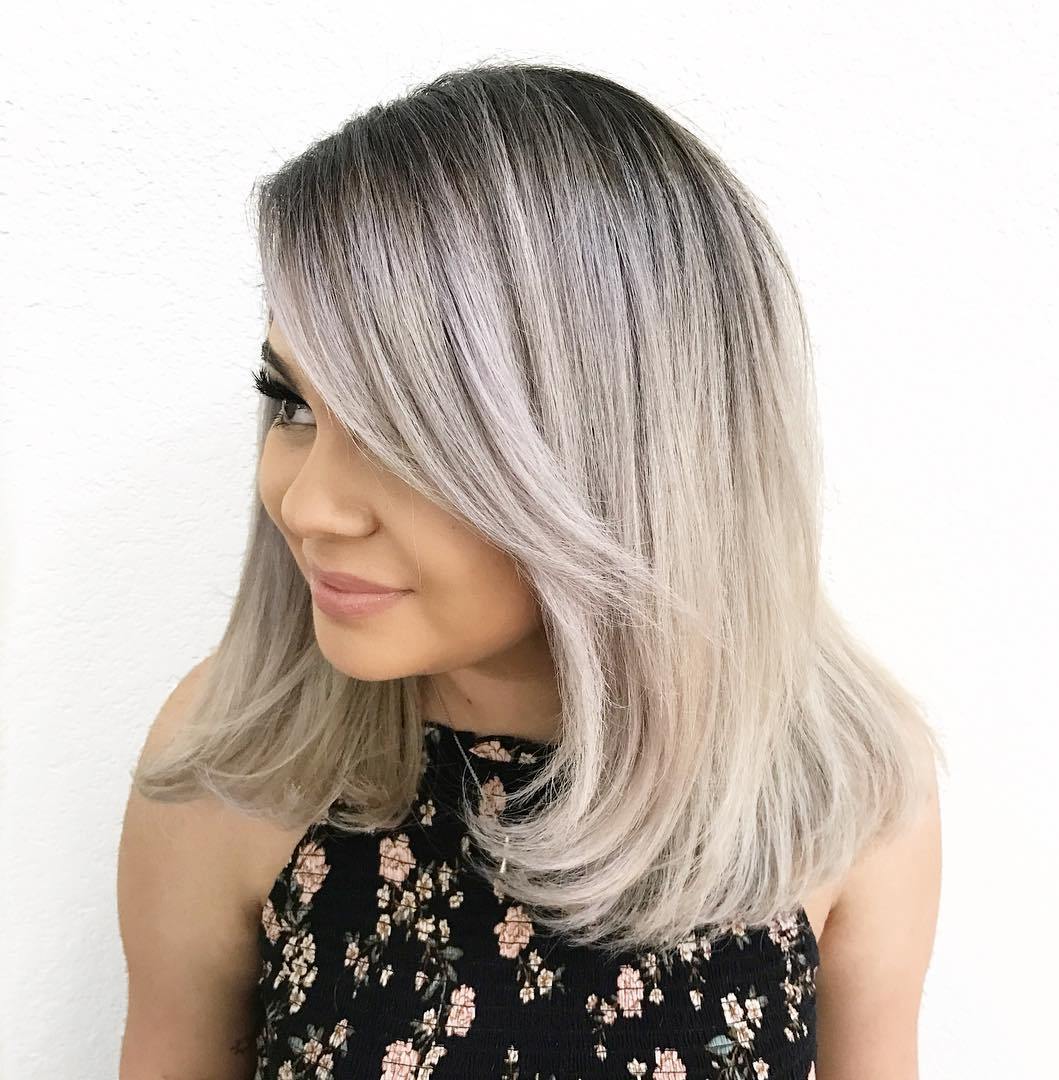 via @singi.vo
Straight hair can come with long side swept bangs, which are easy to tuck behind the ear for a fresh look.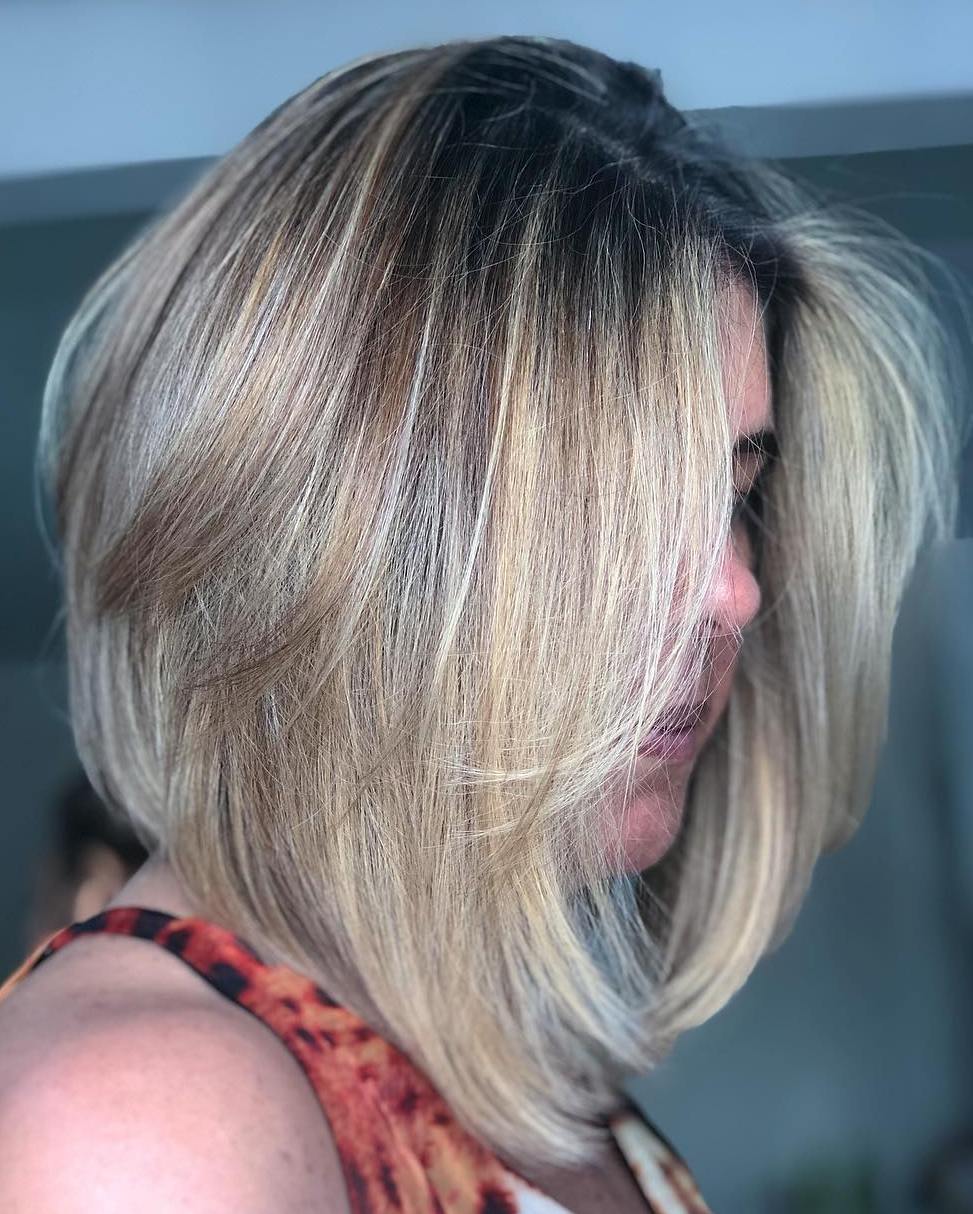 via @ochanelperfeito
This stacked lob has everything you need for a fuller feel of your hair – subtle layers throughout the head, smoky roots and a sophisticated brondebalayage, as well asbangs blending into side locks.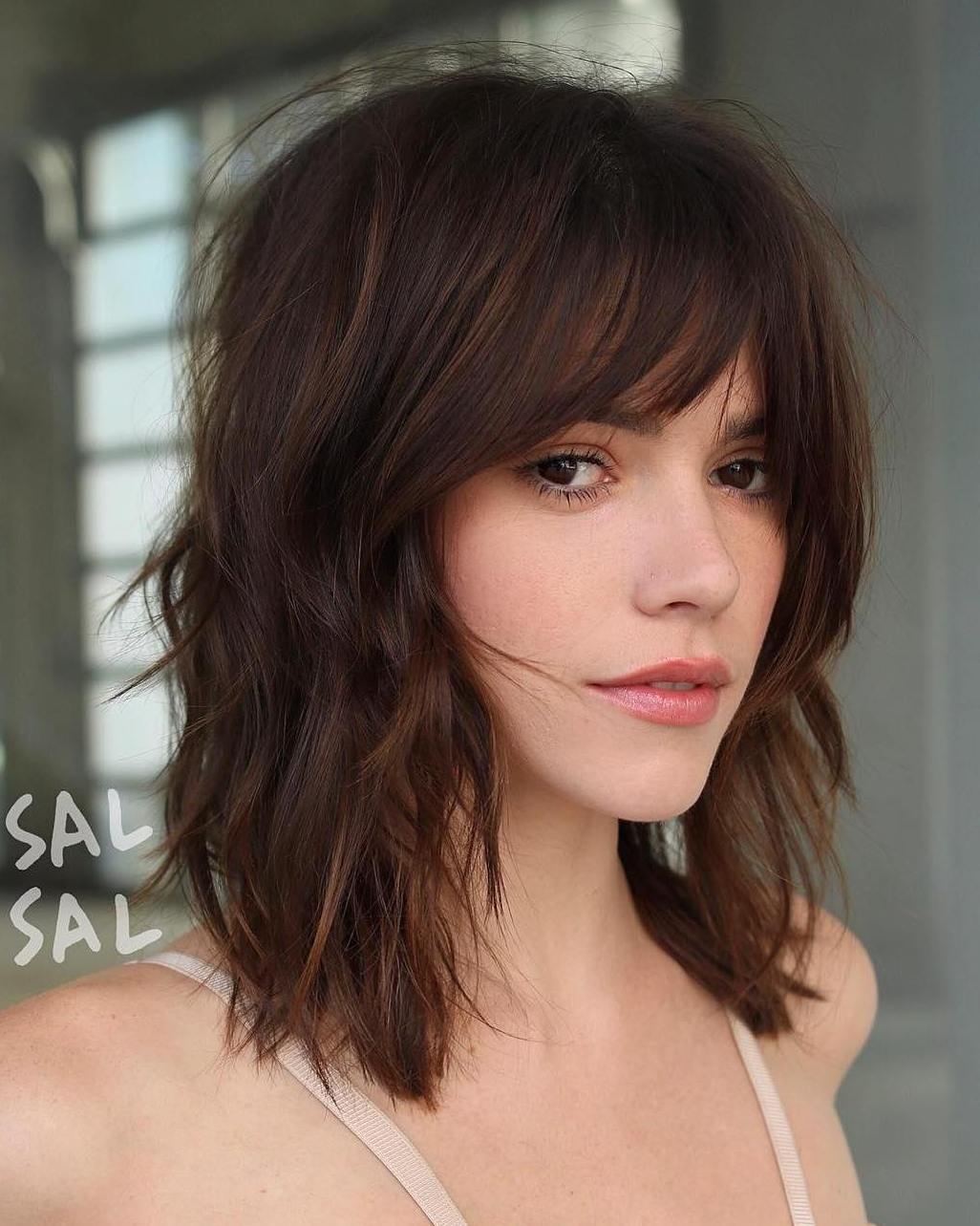 via @salsalhair
Thin hair gains dimension with layered waves and a disheveled finish. Double it by incorporating a piece-y fringe that also brings a sexy touch to the style.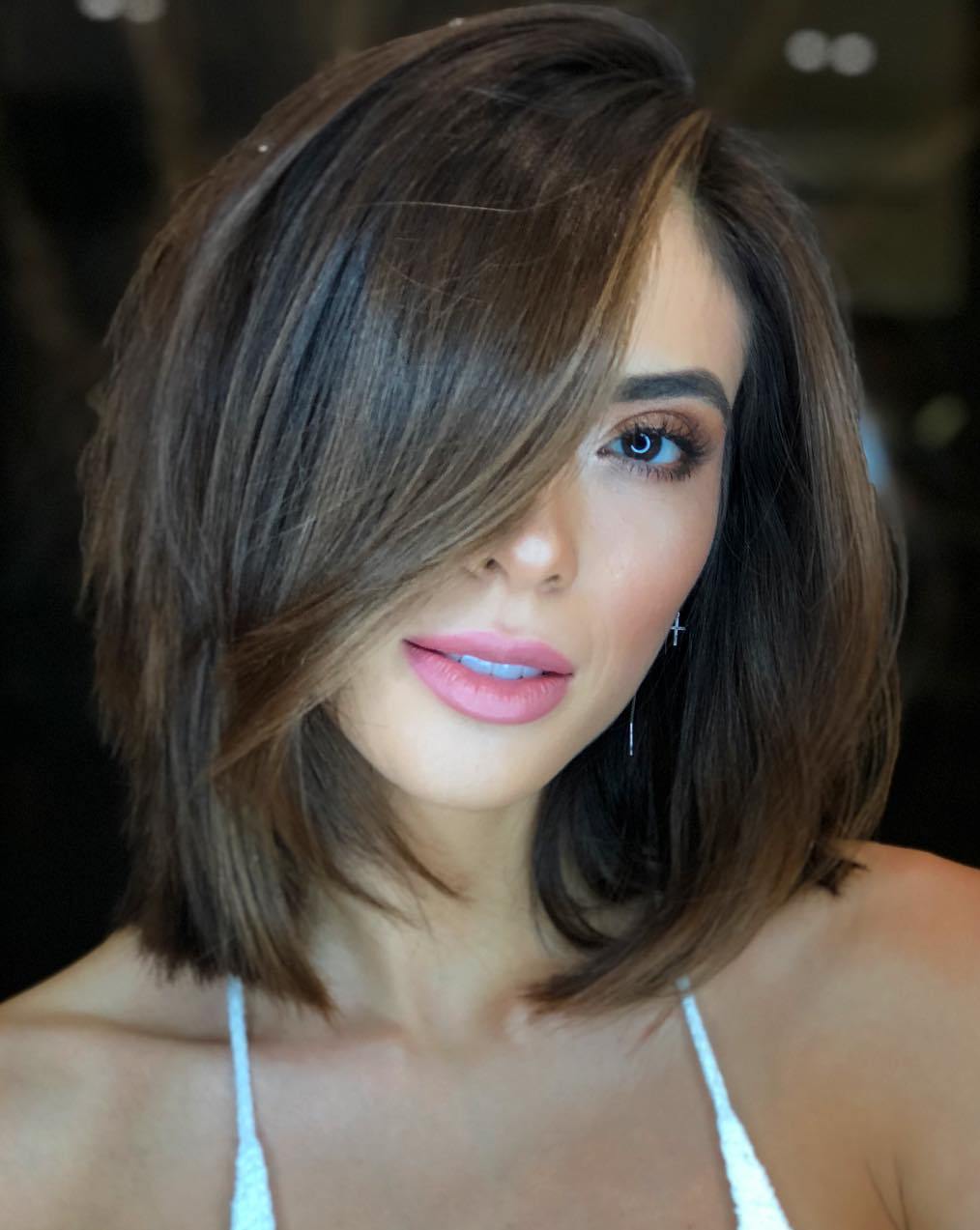 via @romeufelipe
Thick hair can be razoredmercilesslyfor the benefit ofan edgy look, but it's easy to make it even more outstanding through a long wave of fringe with a feathered finish.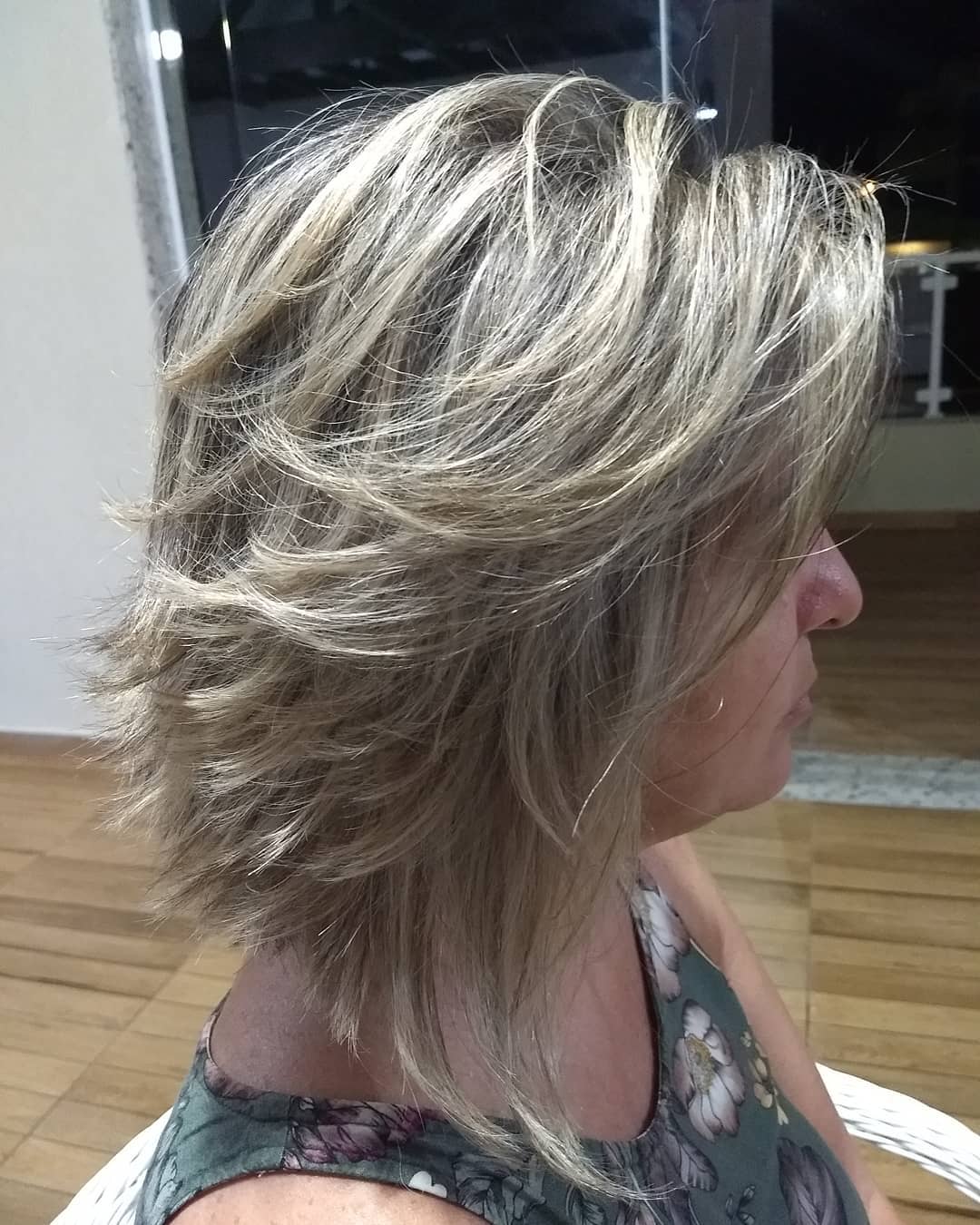 via @thiagopenhahairdesign
Choppy, yet airy? Why not? Heavy layers can be transformed into light feathers with flipped out styling and side-swept bangs incorporated.
Black Lob Hairstyles to Get Inspired
Though bushy African American hair may seem too whimsical for a lob haircut, there is a plethora of ways to pack it into this trendy style. In fact, you can use sew-ins or opt for relaxed hair, but also you're free to wear it all natural. "If you've got super tight curls, ask for a dry cut so your stylist can see the shape they're cutting in. If you've got loose waves, a wet cut works fine," recommends Jen Atkin, acclaimed lob queen among celeb stylists, in her comments to Elle. Here is how you can rock a lob, having straight, frizzy or wavy hair.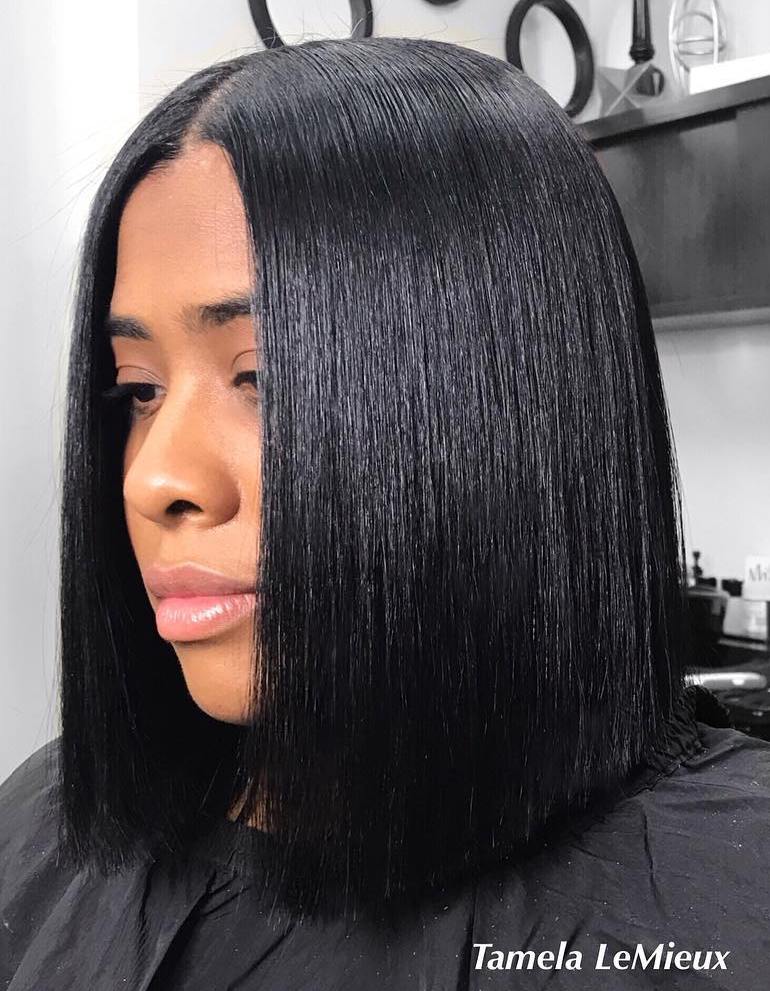 via @tamelalemieux
This girl sports the classic blunt lob, which arrests the eye with its clean shape and a polished finish.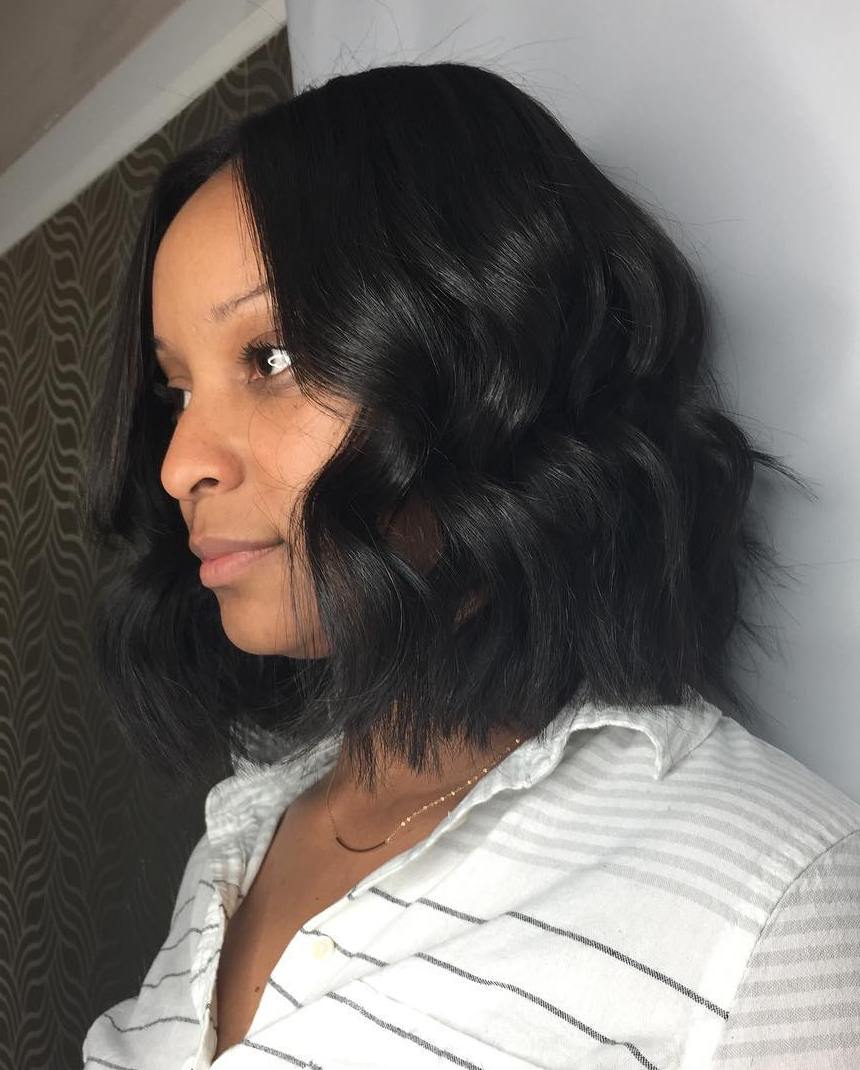 via @jasminetyan
A long bob can be embodied in weave hairstyles like this hot wavy option that feelstotally lived-in.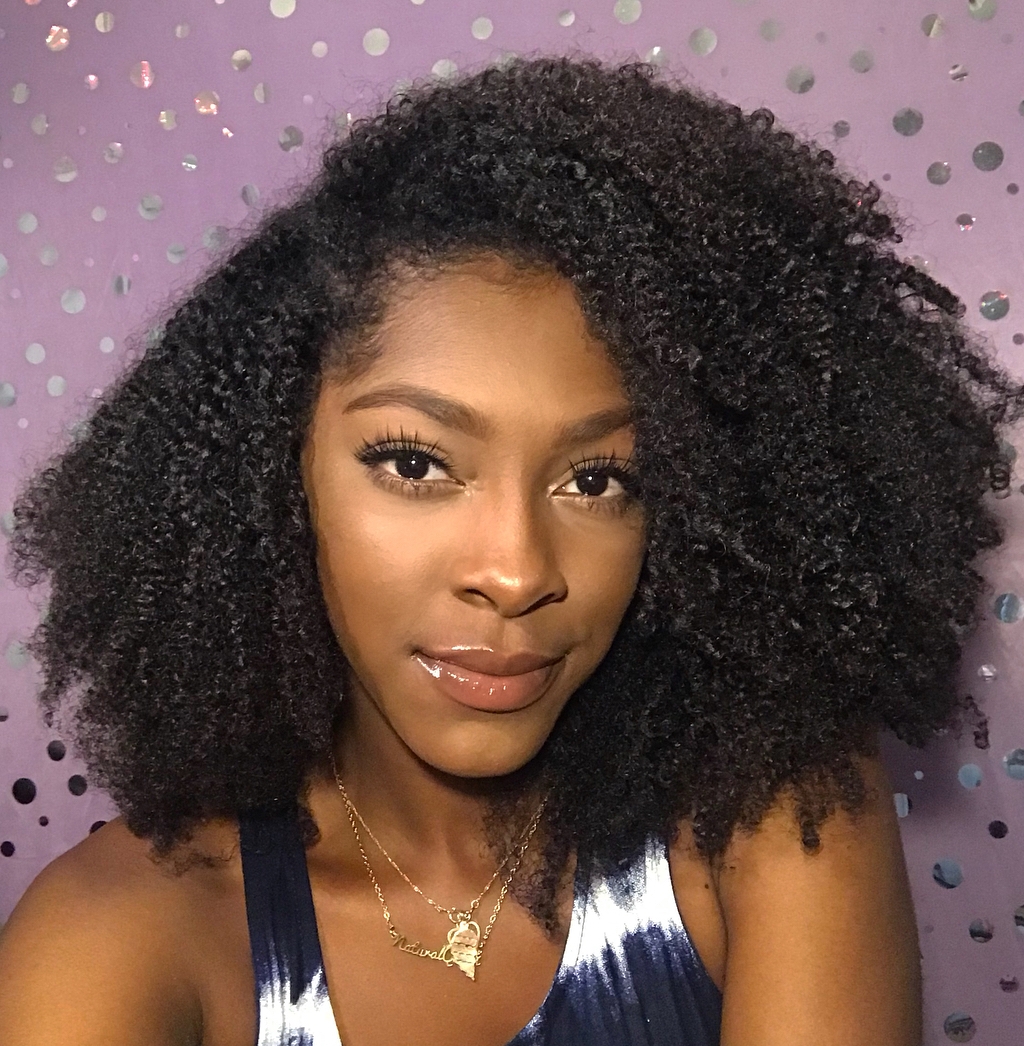 via @curlfriendari
Those African American girls who choose to go natural will be inspired bythese gorgeous spirals, swept to one side for a playful look.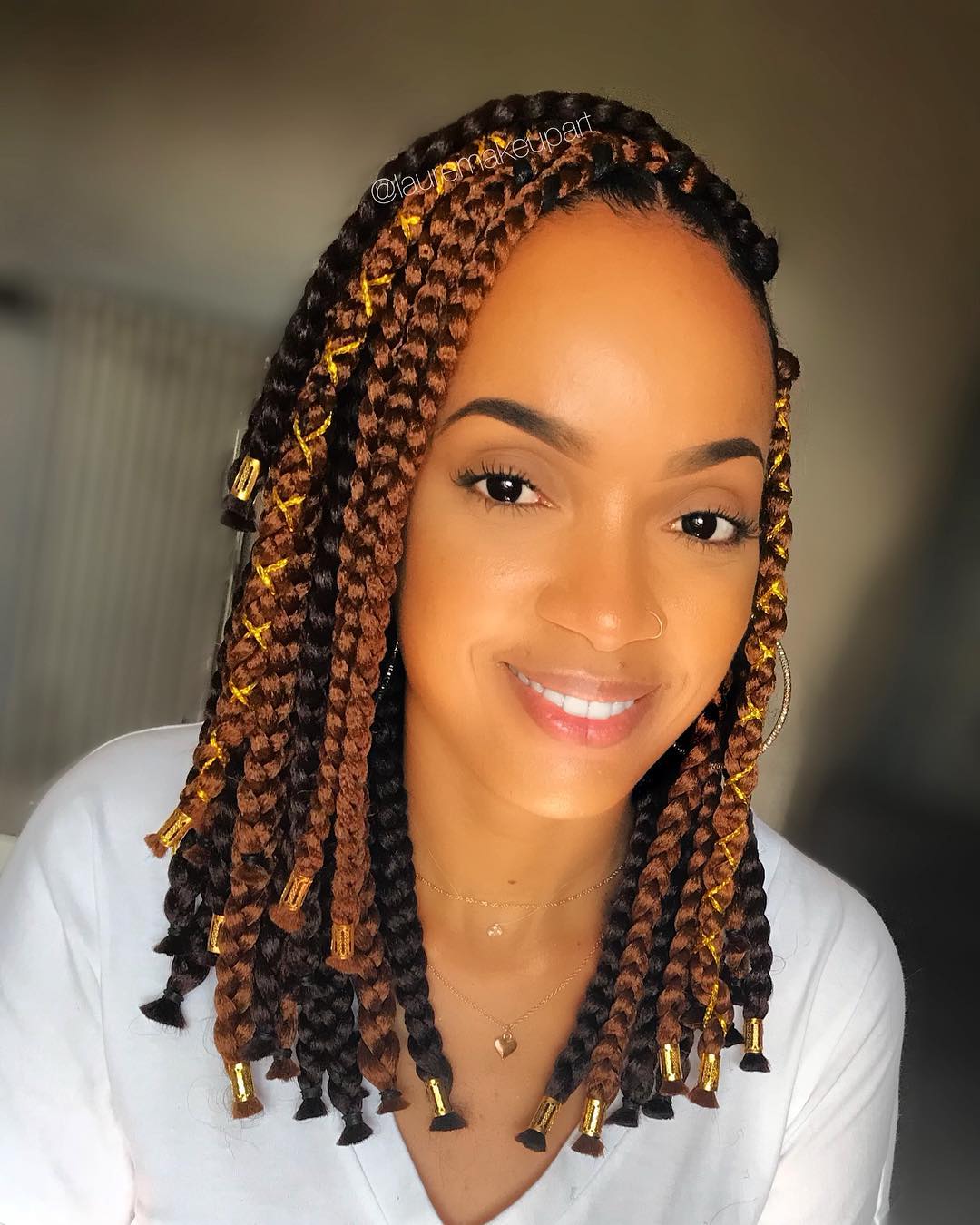 via @lauremakeupart
Want even bolder ideas? Here is a stunning bob, done with box braids and playing with both colors and decorations.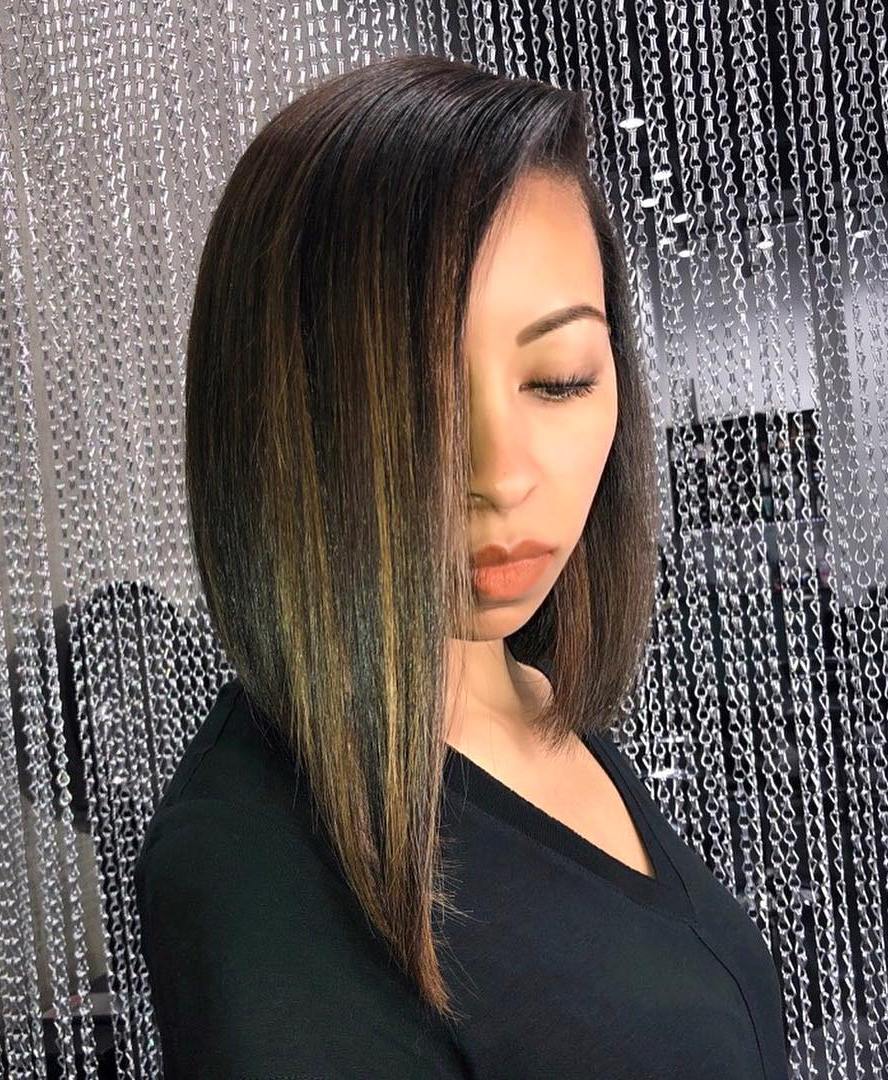 via @atlhairbyholly
A bit of straightening to make your natural hair shine – and ta da! You've got a graphic angled lob and an ultimately elegant style.
10 Best Long Bob Styling Ideas to Perk Up
Still in doubt? "If you've been thinking about getting a lob, I would say go for it. The lob isn't one of those drastic cuts that's going to leave you in tears a week after your salon appointment," wrote celebrity hair guru Mark Townsend in his article for Byrdie. We can't but agree with the pro, yet have a few words to add.
The longer version of the time-honored bob offers an abundance of space for experimenting with styling. On this medium length, both laid-back beach waves and chic Hollywood curls look equally stunning, though so dramatically different – and you can have the best of two worlds! Besides, it's hardly possible to find another hairstyle, which is so advantageous for displaying ombre, highlights and all kinds of trendy color solutions. Let's see how to put it all together.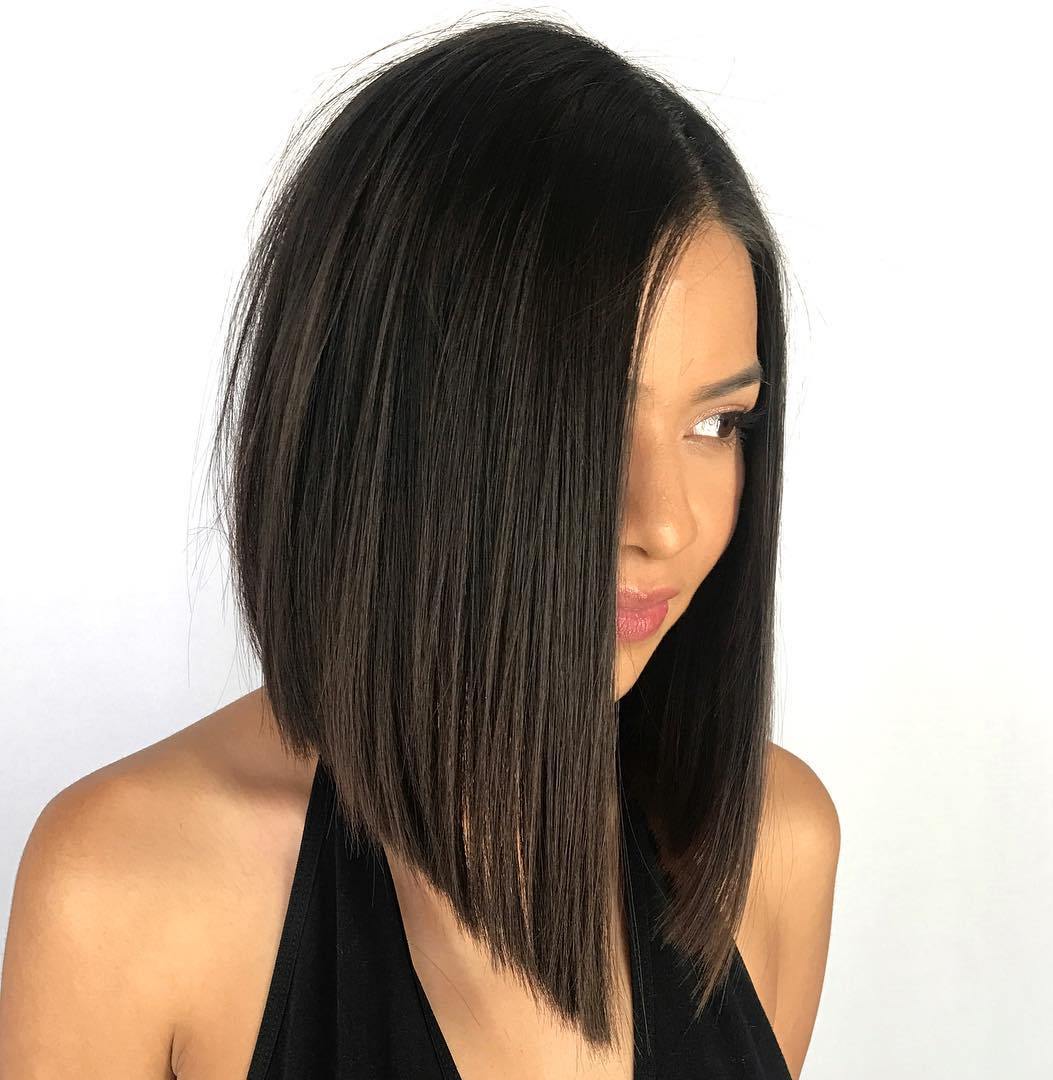 via @hairbyedwin
The clean shape of this A-line bob looks dramatic on the straight hair. Steal the style and don't forget about a side parting for edgy asymmetry.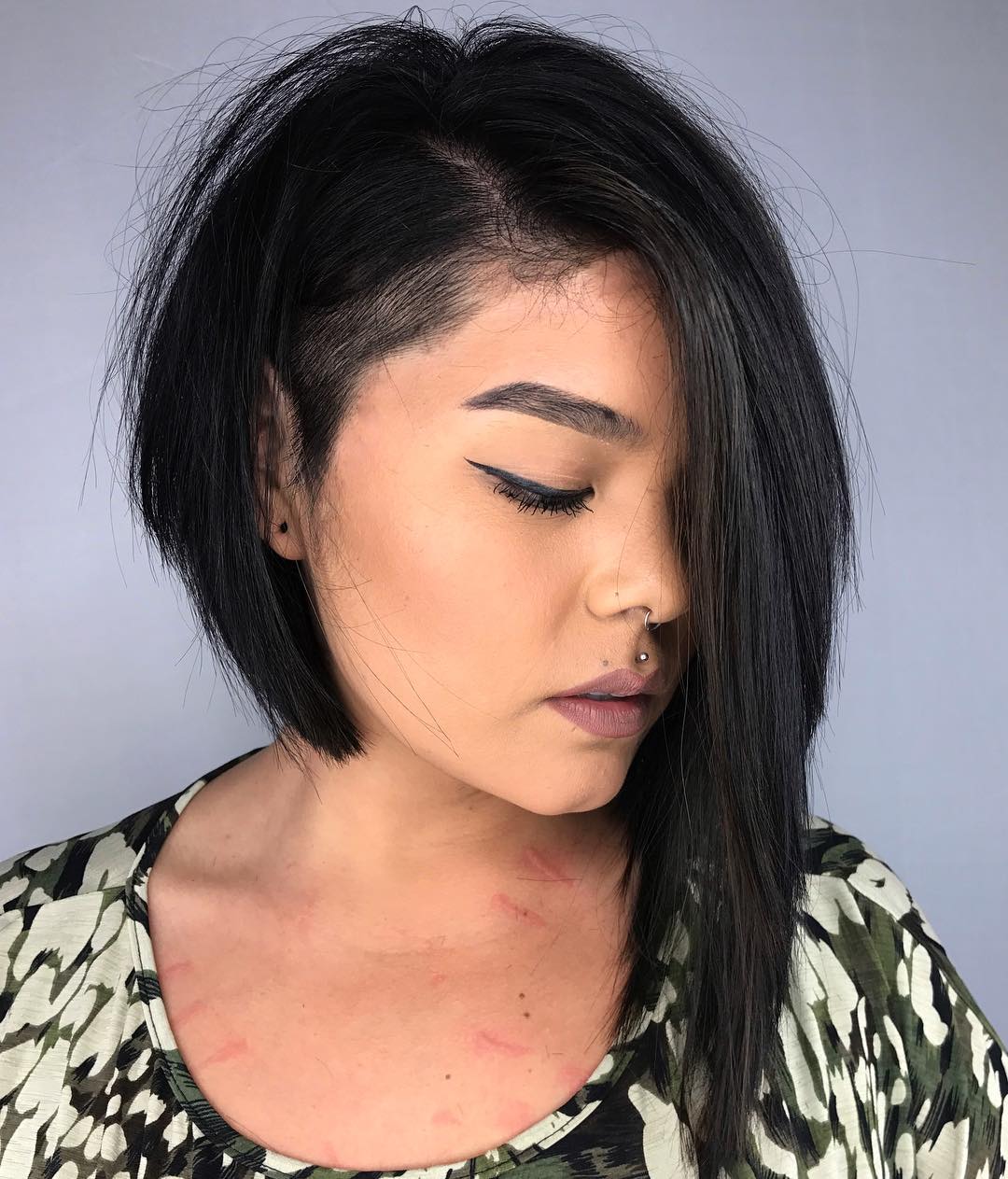 via @hairbyedwin
If you want to go even more asymmetrical, take the cue from this daring bob with an undercut on one side and a shoulder-length cascade on the other.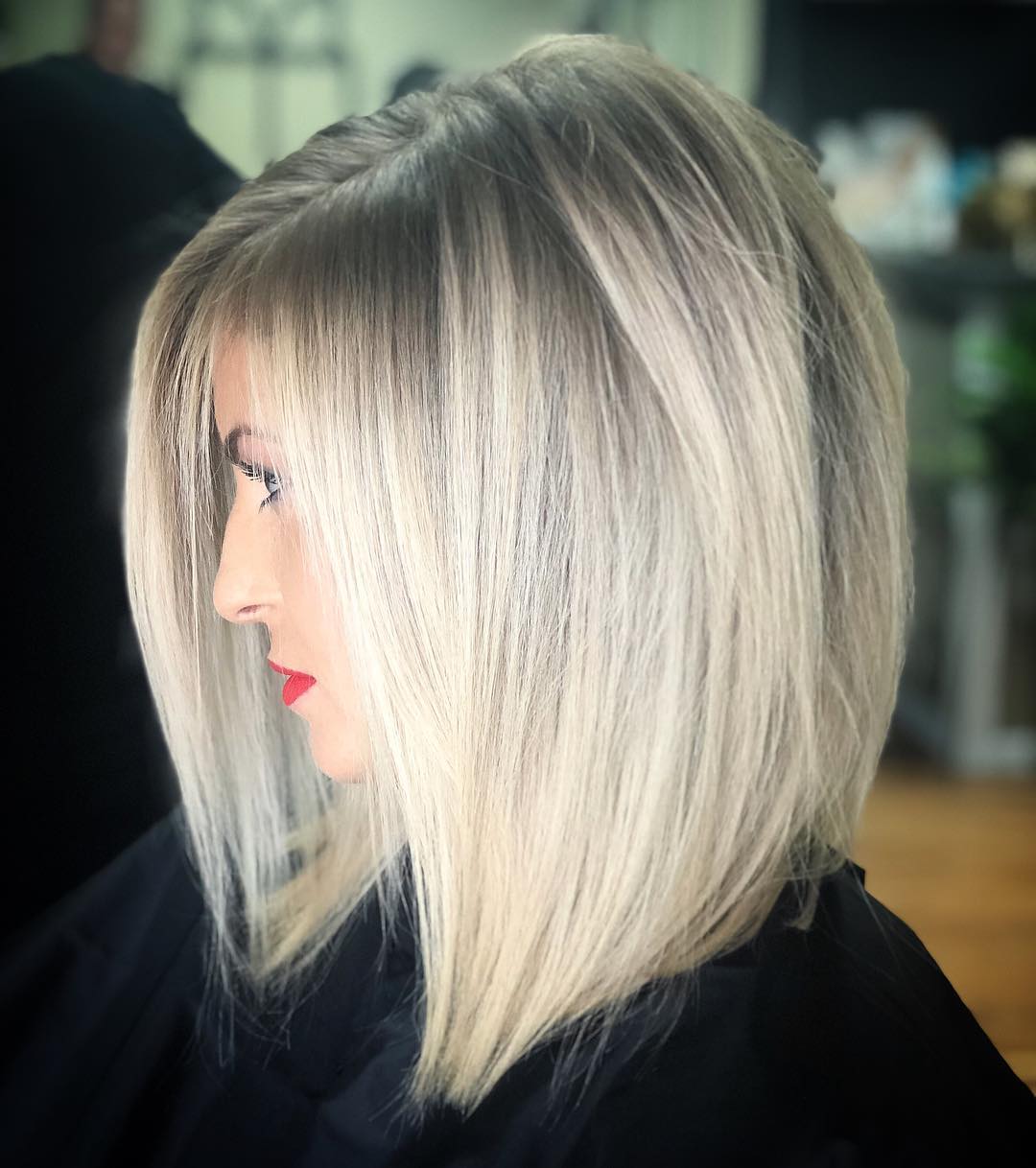 via @rochellegoldenhairstylist
Sleek and exquisite, this blonde lob strikes the eye with its delicate color transition which adds depth to the hair along with a bit of layering.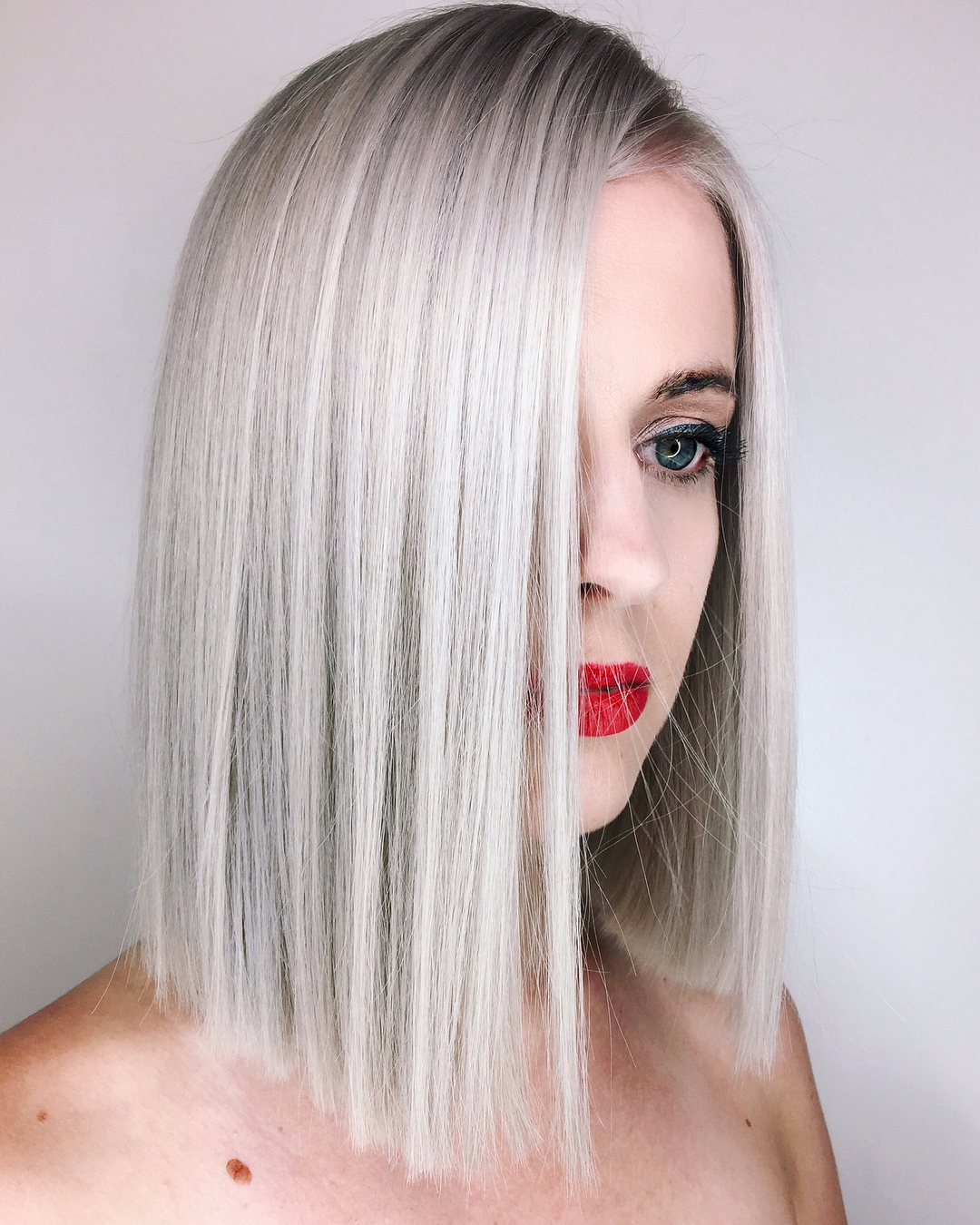 via @chrisweberhair
But when you need to enhance fine tresses, go for a blunt lob with shadow roots to heave extra body both on the top and the bottom.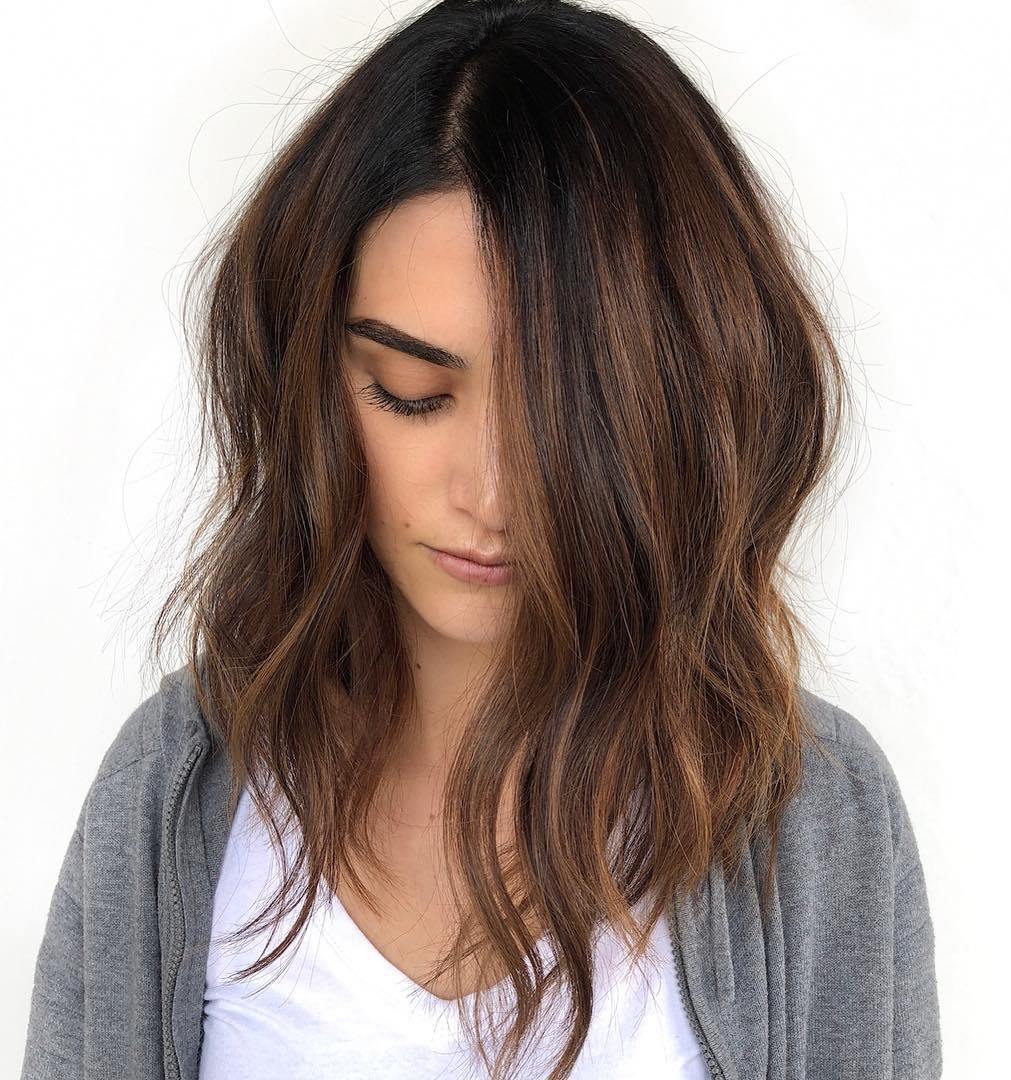 via @hairbykatlin
Think of a side part to give a twist to your casual hairstyle and brighten up your natural dark color with warm chestnut streaks.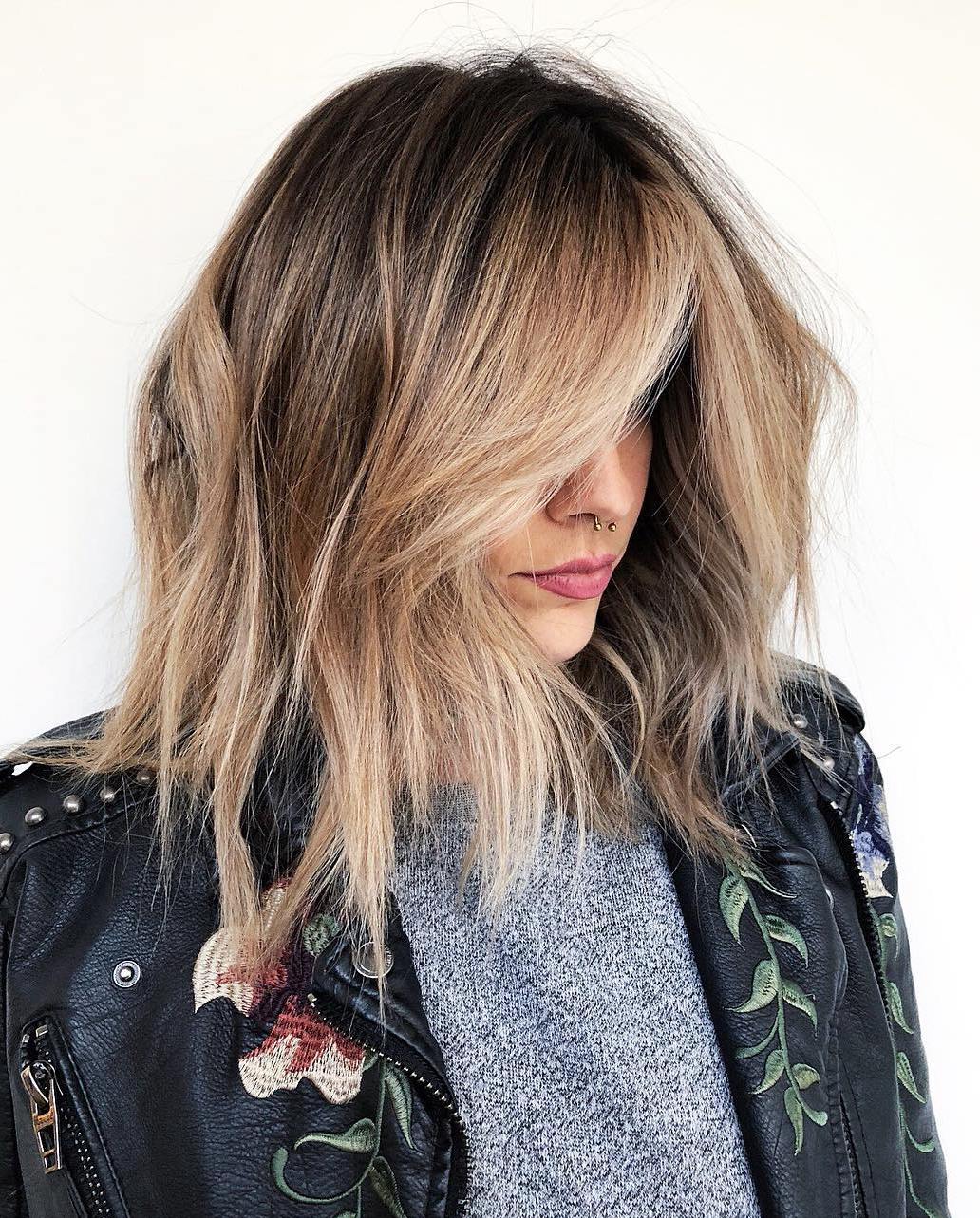 via @megahairmaniac
It's fun to couple a messy haircut with long side-swept bangs boasting an airy feathered finish. And this lived-in blonde is a bomb!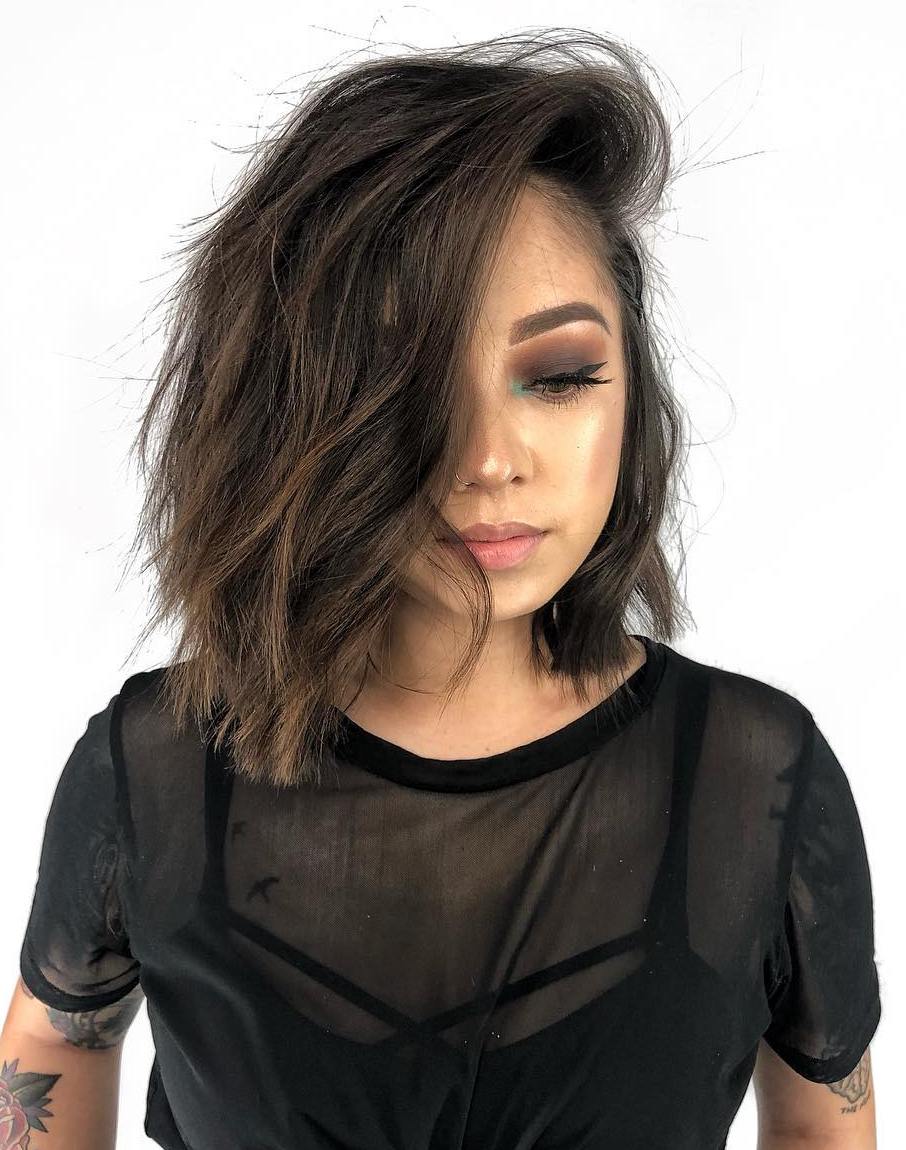 via @suedub
Pull most of your hair to one side for this vibrant shaggy look, intensified through sliced tips and touch-and-go waves.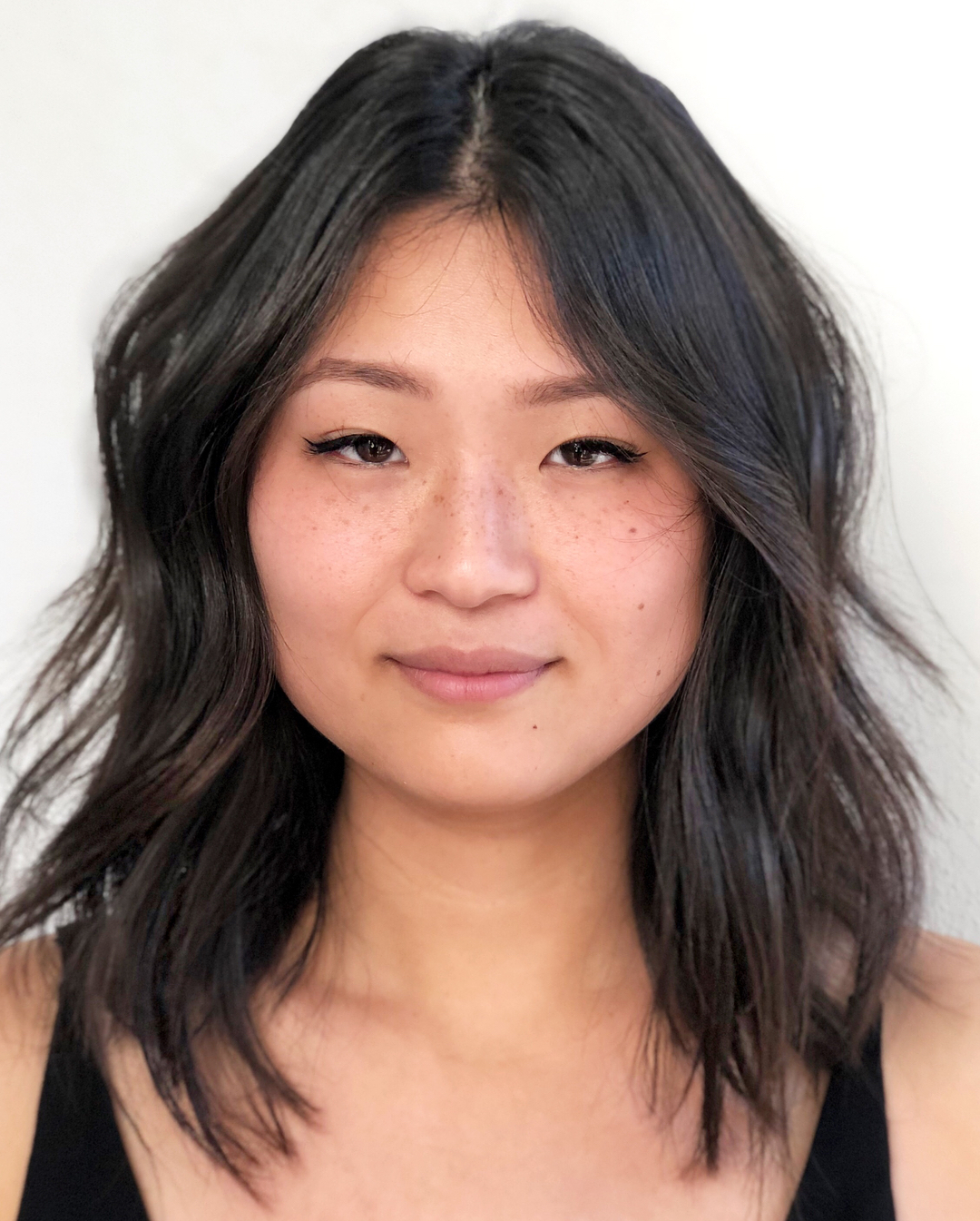 via @styledbylizsustaita
A centre parted lob with tons of angles is just the case for wide faces, slenderizing them and making more sophisticated.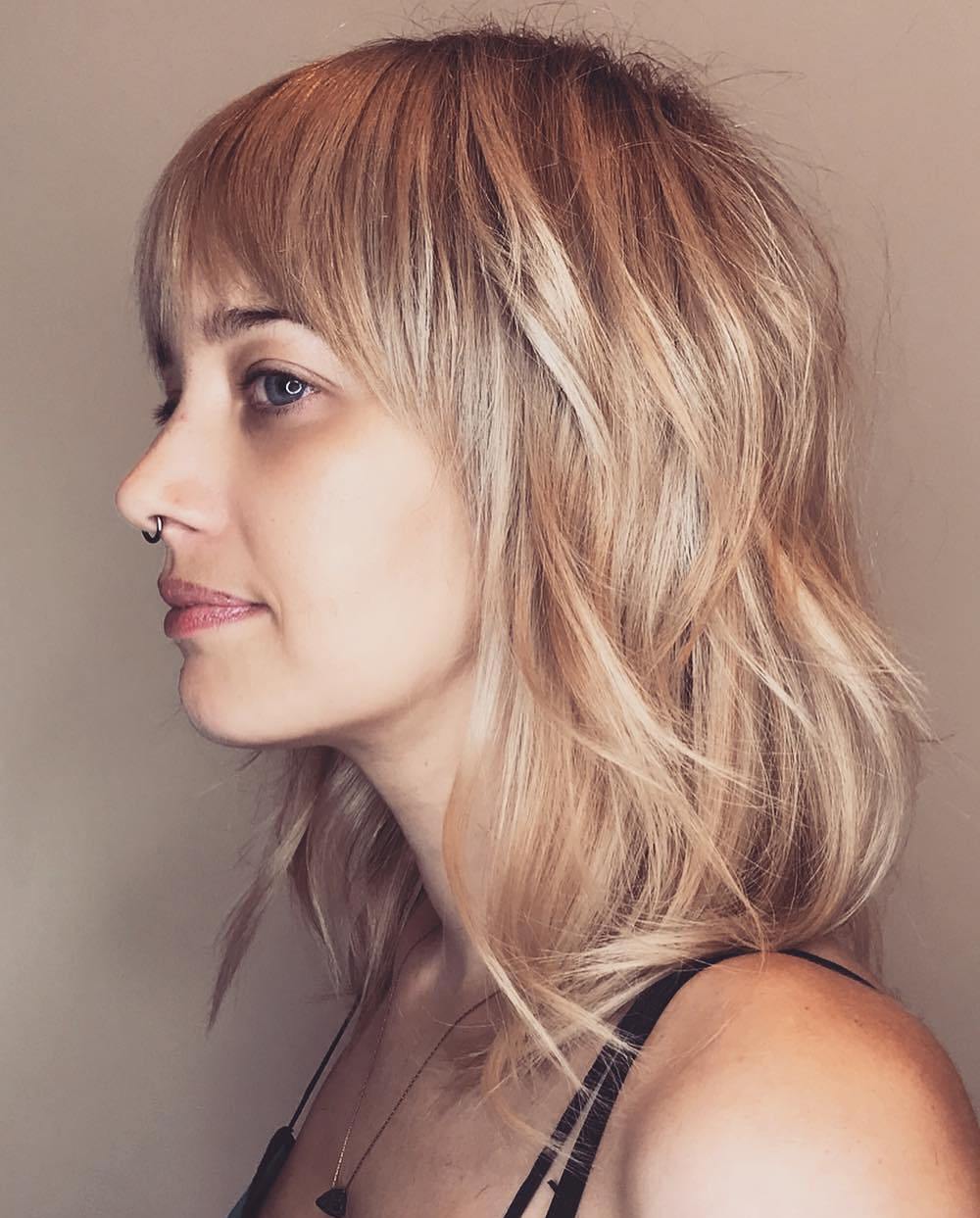 via @christinamhair
Thin hair can be transformed drastically, when layered and textured to gain vibe and movement. Team it up with a flat arched fringe for this awesome contrast.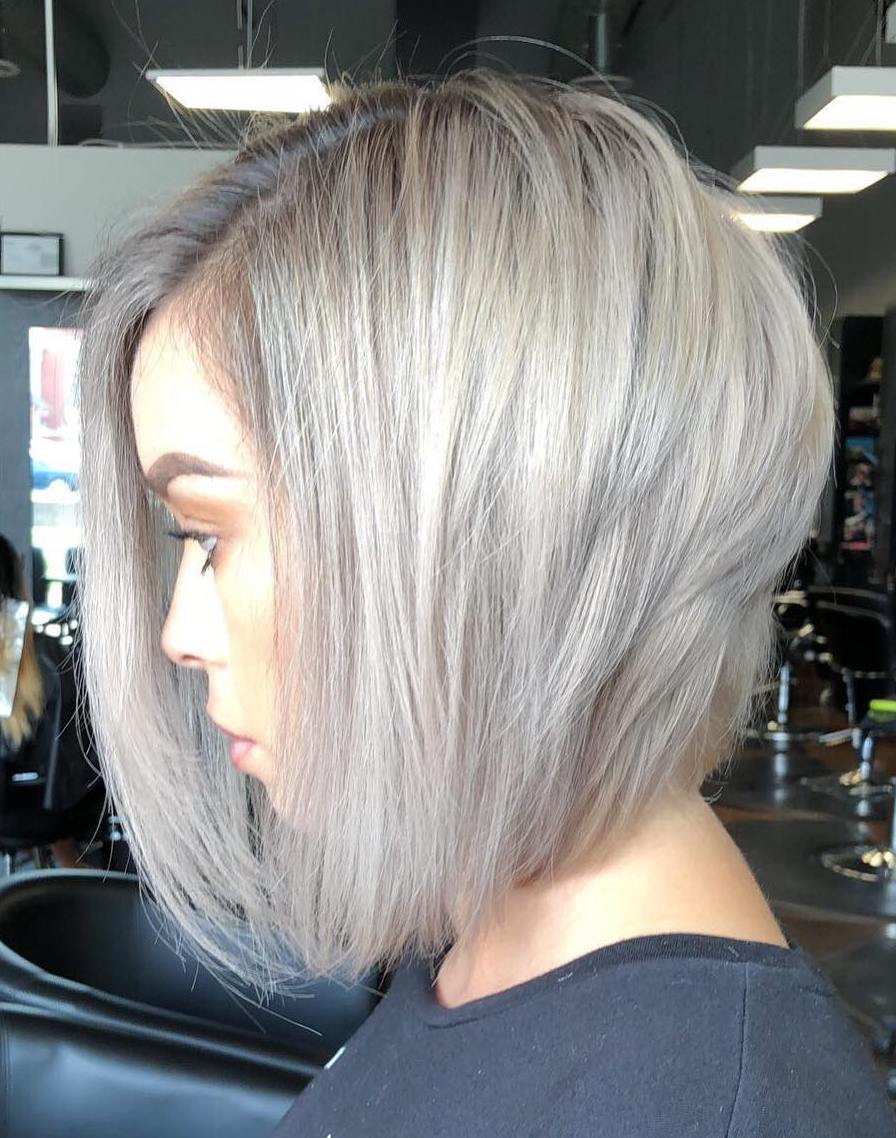 via @darlene_the_stylist
You'll love a graduated lob for the volume it brings due to shorter tresses stacked at the back. Still, you'll have plenty of length in the front to play with styling and to show a brilliant dye job.
Choppy or straight-across, centre-parted or swept to the side, the lob is the golden mean that gives you a nice chance to show off both your bone structure and hair texture. Take the chance and find a trendy option from our pick of the most Instagrammable lobs – and you'll be the next to collect likes on- and offline.
Sours: https://www.hairstylery.com/long-bob-hairstyles/
2484
2485
2486
2487
2488