How to Draw a Daisy - Step by Step
I am delighted to share with you this wonderful tutorial on 'How to Draw a Daisy' by Jan Wood Harris - created especially for www.homeschooling-ideas.com
Drawing has been a big part of our homeschooling - and drawing flowers is something my children love to do. So I was delighted when Jan offered to write me an easy flower drawing tutorial - with step by step instructions.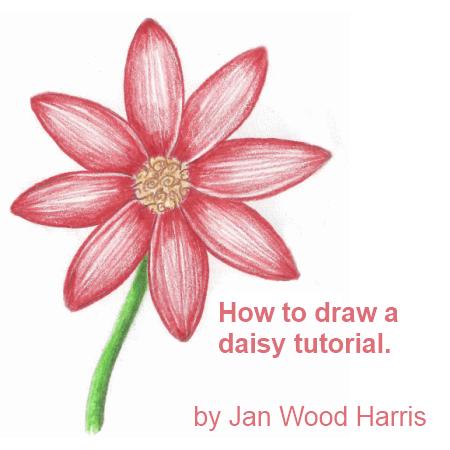 This free flower tutorial was written by Jan Wood Harris, author of
Ms Wood's Wild Art Adventures
Find out more about Jan's book and how to see more of her tutorials at the end of this page.
---
You know how sometimes it's so hard to draw a flower that's even all the way around? when all the petals turn out to be a different size?
Well, follow these simple steps and Shizaam! A perfect enough little flower!
Let's start with a big circle and a little circle in the middle. Then draw 2 X's within the big circle. These lines will be the center of each petal and the big circle is how long each petal will be...Easy!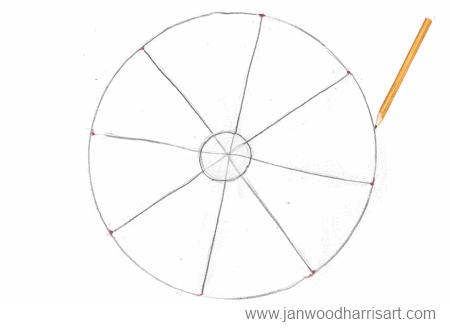 Since this flower is Red, (yours can be any color you like!) let's follow the Red lines now. Draw a curved line from the top of your pencil line down to the circle. Look close - the red line only touches the pencil line at the tip of the petal, and only comes close at the base!
Fascination with Observation - kinda looks like apple slices....
Next, let's draw the other side of our petals. This line starts at the tip of the petal and touches half-way down the red line of the next petal. This creates 'OVERLAPPING' and gives a realism to your flower.
(Go ahead and erase the pencil lines in your petals and the outer circle).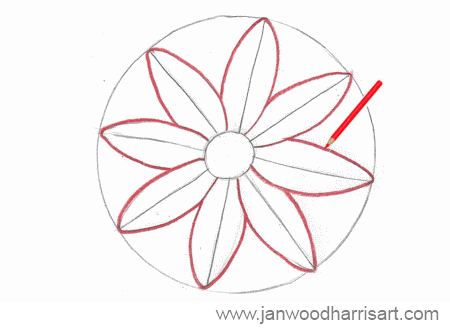 Flower petals have a smooth 'TEXTURE' which is shown here with pencil 'strokes'. In this case, we're going to color in the petals'lengthwise', from center to tip. Notice, the curve of the inside pencil strokes follows the outside curve of the petals.
Another Fascination with Observation! -Color golden in the center with squirrly, spirally strokes!
Ok, now comes the fun part.... Detail! Notice how the red is darkest at the very tip of the petal and where it connects with the center. This is alled 'SHADING'. Going from dark to light like this gives the petal a slight curved look, don't you agree?
For the center, to add more fun 'TEXTURE', use a darker colored pencil and draw some silly spirals and swirlies.
The stem is colored all light green, then just under the petals and down one side is a darker green. Again, this 'SHADING' creates the illusion of a round stem.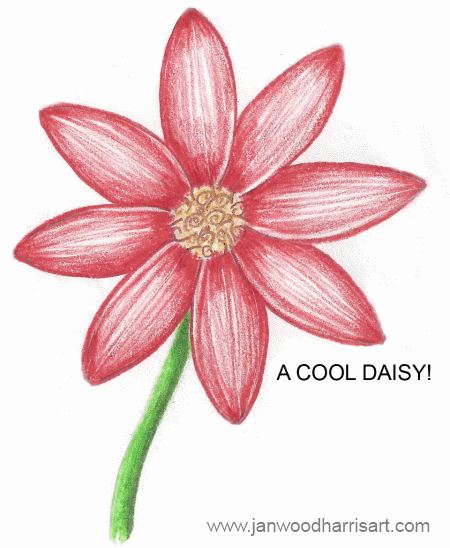 Now you know how to draw a daisy, you are ready to create your flower garden!!
---
As a Children's fine art teacher for over 20 years I've learned so much from my students, as they have hopefully learned from me.

Children have such rich imaginations & are always telling their own stories through their drawings. Through those imaginations, much can be learned.

So it just made sense to combine art instruction with simple storytelling in this charming, richly illustrated book….

MS. WOOD'S WILD ART ADVENTURES
View Jan Wood Harris - Art for more art and other books by Jan
View Facebook Page: Jan Wood Harris-Students Art Gallery/Forum for more tutorials and samples of students artwork.

Many thanks to Jan for creating this easy art tutorial on how to draw a daisy.
Do go and check out her book. It contains step by step examples of how to draw clouds, Toucans, leaves, spears and more. And is also filled with examples of Impressionist, Modern Art and Realism artists and their paintings and drawings of clouds, plants and birds in different mediums.
This would make a great book to complement your homeschooling art lessons.
Go to homeschool craft ideas from Draw a Daisy Tutorial
Go to Homeschooling-ideas.com Home
Sours: https://www.homeschooling-ideas.com/draw-a-daisy.html
Flowers can brighten up anyone's day just by seeing them. We all wanted to grow flowers in our backyard but unfortunately, gardening is simply not for everyone.
Why not learn how to draw a flower so you can have a blossoming flower right at your fingertips? A flower drawing can be a great decoration to your home and you don't have to actually take care of it.
To help you with this dilemma, we have curated a step-by-step tutorial on how to draw a daisy, summarized and divided into 9 easy and simple steps.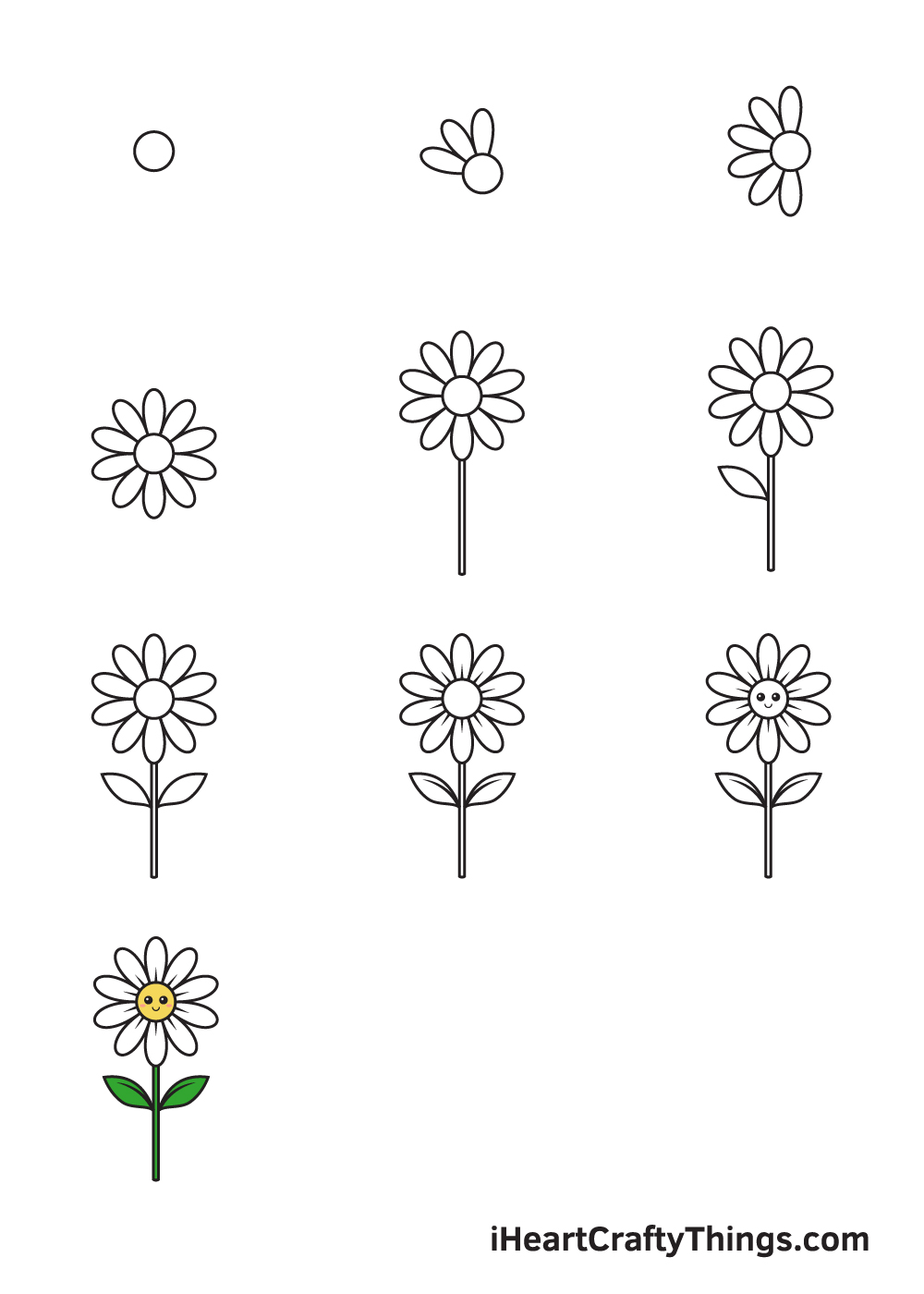 A daisy, a small grassland plant, is a common European species of the family Asteraceae. Its flower actually consists of two different blooms in one plant; the center florets and the petals itself.
With the help of this comprehensive guide, drawing a daisy is made easier and more fun!
Each step in this drawing tutorial is accompanied with elaborate illustrations that serve as your visual guide as you follow the instructions one by one.
The best part? All you need is pen and paper to draw a blooming daisy!
Have fun putting your imagination into paper!
How to Draw a Daisy — Let's get started!
Step 1
On the upper portion of your paper, draw a perfect circle to outline the disk in the very middle of the daisy.
Feel free to use a compass if you need help in drawing a perfect circle. A compass is a drawing tool that enables you to draw an even and proportional circle quickly and easily.
In order to make sure that the flower will be drawn in the middle, draw an intersecting horizontal and vertical line across your paper. The vertical line above the horizontal line is where you should draw the circle.
Starting in the upper part of your paper gives you sufficient space to draw the entire flower along with its parts, including the stem and the leaves.
Step 2 — Draw the First Three Petals of the Daisy
Draw three long, narrow oval shapes on the upper left side of the circle shape we drew previously.
Keep in mind that the bottom endpoint part of the petals shouldn't be visible as they are directly connected to the disk in the middle of the daisy.
Step 3 — Then, Draw Another Three Petals
Repeat the previous step and draw another three petals right beside the ones we drew previously.
Make sure that the petals are uniformed and evenly shaped.
Step 4 — Complete All the Petals of the Daisy
Keep repeating the previous step and drawing petals surrounding the disk until all the ten petals of your daisy is completed.
Now, watch as your daisy fully blooms! Look how beautiful it is!
Step 5 — Afterwards, Add a Stem Below the Daisy
Now that we have successfully drawn the flower, it's time to draw the stem.
Right underneath the flower we drew in the previous step, draw two parallel vertical lines to create the stem. The lines should be long, extending all the way down to the bottom of your paper.
You can use a ruler to help you draw straight lines quickly and easily. Using this drawing tool will help ensure that your stem is upright and symmetrical.
Step 6 — Draw a Leaf Attached to the Stem
Draw a single leaf on the left side of the stem.
The leaf can be created by simply drawing two connected curved lines. Both end points of the leaf should be pointed.
Step 7 — Next, Draw Another Leaf on the Stem
Repeat the previous step on the opposite side of the stem.
After completing this step, you should now have two full leaves attached to the stem!
Step 8 — Add Patterns on All the Flower Petals
In order to make flowers appear realistic, drawing patterns on the surface of the petals is essential to it look textured.
Creating the patterns on a daisy's petals is plain and easy. Simply draw a short straight line on the bottom part of each petal.
Step 9 — Draw a Cute Face in the Middle of the Daisy
Give your daisy a happy facial expression by drawing two small circles for the eyes and an upward curved line for the smile within the disk.
Don't forget to shade the eyes and leave out a tiny circle inside of it to make its eyes appeal like it's gleaming—so adorable!
After finishing this step, your daisy drawing should now be finally complete. Now, all it's missing is a set of colors to make it look vibrant and colorful!
Finally, here is the most enjoyable part—choosing the colors and coloring your drawing! This is the part where you can showcase your artistic skills and your ability to mix and match various colors!
Daisies exist in a wide range of varieties with different color combinations, with white and yellow, yellow and black, and sky blue and yellow being the most common.
This gives you a lot of color options to choose from when coloring your daisy.
Have fun picking the colors and coloring your daisy!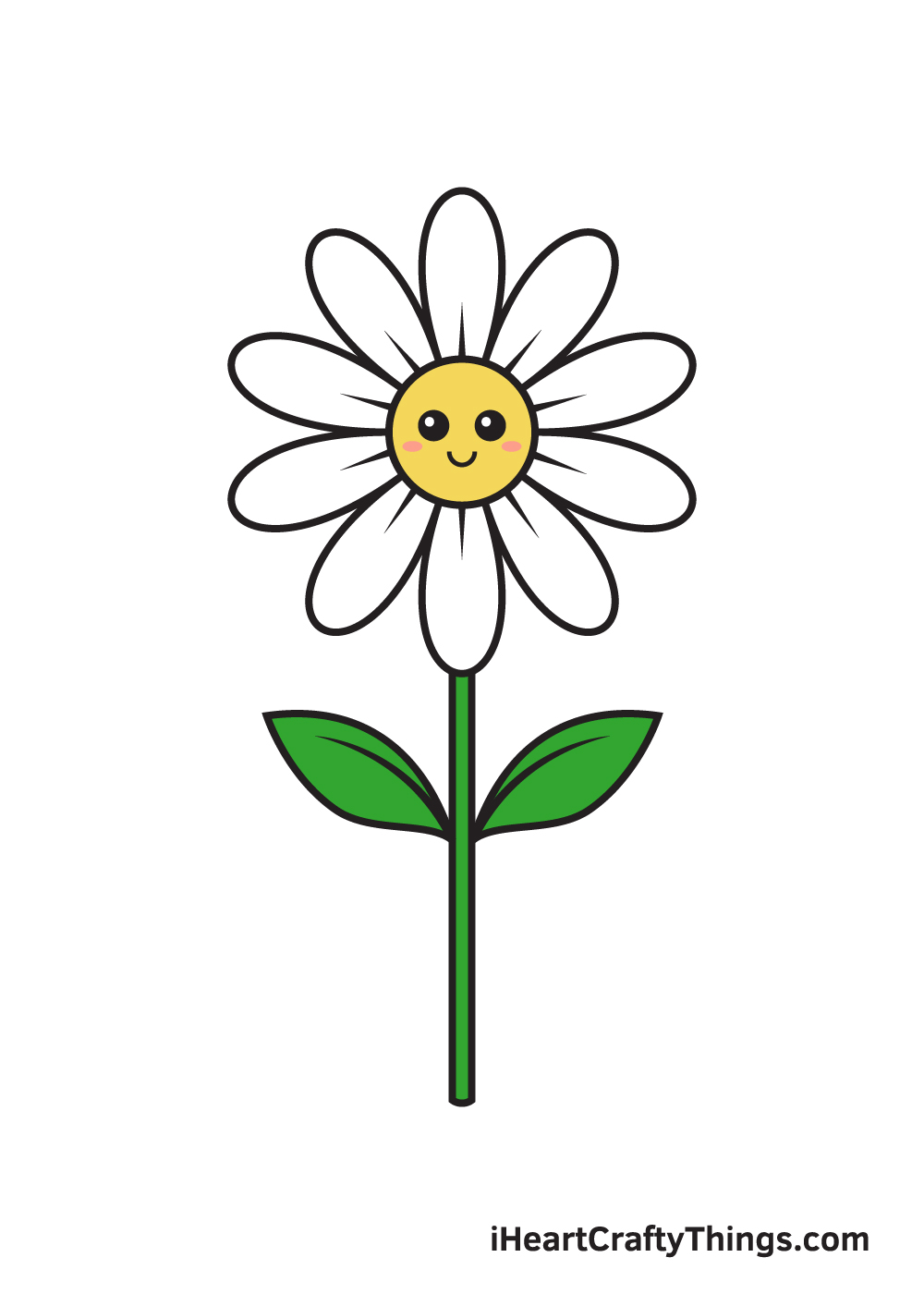 Your Daisy Drawing is Complete!
We hope you enjoy this step-by-step daisy drawing tutorial. We think this daisy drawing would make a beautiful decoration inside your home once it is fully colored and framed.
It would look great to be hung up on a wall on any part of your house. We imagine this would look best on the living room or even on your bedroom. What do you think?
We are always uploading new content on our "how to draw" catalog, so make sure you keep re-visiting our website to continuously enjoy newly uploaded drawing tutorials.
If you would like to see a drawing tutorial of a different kind of flower that we haven't covered yet, let us know about it! We always strive to deliver our readers' requests.
As soon as you finish drawing and coloring a daisy, don't forget to show off your completed masterpiece! Take a picture of your artwork and post it on our Facebook page and on Pinterest.
Don't be embarrassed to flaunt your work of art! You've worked so hard to create it, so we can already tell that it looks incredible for sure!
We are excited to see your colorful daisy drawing!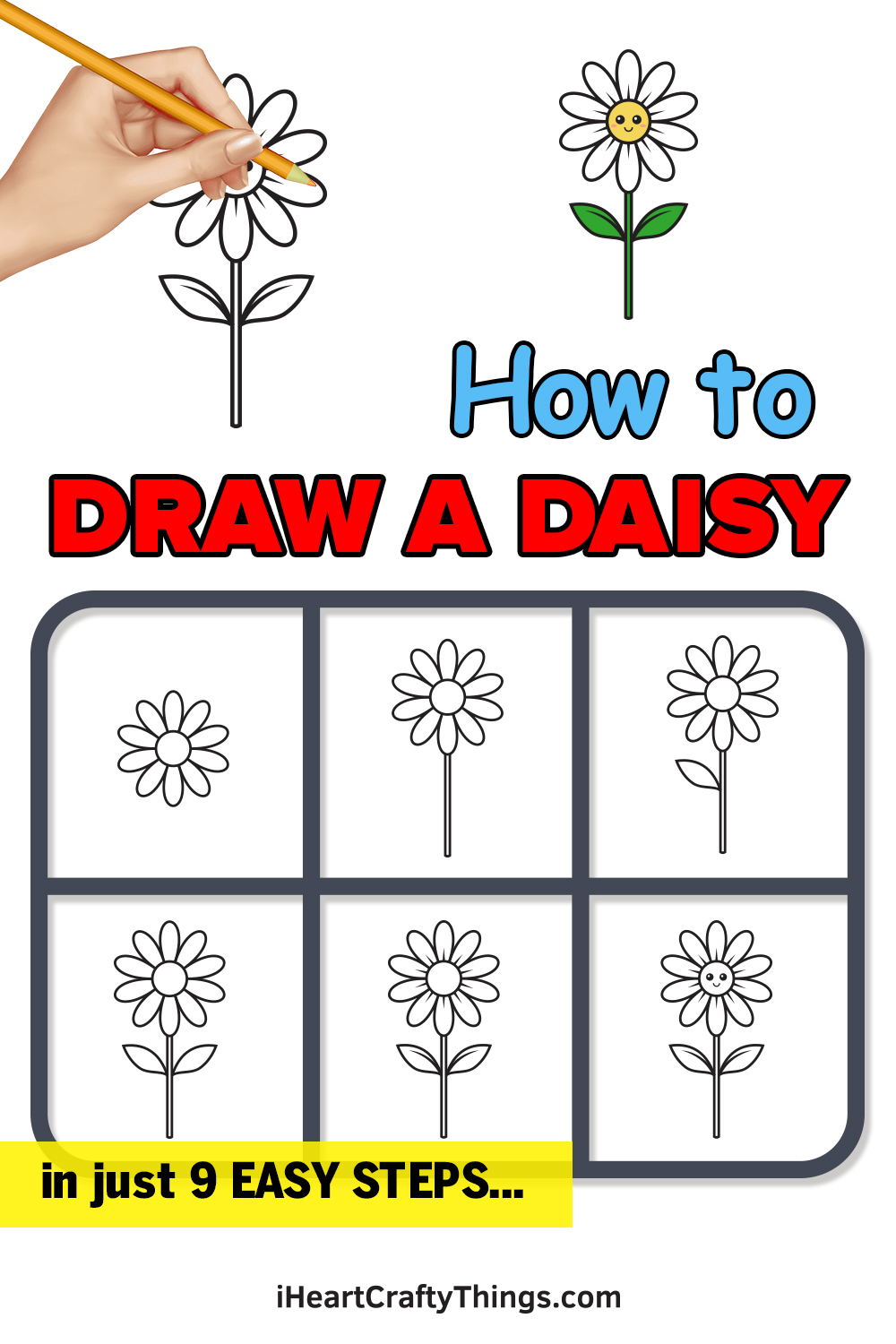 Sours: https://iheartcraftythings.com/daisy-drawing.html
Click HERE to save the tutorial to Pinterest!
"She loves me, she loves me not..."
The above words are often recited while plucking the petals from a daisy blossom, also known as an aster. The words said over the final petal were seen as an omen predicting the romantic interest of another.
The daisy is a plant with a long history. It originated in Europe but has become naturalized - growing in the wild without cultivation - in many parts of the world. The name is probably derived from the English term "day's eye," as the flowers are open during the day before closing at night.
Scroll down for a downloadable PDF of this tutorial.
Did you know? The daisy is not a single flower, but "a basket shaped blossom with hundreds of tiny, individual flowers." Daisies have many uses in addition to playing a role in beautiful flower bouquets. The flowers are edible, and may be used fresh in salads or pickled. Medicinal tinctures are also derived from the blossoms, leaves, roots, and stem.
Decorate your favorite objects with beautiful flowers; daisies are a frequent addition to art and ornamentation. You can start by learning how to draw a cartoon daisy. This easy, step-by-step cartoon flower drawing tutorial uses simple geometric shapes and lines. Sharpen your pencils, and have an eraser handy.
When you've mastered the daisy, you can learn to draw additional cartoon flowers, such as the dogwood, magnolia,lotus,sunflower, or rose.
If you liked this tutorial, see also the following drawing guides: Sunflower, Lily, and Cartoon Flowers.
Step-by-Step Instructions for Drawing a Daisy
1. Begin by drawing a small circle. This will form the center of the flower.
2. Draw a long curved line below the oval. This will become the flower's stem. Then, draw eight straight lines across the center of the flower and different angles. All of the lines should cross at the same point. These will help you to place the daisy's petals.
3. Use curved lines to enclose oblong shapes around the center of the flower, forming the petals. The shapes should be roughly ovular, with gentle points on each end. Allow each shape to overlap the end of a small, straight line.
4. Draw more petals, granting fullness to the flower head. Draw an oblong shape between each of the existing oblong petals, allowing them to overlap the sides of the petals.
5. Erase the overlapping lines from every other petal.
6. Erase the guide lines from the center of the flower. Then, extend a straight line through the stem of the flower. Then, draw a shorter straight line at each end of the previous line, at a downturned angle. After that, draw an oval surrounding each segment of the lines. These will form the daisy's leaves.
7. Erase unnecessary lines from the flower's leaves.
8. Add texture and detail the center of the flower and the outer edges of the leaves. Use wavy lines.
9. Erase the unnecessary lines from the leaves and the flower's center.
10. Texture the center of the flower with small shaded circles and a crescent moon shape. Then, draw a long curved line parallel to the existing line of the stem. It should meet the previous line at a point.
11. Color your cartoon daisy. They often have white petals with yellow centers, but can come in many different colors. Some, for example, are solid green!
Printable Drawing Tutorial
MEMBER TROUBLESHOOTING
Still seeing ads or not being able to download the PDF?
First, check that you're logged in. You can log in on the member login page.
If you're still not able to download the PDF, the likely solution is to reload the page.
You can do this by clicking the browser reload button.
It is a circular arrow-shaped icon at the top of the browser window, typically found in the upper-left side (you can also use keyboard shortcuts: Ctrl+R on PC and Command+R on Mac).
Sours: https://easydrawingguides.com/how-to-draw-a-daisy-flower/
How to draw DAISY FLOWER in 5 minutes
.
Drawing daisy flower
.
HOW TO DRAW DAISY FLOWER 🌼- Daisy Drawing Tutorial For Beginner - Step by Step Tutorial
.
You will also be interested:
.
1976
1977
1978
1979
1980