Review: Manitou Mastodon Pro EXT could be the fat bike fork you've waited for
To this day, fat bikers still argue about front suspension. While one crowd argues that it's unnecessary, others (like myself) prefer the additional control suspension provides – when riding outside the normal groomed trails. It's safe to say that the need for suspension is very condition dependent, but if you feel like it's a benefit, the Manitou Mastodon has looked promising from the start.
Phil Ott gets sendy in North Carolina on an early Mastodon
We got our first look at the fork when I was down in North Carolina with the Hayes/Manitou crew to do a feature on their testing and development. It was immediately clear after watching Hayes Mobile Marketing Specialist Phil Ott shred the Bailey Mountain Bike Park on a full suspension fat bike equipped with a prototype Mastodon that this was not just a fat bike fork. No, the Mastodon was designed to be a mountain bike suspension fork that just happens to clear the biggest tires imaginable.
It was that last part that made things difficult.
One of the most common complaints with the Rock Shox Bluto is that it's not stiff enough for larger or more aggressive riders. To be honest, that's sort of to be expected when you widen a fork with a 32mm chassis to fit larger tires, though I've never had major qualms with the Bluto. However, I'm also 5'8″ and 160lbs with all my gear, so I rarely have issues with things being too noodly.
However, the Mastodon is about more than just making a stiffer fork. Manitou wanted to ensure that the Mastodon would clear every size fat bike tire that currently exists, in addition to making a stiffer fork (and making it E-MTB certified). That meant using a 34mm chassis which is the same as many of their MTB suspension forks, but with a massively reinforced Reverse Arch. Admittedly, at certain angles, the arch isn't the most attractive design, but it's certainly functional.
Between the arch, the forged aluminum hollow crown, and the Hexlock SL 15 x 150mm axle, the increased stiffness is immediately noticeable. It's worth noting that our test fork came without any grease under the threaded Hexlock SL cap on the non-drive side. After a trip to the beach, the axle had already started to seize in place, so it's highly recommended to pull the threaded cap (which holds the captured 6mm allen bolt in place) and grease between the two surfaces in addition to the threaded portions of the axle and other contact points.
While all of the Mastodon fork arches will technically clear every tire, the actual tire clearance of the fork depends on the model. On test here is the Mastodon Pro EXT – which is an important distinction. Just because a fork arch clears a tire, doesn't mean the fork is compatible. The important measurement is whether the tire clears the crown of the fork on full compression.
That's where the EXT comes in. In order to offer clearance for tires up to 796mm in diameter, the EXT forks are limited in their travel so that the tire can't contact the crown. That also means that a 100mm EXT suspension fork has the axle to crown measurement of a 120mm standard fork – this is a critical detail when ordering the right fork for your bike. 
The fork shown above is pictured with one of the tallest fat bike tires we know of at the moment – the 27.5 x 4.5″ Terrene Cake Eater which measures about 791mm tall on ENVE rims. The fork also clears 26 x 5.0″ tires, with a maximum tire width of 131mm (which is the same for the STD or EXT model). If you're confused about tire clearance, Manitou has broken it down into a handy chart here. Generally though, the STD forks will clear up to a 4″ tire, while the EXT is needed for anything larger than 4″.
Alafia River State Park in Florida is an absolute blast – even on a fat bike.
That tire clearance of the EXT model opens up the possibility to build some true monster fat bikes with the versatility of riding through incredibly soft sand one day, and shredding mountain bike trails the next. Granted the massive tires were probably more a hindrance than benefit on the trails of Alafia River State Park, but I still had massive amounts of fun – and certainly made the most out of having a suspension fork on the front of the bike.
This is where you have to make your own call when it comes to suspension forks on a fat bike. Are you primarily going to be riding packed snow in the winter? Or will you find yourself riding mountain bike trails in all conditions, along with the occasional jump, drop, or staircase? If you're in that latter category, suspension can be a very welcomed addition to a fat bike regardless of tire size.
Trail riding also brought out the best of the Mastodon in terms of the suspension performance. Like the 34mm chassis, the Mastodon borrows much of the air spring and damping technology from Manitou's other forks including their Dorado Air Spring with IVA (Incremental Volume Adjust) and MC² compression damping with TPC rebound damping. The IVA allows you to adjust the air spring volume and progressiveness without any additional spacers (you just reposition the spacers already on the IVA shaft), which allows the Mastodon to be extremely supple off the top, yet ramp up for big hits. Adjustable high and low speed compression damping allows you to tune for brake dive and helps to firm up the suspension when you don't need it. The adjustable cartridge TPC rebound damping rounds out the adjustments for excellent tuning control.
Realistically, if you're riding wheels and tires this big, you should be running big rotors which is why the Mastodon starts with a 180mm post mount front brake.
As for the travel numbers, the Pro Mastodon is available in 100mm (which is internally adjustable down to 80mm) and 120mm (which is internally adjustable up to 140mm). There is also a 150mm travel version, but it is only available OEM.
Overall, the Mastodon has performed exactly as claimed. It is indeed a much stiffer fat bike suspension fork that rides just as well as any other single crown fork from Manitou – which is to say it is impressively supple and offers excellent control through the suspension travel. It's clear that Manitou has done their homework when it comes to fat bikes, which isn't surprising considering that they're based in Wisconsin.
So who is the Mastodon for? At 2239g, my 100mm travel Mastodon Pro EXT comes in right at claimed (2210g for the 100mm STD version). But that still makes it substantially heavier than something like a Rock Shox Bluto (1,840g), and way heavier than the Lauf Carbonara (1,120g). That means the Mastodon is probably not for the weight weenies. However, if you're a rider on the heavier end of the spectrum, or you ride your fat bike like any other mountain bike (hard), the added stiffness and suspension performance will be welcomed. Finally, if you're looking for the most tire clearance for the biggest tires (plus mud, snow, ice, etc.), it's hard to beat the Mastodon EXT in terms of sheer size.
The Mastodon Pro STD/EXT is priced at $849.99, while the slightly heavier Comp version with lower end damping is available for $649.99.
manitoumtb.com
Sours: https://bikerumor.com/2019/01/09/review-manitou-mastodon-pro-ext-could-be-the-fat-bike-fork-youve-waited-for/
The Wren TwinAir system allows the fork to be plush or progressive by simply using a shock pump - no need to disassemble the fork to adjust spacers. The floating piston in the TwinAir system is infinitely adjustable and allows the spring rate to be fine tuned to match riding style and conditions. Adding air to the top of the left fork will give a plusher ride, while adding air to the bottom gives a more progressive feel.
The damper in the Wren is actually a sealed unit that uses a flexible bladder to keep the oil under pressure at all times. It is maintenance free, needs no servicing and has an adjustable compression lever on the top (with full lock out) and a rebound damper knob at the base. While an available option on previous models, the All-Weather Damper now comes standard on all forks. It has been field tested to a frigid -27 Fahrenheit (-33 Celsius).
The Wren is available in two fat options – a 110 mm (adjustable to 100 mm, 90 mm and 80 mm) and 150 mm (adjustable to 140 mm, 130 mm and 120 mm). Both forks have an optional QR or bolt-on axle and a tapered steer tube with a strait tube as a special order. According to Wren both the 110 and the 150 are capable of running tires with max 774 mm diameter.
All Wren suspension forks come standard with carbon bash guards and clamps (to protect the lower stanchions), travel clips for adjusting travel only or travel and AC length and a brake hose/cable routing kit.
Manitou Mastodon
The Manitou Mastodon arrived on the scene in 2017 touting a list of specs and options to entice the everyday fatbiker. Mixing and matching different features gives the consumer access to a fat fork at different price points. The model being reviewed here is a Mastodon Pro EXT factory set to 100 mm.
According to Manitou
Mastodon is the real-world trail suspension for fatbikes. This fatbike fork delivers all-temperature performance, working equally well in winter or summer, soaking up chatter and big hits. Extended ride height versions fit up to 26×5.15" / 27.5×4.5" tires. Standard ride height versions fit up to 26×4" / 27.5×3.8" tires on the snow, or taking on shimmering hot sand like a pro. All-temperature performance born of frigid winter ride-testing. 34mm trail chassis is stiffer and steers more precisely than any other fatbike suspension fork.
Unlike the Wren, the Mastodon uses a more traditional approach to providing front squish with the upper (34 mm) stanchions sliding into the (42 mm) lowers. However, unlike many other forks, Manitou opted to place the fork's arch on the inside of the fork - behind the high point of the tire - rather than on the outside.
Inside the Pro EXT you will find Dorado Air Spring w/IVA. According to Manitou the Dorado Air Spring is their lightest weight spring technology with an all aluminum construction. The IVA (Incremental Volume Adjust) allows riders to tune the fork by physically moving tuning spacers above or below the piston to adjust the piston volume.
On the right leg of the fork is MC2 Compression Damping which provides separate high-speed and low-speed adjustments. On the top of the tube, the black high-speed dial controls the unsprung bike over square edge bumps, while the red low-speed dial controls damping for sprung chassis movement. At the bottom of the tube is the TPC (Twin Piston Chamber) Rebound Damping. This blue knob controls the speed at which the wheel returns to the sag position after being compressed.
Keeping the fat wheel mounted to the fork is their 15mm Hexlock SL Thru Axle. Manitou states that the simplified hexagonal axle design gives it a lower weight.
As mentioned previously, the Mastodon is available in several different flavors. The Mastodon STD (max tire diameter 758 mm) and Mastodon EXT (max tire diameter 796 mm) are both available in a Comp and Pro configuration. The Comp is adjustable between 80-140mm while the Pro is adjustable from 100-150mm. Generally, extended ride height (EXT) versions will clear a 5" (up to 26×5.15" / 27.5×4.5") tire while the standard (STD) ride height versions fit a 4" (up to 26×4" / 27.5×3.8") tire.
Digging Deeper
What is it going to cost if looking to add one of these beasts to your fattie? While a Mastodon may come stock on some OEM builds, looking at MSRP shows the Wren being a more economical option of the two.

Both the Wren 110 and Mastodon Pro EXT 100 are impressive looking forks. I personally prefer the clean looking lines of the Wren with the carbon bash guards and the absence of the fork brace. Unless you have a super keen eye you may not physically notice that the Wren has considerably beefier stanchions (36 mm vs 34 mm) and "lowers" (43 mm vs 42 mm) than the Mastodon.
The Mastodon has a wider opening between the forks than the Wren (159 mm vs 136 mm) and is also wider overall when measured at the crown (241 mm vs 235 mm). Once again, you may not be able to pick up on the physical size difference, but your downtube may with extreme bar angles.
The Wren also enjoys 110 mm of travel in stock form while the Mastodon legs give a little less squish at 100 mm.
Although both manufacturers make weight claims about their forks (Wren 2151 g vs Mastodon 2172 g), what really matters is the true weight when set up for installation – steer tube cut with star nut and crown race installed. The Wren weighs in at 2174g (23g over claimed) and the Mastodon at 2251g (79g over claimed). However, the Wren installed weight is 77g lighter than the Mastodon.
The mechanics of installing the Wren and Mastodon are pretty much the same. The dedicated cable mounts for the brake cable on the Mastodon does take the guess work out of cable routing, however the Wren supplied cable guides do allow for a more customized mounting. I found that running 180 mm rotors with SRAM calipers required a 20 mm brake post spacer for the Wren, while the Mastodon did not.
Both the Wren 110 and Mastodon Pro EXT have documentation detailing their setup. The Wren requires putting 50 psi in the top chamber and adjusting it to achieve a 22-27 mm sag. The Mastodon has a rider weight/psi chart on its leg providing a recommended PSI and requiring a sag between 15 – 25%.
As noted previously, once the sag is set on the Wren adding air to the top chamber will give a plusher ride, while adding air to the bottom gives a more progressive feel. The damper side had an adjustable compression lever on the top (with full lock out) and a rebound damper knob at the base. The Mastodon has the TPC Rebound damper on the bottom of the fork with an adjustable high-speed and low-speed damping control up near the rider.
Wren Setup
Mastodon Pro Setup
When ordering your Wren you have a choice of two axles – bolt on and QR. The bolt on requires a pair of 8 mm hex keys to install and remove, while the QR has a convenient built-in lever. The Mastodon's Hexlock SL requires one 6 mm hex to remove the rim.
As fat bikes spend a good portion of their life in cold temperatures, it's important for the fork not to freeze up when the temperatures dip. On the Wren's web site they state their inverted fork, with the stock cold weather damper, has been field tested to -27 Fahrenheit (-33 Celsius). Over on the Manitou site it states the mastodon has "all-temperature performance born of frigid winter ride-testing". The actual effective temperature range of the Mastodon could not be uncovered.
With the availability of 26" and 27.5" fat rims, tire selection and fitment can seem rather complicated. To help the consumer both Wren and Mastodon have on-line guides to help determine what tire and rim combination will fit their fork. As mentioned previously, the Mastodon Pro EXT 100 can take a maximum tire width of 131mm and diameter of 796 mm. A handy tire chart on their site looks at the diameter of several popular fat bike tires on both 26" and 27.5" rims. Looking to the Wren, the maximum fork opening is 136 mm measured at the uppers with a max tire diameter of 774 mm.
Wren Tire Clearance
Wren Rim Size
Mastodon Tire Size Chart
Forks cannot run perfect forever and will need servicing at some point in time. I'm sure there are options to send the Wren and Mastodon "away" to get serviced, however both forks do have on-line support tutorials and information to assist in disassembly and servicing. The Mastodon has a 13 page guide while the Wren has a more succinct four page description coupled with videos. One thing worth reminding is that the Wren damper is a sealed unit that uses a flexible bladder to keep the oil under pressure at all times, while the Mastodon fork uses loose oil that requires draining and replacing.
Wren Service Instructions
Mastodon Service Guide
Hands on
Over the past three years I have placed considerable time on each fork in all types of conditions – from dry summer heat to frigid winter cold and most types of conditions in-between. I am not a fair weather rider, and while I do like bouncing around on mountain bike trails, my preference is to ride my fattie on less groomed trails in full exploration mode at speeds that sometimes may exceed a quick jog. These forks have graced the front ends of various hardtail fatties (both alloy and carbon) with a Wren spending time on a full suspension Trek Farley EX8.
Once installed, both forks were pretty straight forward to set up with a slight nod to the Mastodon for simplicity. Adjusting the primary damper on both forks was a simple as turning the knob on the bottom of the fork – I generally select the middle position.
When fine tuning the forks I did find the Wren 110 to be infinitely more adjustable - adding air to the top of the fork does give a noticeable plusher ride while adding to the bottom does firm it up. I could actually feel the difference in the Wren's characteristics by adding and removing air. And the Wren has a positive lockout for those rare times when front squish was not needed.
The MC2 Compression Damping on the Mastodon is pretty convenient to adjust as it's just there on top of the right fork leg. No need for a pump. I played with both the red (low speed) and black (high speed) dials after reviewing the spec sheet numerous times. I can honestly say that I could not find any noticeable difference in the Mastodon's performance unless I put the dials in the extreme positions. Maybe it was my laid back non-aggressive riding style? In the end I just set both dials to the mid range and rode.
If you have been around the fat bike world for any amount of time you know that tires rarely measure out exactly as stated on the sidewall. So when fitting a wheel and tire combination it's very important to ensure that what you want to roll will actual fit the fork you choose to run. While playing with the Wren and Mastodon I rode both 26 x 80 and 27.5 x 80 rims on the forks with various tires.
The Mastodon and Wren both soaked up the nasty bumps, however my seat of the pants experience gives the nod to the Wren. The combination of the inverted nature of the fork, larger stanchions and infinite adjustability of the TwinAir system just made the fork seem smoother in the rough and not so rough terrain.
And as mentioned previously, while the Mastodon did a good job of bump absorption, I was unable to feel any significant performance changes in the fork when adjusting the low and high speed compression unless in the extreme positions.
Whether riding dirt or snow I was not able to physically feel that the Mastodon was 77g heavier than the carbon shod Wren. However, when the temperature dropped to extremely chilly conditions I did notice some lag in the Mastodon while the Wren still felt smooth.
But when it came to removing the front wheel, the Mastodon Hexlock axle was easier and quicker to remove and install than the Wren's removable axle.
While I don't remember ever bottoming out either of the forks, the Wren did offer an additional 10 mm of squish right out of the box.
With the Wren's 45 mm offset I did find that climbing required me to shift my weight a little more forward when comparing it to the Mastodon with its 51 mm offset. However, the Wren did make the descents feel a little more stable.
While I have not performed any disassembly on a Mastodon, I did install an All-Weather Damper in an older Wren 110 and I felt the written instructions and video did a good job of walking me through the process without any specialty tools. Based on this experience I'm confident that I would attempt a full servicing when it's warranted. I'm unsure if I would attempt the same with the Mastodon.
During my time riding both these fork I needed to contact both Wren and Manitou for technical advice and questions on their forks. There was a distinct difference in how my enquiries were handled. My experience with Wren was how I would expect customer service to be – consistently quick and accurate provided by a person who seemed to know what they were talking about. I cannot say I had the same experience regarding the Mastodon.
Final Thoughts
Both the Wren Inverted Fork and the Manitou Mastodon make riding fat bikes more comfortable and a heck of a lot more fun.
However, I feel that the Wren's infinite adjustability, beefier stanchions, lower price, excellent cold weather performance, serviceability and great dirt and snow mannerisms creep ahead of the Mastodon's larger capacity, easier axle removal, and quicker set-up.
Which ever one you choose to grace the front end of your bike, it's sure to improve your fat riding experience in the rough stuff.
RIDE FAT!
Sours: http://www.fatbikerepublic.com/2021/01/wren-vs-mastodon-comparison.html
My Cannondale Fat CAAD 1 came with a rigid fork. It is perfect for riding groomed snow trails, but when the trails aren't groomed (like most of what I've ridden so far), I think a front suspension fork would soften up the wrist trauma. Contending with frozen foot prints, cross country ski ruts, and sled tracks isn't a blocking issue, and the soft fat tire up front is still light-years better than doing the same on studded gravel tires, but my inner-self said it was still worth a try. Even if it fails to impress, I can tell my wife I did it for science :).
After some research, both online and off, I settled on the Manitou Mastodon Pro EXT (aka Extended) fork; apparently THE GOLD STANDARD for low temperature fat bike forks (Mastodon Comp EXT seems nice too). The problem is, they are nearly impossible to find. After letting a NTO (new take off) 100mm slip through my fingers by dawdling on the decision (it was only a few hours!). I had pretty much given up after striking out online; and quick call to Hayes (who own Manitou) indicated that it might be summer before I could lay my hands on one.
But never the type to let bad news discourage web search lotto; I eventually found a shop in Maine with some on hand, and a willingness to ship them!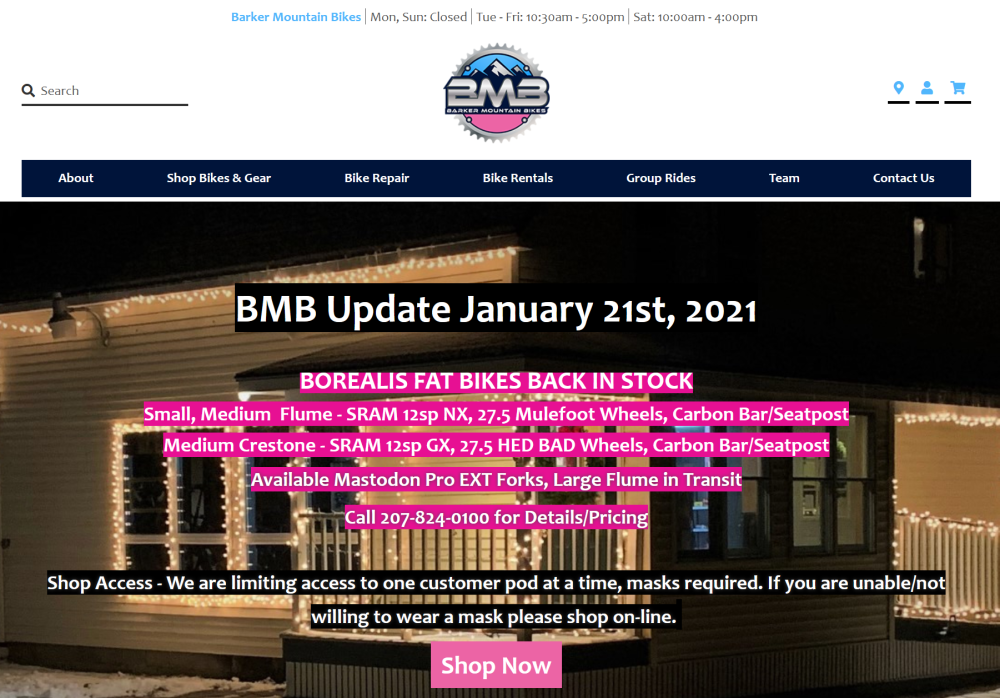 Fortunately, Barker Mountain Bikes has them in stock. So if you're looking for one, go get it before they're gone. They won't last long.
This might seem like a strange post, but there is a method to this madness. I found BMB in the where-the-bodies-are-buried section of the search results after trying several different terms. Hopefully, by littering this post with all the different permutations, it will save other poor souls from being crushed from global supply chain issues like I was; at least until they sell out of the Mastodon fat bike forks. You're welcome :).
Fat BikeHayesLocal Bike ShopManitouManitou MastodonManitou Mastodon CompManitou Mastodon Pro
Sours: https://www.mamilian.bike/blog/2021/01/if-youre-looking-for-a-hayes-manitou-mastodon-pro-ext-extended-fork
New Brakes, New Fork, New Grips, Old Bike, Good Combo! Fatbike Session at Alpine Valley MTB
Introduction - Winter Review
SCROLL DOWN
SPONSORED BY RIDEFATBIKES.ca
(5 MAR 2018)
INTRODUCTION
We undertook a comprehensive project over the last 8 weeks to perform an unbiased, independent, full product and performance review, of the 3 major players in the Fat Bike suspension fork market.
In order to perform a fair and unbiased review, several BASELINES needed to be established, to make the test fair for all competitors.
RIDEFATBIKES.ca provided all necessary gear and suspension forks to independent riders and asked them to do all their independent testing offsite, while recording their results. If the product testers ran into component issues, found operating condition limitations, or product failures, the data was sent back to RIDEFATBIKES.ca to review and attempt to replicate these conditions using our own equipment. In every instance, we were able to duplicate and validate their findings on at least 2 or 3 bikes, so the results are vetted through multiple sources confirming the statistical and performance review data was accurate.
RideFATbikes.ca will publish the Lead Independent Tester's full review unaltered and in it's entirety.
Before and after the actual review article, RIDEFATBIKES.ca will introduce the background information and performance baselines for the test. We will only include supplementary comments, charts, pictures, and provide product and performance clarifications (like direct communications with the manufacturers or factories during testing), to help tell the story of this product review, and answer questions the Independent Testers ran into during the testing process.
The decision, of which suspension fork won the shootout review, is completely the decision of the lead independent tester.
We completely support their independent decision and will publish their complete report for the sake of transparency.
RIDEFATBIKES.ca is the only retailer in CANADA that sells *all three models* of the suspension forks in this test. We thought we owed it to our customers to perform this review, so they had the best buying options possible. RIDEFATBIKES.ca shares information, and our goal is three-fold :
Improve the riding experience for the customer, by providing industry-leading products.

Communicate our tests and product review results directly with manufacturers, in hopes of product update revisions.

Share the information gained, with the cycling community.
If you have taken a moment to sit down and think about just how many versions of fat bike suspension forks are out there, it's over 20 makes/models...so let the selection process begin !!
ROCKSHOX BLUTO
Versions (4) : RL 100/120, RCT3 100/120

Travel : 100mm, 120mm

Hub Compatibility : 150mm thru-axle standard hub only (5x150 TA)

Steerer : Tapered head-tube only

Tire Compatibility : 26 x 4.8" and 27.5 x 3.8"

Suspension : Solo Air Spring w/ RCT3 Damper

Lockout control : Yes. Full lockout
LAUF CARBONARA
Versions (1): Carbonara

Travel : 60mm max, C.O.R. approx. 15mm (constant operating range of travel at speed)

Hub Compatibility : 150mm thru-axle standard hub only (5x150 TA)

Steerer : Tapered head-tube only

Tire Compatibility : 26 x 4.8" and 27.5 x 4.5" and 29 x 3.0"

Suspension : Carbon Leaf Spring, no damping / no rebound control

Lockout control : None
WREN ATK
Versions (5): ATK 110, ATK 150 w/Keyed Stanchions, WSF-135/AS or /AT, WSF-150/AS

Travel : 80, 90, 100, 110, 120, 130, 140, 150mm

Hub Compatibility : 135mm or 150mm thru-axle standard hub

Steerer : Straight or Tapered head-tube

Tire Compatibility : 26 x 4.8" and 27.5 x 4.5"

Suspension : Twin-Air System w/Damper

Lockout control : Yes. Full lockout
MANITOU MASTODON
Versions (9) : MASTODON COMP STD 100/120 and EXT 100/120, PRO STD 100/120 and EXT 100/120/150

Travel : 80, 100, 120, 140, 150mm

Hub Compatibility : 150mm thru-axle standard hub only (5x150 TA)

Steerer : Tapered head-tube only

Tire Compatibility : STD = 26 x 4.0 and 27.5 x 3.8 , EXT = 26 x 4.8" and 27.5 x 4.5"

Suspension : Dorado Air w/ MC2 Damper

Lockout control : Partial lockout only
LEFTY OLAF PBR
Versions (1) : OLAF PBR 100

Travel : 100mm

Hub Compatibility : LEFTY proprietary 73mm hub only

Steerer : Tapered head-tube only

Tire Compatibility : 26 x 4.8" and 27.5 x 3.8"(?)

Suspension : 2Spring Air w/ PBR Isolated Damper Tech and Enduro+ Tune

Lockout control : Yes. Full lockout
First - we have to determine a number of factors that will go into this test. This criteria selection process needs to be fair, and the eligible product options need to be up to date with 2018 production standards and readily available in the marketplace. In addition, we need to baseline them in several ways, so that cross-platform testing can be done, where we are not randomly picking suspension forks by different vendors in random travel lengths and AC Heights. This all needs to be standardized through baseline criteria. Next, we have to establish, what product we are going to consider the "baseline" by which all others will be compared to. We need to do all that, and make sure the test bikes can accommodate those forks too, without any modifications needed to the installation (such as crown race extenders) and no conflicts with wider fork crowns hitting the down-tubes, when extended in a 90-degree turn from the centerline.
Once we determine which brands, or product lines we will test, we need to find the ACTUAL suspension fork, in EACH of those product lines that best meets the baseline criteria. As mentioned above, there are over 20 suspension forks to currently chose from. We need to narrow that down to 3 forks.
In Short, here is the BASELINE TEST Criteria REQUIREMENTS :
Establish a baseline suspension fork by which all others will be compared to

Establish the other two suspension fork manufacturers in the competition, based upon a set of defined Industry requirements.

Establish a Cross-Platform requirement (Axle-to-Crown AC Height) each suspension fork needs to meet, in order to select that particular model from all available manufacturer's options

Establish the test bikes, which have 100% full compatibility with all 3 suspension forks selected

Install and configure the suspension forks on the test bike(s), and perform the test
CRITERIA FOR CHOOSING THE SUSPENSION FORKS
We had to look at all the suspension fork manufacturers, and choose the 3 brands that best met the acceptance of mass production standards, features and suspension travel, for all fat bikes in 2018. From those 3 manufacturers, we selected the best forks they had to offer, in their premium build lines, and installed them on industry-leading alloy and carbon fat bikes.
SUSPENSION FORK QUALIFICATIONS:
The suspension forks in this review need to be leaders in their class, for their prospective manufacturers.

The suspension forks need to have at least 100mm of true travel, with full Damping capability. (this omits Lauf Carbonara, as it is only a leaf spring fork, with limited travel and has a very fast rebound, which cannot be controlled or dampened.)

The suspension forks in this review needed to accommodate tires up to 26 x 4.8" in size on 80mm rims. (according to published Manitou fitment charts, this would omit the Mastodon PRO STD series)

The suspension forks need to accommodate a standard 150mm wide front hub with a 15x150mm thru-axle. (Even though it is a well-performing fork, this omits the Lefty Olaf, which uses a proprietary hub system that has not gained mass acceptance, and is limited to specific frames and wheelsets designed/compatible for its specific use.) (This also omits the 135mm hub versions of the Wren Twin-Air series.)

The suspension forks need to have tapered head-tubes. (This omits the Wren WSF135 and WSF150 100mm travel forks, that have straight steerers for non-tapered headsets.)

The suspension forks need to have either a Full or Modified lockout control. (This would again omit the Lauf Carbonara.)

The suspension forks in this review need to have the SAME or VERY SIMILAR axle-to-crown (AC) heights. Why? Because AC Height determines how high the bike cockpit sits off the ground, and if the AC height is altered, so would the overall geometry of the entire bike. By keeping the AC HEIGHT the SAME for ALL suspension forks tested, we can then say the "bike itself" (meaning its unaltered geometry) will handle the "same" under all conditions, and the actual changes in ride quality and handling, will be DIRECTLY related to the installed fork's performance capabilities.

We then picked the best forks remaining, from each of the 3 leading manufacturers, with the AC HEIGHT = 530 +/- 1mm.

The modified AC Height after applying the Factory-suggested SAG setting, must be equal to, or less than =< 511mm AC HEIGHT. This requirement is needed, because many Fat Bike frames have a "511" cut-off on their warranties and suspension-corrected geometries.
SUSPENSION FORKS SELECTED
ROCXSHOX BLUTO RCT3 120

AC HEIGHT = 531mm

TRAVEL = 120mm

WREN ATK 110

AC HEIGHT = 530mm

TRAVEL = 110mm

MANITOU MASTODON PRO EXT 100

AC HEIGHT = 531mm

TRAVEL = 100mm
PREREQUISITES
15 x 150mm Thru-Axle

Accommodates standard 150mm front hubs

Suspension travel of at least 100mm

Accommodates 26 x 4.8" tires (or larger)

Adjustable Damping capability

Adjustable Rebound control

Full or Modified Lockout switch

Tapered headtube design

Factory-suggested SAG adjustment results in AC =< 511mm
NOTE : (Post-review update 22 AUG 2018) - After the release of this suspension fork review in March 2018, we needed to acknowledge an update that the MASTODON PRO 120 STD suspension fork would have been more beneficial to use in this test, instead of the MASTODON PRO 100 EXT. At the time of publication in March 2018, no representative from Manitou would clear the 100 EXT on 4.8in tires and 80+mm rims. Legal reasons. Since then, after much testing and confirmation from several Fat bike manufacturers, we can say that the MASTODON PRO 120 STD will work with the Schwalbe Addix Jumbo Jim 4.8's on 80-82mm rims without any issues. That would have provided the same axle-to-crown (AC) height, but with an additional 16mm of travel (20mm-4mm sag @22%).
Please see our companion article, the 2018 SUMMER Fat Bike Suspension Fork Shootout for comparison testing using the Mastodon PRO 120 STD and the PRO 150 EXT.
THE IMPORTANCE OF "511"
Often overlooked, and not always understood, is the AC HEIGHT specification of a fat bike frame. This Axle-to-Crown (AC) measurement is a very important specification, because manufacturers often base their warranties and frame durability ratings off that number. This is also closely tied to the "Suspension Correct" calibration number assigned to manufactured frames.
From our extensive research done on STACK and REACH (click for separate article review), our internal database found that the majority of quality hard tail fat bike frames, are suspension corrected to an Axle-to-Crown (AC) Height of 511mm.
If you try to install a suspension fork that exceeds this number - and your frame is rated to MAX AC=511, you are liable to :
void your frame warranty

increase the ride height of the front end of the bike

degrade the intended ride-quality, by altering the intended geometry of the bike

potentially throw off the center of gravity
SUSPENSION FORK SAG CALIBRATION
The suspension fork shootout takes all the above facts and variables into consideration and has carefully prepared their fork selection, so that after applying the manufacturer-suggested amount of SAG to the fork, the final ready-to-ride AC Height will be <= 511mm.
NOTE : After applying factory-suggested SAG settings the available Travel is also reduced.
TRAVEL and AC HEIGHT Adjusted for SAG :
BLUTO RCT3 120
SAG setting = 20%

Travel = 96mm

AC Height = 507mm
WREN ATK 110
SAG setting = 20%

Travel = 88mm

AC Height = 508mm
MASTODON PRO EXT 100
SAG setting = 22%

Travel = 78mm

AC Height = 509mm
NOTE : (post review update, 22 AUG 2018) - as noted above, a better option for this suspension fork test would have been to replace the MASTODON PRO 100 EXT with the PRO 120 STD, as it would have worked fine with the wheelsets and tires used in this test. The result would have been the same AC Height, but an additional 16mm of travel after sag, for a total AC = 509mm, and Travel = 94mm.
Our follow-up article to this March 2018 winter test, is the 2018 SUMMER Fat Bike Suspension Fork Shootout, which does use the MASTODON PRO 120 STD fork (and the PRO 150 EXT). These Manitou forks performed even better in summer, than during the winter months.
FULL SUSPENSION FORK TRAVEL / AC HEIGHT / SAG SETTINGS
CRITERIA FOR CHOOSING THE TEST BIKES
Once the Suspension Forks for this test were selected, we then decided upon the best available fat bikes to perform the testing.
BIKE QUALIFICATIONS :
The most important required qualification, was that each test bike would be 100% compatible with installation of all 3 forks without any aids or modifications needed to make them fit, (such as crown race extenders) nor could the installed forks interfere with the bikes' down tubes(when turned 90 degrees off the centerline) .

Each bike needed to have tapered head-tubes, and front wheelset hubs = 150mm, with 180mm Rotors (or larger), and use a 15mm Thru-Axle bolt.

Each fat bike needed to be All-Mountain (AM) rated, and ready to tackle the toughest local trails the testers could throw at it.

Each fat bike needed to have suspension corrected geometry (as discussed above) to accommodate these forks, and not void any manufacturer's warranties.

Each bike needed to be configured with excellent componentry, and ready for winter riding conditions.
PRIMARY TEST BIKE
2016 FATBACK RHINO (XL) Lightweight Alloy Frame (w/adj rear chainstay dropouts)

SRAM XO1 11spd Drivetrain

RACEFACE TURBINE Crankset

SRAM GUIDE Hydraulic Brakes

SRAM 180FR/160RR Centerline Rotors

DT SWISS BR710 WHEELSET 82mm width (setup tubeless)

TERRENE WAZIA 26 x 4.6 Studded Tires

Total weight was 30 lbs w/ BLUTO RCT3 120 or 31 lbs w/ WREN ATK 110 or MASTODON PRO 100 suspension
SECONDARY TEST BIKE
(If the first bike ran into a limitation or "feature" on any fork, this secondary bike would be used to replicate and verify that condition, using the same type of fork, or same fork, as needed.
2018 FATBACK CORVUS FLT (MD) Carbon Frame

SRAM XO1 EAGLE 12 SPD Drivetrain

RACEFACE NEXTR Carbon All-mountain/Enduro-rated Crank

SRAM GUIDE ULTIMATE Hydraulic Brakes

SRAM 180FR/160RR Centerline Rotors

DIRT COMPONENTS THUMPER WHEELSET Carbon 83mm width (setup tubeless)

SCHWALBE ADDIX JUMBO JIM 26 x 4.0 All-Season tires

Total weight of bike was 26 lbs w/ WREN ATK 110 or MASTODON PRO 100 suspension, and 25 lbs with the Bluto RCT3 120 installed.
THIRD TEST BIKE
(used as a verification platform, when testers on the first two bikes found issues or limitations of their WREN ATK or MASTODON PRO EXT test forks. This bike then tested that fork in the 150mm travel version only, to see if the issues/limitations persisted at that level too).
2018 FOES MUTZ 150 (LG) Alloy Frame, Full-Suspension

SRAM XO1 EAGLE 12 SPD Drivetrain

RACEFACE TURBINE Crankset

SRAM GUIDE RSC Hydraulic Brakes

SRAM 200FR/180RR Centerline Rotors

DIRT COMPONENTS THUMPER WHEELSET Carbon 83mm width (setup tubeless)

MAXXIS MINIONS FBF4.8 Front and FBF 4.0 Rear EXO-TR-rated Tires

Total weight of bike was 36 lbs w/ WREN ATK 150 or MASTODON PRO EXT 150 suspension
All bikes pictured in this review were custom built by RideFATBikes.ca.
All photographs, review content, and charts contained in this review are copyright 2018 of either RideFATBikes.ca or Ryan Ellis.
ROCKSHOX BLUTO RCT3 120
WREN ATK 110
MANITOU MASTODON PRO EXT 100
ROCKSHOX BLUTO RCT3 120
The Rockshox Bluto was the first suspension fork for fat bikes, entering the market in October 2013 and forever changed the way riders and manufacturers looked at fat bikes. The Bluto ushered in many technology changes for fat bikes, and made the sport a better. SRAM made two versions of the Bluto, the RL and the RCT3, in both 100mm and 120mm travel lengths. We are testing their final version, the RCT3 120mm, w/ tapered steerer, and accepts up to 26 x 4.8" or 27.5 x 3.8" tires, on standard 150mm hubs.
AC HEIGHT = 531mm

TRAVEL = 120mm
Inside the Retail Box :
15 x 150mm MAXLE Lite Axle

Star Nut and basic service kit

Decal
WREN ATK 110
The Wren Twin-Air suspension fork is an inverted design with keyed stanchions, and has gone through at least two major revision upgrades in the last 3 years. This version has an adjustable rebound, compression, and air-side control, along with full lockout mode. There are only two versions of this fork, and both use a tapered steerer. The "110" covers travel increments of 80, 90, 100, and 110mm. The "150" covers travel increments of 120, 130, 140, and 150mm. Both accept up to 26 x 5.0" or 27.4 x 4.5" tires on most standard 150mm hubs. We are testing the latest Twin-air version, in the 110mm travel length. The model number is WSF150-110ATK.
AC HEIGHT = 530mm

TRAVEL = 110mm
Inside the Retail Box :
Carbon Bash guards and hardware

15 x 150 Wren lightweight alloy bolt-on axle

Wren User manual

Cable Routing gear

Travel and AC Height clips
UPDATE : OCT 2020 - (the Hayes/Manitou weblink for the 2018-20 Mastodon PRO fork is no longer available, so Button above links to the 2021 product (same fork / different decals)
MANITOU MASTODON PRO EXT 100
The Manitou Mastodon PRO is the newest fat bike suspension for on the market, and has been in use for about a year now. This fork looks to improve on performance where the Bluto RCT3 left off and is claimed to be 25% stiffer. It is the widest, tallest, and heaviest of the bunch, and comes in a bewildering selection of 8 different retail versions capable of 100, 120 or 140mm travel, plus 2 additional OEM versions with 150mm travel. We are testing the MASTODON PRO EXT 100, with 100mm travel and accepts up to 26 x 5.0" tires.
AC HEIGHT = 531mm

TRAVEL = 100mm
In the Retail Box :
Stealth Gray Decal Set

User manual

Spacer/Token kit

TPC Rebound Damping, Hi+Lo Speed PRO Setup chart

IVA Token/Clip Adjustment chart

Travel Adjustment Token/Clip chart
Author, Ryan Ellis
February 2018
"I need / want to purchase a (new) suspension fork for my fat bike, but what fork should I buy?"It's a common question but the answer is not as clear as I would like.  With limited information and reviews online about many of the new forks consumers are forced to roll the dice with a $1000.00 suspension fork purchase and hope they choose well.
When I bought my fat bike one season ago the fork options were a rigid steel fork, a rigid carbon fork, or a RockShox Bluto.  The Lauf was also an option but for my trail riding and four season needs it offers little useable travel, no spring damping and just looks goofy to me.  I chose to go with a RockShox Bluto RL in 100mm of travel then changed it out for a Bluto RCT3 with 120mm of travel.   After about 8 months of riding on the 120mm travel RockShox Bluto RCT3 the fork developed a knocking sound that my mechanic attributed to bushing play.  The Bluto is going back to RockShox for warranty consideration and I'm going to take this opportunity to change it up for a different fork.
Thanks to www.ridefatbikes.ca in Burlington, Ontario I had the opportunity to perform an extended test ride with the top models from Wrensports and Hayes / Manitou. 
At the conclusion of the test period I will be putting my money where my mouth is an ordering a new fork from RideFatBikes.ca.
Here are my impressions, findings, and thoughts from behind the handlebars with the RockShox BLUTO RCT3, the WREN 110 ATK inverted fork and the Manitou MASTODON Pro Ext 100. 
ABOUT THE REVIEWER
I am neither a professional writer (you've probably already picked up on that) or the best fat biker out on the trails.  I'm the average 40-year-old weekend warrior who gets 1-2 good fat bike rides in per week during the winter.  I'm 6'3" and 200(ish) lbs and I am only a couple years into my fat bike riding career. 
Prior to fat bikes, I do have more than 20 years of off road riding experience and currently enjoy a mid travel, full suspension 29er for most warm weather riding.  My fat bike is primarily a winter ride and this review is based on testing during an Ontario winter with temperatures (usually) between +5 Celsius and -20 Celsius. 
ABOUT THE FAT BIKE
This fork review was based on six weeks of regular riding on the same bike.  It required lots of late night fork swaps but it should provide a relevant comparison.  The test mule was an XL Fatback Rhino Alloy with a SRAM XO1 11 speed drive train, SRAM Guide hydraulic brakes, and DT Swiss BR 710 wheel set. 
Of particular note, this frame is a great platform for testing because it provides plenty of down tube clearance to accommodate all of the forks in this test.  Please keep in mind that your frame may not provide the same down tube clearance.
Keeping it scientific
This review took place on the trails and not in a laboratory.  My impressions are based only on my own observations and experiences riding each fork.  I did my best to subject each fork in a variety of trail conditions and environmental conditions. 
Temperatures during testing were generally cold in the -10 to -15 degrees Celsius range with a couple opportunities to ride each fork closer to the freezing mark.
The trails were snow covered for most of the testing period. Although, I did manage to get one ride in on the new Mastodon Pro EXT 100 before the first snow of the season and one ride in on the Wren 110 ATK after a thaw and rain destroyed the snow cover. 
As noted above, the fat bike suspension forks were all tested on an Alloy XL Fatback Rhino frame and tire pressures were maintained in the range of 6-7psi in the rear and 7-8psi in the front tire." 
Marketing information from the RockShox website
"We started with the features you've come to love from RockShox: Fast Black aluminum upper tubes, stout 15mm Maxle, remote or crown adjustable damping, tapered steerer tube, and the infinitely tunable Solo Air spring. Then, the chassis got the fat treatment by reengineering it to meet the unique needs of fat tires and wheels. Everything from crown, to arch, to axle has been optimized to tackle the increased torsional loads of its wide stance. With more traction and control than ever before, you'll never be happier you went fat."
RockShox Bluto RCT3 Specifications
The BLUTO is available in four (4) different versions.
BLUTO RCT3 100, 120
BLUTO RL 100, 120
The ROCKSHOX BLUTO RCT3 120 is the fork selected for this test review, and is highlighted in green in the chart below.
RockShox Bluto RCT3 First Impressions
(by Lead Independent Tester)
"Having owned and ridden numerous RockShox products over a number of years, I have always found their fit and finish to be excellent. With the exceptions of a couple of very tiny paint imperfections, the fit and finish of the RockShox Bluto RCT3 was close to perfect."
"All damper and rebound controls are easy to access and operate and the sag setting indicators on the stanchions are a touch that I really appreciate when setting up the fork. The air pressure chart on the fork leg gets you into the ballpark quickly and it's easy to add or remove a little air pressure to make your final adjustments."
"This particular fork has the bolt-on Maxel Lite15mm axle and after riding both the bolt-on and the quick release (QR) version, I would always choose the simplicity of the bolt on-axle. Even when using a rack that required me to remove the front wheel I found the bolt-on Maxel Lite to be easier to use than the quick release axle."
RockShox Bluto RCT3 Initial Setup
"The set up of the RockShox Bluto RCT3 was very quick and easy. A pump up to the recommended air pressure and a couple small tweaks to set the sag was the bulk of the work. Rebound was set with the garage floor bounce test and compression always run wide open. I'm not one to fiddle with lock out switches and levers and would prefer some inefficiency in climbing, rather than futzing with my suspension fork. I didn't change this setup for the duration of my time with this fork."
"If I had any volume reducing tokens I would have liked to try adding one or two to make the suspension a little more progressive but I didn't have any on hand. I'm also not sure how many tokens were pre-installed by the factory, so I can't tell you how many I was riding during testing." [see footnote (*1*) below]
RockShox Bluto RCT3 Ride quality
"On the trail I was impressed with the RockShox Bluto RCT3. I found it to be supple over small bumps but not quite as progressive over larger hits as I would have liked. With 20% sag I would regularly use all 120mm of available travel and bottom out when riding moderate trails. I never experienced a harsh bottom out but additional bottomless token may have provided a more progressive suspension feel."
"Ride quality did not noticeably change with temperature fluctuations and the fork performed well at -15 Celsius and at +30 Celsius. I did not experience any of the temperature related issues such as leaking seals and stiffening damper with the RockShox Bluto RCT3 that I have read about in the online forums."
"I've read reviews and watched YouTube videos about the RockShox Bluto and the term "noodly" gets used a lot to describe the stiffness of the fork. Because almost all of my fat bike riding experience has been on a Bluto equipped bike, I therefore couldn't compare the Bluto to a stiff rigid fork. When riding with the Bluto I did notice some handling characteristics of the bike that I initially attributed to fat tires and soft sidewall flex."
"After riding the Wren 110 ATK and the Mastodon Pro EXT 100 on the same bike, on the same trails, and with the same tires and tire pressure, I'm sure that the 32mm stanchion RockShox Bluto chassis was just overwhelmed and demonstrated enough flex to be noticeable in the handling of the bike."
"The 32mm stanchions on the Bluto look down right spindly (aka wimpy looking) installed on just about every fat bike out there. I'm old and a chicken, so hucking off large drops with my fat bike is not in the cards. The structural integrity of the Bluto was still in the back of my mind when making my line choices, because I would avoid some of the drops and features that wouldn't give me any concern when riding my 29er full suspension trail bike. There are lots of videos online of great riders pushing their Blutos to the limit in demanding terrain, so I'm sure the fork is up for the challenge, but for me it just wasn't confidence inspiring."
ROCKSHOX BLUTO RCT3 ISSUES
"When reading about the Bluto online I found numerous complaints about the fork performance deteriorating when riding below freezing. I didn't experience this particular problem with the Rockshox Bluto RCT3 or with the RockShox Bluto RL under those conditions. Rebound and compression speed may be slower in colder temperatures but not enough that I found it noticeable on the trails."
"The flex of the fork identified above could be considered a problem, but the fork is essentially a widened cross country chassis. It doesn't pretend to be anything else and does offer the lightest weight of the bunch (3.7 lbs). If you want a lightweight fork offering this much travel, some flex is the compromise you need to be willing to accept."
"The major issue that I experienced with the RockShox Bluto RCT3 is a knocking sound and play that developed inside the fork that has been attributed to worn bushings. This has occurred with less than a year of seasonal riding on the fork. This disappointed me after spending quite a bit of money on the RockShox Bluto RCT3, but I was willing to do the maintenance to get myself riding again. Unfortunately, with the RockShox Bluto the bushings are not a simple maintenance item. To replace the bushings you need to replace the entire fork lowers. This seems like a lot of waste and expense and hassle to perform a common repair. A quick search of the usual online retailers revealed new lowers without stickers for approximately $300.00. A new sticker kit will add another $50.00 to the cost, totaling $350.00 in repairs."
FOOTNOTES (ROCKSHOX BLUTO RCT3 120 section) - by RideFATbikes.ca
(*1*) - (Tokens) : The BLUTO RTC3 120 has the ability to add up to 4 tokens, and zero are pre-installed at the factory, in this configuration.
Marketing information from the Wren Sports website:
"The Inverted fork design simply works better. By inverting the fork so that the lighter stanchions are on the bottom, we reduce the mass of the moving part of the fork so that it will react quicker and easier to the trail. Inverting also anchors the stanchions into the stronger, larger upper tubes and crown making the overall chassis much stronger and stiffer. It also lowers the fulcrum point where the uppers join the stanchions compared to other fork designs decreasing the leverage factor. Inverting also positions the seals downward so that all kinds of bad stuff doesn't sit on them and get pulled into your fork."
Wren 110 ATK Specifications
The Wren inverted fat bike suspension fork comes in two versions :
[see footnote (*1*) below]
You can adjust Travel only or Travel and AC together, on these models. The Wren 150 ATK version weighs about 100g more at 2208g.
The WREN ATK 110 was the suspension fork selection for this review test, and is highlighted in Green, in the charts below :
Wren 110 ATK Inverted Fork First Impressions
(By Lead Independent Tester)
"If I can believe what I've found on the net, the WrenSports inverted fat bike suspension fork is an evolution of the "Fork of Many Names" that was previously branded and sold under multiple brand and model names. My understanding is that WrenSports has undertaken a considerable redesign of the fork and the current iteration can't really be compared to its predecessors." (*2*)
"Before this opportunity to test the Wren 110 ATK, I had never seen a WrenSports inverted fork in person and only had limited anecdotal information from riders who had. I honestly didn't have the highest expectations of the Wren and anticipated a prototype look and feel."
"Upon opening the plainly packaged Wren I was surprised with the high quality feel and look of the fork. It was slightly less refined than the RockShox Bluto RCT3 or Manitou Mastodon Pro EXT 100. There are a couple sharp edges on the drop out casting, and the clamps that hold the stanchion guards on are a bit utilitarian. Overall, this fork feels like a solidly built and high quality suspension fork. Plus, it looks very cool!"
Wren ATK 110 Initial Setup
"After reading the manual in its entirety a few times to make sure I fully understood the twin air system, setting up the Wren to the recommended starting point proved to be fairly straight forward, save for a couple minor challenges."
"Step one is adding air to the top and bottom chambers equally until the recommended 20% sag is achieved. With the inverted Wren fork design, you can't simply use your shock pumps pressure gauge when pumping up the top and bottom air chambers. Because of the floating piston design of the twin air Wren, the air pressure in the top and bottom chambers will always equalize. The equalized pressure is relevant because the pressure inside the air spring provides the correct sag and can be adjusted to control bottoming out or to allow the fork to achieve full travel. However, what is also important with the Wren's twin air design is the relative air volume in the top and bottom chambers."
"When setting up the fork initially Wren recommends that you add the same volume of air in both chambers to provide a very neutral starting point for adjustment. The only way to do this is to count the number of pump strokes and add the same number of strokes to each chamber. If the sag is more than 20% you can add a couple pump strokes to the top and the bottom and try again. If the sag is less than 20% and you have too much air in each chamber the only option is to bleed all the air from the fork and start again. The inability to make small, accurate, and recordable decreases in air volume without fully bleeding the air out of the fork is a limitation of the twin air design." (*3*)
"Once the sag is set and the fork has equal air volume (and pressure by default) in both the top and bottom chambers of the fork it's time to adjust the rebound. Wren has not provided detents or clicks to help you nor have they limited the range of adjustment that the user has access to. The red adjuster knob on the bottom of the right fork leg provides complete adjustability to go from pogo stick fast to molasses slow, and everything in between. It's up to the user to select a speed that won't allow the fork to pack up in the smallest bumps or eject them from the bike in larger bumps. With very little rebound damping (fast rebound speed) there is a noticeable top out clunk sound inside the fork. With a little more rebound damping dialed in, this sound completely disappears. With higher speed riding or more frequent hits it may not be possible to run the rebound fast enough and avoid the top out sound."
"With the sag set and rebound dialed I hit the trail and fine-tune the feel of the Wren. By increasing the volume of air in the top chamber relative to the bottom chamber the Wren 110 ATK will provide a softer, plusher and less progressive ride. And by decreasing the air in the top chamber relative to the bottom chamber the Wren will provide a more progressive feel. Decreasing the volume of the top chamber relative to the bottom chamber is similar to adding bottomless tokens to a RockShox fork or adjusting the IVA system on a Manitou fork but the twin air design allows you to achieve the same affect by only your shock pump and without opening up the fork. What can become confusing when making these adjustments is that the equalized air pressure in the top and bottom chambers will be influenced by adjusting the volumes of the upper and lower chambers and adjustments may have to be made to the sag. For example if you adjust the fork to your preferred sag setting but then decide you want a more progressive ride characteristic and add some air to the bottom of the fork you may also notice that your sag is now less than 20%. It can become slightly confusing! Once you have settled on an air pressure that provides 20% sag and the volume ratio that you like you will want to record this so that you can achieve the same result in the event that you bleed the air completely from the fork and start from scratch."
"The Wren 110 ATK that I was provided for testing came with a quick release axle and a bolt on axle. The design of each axle doesn't feel as refined or sophisticated as the Axle system of the RockShox Maxle Lite or Manitou Hexlock SL but both do the job of holding the front wheel in place. Wren recommends the bolt on axel over the quick release axle for all fat bike applications. The bolt on axle provides more clamping force and rigidity to handle the forces generated by fat bike wheels." (*4*)
"The brake line management system on the inverted Wren is also different than a conventional fork. If you fix the brake line to the fork leg, the inverted design results in a loop of brake line close to the rotor growing as the fork compresses. The loop of brake line could find its way into the spokes or brake rotor. Wren ships with two cable management guides that are fixed to the upper stanchion with zip ties. These are essentially the same solution that is used with some externally routed dropper seat posts. This solution is not as tidy as the brake line management found on a conventional fork but it is completely effective and it does allow you to control placement of the guides to avoid brake line rub."
Wren 110 ATK Riding Impressions
"Riding the Wren felt very much like riding any other high-end bicycle suspension fork. When tuned properly it provides excellent small bump sensitivity with the desired amount of ramp up as the fork progresses through its travel. Steering was precise and noticeably faster than the RockShox Bluto RCT3 or the Manitou Mastodon Pro EXT 100."
"I suspect the fast steering can be mostly attributed to the 45mm offset of the Wren vs. the 51mm offset of the Bluto and the Mastodon."
"It is possible that the rigidity of the fork also enhances the faster steering response. This is a very rigid fork - the most rigid of the bunch in my opinion." (*5*)
"During testing the effects of the fluctuating temperatures on the fork were a little frustrating as I tried to dial in the ride quality that I wanted. As the temperature fluctuated (below the freezing point) so did compression and rebound speed. Physics and the properties of air, oil and metal indicate that this effect should be noticeable on all suspension forks. The Wren 110 ATK is the only fork that I've found it to be significant." (*6*)
Wren 110 ATK Issues
"Prior to riding the unique Wren 110 ATK I spent a few evenings scouring the Internet looking for whatever complaints I could find. I wanted to know what to watch out for when testing the fork. The two most common complaints that I could find were the fork "freezing up" in cold conditions, and rubbing of the tire on the upper fork leg. The rubbing was attributed to the inverted design that allows some independent movement of each fork leg. Interestingly, I didn't find complaints about the Wren being more complicated to set up." (*6*)
"In my experience during testing the Wren was absolutely influenced by cold temperatures." (*6*) "As ambient temperatures decreased from 21 degrees in my work shop to -10 degrees at the trail head the Wren's rebound and compression damping both became much heavier during the parking lot bounce test. The difference was more pronounced with rebound than compression. During actual riding and at about -10 and warmer, the increased rebound damping and compression damping effect was minimized as the cycling suspension generated heat. Rebound speed could also easily be increased to overcome the sluggish damper. At temperatures colder than about -10 Celsius the Wren did not generate enough heat to overcome the effects of temperature and the fork in the fully open compression setting felt almost the same as it did with the lock out engaged. This effect was more noticeable in riding conditions with a significant wind chill."
"While the early heavy snow falls this season quickly smoothed out the most demanding terrain I did my best to hit every rock, log, jump, and trail feature that I could during testing. Despite my best efforts, I was unable to duplicate any of the tire on upper fork leg rubbing that I'd read about online. It's possible tire rub is only noticeable with the widest of wide tires. I have plenty of clearance with my 4.6" tires and the independent movement of the fork stanchions would have to be significant to ever result in rubbing. The owners who reported rubbing may have been using the quick release axle and not the bolt-on axle, or, may have used the quick release axle installed incorrectly." (*4*)
FOOTNOTES (WREN ATK 110 section) - from the Manufacturer and RideFATbikes.ca
(*1*) - Response from RideFATbikes.ca : (True Fork Travel) - I bet almost no one realized this, but the WREN ATK 110 is really a 120mm travel fork, and the WREN ATK 150 is really a 160mm travel fork. They both sacrifice 10mm of usable travel, when the carbon bash guard clips are installed.
(*2*) - Response from RideFATbikes.ca : ("Fork of Many Names") - Previously marketed under the "Carver", "AEKO", "Muru" and "11nine" labels, and currently marketed under the "FATLAB" and "WREN" label.
(*3*) - Response from Wren : (Setting up Sag / Twin-Air Chambers) - "In terms of adding air to achieve sag, after initial setup and getting close to sag, we recommend small additions, not a couple of pumps at a time. Each pump stroke can make a significant change, as you are getting closer and closer to dialing in the fork. This would prevent having to start over. Yes, if you bleed there is no way to gauge accurately, but the advantages to the adjustability outweigh this in our opinion. We discussed this with our engineers during development, and the additional cost to equip the fork with digital gauges indicating where the sliding piston is located, was too expensive an option."
(*4*) - Response from WrenSports : (Axle Setup / Tire Rub) - "The QR and/or the Bolt-on axle should always be inserted first into the BRAKE side. The securing bolt should then be fastened (firmly and to torque spec) via the drive-side of the fork."
"Regarding tire rub - We have found that in those cases where we were contacted by customers about this issue, either the axle was installed backwards (not from brake side), or the two stanchions were not lined up evenly to allow the axle to slide in and seat evenly, which resulted in a loose condition that was not felt until riding. This caused the wheel/rim to deflect into the left upper stanchion of the fork."
(*5*) - Response from WrenSports : (Regarding Steering Response) - "The faster, more precise steering is mostly due to the rigidity. The 45mm offset does also make some difference. The main reason for the picking 45mm as the offset, is to allow the fork to fit more bikes with varied geometry and help balance the ride. We did not work with just one OEM in mind. The offset also matches well with our AC adjustability to be able to put our fork on much older bikes."
(*6*) - Response from WrenSports : (Cold Weather Performance) - "We have discussed this at length with everyone involved. We know there are Wren fork-equipped bikes out there that work great in temps much colder than the Bluto or the Mastodon can achieve (past -30c). We need to figure out why the particular test forks in this review did not perform for you."
(*6*) - Response from RideFATbikes.ca : (Cold Weather Performance) - The failure of the Wren suspension forks freezing up prematurely between -5c and -10c has been verified by :
testing random sample forks from our own inventory, in both 110 and 150mm lengths. These forks were shipped to us at different times in 2017, mostly between the end of the summer, into the winter months.
Customers out in the field have sent us communications indicating that some of their suspension forks froze up between -5c and -10c, while a few others stated their Wren forks worked down to -18c to -20c without a problem.
We crossed checked these findings by serial number, and found they were occurring in clusters.
Warranty replacement forks sent directly from the factory to customers in Canada, also exhibited premature freeze-up issues.
This indicates it is not an isolated incident, but instead a manufacturing inconsistency where build specifications have differed from real-world testing on forks built throughout 2017. If the Wren fork was made in 2016, it appears to be more predictable and consistent than Wren forks made within the last 6-9 months. We had perfectly working Wren forks in early 2017, but not by end of 2017. Customers were starting to notice cosmetic and functional defects in the forks, by Fall 2017. We immediately notified WrenSports LLC of these issues so they could investigate.
(*6*) - Response from WrenSports : (Cold Weather Performance) - "The updated (1 MAR 2018) factory specification of the Wren fork is to function problem-free down to -15c."
(*6*) - Response from RideFATbikes.ca : (Cold Weather Performance) - Upon learning of our test results, WrenSports LLC asked for extra time to send out a new fork from the factory to beat/challenge the poor cold weather performance we were seeing in the forks we randomly pulled from current production runs. We waited almost 3 weeks. No fork arrived. As of publication date [5 MAR 2018] we still do not have a clear answer as to what is causing this problem. The review continues on...
Sours: https://www.ridefatbikes.ca/fat-bike-suspension-fork-shootout-winter-edition
Pro fork mastodon
Manitou Mastodon Fork
Our friends at Broken Spoke took some time to get some info out about the New Manitou Mastodon Fork.
It's been a long time coming for another big contender to come out with a suspension fat bike fork that can compete with the Bluto. While the Bluto was a good introduction, it is still pretty low end on the Rockshox scale of forks. With the sport getting bigger and bikes getting more developed, it is time that a new fork comes out to go along with them.
Manitou just released the Mastodon a couple of weeks ago at Sea Otter Classic. The Mastodon is designed with 34mm stanchions for a stiffer fork, cold weather seals that are rated down to 0 degrees F, and a clean thru bolt axle for easy install. Manitou has two choices for the Mastodon: a Pro and Comp version of the fork. The Pro model comes with the Dorado Air Spring with a MC2 Compression Damping, which is on most of the Manitou high-end forks. The Comp Version of the Mastodon comes with an ISO Air Spring along with an Absolute+ compression damping. Both forks have adjustable rebound damping on the bottom of the fork. We will focus more on the difference of these two options in the next blog.
The other main option Manitou is offering on the Mastodon is tire clearance. They make a standard and extended version of the fork. The standard version is for 26×4", 27.5×3.8″ or 27.5×3" tire clearance. The extended version of the fork clears the bigger rubber. The extended will clear 26×5" tires, 27.5×4.8″, 29+ all the way up to the Snowshoe XXL tire. If you go with the extended version you are able to run any tire /rim combination and can keep the same fork. The chart below helps determine the tire clearance.
Manitou offers the Mastodon in two different travel lengths as well. They are offered in 100 or 120mm of travel. However, the 100mm version can be converted down to 80mm and the 120mm can be extended to 140mm. That amount of travel pretty much covers what anyone would need on a fat bike build.
The Pro version retails for $850 and weighs in at 2,210 grams. The Comp version retails for $650 and weighs in at 2,430 grams. We are now testing a few comp extended versions. Initial thought reviews will be coming soon.
Sours: https://509cycles.com/2017/05/09/manitou-mastodon-fork/
Manitou Mastodon Review Fatbike Fork Review with Pat Smage
Manitou Mastodon Pro STD 26" / 27.5" Fatbike Fork - 100mm - Tapered - 15x150mm - black
The Mastodon Pro is based on Manitou's approved and tested All Mountain platform, which has been specially developed for Fatbikes. The main focus was on high stiffness with the wide width as well as optimum function at extreme temperatures. This standard ride height version fits up to 26 x 4" and 27.5 x 3.8" tires. Maximum outer diameter of the tire: 756 mm. The travel can be lowered internal to 80 mm with spacer.

Thanks to the 34 mm stanchions, the fork can score with an exceedingly appropriate stiffness (25% more than the competition), as well as a fantastic steering precision. The consistent performance of compression and compression damping ensures safety, especially during braking maneuvers and in curves. Thanks to Manitou's expertise in snowmobile racing, the Mastodon is perfect for cold temperatures up to -15°.

Compression damping: MC2, Incremental platform adjust
Rebound damping: adjustable cartridge TPC
Spring: Dorado Air

Approved for E-MTB usage based on ISO 4210.


Specifications of the Manitou Mastodon Pro STD Fatbike fork
available size: 26/27,5".
Installation height: 511-561 mm (STD
Spring travel: 100-150 mm (STD); internally adjustable in 10 mm steps
Spring: Dorado Air air spring with IVA (Incremental Volume Adjust)
Compression: MC2
Rebound: Adjustable TPC cartridge
Adjustment possibilities: Air pressure, air chamber volume, rebound, compression (low and high speed)
steerer tube: 1,5" Tapered
Fork crown: Made of forged aluminum, hollow milled
stanchion diameter: 34 mm
stanchion material: butted AL 7000
Brake mount: 180 mm Postmount (max. 203 mm)
Axle: 15x150 mm Hexlock SL
Max tire size: 26x4"/27,5x3,8" (STD)
Sours: https://www.bike24.com/
You will also like:
.
1866
1867
1868
1869
1870