The Razors Edge Pitbull is a breed of dog that is commonly registered with the ABKC. Which is known as the American Bully Kennel Club.
The American Bully Kennel Club (ABKC) was founded in 2004 to give recognition to the American bully, a breed of pitbulls that came into being in the 1990s. This was a breed of dogs that had been bred separately by experienced breeders. The once existing trait of over-aggressiveness was done away with after several experiments in breeding. What finally came to be known as the American Bully was nothing but a beloved four legged companion that not only made for excellent guard dogs, but were great family dogs as well.
Index
Myths of The Razors Edge pitbull
How to Register an ABKC dog
How to Participate in Events
The ABKC Family

Busting myths about the Razors Edge Pitbull
In fact their specialty has been their demeanor around children. They have been so good with children that they are known as a "nanny's dog" in some parts of America. Though the breeders and the initial few owners did their best to show what a loyal and faithful companion the American Bully breed was, some misconceptions did prevail about this dog being aggressive and having a bad temperament like that of a game dog such as a colby pitbull.

To dispel this notion, a bunch of owners came together to project a positive image for the American Bully. Slowly but surely this club became a popular movement and began serving the purpose of all those people who had canine companions. Today the ABKC is not restricted to the American bully alone but is a multi-breed registry outlet. Each of the special shows and events that are held by this club, not only projects the positive nature of the American bullies, but goes that extra mile to show dog lovers how to promote their breeds in a positive manner. Return to top

The ABKC is considered to be the official registry platform for the registration process of a dog belonging to a bully breed. If you are a proud owner of an American Bully, you can go ahead and register with the ABKC. You can register both a single dog and a litter of puppies with full details of the sire and the dam. On the web site of the ABKC you will find the respective forms for single registration and litter registration.

How to register your Razors Edge Pitbull with ABKC
Once you have downloaded the application forms from the web site of ABKC, take enough time to fill them out. Make sure you fill out every section in the application form. If you leave out anything it will either delay or process or the registration may even be denied. You will also need the supporting documents along with your application form. The details of these documents are mentioned clearly on the web site. Some of these include the registration documents of at least three generations of pedigree from a recognized kennel club. Return to top

Once you have filled out all the application forms carefully, you have to make the payment of the registration fee. The per dog registration fee on ABKC is $20. There are various ways of making the payment. You may send cashier checks, money orders or personal checks to make the payment. Once you have made up your mind about how you want to make the payment, you can put the application forms, the supporting documents that have been asked for and the payment in an envelope and mail to the address that has been clearly specified on the web site.
If your razors edge pitbull is already registered with the ADBA, it may need an inspection before it is registered with the ABKC. However you need not worry about this. The ABKC will notify you with an email or a phone call and take the necessary steps for verification. The registration of your beloved American Bullyis an important process. Once your dog has been registered with ABKC, you have the right to showcase the skills of your dog at the special events organized by the club. Not only does it give you immense satisfaction as an owner to showcase the skill set of your dog, it has a great impact on the confidence level of your dog as well.
Participation process in an ABKC event
If you are interested in registering at a particular dog show or any such event, make sure you go through the web site to check out whether your dog is eligible to participate in the event. The ABKC demands that the dog that is participating in an event is adequately trained and has a stable and controlled temperament. At no cost should the dog be a threat to the others present at the event or should not be a hindrance for the judges of the event. The host of the show also has the right to refuse entry if he finds that any of the participating dogs are over aggressive. Return to top

Once you are completely sure of the ground rules you can attend such an event yourself, to familiarize yourself about the process. The best way to get yourself familiar with the show registration process is to get to a representative of a kennel to help you out. He will give you all the necessary paperwork. These are basically a bunch of forms that you need to fill out.

You will also need the registration certificate and some supporting documents to attach with these forms. Apart from the registration fee that you will have to pay for entering a show, there might be an extra convenience charge. This money is usually taken to pay for the services of the representatives who are present at such shows. You must remember to ask for a receipt for whatever payments you are making. The receipt should bear both the names of the owner and the dog, for it to be valid.
The ever growing American Bully Kennel Club family
The benefit of the being a member of the ABKC is humongous. Not only do you and your dog bond better over a plethora of events, it is a treasure trove of good experiences for any pet owner. You come across so many like minded people with whom you can exchange information and better your own experiences with your dog. There have been numerous occasions when co-participants in an ABKC event have ended up as friends for life. Return to top
With the omnipresence of the internet, the ABKC family is growing larger by the day. There are numerous social media groups, chat forums and other platforms where bully owners and other members of ABKC can get together virtually and share their thoughts. Numerous ideas that have come out from these discussions have been turned into reality in recent times and promises only to get better. The best thing about these events organized by ABKC is that they are not restricted only to bully owners. It is a jamboree for all dog lovers who are as dedicated to their pets as their pets are to them.
FREE Pit Bull Infographic
Learn the Science behind Pit Bulls with this FREE Pit Bull Infographic. – GET THE FULL VERSION NOW
---
Sours: https://vitaminsforpitbulls.com/razors-edge-pitbulls/
Razor Edge Pitbulls – The Phenomenal and Amazing Bully Dog Breed
Pitbulls have always been surrounded by controversy for many years. Different people have different views on these canine breeds. Because of their dark past, many people believe that these dogs are fearsome and aggressive. However, there are also others that believe otherwise.
Pitbull dogs raised for competitions have a majestic physical appearance. They are muscular and powerful in their stance. But these dogs are also loveable companions. Each dog is an individual and has a unique characteristic that makes them a well-loved pet.
And because of their growing popularity, breeding Pitbulls has become a phenomenon in the US. Breeding them improves one or more of their natural traits, thus making them an ideal companion pet for the American family. Among the kennels that have developed an excellent bloodline is the Razor Edge Pit bulls.
Pitbull dogs under this bloodline are short and muscular. They are bred selectively to develop calm, loving, and loyal dogs. Let's find out more about this bloodline and why they're much-coveted by Pittie fanatics.
What is Razor Edge Pitbull?
The Razor Edge Pitbull first came out in the 1980s. These dogs were bred to become Bully companion dogs rather than a traditional Pitbull. Some notable traits of dogs under this bloodline are their desirable social skills and ability to adapt to any situation.
Razor Edge founders, Dave Wilson and Carlos Barksdale initially thought of breeding game dogs. They set out gathering information about their focused breed – a Pitbull.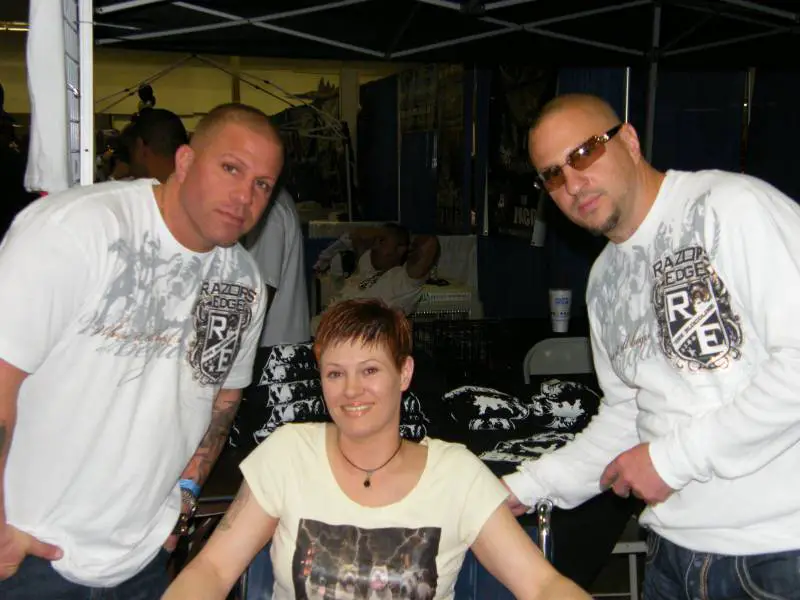 The two of them headed out to George William's Wildside Kennels and got the Pitbull named "Diablo." However, the banning of the Pits happened in the county, thus, Dave accepted a sudden job offer as a pet store manager in Virginia. He worked as a manager, a dog trainer and pursued his dream of having a kennel and breeding business. He started the Razor Edge Pitbull Kennels.
At present, the bloodline has now created more than seven generations of pure Razor Edge Pits. Though the initial intent was to breed big and brawny canines, Dave successfully came up with a bloodline that is physically close to the traditional Pitbull but has less game drive and a calmer temperament. His success made this bloodline a high-sought after breed causing a steep increase in its price.
Razor Edge Pitbull Appearance
Dave Wilson opted to have American Bully dogs for his Razor Edge Pits. However, under this bloodline, the dogs came out with a distinct physical appearance.
A Razor Edge Pit has a large head and a short, square muzzle. The dogs are also big-boned, with a short back and broad chest. Its head is medium length with a wide skull and short blocky muzzle. The ears can be either cropped or not. Eye and nose colors can vary, but albinism in the eyes are unusual in the Razor Edge bloodline.
Skin patterns and color also vary from one dog to another. Though rare, the kennel also produces some incredible Red nose Pitbull and Blue nose Pitbull sometimes.  The Bullies here have a short coat that is close to the skin and stiff to touch. It appears glossy and sheds minimally, so you don't need maintenance or grooming.
Looking at these dogs, one would notice their strong shoulder blades. It is wide, sloping and massive. Razor Edge Pits feature a wide and deep chest with ribs sitting close to each other. These dogs require lots of activity and exercise. They need relief of their physical and mental energy, otherwise, they can turn on your furniture and stuff.
Like most Pitties, dogs from this bloodline also have a high tolerance for pain and often, they would ignore any physical injury. It is best to have regular veterinary check up since these dogs will not show any signs of injury.
The Temperament of Razor Edge Pitbulls
While Dave aims for massive Pits for the Razors Edge bloodline, he also worked hard for his dogs to become the ideal companion. Like any other American Bully, the Razor's Edge Pitties are calm, affectionate, outgoing and good-natured. They are very social and very tolerant when it comes to kids and strangers. Despite its massive looks, these dogs are not aggressive and are rather versatile. These unique mixes of strength, agility and impeccable temperament made the Razor Edge bloodline very popular across the US and other parts of the world.
Bullies under this bloodline are considered as high-quality family dogs. These are dogs that always want to please their owners. Bully-lovers would be proud to have a pet with this kind of bloodline. Thus, even with its very expensive price, many people are still hoping to have a Razor Edge Pit.
How Much Does a Razor Edge Pitbull Cost?
Bullies with the Razor Edge bloodline are highly-sought after canines. These dogs are of high-quality in terms of physical appearance, temperament and health aspects. It is no wonder that a Razor Edge puppy will fetch a very high price. The lowest price you can get is at $1500. There are also $2000-$2500, but the premium pups have a price as high as $3000.
For those who are not aware of the Razor Edge Pit quality, the price can be too much for a pup. But fanatics will always claim that these prices are worth it.
It is currently the standard price. Thus, if a breeder offers a puppy with the Razor Edge bloodline at a lower cost, it is already a shady deal. It means that the puppy is fake or a half-breed. Also, some breeders are selling half-breed pups as full-blood Razor Edge Pit at exorbitant prices. The best way for you to get an authentic puppy with this bloodline is to personally connect or visit the Razor Edge Kennels.
Founder Dave Wilson claims that they will continue to breed these dogs. More so, they will work hard to develop more American Bullies of excellent quality ideal for a family pet.
Although the bloodline is a recent one, Bully fans hope that it will continue for a long time. Pittie lovers around the world wish they can have a Razor Edge Pit that has the perfect combination of a massive built and softie personality.
Are They Aggressive?
One of the traits that Dave Wilson worked hard for in perfecting is his Razor Edge Pits is non-aggressiveness. His dogs are just like any American Bully. They looked like ripped and muscular athletes, but they are family-oriented. These dogs keep their natural guard dog instincts, but they are loving, charming to their family and tolerant of strangers.
Training Tips For Razor Edge Pitbull Puppies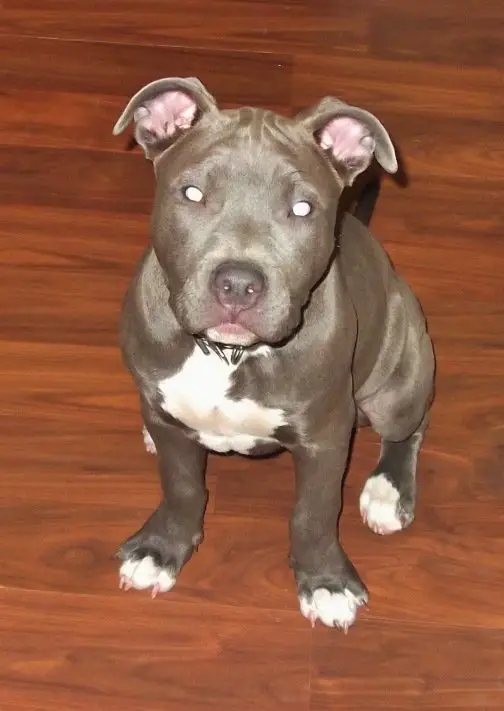 Training a Razor Edge Pitbull puppy should be like any other dog. However, since it is a big Bully breed, you have to expect a bit of stubbornness. Training these big babies is not for the faint-hearted, they need a steady hand, lots of patience and a firm commander when training. Some tips to keep in mind when training bullies are the following:
These dogs thrive on praises and aim to please their owners. Use lots of positive reinforcement. Make training sessions a fun and entertaining activity that both of you will look forward to.
Socialize them at an early age to dogs, people and things around them. It might sound too much but introducing them to everything and everyone helps prevent antisocial traits in canines.
Avoid showing them your frustration and never shout or scold your puppy. Be responsible in everything you do with them.
Patience is key when training Bullies. Repeat your sessions until they finally understand what is expected of them and don't hold back on praises.
Wrap Up
Razor Edge Pits is a recent bloodline that has been making a lot of noise in the bully world. These dogs have impressive looks which can be quite fearsome. They have muscular bodies, power and grace. But Razor Edge founder prides himself with creating a type of Pitbull that is non-aggressive, tolerant of strangers, and charming while keeping true to its guard dog instincts. These dogs make the perfect family pets, but they do fetch a very high price. But Pittie fans will always say that these dogs are all worth its price. So, if one of these dogs is your dream canine companion, you'll never go wrong in making this choice.
Do you have a Razor Edge Pitbull? How are they as family pets? Tell us more about them by leaving a comment in the box below!
Sours: https://americanbullydaily.com/razor-edge-pit-bulls-history/
So, what exactly is all the hype nowadays when it comes to Razor Edge Pitbulls? First off, let's make it clear that Pitbulls are probably the most controversial dog breed for a very long time now, where some people go to the extent of calling them barbaric murderers that shouldn't be considered as pets.
Others even go to the extent of calling the aforementioned group of people lunatics that don't know how to properly raise and handle a Pitbull.
Obviously, we're not going to be getting into that debate in today's article, simply because that's not the goal we have in mind for now.
Today's article is all about the Razor Edge Pitbulls.
Introduction To Razor Edge Pitbulls
So, Nowadays we hear all these terminologies and adjectives when it comes to Pitbulls, such as Brindle Pitbulls, Blue Nose Pitbulls, Red Nose Pitbulls, and now Razor Edge Pitbulls. What's the deal here?
Razor Edge Pitbulls are essentially a mixed breed dog, and not 100% purebred Pitbulls, as they are often mixed with Mastiffs or English Bulldogs.
Razors Edge Pitbulls first became a bloodline back in the 1980's after a concept was made reality by Dave Wilson, founder of the Razors Edge Kennel, and Carlos Barksdale.
Today, Razor Edge Pitbulls are one of the most popular and in-demand pitbull bloodlines.
Having been first bred for more than 20 years now, the Razor Edge Pitbull was initially bred to be a companion dog, instead of a competition dog that many dog breeders have in mind when they think of breeding for a Pitbull.
That's the way Razor Edge Pitbulls are seen today, one of the best companion dogs you can ever come across.
Razor Edge Pitbulls are essentially still counted as American Bully dogs, however they do have a few unique aspects to the way they look and their personality traits.
Head & Face: Razor Edge pitbulls often have a head larger-than-average sized head, while their muzzle is a relatively shorter one.
Sometimes, the Razor Edge Pitbull has cropped ears, and other times it has the usual pointy ones that Pitbulls have.
As for the color of their nose, for the most part it's going to be the same as the color of their coat.
Body & Build: Given the general strong and muscular build of the average Pitbull dog, the Razor Edge Pitbull is no different.
This dog is notorious for its very strong bones, muscular physique, and mostly for its very wide chest (like that of a professional bodybuilder), all of which make this dog of more stocky build than the usual Pitbull.
The back of the Razor Edge Pitbull is, however, a bit shorter than that of a regular Pitbull and their legs are a bit more compact.
Coat: The Razor Edge Pitbull is relatively a low-shedding dog and an easy one to groom without necessarily having to follow a very strict and time consuming schedule, so you won't have to worry about its hair falling off everywhere around the house and you having to clean up after it.
As for the colors its coat comes in, the Razor Edge Pitbull can come in a wide variety of colors.
Exercise & Physical Activity: Razor Edge Pitbulls, just like any other Pitbull dog, thrives on intense exercises and high levels of activity on a day to day basis.
So, if you want to make sure that your Pitbull is letting out all that energy that builds up inside of them the right way, then do your job and provide them with the necessary outlets that allow them to.
Affection: Despite their intimidating looks that result in many people assuming that these dogs are on the lookout for blood, they're not.
Razor Edge Pit Bulls that were raised in a healthy environment, trained using healthy methods and properly socialized ever since they were young puppies are very loving, affectionate, loyal and playful dogs.
Yes they're much more physically strong than other dog breeds, yes they look much more tough than other dog breeds, but that doesn't mean they're not sweethearts deep inside.
You'll be surprised just how much of a loving sweetheart the Razor Edge Pitbull really is.
What's The Cost Of A Razors Edge Pitbull Puppy?
If you're looking to get a true Razor Edge Pitbull puppy from a high-quality breeder that knows what they're doing and isn't planning on cheating you out of your money, you can very well expect to pay a fee up to around 2000$.
Some dog breeders will want to charge you a fee of up to 2500-3000$ (sometimes even more than that), but in most cases these breeders are just greedy and are charging you way more than you should really be paying.
Be careful when doing business for Razor Edge Pitbulls with breeders you don't know very well, as some of them will have you believe that they're willing to sell you a "100% real Razor Edge Pitbull" for a much cheaper fee than what it's going for in the market, while these breeders are in fact looking to sell you a dog that's not a Razor Edge Pitbull at all.
The most common cases of such issues happening are with back-yard breeders that try to make you believe they have a true Razor Edge Pitbull for you in stock, while they don't even have the proper registration papers for them.
Any breeder that can't provide you with the proper registration papers that prove this Pitbull is of the Razor Edge bloodline is most definitely not a breeder you should be buying from.
Sours: https://ultimatehomelife.com/razor-edge-pitbulls-k-razors-edge-bullies-overview/
What Is A Razor's Edge Pitbull?
People are quite decisive when it comes to Razors Edge Pit bulls. In fact, it wouldn't be wrong to say that talking about them has been quite controversial. A lot of them believe that they are harmless. However, some believe that Pit bulls deserve love, just like other breeds of dogs.
Contrary to popular belief, Pit bulls can be great companions. Often people mistake them for being aggressive. But those who own Pit bulls can testify how adorable they can sometimes be. There are multiple breeds of Pit bulls. Razors Edge Pitbull is one of them.
Razors Edge Pit bulls are short but muscular. They have calm characteristics that make them adorable.
Facts about Razors Edge Pitbull:
| | |
| --- | --- |
| Dog Breed Group | Pit bulldogs |
| Height Range | Male: 22 inches Female: 21 inches |
| Weight Range | Male: 65-85 lbs. Female: 60-75 lbs. |
| Life Span | 6-8 years |
| Length | Short |
| Characteristics | Flat |
| Colours | They are available in a variety of colours, mostly dark. Usually, their nose is of the same colour as their coat |
| Grooming Needs | Easy |
| Club Recognition | American Bully Kennel Club (ABKC) |
| Exercise Requirement | Intense |
| Energy Level | Active |
| Tendency to Drool, Snore, Bark and Dig | Low |
| Social Attention Needs | Normal |
| Litter Size | Ranging from 4 to 8 |
History of Razors Edge Pitbull:
The creation of Razors Edge Pitbull bloodline can be credited to two people. Dave Wilson and Carlos Barksdale. Although they started with game dogs, but eventually ended up learning all there was to learn about American Pit Bull Terriers. They performed extensive research. They read all the magazines and articles they could find about the breed.
They even went on to pay $3,500 for a good collection of game dogs. They had only one goal in mind: to create the bloodline of Razors Edge Pitbull. For that reason, they met with several breeders and tried to obtain even the slightest piece of information. During the days they were researching about creating a bloodline, they had a few American Pit bulls. They even started their Pit club and used to take the dogs for a walk in the woods. Regardless of how much money they earned, they spent it to get game bred dogs. And they were successful in owning some amazing game bred dogs.
After several months of hard work, it finally paid off. Somehow, they reached George Williams in Washington, DC. With the help of Williams, they were able to purchase a dog from Wildside Kennels. They named the first dog that they bought from Kennels, Diablo. Diablo wasn't an ordinary dog; his parents were quite famous. His father was a Hollinsworth Bull, and his mother was a game bred dog, Ms. Leaky. Diablo had everything they were looking for in a breeding dog. It had a perfect size, bone, and structure. In a way, Diablo was the first bloodline of Razors Edge.
Of the two partners, Dave wanted to create a bloodline of dogs that were short. He wanted the dogs to have thick legs and large heads. He wanted the bloodline to be different from the standard Pitbull. He didn't exactly succeed at that. Razors Edge Pit bulls aren't that different from standard Pit bulls. The only noticeable differences are that Razors Edge Pit bulls cannot be exactly considered game dogs, and they are slightly less energetic than a standard Pitbull.
The official standard of Razors Edge Pitbull:
Razors Edge Pitbull response quite well to social settings. They can be very easy to train provided you have bought them from a decent breeder. They aren't precisely show dogs, albeit many people buy them so that they could enter them into competitions. Officially, people still consider Razors Edge Pit bulls America Bully dogs. But there are still a few differences between both kinds.
The first difference between both kinds is the head and the face. Razors Edge Pit bulls have a large head. Larger than what one might consider average. But their nozzle is short. When it comes to their ears, it can vary. Sometimes they can have short ears, while other times, they can be pointy, like a standard Pitbull. The color of their nose is usually the same as their coat.
One of the reasons why Dave and Carlos created the Razors Edge Pitbull bloodline was so that it may have the same build as an average Pitbull. Hence, it shouldn't come as a surprise that the build of a Razors Edge Pitbull is the same as a standard Pitbull. The dog looks quite muscular, and there are a few reasons why. Muscular physique and broad chest are two significant reasons. That is why sometimes, this breed may look more muscular than a standard Pitbull. The backside and legs of Razors Edge Pitbull are relatively shorter as compared to an average Pitbull.
Razors Edge Pitbull is relatively easy to groom. One primary reason is that it doesn't shed a lot of hair. They don't have to follow a strict schedule to ensure their hair doesn't shed. This is a primary reason why people prefer having Razors Edge Pit bulls. Since it doesn't shed a lot of hair, people won't have to clean the mess frequently. A Razors Edge Pitbull can come in many colours. Usually, the coat is of dark colours, such as dark grey or dark brown.
Razors Edge Pit bulls are quite active. Once they wake up, all they prefer to do is do intense exercises. They have to maintain a high level of activity every day. But they need the right amount of nutrition to perform these high levels of activities daily. So, people who wish to own one should especially take care of their diet.
People often use the term 'threatening' or 'aggressive' for Razors Edge Pit bulls. This is nothing but a myth. It depends on the owners how they want others to perceive their dogs. A lot of people buy Razors Edge Pit bulls when they are . When they provide a healthy environment to them, they can grow up to be the kindest dogs. Just because they look strong doesn't mean they are hostile. Deep inside, they want nothing more than an owner who plays with them and cares for them.
Personality and Temperament:
A lot of people might be surprised to hear this, but the temperament of a Razors Edge Pitbull is precisely why people choose them as pets. They are loyal, affectionate and quite playful. They are very social and thrive in social settings. Although the bloodline was created to make a bully dog, they are quite friendly around children as well. In fact, they have been so good around children that people have come up with a name for them: Nanny's Dogs.
Usually, dogs can get weird around strangers. That is not the case with Razors Edge Pit bulls. They are welcoming and friendly towards strangers too. Of course, the strangers being friends and family and not someone with ill intentions. This is one of the reasons why many people in America prefer to own a Razors Edge Pitbull. Additionally, these dogs are always looking for ways to please their owners.
Living With A Razors Edge Pit Bull:
Razors Edge Pit bulls are very muscular and strong. Hence, owners should train them to behave well towards strangers and friends. Since they are quite good at socializing, owners should make sure they behave while meeting other dogs. Under the right training and guidance, they can grow up to be the most lovable dogs. However, people with multiple kids shouldn't purchase them. Managing multiple kids is exhausting as it is. Adding another creature to care about would only make the owners more anxious. This is also true for people who have naughty kids.
Razors Edge Pit bulls are quite active. They need their daily intense exercise sessions. Owners should make sure that they take their dogs out on a walk with them every day. It is important to remember that the dogs should be on a leash when owners are taking them out for a walk. Regardless of how friendly the dog might seem, never let it roam without a leash. And remember to feed them according to their needs, not more and not less. They already have a muscular body. Overfeeding them would only make them more obese.
Health issues:
Razors Edge Pit bulls are usually healthy. They don't face any significant health issues. However, they can still suffer from multiple health issues. After all, no creature on earth is prone to disease. Some common health issues the dog may face include:
People who own dogs must have heard about the term 'hip dysplasia' at least once in their lives. Hip dysplasia is one of the most common diseases these dogs can face. When the ball and socket of the hip joint are malformed, the condition is known as hip dysplasia. The problem only occurs when the dog still hasn't reached full maturity. To identify the skeletal disease, owners should perform X rays of their dogs. It becomes even more critical if they plan to breed their dogs. If the disease worsens, veterinarians can treat it by either suggesting weight control or surgery. It depends on the severity of the disease.
Razors Edge Pitbull can also suffer from heart disease. Sometimes, the dog may be born with it. Due to heart disease, the dog's heart may not beat naturally; it will be irregular. Fortunately, finding whether a dog has an irregular heartbeat is quite easy. Listening to the dog's heartbeat will tell whether there is something wrong with his heart or not. If the condition is bad, a veterinarian may ask to conduct some additional tests. Treatments for this condition usually includes medications and weight control.
Another common problem with Razors Edge Pitbull is allergies. Fortunately, of all the health conditions, they are the easiest to treat. Since these dogs are full of energy, owners cannot keep them at once place. Throughout the day, these dogs wander from one place to another. They may get allergens, such as flea or dust, from nooks and corners. But that is not all. Dogs may also get allergy from the food they eat. Allergies might not pose that big of a problem to these dogs, but it can still make them uncomfortable. If owners don't treat these allergies, they may become a cause of significant problems in dogs. To treat an allergy, sometimes all owners should do is ensure that their environment is safe.
Razors Edge Pit bulls grow up to be robust dogs. Hence, for that reason, their diet needs to be full of balanced nutrition as well. They require vitamins from fruits and vegetables. And protein from meat-only to grow healthy. Owners should make a schedule of their feeding time. It should be noted here that Razors Edge Pit bulls do not know when to stop feeding. They might even beg for food. But to prevent these dogs from getting obese, owners should never overfeed them. Feeding them frequently throughout the day would only make them disobedient. And no one wants that in a Razors Edge Pitbull.
FAQs:
Is a Razors Edge Pitbull dangerous?
Razors Edge Pit bulls have always been controversial due to their nature. They become aggressive very quickly. Due to this reason, people consider them to be one of the dangerous dog breeds all over the world.
Are Razors Edge Pit bulls affectionate?
When cared for properly, these dogs can be very affectionate. They behave exceptionally well in social situations and interact well with kids.
How long do Razors Edge Pit bulls live?
The average life span of these dogs is six to eight years. Their life span may vary, depending on their health issues.
Conclusion:
Razors Edge Pit bulls are powerful but friendly dogs. They are incredibly possessive about their owners. Apart from serving as great bully dogs, they can also be great family dogs. It all depends on how much affection the owner gives them.
Sours: https://mybullyshop.com/razors-edge-pitbull/
Edge bully razor
.
Rottweiler vs RazorEdge Bully! Well Trained Rottweiler deals with Excited Bully Dog.
.
You will also like:
.
1795
1796
1797
1798
1799