There are many effective ways of removing water from a property and directing it to the appropriate channels. French and trench drains are two styles used to move water offsite, but the variances between them are often misunderstood. Both are the first defense against onsite water collection, but one is a surface structure while the other is a subsurface structure. Knowing the difference between a French drain and a trench drain will help you understand why picking the versatility of a trench drain makes more sense.
French Drains
French drains are typically made of perforated pipes and are surrounded by gravel or sand and landscaping textile that prevents the drainage material from migrating. Additionally, the landscaping textile prevents soil and roots from clogging or entering the holes in the pipe. It can be made easily by hand but is best used for draining groundwater from gardens and around building foundations. French drains move trapped water toward a specified area and are best utilized in soil that is frequently saturated from rainfall and prone to flooding.
One issue that arises with French drains occurs in yards that slope toward a building's foundation. In this scenario, a surface drainage system is more ideal if the slope is greater than one and a half inches. This is because a steep slope can cause excessive water to seep below your home if there are drainage issues, and the drain's subsurface installation makes it harder to get to. Digging may disturb natural water flow, and weeping tile or perforated pipe is prone to clogging over time. Moreover, installing French drains can be dangerous if there are power, communications, or water lines buried nearby.
Trench Drains
Trench drains may also be called channel drains and are an above-ground drainage solution. Its materials are embedded in the ground within a long, narrow trench. It has a grated covering that may look like guttering. Residential trench drains redirect water to keep it away from areas where it could cause damage, danger, or erosion. After it's laid, the trench drain is connected to a local storm sewer or waterway to keep the ecosystem intact.
Trench drains can be temporary or permanent with varying grate strengths and appearances to fit a property's surroundings. Its exposure on the surface and its durable materials allow it to handle heavy weights without being disturbed. ABT offers pre-cast and cast-in-place products to provide a permanent and durable fixture for areas such as patios, pools, driveways, and sidewalks.
Aside from what we've listed here, the difference between a French drain and a trench drain is that a French drain is used for water that is underground while a trench drain diverts excess water from a surface. The trench drain is lined with concrete and slopes to take advantage of gravity while draining from your property. Neither should be installed before talking to professional drainage experts, as you risk disturbing other necessary lines laid underground and the ecosystem's natural water flow, which could cause you new issues.
This entry was posted in Content. Bookmark the permalink. Sours: https://abtdrains.com/the-difference-between-a-french-drain-and-a-trench-drain/
Trench Drain - Slot Drain - Stainless Trench Drain
Radius Trench Drain - Utility Trench
Quality commercial grade Dura Trench drain products are available nationwide with rapid delivery from our extensive inventory.   With over 200,000 square feet of manufacturing space across the USA we are equipped to build your next linear drain system.  Eric'sons Dura Trench stands behind the linear drain products we manufacture with knowledgeable technical support, seasoned personnel, and expert installation advice.
Trench Drain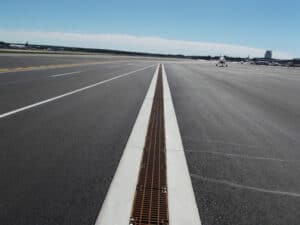 Dura Trench is a trench drain manufacturer offering a complete line of heavy duty, commercial trench drain systems.  Trench drains are offered in 2″, 4″, 6″, 8″, 10″, 12″, 18″, 24″, 36″, and 48″ widths.  Our commercial trench drains offer a wide assortment of load bearing frame options from light duty pedestrian frames to heavy duty traffic rated trench drain frames. The entire commercial trench drain line is offered with custom depths and slopes to meet your project specific needs.  Top your trench drain with a large assortment of trench drain grates for a complete trench drain system.  We also offer the highest quality residential driveway drain system.
Slot Drain
Dura Trench manufactures a full line of easy to install slot drain systems (also called slotted pipe or slotted drain).  The slot drain sizes offered are 4″, 6″, 8″, 12″, 15″, 18″, 21″, 24″, and 36″.  All of our slot drains systems have variable height throats to meet any slope you might desire.  Dura Trench slot drains feature smooth flow lines, installation aides, and multiple frame options.  Our slot drains are the best on the market.
Stainless Steel Trench Drain
Dura Trench manufactures stainless trench drains and stainless steel slot drains in both T304 and T316 stainless steel.  These industrial grade stainless trench drains are smooth and food safe.  They offer superior chemical resistance and the joints can have a bolted flange or fully welded connection to provide seamless water tight systems.  We can ship the stainless trench drains in long sections to minimize field welding and joints.  Our stainless steel trench drains and stainless steel slot drains are the highest quality on the market!
Radius Trench Drain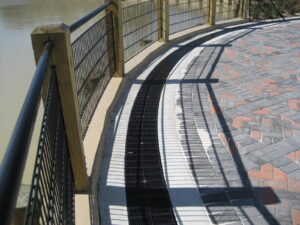 Dura Trench is one of the only trench drain manufacturers that makes architecturally pleasing, true radius™ trench drain systems.  Each piece is crafted with a gentle curve to match the desired radius.  Endless curved grate options complete the look of the true radius trench drain system.  Let's make something beautiful together!
Trench Drain Grates
Dura Trench manufactures trench drain grates of all types and sizes.  We fabricate cast iron grates, ductile iron grates, steel bar grates, stamped metal grates, stainless steel grates, fiberglass grates, plastic grates, etc.  We have trench drain grates for light duty loading to heavy duty trench drain grates.  Our grates are used in everything from airports to swimming pools.  We also manufacture custom grates to your specifications.  Need a different width, unusual height, architectural pattern, odd surface finish, special paint, etc. – Dura Trench is capable and ready to help you manufacture a grate that fits your needs.
Utility Trench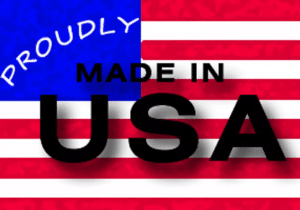 Dura Trench has a large selection of utility trenches.  Our utility trenches have built in channel strut to make mounting of pipes or cables easy.  Our utility trenches are chemical resistant and can provide secondary containment.  Utility trenches can be sloped to eliminate water standing in the bottom of the utility trench.  Dura Trench manufactures utility trenches in 12″, 18″, 24″, 36″, and 48″ widths.  Outfit the utility trench with a wide assortment of frames to match your load and chemical resistance needs.  Then top the utility trench with a wide selection of cover or grate options for a complete utility trench solution.
When the standard product line of heavy duty trench drains, slot drains, and utility trenches won't fit your needs you can rely on Eric'sons Dura Trench to provide custom solutions for every need. We offer a very versatile pallet of custom fabrication options to provide everything from trench drains that buck grade to slot drains fabricated in a radius. If you dream it, we can build it.
Sours: https://www.duratrench.com/
Trench Drains vs. French Drains: What's the Difference?
Drainage systems are more than just holes in the soil. Trench and French styles are two effective approaches to move water offsite, but the difference between them is often misunderstood.
The confusion between trench and French drains is understandable for anyone outside the industry. The terms rhyme, they both involve trenches, and French drains aren't really French. The defining difference is very simple, however: Trench drains are surface structures while French drains are subsurface ones. Let's look at how they both work to keep water flowing offsite.
How trench drains operate
Trench drains are also referred to as channel drains and are classified as an above-ground drainage method even though the actual materials are embedded into the ground. This drainage method involves digging a long, narrow trench and finishing it with a grated covering, giving the impression of a large piece of guttering in the ground.
Just like a gutter, trench drains redirect water away from areas where it could cause harm by presenting slip/fall dangers, causing surface erosion of the soil, or presenting other dangers. Once dug and laid, the trench drain must be connected to a local storm sewer or environmentally responsible waterway to direct water away from the site without damaging the ecosystem.
The surface area surrounding the drain must be neat and clear of all obstructions to allow the free flow of water through the grate. Trench drains can be applied at a gentle slope to aid with runoff and sometimes work with a sump pump to drain low-lying areas more effectively.
This kind of drainage can be installed temporarily or permanently with grate strengths varying in load-bearing capability. This kind of drain is exposed on the surface, so it may have to handle some serious weights. The lightest grating examples — Load Class A by ANSI standards — handle foot traffic, on up the scale to Extra Heavy Duty and Special Duty strengths — Load Classes E and F — which can handle passing loads of up to 10,000 pounds.
Trench drain materials range from plastics like polypropylene to concrete, while the grating which covers them can be plastic or steel. If a trench drain will be a permanent fixture, home or business owners can tailor the grating color to better suit its surroundings. 
Explaining French drains
French drains are actually an American innovation, invented in the 19th century by a New England farmer named Henry Flagg French. He was the author of "Farm Drainage," a book published in 1859 and widely considered to be the root of the entire science of drainage. 
French drains are subsurface solutions consisting of a trench filled with gravel and a slotted or perforated pipe. A layer of protective, permeable fabric is placed along the bottom and sides of the trench after it has been dug to prevent soil and root intrusion and on top before the topsoil is replaced. Just like a trench drain, French drains siphon water downhill from a site, only this time that includes groundwater as well as surface water. 
The gravel in a French drain can vary in size and acts as a sieve by straining out pieces of debris from the water as it passes through. Since these drains are sunk more deeply into the soil, they help draw out any water from the surrounding earth that could cause erosion, structural instability, or both.
French drains have toughness in common with trench drains since the French type must handle groundwater that's subject to hydrostatic pressure (the pressure water exerts due to the force of gravity). French drains are very effective at redirecting water away from structures and preventing damage to the foundation. Their dimensions are site-dependent, but French drains are typically around a foot wide and can range in depth from inches to a couple of feet. 
Let Mikula Contracting solve your drainage problems
Trench and French drains have one other very important thing in common: onsite responsibility. The first step to digging any trench is to research the lay of the land on factors like soil quality, utility line placement, and what permits are required at the local and/or state level. Any dig that starts without due diligence places the construction team, their clients, and the surrounding area at unnecessary risk.
The Mikula Contracting team has more than 70 years of experience in taking care of drainage jobs without shirking our community responsibilities. Trench or French, commercial or residential, we're fully qualified and insured to create the solution your site requires. Water problems come in different forms — including stormwater, lawn water, and street water — but Mikula can solve them all.
We design and build the trench system that suits you to provide everything from surface, ground, and land drainage to rainwater drainage, standing water drainage, and seepage pits. We'll talk you through the entire process and provide an honest, transparent quote. Connect with us at the link below and ditch all your drainage worries.
Mikula Contracting, Inc. provides commercial and residential customers with a wide range of excavation, demolition, environmental, snow removal, trucking, and soil materials services. For more information, call 973-772-1684 or email [email protected]
Sours: https://mikulainc.com/blog/trench-drains-vs-french-drains/
Installation - US Trench Drain
French Drain Vs. Trench Drain Vs. Swale
Water is essential to life, and vital to the progress of civilizations. It is delightful to sip on a hot summer day or to watch falling gracefully into a fountain basin. However, water becomes an insidious foe when it decides to start pouring into your basement or collecting in sodden pools on your lawn.
Drainage, therefore, is a constant concern in the landscape. There are various devices designed to direct water over and through the landscape. Sometimes the terms can get confusing, so today I'd like to clarify the difference between three of the most common water diversion mechanisms: trench drains vs. French drains vs. swales.
Surface Vs. Subsurface Drainage
Before we begin, let's explore some basic drainage concepts. There are two main types of drainage in the landscape: surface drainage and subsurface drainage. In any given landscape situation, it's important to first assess what type you are dealing with.
As a general rule we use surface drainage to deal with rainwater, especially heavy rain. Typically in this situation you want the ability to drain large volumes of water away very quickly in order to avoid flooding and erosion, and to prevent it from going where it's not wanted. A good example of a surface drainage mechanism is a ditch on the side of a highway. Swales, flumes and trench drains are also used in various situations to convey water over grass, concrete or other media.
In contrast, subsurface drainage deals with groundwater. This can be water that percolates down into the soil from above or bubbles up on your property. Here in the South you might have seen groundwater entering a basement that contains a nasty orange colored substance called bacterial iron. We normally use French drains to deal with that kind of saturation.
Now, let's take a closer look at French drains, trench drains and swales, and the differences between them.
What Is A French Drain?
Most people assume that the French drain was invented in France, but that's not the case. It was actually named for its inventor, Henry Flagg French. French was an American who practically invented the fine art of farmland drainage, mainly to remove waste-contaminated water from feedlots and help prevent disease. He wrote a book called "Farm Drainage" in 1859 that literally became the basis of modern drainage.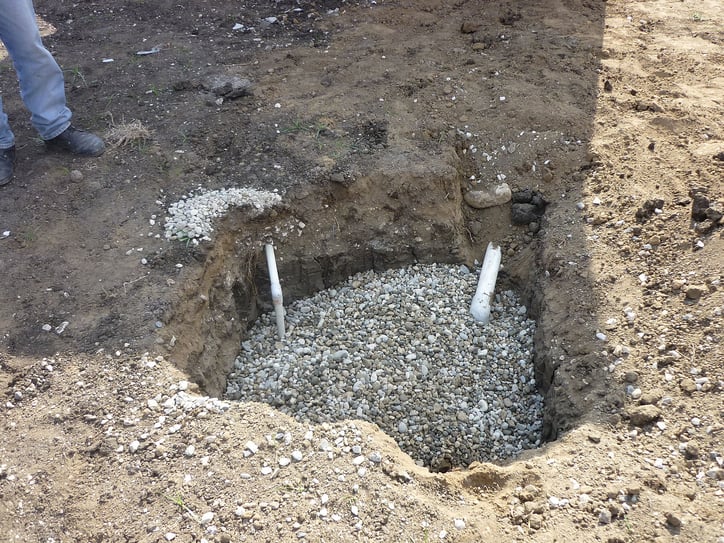 The French drain is a true subsurface structure meant to address water that saturates the soil. Water is insidious, and will always seek the path of least resistance. When water flows through soil it's typically under a lot of hydrostatic pressure. Often there will be a harder layer of soil or even rock under the top layer of soil. In this case the hydrostatic force pushes the water both downward and transversely, which is why it's so common for water to move sideways through a foundation.
When water comes to a foundation wall, it tends to seep through any chink or crack in the mortar. A French drain works to keep your basement dry by diverting water from the surrounding soil into an underground barrier trench containing a gravel bed. Water is driven there because the voids in the gravel make it easy for it to travel through, making the gravel bed the path of least resistance. The water then flows into perforated pipes at the bottom of the trench. From there it is eventually discharged to an outlet, such as a swale, storm sewer, irrigation cistern, or sump. The entire system has to be designed to accommodate the natural flow of water from higher ground to the lowest point.
T. Lake's French Drain Secrets
I can't mention French drains without bragging a bit about our methods, because we include a few extra features that most companies don't:
We include access points or cleanouts on the lines to facilitate maintenance and prolong the life of the system.
If we pick up downspouts along the way, we send that water to a separate pipe, so it doesn't backflow into the drainage system.
The most common problem with French drains is root intrusion; we use a filter fabric as a preventative measure to help keep roots out of the system.
When installing a French drain under a driveway or road, we use heavy duty structural corrugated drain pipe, not the stuff from the big box stores which can collapse if a truck drives over it.
We also bury our French drains at least 12"-18" deep to avoid collapse.
Does it add to the cost to do it this way? Well, it depends on how you look at it. When you consider the cost of re-doing a French drain—including all the excavation and disruption to the landscape—we think it's well worth it to do it right the first time.
French Drains Vs. Trench Drains
There's a lot of confusion between French drains and trench drains, because they sound so similar and because the French drain does incorporate a trench. However, unlike the French drain, the trench drain is a surface drainage structure.
A trench drain is a device designed to intercept and collect surface water over a long expanse. It is literally a trench with a grate on top. Trench drains are usually employed across a paved area to drain and direct water away from these surfaces. You see them a lot around commercial buildings like restaurants or loading docks to help keep the pavement in these areas dry and slip-free.
Even though a trench drain is embedded in the ground, it is technically a surface drainage mechanism designed to clear water away fast. Under the grate is typically a plastic box-shaped trench that acts as a hidden surface water conveyance. A trench drain can be heavy duty and wide, ranging down to the inch-wide microdrains you've probably seen in pool decks.
Trench Drain Vs. Swale
Like a trench drain, a swale is a surface water drainage device. However, it's a lot more subtle in terms of its appearance in the landscape.
A swale is like a ditch but it's broad and shallow, and usually covered or lined with turfgrass or other vegetation. The purpose is to slow and control the flow of water to prevent flooding, puddling, and erosion and/or avoid overwhelming the storm drain system. Any time we can spread water out we slow it down and it will percolate naturally into the soil. (This is one of the main differences between a swale and a ditch; ditches tend to be deeper and to concentrate the water flow which increases its speed and volatility.)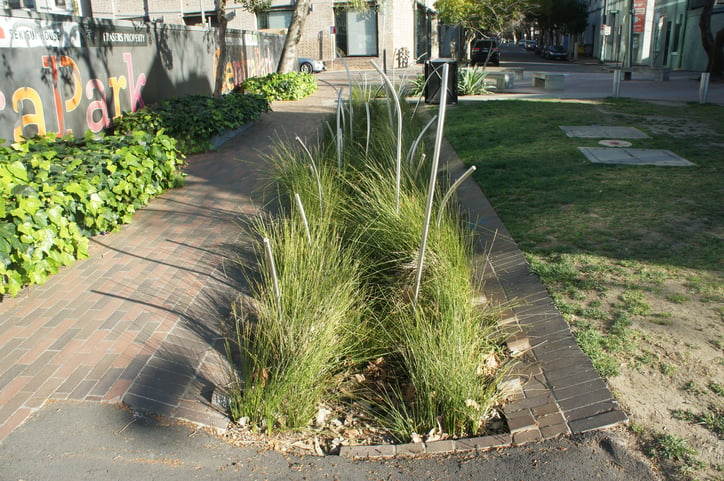 Swales are very handy when you don't want your drainage system to be obvious. A typical swale has a parabolic profile, starting at one edge and gently flowing down and up. You can do one so broad and shallow that it looks like part of the sculpting of the landscape. For this reason swales are often used in residential or commercial settings where there are large expanses of turf. You can also use them in sustainable landscape applications for water conservation.
Got Drainage?
If you are dealing with water issues on your property, installing a French drain, trench drain or swale could be just the solution you're looking for. However every property is different, and there are other solutions available as well. Why not have us take a look? We'd be happy to come out, evaluate your situation, and suggest options that fit your needs and your budget. You can reach us at 478-750-7733, or contact us online to get in touch with one of our landscape drainage experts.
Sours: https://www.tlake.com/blog/french-drain-vs.-trench-drain-vs.-swale
Drainage trench
.
How To Build and Install the BEST Yard Drain, French Drain, 2 Great Systems Combined
.
You will also like:
.
1724
1725
1726
1727
1728