23 Farmhouse Shelving And Wall Decor Ideas For Your House
Farmhouse style is not only white color paint, wood items but also the vintage shelves and walls.
When decorating your home in farmhouse style, shelves and wall place you should not skip. Wooden shelves, vintage walls make everything looks so fresh, light, and peaceful.
Here are a lot of great ideas for you to add farmhouse style to your shelves and walls!
1. Wooden Shelves
A simple decor from Our Vintage Home Love blog, Wooden stuff always makes your house is full of farmhouse style, especially in the kitchen.
You can set up white potteries on the shelves to create a beautiful combination of wood and white like this.
2. Small Shelving And Rustic Wall For Kitchen
Rustic wall is the popular idea for farmhouse style. Try it in the kitchen with small shelving, you can see how it works. Here is an example for you.
Via: DECOHOLIC
3. Have A Cup Of Coffee With Pottery On Wooden Shelves
You can see in this photo, the shiplap on the wall is a great background for the creative coffee table with white potteries and wooden shelves.
VIA: INSTAGRAM
4. Thick Wooden Shelves On The Wall
Just some thick wooden bars can be an open shelf following farmhouse style. You absolutely can have these shelves by DIY. It's simple!
Do not forget to prepare a step ladder, which also helps your work easier and safer.
VIA: INSTAGRAM
5. Rustic Decor On The Wooden Shelves
Rustic decors like a basket, wooden frames or vintage stuff can save the day. Only the wooden shelves maybe don't feel the farmhouse atmosphere, you can put something on it, here're an idea for you.
VIA: INSTAGRAM
6. Simple Accent Items On The Shelves
Don't think too much about what to put on the shelves to create a farmhouse style in your home. Just a planter, some frames can make it, like this photo.
VIA: ETSY
7. Hanging Shelves On Bathroom
Wooden shelves can be hanged in the bathroom for sure. This idea can blow up your mind. It's so comfortable to put clean roller papers to use. Some vintage decors on it are lovely too.
VIA: ETSY
8. Hanging Shelves With Black Metal Chain In Bathroom
The black metal chains make the shelves is more lovely. Just like other hanging shelves in bathrooms but turnbuckle shelf is prettier and creates farmhouse style for your house.
VIA: LOLLYJANE
9. White And Rustic Shelves In Bathroom
Some rustic wood bar, DIY with white paint color, that's how you make your own farmhouse shelves for your bathroom. You can put bathroom stuff or cotton flowers on the shelves to decorate.
VIA: INSTAGRAM
10. Thin Wooden Shelves With Used Metal Items
Used and vintage metal items can make a great look following the farmhouse style. A simple shelf with thin wood bars, putting on it some planters and vintage metal items to have a beautiful wall shelf.
VIA: INSTAGRAM
11. Wall Decor With Vintage Style For Your Room
A vintage look on your wall will be created with an old wooden door and a laurel wreath, some frames, metal items. White, brown color and a little rustic is all you should do. When decoring your wall, the GFCI outlet can break the layout but do not worry, you can choose ones with some colors which match with your wall's style.
VIA: CGMAILLE
12. Modern Farmhouse Wall Decor
If you are bored with vintage things, you can try some modern style with pillows, modern frames and a clock. Decorate the wall in this way can make your home look more unique when you're following the farmhouse style.
For the small items, you should use double side tape in order to make it easier and save time.
VIA: CGMAILLE
13. Cute Accents And Pottery On The Wooden Shelves
White potteries always make a great decoration with farmhouse style. This idea you can try some cute accents for the white wooden shelves to make the ton-sur-ton. Your home will be light and bright.
VIA: Sweethomeliving
14. Recycle Metal Items To Make Rustic Shelves
Can a metal tray be a shelf? Why not? You can recycle metal items to make a beautiful rustic shelf. Look at this photo below, a perfect shelf is made with the big metal tray and some wood bars. It's easy to try.
VIA: DECOREDO
15. Smart Arrangement Of Printables For Farmhouse Wall
Printables on frames and greeneries, it's so farmhouse if you have a smart arrangement on the wall. This absolutely a wall of a person who loves the farmhouse style so much.
VIA: DECOREDO
16. Wall Decor With Shelves And Pottery For Dining Room
What do we have in the dining room? Metal shelves with floors can be a great idea. You can put some potteries on it to decorate and make your dining room more warm and lovely.
VIA: PINTEREST
17. Baskets For Holding Greenery
Planters can be creative decor things. You can try some baskets to hold your greeneries. It's a beautiful idea for your balcony to relax every afternoon.
VIA: DECORKE
18. Rustic Frames Surrounding Mirrors On The Wall
Mirror mirror on the wall, rustic frames can make you beautiful? Not only beautiful but also farmhouse. It can be recycled from the old windows, you will have a new vintage mirror to decor your wall.
VIA: INSTAGRAM
19. Farmhouse Wall With Modern Style
A modern farmhouse style is as interesting as a classic farmhouse style. A white wall will give you the feeling of relaxing and simple. The charm and character of an old way of life mixed following a modern style.
VIA: Maisondepax
20. Plant Greenery In Metal Stuffs And Hanging Them On The Wall
Three little planters on the wall to create a farmhouse atmosphere in your home. A unique metal basket can be a great idea for the decoration way following the farmhouse style.
VIA: ETSY
21. A Rustic Window To Decorate The Farmhouse Wall
Remove the glass from the old window, you will have a rustic frame to decor your wall. A laurel wreath, some flowers and metal lanterns finish a farmhouse angle in your home.
VIA: HOMEBNC
22. Shiplap For A Beautiful Farmhouse Wall
Shiplap is one of familiar farmhouse decor things and it works on every wall. Add it on your wall then you surely have a farmhouse wall.
VIA: PINTEREST
23. Light And Airy With A Rustic Wall And White Shelf
A rustic wall, a vintage shelf, both of them are white will create a light and airy space for your kitchen. Look at this photo, can you see it's easy? Try it now!
VIA: Housebeautiful
Sours: https://farmihomie.com/farmhouse-shelving-and-wall-decor-ideas/
25 FarmhouseStyle Rustic Shelf Brackets for Your Home
This week has been all about open shelving and how great they can be in your kitchen or other areas in your home. I have loved the open shelves in my kitchen, and it was a big risk to install them. I would personally highly encourage anyone to try them out! So in that respect, I decided to round up a large collection of farmhouse style rustic shelf brackets for your home!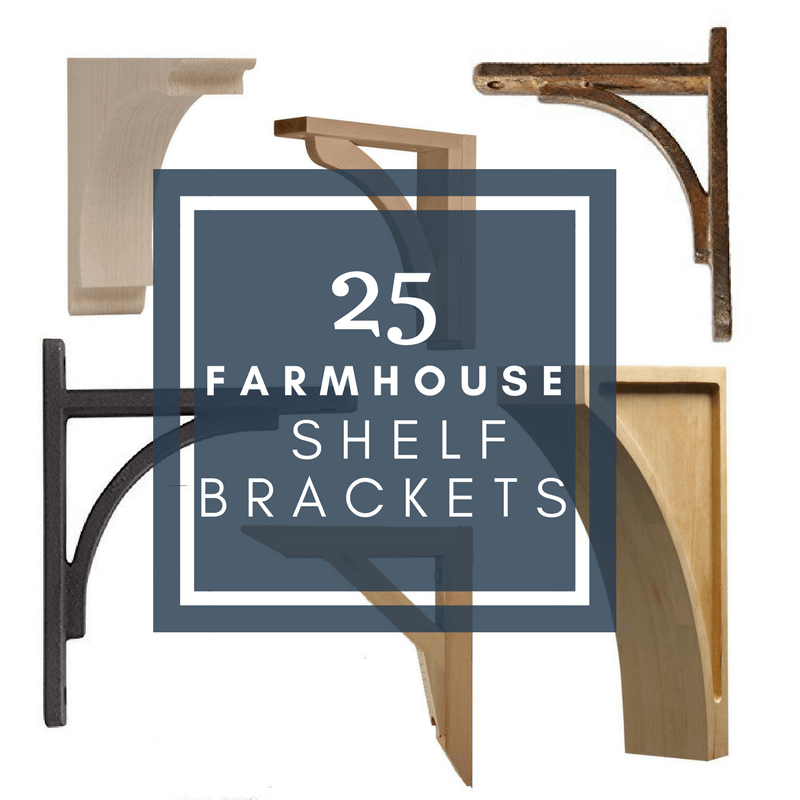 When looking for rustic shelf brackets, there are a few things to keep in mind. You want to go with a simple design. I love the look of rustic wooden shelf brackets, and adore the many different kinds of metal shelf brackets that are available these days.
How to pick the right farmhouse rustic shelf brackets for your kitchen or home:
I think a great start to picking out shelf brackets are to pick a material first.
This post contains affiliate links for your convenience..
These are the two main materials for most rustic shelf brackets, and you can find some really beautiful brackets. I went back and forth on what kind I wanted, but eventually decided to build our own, like we did in our dining room and laundry room.
The raw metal shelf brackets look so amazing in a farmhouse style home. The contrast between the cold metal and the warm textures of wood are so lovely in my opinion. Metal shelf brackets are a great way to go.
Wood brackets can be so warm and left raw, they can really amp up the look in your kitchen.
Now pick a design for your rustic shelf brackets:
You can find anything from simple angle brackets, L shaped brackets, either plain or with a bit of scrollwork. You can also find wooden corbels, and simple strap like brackets. Take into consideration what you want to use the shelves for.
If you choose wood farmhouse shelf brackets you can choose to leave them raw, stained or paint them. I would recommend sticking to a more classic color such as white, black, or grey. A pop of color would be fun, but make sure it is a purposeful choice.
Be sure to check the weight load and size of the rustic shelf bracket:
When using shelf brackets in the kitchen or dining room, a good depth for shelves is 12 inches. You can find farmhouse shelf brackets practically any size, but you want them to span more than half of the depth of the shelf itself. Ideally you want it to be the full depth of the shelf.
You also want to check the weight load. This will all depend on what you want to use the shelves for. If you plan to put dishes, or anything fragile, you will want to make sure they have a heavy load rating. Most shelves will have a load rating my pounds. You can then decide how many shelves you will need to create the amount of load you want carried.
Now that we have talked about some helpful ways to pick out farmhouse shelf brackets for your kitchen, bathroom, dining room, or really any room, I have picked out 25 of my favorite farmhouse shelf brackets. Make sure to scroll through and check them all out! You can click on the image to be taken directly to the source.
This post contains affiliate links for your convenience…..

Make sure you save it for later so you can quickly find this source!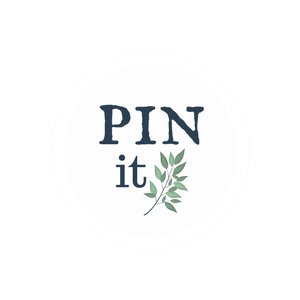 I hope you have a great day and that you find yourself inspired!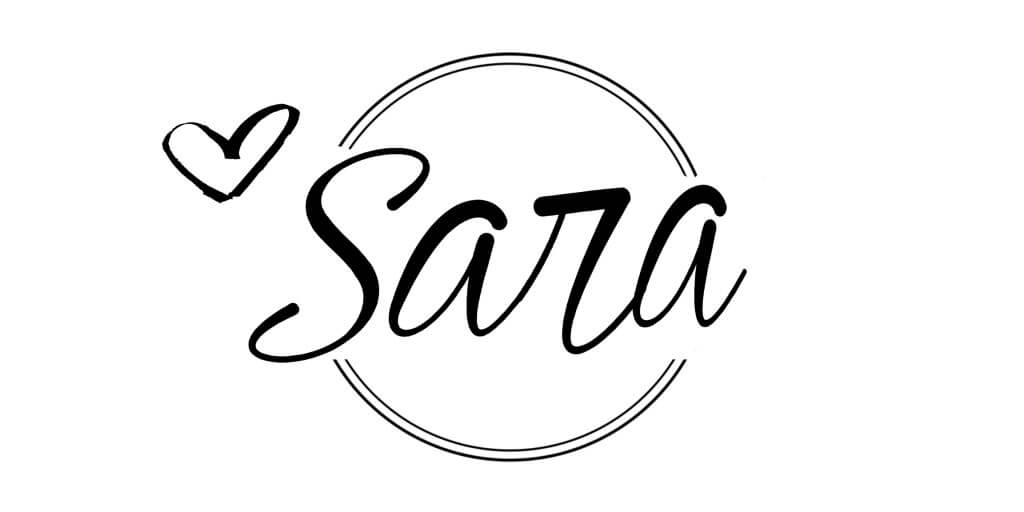 Make sure to check out these other great farmhouse style posts!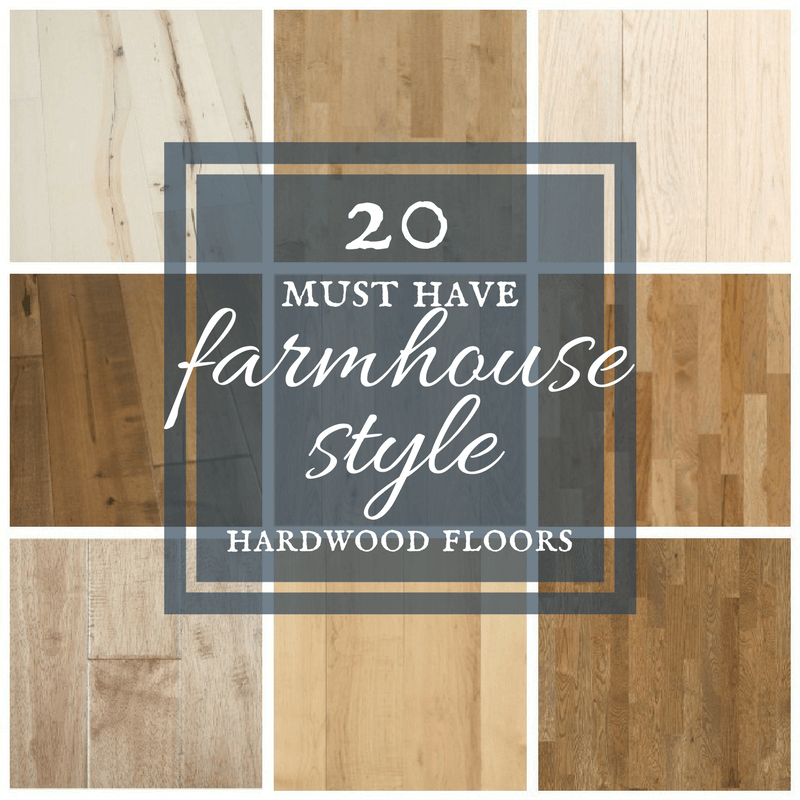 20 Beautiful Farmhouse Style Hardwood Floors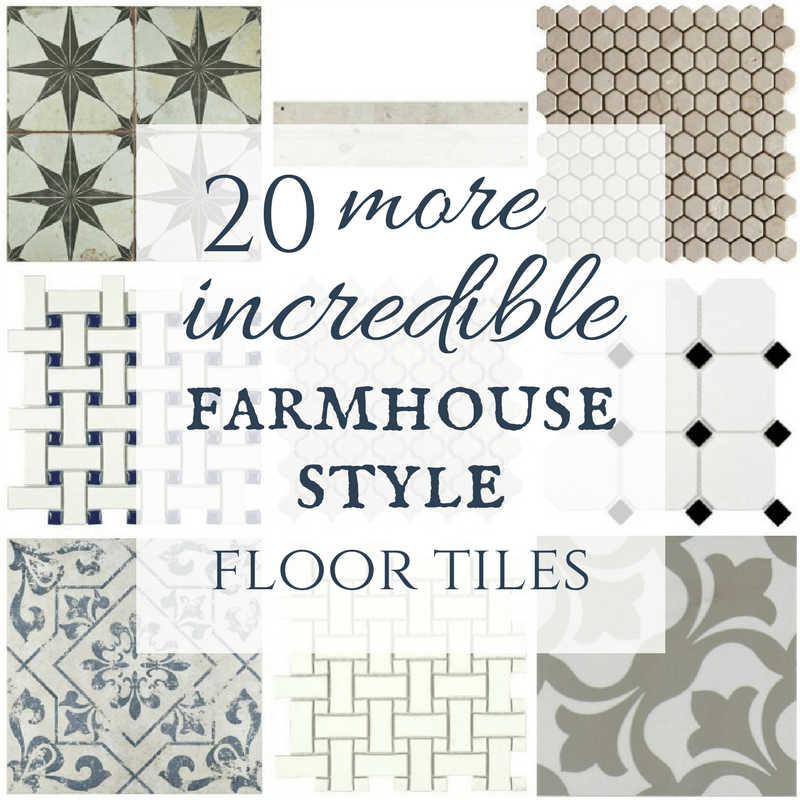 20 More Incredible Farmhouse Floor Tiles for the Home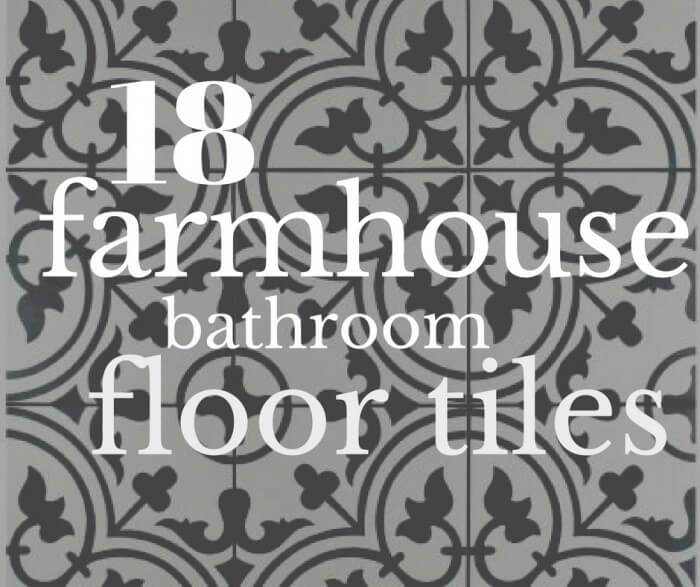 18 Incredible Farmhouse Bathroom Floor Tiles
GET YOUR FREE GUIDE to 30 DIY projects that can be done over the weekend!
By subscribing, you will gain access to my FREE guide with 30 DIY projects that can each be done in a day, or over a weekend!
You will also receive a weekly email with some of my favorite tips, tricks, and design ideas.
Success! Now check your email to confirm your subscription. Upon confirmation, your FREE guide to 30 DIYs will automatically download! As an added bonus, you will also receive exclusive access to my printables library! Keep a lookout for that email!
Filed Under: Farmhouse, Home DecorTagged With: farmhouse decor, farmhouse shelving, farmhouse style, kitchen shelving, open shelving, shelving
Sours: https://www.twelveonmain.com/25-farmhouse-shelf-brackets-for-your-home/
Sharing is caring!
I recently shared our fall decor and received several questions about our farmhouse shelves.  These shelves were the first project I completed in our new house and I'm so in love! It was a very simple project that cost less than $100 and only took about 2 hours.
As a member of affiliate programs, I earn a small commission from qualifying purchases at no cost to you.
These farmhouse shelves are the focal point in the kitchen, offering extra storage and a space to decorate each season. We store our most used plates and bowls on the shelves and other serving dishes and decor items on the shelf. I love that we now have useful and beautiful storage on an othewise unused wall in our kitchen.
Making these farmhouse shelves was simple. It only took a few hours. Anyone can do it!
Placing your Farmhouse Shelves
One of my favorite tricks when planning to hang photos or shelves is to use painters tape to test out the location, height and width. We first thought we would put up three shelves but once we put up some painters tape to test it out, we decided two shelves was just right. That top shelf would have been too high to be functional.
Supplies to make your farmhouse shelves
First I found the hardware that I liked at Hobby Lobby. These Iron Brackets had the simple look I wanted. When you choose your brackets, be sure to measure the depth so you know how deep your shelves need to be. Our brackets wrapped up around the edge of the shelf so I had to be sure the shelves fit just right. Hobby Lobby has many styles of brackets that you can choose from.
Next, I went off to Home Depot to get my lumber. I had my measurements in hand and chose an inexpensive pine wood. I made sure the wood was the right depth for my brackets (mine were 11 5/8″)  and I also chose a 2″ thick piece of wood. You can use a thinner piece but I liked how the 2″ wood looked. With my measurements in hand, I had the employees cut my wood to the perfect length. Don't hesitate to ask for help, everyone working in the lumber department is more than happy to help. I went home with 3 pieces of wood cut to the perfect length for my project.
Staining your shelves
I'm not gonna lie, staining wood always sounded much harder than it actually was. Don't be intimidated, it's really easy. After distressing my shelves with a few smacks of a hammer, I sanded down the rough edges then wiped down the wood with a rag so there was no dust left behind. Dip a clean rag or staining pad in your stain; be sure to squeeze out any extra stain. Wipe the stain on the wood. I put on a few coats until I liked the color. I let my stain dry overnight before brushing on two coats of polyurethane. Once your shelves are completely dry you can install them.
Hang up your farmhouse shelves
To hang up your shelves you'll need to locate studs using a stud finder. I decided to use 3 studs for my shelf because they were so long. Once you find your studs you'll want to mark where you want your holes and use a level to make sure they are straight (you don't want crooked shelves!). When you are ready, drill pilot holes and then hang your brackets with long (We used 3″) screws.
This project was so easy and satisfying. Going from a blank wall to a functional wall with extra storage was a big improvement. I'm looking forward to adding similar shelves in other areas in our house. I would love to hear if you decide to try this project and how it goes!
Tag me on Instagram @HeyDonna if you make your own farmhouse inspired shelves.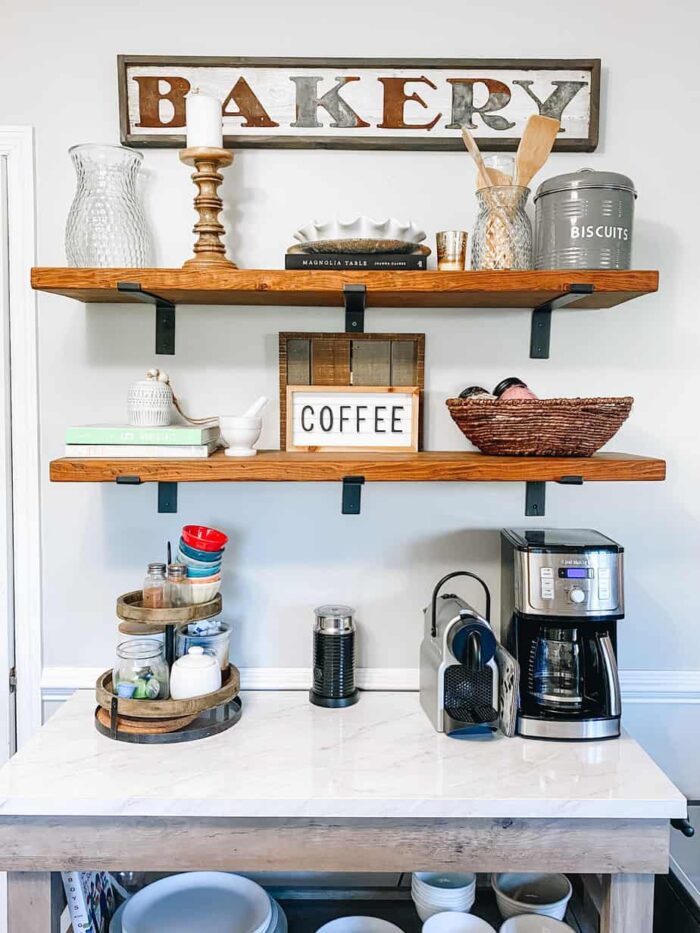 Sours: https://heydonna.com/diy-farmhouse-shelves/
HOW TO STYLE OPEN SHELVES IN LIVING ROOM - SHELF STYLING TIPS - FARMHOUSE DECOR
.
Shelf farmhouse
.
DIY FARMHOUSE FLOATING SHELVES - EASY WEEKEND PROJECT!
.
Now discussing:
.
1649
1650
1651
1652
1653