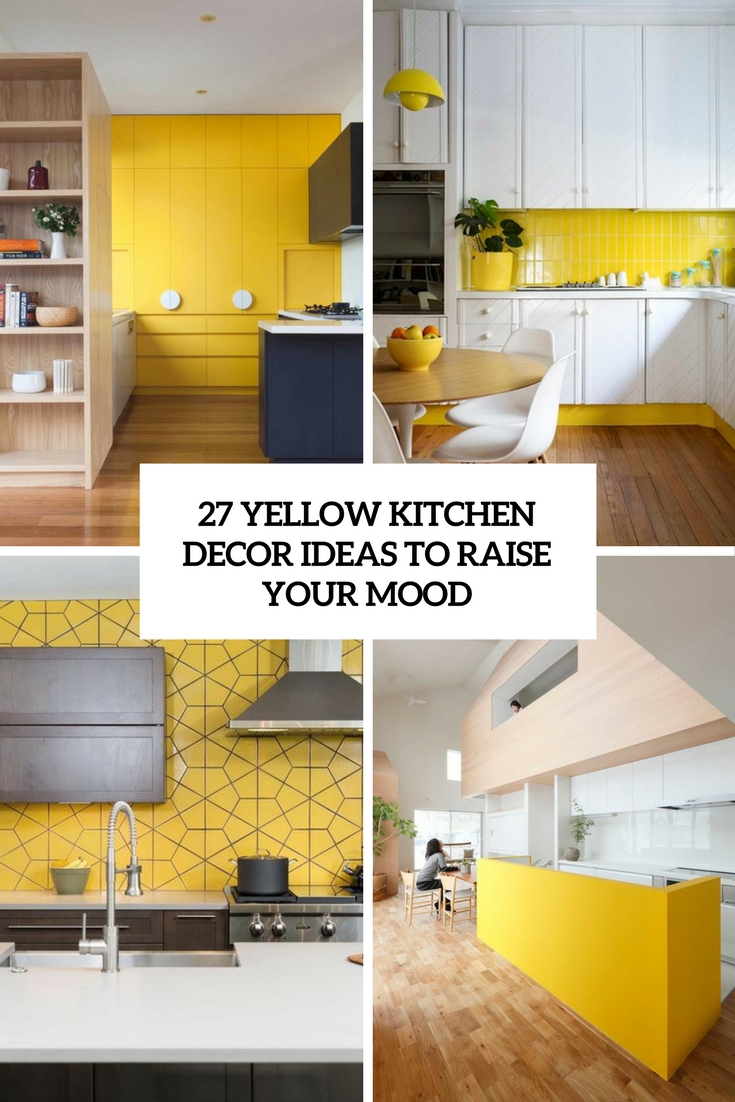 It's fall and the colors around are getting moody and darker, and we lack sunlight. There's a simple way to make your mood sunnier – add yellow to your home decor and you'll get a sunny touch that will raise you mood. Today I'd like to share some ideas to rock yellow shades in your kitchen cause this is the place where you have coffee and breakfast in the morning, and it creates your mood for the day.
Yellow Cabinets
If you want a colorful touch, yellow kitchen cabinets are your choice. There are various shades to choose from: from saturated buttermilk shades to lemon and neon yellow, so you'll easily find something that you like. As for combinability, yellow goes well with neutrals, dark colors and some bold ones like navy, emerald or lavender. You can get a black moody kitchen with yellow cabinets, or an airy white space with the same, or go for a trendy two-color kitchen with suspended yellow cabinets and dark ones below.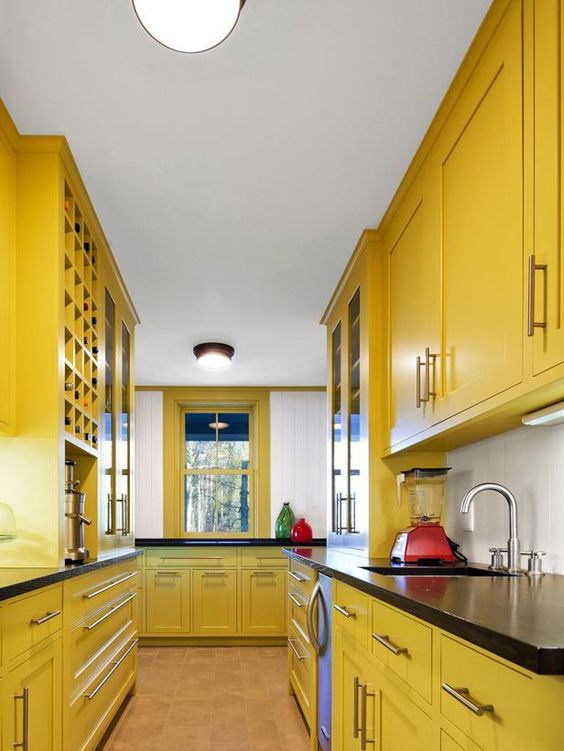 a vintage farmhouse yellow kitchen with black countertops is a bold solution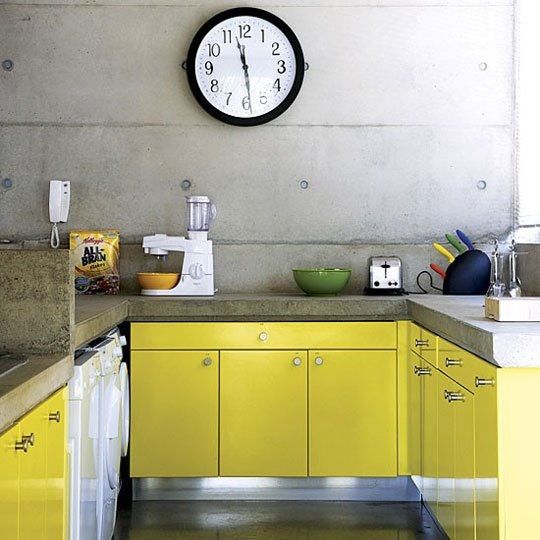 an industrial kitchen with lemon yellow cabinets, concrete walls and concrete countertops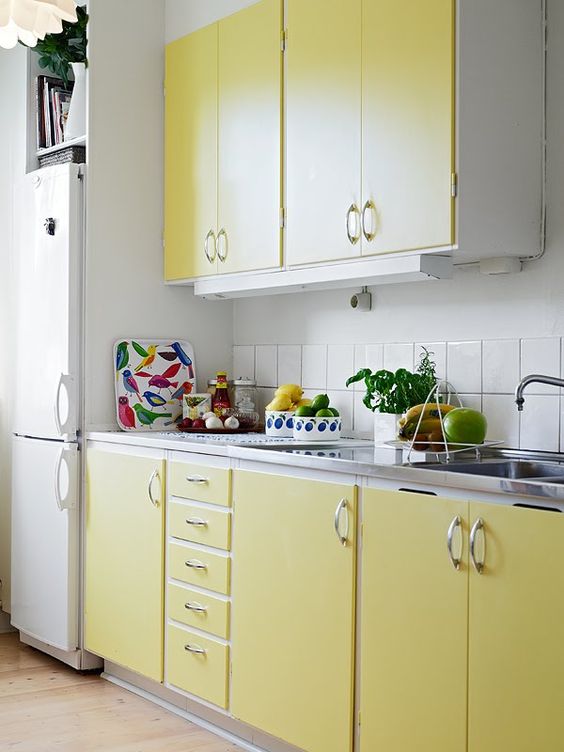 lemon yellow cabinets and a white tile backsplash look chic, colorful and warming up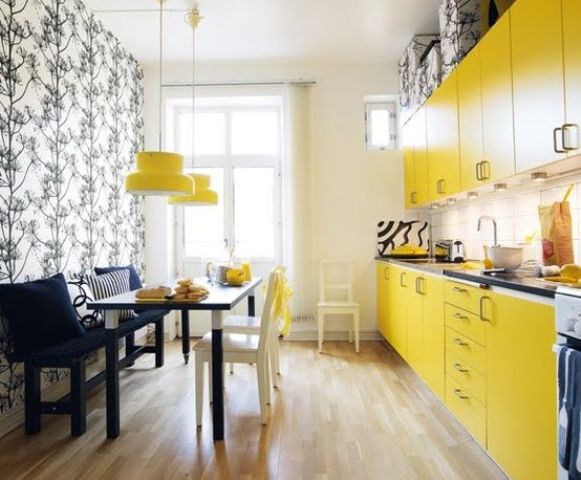 a small modern yellow kitchen with dark countertops, a dining zone accentuated with printed wallpaper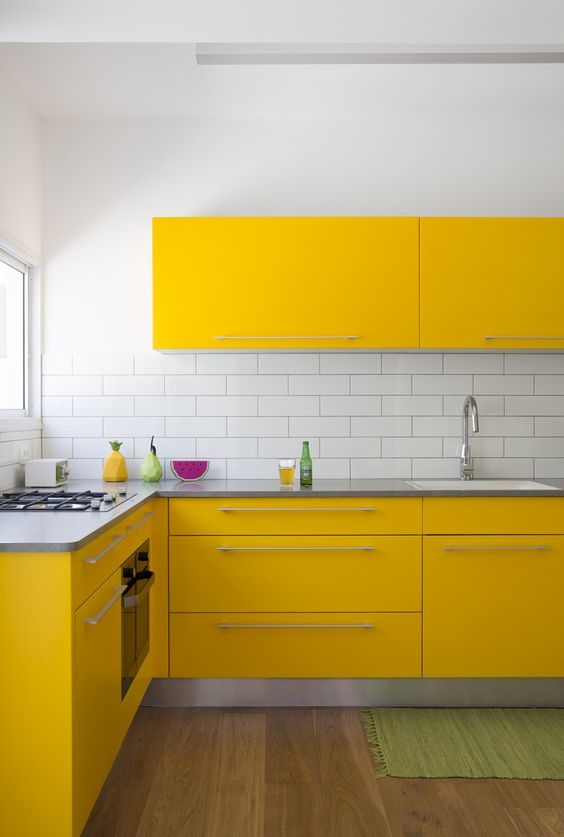 a modern yellow kitchen with stainless steel countertops and a white tile backsplash looks very eye-catchy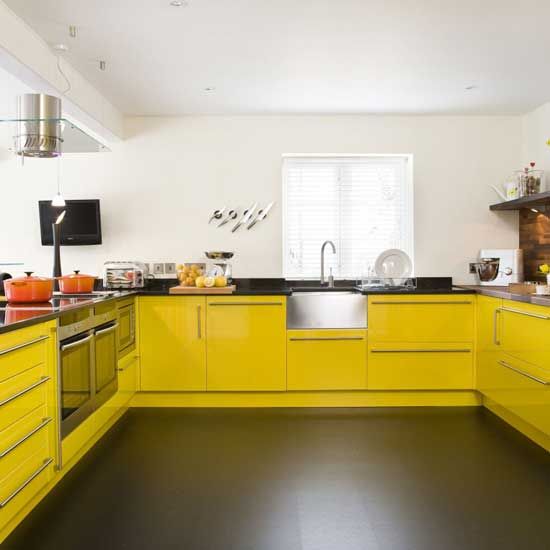 a modern yellow and black kitchen is sure to raise your mood with its contrasting colors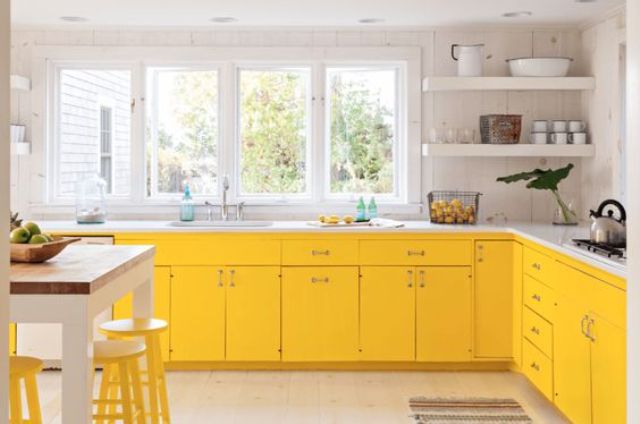 a modern farmhouse kitchen in bold yellow, with white marble counters and yellow stools looks airy and sunny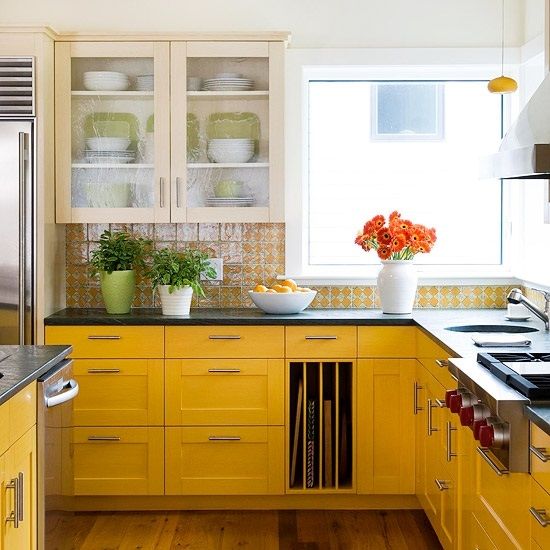 farmhouse space with sunny yellow cabinets and a gorgeous printed yellow tile backsplash to match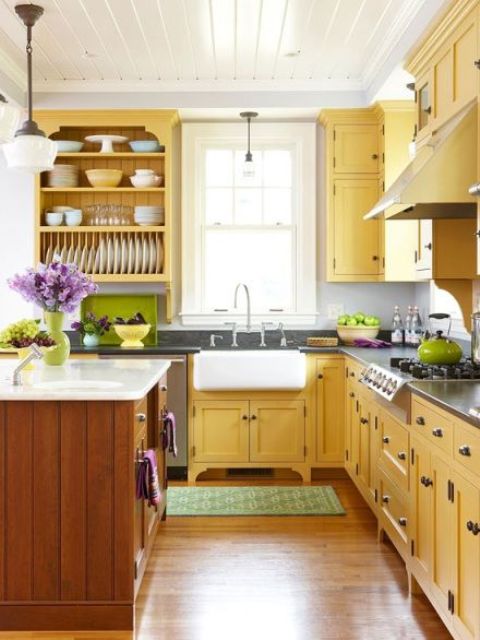 a farmhouse kitchen done in sunny yellow and natural warm-colored wood, with dark countertops and open shelving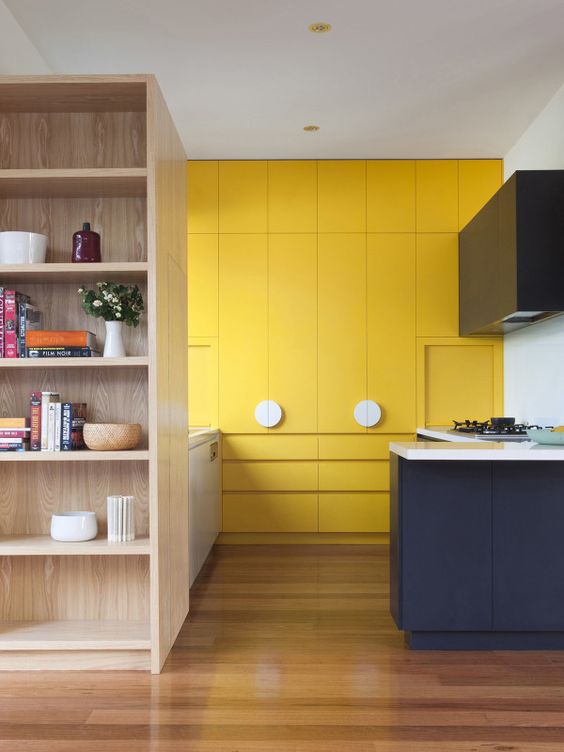 a minimalist bold yellow kitchen, with a navy and white kitchen island for a contrasting touch
a minimalist yellow and white kitchen with stainless steel appliances and countertops and a subway tile backsplash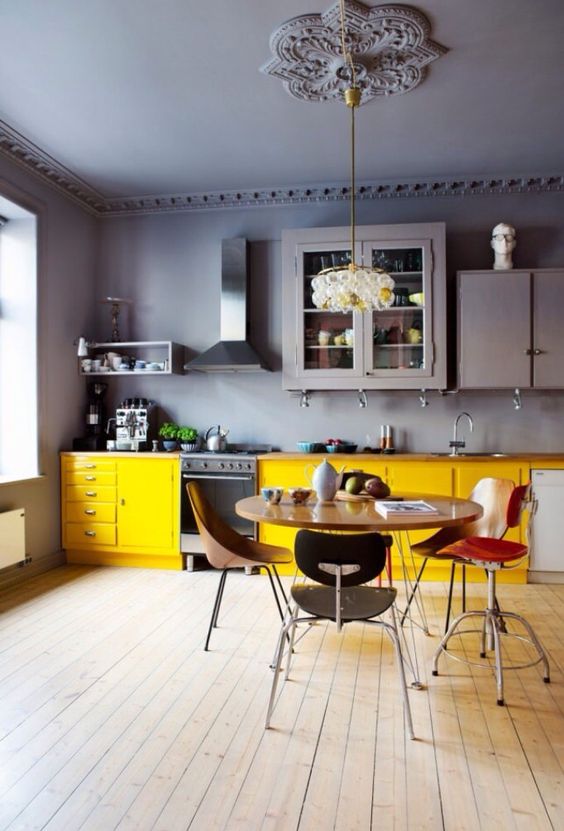 a gorgeous grey lavender moody kitchen with bold yellow cabinets to contrast and enliven the space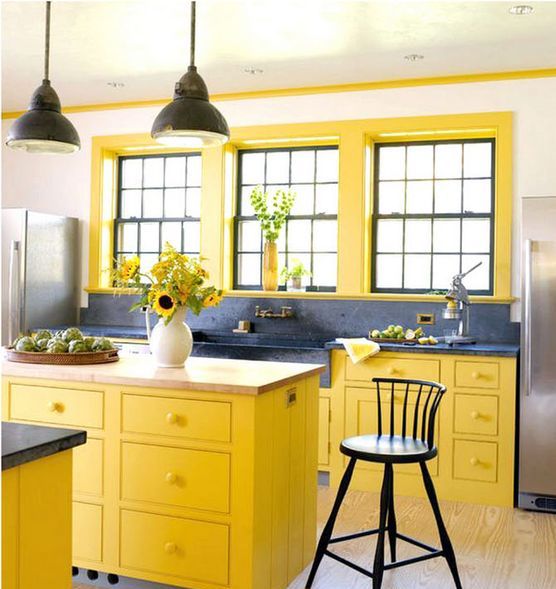 a farmhouse yellow and grey kitchen with a vintage feel, grey marble counters and vintage lamps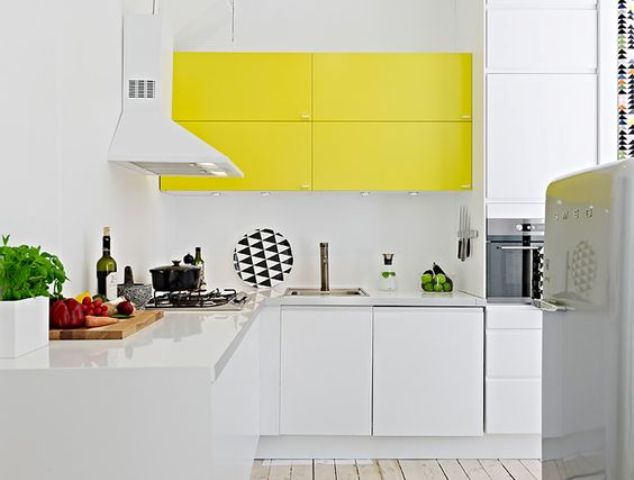 a white kitchen with a suspended lemon yellow cabinet to add a colorful touch and to make the kitchen vivacious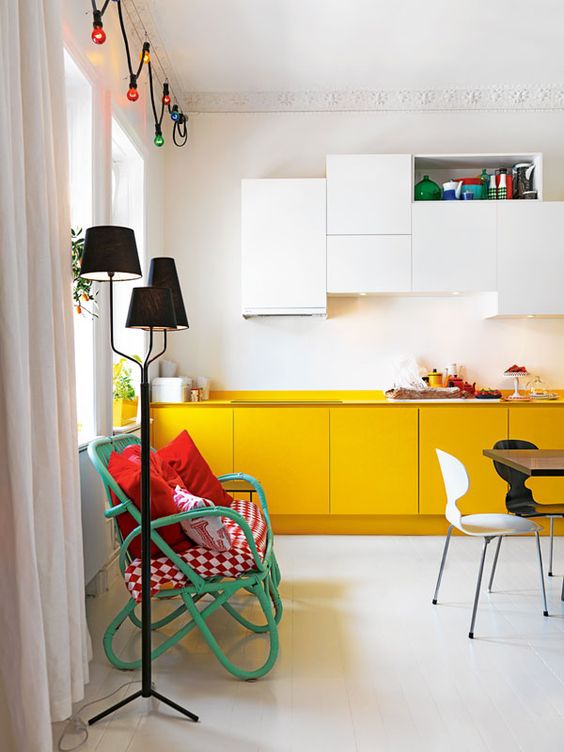 a modern kitchen with white and yellow cabinets and no handles for a bold and chic touch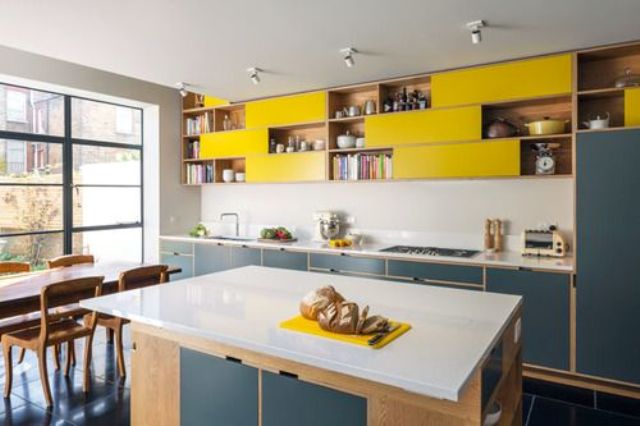 navy and yellow kitchen cabinets with a neutral backsplash and counters look contrasting and chic
Yellow Backsplashes
If you aren't ready for radical changes in your kitchen but still want some color for a sunny mood, a yellow kitchen backsplash is a great solution. It will fit lots of kitchen styles, from minimalist and industrial to farmhouse and moody ones. Besides, changing only a backsplash isn't costly, and you can find lots of cool tiles in all shades of yellow. Add additional lighting to a sleek backsplash to make it stand out even more.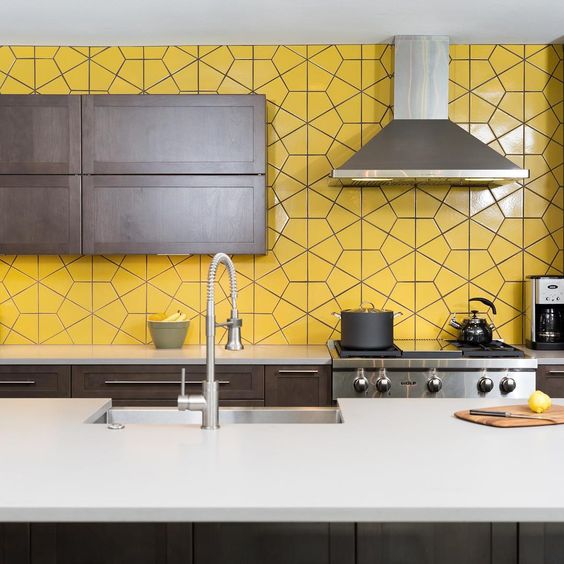 a modern dark kitchen with a whole wall taken by yellow tiles looks very bold and unusual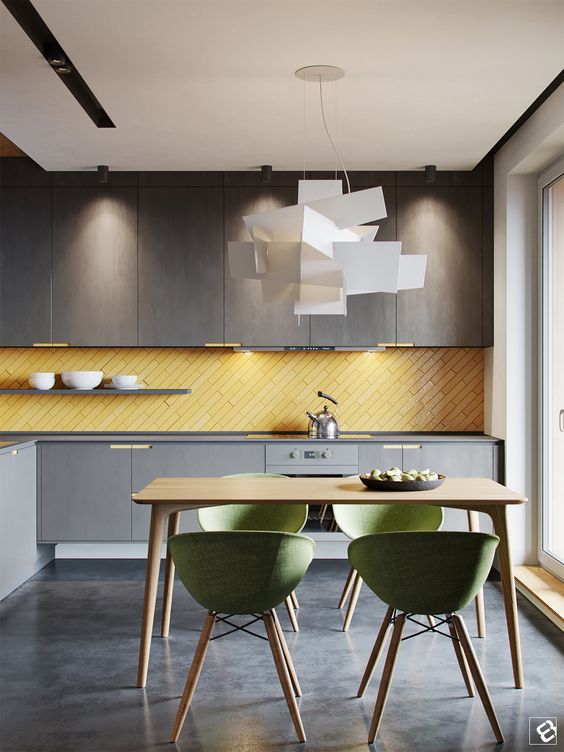 a minimalist moody grey kitchen with a sunny yellow tile backsplash clad in a diagonal way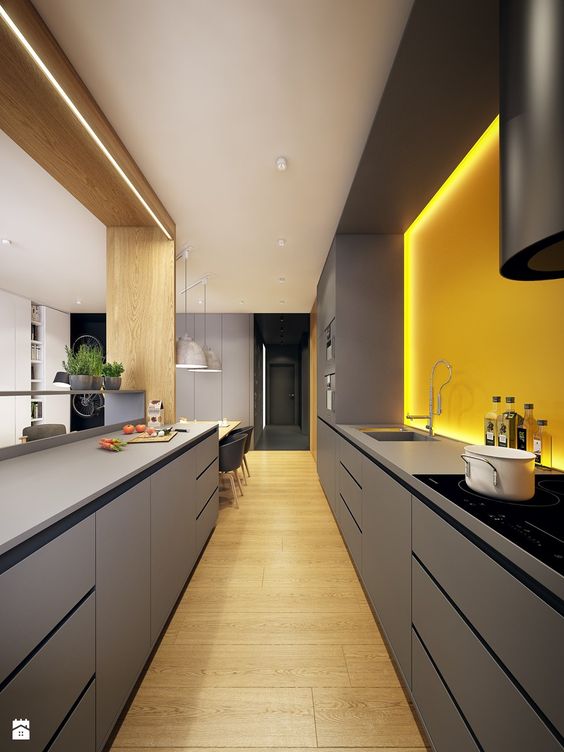 a minimalist matte grey kitchen with a yellow backsplash with additional lighting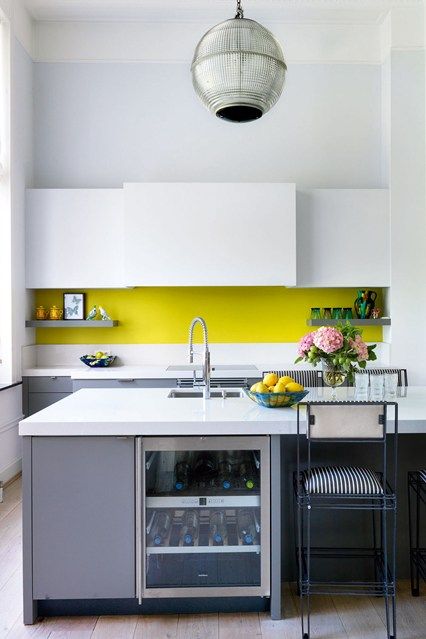 a minimalist kitchen in grey and white and with a neon yellow backsplash for a colorful touch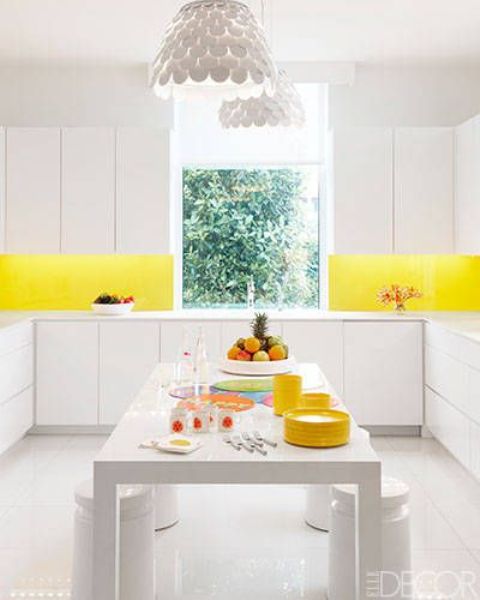 an all-white kitchen with a bold yellow backsplash to add a colorful touch and raise your mood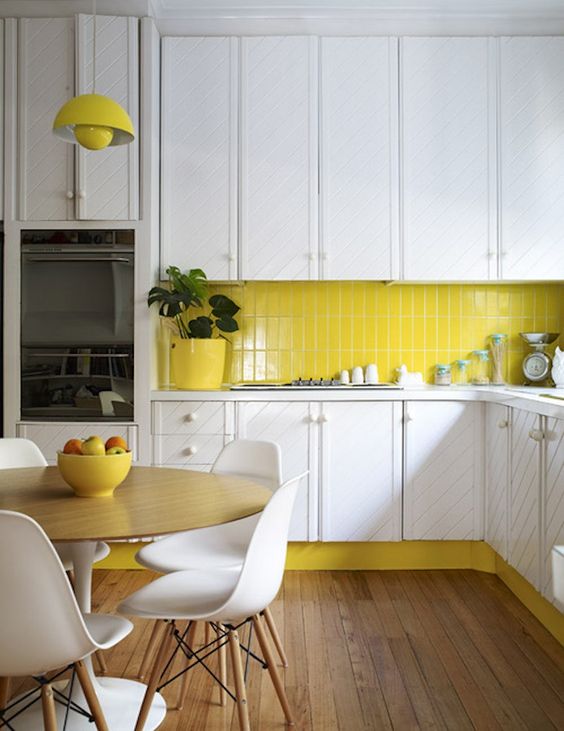 a white kitchen is enlivened with a neon yellow tile backsplash, lamps and a planter
Yellow Kitchen Islands
A yellow kitchen island is another great idea that won't cost much and that will stand out a lot. Such a detail can be added to a neutral kitchen to spruce it up or to a dark one to enliven it. Choose a kitchen island that fits your kitchen style or just add a second level to the island in bold yellow. Voila, a sunny mood is created!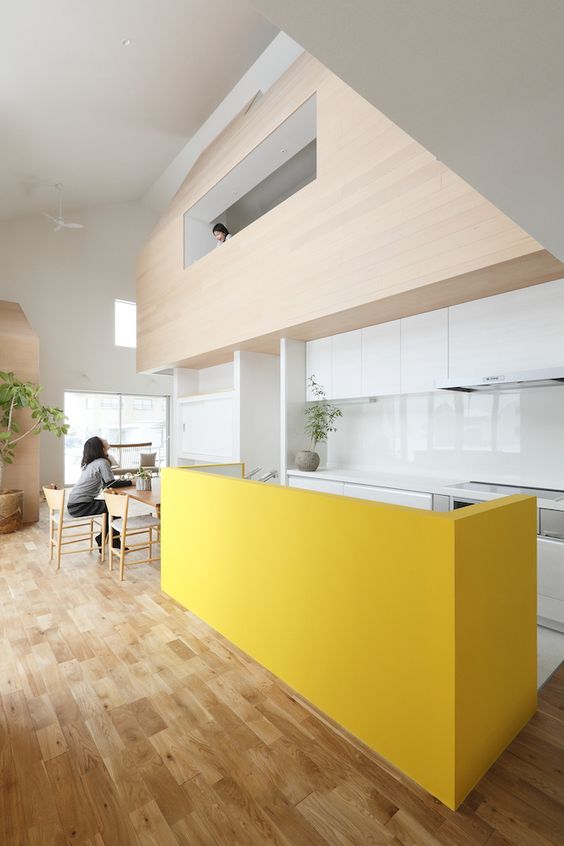 a minimalist white kitchen with a yellow kitchen island looks wow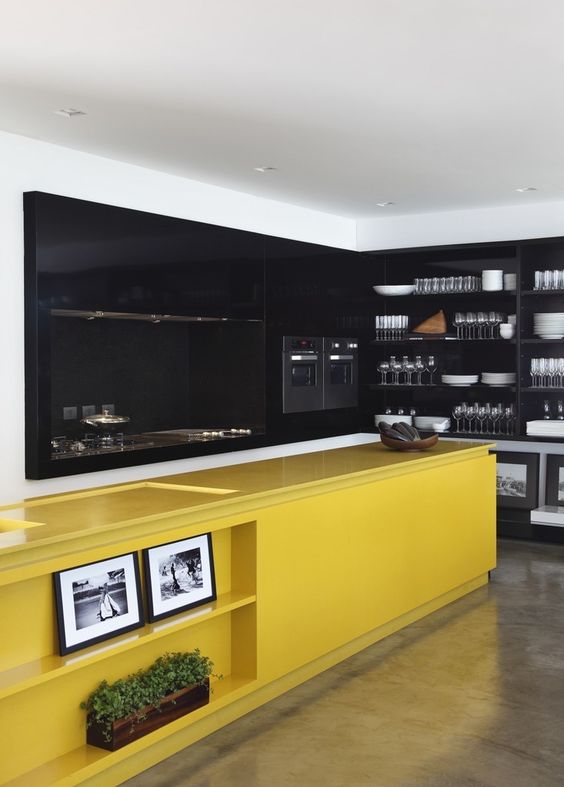 a moody black kitchen with a bold yellow kitchen island with lots of storage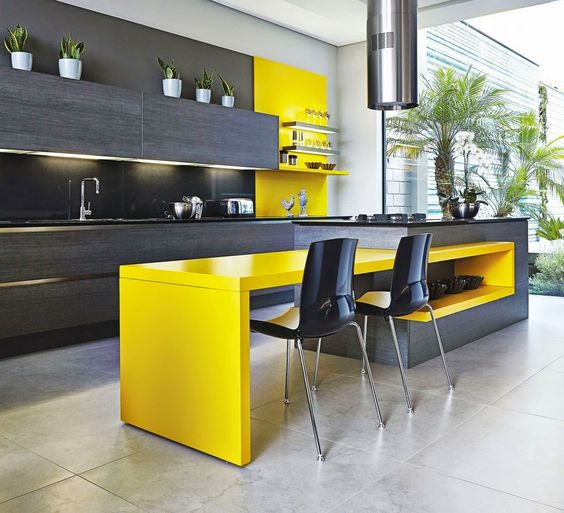 an ultra-modern kitchen with dark grey cabinets and a yellow kitchen island for a dining space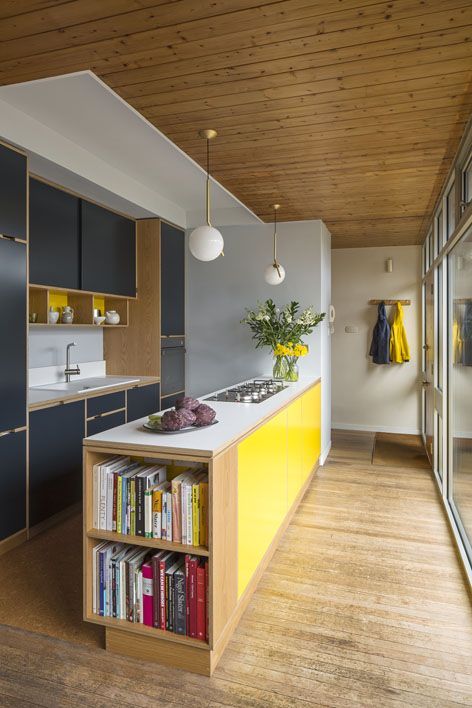 cover the kitchen island in yellow - such a change isn't difficult and you can always change it
Btw, yellow appliances is also a way to go.
Sours: https://www.digsdigs.com/yellow-kitchen-decor-ideas/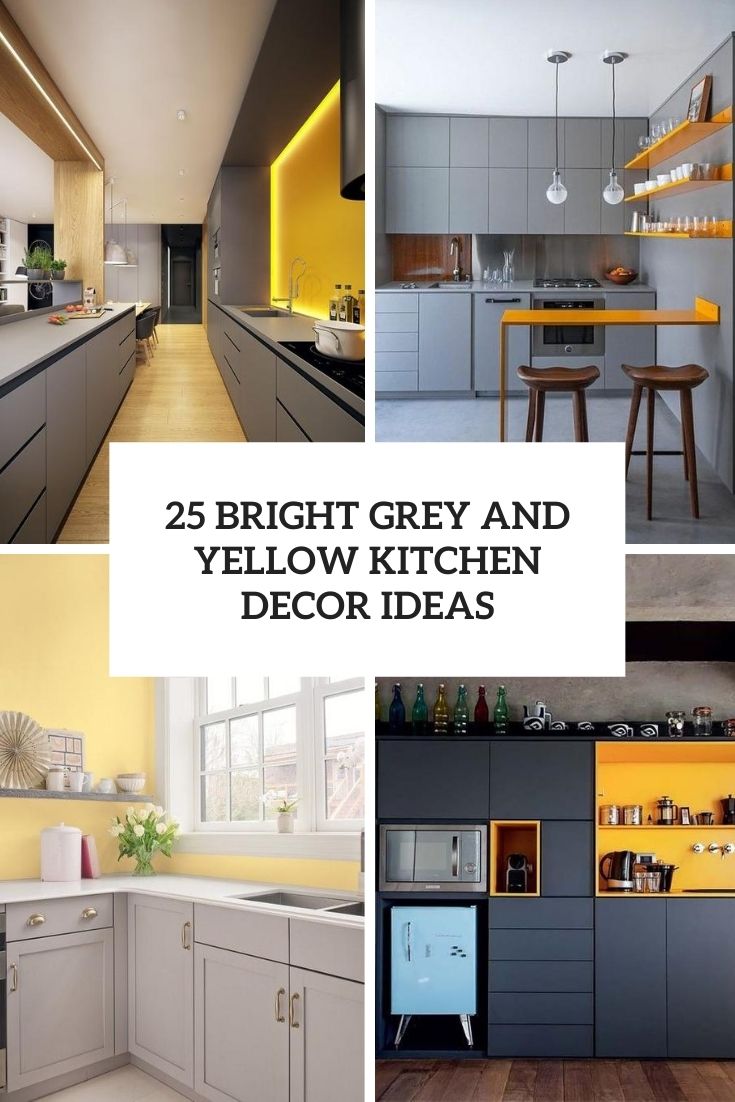 Grey and yellow are a bold and cool color scheme to rock, these are contrasting shades that create a perfect look together. Such a combo, filled with sunshine and cheerfulness, may be a very good color palette for a kitchen that can infuse you with energy and help you wake up in the morning when you come for a cup of coffee.
Grey and yellow can be applied to many decor styles but the most frequent ones are farmhouse, modern, contemporary, industrial and minimalist. You may experiment with dark grey and lemon yellow for a moody space, with pale yellow and dove grey for a pastel kitchen, with light greys and zesty yellows for a shiny and light feel. Such a color combo can be nicely completed with white, black, navy and hinter green but you may also try various bright colors, too, to make the space bolder.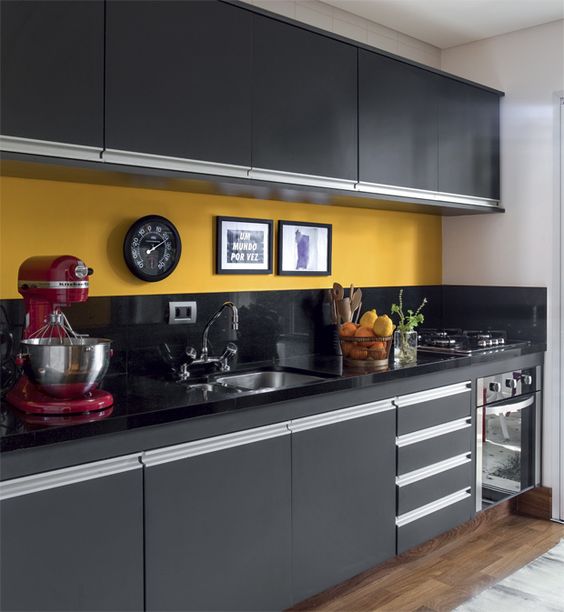 a bold graphite grey kitchen with a black and yellow backsplash and black stone countertops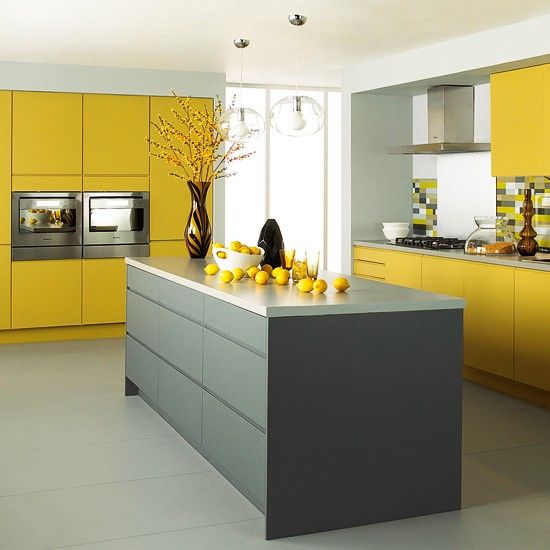 a bold kitchen with sleek mustard and grey cabinetry, grey countertops, a mustard and grey backsplash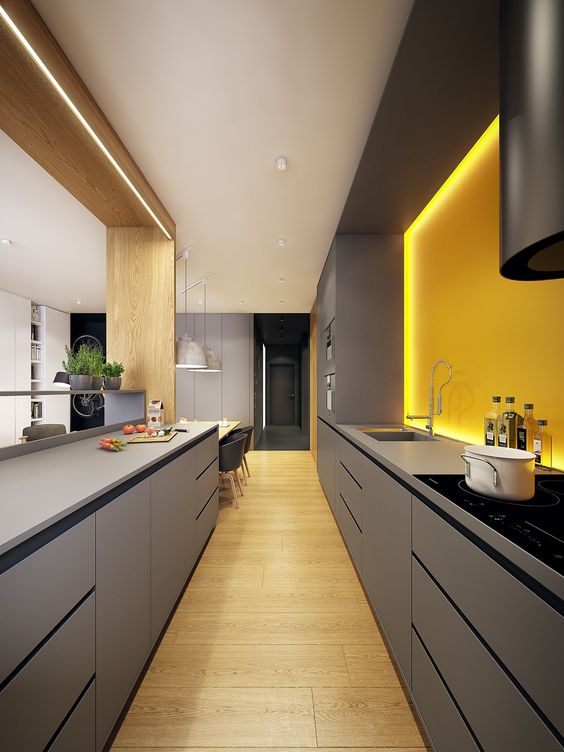 a bold minimalist kitchen with sleek grey cabinetry and a sunny yellow lit up backsplash for a bright look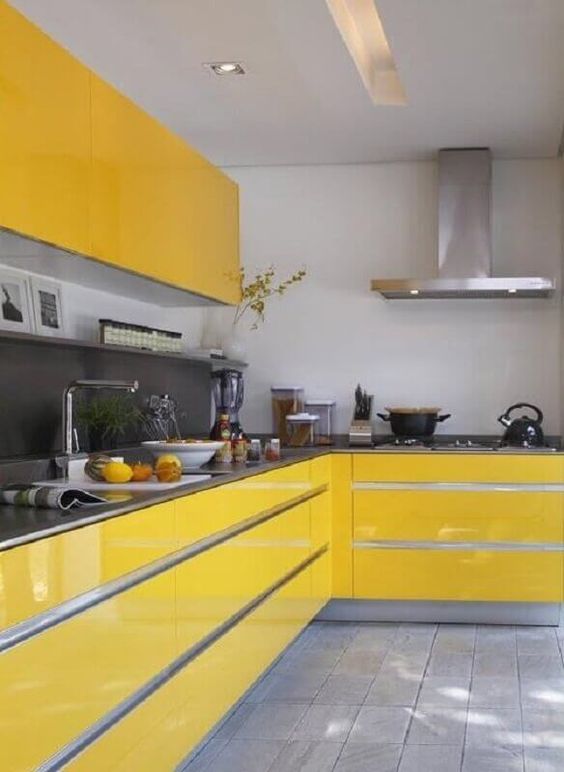 a bold minimalist kitchen with sleek yellow cabinets, a grey matte backsplash and countertops and stainless steel appliances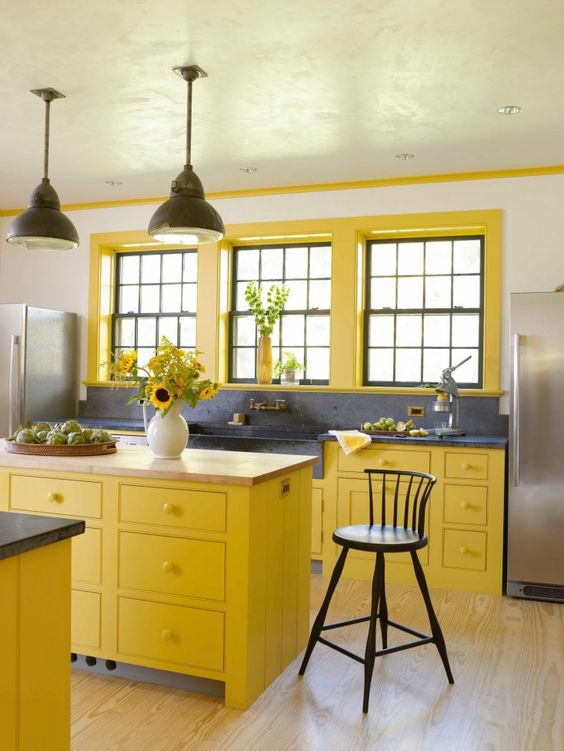 a bright farmhouse kitchen with bold yellow cabinets and window frames, grey stone countertops and a large sink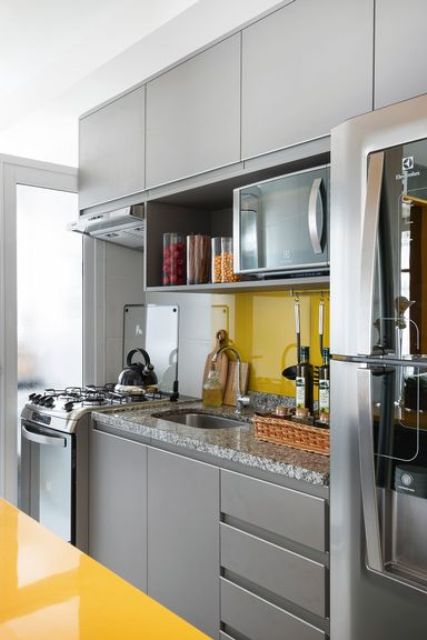 a bright minimal kitchen with sleek grey cabinetry, a bold yellow backsplash and a kitchen island to contrast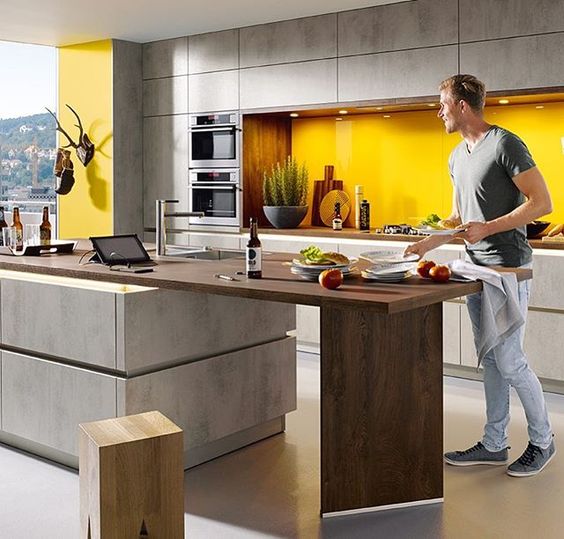 a chic contemporary kitchen with matte grey cabinets, a sunny yellow backsplash and a kitchen island with a wooden tabletop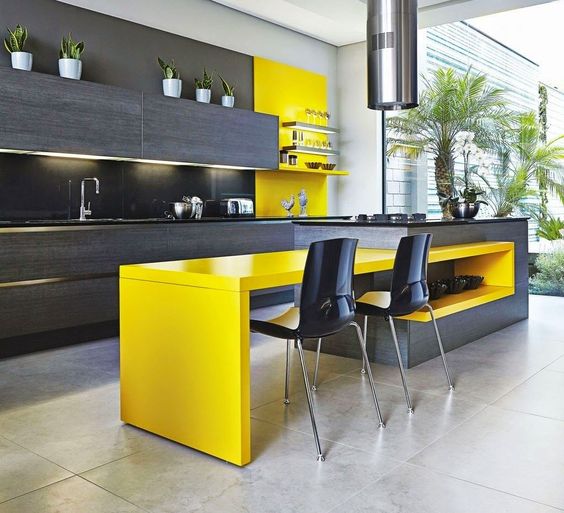 a chic kitchen with dark grey wooden cabinetry, a matching kitchen island with a bright yellow table and a backsplash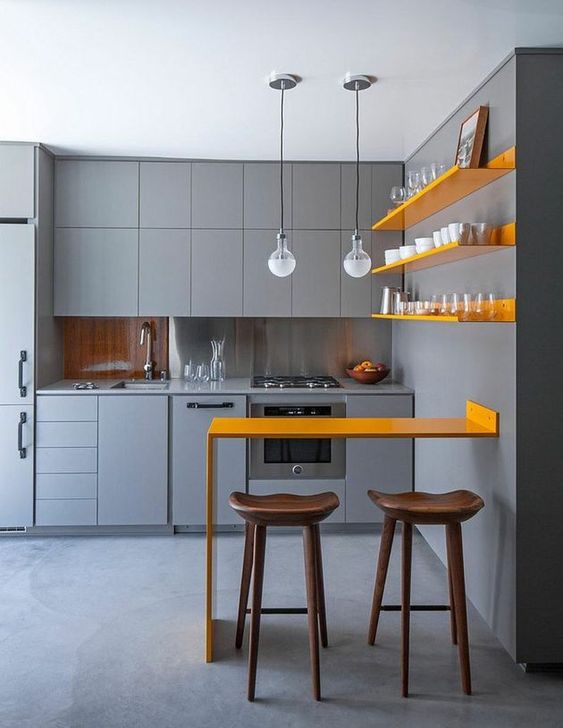 a chic minimalist kitchen with matte grey cabinetry, sunny yellow shelves and a matching counter for meals and drinks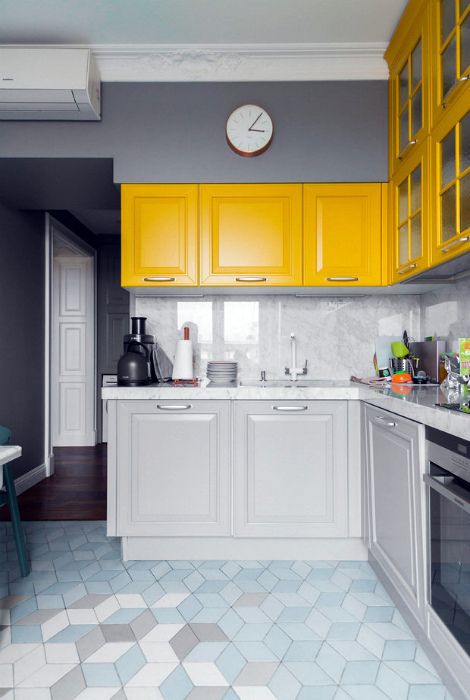 a chic modern kitchen with dove grey and sunny yellow cabinets, a white marble backsplash and countertops plus a tile floor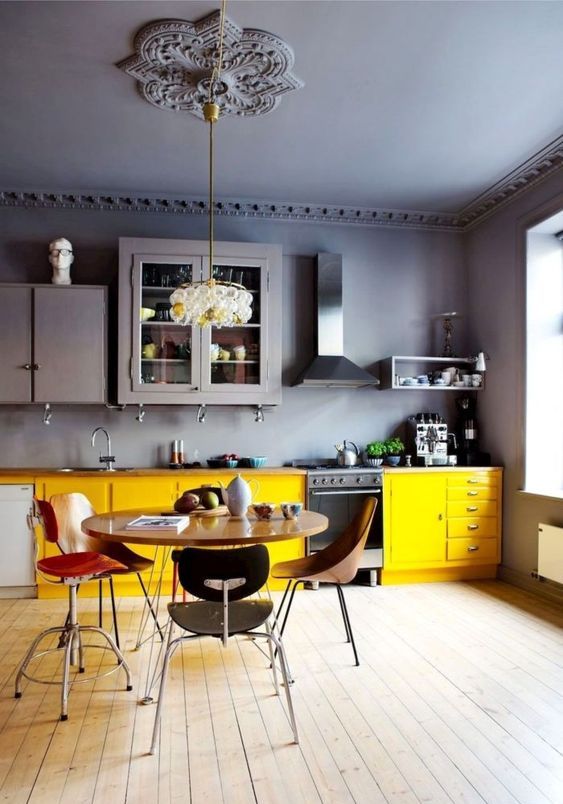 a contrasting and moody kitchen with grey walls and a ceiling, upper cabinets and lower yellow ones, mismatching chairs
Start with the walls: will they be grey or yellow? Will you make an accent wall in bold yellow or skip this idea? If your kitchen is mostly covered with cabinets, you may pay attention only to them choosing yellow upper ones and grey lower ones for a trendy two tone look or rocking moody grey cabinets or sunshine yellow ones. Refresh the look with a white tile backsplash or if you have a completely grey kitchen, make it bold with a lit up yellow backsplash. Play with your kitchen island rocking just one of these colors or both, for example, creating a grey kitchen island with a sunny yellow curved countertop for having meals. Add trendy geometric prints to make your kitchen bolder and hang catchy pendant lamps. Get inspired!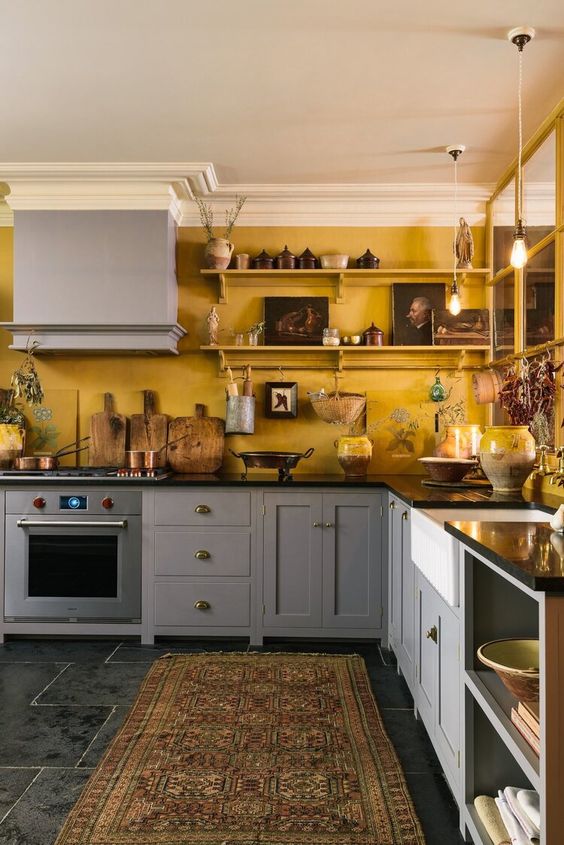 a cozy eclectic kitchen with warm yellow walls and grey cabinets, black countertops and artworks on the shelves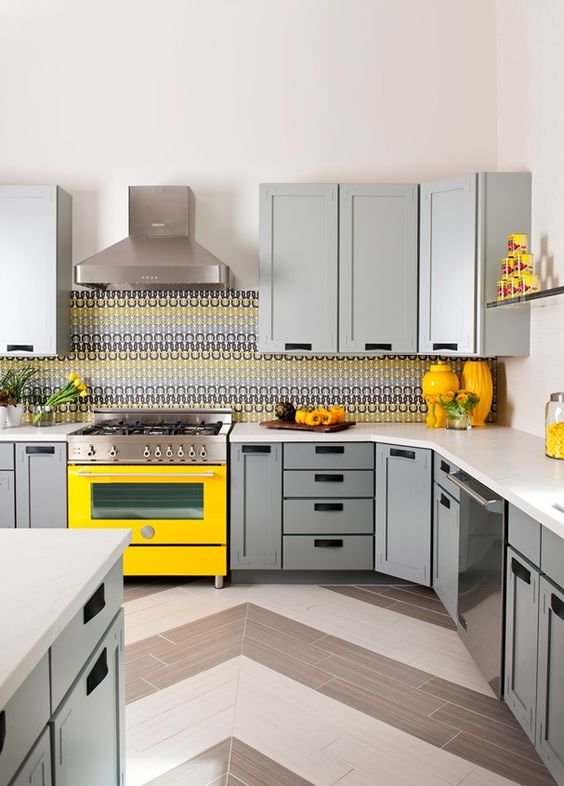 a cozy kitchen with dove grey cabinets, a bright yellow cooker and accessories plus a mosaic tile backsplash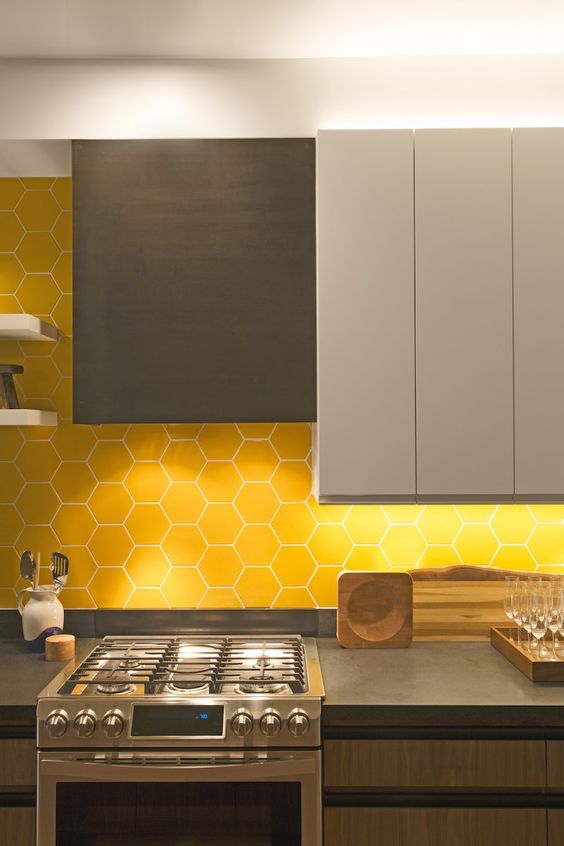 a minimalist kitchen with grey dove grey and wooden cabinets, a yellow hex tile backsplash and concrete countertops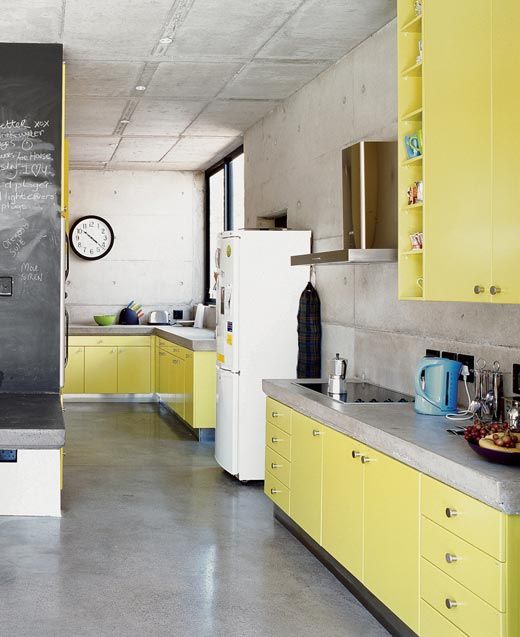 a minimalist light yellow kitchen with concrete countertops and walls is a simple and bright space that looks contrasting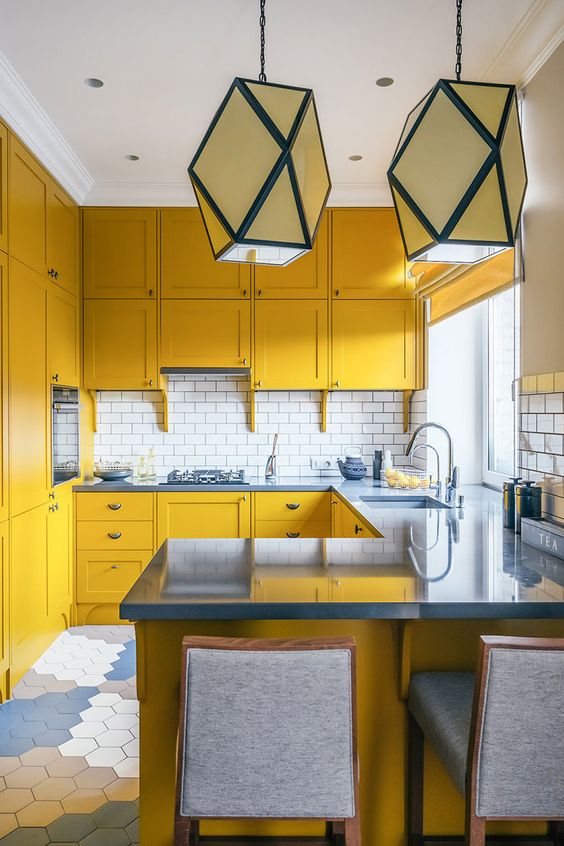 a mustard kitchen with grey stone countertops and grey stools, a white subway tile backsplash anbd geometric pendant lamps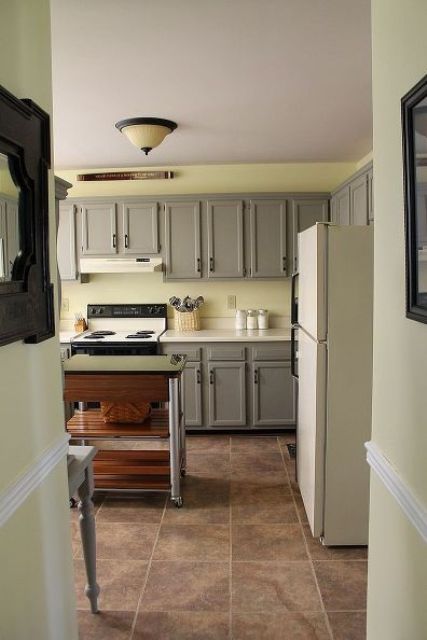 a peaceful kitchen with pale yellow walls, traditional grey cabinets with paneling and a metal and wood kitchen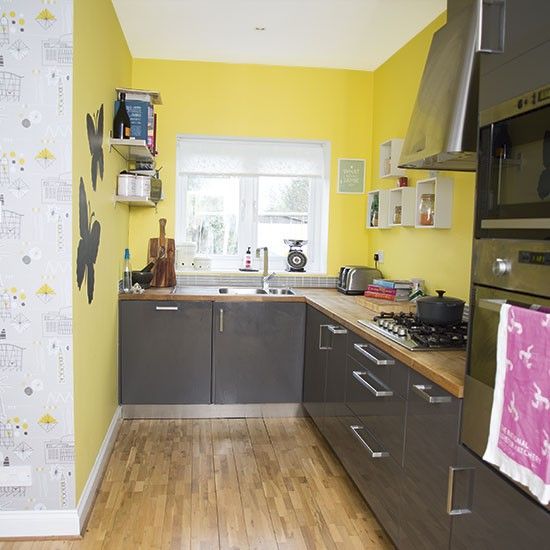 a simple modern kitchen with yellow walls, glossy grey cabinets and wooden countertops for a contrasting look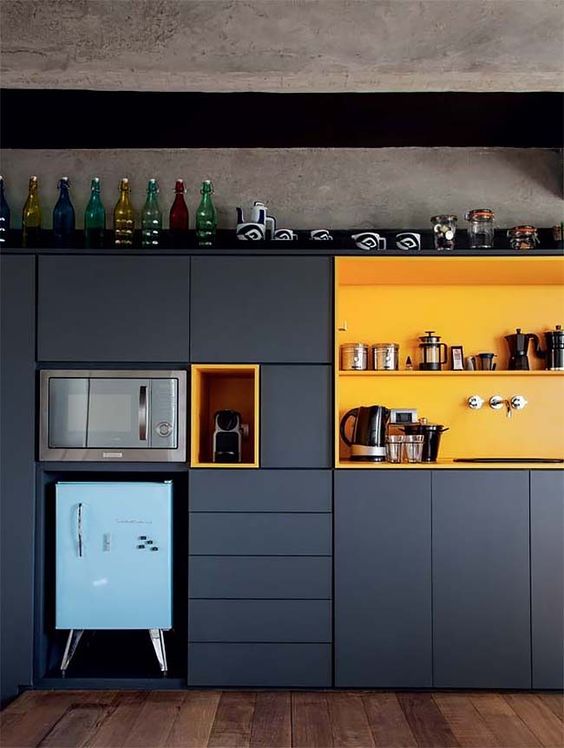 a small built-in graphite grey kitchen with a yellow niche for storage and a powder blue mini fridge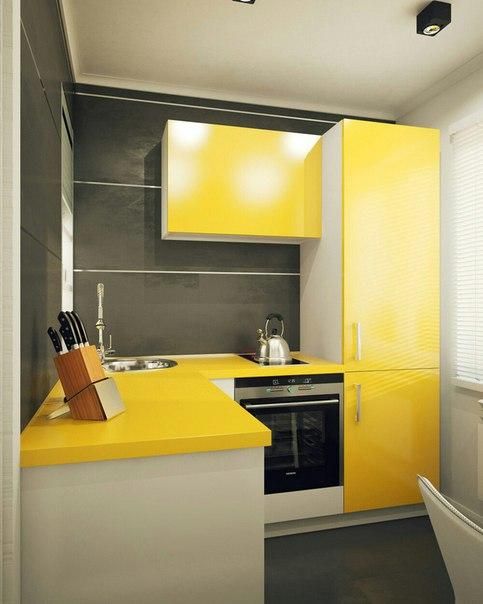 a small minimalist kitchen with bright yellow cabinets and graphite grey walls plus white touches to refresh the space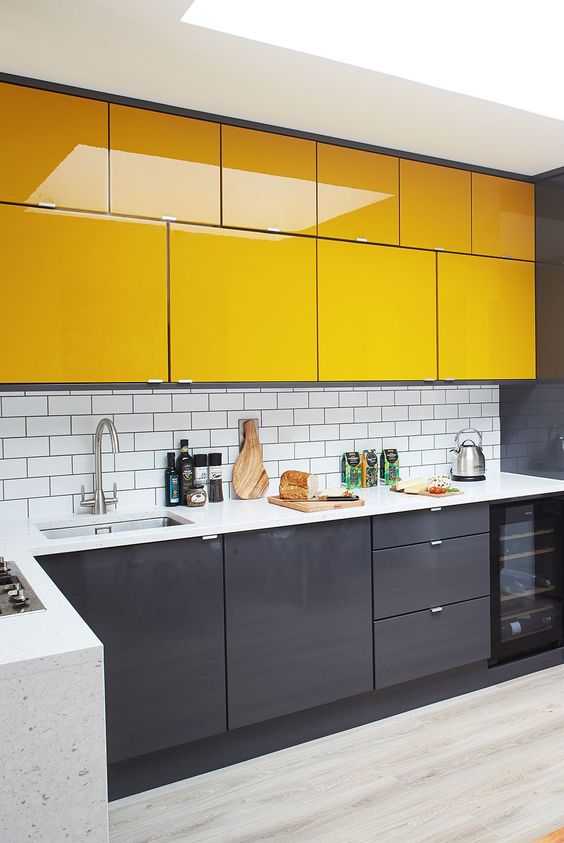 a stylish minimalist kitchen with sleek grey and sunny yellow cabinets, a white subway tile backsplash to refresh the space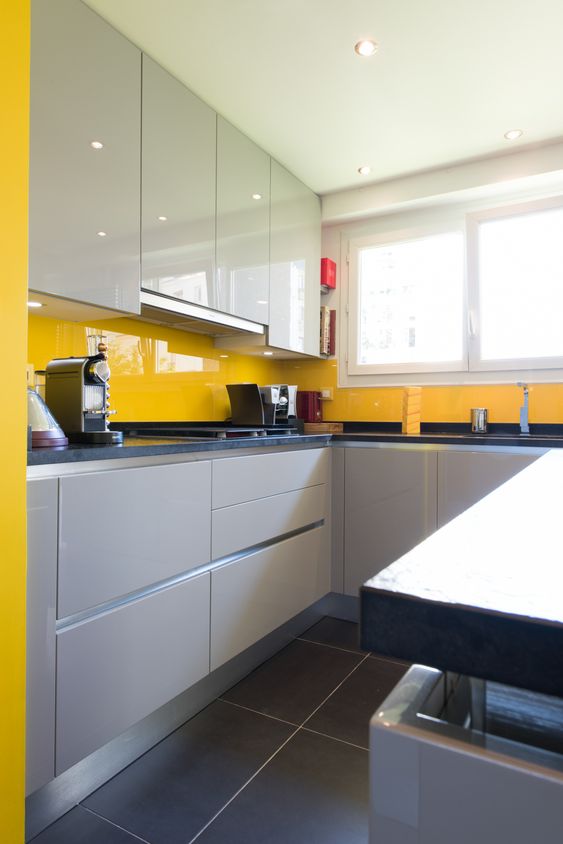 a stylish minimalist kitchen with white and dove grey cabinetry and a sunny yellow sleek glass backsplash stands out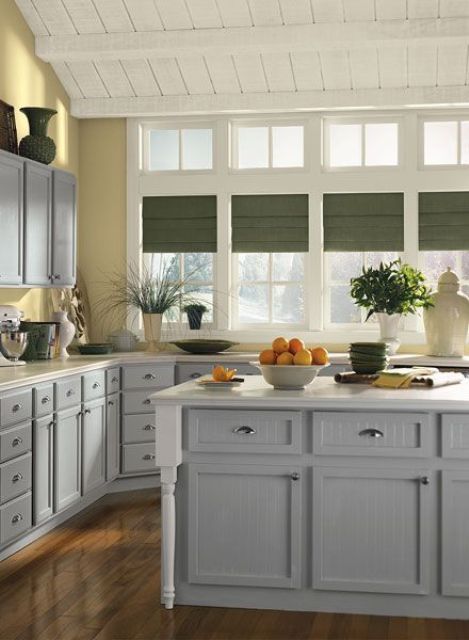 a welcoming farmhouse kitchen with pale yellow walls, stylish vintage-inspired cabinets in grey and green shades on the window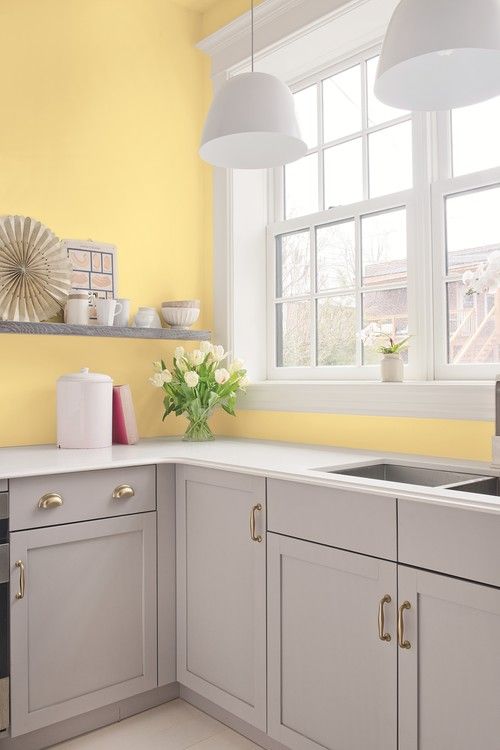 an airy kitchen with light yellow walls, dove grey cabinets and shelves, white pendant lamps and countertops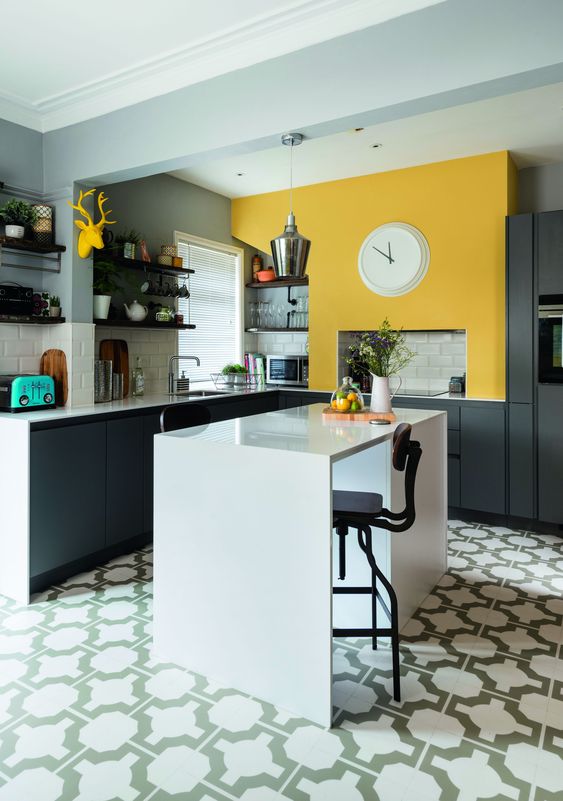 an elegant modern kitchen with graphite grey cabinets, a sunny yellow wall and a white kitchen island
Sours: https://www.digsdigs.com/grey-yellow-kitchen-decor-ideas/
Thinking of giving your kitchen a refined and refreshing makeover as you head into summer and fall? Few colors out there bring that perfect balance between sophistication and eye-catching elegance like gray and yellow. A combination that is quickly catching on across the globe largely because of the new-found love for gray in the last few years, it is still a novelty when it comes to the contemporary kitchen. While gorgeous gray and yellow bedrooms and stylish living rooms with this classy color duo are far easier to find, kitchens still seem to be largely stuck in the 'white along with bright color' mode!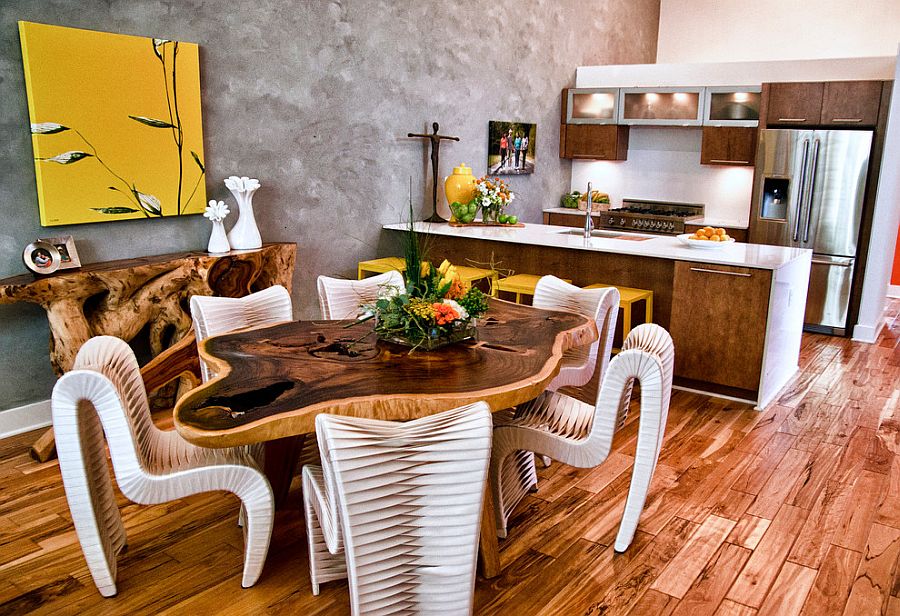 Today we change that perception by bringing in the understated beauty of gray along with a splash of yellow goodness. While some kitchens are draped in just these two hues, others use them in a restrained and clever fashion to enhance their ambiance. Cutting across style barriers, these 11 kitchens might just inspire you to give your kitchen a smart little color revamp.
Cheerful Summer Charm
Yellow is one of those hues that seems to capture the joyful bliss of summer to perfection, and this is especially true if you add a light, mellow shade or even a cool pastel yellow backdrop to the kitchen. The farmhouse-style kitchen below combines this bright yellow magic with a dark gray backsplash and countertops to craft a captivating and relaxing kitchen. The flood of natural light helps add to the cheery ambiance.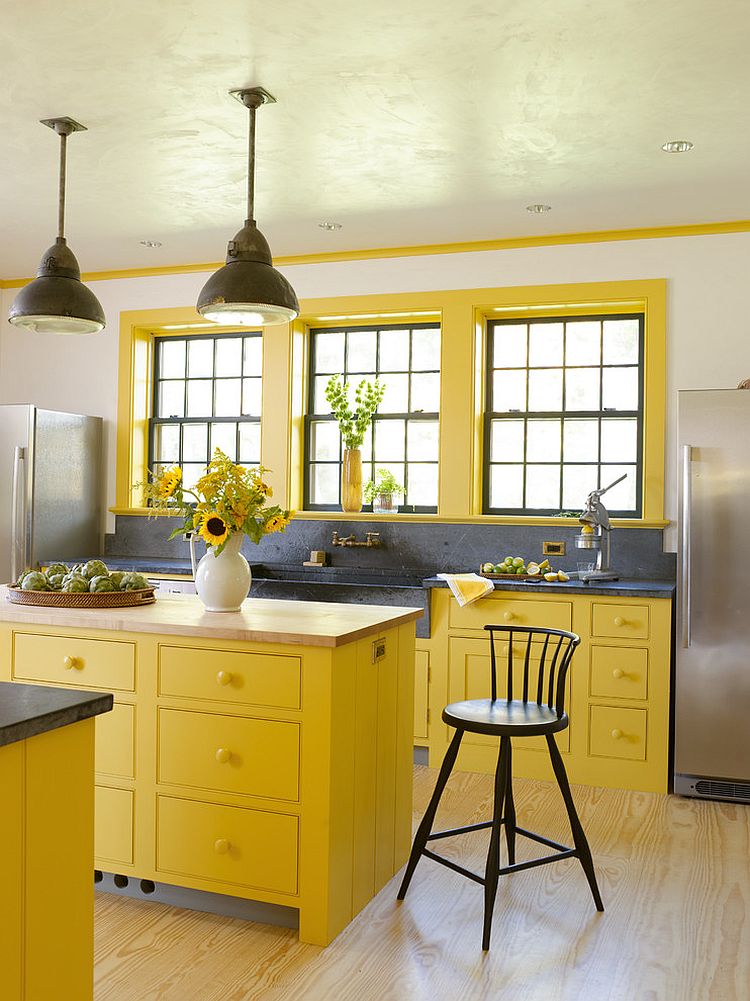 Here is another kitchen that takes the traditional notion of gray as the principal color in the room and yellow as the one used in moderation and flips it on its head. When it comes to the kitchen, there is absolutely no reason to hold back on yellow; even in case of cool, contemporary kitchens. Gray here brings definition to the white cabinets and makes a big impact even though it is used in a very limited fashion.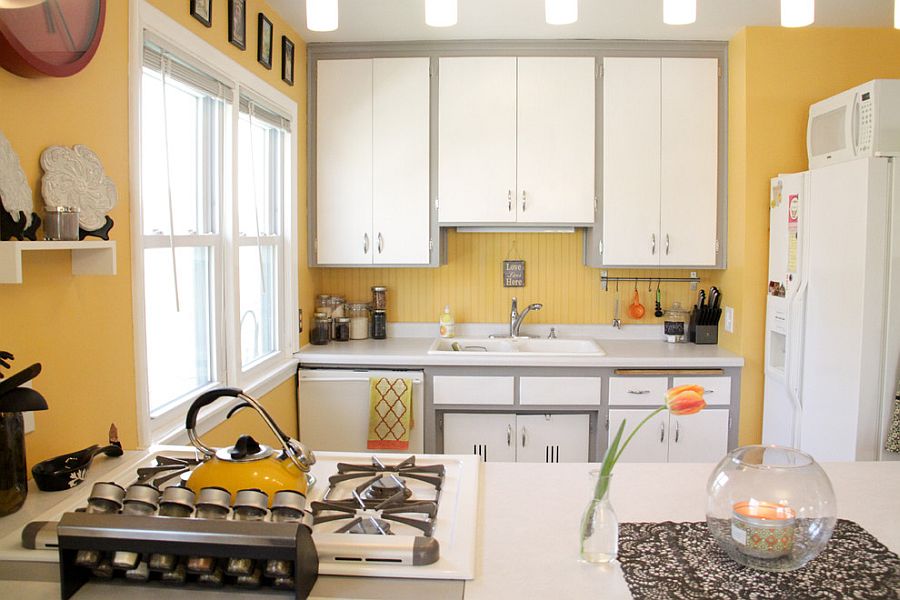 There are plenty of ways in which you can usher in a color of your choice and the next lovely kitchen reminds you that color is not the only option. It is the exclusive kitchen worktops that bring in the gray while yellow sets the mood for an inviting, tropical hub that looks over the pool area outside. A perfect kitchen indeed for the warm summer months ahead!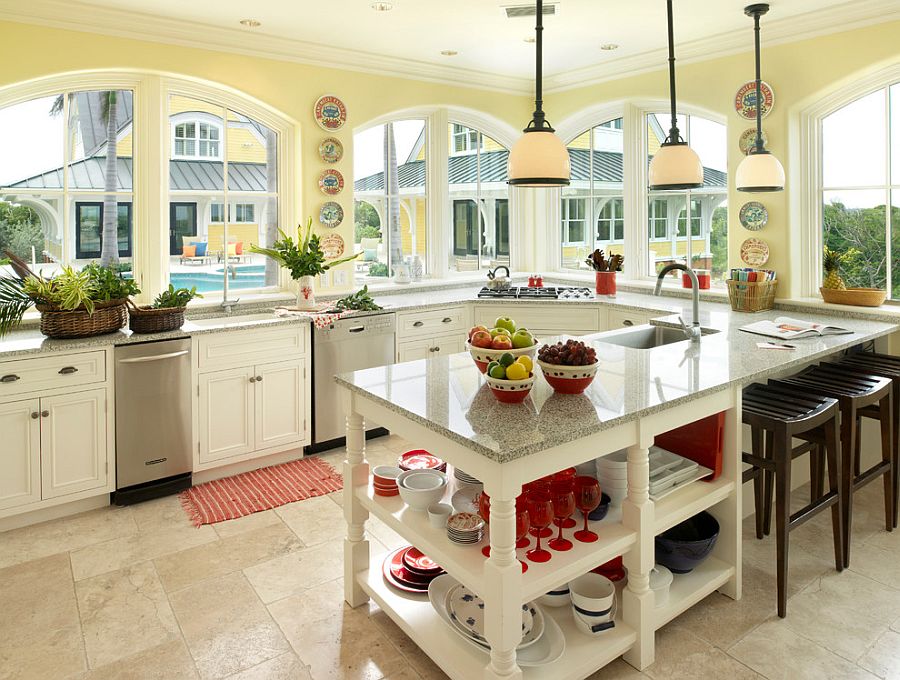 Pops of Yellow
Now here is a kitchen that tells you that the yellow and gray kitchen is not just for spring, summer or fall. It is a style that works all year long when done right, and we absolutely adore how the all-gray backdrop (including the wallpapered ceiling) lets those yellow pendants shine through. Another advantage of taking this approach is that you can essentially switch out those pendants (and the flowers) and add a completely different hue by bringing bright red, blue or even copper lighting fixtures!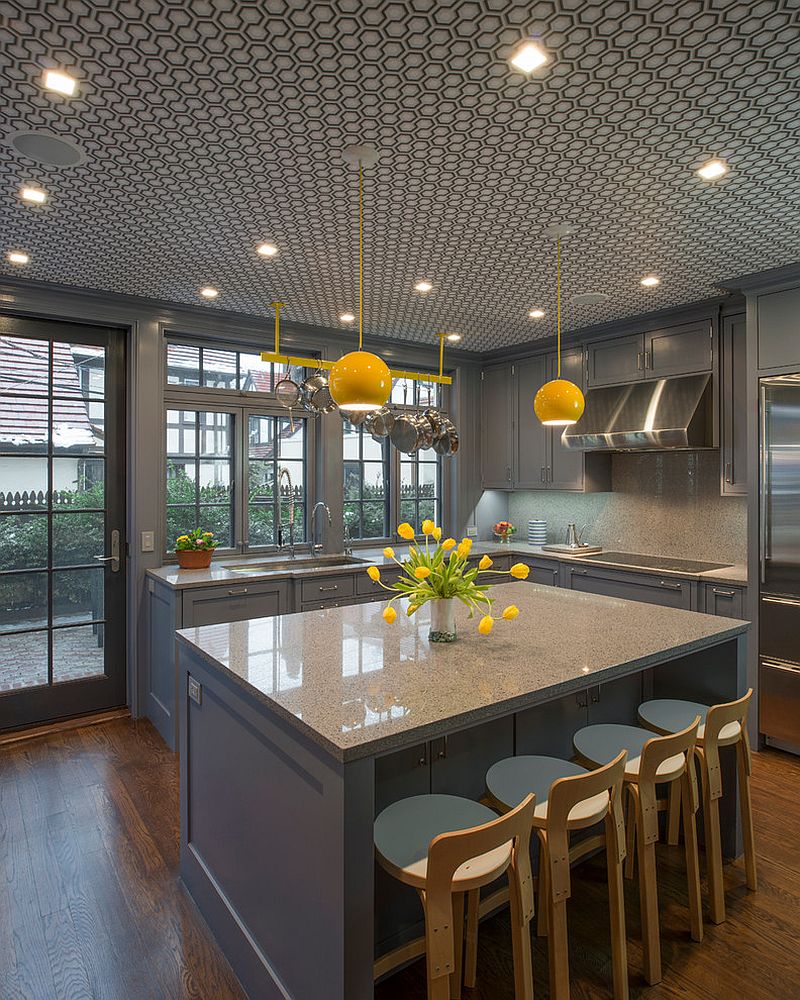 Adding a hint of gray and yellow to your existing kitchen can also be done without actually giving it a complete makeover. Instead of wrapping up the entire kitchen in these two hues alone, opt for a more reserved approach like the one here. The subway tiles in gray and yellow add color to this contemporary kitchen while leaving the Midcentury style of the space undisturbed.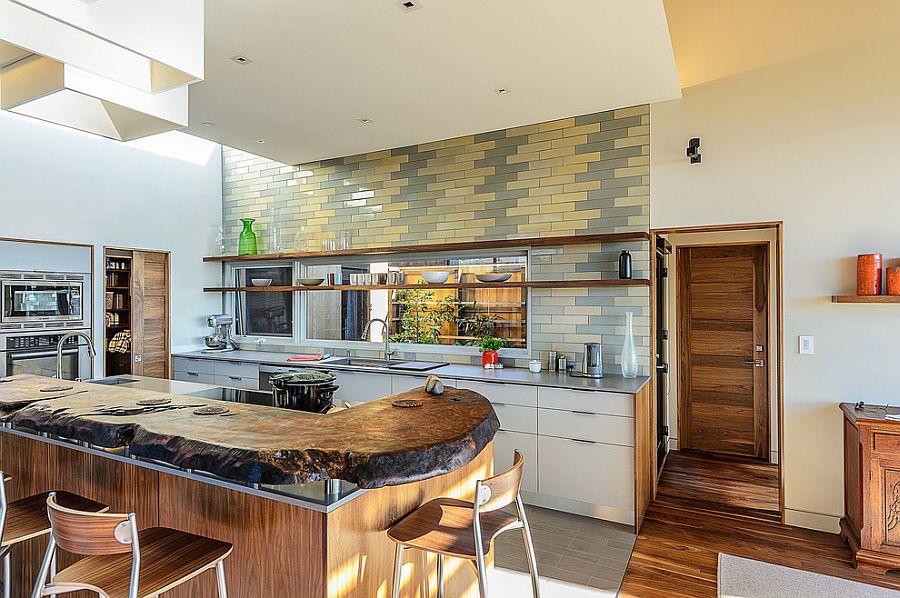 Another great use of tiles to give the kitchen its dose of yellow and gray, this is an idea for those who are not too keen on too much yellow disturbing the existing color scheme of their home. The dozen or so lemon yellow tiles combined with gray and white pieces still make plenty of visual impact and yet also seem to gently melt away into the backdrop. Notice here how the LED strip lighting literally puts the smart backsplash under the spotlight!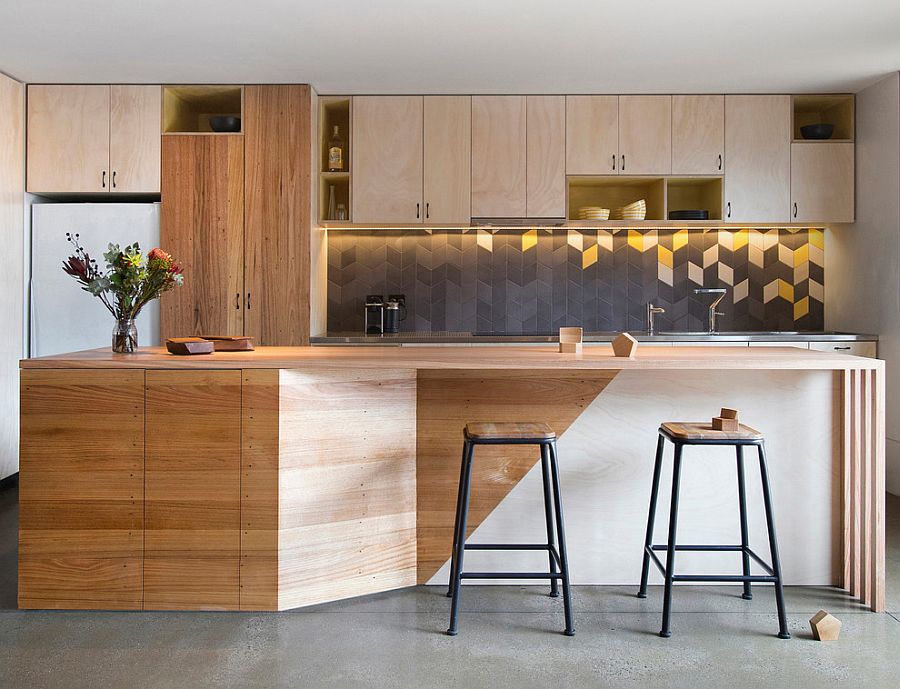 Styles, Shades and Synergy
While some kitchens tend to revel in a flood of yellow and others look great when gray takes over the lead role, there are times when you need a perfect balance between both hues to create your dream kitchen. Yellow plays a major role in kitchens with styles ranging from rustic and farmhouse to Mediterranean and Craftsman. Gray on the other hand brings the urbane appeal of contemporary and transitional styles and even looks perfectly at home in industrial settings. It is often the style you choose that will determine which of the two colors plays the protagonist in your kitchen.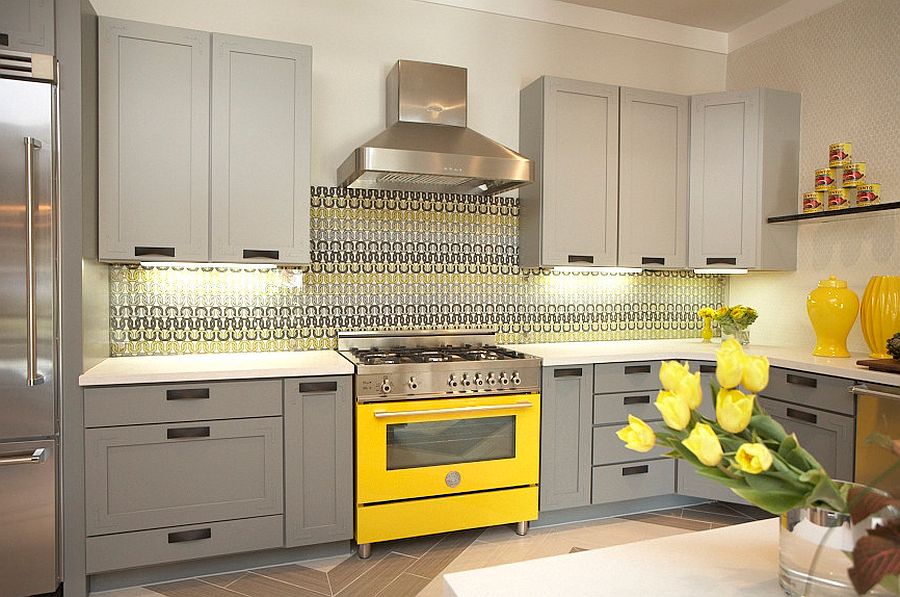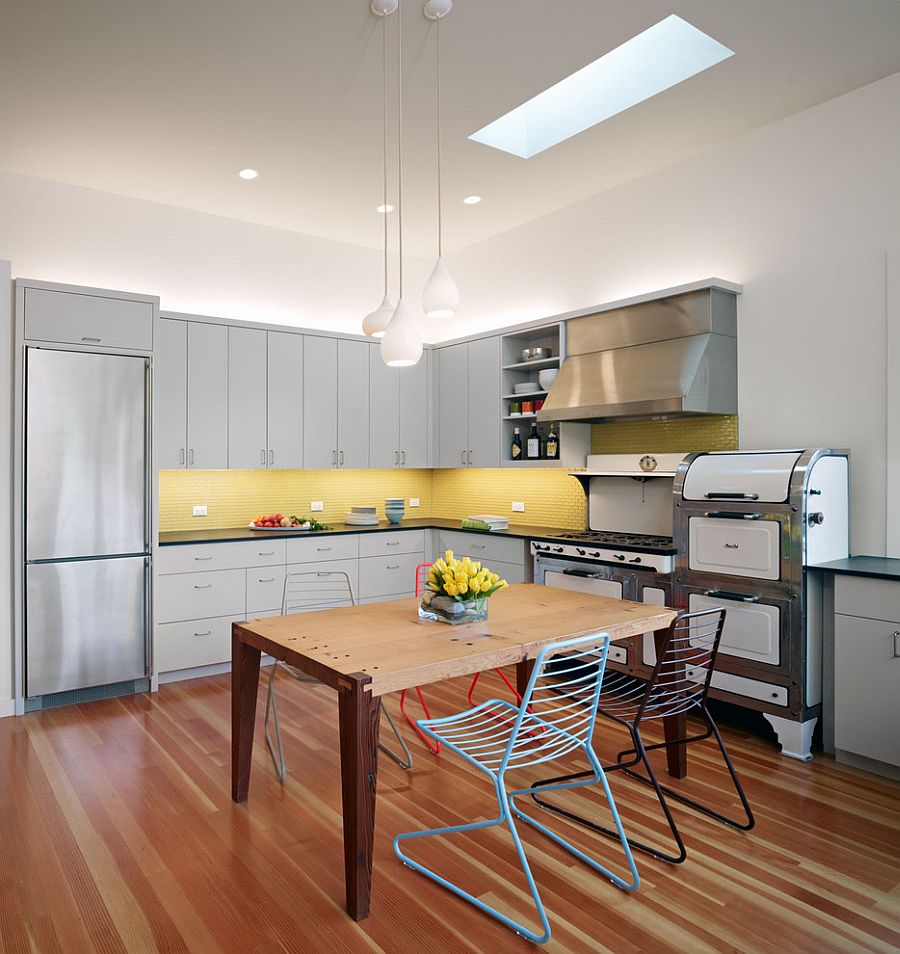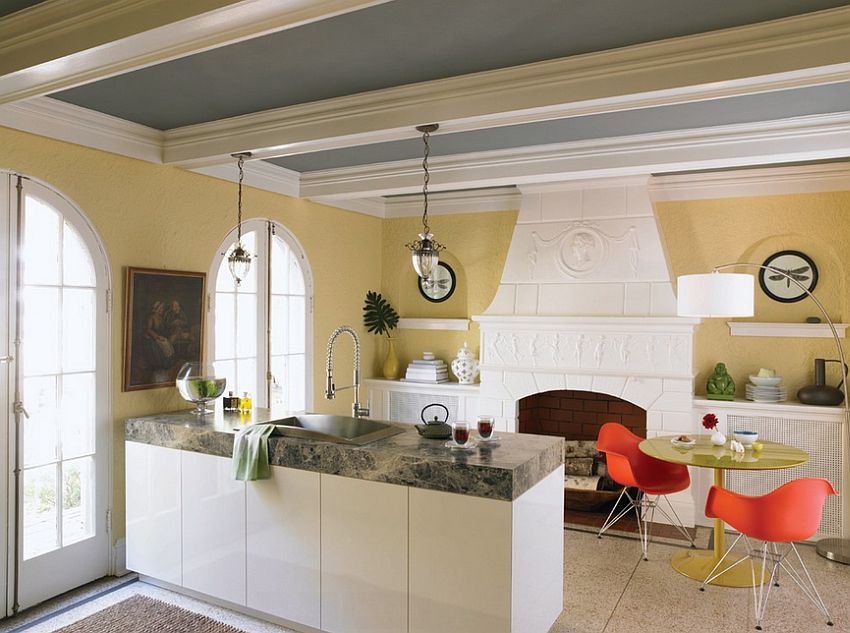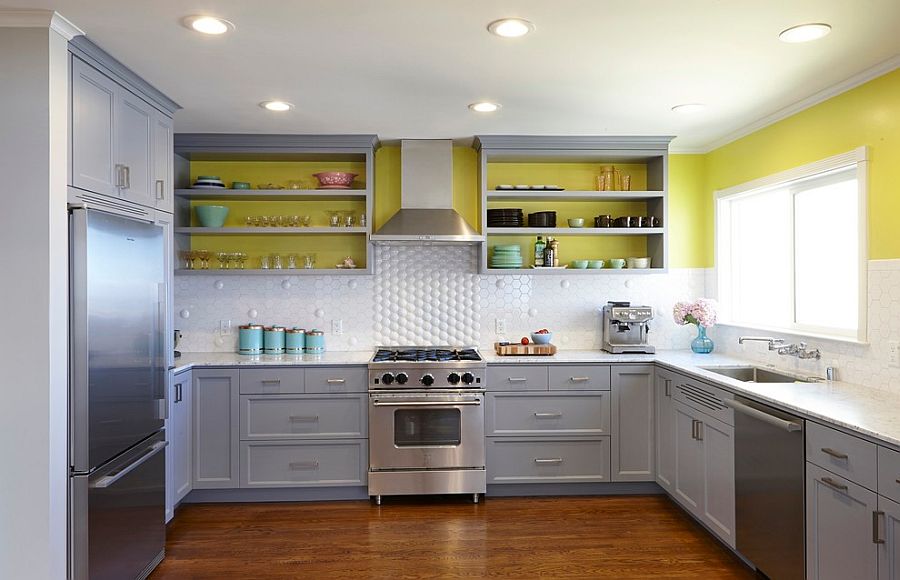 So, are you ready to try out the duo of gray and yellow in your kitchen?
Sours: https://www.decoist.com/2015-05-14/gray-yellow-kitchens/
YELLOW DREAM KITCHEN - How to decorate kitchen with color, kitchen design ideas - COLOR ME COURTNEY
40+ Innovative Gray Yellow Kitchens That Is Best For Your House
Picture what it would be like:
If the the guidelines are known by you, picking the best gray yellow kitchens can be enjoyable.
You have got it…
…Our expert will show you the way to select the best from sources that are diverse.
I've set together a checklist of pictures ideas you are able to do to make your gray yellow kitchens mo Re more inviting s O that you simply have a trustworthy place from which to commence. The the ensuing list contains ideas ranging from your visual to the purely practical, and from your ambitious to the finger-snapping-ly basic. Have a seem!
Good information:
We present you one fascinating assortment of 41 Truly Amazing ideas that are gray yellow kitchens. Here you are able to see numerous illustrations of gray yellow kitchens for your need. See our fantastic illustrations and make your option!
Click on the photos to enlarge. Let us always check away these! Do not forget to to pin your favorites from the resource, s O they get the love too!
Grey Modern Kitchen Design Yellow
Grey Kitchen Cabinets Yellow Walls Clayton
Homes Yellow Kitchens Worth 400 More Money
Kitchen Paint Color Schemes Techniques
Grey Yellow Living Room Ideas Decosee
Cottage Kitchen Cabinets Green Yellow
Kitchen Colour Schemes Blue Yellow Grey
Gray White Yellow Kitchen Houses Gardens People Ideas
Here the gray yellow kitchens gallery inspired by many top designers that have also introduced this look to the world is being shared by me.
Kitchen Decorating Ideas Red Accents Grey Yellow
About kitchen decorating ideas red accents grey yellow, you will find details on this site that we have gathered from numerous internet sites. You'll be able to see more images below in the event that you like the image. Please do not hesitate get inspiration from our site and to visit again.
Grey Kitchen Wood Floor Cabinets Gray
Actually if you are uncertain of where to begin with the grey kitchen wood floor cabinets gray or do not realize everything you're looking for, visiting our posts may be a great spot to get your begin.
Color Should Paint Kitchen Green Yellow
This features color should paint kitchen green yellow supply many different types for inspiration and some ideas. Have a look at these pictures to help decide which is the best for you personally. We hope you'll enjoy.
Decorative Plaster Work Archives Carlow Cornice
This decorative plaster work archives carlow cornice idea may be very daunting and intimidating, but our professional may assist you tremendously. You are going to see a sizable selection of different.
Yellow Kitchen Decor Naples Color Grey
This features yellow kitchen decor naples color grey provide a number of types for inspiration and ideas. Take a look at these images to aid determine which is the finest for you personally. We desire you'll enjoy.
Gray Yellow Kitchen Ideas Matt Grey
This gray yellow kitchen ideas matt grey concept makes you get some ideas, in this post I offer several. Make sure to verify out our gallery when you have decided on the perfect appear for yours.
Kitchen Extraordinary Paint Ideas Colors
The picture below is a gorgeous style about kitchen extraordinary paint ideas colors. You have been chosen by us from countless images accessible on the web. Check out the photo below for Inspiration.
Paint Kitchen Walls Colors
You can find more than enough paint kitchen walls colors tips throughout our website using a number of images. There are hundreds of methods to to create your own.
To summarize:
Desire that it drives you to attempt one your self and you enjoyed this ideas that are gray yellow kitchens. Trust me, also it's not that difficult at all. It gets easier as you keep performing it, although it seems that approach when you're beginning. All it takes is a bit of endurance! Leave me your thought in comments!
Sours: https://decoratorist.com/gray-yellow-kitchens/
Decorations yellow kitchen
Latest Trends in Yellow Kitchen Colors
Modern kitchen colors are available in a wide variety of cool and warm hues. Light gray, creamy white, pale blue and off white are some of modern kitchen colors which can be used for new kitchen design or old kitchen redesign. Lushome collection of modern kitchens in yellow color is for all people who love the happy, optimistic and bright golden yellow and sunny yellow color shades.
These kitchen colors are available in many shades also. Trendy yellow color shades look gorgeous with all neutral colors and many cool kitchen colors, allowing to personalize modern kitchen design and decorating. Today people are opting for very stylish, unique and pleasant kitchen colors like yellow and golden colors that can be combined with all neutral colors, brown colors, red, orange, green, blue and purple colors.
Modern kitchen wallpaper designs and washable interior paint help create truly unique kitchen interiors or brighten up them with kitchen furniture in yellow color. Modern wallpaper and washable interior paint, contemporary materials used for kitchen furniture are durable and beautiful. These kitchen design and decorating materials last for longer period of time and can bring rich golden colors or happy yellow color shades into homes.
25 dazzling interior design and decor ideas and yellow color combinations
Happy yellow ideas for kids rooms
Modern kitchen design and decor in yellow color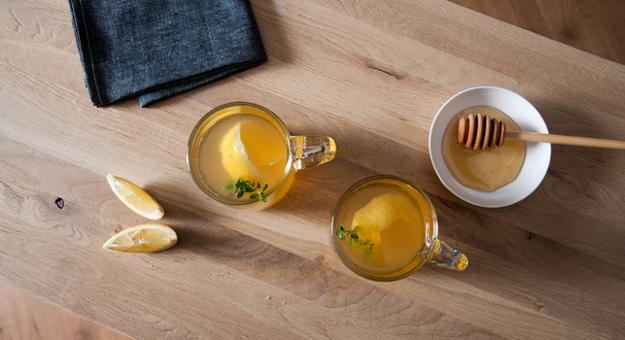 The kitchen cabinets in yellow color can be one of the major part of your new kitchen design or old kitchen redesign project. Yellow wall paint or wallpaper designs are another way to spruce up white kitchen wall decor. The wall design color in light shades and polished kitchen cabinets create spacious and bold kitchen interiors.
Selecting yellow kitchen colors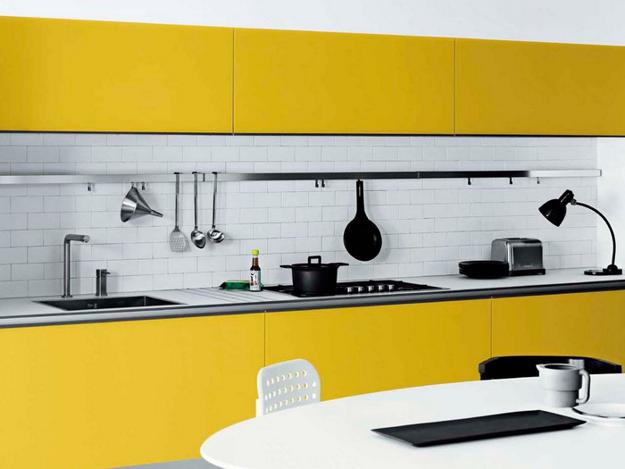 Kitchen design in light yellow color looks wonderful with all lighting fixtures and in natural light. Rich golden colors and middle dark yellow color require bright lighting design. If you are using the yellow color for your kitchen design and decorating, especially for wall paint, wallpaper designs or kitchen furniture, then do not go for yellow light. The white lighting look beautiful and balanced with kitchen furniture or walls in yellow color.
Modern interior decorating with yellow color, cheerful decor ideas
Feng Shui colors for modern interior design and decor, yellow color shades
Modern kitchen colors in yellow part of the light spectrum are associated with comfort. Honey, cream, lemon, banana, pineapple, grapes and apples in yellow colors are delicious inspirations for modern kitchen colors. It is important to find the yellow color shade or tone for your kitchen design and decorating which matches the rest of your home in open home interiors, where a kitchen is connected to a dining room and living room. Also your kitchen colors have to reflect your personality.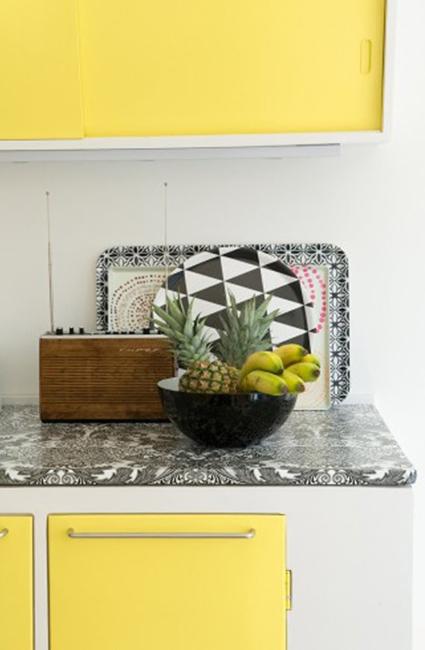 Selecting yellow color for your new kitchen design or old kitchen redesign is very personal, but there are some of the things to consider. These beautiful kitchen photographs with yellow walls and kitchen furniture in yellow color provide great inspirations and tips for selecting and matching the kitchen colors you like.
Modern interior decorating with yellow color
Soft yellow and pastel green colors, modern color trends in home decorating
Golden colors and happy yellow color shades are modern trends in decorating kitchens, and the collection of kitchen photographs helps get the right color combination, kitchen furniture and wall decor for your kitchen design project.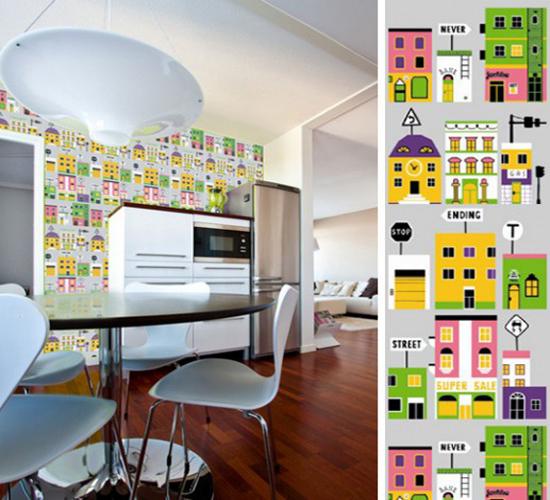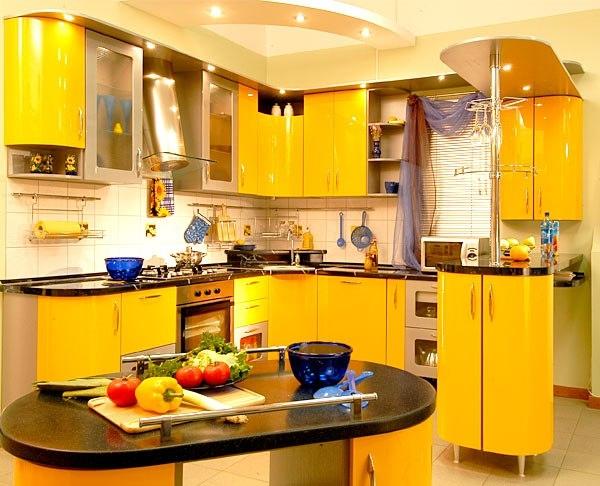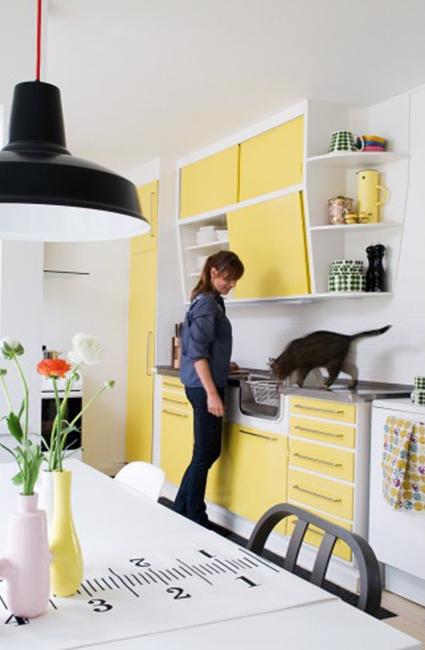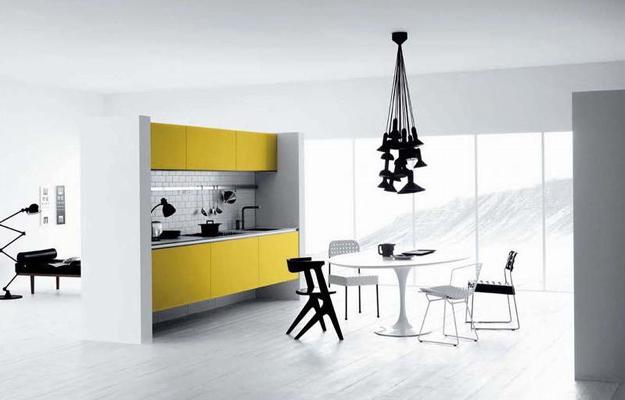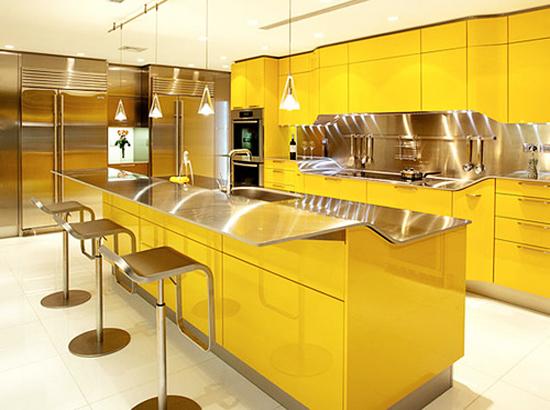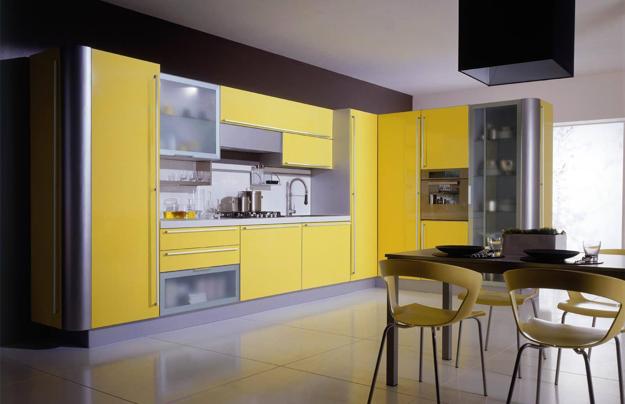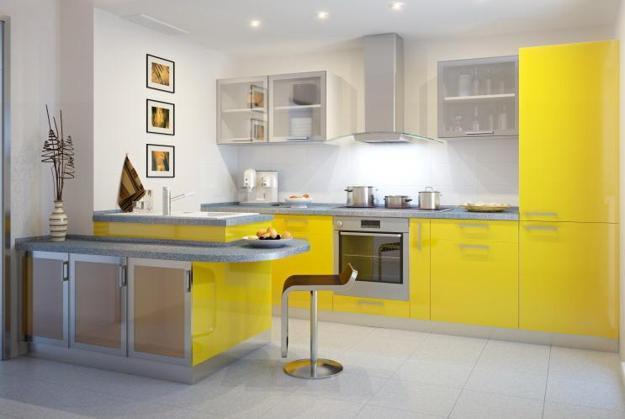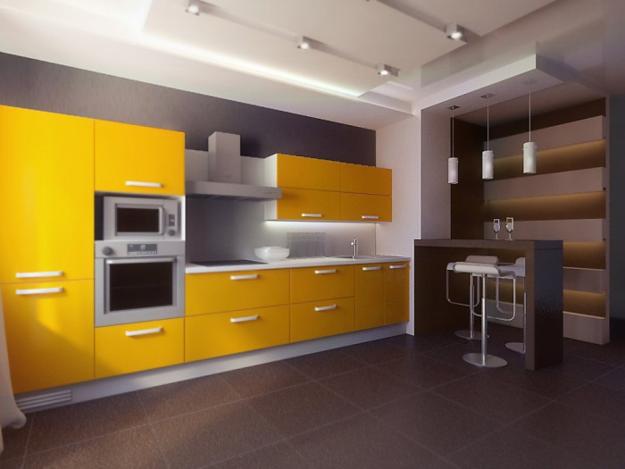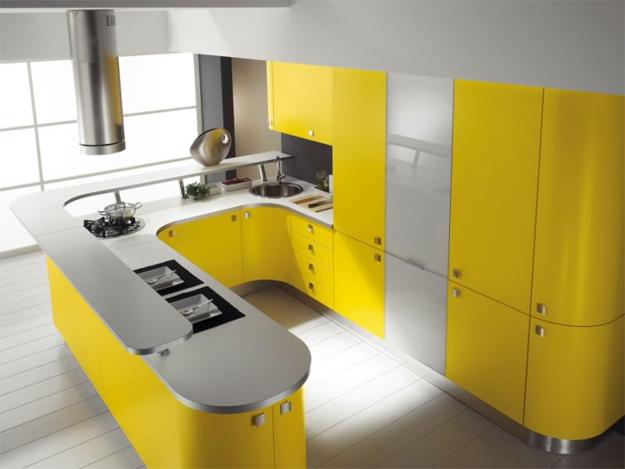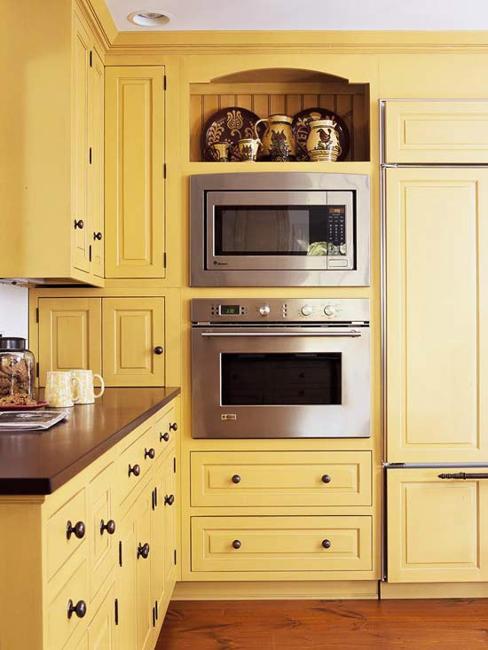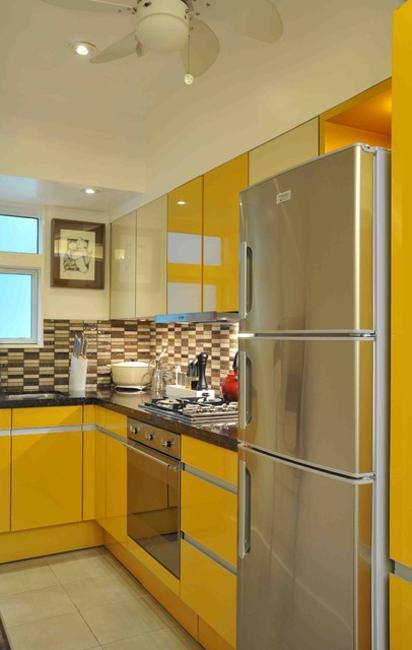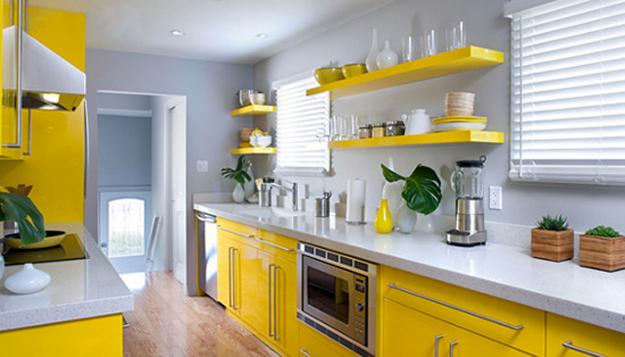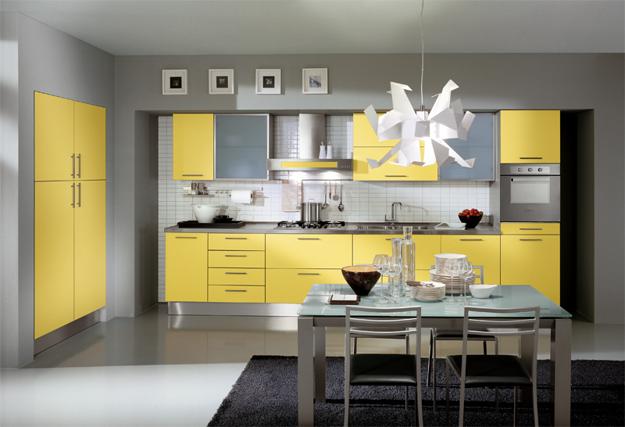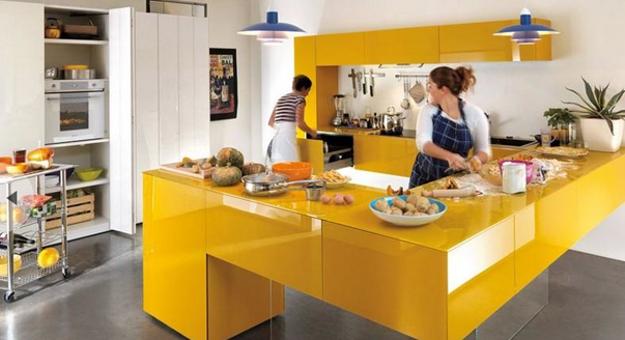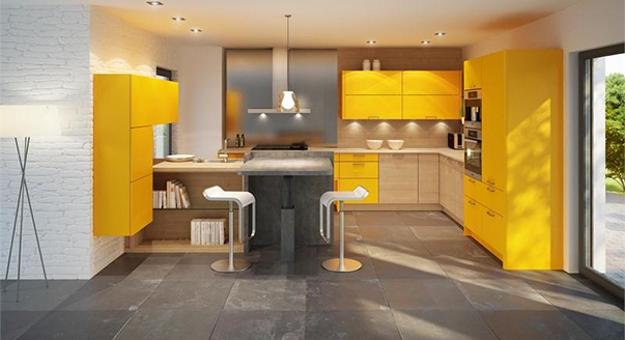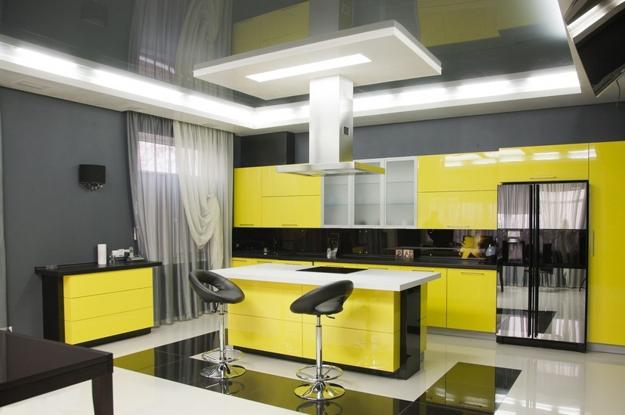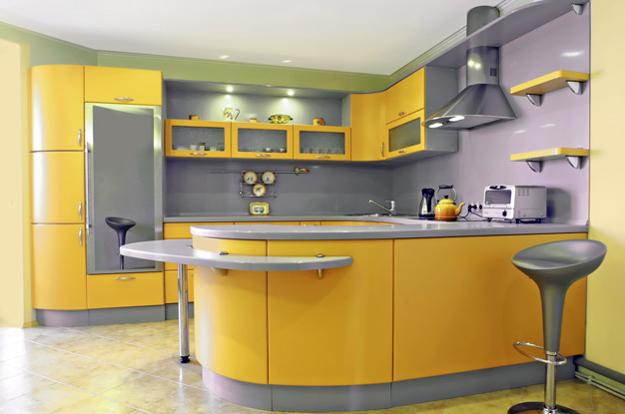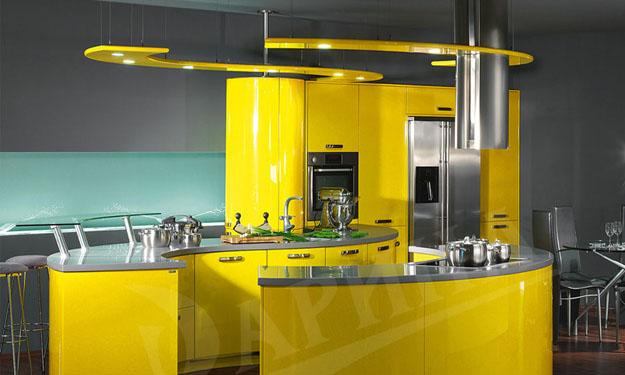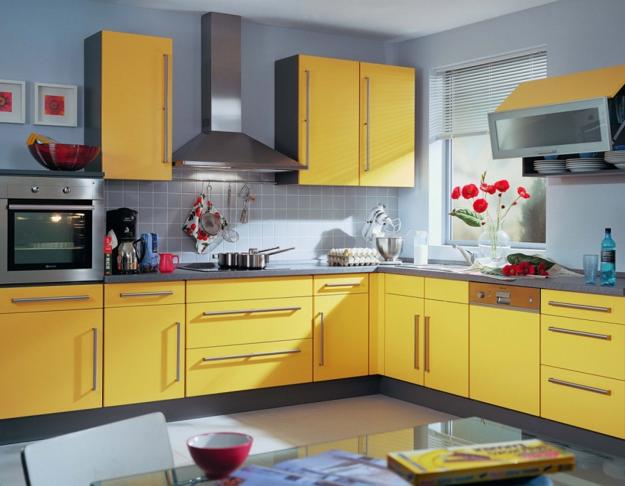 by Ena Russ
20.10.2016
Related articles and sponsored content
Sours: https://www.lushome.com/latest-trends-yellow-kitchen-colors/149202
10 Yellow Kitchens Decor Ideas - Kitchens With Yellow Walls
Yellow is a wonderful color: it makes your space feel sunny and bright, it raises your spirits at once. This is a warm color that can brighten up any space and using it in the kitchen will make it very welcoming. How to incorporate yellow into kitchen decor with style and to avoid fatigue that may be caused by excessiveness of this bold color? Here are some ideas.
Kitchen Walls/ Backsplashes
Yellow or any of its shades can be incorporated into kitchen decor with an accent wall or a backsplash, which is a very popular idea. You can have any kitchen in any style – Scandinavian, farmhouse, modern, minimalist, vintage and with many color schemes, though dark and neutral ones will be affected with yellow most of all. Go for a whole wall decorated with the yellow shade that you like or incorporate a backsplash of catchy yellow tiles and make your space bolder, brighter and more welcoming. Hang a pendant lamp or place some stools to echo with the yellow backsplash and to highlight it. One more non-traditional but easy idea is to paint your floor yellow, which will add instant boost to the space but make sure you love the color and are ready to incorporate that much of it.
a black kitchen with stone countertops and a mustard color block wall for a bright touch
a chic modern kitchen with a yellow accent wall and light blue sleek cabinets that create a contrasting combo
a mid-century modern kitchen with wooden cabinets and black countertops plus lemon yellow tiles on the wall
a modern white kitchen with a stripe pattern and a lemon yellow tile backsplash and a matching pendant lamp
a sunny yellow accent wall brightens up a brown and neutral kitchen and makes it bold and cool
a stylish neutral kitchen with a hunter grene kitchen island and a sunny yellow zellige tile backsplash for a bright touch
a graphite grey kitchen with white tiles and a sunny yellow touch over the cooker to make the kitchen more cheerful
a minimalist kitchen with dove grey and grey minimal cabinets and a sunny yellow glass backsplash
a bright kitchen done in white with sunny yellow niches and a kitchen island is very cheerful
a small white and grey kitchen with plain cabinets and a sleek mustard tile backsplash for a touch of color
a bright mid-century modern kitchen with teal cabinets and a yellow floor that warms up the space
Kitchen Furniture
Yellow can be incorporated with furniture, too, though it doesn't mean you should order all the cabinets in bright yellow. Go for only uppers or lowers and keep everything else neutral or black to avoid any excessiveness unless it's your goal. You may also try a kitchen island done in yellow as contrasting and mismatching kitchen islands are in trend. Boldly rock yellow kitchen countertops if you don't want too many changes, and they will easily add a warming touch to the space. Enjoy!
a chic contemporary kitchen in mustard, with all white everything is a bold and stylish option
a chic farmhouse kitchen with sunny yellow cabients and all neutrals around feels airy and bright
a contemporary kitchen with a brick wall and a white tile backsplash plus yellow plywood cabinets
a contemporary white kitchen with sunny yellow upper cabinets that make it feel outdoorsy and bright
a contrasting black kitchen with bright yellow touches - an open shelf and cutout handles is super bold
a minimalist kitchen with upper white cabinets and lower yellow ones feels airy, bright and fun
a modern kitchen in graphite grey and yellow, with a white subway tile backsplash and a white stone countertop
a moody grey kitchen with sunny yellow lower cabinets that brighten up and light up the whole space
a neutral boho ktichen with white upper cabinets, yellow lower ones that add color and warmth to the space
a small white kitchen with a sunny yellow countertop that brings much color and a sunny feel to the space
a stylish minimalist kitchen done in white, yellow and navy, with no handles looks bright and bold
a stylish white kitchen with warm yellow cabinets and stone countertops looks very welcoming and sunny
a vivacious yellow kitchen with white tiles and neutral stone countertops brings a fresh and airy feel
Sours: https://www.shelterness.com/yellow-kitchen-decor-ideas/
You will also be interested:
Yellow kitchen ideas – design techniques for bright and sunny interiors
Ads
Yellow kitchen ideas are just perfect cheerful and confident optimists. This is a bright and sunny color. It is ideal for the kitchen because it has a special effect on the person. The color is associated with sun, warmth and joy – that's why many people think about this color when decorating their home. Why choose this sunny color for the decor of your kitchen?
Yellow kitchen ideas – how to choose the right shade?
Ads
On the first place, it stimulates the appetite, which for a kitchen is, undoubtedly, the main plus. A yellow kitchen will help improve the digestion of home occupants. It improves the mood, stimulates intellectual activity, gives courage – all this is ideal for breakfast before working day. These shades brighten the room and fill it with warmth – this property of the color is especially important for dark kitchens facing north. In addition, light shades can visually expand the space.
However, this is one of the most dangerous colors in the spectrum because the abundance of too bright tones can become bothering and it is essential that it should be used in the right proportions, combinations and shades. Neon or acid shades can cause irritation and it is necessary to choose the right shades so that the interior is balanced and harmonious. All shades of yellow can be divided into warm, cold, soft, etc., but here are the main groups:
Bright shades: lemon, egg yolk, curry, etc. These are to be used as accent colors, so make sure you do not use them too much.
Moderate shades – mustard, sand, straw, sunny, peachy, etc. These are calming shades and even when used in large quantities, they will not cause irritation.
Light shades – champagne, custard, pastel, etc. ate suitable shades for the kitchen in any style from classical to traditional and from modern to minimalist.
Yellow kitchen ideas and design tips
How to introduce this sunny color in kitchen interior design and how to combine it with other colors? These are the most important questions that need to be answered. As we mentioned, if you overdo the kitchen with bright colors, the atmosphere can become annoying and irritating, instead of sunny, light and cheerful. Yellow does not work harmoniously with every color, so you need to select combinations that complement each other. Here are some options:
bright canary yellow and gray (both light gray and graphite);
yellow and white;
pastel yellow and turquoise or blue;
yellow and black;
light sandy shades and red or brown;
yellow and green.
If you choose yellow for the decoration of walls, then preference should be given to light colors, for kitchen furniture – moderate shades are a good choice with bright accents of accessories and textiles. If you really want to see a bright cheerful tone on the wall, you can opt for an accent wall and paint one wall with a bright saturated lemon or mustard color, and the rest of the walls in neutral gray or white.
Sours: https://deavita.net/yellow-kitchen-ideas-design-tips.html
1580
1581
1582
1583
1584