Vinyl Fence Styles and Colors
We Safely Install Year Round!
Vinyl Fence Styles and Colors
For style-conscious homeowners, front yard curb appeal starts with the right fence. For both practical reasons and aesthetic ones, vinyl fencing is often the best answer — in fact, it's the leading style fence in America. When choosing this material, you have a HUGE variety of vinyl fence styles and colors to complete your yard.
At Freedom Fence & Railing, we install fences that provide homeowners a lifetime of security and style. Plus, we have decades of experience of helping our clients find the perfect fence for their home and their look. Now we're sharing our wisdom with you.
Explore the wide range of vinyl fence styles and colors that you can choose from — and remember we'll ALWAYS give you a free fence quote.
3 Fence Styles to Choose From
From total privacy fences to the classic pickets, you can do quite a lot with your fence. These are the 3 most popular vinyl fence styles we install:
Traditional — Simple and elegant, this style of fence matches almost any outdoor style you can envision. With a flat top and clean design, traditional style fences can work with a modern decor or a classic one. While this fence won't block the gaze from your nosy neighbor, it's perfect for keeping your yard safe and secure.
Picket Style — The classic all-American fence updated for the 21st century. Perfect in white vinyl, picket fences are often used to create a nostalgic, Mainstreet USA style of front yard décor. These fences look gorgeous in front of old brick farmhouses as well as in new build colonial style neighborhoods.
Privacy Fence — A fence style that packs as much practicality as it does beauty, this vinyl fence style is your ONLY choice for ensuring total privacy. These solid panel privacy fences are tall enough that your neighbors will need a ladder to snoop on you. Plus, these fences look fantastic too — the clean modern lines of the panels match nicely with multiple styles of contemporary homes.  In fact, some of the more ornamental privacy fences have top rails that come with a whole catalog of interesting patterns.
Once you know the vinyl fence style you plan to build, the next step is choosing the right color. Let's jump in.
4 Fence Colors to Consider
Back in the day, vinyl came in white — and that was about it. Now, homeowners are demanding a variety of bold vinyl fence colors.
Whether you like the classic white or something new and eye-catching, you'll find it with Freedom Fence & Railing. Here are some of the most popular vinyl fence colors we install:
4 Fence Colors
White — The definition of simple elegance, white vinyl looks good with both dark and light-colored houses. White fences will attract some dirt overtime, so you'll have to hose them off once a year or so.
Tan — Another color that goes with anything, tan fencing looks fantastic matching tan-colored vinyl siding — as well as providing a contract to grey-colored siding.
Gray — A cool and modern vinyl fence color to consider, gray fencing is becoming a popular choice for homeowners who like to think differently. A solid gray fence panel is an excellent complement to white vinyl siding. Gray panels are often used alongside white posts and frames for a multi-dimensional style.
Wood Grain — If the rustic look is for you, this is the vinyl fence color you want. A faux wood grain exterior gives your property the look of natural lumber with all of the maintenance-free upsides of vinyl fencing.
So Many More — These highly-sought after styles are just the beginning. If you're planning around a color motif and you don't see it here, ask us. We can find something or recommend a perfect alternative.
Free Vinyl Fencing Quotes
Love these colors and styles? Fantastic.
Want to see more? We can make that happen.
These vinyl fence colors and styles are just the tip of the iceberg. To see even more gorgeous looks, schedule an at-home consultation with our fence design expert — and its like our showroom comes to you.  Not only can you decide on the style and color that are perfect for your curb appeal — but you'll get a free quote.
Contact us to start the conversation today.
Share This Post:
Working with George and Freedom Fence & Railing was great from the initial contact to final installation. His price was below other estimates received. This was a smaller job and quite often contractors will up charge for the hassle. The estimate from George was fair and the whole process was smooth. The fence was even installed ahead of schedule. Thanks George for providing great client service.
Nancijo P.
17:43 15 Mar 21
We dealt with George from freedom fence and it was a very pleasant process. George was very polite and managed to meet exactly what we wanted and more. The fence looks incredible and the installer did very professional work, showed up on time and worked the whole time he was there. We love the privacy and the grade of workmanship of the fence. Thank you George! We highly recommend Freedom Fence!
This is my 3rd fence project and by far was the Best of all by Feedom Fence.George was Great to deal with and knew exactly what I needed. With the pandemic going on I didn't expect the fence to come in this quickly but George got it done and installed.Thank you George for the high-quality work I wish I would've met you sooner.Ginger and I appreciate everything that you have done .
I was interested in replacing an outdated chain link fence, and was interested in pursuing options on my property. George promptly answered the phone, and set up a time to visit out property. While here, he was patient and detailed in conversation. An honest and fair bid followed. Through the process, George was willing to answer questions and make modifications based on decisions that we made. Installation was equally as smooth, and the installer (Chris) did a fantastic job. We were impressed with how quickly the fence was installed, and how great it looks. Overall I would strongly recommend working with George, and Freedom Fence LLC.
George was very easy to work with getting the estimate and fence install set up. The guys who installed did a great job! We are very pleased with our choice to go with Freedom Fence and Railing.
George and his team were fantastic. I needed a rather large privacy fence and am very particular. George came out twice to meet with us and walk us through what he could do. He quoted us a timeline and warned that rain and whatnot could cause delays. Despite his disclaimers, the house was started on time and finished early. My giant fence is awesome and definitely gave me my privacy back!
A large section of a wooden fence surrounding our property was in serious need of replacement. The guys who did the work were polite, worked hard and finished in a timely manner, even working one day in the rain. We are very pleased with the job and with the results. Looks great and is very sturdy.
I contacted several fence companies to get price quotes for 6' privacy fencing while we were getting ready to close on first home we purchased in March. Most companies would give me a hard time about getting an estimate because we didn't have access to the property or the job bids were WAY to much. I felt blown off by a lot of companies. I found George and Freedom Fencing through a google search and gave him a call. He was so helpful and knowledgeable and walked us through the process. He came and met us at the house, walked the property and worked with us to Find the right option for Our budget and needs! George is very honest and helpful and I felt like I could trust him. We talked about timeline and wanting to have the fence installed the week we closed so we could have a fenced in yard for our dog the day we moved her in and he made it happen. The day the workers started I was amazed. They were all great guys. The worked hard. I also felt like I could trust them. We had to leave our screened in porch unlocked to accommodate their work schedule as we were going back and forth from our rental property and the new house and I never thought anything about it because they are good people. It took them 3 days complete the fencing and we couldn't be more pleased with their work. I HIGHLY recommend George and his guys. We have them booked for late summer to come and finish fully closing in our yard since we left some chain link up to save some money on a tree lined side of the property - which was George's idea when we were going over our budget! We can't wait to have them back to finish the project and I would recommend him and his guys a million times over to anyone who is looking for a great company and a great fence! You won't be disappointed!!
We can't say enough great things about George and Freedom Fence! George was very responsive from the first initial inquiry we made. We had several other companies quote us and felt that George and his company were the fairest in terms of pricing and size. George was very responsive to all emails and additional information that was needed for our HOA and in addition worked with our schedule in terms of install. The guys George has installing the fence are great – they are knowledgeable, hard workers and very efficient. We are so happy we went with Freedom Fence and Railing and would highly recommend them to all! Thanks for a great job, guys!
valarie P.
13:05 17 Apr 20
Willing to work in inclement weather, the men showed up when they said the would. The owner George and staff were very polite. I would definitely use them again.
Any questions I had, George was quick to respond. Great repair job on my backyard vinyl fence that fell over due to wind. I would recommend freedom fence and I would use them again in the future.
Communication was excellent and the installer did a great job. Our railings are beautiful. Highly recommend working with George and his team.
George and his crew did a great job and were quick to respond to my questions and also got the job done quickly! I would recommend Freedom Fence to anyone.
Freedom Fence was the lowest bid after receiving two other bids that were higher and several other companies who never responded to my inquiries. There was some difficulty getting township approval and the company's response was very gracious. Ultimately the fence was erected and looks great. I highly recommend this company!
I had a great experience with Freedom Fence and Railing. The price and quality is great. George took care of everything from start to finish. We let George know when we had the fence completed and him and his team delivered even after they received the fence late.
This is our second experience dealing with George L, it being the first time with his own company. George is a rarity in this day and age. His sole personal interest and professional business concern is to provide you, the customer, with the best possible products, at a very competitive price, installed in a most timely and responsible manner by a highly-skilled, experienced, and courteous crew, all based on meeting your individual needs and expectations. Also, George and company's commitment to addressing any after-installation issues in a timely manner is greatly appreciated. In short, George and his staff at Freedom Fence and Railing faithfully adhere to, and practice the "Old School" business ethic in these current times. Thank you, George! B&G Roman, Beaver.
Very good customer service. Offered a discount before we asked. Workers were very experienced and thorough. Paid a lot to detail. We highly recommend these folks. Each time we needed to contact the owner he was immediately responsive.
Good hard working guys.excellent work, knowledge. Would recommend them. They need a raise.
I can't say enough good things about Freedom Fence. From the initial consult with George, my wife and I knew we found the right company. The level of professionalism and attention to detail were second to none. We received quotes from 2 other big name companies in the Pittsburgh area and George was more competitive and able to install much quicker. If you're looking for someone to install a fence with the highest quality at a competitive rate - do yourself a favor and give Freedom Fence a call. Thanks again!
I had a few estimates to have our yard fenced in and Freedom Fence was the best price. The owner, George, was very professional, kind and wonderful about communication. The guys that came out to do the installation, Rick and Ryan, were hard workers and did an AMAZING job! The fence looks even more beautiful than I could've imagined, I would very highly recommend this company to everyone!
Good company to work with. Pleased with the railing we got.
George and his crew were great to work with! I'd called around for about a week trying to get a bid on my fence installation to various installers, and everyone else I had called either wasn't available until sometime in the fall (😑) or couldn't even come out to give me an estimate until the end of July... or later (😑😑). But George responded promptly to my email inquiry, called me asap, and we set up a consultation at my property that same week. He was able to have my fence installed in less than 2.5 weeks from my initial consultation. Installation was fast (2 days for a privacy fence), and my fence and gate look super nice! I'm so happy with the aesthetics of my fence, it looks better than what I had imagined. I'm also happy with how I was communicated with throughout the whole process (from estimate, to getting a date set for the install, to being able to view and sign my contract digitally). George was prompt with guiding me through the whole process. Next year I will be contacting them for some possible railing work and possibly more fence on my property as well as my family's other property. Thanks guys!!
Excellent job! Did a railing porch and front steps; white vinyl plastic. It was done within about 3 weeks. George does a great job keeping you updated every step of the way, and promptly answering questions. Job took about a day, and quality was fantastic. Reasonable pricing, and lots of options for any type of job Highly recommend to anyone.
I had contacted other fence companies and George was the first one to call me. Another company had left a quote, but for a shorter fence. When I talked with George he answered all my questions as I had two different size driveway gates that had to be custom made. When all was said and done my wife and I were very pleased with the work performed and the end result. I've already contacted him about replacing another fence. Would recommend to others.
I am a very pivky person on who does work at my house. I contacted several companies. George and his technicians wer amazing. Very helpful in getting the job done quickly and correctly. The price was affordable and with great service and a warranty. The installation team was very nice, professional and organized. Cleaned up the whole site afterwards! I will definitely use them in the future.
Sours: https://www.freedomfenceandrailing.com/blog/project-planning/vinyl-fence-styles-colors
Vinyl fence color affects the look of your home's exterior. Before you opt for traditional white (even though that's a top-notch choice), make sure you consider all your options so you don't have buyer's remorse later! Also, you should know why a white vinyl fence color reigns supreme when it comes to fencing materials.
Why Dark Colors Aren't Used More
With all of society's modern technological advancements, one serious problem still has yet to be solved: how to prevent a dark vinyl fence color from fading.
There's something special about white: It retains its brightness over time. In Utah's unforgiving wintry climate and harshly hot desert summer, dark colors don't stand a chance.
Of course, it is possible to purchase a darker vinyl fence color, as long as you are aware of this fact and resigned to it. The good news is if you're absolutely against white, then lighter colors like almond, tan and khaki are options that don't fade as much as darker shades.
Find Out About HOA Regulations
Before you decide one way or another, it's important to check your homeowners association rules and regulations.
Many organizations have clear guidelines on the color fencing you're allowed, and it's usually white. It's better to check beforehand to save yourself lots of money on wasted materials and installation costs, only to have your neighbor complain.
Enjoy the Best Vinyl Has to Offer
The great feature about vinyl fencing is that no matter what color you choose, you will enjoy some outstanding benefits. Vinyl is easy to keep clean. It doesn't require any maintenance, it adds value to your property and it looks beautiful.
And if you choose a lighter color or plain white, you will enjoy that beauty for decades — no fading in sight.
Create a Unique Design
Are you worried your white vinyl fencing will look the same as every other fence in Utah?
It's a common concern, but easily remedied with our wide selection of fence styles. You can add toppers to fence posts that fit your unique style. You can opt for a privacy, picket or rail fence. Just talk to our team about what you picture for your one-of-a-kind combination.
Take into Account Your Home Color and Style
Finally, make sure your fence color jibes with your home's style. If your home has tan trim, a beige fence might look the best. For bright white wood and door frames, drawing the white into the vinyl fencing is a picture-perfect choice.
Trust Utah Fence Warehouse for your next fencing project. We'll help you decide on the ideal vinyl fence color based on your home and your preferences. We offer great prices too!
Sours: http://www.utahfencewarehouse.com/blog/how-to-choose-the-right-vinyl-fence-color/
Most Popular Vinyl Fence Colors & Combos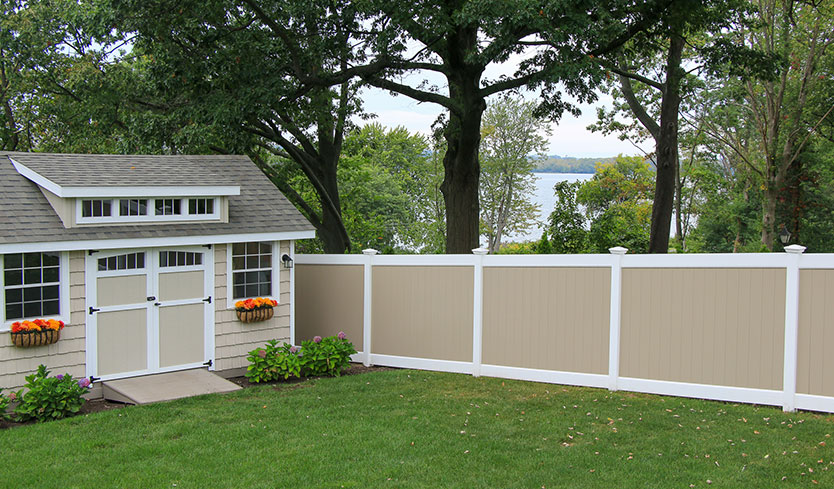 The outdoor decorators, Pinterest lovers, and HGTV enthusiasts know that EVERYTHING is an opportunity to carefully craft your home's curb appeal. While chances are you're buying a new fence for the safety or privacy it provides, we're willing to bet if you're reading this blog, you expect your new fence to be beautiful, too. In our latest blog, our designers are highlighting the most popular vinyl fence colors that make an immediate impact on home style.
GreenWay Fence & Railing Supply is one of the nation's leading vinyl fence manufacturers. We build a wide range of different models meant to provide safety and a true sense of outdoor style. We've seen it time and time again — the right vinyl fence color can be the missing piece that completes your yard style.
7 PVC Fence Colors to Consider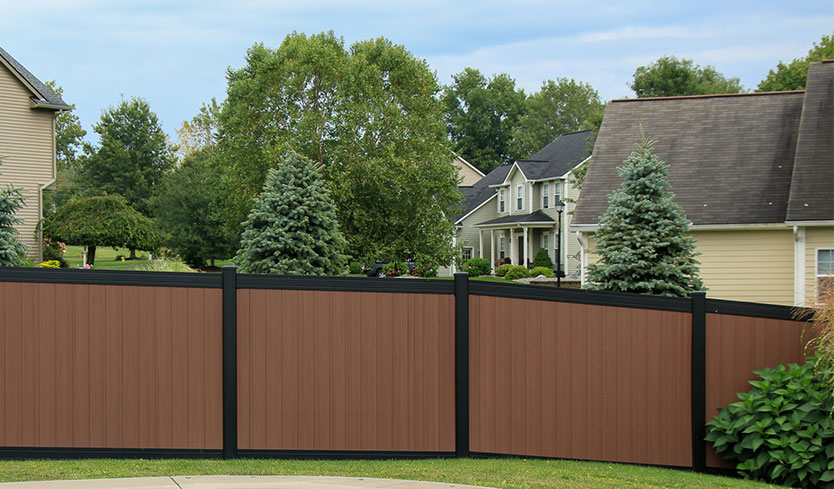 High-quality vinyl fences will last a lifetime — and that's why we strongly recommend making sure the style and color complement your décor. Our fences come in both single and two-tone varieties which makes for a more sophisticated outdoor style. These are some of the PVC fence colors that are our best sellers and match with almost any outdoor decor:
White — The classic. A white vinyl fence is the most popular for a reason: its elegant look matches almost any home and any style. We recommend white to homeowners who don't want to commit to a strong stylistic statement but want to have an attractive curb appeal that will never go out of style.
Tan — Another fence color that almost everyone can agree on. Next to white vinyl, this is our most popular single shade. The fairly neutral hues make for a great complement to white, gray, and even matching tan homes.
Certagrain Texture Wood — This is a popular upgrade to replace an old, wooden fence that has seen better days. The faux wood grain vinyl fence color provides a rustic feel but with all of the maintenance-free advantages of vinyl.
Gray & White — This fence color combo is certainly a statement piece. This model of fence pairs a white vinyl frame with a gray infill panel. Since both gray and white pair well with numerous home siding colors, this can be an excellent fence to pair with white bold siding choices.
Tan & White — This is our signature two-tone fence color combo. The white and tan vinyl is such a winner because it ties in perfectly to either white OR tan vinyl siding, two of the most popular colors in contemporary home building. Two-tone fences are quickly becoming the biggest trend in luxury fencing — this is your chance to stay ahead of the trend!
Black & White — A PVC fence color choice for the bold. The pairing of a dark privacy panel with a white vinyl frame makes for an extremely eye-catching profile. While this isn't for every outdoor decorator, it can make a big statement, especially when paired with a home with dark-colored siding.
Brown & Black — Another bona fide hit, this luxury fence is an absolute favorite. The brown privacy panel matches extremely well with the black frame (which, in this case, is aluminum.) While there's no question the effect is dramatic, it is still a VERY safe pick, matching well with light and dark home siding.
Custom Fence Combinations Always Available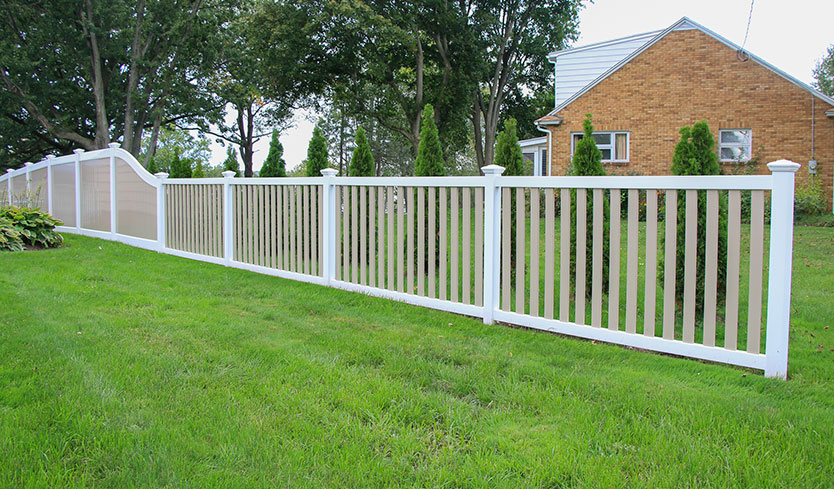 While these are some of the favorite PVC fence colors — for both our customers and our designers — these options are just the tip of the iceberg. At GreenWay Fence & Railing Supply, we are able to build you a custom fence to match your completely unique style needs.
That's just one of the advantages of working with your local fence manufacturer. So whether you're a contractor looking for an edge or you're a homeowner with a unique style, we'd love to build something for you.
Get inspired by some of our custom-made fences.
Visit Our Showroom to Find Your Favorite Vinyl Fence Color
We hope these vinyl fence colors have you thinking about your design and your outdoor style. Whether you're working with a fence contractor to complete your project or you're building it yourself, we have everything you need.
If you're local to Lancaster County, we'd like to invite you in to our showroom to see our samples in person. While a picture can say a thousand words, many homeowners find it valuable to check out our PVC fence colors in person. Contact us to buy your vinyl fencing or to schedule a visit to our showroom!
Share This Post:
Sours: https://www.greenwayfence.com/blog/fence-planning/vinyl-fence-colors
What Fence Should I Buy? Cedar vs. Vinyl
Outdoor Style Trend: Tan Vinyl Fencing
Share This:
White vinyl may be the most popular fence in many neighborhoods across America, but it just isn't for you. If you want a luxury fence that stands out in a white picket world – while fitting the elegant suburban aesthetic – tan vinyl fencing is perfect. In today's blog, we're showcasing the beautiful styles of tan PVC fences – get inspired to bring one to your home!
At Smucker Fencing, we install a wide range of fencing in Chester and Lancaster Counties. We offer turnkey service for clients, doing everything from helping you select the right fence to installing it. If you're ready to take the next steps, our team is ready to work with you. However, if you want to learn more about why the tan vinyl fencing trend is growing in popularity, keep reading!
5 Reasons to Love Tan PVC Fences
Stands Out Compared to White Vinyl  – While tan fencing is a safe choice, it is also something of a style showstopper. It's a perfect fit for a neighborhood, but it WILL make your home stand out, too. In a neighborhood where the vast majority of homes are surrounded by tall white fences, tan can be the curb appeal difference-maker.
Matches Popular Home Colors – When deciding on a fence color, one of the most important things to consider is what matches the color of your siding. Fortunately, our light shade of tan looks exceptional matched with almost all of the most popular home siding colors, from white, to gray, to blue, and many more.
Looks Great in Privacy or Picket – Whether you're planning on a full 6-foot privacy fence or a more modest picket option, tan simply looks great. We install a wide range of tan PVC fences – and the color looks fantastic, regardless of the style you choose.
Has Two Tone Options – An eye-catching and elegant style combination, two-tone tan vinyl fencing is an increasingly in-demand style. This two-color fence combines tan privacy panels with a contrasting white vinyl frame. This beautiful two-tone look just simply isn't possible with plain white fences, so it always stands out.
Looks Great Next to In-Ground Pools – One of the most common reasons homeowners shop for a new fence is because they just got a new pool. Installing a tall privacy fence keeps your new pool in accordance with local pool codes and keeps it out of sight from the neighbors. When it comes to the right look to go with your poolside oasis, tan vinyl fencing is one of the most attractive choices. We've heard time and time again how tan privacy panels match very well with the cement of an in-ground pool.
Learn more about the common pool fence laws.
Why Vinyl is a Great Choice
Whatever color you choose, vinyl is a great fencing material. Not only is it a stylish material that enhances the look of your home, but it is a practical option, too. Here's what makes ALL vinyl fences a smart buy:
• Lasts 50+ years – Vinyl is a durable material that lasts several decades. This means you'll never need to worry about paying to replace your fence. Learn more about how long a fence lasts.
• Vinyl never needs repainted or re-stained – While traditional wooden fences need to be repainted or re-stained to look their best, all vinyl needs is some light spring cleaning.
• One of the best privacy options – Tall and solid, vinyl offers some of the best privacy options on the market.
• Great for dogs – Since vinyl fences have numerous options that are built using solid panels, vinyl fences make a great solution for keeping escape artist dogs safely in the yard.
Get Your Fence Installation Quote Today
Whether you know you want tan vinyl fencing or you still have questions about other styles and colors, we're here to help. The next step is to reach out for a conversation about the right fence for your home. Our experienced team can give you style suggestions as well as a free, no obligation quote. Reach out today to get started!
Share This:
Sours: https://www.smuckerfence.com/blog/planning-your-fence/outdoor-style-trend-tan-vinyl-fencing
Tan white fence vs vinyl
What Color of Vinyl Fencing Should You Choose?
You've decided to get a vinyl fence for your own property, so what color should you choose?  As you know, vinyl fencing is now one of the most popular choices among property owners due to it's durability and visual appeal.  Vinyl fencing also requires little to no maintenance at all (Just occasional washing if you prefer).  One of the very few limitations that vinyl fencing has is that it is not available in every color.  This is because vinyl is constructed utilizing light colored polymers, and dying the fence polymers to darker colors could result in the fence eventually fading.  Due to this fact, we are one of the fence companies Utah consumers can count on to find a quality Utah fence in white or tan color.  Other manufacturers offer the same color scheme.
Choosing a color can also have slight cost implications (beige vinyl color costs slightly more money than white).  Of course, white vinyl fencing is the most popular vinyl fencing color.  As the owner of your own property, use your best judgment.  If your home exterior is comprised of darker colors and darker landscaping, you may want to utilize beige as a color for your Utah fence that is right for you.  Also, you may want to ask yourself if you want your fence to be the focal point of attention.  If that is the case, and your house colors are darker, than white may be the ideal color for you.  My house implements darker brown colors, so we decided to purchase a beige fence from Vinyl Industries.  The fence matches our house colors quite nicely, leaving our home as the focal point of attention rather than our beige vinyl fence.  If you still cannot make a decision, look around your own neighborhood.  Chances are that many homes in your own area share similar characteristics to your own home and even share the same fence color.  Give us a call at Vinyl Industries.  We are one of the few fence companies Utah consumers can count on to send an actual certified consultant that will give free advice regarding this important decision!
Sours: https://www.vinyli.com/what-color-of-vinyl-fencing-should-you-choose/
The PERFECT Fence Lights!
Which Vinyl Fence Colors Should I Choose?
Vinyl fencing has quickly become one of the preferred fencing choices amongst builders and homeowners for its durability and clean look.  It has the ability to look great for extended periods of time with little maintenance.  Maintenance generally includes simply washing the fence like you would your car.
However, vinyl does have its limitations; it is not available in every color.  Vinyl fence colors are limited because vinyl is made using light colored pigmented products and dying the product a dark color would result in fading over time.  Because of this, vinyl is generally only offered in lighter colors such as white, almond, or tan.   Each manufacture generally offers white but will have different color variations of a beige or tan colored product.
What colors are the most popular?  The answer varies depending on where you live.   White vinyl fence is the most popular color almost anywhere you go, especially in the northwest, Midwest, and south.  On the west coast, almond colors are more apparent.  In the southwest, beige and almond colors are growing in popularity as they blend well with the desert and housing color schemes chosen in that region.
As a homeowner, use common sense.  If your house uses a lot of dark colors and dark colored landscaping, you may want to steer away from white and uses a beige color that will not be so drastically different.  Ask yourself, do I want this product to blend or be the focal point.  If you want it to really stand out, like that picket fence in the front of your ranch style house, white vinyl fence is for you.  If you want it to blend in with the other features of the house, go with a lighter color.  I have a tan colored house and did a white pergola and it really stands out.  If I could do it again, I would probably have chosen an Almond vinyl fence color, but, it works and looks great and I get a lot of compliments about it.
When in doubt, look around and see what others are doing, there is probably a reason for it.  Which vinyl fence color do you prefer and what are the reasons for your choice?  What are some other good tips about selecting the appropriate vinyl fencing colors?  Please share your thoughts in the comments below.
Sours: https://www.buydirectvinylfence.com/blog/which-vinyl-fence-colors-should-i-choose/
Now discussing:
How Do You Pick the Best Vinyl Fence Color?
Of all the fence installation materials being offered by contractors, the vinyl fence is considered to be the new kid in the block.
But this didn't stop homeowners from driving up the demand for the said material, making it one of the top choices for fence installation across the States.
If you happen to pick vinyl as your property fence, the only issue you will encounter is selecting a color.
Well to begin with, how do you even pick a vinyl fence color? Although picking a vinyl fence color is not necessarily a problem, it can still be pretty stressful if you are having a hard time deciding. Not everyone is born to be instantly decisive.
To help you escape this dilemma, Big Easy Fences made this helpful guide with important tips in selecting the best vinyl color for your property.
Hopefully, this will finally make you decide without inhibitions.
What are the Most Popular Vinyl Fence Colors?
In the housing market today given the advancement of technology, there are multiple color options that you can choose from.
However, most contractors and house developers often suggest the basic vinyl colors for various reasons.
These colors are also considered the most popular vinyl fence colors so picking from these top choices would be highly reasonable.
1. White Vinyl Fence
White is considered to be the classic color of vinyl fences.
For this reason, a white vinyl fence is the most popular choice for most homeowners.
This is because white is a neutral color that will complement whatever surrounding it is subjected to.
So matching and styling with the house landscape won't be a problem. The downside is dirt may be easily seen on this color compared with other color palettes.
2. Clay Vinyl Fence
Another popular and common vinyl fence color is clay.
Sometimes, this vinyl color is called adobe or khaki vinyl.
Clay is also considered a neutral color that will complement most house-style colors and landscaping.
3. Tan Vinyl Fence
Tan or beige vinyl fence is also one of the top choices for vinyl fence installations. This color will match both tan vinyl siding and grey siding.
4. Gray Vinyl Fence
If you want a cool-looking curbside or landscape, a gray vinyl fence would be a great choice.
This will greatly complement white vinyl fence siding as both colors are appealing to the eyes.
5. Woodgrain Vinyl Fence
For homeowners who want to achieve a natural look that would resemble the wood color and texture, woodgrain vinyl is the choice to pick.
The rustic appearance of this vinyl color will also match most of the landscape styles.
6. Black Vinyl Fence
The black vinyl fence is not as popular as the white color but it is still a great choice especially for homeowners who don't want frequent cleaning of the fence.
7. Combination Vinyl Fence
The combination color vinyl fence is becoming very popular nowadays since it gives homeowners the option to have two colors.
Great combination colors include gray-white vinyl, black-white vinyl fence, and brown or woodgrain-black vinyl fence.
Considerations on How to Choose the Right Vinyl Fence Color
1. Budget
Budget is a major consideration related to picking the right vinyl fence color for your property.
The national average of vinyl fence installation goes around $4,000, from as low as $2,500 to as high as $6,000.
Driving influences that go along with color are the height and perimeter of the vinyl fence.
The best price on vinyl fencing, the more expensive it will be. Likewise, the larger the perimeter of your property to be surrounded by the fence, the more expensive it will also be.
Vinyl colors vary in terms of pricing, even when the dimensions such as height and length are the same.
Colored vinyl fences tend to fetch the highest vinyl fence costs because their manufacturing processes are more complex.
Meanwhile, a white vinyl fence is the cheapest option costing around $25 per linear foot. This may be a reason why white vinyl fences are always in demand.
The black vinyl fence on the other hand is considered to be the most expensive color choice. It averages around $60 per linear foot, more than double the price of white vinyl.
2. Color and Style of House and Landscape
A consideration that goes hand-in-hand with the budget is the aesthetic appeal of the vinyl color.
Your color pick for the vinyl fence should match the color, style, and appearance of your house and landscape.
The fence should be treated as like an extension of the house so both looks need to be cohesive.
White vinyl fence tends to complement or go along with most house colors and landscape styles.
If you want the fence to match your cool and chic house style, perhaps picking the black color is your best bet.
For some homeowners, having the same color of the house and fence is of utmost importance.
So if your house has shades of beige, the tan vinyl fence is the way to go.
On the other hand, to complement the earthy and greenish appearance of one's landscape, going for the woodgrain vinyl fence is a fabulous choice.
3. Cleaning and Maintenance
An often overlooked consideration but is very significant is in terms of cleaning and maintenance.
Light and bright colors like white will always accumulate the most dirt and stain.
In contrast, dark colors like black vinyl and woodgrain vinyl would not immediately stain from dirt, mud, or other debris.
So if you don't have the luxury of time to maintain and frequently clean your fence, dark-colored vinyl fences are the fitting picks for your property.
4. Vinyl Fence Regulations
While you can always pick the color you want, some homeowners associations have their own regulations which include fence colors.
This may be because the association wants the street look to be cohesive and neat.
Most of the time, these associations pick white as their vinyl fences.
To help you more on how to pick a vinyl fence color, you may contact us at Big Easy Fences.
---
More from Big Easy Fences
Why Is Wrought Iron So Expensive?
How to Prevent Rot in Wooden Fences?
Big Easy Fences has been serving residents in New Orleans with different fence products and installations.
We offer wood fences, metal fences, as well as gates in different styles.
Sours: https://www.bigeasyfences.com/vinyl-fence-for-home-and-yard-styles-and-colors/
1555
1556
1557
1558
1559