T-Mobile's 600MHz 5G peaks at roughly 225Mbps, but there are caveats
Join gaming leaders online at GamesBeat Summit Next this upcoming November 9-10. Learn more about what comes next.
---
I was actively worried — and somewhat confused — going into testing of T-Mobile's first 600MHz "low-band 5G" handset, the OnePlus 7T Pro 5G McLaren. On the same day it flipped the switch on its nationwide 5G network, T-Mobile told customers to expect only a 20% improvement over LTE download speeds, an unimpressive promise made only after extensive discussions with its network engineering teams. While some areas will see 2 times LTE speeds, it says, the national average will be more modest, and the Un-carrier doesn't want to over-promise performance.
To be blunt, that sounds awful. 5G was pitched as promising 10 times 4G/LTE performance, if not more, and in tests of Verizon's and Sprint's consumer 5G networks, I've personally seen peak speeds in the 500 megabits per second (Mbps) to 2 gigabits per second (Gbps) range, which is to say nearly 100 times faster than what many people experience on LTE today. Why even sell a new phone as "5G" if it's only going to be a little faster than the prior-generation technology?
Thankfully, my initial testing of T-Mobile's low-band 5G network revealed a more complex reality than the company's conservative figure. The good news is that low-band 5G downloads peaked at 227Mbps, 2-4 times faster than T-Mobile's LTE service at the same locations, and far higher than the aforementioned 20% estimate. But the bad news is that you won't always achieve the peak speeds, and — surprise — early T-Mobile 5G phone adopters can't actually use 5G for tethering, only smartphone service. More on that below.
Above: T-Mobile radio engineering SVP Mark McDiarmid discusses the company's three-layer 5G strategy using a cake with Sprint's mid-band in the center.
Image Credit: Jeremy Horwitz/VentureBeat
It's important to put T-Mobile's current 5G situation in proper perspective. The third place U.S. carrier has spent the better part of the past two years advancing a three-tier 5G strategy that was subsequently embraced by other carriers across the world, including its domestic rivals. 5G will begin with a blanket or base layer of slow but long-distance, low-frequency (600MHz) coverage; continue with faster, medium-distance mid-frequency (2.5GHz) towers; and end with super-fast but short-distance high-frequency (millimeter wave) small cells. T-Mobile is building the low- and high-frequency 5G parts itself, and will — assuming the merger goes through — integrate Sprint's mid-frequency 5G network next year.
What we're talking about here is solely the performance of that low-frequency 5G blanket, or what you'll see in 5G performance when you're not close to one of the shorter-distance, higher-frequency cell sites. To that end, T-Mobile loaned me a OnePlus 7T Pro 5G, the newer cousin to the OnePlus 7 Pro 5G I've been testing on Sprint's network since August. Because I (and other early testers) are attending a Qualcomm Snapdragon Tech Summit in Maui, Hawaii and can't escape the island until later this week, my results may differ from what you'll see on the mainland.
Using Ookla's Speedtest, my 5G download speeds ranged from atypically low 3-33Mbps results to a high of 227Mbps, though most of the numbers were in the 100Mbps range. I was able to pull down 100-150Mbps speeds while standing on a beach with no obviously apparent cell tower, speeds that on LTE generally required me to be within a tower's line of sight. Upload speeds were typically in the 25-54Mbps range, similar if not identical to what I've seen from T-Mobile's LTE network, with the odd occasional stall-out. That's because T-Mobile says it's currently using LTE for uploads, and expects to use 5G for uploads next year.
It's worth briefly noting that my results were almost always better on the T-Mobile OnePlus 7T Pro 5G than on a new iPhone 11 Pro on LTE. That was also the case with the Sprint OnePlus 7 Pro 5G, but by a wider margin in Sprint's favor — the difference being that T-Mobile's 5G service is far more available across the U.S. than Sprint's 5G, so you're more likely to see it wherever you live.
While my highest tested speed on T-Mobile's low-band 5G network was achieved on the terrace of a rooftop hotel restaurant, standing in just the right place, I also hit 130-199Mbps speeds in my hotel room without even walking over to the window or holding the phone in some awkward position. T-Mobile has touted the building-penetrating characteristics of its 600MHz network as a major advantage over competitors, as well as millimeter wave 5G, which can be snuffed out by some (not all) window coverings and walls.
Above: T-Mobile 5G on left, Sprint 5G on right.
Image Credit: Jeremy Horwitz/VentureBeat
So that's the good news — T-Mobile's big 5G blanket has a good chance of leaving you feeling warmer and fuzzier than you've felt with 4G. The bad news is the company's 5G phone situation, which is a mess, and its tethering situation, which is also a mess.
Despite working on its three-tier 5G initiative for several years, T-Mobile relies on chipmakers such as Qualcomm and OEMs including OnePlus and Samsung to actually produce the modems and phones to support its 5G network. The OnePlus 7T Pro 5G I'm testing works on T-Mobile's low-band 5G network, but not on its multi-city high-band 5G network. If the merger goes through, it will also offer 5G on Sprint's mid-band 5G network. T-Mobile's version of Samsung's Galaxy Note10+ 5G apparently has the same characteristics, though the South Korean company does produce a Note10+ 5G variant with millimeter wave support.
If there's any silver lining to this cloud, it's that the merger offers hope that early T-Mobile 5G adopters will see even faster speeds in the coming year without having to buy new devices. As shown above, the Sprint OnePlus 7 Pro 5G delivers roughly twice the peak performance on mid-band, compared with T-Mobile's peak speed on low-band. But without the merger, who knows. And bear in mind that the first phones with guaranteed support across millimeter wave, mid-band, and low-band 5G are expected to hit the market in early 2020.
Above: The OnePlus 7T Pro 5G McLaren is one of T-Mobile's first two low-band 5G phones.
Image Credit: Jeremy Horwitz/VentureBeat
The status quo isn't a good situation for consumers. And T-Mobile says that "due to initial 5G chipset limitations, all tethering traffic will be handled via LTE," a capability it expects to make available next year via a software update. At this point, USB tethering appears to be completely disabled at the Android OS level. Oof.
For the time being, I personally wouldn't buy any of T-Mobile's early 5G phones. There are now two Samsung Galaxy options: the S10 5G, with only a handful of cities' worth of millimeter wave support, and the Note10+ 5G, with low-band 5G but no millimeter wave. Alternately, there's the far less expensive OnePlus 7T Pro 5G, which looks like a tribal-tattooed 7 Pro but packs a (barely) faster Snapdragon 855+ chip, faster screen refresh rate, and other small but welcome improvements. None supports T-Mobile's entire 5G network.
Above: T-Mobile's OnePlus 7T (right) variant looks and feels extremely similar to Sprint's OnePlus 7, but packs a slightly faster processor, the Snapdragon 855+ rather then the 855.
Image Credit: Jeremy Horwitz/VentureBeat
As a daily T-Mobile user, I'll be waiting on a phone that supports all three of the 5G tiers promised to customers. But for now I'm glad that even the lowest tier appears set to deliver performance superior to 4G.
VentureBeat
VentureBeat's mission is to be a digital town square for technical decision-makers to gain knowledge about transformative technology and transact. Our site delivers essential information on data technologies and strategies to guide you as you lead your organizations. We invite you to become a member of our community, to access:
up-to-date information on the subjects of interest to you
our newsletters
gated thought-leader content and discounted access to our prized events, such as Transform 2021: Learn More
networking features, and more
Become a member
Sours: https://venturebeat.com/2019/12/05/t-mobiles-600mhz-5g-peaks-at-roughly-225mbps-but-there-are-caveats/
T-Mobile US customers 'get better 5G performance' after network switch
22 February 2021 | Alan Burkitt-Gray
Performance of T-Mobile US's 5G network has improved significantly in both urban and rural areas, according to Opensignal research.
The company has found that 5G availability in urban areas increased from 26.9% to 30% in the month following a network switch, while 5G availability in rural areas grew by 3.6 percentage points and reached 28.1%.
According to Opensignal senior technical analyst, Francesco Rizzato, "T-Mobile's standalone 5G network has significantly increased its average 5G availability across both urban and rural areas, but actually benefited rural areas the most, as that is where T-Mobile users were now spending the largest proportion of their time connected to 5G, thanks to SA [standalone]."
The network change that has boosted availability of 5G is the decision by T-Mobile US — which is owned by Deutsche Telekom — to move from a halfway house form of 5G, called non-standalone access (NSA), to standalone access (SA), where a smartphone connects exclusively to 5G signals and uses a modern 5G core network.
In the earlier, NSA, version of the network technology, phones need a combination of 4G and 5G at all times. T-Mobile US is one of the first operators to move to 5G SA.
"In our latest US 5G country report we found that T-Mobile's mobile experience — including 5G availability and 5G download speed — improved significantly compared to six months before," writes Rizzato in the Opensignal report.
He notes: "Our users did not experience faster speeds on SA 5G, because of the way T-Mobile has focused its use of SA on extending 5G availability using its 600MHz band. This is likely to change in 2021, as newer smartphones arrive that are able to connect simultaneously to both T-Mobile's 600MHz and 2.5GHz 5G bands."
However, there are some disadvantages in the switch to SA. "Mobile users experienced faster average 5G download speed on NSA compared to SA, reaching 64.4Mbps in urban areas and 53.4Mbps in rural areas," says Rizzato.
"By contrast, the average 5G download speeds we observed for users connecting with SA across urban and rural areas were 28.6Mbps and 30Mbps, respectively.
"This difference in download speeds experienced on SA and NSA networks was likely due to the fact that the NSA connection used additional bandwidth from mid-band 4G/LTE, while the SA connection only used the 600MHz band."
This is a temporary problem, he says, because of smartphone limitations during last year's survey. "Smartphones arriving from January 2021 fix this limitation and this will make it easier for T-Mobile to offer its SA service more widely," he says.
"As T-Mobile users adopt the latest smartphone models that support 5G carrier aggregation of its low-band and mid-band spectrum, we expect T-Mobile will expand the use of SA and its users' average SA download speeds will likely rise as a result."
Sours: https://www.capacitymedia.com/articles/3827775/t-mobile-us-customers-get-better-5g-performance-after-network-switch
Learn about coverage and technologies of the T-Mobile network, needed for your device to connect.
5G & 4G LTE Coverage map
T-Mobile is America's largest 5G network and covers more people and places than anyone else.* While our 5G network continues to expand, you can count on our 4G LTE network that connects 99% of Americans.
Access our 5G & 4G LTE coverage map from your computer or mobile device.
Enter your address or a landmark, then press Enter or choose an item in the drop-down list.
View the coverage in that area. You can also do the following:

Click or tap and hold to drag to move the map around.
Tap a location to get a pop-up with detailed coverage information.
Use the + and - icons to zoom in or out. You can also pinch to zoom.
Switch off 5G at the top to see where you're covered with 4G LTE.
5G Capable device required. Coverage not available in some areas. While 5G access won't require a certain plan or feature, some uses/services might. See coverage details, Terms and Conditions, and Open Internet information for network management details (like video optimization).
If your phone has signal problems where we have coverage, see Signal issues / no service troubleshooting.
Device compatibility
Quick tip! Easily check your phone's compatibility with our network using the IMEI Status Check. No need to compare network frequencies or device lists!
Find the networks a T-Mobile device supports by checking your Device "Tech Specs" page (or, for non-T-Mobile devices, check with the manufacturer).
To connect to the local network, your device must support both our network frequency (band) and the technology (5G, 4G LTE, 3G, 2G).
T-Mobile network frequencies & technology
You can check if your phone supports the T-Mobile frequencies below in order to connect on our network. This can get technical, so it's a lot simpler to just use the IMEI Status Check if you have the device already.
Devices often support more frequencies than these, in order to roam on other domestic and international wireless networks. They are not needed on the T-Mobile network.
Extended Range (XR) 5G
With Extended Range 5G, you'll receive nationwide coverage, faster speeds than our 4G LTE and a reliable connection indoors and out from the big city to rural areas.
Frequencies that can provide XR 5G:
Check out What is 5G? to learn how it works!

Ultra Capacity (UC) 5G
With Ultra Capacity 5G, you'll experience a performance boost, a reliable connection in crowded locations, and speeds as fast as Wi-Fi.
Look for the newly released icon on your iPhone or Android screen (in coming months) to know when you're in an area with our fastest speeds!
Frequencies that can provide UC 5G:

Band n41 (2.5 GHz)
Band n258 (24 GHz)
Band n260 (39 GHz)

Band n261 (28 GHz)

Check out What is 5G? to learn how it works!

Speeds as fast as Wi-Fi based on analysis by T-Mobile of Speedtest Intelligence® data from Ookla® U.S. median 5G T-Mobile results compared to mobile Wi-Fi results from cities with 2.5GHz speeds for Q2 2021. 2.5GHz available only in select cities (see t-mobile.com/5GLayers). Ookla trademarks used under license and reprinted with permission.
Extended Range 4G LTE
Frequencies that can provide Extended Range LTE

Band 12 (700 MHz)
Band 71 (600 MHz)

Our Extended Range LTE signal reaches 2X as far and penetrates walls for 4X better coverage in-buildings than ever before.
4G LTE
Frequencies that can provide LTE:

Band 2 (1900 MHz)
Band 5 (850 MHz)
Band 4 (1700/2100 MHz)
Band 66 (Extension of band 4 on 1700/2100 MHz).

4G LTE offers fast download speeds, up to 50% faster speeds than 3G. See Data speeds.
Voice and data services only work at the same time when on you have VoLTE enabled on your device. Otherwise, LTE only provides data.

VoLTE ("Voice over LTE")

VoLTE allows you to make and receive calls while connected to the LTE data network. It's available nationwide.
Placing a call connects twice as fast.
Switching between VoLTE and Wi-Fi Calling does not drop a call.
What phones have VoLTE?

All phones T-Mobile currently sells support VoLTE.
To check if another phone supports it, use the IMEI Status Check. It will alert you if VoLTE or other LTE network features aren't supported.

HD Voice

HD Voice improves in-call voice quality for compatible phones on VoLTE.
Voice call quality is more true-to-life, with less background noise.
It automatically activates, if you and the person you're calling are both using supported phones on VoLTE.

Enhanced Voice Services (EVS)

EVS is another codec for HD Voice that further enhances call quality.
It is available on specific device models, such as those made by Apple.
3G (UMTS/HSPA)
Frequencies that can provide 3G: Band 4 (1700/2100 MHz) and Band 2 (1900 MHz)
Voice and data services can work at the same time. You can use data while on a call.
2G (GSM, GPRS, EDGE)
Frequencies that can provide 2G: Band 2 (1900 MHz)
Voice and data services don't work at the same time when on 2G. You cannot use data while on a call.
*The T-Mobile network uses GSM network standards, and it's not a CDMA network.
International roaming
Our maps show coverage provided by T-Mobile in the U.S. T-Mobile partners with other providers who provide roaming in other countries. Check out where you are covered when Traveling Abroad.
Qualifying postpaid plan and capable device required. Taxes additional; usage taxed in some countries. Voice and text features for direct communications between 2 people. Communications with premium-rate (e.g., 900, entertainment, high-rate helpline) numbers not included. Calls from Simple Global countries, including over Wi-Fi, are $.25/min (no charge for Wi-Fi calls to US, Mexico and Canada). Coverage not available in some areas; we are not responsible for our partners' networks. Standard speeds approx. 128 Kbps. Not for extended international use; you must reside in the US and primary usage must occur on our US network. Device must register on our US network before international use. Service may be terminated or restricted for excessive roaming.
Sours: https://www.t-mobile.com/support/coverage/t-mobile-network
T-Mobile 600MHz 5G Demo
T-Mobile says that it has officially switched on "the world's first standalone 5G network," allowing the company to maximize the use of its 600MHz 5G spectrum. Previously, that 600MHz footprint was directly tied to the carrier's LTE coverage map and thus limited in reach. "With today's launch, 600MHz 5G can go beyond the mid-band signal, covering hundreds of square miles from a single tower and going deeper into buildings than before," T-Mobile wrote in a press release.
It celebrated this expanded 5G availability — T-Mobile claims standalone 5G immediately increases its 5G footprint by 30 percent — by putting on a drone show in Lisbon, North Dakota, an example of one of the small towns that's now getting 5G for the first time. In all, the standalone launch brings 5G "to nearly 2,000 additional cities and towns."
That's a decent bump for day one, but T-Mobile says standalone 5G is really about the future. It "will lead to an environment where transformative applications are made possible — things like connected self-driving vehicles, supercharged IoT, real-time translation… and things we haven't even dreamed of yet. In SA areas, T-Mobile engineers have already seen up to a 40 percent improvement in latency during testing," the company said.
Some existing 5G smartphones on T-Mobile will work with the standalone 5G network. "OnePlus, Qualcomm Technologies and Samsung have helped the Un-carrier ensure existing devices can access SA 5G with a software update, based on compatibility," the carrier said.
T-Mobile's competitors eventually plan to launch their own standalone 5G networks, though for now, they're still on non-standalone (NSA). Dish Network's eventual 5G network will also be standalone since it has no existing 4G network to lean on.
Sours: https://www.theverge.com/2020/8/4/21354010/t-mobile-standalone-5g-600mhz-better-coverage-now-available
600mhz 5g mobile t
A 5G Build Update! And a Look Toward the Future of 5G
Four years ago, when we announced plans to launch 5G using low-band 600 MHz spectrum, there were more than a few people who thought we were crazy. Back then Verizon and AT&T had created the belief that 5G only required mmWave spectrum. Fast forward to just last month when we announced that Extended Range 5G, built on 600 MHz, covered 300 million people! 5G in low- and mid-band frequencies is now the global standard, and whilst mmWave 5G is an important source of spectrum and 5G capability, it is mainly looked to for venue-specific use cases. In wireless we all know that coverage is key. Provide massive 5G coverage, add speed and capacity nationwide, and THAT is what unlocks the power of 5G for all. For rural America, to tackle the digital divide, for the innovators and entrepreneurs who will invent the future – all of them require both coverage and speed.
Today, I'm incredibly pleased to announce that T-Mobile Extended Range 5G now covers 305 million people across 1.7 million square miles – that's nearly double AT&T, more than four times the size of Verizon's 5G coverage and bigger than both of them combined! In fact, this is the largest 5G FDD network in the world!
And … our Ultra Capacity 5G now covers 165 million people with average download speeds of 350 Mbps - that's up from the 150 million people covered that we announced just 5 weeks ago.  We are moving at pace and with confidence towards our 200 million people covered and NATIONWIDE Ultra Capacity for the end of this year.
Have a look…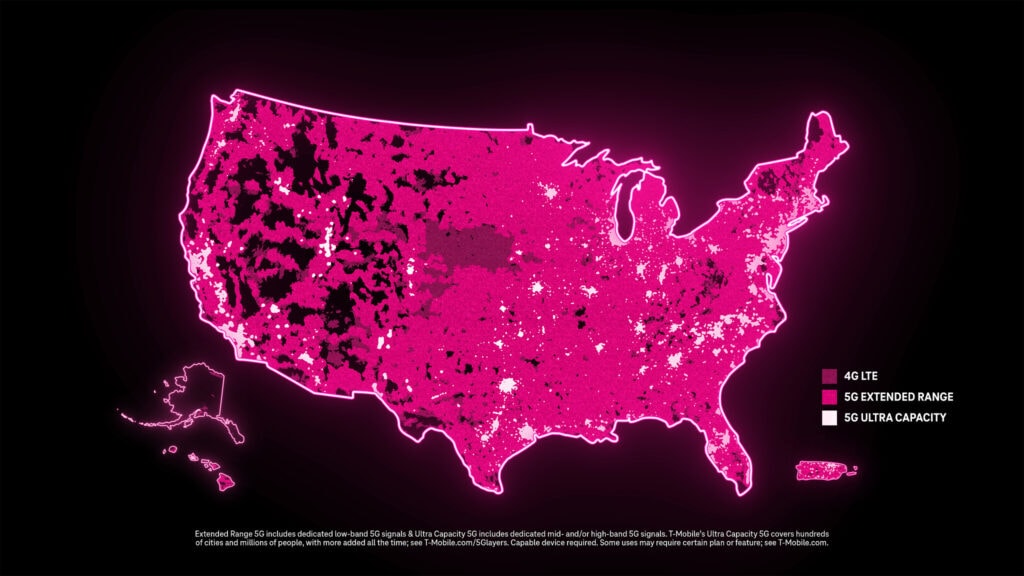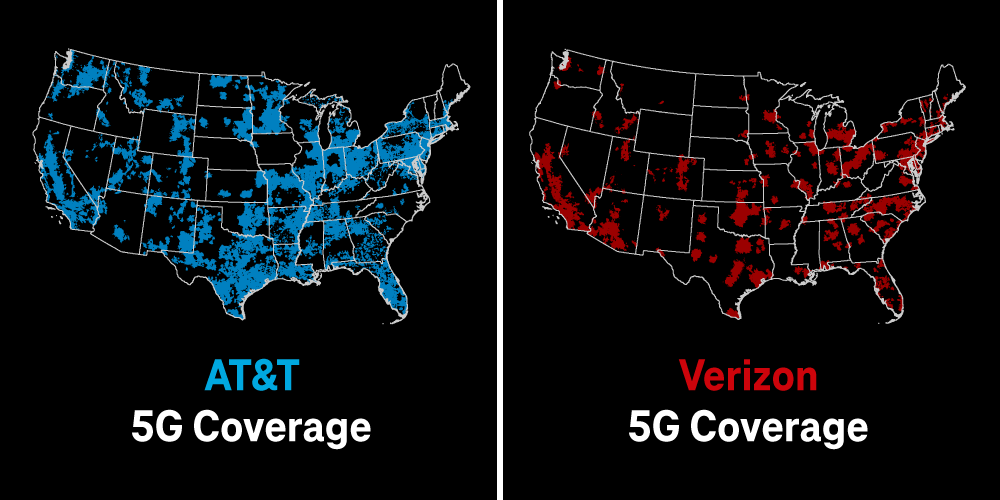 That combination of coverage and speed we're building at a furious pace is why we're already seeing the benefits of 5G come to life: with partners like Halo who can remotely pilot vehicles over 5G, with T-Mobile Home Internet and WFX, and in the increased adoption, engagement and data usage we're seeing on the Magenta MAX plan.
The benefits of T-Mobile's approach to 5G are also clear when it's put to the test against the competition. Three separate independent testing companies – Ookla, Opensignal, and umlaut -- using both drive test and crowd-sourced data, found T-Mobile 5G is the fastest and most available 5G network. Not once, but a total of seven times just this year, including a report issued by umlaut this morning – and it's only July!
Last week Verizon and AT&T announced their Q2 earnings and of course 5G was a big topic of discussion, especially after they spent tens of billions on C-band spectrum in Q1. Rather than talking about any 5G progress now, though, they are focused on the baby steps they'll be able to take with C-band starting next year and pointing to the future.  I certainly do love our network position right now!
But, let's look into the future with them. T-Mobile is well down the 5G path we planned years ago, with a massive (seriously massive) lead. A lead we will sustain for many years to come for multiple reasons. Not only will the others be getting started with their mid-band 5G networks AFTER T-Mobile already covers 200 million people – as if that weren't enough – but the depth of mid-band 5G spectrum T-Mobile will deploy cannot be matched.
The average amount of mid-band 2.5 GHz spectrum we have deployed for 5G is 60-80 MHz right now, but our plan is to expand that to 100 MHz by the end of this year, when we will cover 200 million people. 200 million people covered with 100 MHz gets you twenty billion MHz pops just for the end of this year.  Absolutely fabulous!
If you run that math for Verizon and give them the benefit of the doubt that they'll cover 100 million people next year (which they said would come later in Q1 or Q2 22) and use 60 MHz of C-band, they get to 6 billion MHz pops. That same math for AT&T with their 40MHz of C-band is 4 billion MHz pops. Let's just run that math again – T-Mobile 20 billion, Verizon 6 billion and AT&T 4 billion.
Now, if we look forward to the end of 2023 when the remaining C-band spectrum is made available - the math gets no better for Verizon and AT&T. T-Mobile is targeting 300 million people covered with 200MHz of mid-band for 60 billion MHz pops. Verizon says they'll cover 200 million people with 160MHz, bringing them to 32 billion MHz pops. And if AT&T covers 200 million people with 80MHz of C-band, they'll be at 16 billion MHz pops. So while they like to point to the future, we have the lead, and we will maintain it for years to come!
The 5G era has begun.  Consumers and businesses alike will see their lives changed in ways that we can't even truly imagine – because of 5G and networks built like ours.  Today we are building the foundation for innovation and change, and we are doing it right.  For everyone.
Only T-Mobile can deliver something that's leading on a durable basis over the next several years.
History will tell if I'm right, like it has since we announced our plans to launch 5G in low-band in 2017. My money's on T-Mobile.
Tags5G
Sours: https://www.t-mobile.com/news/network/neville-ray-future-of-5g
The First Nationwide 5G Wireless Network - T-Mobile
T-Mobile has flipped the switch on its 5G network, setting it live over areas of the US that it says covers 200 million people. While the network is supposedly live today, no one is going to be using it until later this week: the first two phones to support it go on sale this Friday.
The "nationwide" 5G deployment relies on a slower form of 5G, using T-Mobile's 600MHz spectrum. This "low-band" 5G essentially takes airwaves like the ones used for LTE and bundles them together with some new technology to deliver faster speeds.
T-Mobile doesn't offer specifics on what kind of speeds you'll see on the new network, and the actual improvements will vary a lot by location. "In some places, 600 MHz 5G will be a lot faster than LTE. In others, customers won't see as much difference," a T-Mobile spokesperson tells The Verge.
Because T-Mobile is relying on LTE-like spectrum — which travels relatively far — the carrier is able to deploy it over a wide swath of the country. It's the first major wireless carrier to claim nationwide 5G coverage.
What T-Mobile isn't claiming are nationwide offerings for the fastest form of 5G: millimeter wave (mmWave). mmWave relies on much faster airwaves to deliver much faster speeds, but the signal doesn't travel very far and is easily blocked by almost anything in its path. T-Mobile has already started to deploy mmWave in a few cities, but there's no word today on whether that's expanded. mmWave deployments are likely to stay confined to densely populated areas, like cities and sports stadiums, because of its physical limitations.
On Friday, T-Mobile will begin selling the OnePlus 7T Pro 5G McLaren Edition for $899.99 and the Galaxy Note 10 Plus 5G for $1299.99. Both are capable of connecting to its 600MHz 5G network, and all T-Mobile and Metro plans include 5G access. The phones do not support mmWave.
The two phones do have some ability to get faster speeds down the road: T-Mobile says they both support mid-band spectrum that's currently owned by Sprint. If the merger between the two companies closes, T-Mobile will redeploy that spectrum as part of its 5G network, further speeding up these phones' connections.
All of the major US carriers have been racing to launch 5G this year. At this point, they've all deployed it in some form or another, although it's mostly been in select locations and with select technologies. The next notable deployment is supposed to come from AT&T, which plans to launch its own low-band 5G this month, albeit only in five cities.
To promote the launch, T-Mobile made this very goofy ad featuring its current and future CEOs as well as its CTO:
In This Stream
The road to 5G: the biggest news on next-gen mobile networks
View all 77 stories Sours: https://www.theverge.com/2019/12/2/20991566/tmobile-nationwide-5g-600mhz-launch-samsung-oneplus
Now discussing:
.
1515
1516
1517
1518
1519