Bunny Thumbprint Art for Children with Free Easter Printable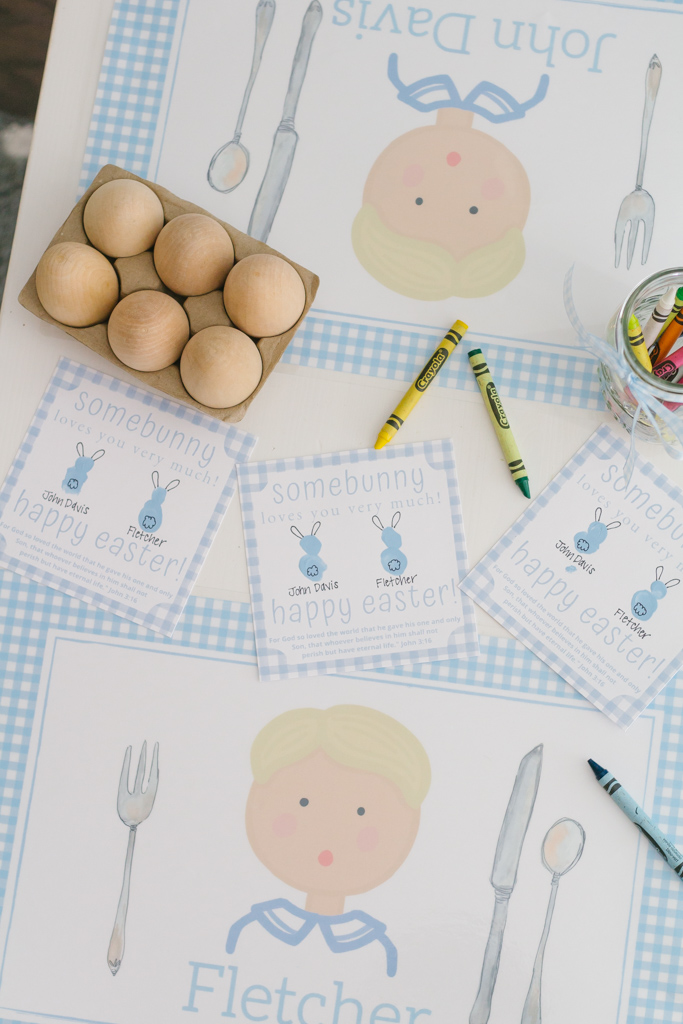 Are you looking for a quick and simple Easter craft to do at home with your children? This Bunny Thumbprint Art for Children includes a Free Easter Printable with scripture and is a great way to remember those sweet little fingerprints! Stick them in the mail to let "somebunny" special know that they are loved this Easter season!
Download your Bunny Thumbprint Art Free Easter Printable HERE.
Bunny Thumbprint Art for Children with Free Easter Printable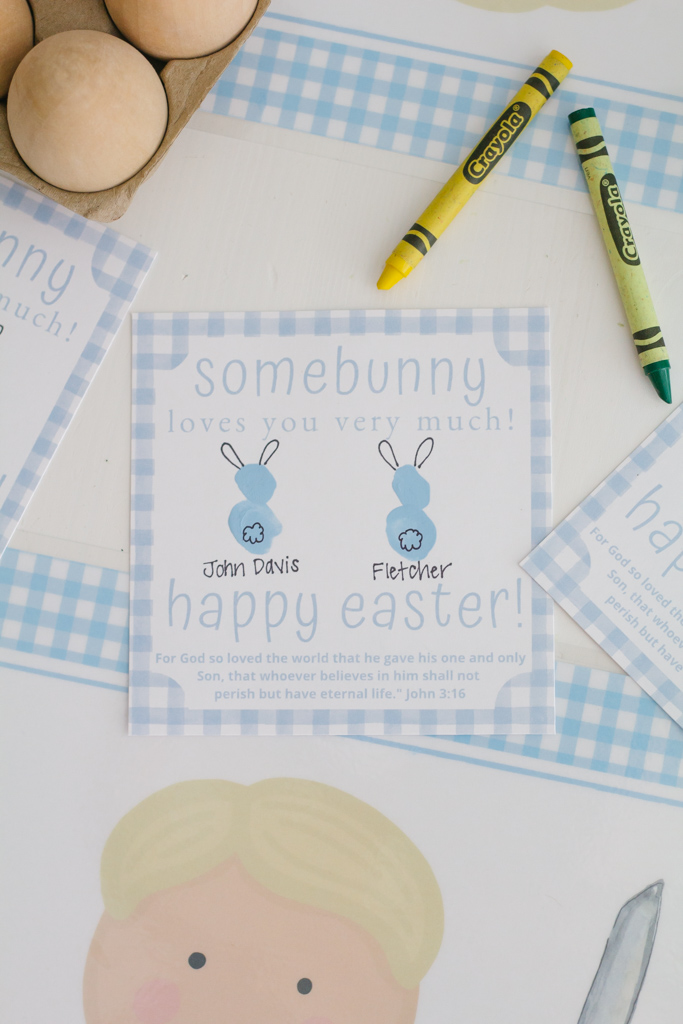 Wow, what a crazy last few weeks it has been!
We sold and closed on our house, we moved into a rental house, and we are in the early stages of starting to build our new house on the farm. Add in the current quarantine and my children's lives have seemingly been turned upside down.
Needless to say we have been trying to keep some sort of "normal" at home amidst all the chaos that seems to be going on around us.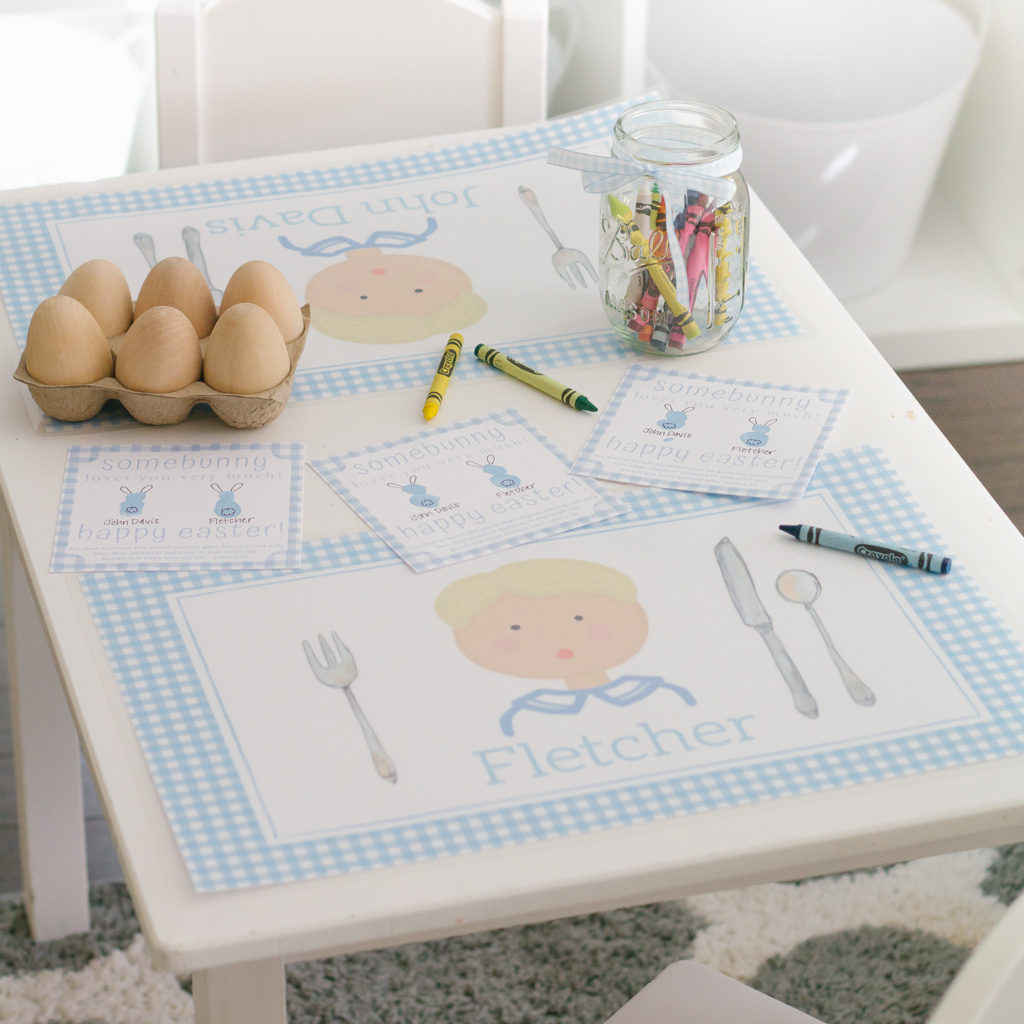 We have been incorporating arts and crafts into our daily schedule at home (I love watching their creativity grow!), and earlier this week we spent the morning making Easter cards to send to some of our family and friends.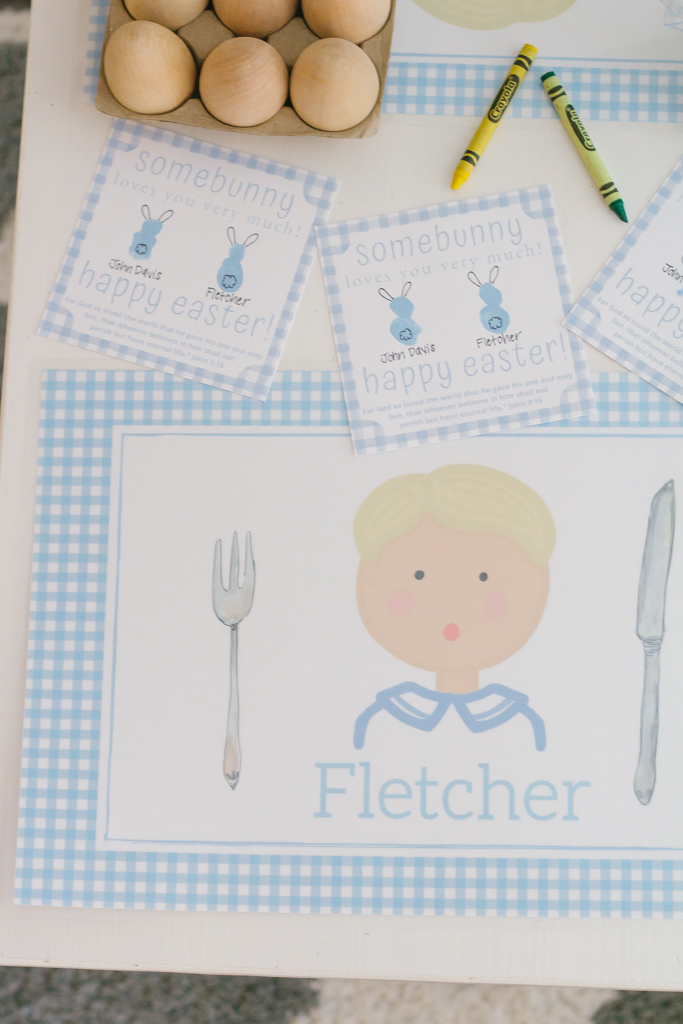 The sad reality is that we likely won't be able to attend church or gather with family and friends on Easter Sunday.
But that doesn't mean that we can't send them something special in the mail to let them know we love them and we are thinking about them.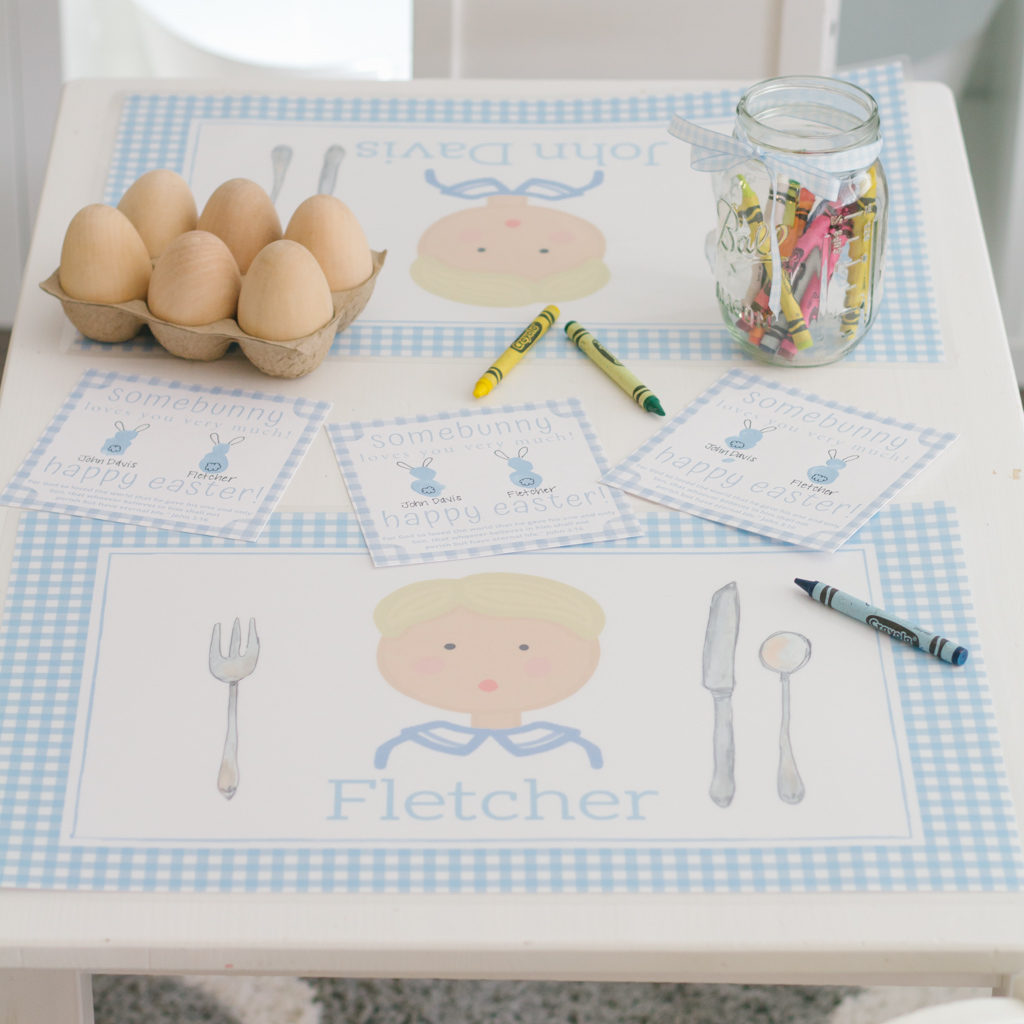 I sat up their little work station with the cutest placemats from Honey Bear Pages and we got to work!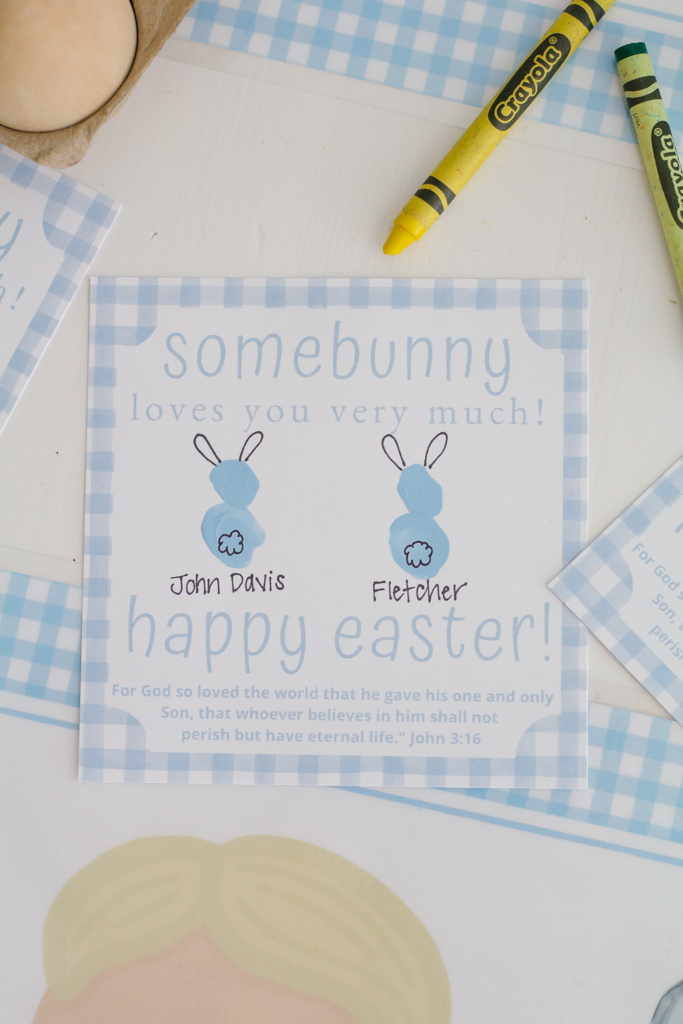 If you would like to make your own sweet bunny thumbprint art with your children, all you need to do is:
Download and print the FREE EASTER PRINTABLE (I printed them on cardstock to make them more durable!)
Dip the tip of your child's thumb or finger into paint (I used blue craft paint that I already had at home) and press it down on the printable twice to make two fingerprints, one on top of the other.
Use a fine Sharpie to draw two bunny ears and a bunny tail on top of the fingerprints. I also wrote the boys' names under their "bunny" : )
Before sticking them in the mail I helped the boys write little notes and draw pictures on the back of the card.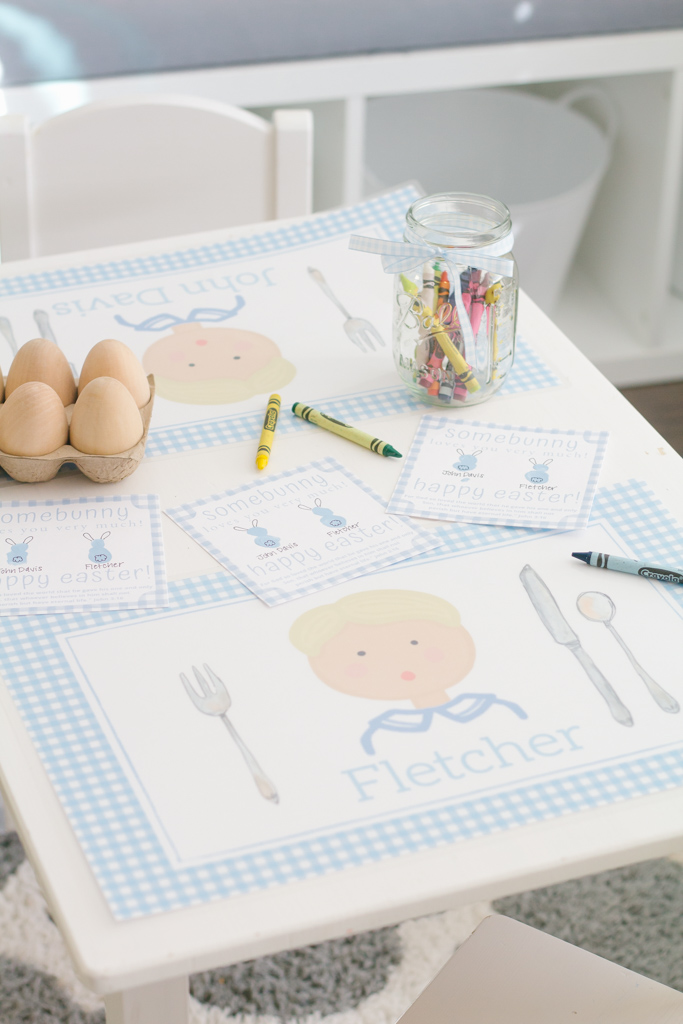 That's it! I hope you enjoy and I hope you and your children make memories creating these together!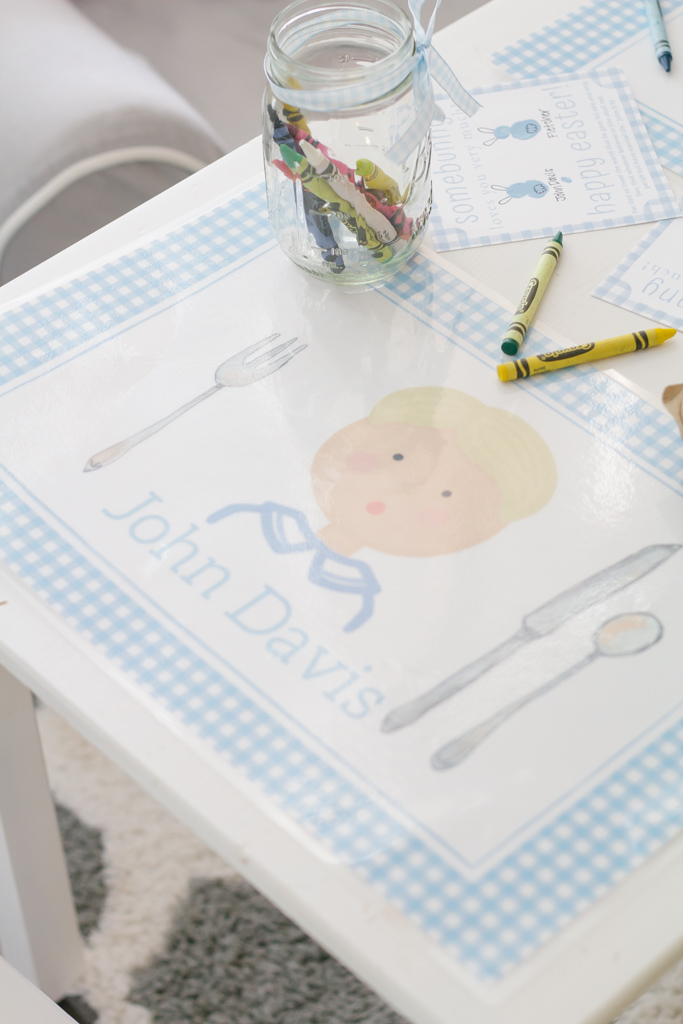 Unfortunately Honey Bear Pages is currently unable to ship placemats due to logistics with her local print shop and the current worldwide pandemic. However, she is still taking orders for placemats and will ship them as soon as she is able! You will not be invoiced for payment until your placemat is ready to ship! Be sure to check them out because she has so many adorable designs. She also has digital products available such as Easter printables and tracing sheets for immediate download. This is a great way to support small businesses during this trying time.
I would love for you to save "Bunny Thumbprint Art for Children with Free Easter Printable" to your favorite Pinterest board!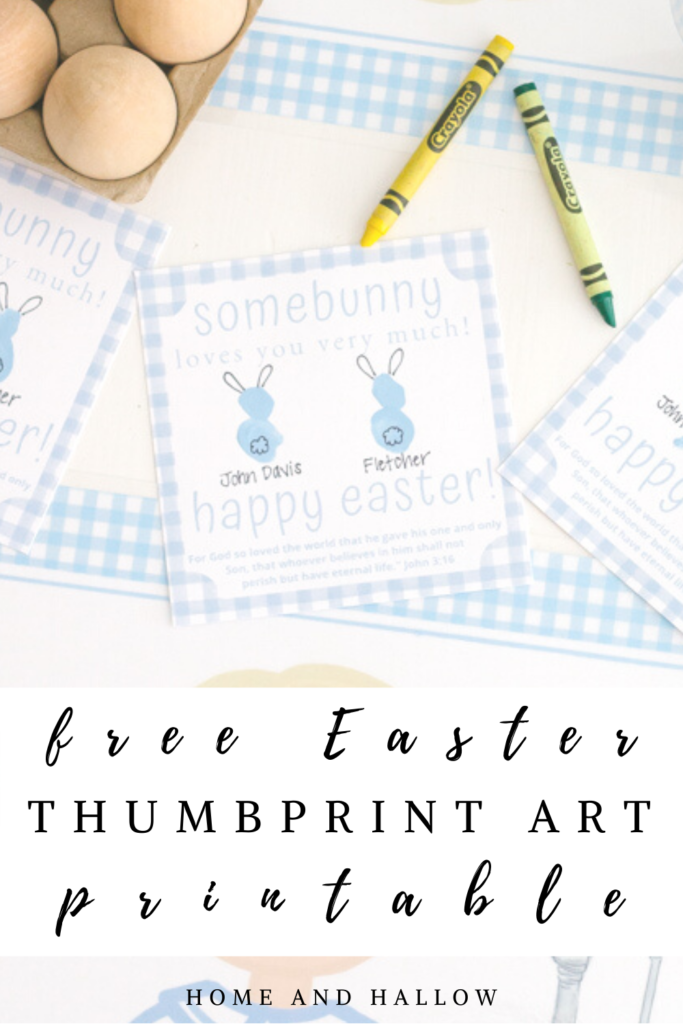 Looking for more Easter inspiration? Check out these adorable Easter cookies, this Easter tablescape, and my favorite party of all time: John Davis's Peter Rabbit birthday party!
For God so loved the world that he gave his one and only Son, that whoever believes in him shall not perish but have eternal life. John 3:16
Leave a Comment
Sours: https://homeandhallow.com/bunny-thumbprint-art-for-children-with-free-easter-printable/
We have family that lives pretty far away. But, both my sister and I think it's very important for our kids to stay in touch with their cousins that we don't see often. One of our kids' favorite activities has always been making cards to send to our family. So, for Easter this year, my niece and I worked on Thumbprint Bunny Easter Card DIY projects for the family. They turned out adorable and we cannot wait to send them out to our loved ones! Let's get started.
Check out our adorable printable Easter ornaments that can also be favor boxes!
Thumbprint Bunny Easter Cards DIY
Supplies:
1 piece of copy paper per card.
Pink paint. 
Markers.
Optional – pom poms or cotton balls and glue.
We didn't have any pink paint when we made these cards, so we mixed up a little bit of red and white paint on a paper plate. We also decided we didn't really like the yellow bunnies, but that was a personal preference.
-------------------- Advertisement --------------------
-------------------------------------------------------
Before we started painting, we decided how many cards we were going to make and send and folded our sheets of paper into quarters.
Once we had all of the cards folded, we were ready to paint. My niece dipped her thumb into the pink paint and then onto each card a few times. Then, she dipped her pointer finger into the paint. Next, she used her fingerprint to add a head to the bunny bodies on the cards.
After the paint dried on all the cards, we were ready to add grass around the bunnies. We used a marker to draw lines from the bottom of the card up (like grass grows) around each bunny.
Then, we used a different marker to add bunny ears and faces to our bunnies. And then, I wrote Hoppy Easter above the bunnies.
Finally, we glued a tiny piece of cotton to the backs of some of the bunnies.
-------------------- Advertisement --------------------
-------------------------------------------------------
The Thumbprint Bunny Easter Cards turned out so cute! We truly cannot wait to send them out. I hope you enjoyed learning how to make you own thumbprint bunnies!
Ages 1-2, Ages 3-5, Ages 6-8, Easter, Holidays & SeasonsJessica Roebunny crafts, card making, cards, Easter, Easter bunny, easter crafts, finger painting, greeting card crafts, paint, thumbprintSours: https://www.woojr.com/thumbprint-bunny-easter-cards/
Easter Bunny Thumbprint Art
Spring and Easter Crafts are so much fun! This Bunny Thumbprint Art is a great activity to do during springtime. This fun sensory craft uses a simple bunny shape to create a bunny silhouette with a cute fluffy tail! It's a perfect activity to include in all of the Easter fun.
Materials Needed for the Bunny Thumbprint Art:
White paper
Bunny Template printed onto cardstock (see below)
Scissors
Masking tape
Paint – Use Easter or Spring Colors
Glue
Cottonball
Getting the Bunny Thumbprint Art Ready:
To get this craft ready, prepare the bunny template by printing and cutting it out.
Get the paint ready for the kids to use by putting it out onto a plate or something the can press there thumb onto.
It also helps to get the tape ready by rolling it into pieces, ready to use to stick the bunny down.
Doing the Bunny Thumbprint Art :
The students will start by taping the bunny template onto a white piece of paper using rolled up pieces of tape.
Now it's time to make thumbprints! Start by making thumbprints all around the outside edge of the bunny shape.  Make them overlapping or close together to fully outline the shape.
This time we used one color of paint, a light blue, but we also used bright Spring colors which also looks great!
After the shape is outlined with thumbprints, begin making thumbprints all around the paper, as close together as you'd like.  Go all the way to the edge.  You can keep using the same color, or switch to another Spring color to mix it up a bit.
Before moving on, it's best to let the thumbprints dry completely.
Now it's time to peel up the bunny shape to reveal the silhouette. Slowly pull up the bunny shape, being careful not to tear the paper.
After peeling up the shape, it's time to add a cute, fluffy tail!  Use glue and a white cotton ball to add a tail to your bunny.  We pulled apart the cotton ball just a bit to make it extra fluffy.
Now your bunny is complete!
These would make lovely Easter cards or classroom decorations, and would be a lot of fun to do at an Easter party.
Need more Easter ideas?
Rabbit Animal Study
Easer Match-Ups
Easter Book for Little Learners
You might also like Easter Bingo!
Download your Easter Bunny Thumbprint Art Template below!
Can you not find a resource that you would LOVE to have for your classroom? Contact me and I would be happy to make it for you.
Click the picture below to download. You will immediately be redirected to the freebie.
I hope that you and your students enjoy this Easter Bunny Thumbprint Craft!
17 CommentsFiled Under: Crafts/Activities, EasterTagged With: Holidays, Kindergarten, Pre-K, Preschool
Sours: https://www.adabofgluewilldo.com/easter-bunny-thumbprint-art/
How to draw and paint THUMBPRINT ANIMALS - BUNNY RABBIT - STEP BY STEP - TADA-DADA Art Club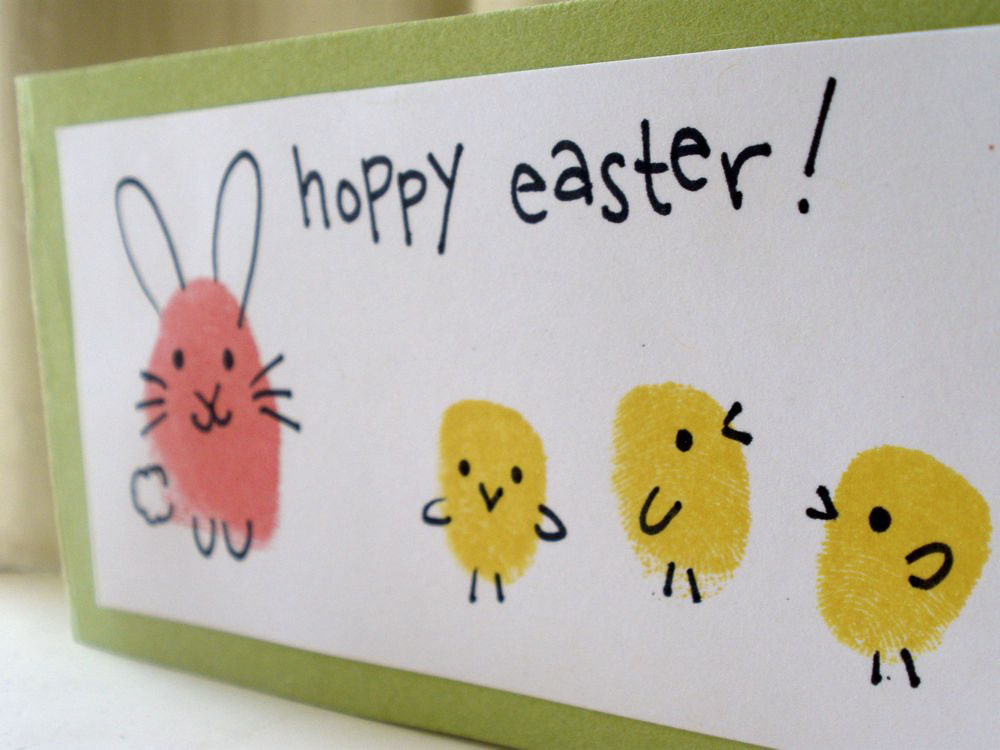 When I was a kid I loved to check out drawing how-to books from the library. Some of my VERY favorite books were those put out by Ed Emberley. (Click his name to be directed to his fabulous website where you there all sorts of fun activities!!)
He had several book that were based on colors (Big Purple Drawing Book, Big Green Drawing Book, etc.) He including everything from cute little animals to intricate pirate ships. I remember pouring over them and drawing all sorts of environments and creatures.
His designs were simple and cartoonish. But looking back I realize that my ability to see the basic shapes of things, and then turn them into to more realistic drawings stemmed from his simple method of teaching you to draw. I owe a lot to Mr. Emberley. Thank you.
He's a genius.
A few years ago I came across a couple of large compilation-style books that included all of the Ed Emberley drawing books into three volumes. I snatched them up! I couldn't wait to share them with my own children! They have been favorites ever since!
In addition to the other drawing books he also did some color theory books, a book about how use circles to create pictures...and a couple of Fingerprint and Thumbprint drawing books!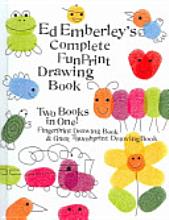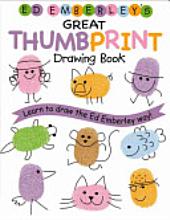 So....
Long story short - today I'm sharing how to create the cutest little bunnies from finger and thumbprints, á la Ed Emberley!
Materials Needed:
Stamp Ink pads in desired colors
(I used pink and yellow)
Paper or card stock
Marker or pen for details
Fingers and Thumbs
(You may also want to have some wipes handy!)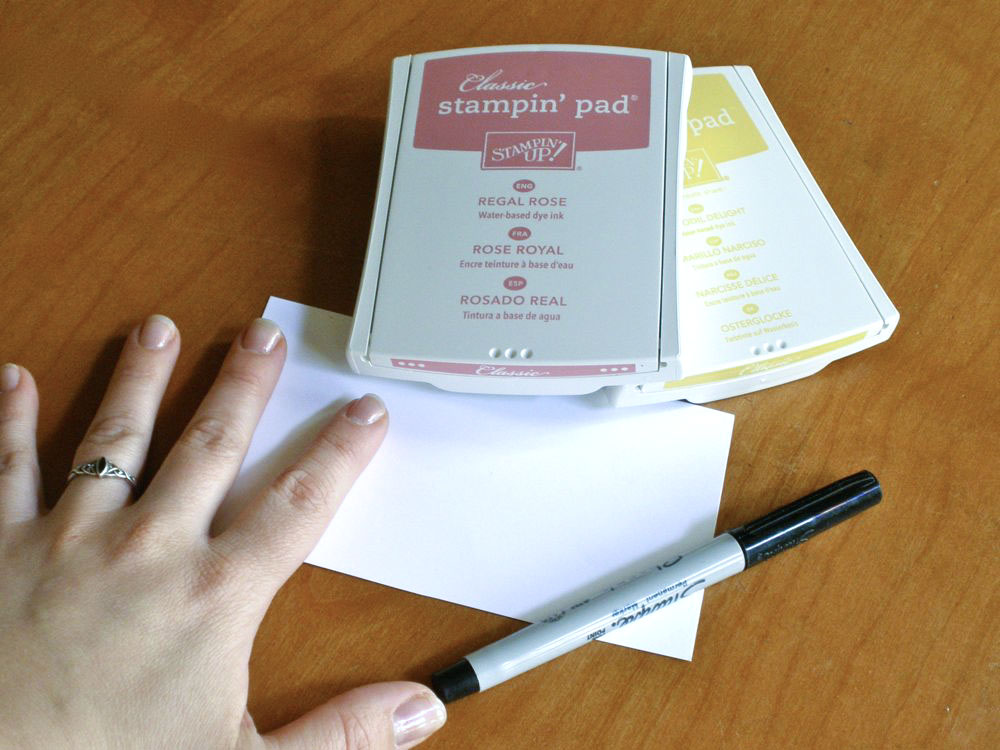 First, make sure your hands are clean...this may seem silly since you're going to be getting ink all over them, but trust me...you don't want to start this project with sticky fingers! (Also...remember to use a different finger for each color you use!)
Next, carefully press your finger or thumb onto the ink pad.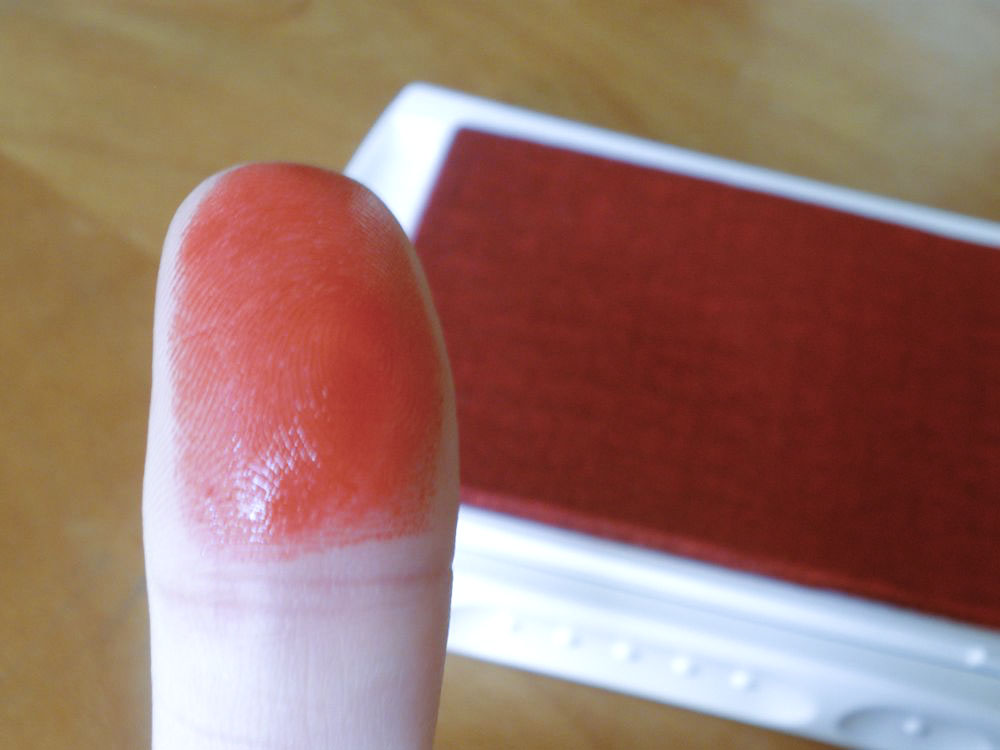 Then press the finger or thumb onto the paper.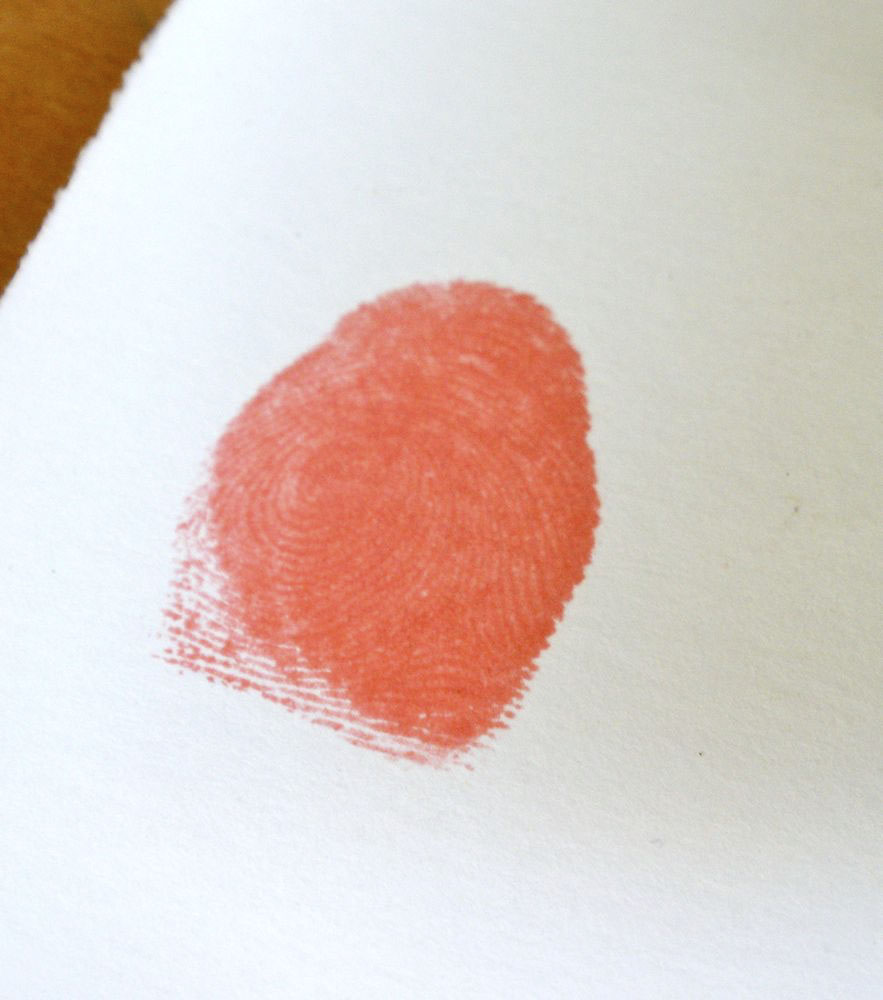 Now comes the fun part! Using simple lines and curves add:
Ears & eyes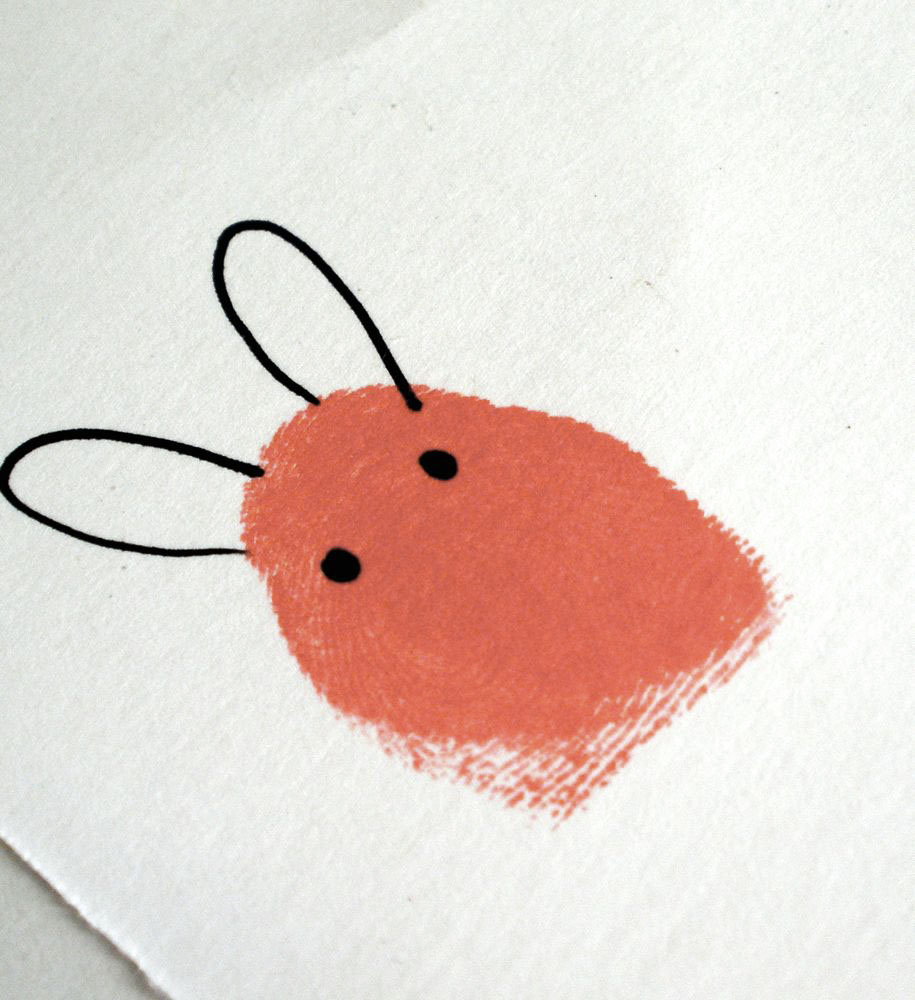 A nose and whiskers
Paws and tail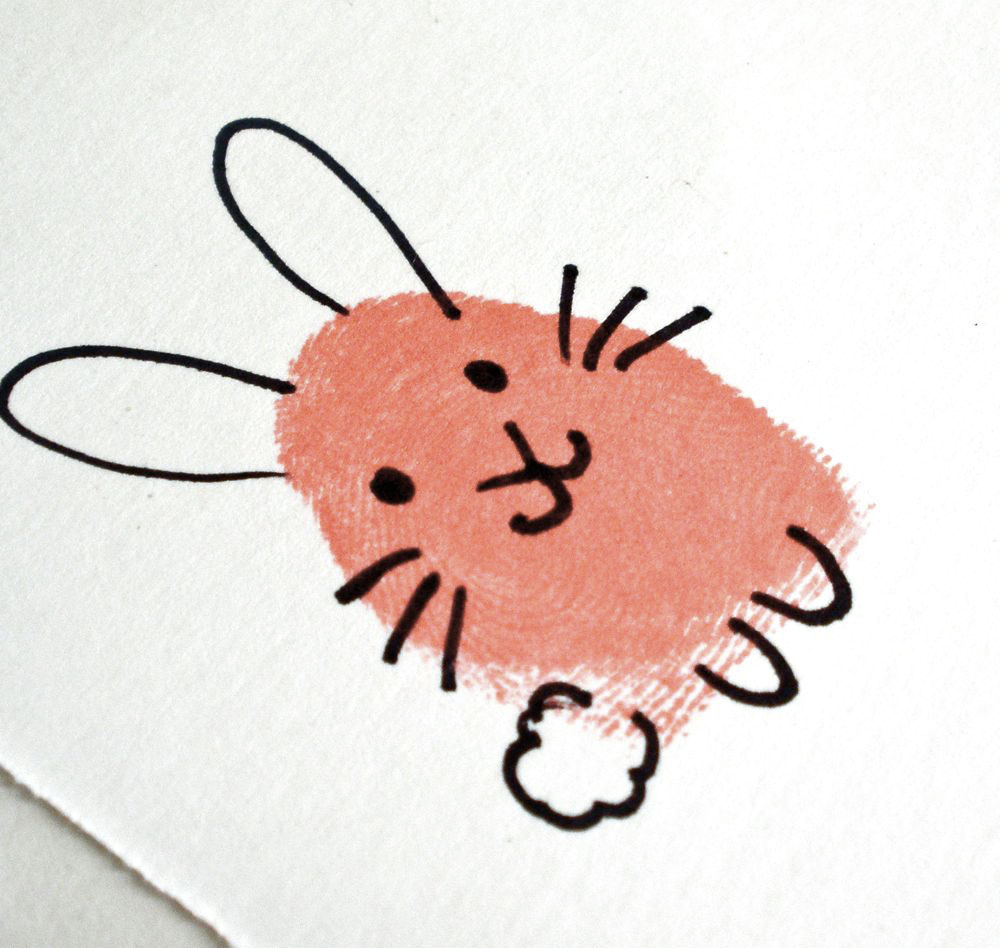 Ta-Dah!!
And for some chicks: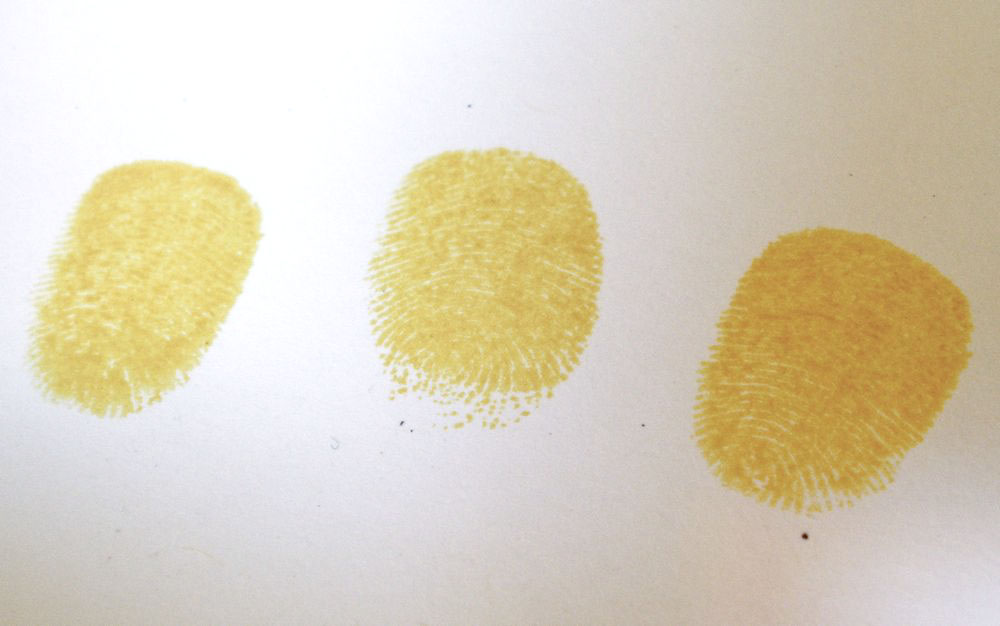 Eyes and beaks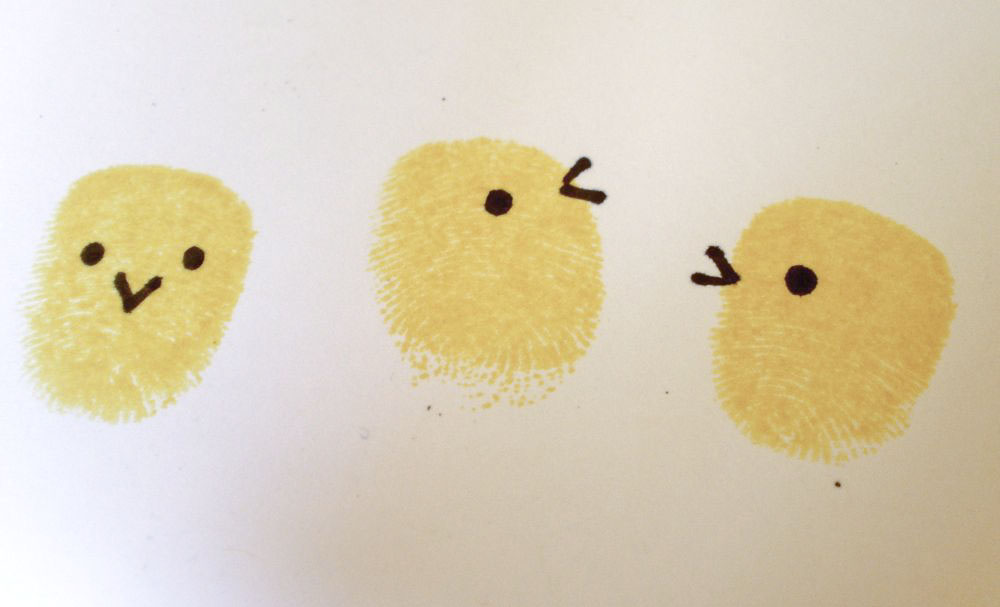 Wings and legs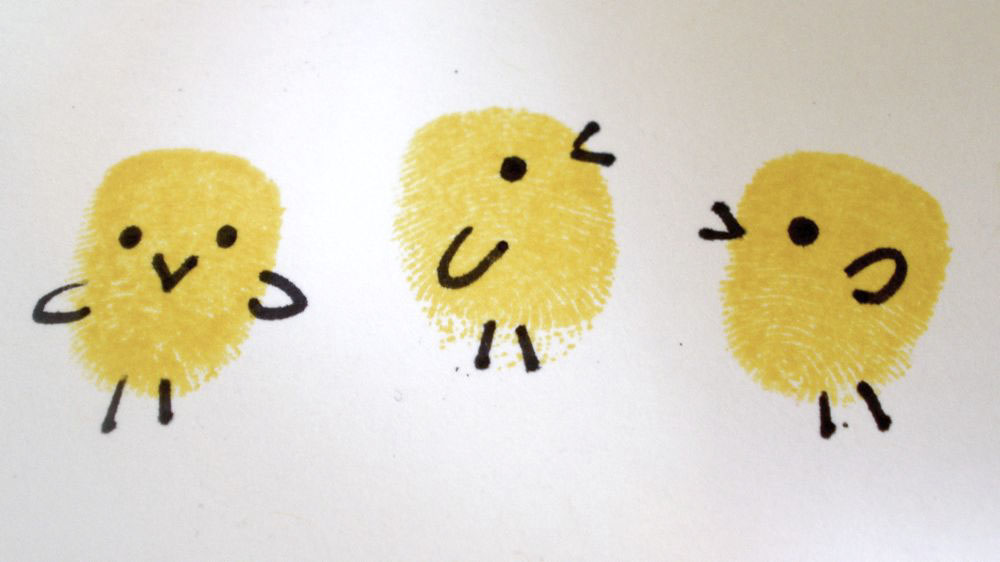 Here's a little finished composition!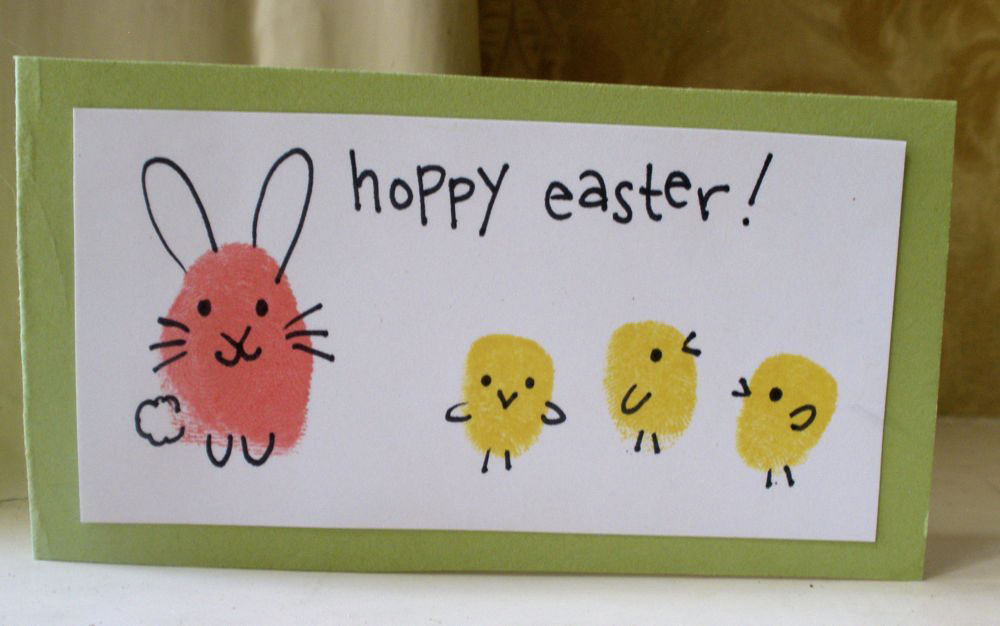 This is a FANTASTIC activity for kids of all ages! They make super cute name tags or place cards, too!!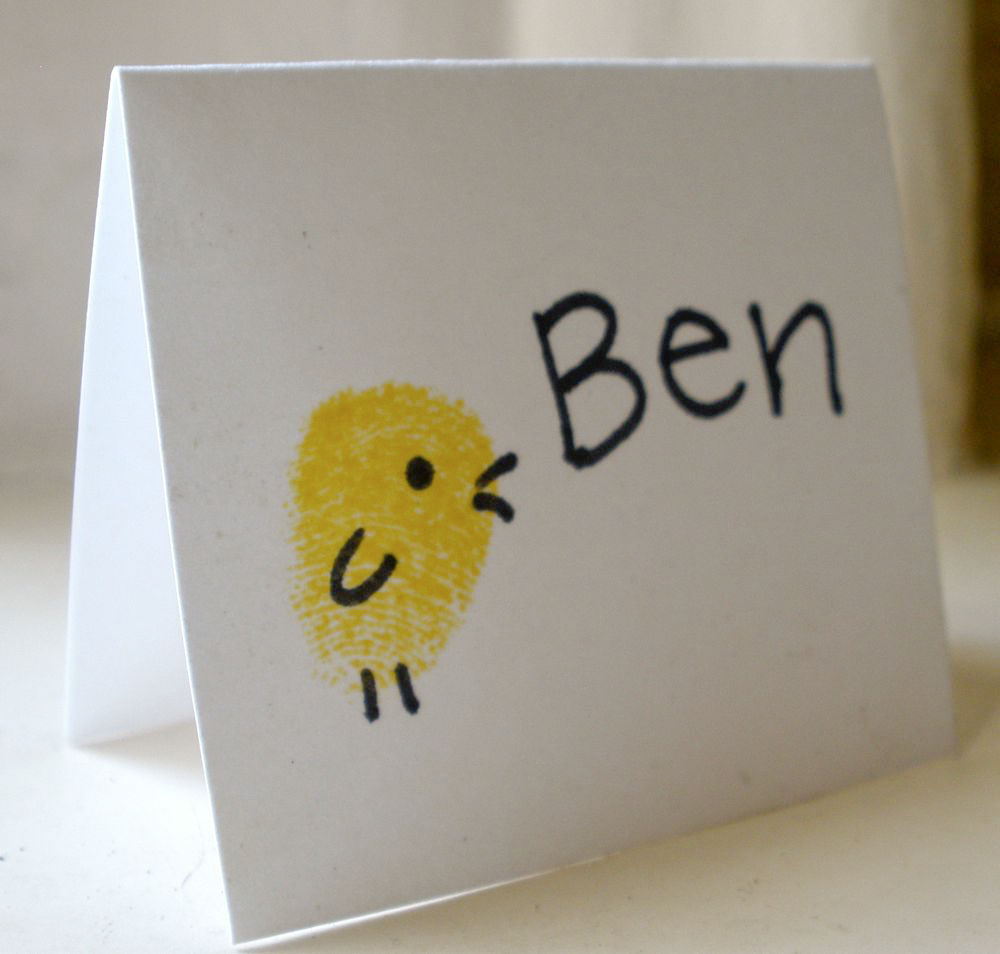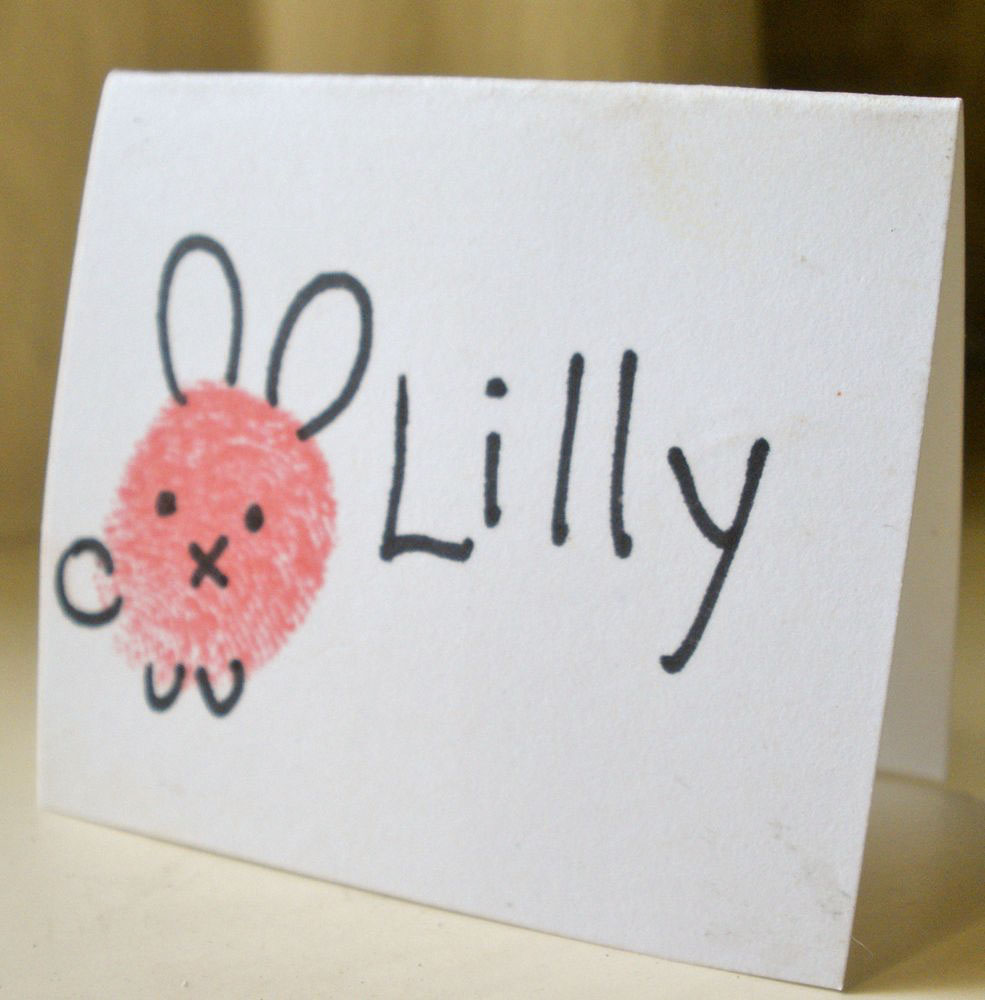 For more great ideas on how to make about a bajillion different kinds of creatures check out Ed Emberley's great books!! You won't regret it!!

*This post was originally shared in 2011 on Sarahndipities.blogspot.com*
» Tagged: crafts, holidays, kids, paper, Things to Make
» Share:
Sours: https://sarahndipities.indiemade.com/blog/things-make-fingerprint-bunnies-and-chicks
Bunnies thumbprint
Thumbprint Bunny Cards – Kid Craft Idea For Easter
At Glued To My Crafts we are hoping to encourage YOU to get the little ones involved in sending some Easter themed happy mail with today's Thumbprint Bunny Cards kid craft idea!!!
Our latest spring themed handmade card idea for kids to recreate, is super simple from start to finish and is sure to be loved by the lucky receivers! We are talking easy supplies and less than ten minutes to pull together these DIY cards! All you need is cardstock and ink pads to make it happen!
Once following our simple step-by-step tutorial below, you can easily mail them away for spring, Mother's Day or just because moments!
So don't delay my dear crafty friends – keep scrolling below and then send some extra special #happymail to "some bunny" today!
Happy crafting my friends!!! Don't forget to snap a few pictures to share with us on our Facebook page or tag us on Instagram to see! #gluedtomycrafts
RELATED EASTER CRAFT TUTORIALS ON GLUED TO MY CRAFTS: Popsicle Stick Easter Bunnies and Paper Plate Bunny Butt
* Various Washable Colored Ink Pads
* Plain Cardstock or Pre-Made Cardstock Paper Cards
* Paper Craft Scissors/Paper Trimmer
* Glue Stick or Tape Runner Adhesive
* Various Colored Markers
* Baby Wipes
optional materials – scrapbook stickers, glitter, rhinestones
* Use my pictures above for examples but basically you want to make some thumbprints on a piece of white cardstock, draw on embellishments to give them the look of bunnies and then trim down/add to a card front for easy mailing!!!
* Use markers or scrapbook stickers to add phrases like "some bunny loves you!" or "I love you bunny much!" to the front and to add a "punny" element!
RELATED POST —> Handprint Bunny Keepsake – Easter Kid Craft Idea
If you are looking for even MORE "Easter" themed craft ideas to tackle this spring season, from Glued To My Crafts, be sure to check out our Thumbprint Dandelion,Broccoli Stamped Cherry Blossom Tree and Paper Bowl Easter Egg Hunt craft posts. All of which would pair nicely with today's creative Easter card idea!
And "if" you decide to make today's "thumb bunny" handmade card idea, please share a picture on our Facebook page or tag us on Instagram for us to see. We love seeing our inspiration come to life in your home and can't wait to give you a virtual high five from afar!! #gluedtomycrafts
RELATED POST —> Free "Some Bunny" Gift Tag Printable For Your Easter Plans
Love it? Share it with your friends!
Like this:
Filed Under: Easter Crafts, Handmade Cards
Sours: https://www.gluedtomycraftsblog.com/2017/02/thumbprint-bunny-cards-kid-craft.html
•bunny - dissolve
.
You will also be interested:
.
128
129
130
131
132