Huntworth Camo Review 2021: Find the Best Hunting Clothing
Huntworth camo is designed by hunters. They're very well thought-out and very high quality for a lot less money than some of the high-end camouflages. Their biggest distributor that you can find nationwide is actually Walmart.

In this article, we will review Huntworth camo as well as its popular products. Now, let's get started.
Most Popular Camo From Huntworth
Huntworth digital pattern, Disruption, is extremely popular with both deer hunters and Western game hunters who demand a pattern that helps them disappear in any terrain.
Huntworth Camo Review
The Huntworth offers basically 5 camo patterns for hunters to choose from. These are Disruption, Tarnen, Hidd'n, Snow Camo, and Lifestyle patterns.
We know different camo patterns work better in different areas. For example, the snow camo pattern from Huntworth provides perfect concealment during winter.
However, Huntworth also provides camo patterns for all seasons and terrains.
The digital camo, also known as Disruption, help you fade into the background at any distance. Comparatively, hybrid camo, also known as Tarnen, is inspired by natural images and shapes. 
Here is our Huntworth camo review
Disruption Camo
 Computer generated graphics
Fade into the background at any distance.
It is a digital approach to concealment designed with computer-generated graphics.
Disruption features a high level of random and abstract visual noise to create a three-dimensional pixelized pattern that animals can't perceive. With disruption, you remain undetected.
Disruption is a versatile pattern that blends well from the rocky terrain out west to the mountain ranges and open plains to the hardwoods in the east and across all seasons at ground level or in a tree stand silhouetted against the sky.
The colors in disruption make it a year-round pattern that works throughout the fall during the winter months with a light layering of snow on the ground and into the spring. Disruption takes concealment to the next level
---
Tarnen
Created using images and shapes found in nature 
Blend into your surroundings
It is labeled as a new approach to concealment. It is built with shapes found in nature, distorted to introduce visual randomness and added layers for depth perception.
Tarnen is our most versatile pattern ever designed to work in a wide range of terrains. From hardwood trees to evergreen trees, in open plains, in mountain ranges, and across all weather seasons. Whether you are skylined in a tree, in rock formations, or on the ground. Teren is designed to work.
The organic elements and depth of its pattern will ensure you blend seamlessly in your surroundings. It is claimed to be the next level of concealment
---
Popular Huntworth Gear Hunting Clothings
We have organized a list of top Huntworth gears that are popular among many hunters
Huntworth Men's Heavy Weight Windproof Soft Shell Hunting Pants
The heavyweight pants from Huntworth are constructed from a triple-layer fabric. The outside is constructed from a stretch polyester bonded to a windproof and breathable film.
The inside layer is a bonded sherpa fleece treated with micro ban antimicrobial product protection for scent reduction.
The pants are treated with a durable waterproof repellent (DWR) finished making water beat up and roll off the fabric.
They also feature reinforced knees and seat with durable abrasion resistant material along with zippers with storm flaps. The heavyweight pants are the perfect choice for freezing weather.
The rubberized non-slip grip inner waistband keeps the pants from falling. And if that isn't enough they have five belt loops along with suspender loops to help keep the pants where they belong, around your waist.
The pants include two large cargo side pockets, two front slash pockets and a knife pocket on the right leg and one zipped rear pocket. All of which are the perfect size for keeping your handheld gear secure and your hands warm.
Huntworth Men's Heavy Weight Windproof Soft Shell Hunting Pants
Huntworth Disruption camouflage 
Perfect for late season hunts
Warmth without the bulk
Check Price
---
Huntworth Mens Mid Weight Performance Fleece Hunting Hoodie
The men's performance fleece hoodie from Huntworth is made from a two-way stretch performance fleece.
This hoodie has a large kangaroo pocket for storing small gear and keeping your hands warm. The hood is fully lined with a second layer of performance fleece in camo.
It also has an additional zip pocket on the left arm for extra storage.
Huntworth Mens Mid Weight Performance Fleece Hunting Hoodie
Huntworth Disruption camouflage 
Wear alone or layered
Check Price
Huntworth Men's Light Weight 1/4 Zip Shirt
The men's lightweight quarter-zip shirt from Huntorth is constructed from a hexagon pique knit fabric.
The interior layer is chemically treated for scent control which in turn will help you get closer to big-game animals.
This shirt features a quarter zip front with a chin guard, a one-zip chest pocket for carrying small gear.
The quarter-zip lightweight shirt also features a tag-free collar for ultimate comfort.
Huntworth Men's Light Weight 1/4 Zip Shirt
Huntworth Disruption camouflage
Wear alone or layered
Scent control
Check Price
Sours: https://outdoorsportshub.com/huntworth-camo-review/
Pick the camo pattern that works for you
Huntworth hunting clothes and gear are available in three primary camouflage patterns. Choose between the versatile Disruption pattern that creates visual noise to keep you undetected, the groundbreaking Tarnen pattern built with organic elements to create visual randomness and blend in to surroundings, and the traditional Hiddn' pattern that breaks up at close range and blends at a distance.
Hunting gear and apparel to keep you warm, dry, and concealed in all seasons
Designed to prevent detection in any environment, hunting clothes, gloves, hats and packs from Huntworth are available in a variety of designs and patterns to match your environment and terrain. We offer a wide range of hunting clothing options, from midweight base layers and lightweight tops and pants for warmer hunts, to windproof, waterproof and insulated hunting clothing for when temperatures drop and you need to block out the elements.
Quality hunting clothing and packs at a price you deserve
Our hunting apparel and backpacks offer outstanding quality with the latest technical features and fabrics at an affordable price. We focus on the best combination of materials and construction to ensure our hunting clothes, gloves and hats keep you comfortable, protected, and unrestricted in your movements. Huntworth camo patterns are developed for ultimate concealment. We incorporate natural elements and distortions to outwit your prey and to keep you hidden and in the hunt. Learn more about our different patterns and compare hunting apparel features to find the right fit whether you're in the woods, open plains or mountains – at ground level or in a tree stand – at home or on the hunt.
follow @huntworth on instagram for fresh content, contests and fun
Sours: https://huntworthgear.com/
Please Enable Your Browser's Cookies Functionality Cookies are not currently enabled in your browser, and due to this the functionality of our site will be severely restricted. Web browser based cookies allow us to customize our site for you, save items in your cart, and provide you with a great experience when shopping OpticsPlanet. Your privacy is important to us, and any personal information you supply to us is kept strictly confidential.
If you cannot enable cookies in your browser, please contact us — we are always here to help!
JavaScript is blocked by AdBlocker or ScriptBlocker We're sorry - it looks like some elements of OpticsPlanet are being disabled by your AdBlocker. Unfortunately we are unable to offer our excellent shopping experience without JavaScript. Please add "opticsplanet.com" and "https://opl.0ps.us/assets-c1e0f7f3710/" to whitelist, or disable AdBlocker for this site (please note that we do NOT feature any annoying ads on this website). Thanks!
Looks like there are no reviews yet for this product. Be sure to check back soon to get the latest feedback from our customers and team of expert reviewers.
Do you already own and use this product? We want to hear from you! Share your thoughts, opinions and expertise with the world by being the first to leave a review. Click on the "Write a Review" button to get started - we'll even send you a special coupon code once you're done to thank you for your feedback!
Sours: https://www.opticsplanet.com/reviews/reviews-huntworth-heavy-weight-waterproof-sherpa-lined-bib-overalls-mens.html
FIELD TESTED!!! HUNTWORTH TARNEN FINAL REVIEW.
Field Test: Huntworth's Tarnen Series Cold-Weather Clothing
If "halo brand" hunting clothes have left you with sticker shock, you need to check out Huntworth. We did, and we're sold!
by Rob Reaser
After months of hunting the Midwest and the Appalachians, often with a good chill settled in my bones, the thought of spending even another weekend of freezing, wet misery in the woods almost had me ready to throw in the towel for the season.
Almost.
Our state's recently-established "Heritage Season"—a mid-January, four-day finale that lets hunters pursue whitetails with sidelock muzzleloaders or traditional archery gear only—was coming up and I had yet to take part in it. That time of year is usually occupied by the Archery Trade Association show (cancelled due to that little bug thing going around), so I was excited to be home this year and have the opportunity for one final fling of hunting deer…if the weather wasn't going to be rotten.
A week out, the always-reliable weather forecast predicted an "OK" weekend. A bit chilly, perhaps, but none of the wet, frozen, sloppy stuff. I called my cousins and said, "Let's have one more camp weekend before everything shuts down until turkey season."
The "I'm there" responses rolled in as expected. Also as expected was a weather forecast revision. Forget the partly sunny stuff… sub-freezing slop was now on the menu.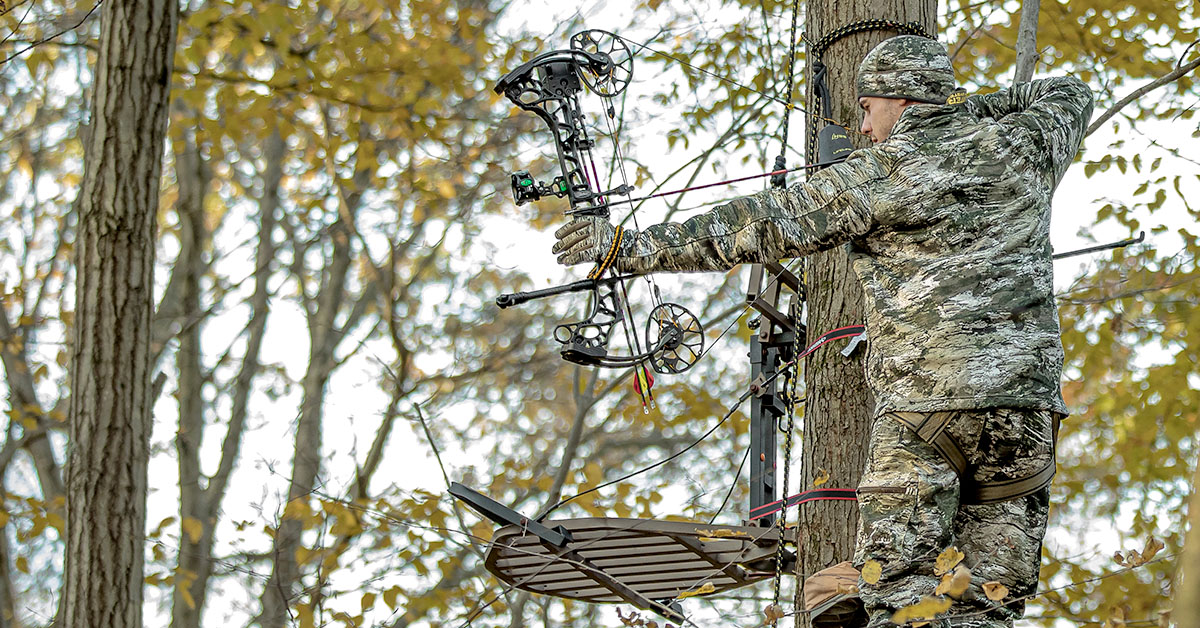 With everyone's momentum in play, there was no turning back. I was also glad for the weather downturn. The set of Huntworth cold weather clothing I ordered had just arrived and the predicted weather that only a muskox or one of my Canadian friends could love would be perfect to give the Huntworth gear a solid test.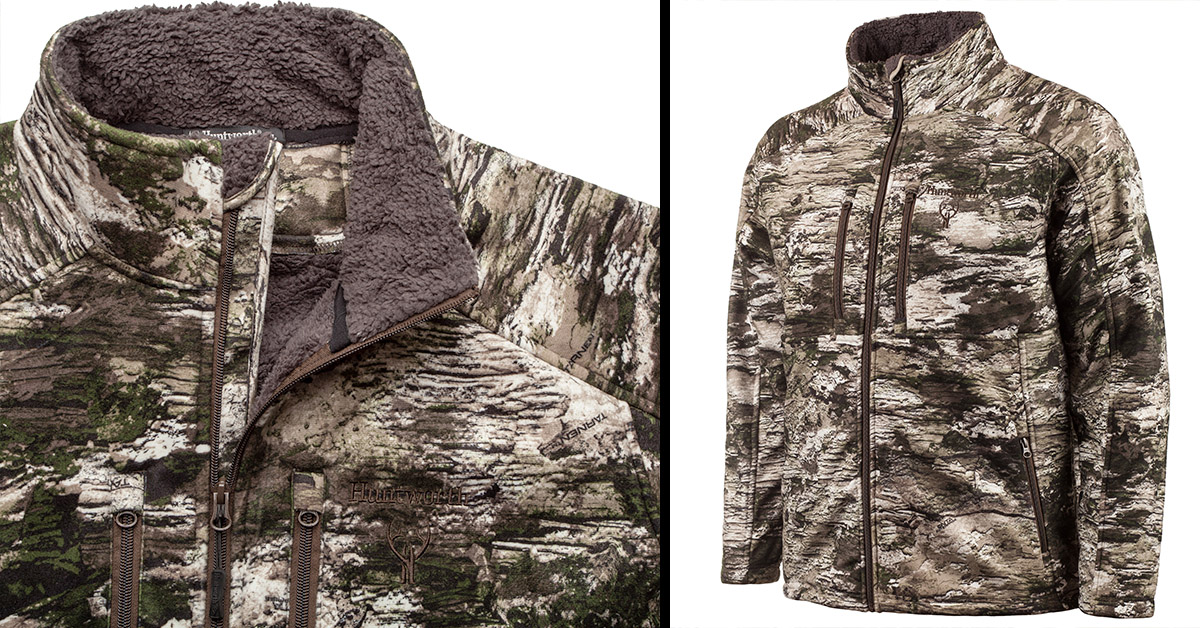 If you have never heard of Huntworth clothing, don't feel left out. This is not one of the illuminated brands that so many of the "influencers" and social media types tend to push. The company also doesn't spend big bucks on advertising, relying mostly on word of mouth and judicious placement through box store distribution.
Something else the company doesn't do is charge a bundle for their products. And that is one of the cornerstones of the Huntworth brand.
Huntworth's angle is in creating what most of us consider to be "performance grade" hunting clothes and providing them at a cost well below that of the platinum-priced brands that capture most of the market's attention today.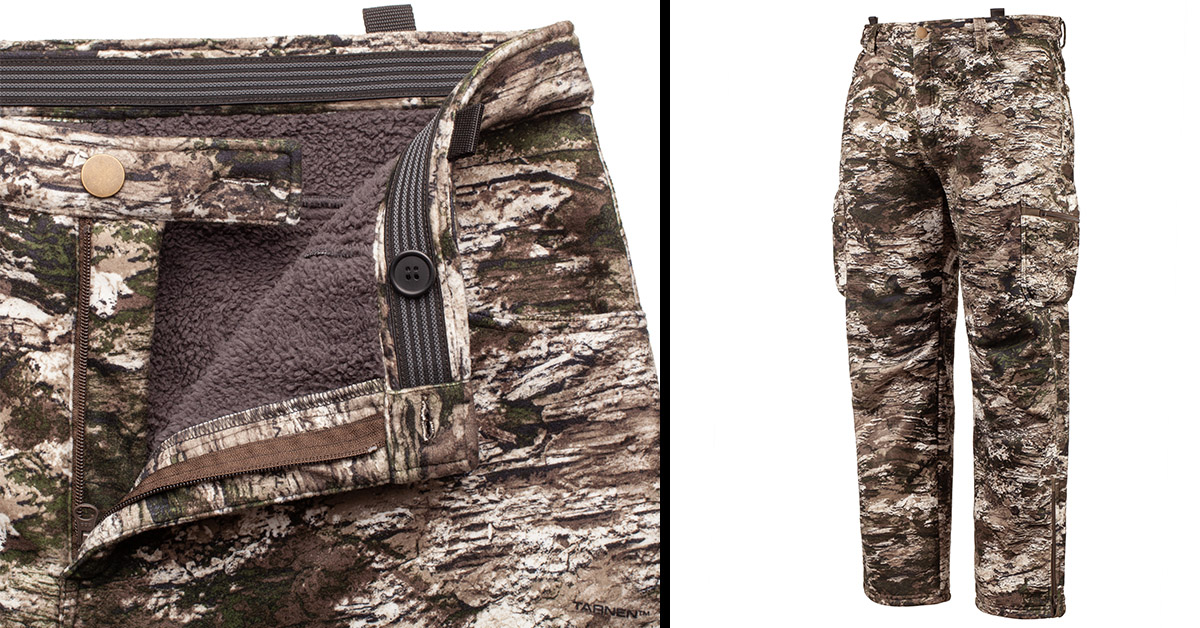 Another important aspect of Huntworth clothing when compared to the premium-priced brands is in the fitment arena.
Try as I might to stay in shape for western hunts, I am not imbued with the genes or the metabolism to comfortably wear the "athletic cut" clothing that all the popular hunting kids wear. I tested a set of those premium duds on a South Dakota hunt last year—the type with the athletic cut—and I wasn't a happy camper. The pants and jacket were sized large, but the waist was a tad snug, and the sleeves were so narrow I struggled to pull them up my arms.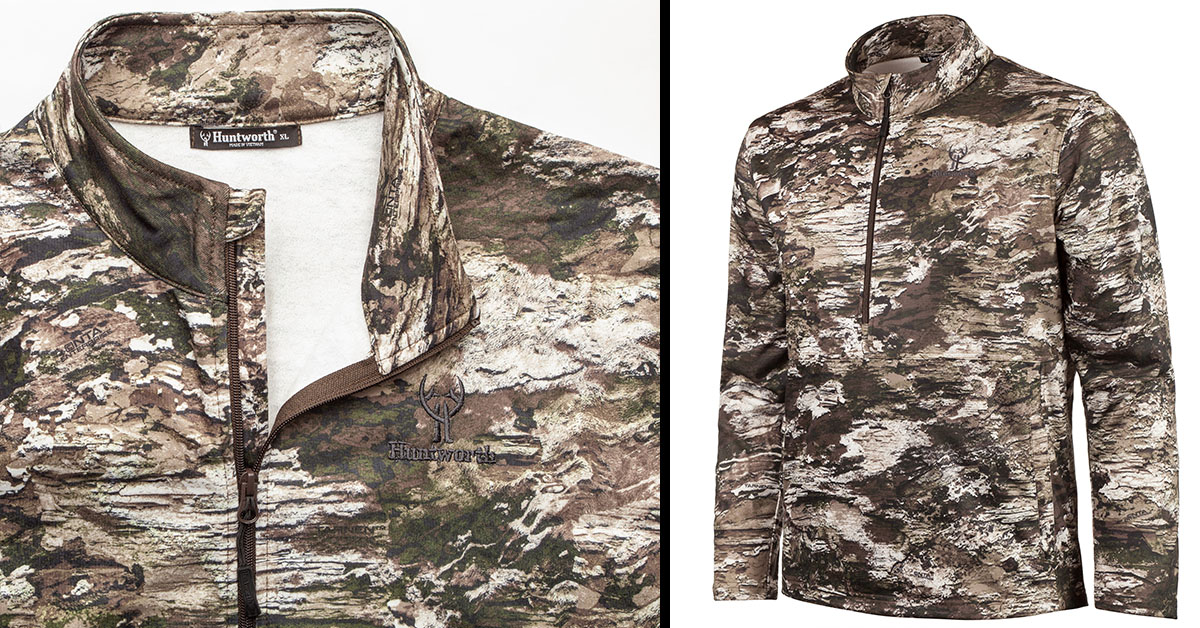 I tend to favor a looser cut with my clothing for better maneuverability and to provide enough room amongst my base and mid layers to trap warm air. Most average-built, real-world guys are the same. We're not sporting chiseled abs and a lean, tapered body profile so, quite often, those athletic cut clothes are simply too tight where they shouldn't be, creating issues with flexibility and insulation. I can deal with some of that when I am still hunting out west. On an eastern whitetail deer stand in 20- or 30-something degree weather, that's a no-go. Tight fitment and minimal air space mean I am going to get cold in a hurry.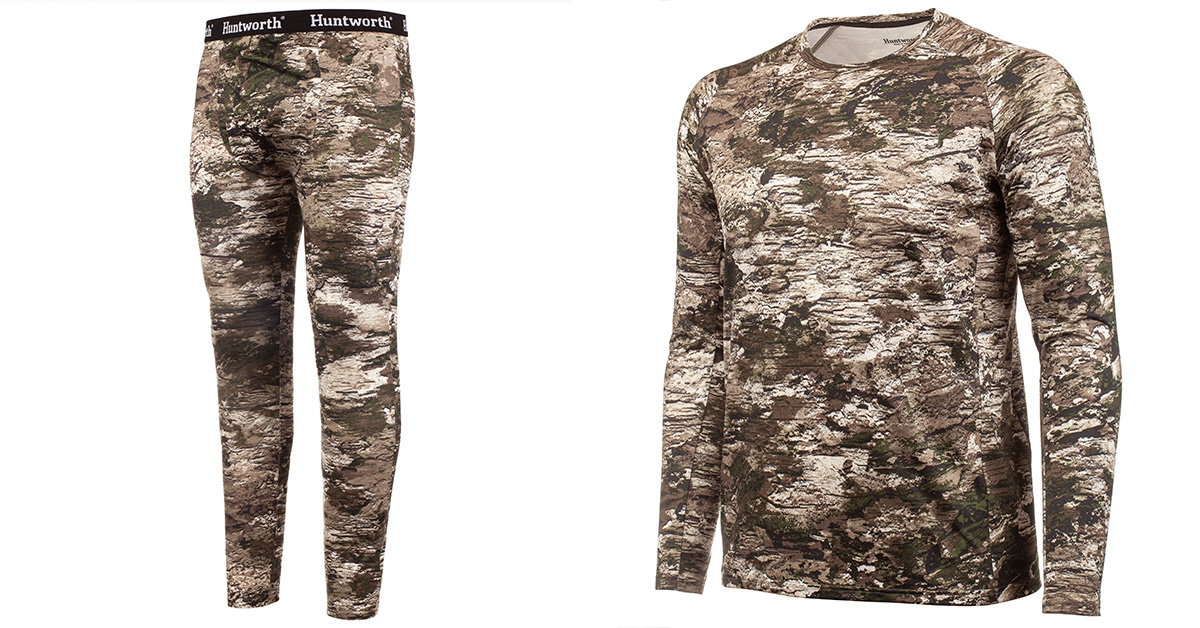 Huntworth clothing, on the other hand, finds that delicate balance between a too-tight athletic cut and an overly loose cut that makes you feel like a toothpick wrapped in a napkin.
Since I needed a set of good cold-weather gear, I decided to give Huntworth's base, mid, and heavy weight layering system a try. For the camo, I was especially intrigued by the company's proprietary Tarnen pattern. Tarnen is designed around a relatively high contrast blend of micro and macro elements with a strong "bark-like" motif. These elements are layered with a selection of light to dark tans and browns accented with subtle splashes of green. The overall color scheme, shading, and randomized elements allow it to blend with multiple environments and seasons.
Most of my camo clothing features patterns from the two primary brands—Realtree and Mossy Oak. I like them fine during spring turkey season and from early bow season into rifle season. Once the snow hits, though, the almost monolithic color schemes make me look like a dark blob when there's snow on. Huntworth's Tarnen, by contrast, blends exceptionally well in snow country, as you can see from the photo above taken on my late-season muzzleloader hunt. The subdued colors mixed with contrasting elements, though, also make this a viable pattern in almost any environment, from early season to late, east to west.
So, Huntworth's fit and concealment get high marks in my book. What about warmth?
Whenever I test clothing "systems," I make it a point not to add to my wardrobe in order to make a proper evaluation. My hope—especially when dealing with really foul weather—is that the soft gear does its job of keeping me warm and comfortable during low activity yet doesn't make me sweat during episodes of high exertion.
Hunt day dawned in the mid-20s, with snow already blanketing the ground and trees. My morning tactic was to still hunt across a long flat and then cut up a steep point and work my way across the ridges above camp. Garb included Huntworth's mid-weight base layer pants and shirt, mid-weight knit jersey 1/2-zip pullover, heavy-weight hunting pants, and heavy-weight soft shell jacket.
The snow and ice balls buffeted along on wind gusts in the double digits for most of the first morning. Both the pants and jacket are rated windproof courtesy of a breathable film bonded between the InVelvet fleece and the Sherpa fleece lining. The windproof film seemed to work well in keeping the sharp cold from seeping in.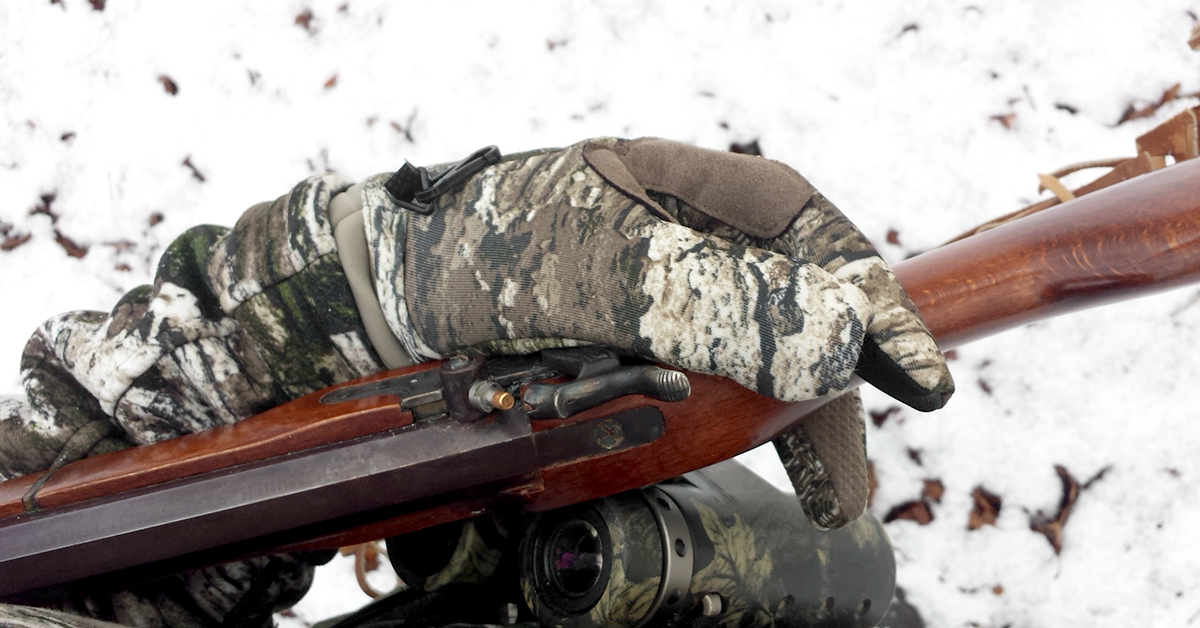 As the temperature rose, accumulating snow began to melt on my jacket and pants. With both garments treated with a DWR (Durable Water Repellant) finish, the moisture beaded on the fabric but didn't soak in.
Later that evening, a snow squall rolled in—one strong enough to key an emergency weather alert on my two-way radio. Again, the Huntworth gear kept me dry and warm.
The one thing I miss having on the jacket is a hood. The jacket collar offers decent protection under normal conditions, but in rain or a side-swiping blizzard, you're going to get some moisture on the back of your neck.
In sum, the Huntworth outfit—from the base to the outer layer—delivered in the worst hunting conditions I typically encounter in the whitetail woods. I stayed warm, stayed dry, and the fitment was spot-on for walking and climbing steep hillsides. Best of all, this full system did not have a price tag north of $600 or $700. The MSRP for all five pieces is $454.99.
Right now, however, Huntworth is running a winter clearance sale on all items, so if you are looking for a clothing upgrade, now is the time to do it while there is still some inventory and the clearance sale is on. With the clearance price, this five-piece outfit can be purchased direct from the manufacturer for $363.95—a hefty savings on what is already cost-conscious pricing. The company is also offering free shipping on orders over $100 (USA only).
To see all Huntworth's clothing options in their assorted proprietary patterns, go to HuntworthGear.com.
Rob Reaser
Shoot On Editor-in-Chief Rob Reaser is a lifelong outdoorsman, former magazine editor, columnist, and contributing editor to numerous national publications in the automotive and outdoor segments. He has also authored and co-authored several DIY gun building books. His shooting and hunting passions cover everything from traditional archery and big-game bowhunting to the latest in handguns, rifles, and reloading. Rob has a troublesome habit of pulling guns and things apart to see how they work; occasionally, he manages to get them back together...
Sours: https://shoot-on.com/field-test-huntworths-tarnen-series-cold-weather-clothing/
Gear reviews huntworth
.
HUNTWORTH DISRUPTION HUNTING GEAR REVIEW!!!
.
Similar news:
.
1293
1294
1295
1296
1297