Situated in the Northeastern region of the United States as the northernmost and easternmost state within New England, bordered by the Canadian provinces of Quebec and New Brunswick, Maine is the 39th most extensive and 41st most populous state with more than 1.3 million residents. Often considered the safest state in the nation due to its extremely low crime rate, Maine is also the only state that borders exactly one other state with New Hampshire to the west. Nicknamed the "Pine Tree State" and "Vacationland," Maine is famous for its magnificent scenery, jagged rocky coastline, low rolling mountains, heavily forested middle, picturesque waterways, bottled water springs, old-world lighthouses, naval shipbuilding, and delicious seafood cuisine accounting for an estimated 90 percent of the lobsters in America.
As the least densely populated state east of the Mississippi River, it is no surprise that the following is the only postsecondary institution in Maine that offers graduate students a Master's in Human Resources degree program aligned with the standards of the Society of Human Resource Management (SHRM). As the largest association devoted to serving the needs of professionals in Human Resources and advancing the interests of the HR profession in the world, it is highly recommended that aspiring HR professionals select a program given full approval by the SHRM. When enrolling in an SHRM-aligned degree program, students can rest assured that they are receiving high-quality HR education, unparalleled networking opportunities, and respect from employers throughout a variety of business sectors.
Thomas College
Graduate Division
Situated in the heart of Central Maine on an 108-acre rural campus in Waterville along the banks of the Kennebec River, Thomas College is a private career-oriented institution that is committed to preparing undergraduates and graduates for careers in business, technology, and education. Boasting an impressive graduation rate with 94 percent of Thomas graduates hired within their chosen field within 90 days, Thomas College offers an innovative Guaranteed Job Placement Program to help ensure all students succeed. Providing a supportive learning environment that values and accommodates for the unique needs of individual adult students, the Graduate Division of Thomas College is committed to promoting professional excellence informed by ethics and integrity.
Master of Business Administration (MBA) with a Concentration in Human Resources Management
Specifically designed for business practitioners seeking advanced training in human resources management with a strong business core and flexibility to specialize in their unique areas of interest, the Master of Business Administration with Human Resource Concentration (MBA-HR) program reflects the curriculum guidelines established by the Society of Human Resource Management (SHRM). Focused on developing the skills, knowledge, and abilities in Human Resources, the curriculum involves a minimum of 36 semester credits in accounting for management decisions, economic systems, financial management, organizational behavioral, strategic planning, marketing management, and management of human resources. Upon completion of the program, graduates are eligible to sit for national PHR or SPHR certification examinations for advanced roles in the business world. (See: Should you get an HR Certification or a Graduate Degree?)
Accreditations
New England Association of Schools and Colleges (NEASC)
Contact Information
180 West River Rd.
Waterville, ME 04901
(207) 859-1111
[email protected]
http://www.thomas.edu/content/4869/master-of-business-administration-human-resource
Sours: https://www.humanresourcesmba.net/shrm/in/maine/
We provide leadership, connections, education, and resources to Maine employers to promote diversity in the workplace
The Diversity Hiring Coalition will focus on three strategic areas. Each area has a specific vision for its work:
Aging Workforce: To provide resources and education to organizations to bridge the generational divide in the workplace
Racial and Ethnic Diversity: To provide education, resources, and networking opportunities to attract, retain and promote racial and ethnically diverse talent in Southern and Central Maine.
LGBTQ+ community: To promote and support workplace cultures where all people are welcomed, respected, and made to feel safe, as their authentic self, inclusive of one's sexual orientation, gender identity, and gender expression
The Diversity Hiring Coalition is an affiliate of the Maine SHRM State Council, which serves and advances the human resource profession throughout the state.
The Diversity Hiring Coalition is an endorsing sponsor of the Maine HR Convention.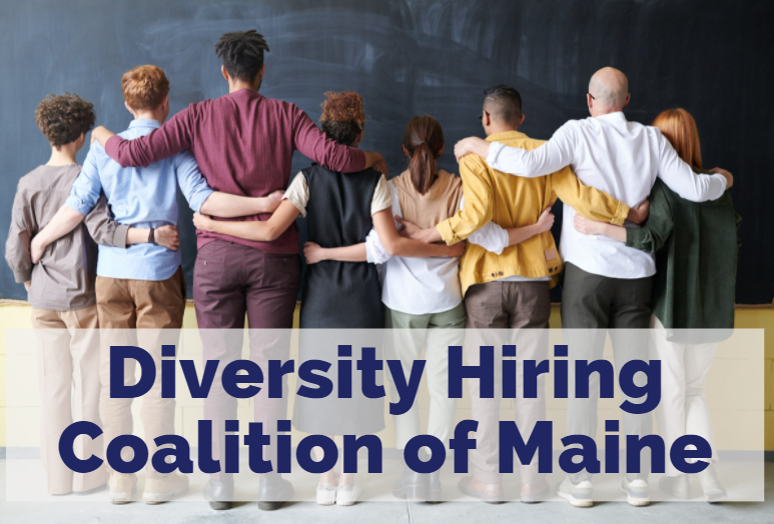 Sours: https://dhcmaine.com/
HR news and updates from across Maine--Spring 2016
Greetings Maine HR! It is an honor to be serving in my second year as the SHRM Maine State Council's Director.
Our council is very active and dedicated to executing our strategic initiatives that support our mission of providing support to human resource professionals, employers, and SHRM chapters across the state in an effort to enhance Maine's workforce and promote advancement of the human resources profession.

I encourage you to participate in the upcoming events which are endorsed by the SHRM Maine State Council:

The Maine HR Convention - If you aren't already registered, there is still time but you should hurry because you don't want out miss out on the impressive list of keynote speakers, educational sessions with both HRCI and SHRM recertification credits, networking opportunities, exposition hall, the MESHRM Gala, entertainment, bookstore, LUCKY auction and more!


MESHRM plans to be very visible again this year at the convention. Please visit us at our booth! Whether you are in a chapter, or not, we would love to connect with you! Not to mention - we are bringing some giveaways with us. MESHRM volunteers will be running the booth so please stop by and say hi to us!
If you haven't made a donation to the silent auction that benefits the SHRM Foundation and MESHRM, please do! You may donate here. There is still plenty of time and I would love for us to have a record-breaking year. Money raised at the auction goes towards HR scholarships for our members. During the convention, please be sure to stop by and purchase some tickets and enter to win some great prizes.


Best Places to Work - Be part of the Best Places to Work program in Maine. The registration deadline is May 27 and there is more information here: http://bestplacestoworkme.com.

Our council has had two meetings so far this year where we have identified our 2016 strategic initiatives in the following areas:
Membership: Promoting both SHRM membership and local chapter membership since both membership types are valuable to anyone practicing HR in Maine
Workforce Readiness: We are happy to be continuing our partnership with the Maine Employers Initiative supporting their annual scholarship program
Diversity: Please visit the DHC's website http://meshrm.shrm.org/diversity-hiring-coalition for information on their 2016 programs that include:

April 12 - Diversity at Portland YMCA @ Delhaize in Scarborough
June 28 - Racial/Ethnic Diversity @ Portland Adult Ed
August 30 - Professional Development @ location TBD
October 13 (tentative) Annual Retreat @ the Hilton Garden Inn in Freeport
December 13 - Book Club @ Bowdoin College (Book: Becoming Nicole by Amy Ellis Nutt)

Certification: Promoting the new SHRM-SCP and SHRM-CP Certifications as well as continuing to assist with HRCI certifications
College Relations: Our College Relations Director is looking into HR-related internship programs that the council may be able to assist with in the future.
Scholarships: We will continue to offer scholarships again this year. Please be on the lookout for more specifics in late spring.
If you are not familiar with MESHRM or our Chapters, please take a few minutes to visit our website and look around. You can also find links to all of the Chapters, the DHC and MSHHRA.

If you have any ideas on how MESHRM can better assist the state, a chapter, or you - please feel free to contact me. I hope to see you in May at the convention!

Best regards,
Marcia Benner
State Director, Maine SHRM State Council
VP of HR - Damariscotta Bank & Trust
Best Places to Work in Maine - Register by May 27!

This exciting initiative is dedicated to identifying and recognizing Maine's best employers. The process is managed by Best Companies Group and winners are published in Mainebiz and celebrated at an awards event in October, 2016. To find out more or to register, visit their website at www.BestPlacestoWorkME.com

2016 Conference: HR Supporting Diversity

Maine Society for Healthcare Human Resources Administration (MSHHRA)

September 15 & September 16th is MSHHRA's bi-annual conference at Sebasco Estates in Phippsburg. The conference theme is HR Supporting Diversity. Individuals do not have to be a member of MSHHRA to attend this conference. MSHHRA members are free and non-MSHHRA members receive a great conference for only $100. The conference will be approved for both SHRM and HRCI general credits of 5.75. Please email Karen Littlefield if you are interested, and she will send you a brochure!
2016 MAINE HR CONVENTION

REGISTER BEFORE WE SELL OUT! Seats are filling up QUICKLY for your state's human resources conference. We expect over 800 of Maine's HR community in May at the Samoset Resort. Join your HR colleagues for all four days or any mixture of days. SHRM and SHRM chapter members enjoy a member discount. Visit the Convention website to view the program schedule. There are more than 40 dynamic sessions that are approved for 24.25 HR (GENERAL) credits and 15.75 business credits. We are also approved for 24.25 recertification credits for the new SHRM CP and SCP designations.
NOT ON OUR EMAIL LIST?
Email us and we'll add you to our list.
2016 Annual Maine Workers' Comp Summit
Comp Summit is Maine's annual, system-wide event for the workers' compensation community. Each year we crunch the numbers, parse the language of the statue, and look to the future. The quality education at this conference reaches the legal community, occupational health and wellness providers, insurers and adjusters, case managers, and Maine employers and employees alike. We seek continuing education credit for Maine and New Hampshire attorneys, case managers (CCM, CRC, CDMS), and human resource professionals (HRCI & SHRM credits.)

Visit the Comp Summit website to learn about this year's program.
www.mainecompsummit.com

NOT ON OUR EMAIL LIST?
Email us and we'll add you to our list.
We create the experience, so that you can make a difference.
Join New England's Top HR Talent in 2016!
2016 Strategic at Mt. Washington.
Strategic HR at Mt. Washington enters year FIVE. We engage a senior-level, strategic-thinking audience in every aspect of the conference. If you are looking for a unique, senior-level experience in the world of HR, have we got the conversations for you! A Big Idea Sunday, a Strategic Monday, and a Bring it Home Tuesday - all rolled into one strategic experience at the historic Omni Mount Washington Hotel. Visit the Retreat website to see this year's program. Look at the business case for attending and register before the early-bird rate expires June 1st! With special thanks to the SHRM State Councils in New England.
NOT ON OUR EMAIL LIST?
Email us and we'll add you to our list.
- Awards and Scholarships -
Society for Human Resource Management (SHRM) Maine State Council Recieves Excel GOLD Award!

This award recognizes outstanding achievements in state council operations and a commitment to providing meaningful programs and services to our members. It also is recognition of our continued growth and development as a business leader, capable of developing strategies that lead to business success! We are very proud of our leadership and thank SHRM for their continued partnership.
Maine Development Foundation now accepting employer nominations for 2016 Next Step Maine Employees of Promise Scholarship Program.
Next Step Maine Scholarships are given to employees who are engaged in taking additional steps in their education and skill development and who are considered promising contributors to the organizations for which they work. Scholarships are only available for employees of Next Step Maine Employers - committed employers who have joined our statewide Next Step Maine Employers' Initiative to advance the skill and educational attainment of Maine's workforce.


Not sure if you're a Next Step Maine Employer? View our list of current Next Step Maine Employers. If your organization is on this list, then you are eligible to nominate an employee of promise today. If you are not yet on this list, click here to learn more about the becoming a Next Step Maine Employer and enrolling in this free statewide initiative. By joining the Next Step Maine Employers' Initiative, your organization will be recognized as a Next Step Maine Employer and a leader in supporting employee development. It is free to join this initiative. To join, you need only to complete our online employer enrollment form. Once you have successfully completed this form, you will automatically be eligible to nominate your employees.

Nominations for the 2016 Next Step Maine Scholarship Program will be accepted from Thursday, February 11th through 11pm on Friday, April 22nd. Scholarship notifications will be made in May. The nomination process is a two-part nomination process. The employer must complete an online Employer Nominator Form and the employee nominated must complete an online Employee Nominee Form.

To learn more about this scholarship, review the guidelines, and access the nomination forms, visit our website at: nextstepmaine.org/next-step-maine-scholarship
Central Maine Human Resource Association (CMHRA) News
Chapter Meeting


Topic: Workers Comp - the best & worst things an employer can do with a WC claim - practical advice, checklist, case-studies, take-aways.


Date: April 19, 2016, 7:45am - 9:30am


Location: Ramada Hotel and Conference Center - 490 Pleasant Street, Lewiston

Price: Included in Membership / $25.00 for non-members
Maine Society for Healthcare Human Resources Administration (MSHHRA) News
MSHHRA meets quarterly at the MHA Building in Augusta with the business meeting starting at 12:30 p.m. Our first meeting of the year was March 17, 2016. Our guest speaker was Judy West, SVP and CHRO for MaineHealth/Maine Medical Center. The topic was Workforce Planning in a Dynamic Changing Healthcare Environment. Learners came away with an understanding of the specific challenges as it relates to healthcare human resources professionals in retaining and recruiting talent; changes in the demographics that Maine will experience not only for today but also the future.
MSHHRA members have a great opportunity to network and get some great education by attending the Maine HR Convention at the Samoset in May.
Our next meeting will be scheduled on June 9, 2016. Our presenters will be Jacqueline DeSaint, Leadership and Training OD Specialist, Maine Medical Center; and Kris Evans, professional speaker, entertainer and partner with Harvard Risk Management Corporation. Jackie's topic will be Employee Engagement/Roundtable; and Kris will be speaking about Identity Theft - we will learn the major types of identity theft, as well as how to be more prepared to protect non-public information (NPI).
-Society For Human Resources (SHRM) News -

Why Seek SHRM Certification?

Earning your SHRM-CP or SHRM-SCP credential makes you a recognized expert and leader in the HR field - and a valuable asset to your organization, keeping you and your organization more competitive in today's economy. This professional distinction sets you apart from your colleagues, proving your high level of knowledge and skills.
FOCUS ON YOU
SHRM-CP and SHRM-SCP are your credentials, based on the current HR landscape. This certification is 100% focused on the competencies and knowledge all HR professionals need to lead in today's business community.
UNIVERSAL SKILLS & RECOGNITION
SHRM Certified Professional (SHRM-CP) and SHRM Senior Certified Professional (SHRM-SCP) are based on one single, comprehensive SHRM Body of Competency and Knowledge™ (SHRM BoCK™) and are relevant worldwide, giving professionals the recognition and flexibility to use their knowledge, skills and competencies anywhere their career takes them.
COMPETENCY & KNOWLEDGE BASED
SHRM-CP and SHRM-SCP test HR competencies as well as knowledge, and their application, to ensure the professional's ability to demonstrate what they know, and what they can do with their knowledge in the variety of situations they encounter.
DEVELOPED WITH EMPLOYERS IN MIND
SHRM-CP and SHRM-SCP are based on in-depth research focused on -and backed by- global employers and business leaders. They reflect what HR practitioners need to know to be leaders in their organizations and in the profession.
EXPANDED ELIGIBILITY AND INCLUSIVITY
SHRM-CP and SHRM-SCP recognize diversity in the HR profession. The eligibility requirements minimize barriers to participation and reflect current HR roles. The exam windows provide accessibility and flexibility for all eligible professionals worldwide. In addition, the new exam is affordable, making certification attainable by more professionals.
UNIVERSALLY APPLICABLE
SHRM believes that HR certification must be as inclusive and diverse as the profession itself. The SHRM certification is applicable across industries, geographic borders, job responsibilities and career levels.
GLOBALLY RECOGNIZED
By creating a consistent certification path for HR professionals around the world, SHRM will deliver a new global standard. To ensure worldwide recognition of the new certification, SHRM anticipates seeking accreditation of the certification program according to standards for educational and psychological testing defined by the American Educational Research Association, the American Psychological Association, and the National Council on Measurement and Education.
Sours: https://myemail.constantcontact.com/News-from-Maine-SHRM--Spring-2016.html?soid=1109538512363&aid=hjb9Ghe8ODY
SHRM Specialty Credential vs. SHRM Certification
here - SHRM Maine State Council - Society for Human Resource ...
SHRMMaineStateCouncil

Affiliate of the SocietyforHumanResource Management

2012 Workforce Readiness Initiatives

Presented by:

Lee Ann Lowe, SPHR

Workforce Readiness Director
---
Objectives

• Learn about the role of Workforce Readiness

• Get to know the Chapter Workforce Readiness

Representatives and their current Workforce

Readiness activities

• Review the National and State Workforce

Readiness Initiatives
---
Role of Workforce Readiness

• Monitor and evaluate state and local

activities concerning workforce readiness

issues

• Plan and encourage chapter involvement

and activities impacting the workforce

readiness arena
---
Chapter Introductions

• Eastern Maine

• Central Maine

• Kennebec Valley

• Healthcare

• Southern Maine

• Mid-Coast

• NorthEast
---
SHRM Workforce Readiness Goals

• Be sure that every chapter has a Workforce Readiness advocate and

their name is in the SHRM database as such

• Continue to hold at least one communication activity (send written

information, hold conference call, or hold web cast) session per

quarter with chapter WR advocates in your state. Communicate the

SHRM goals and progress to your state/chapter.

• Work with chapters to promote/implement one SHRM WR

initiative at the chapter/community level.

• Develop list of state workforce readiness resources for chapters and

members. Add to your state website.

• Participate in at least one webcast and one teleconference for

workforce readiness. Share the information with your state/chapter

and discuss potential next steps for your chapter.
---
MaineStateCouncil Workforce

Readiness Initiatives

• Support Maine Employers' Initiative (MEI) in

achieving their goal of 150 member employers by

June 2012

• Partner with Jobs forMaine's Graduates (JMG)

to raise awareness of the program throughout

the HR chapters
---
Maine Employers' Initiative

• History and Overview

• Benefits of Membership

• 2011-2012 MEI Goals

Presented by:

Maggie Drummond, Program Director
---
What's Next?

• Promoting MEI benefits to chapter members

• Quarterly webinar for updates of chapter

workforce readiness activity

• 2 nd Quarter webinar – Jobs forMaine Grads,

Neal Williamson, COO
You have already flagged this document.
Thank you, for helping us keep this platform clean.
The editors will have a look at it as soon as possible.
Are you sure you want to delete your template?
Magazine: here - SHRM Maine State Council - Society for Human Resource ...
Sours: https://www.yumpu.com/en/document/view/37378910/here-shrm-maine-state-council-society-for-human-resource-
Maine shrm
SHRM Student Chapters in Maine
Students attending universities in Maine who are serious about furthering their careers in human resources (HR) seek out their local Society for Human Resource Management student chapters in Maine. The SHRM helps prepare students for the real world of business through the latest industry specific HR research as well as presentations by knowledgeable keynote speakers. Professional SHRM chapter members help the student chapters hold elections for student officers, facilitate valuable workshops conducted by industry leaders, and coordinate internship programs with local businesses. Recognized internationally, SHRM is the leading professional organization for HR specialists and is particularly valuable to students enrolled in HR related degree programs.
Here are some universities in Maine that have SHRM student chapters associated with their school's HR degree programs.
UNIVERSITY OF SOUTHERN MAINE
University of Southern Maine (USM) takes a different approach to the study of HR management. Instead of incorporating the discipline into a traditional degree program, HR management coursework is a part of the USM professional development program. Students usually choose this type of learning program when they have specific training needs levied by their organizations, are preparing for an industry certification examination or simply want to gain human resource management skills to make themselves more competitive in the market.
The HR management certificate program offered by USM consists of 91 training hours on subjects that HR industry professionals view as the most important topics and challenges faced by HR managers in the field. The credentialed HR management instructors divided the program into 79 hours of required core courses and 12 hours of electives used to tailor the course for one's specific needs. The USM HR management certificate program is aligned with the vision and HR principles presented by the SHRM, and the school hosts a SHRM student chapter on its campus.
Contact
USM Portland Campus
88 Bedford Street
Portland, ME 04104
207-780-5900 or 1-800-787-0468
[email protected]
https://usm.maine.edu/pdp/certificate-program-human-resource-management
SAINT JOSEPH'S COLLEGE OF MAINE
Saint Joseph's College of Maine (SJCM) is a private, liberal arts school in Standish, Maine. The bachelor of science in business administration with a concentration in human resources management is just one of the 40 degree programs offered by the school. The undergraduate degree program instructs students about employee training and development, recruiting and benefits package development, just to name a few topics. The program also aligns with the SHRM vision of creating value added HR business partners in the workplace. These HR professionals know the mechanics of HR management as well as the business in which they operate. For instance, HR professionals who are well versed in other areas of business are able to present viable initiatives that further the company's strategic goals and subsequently elevate their status among their peers and corporate executives. Successful HR business partners possess and apply a broad range of business skills that are taught within SJCM's undergraduate business degree program. Participation in the student chapter of the SHRM helps augment this quality HR degree program.
Contact
278 Whites Bridge Road
Standish Maine 04084
1-855-752-4636
[email protected]
http://www.sjcme.edu/majors/human-resource-management
THOMAS COLLEGE
Thomas College is a non-profit, liberal arts school in Waterville, Maine. Its mission is to prepare its graduates for personal and professional success through solid academics within the context of ethics and integrity. The small school offers students degree programs in the traditional disciplines, but it distinguishes itself by the multitude of degree program formats offered. For instance, there is a traditional undergraduate business degree program in Finance that takes four years to complete, but ambitious students may take a combination Finance and Master of Business Administration degree program by adding a fifth year of study. Thomas College offers many of these combination degree programs including ones that feature HR management specializations. HR management related degrees are combined with business specialties like accounting, finance, marketing and management. Besides being host to a SHRM student chapter, the school's HR degree programs utilize the SHRM curriculum guidelines to prepare students for successful HR careers. According to the school's statistics, 94% of their undergraduate students find jobs in their chosen discipline within 90 days of graduation; the numbers have been so consistent that the school touts it as a guarantee.
Contact
80 W River Rd
Waterville, ME 04901
207-859-1111
[email protected]
http://www.thomas.edu/undergraduate
UNIVERSITY OF MAINE-PRESQUE ISLE
The University of Maine (UM) at Presque Isle is a public liberal arts school in the northern part of the state and provides a host of degree options to its approximately 1600 person student body. Besides its small college town atmosphere and opportunities to participate in outdoor adventure sports activities, UM at Presque Isle offers students unique learning opportunities in the form of traditional coursework, innovative projects, and special continuing education programs. For example, UM offers a distinctive online university where students who are not seeking college credit may take university level courses for free. Some popular specializations like HR management are taken as minors or as part of special programs like the certificate programs offered by the American Management Association. Along with comprehensive HR management coursework, UM at Presque Isle hosts a SHRM chapter to acquaint business students and those seeking work in all professions with the latest developments in HR and labor relations.
Contact
181 Main St
Presque Isle, ME 04769
207-768-9400
[email protected]
http://www.umpi.edu/files/catalogue/minor-programs.pdf
Conclusion
HR management affects participants in nearly all professions. The Society for Human Resource Management student chapters in Maine allow students to gain a closer look at the specialization of HR while facilitating the development of students' communication and leadership skills.
Sours: http://www.masters-in-human-resources.org/shrm/in/maine/
Maine State SHRM Council
Deborah Whitworth of Portland was first appointed as a Commissioner by Governor LePage September 2011 to fill an unexpired term. She was appointed for a full term in August 2012, and reappointed in 2017; her current term ends in August 2022. Deb is owner of HR Studio Group—a human resources consulting firm located in Portland and serving businesses and nonprofits throughout Maine and Seacoast New Hampshire. 
An outspoken advocate for disability rights, she was pleased to be elected in 2015 to the board of The Cromwell Center for Disabilities Awareness. Named the Maine HR Leader of the Year by the SHRM Maine State Council in 2012, Deb is a frequent presenter on human resources and compliance topics at conferences and business functions. She is also an instructor in the HR Certificate Program at University of Southern Maine, and she leads the SHRM-SCP/SHRM-CP Certification Preparatory Course at University of Southern Maine.
Prior to being elected as Director of the Maine State Council of the Society for Human Resource Management, she served as President of the largest SHRM chapter in the state—the Human Resources Association of Southern Maine. Deb previously was employed by Mercer, a global human resources firm, Managing Director at Lebel and Harriman, Vice President of Human Resources at the Waldron Group of Companies, and the Regional Human Resources Manager at Central Maine Medical Center.
Deb holds a Bachelors' Degree in Communications from Kent State University in Ohio. She earned her Senior Professional in Human Resources (SPHR) designation from the Human Resources Certification Institute of SHRM in 2002 and was among the first HR professionals in the country to earn her SHRM-SCP (Senior Certified Professional) designation in 2014. Deb is a registered Republican.
Sours: https://www.maine.gov/mhrc/about/commissioners
You will also like:
Maine SHRM

The Maine SHRM State Council is an endorsing sponsor of the Maine HR Convention and Strategic HR New England.
Website: http://maineshrm.org
---
State Conference
Maine HR Convention
May 10 – 12, 2022
Virtual Conference
BACK IN 2022:
• HR BASIC TRAINING: One-Day Intensive Program For Beginners
---
Maine SHRM Chapters
CMHRA Lewiston/Auburn
, Central Maine Human Resources Association
http://cmhra.org
DHC Diversity Hiring Coalition
http://www.dhcmaine.org
HRAEM Bangor
, Human Resources Association of Eastern Maine

http://www.hraem.org
HRASM Portland
, Human Resources Association of Southern Maine

http://hrasm.org
KVHRA Augusta, 
Kennebec Valley Human Resources Association
https://kvhra.shrm.org
MSHHRA Maine Society for Healthcare Human Resources

http://mshhra.net
Midcoast Maine SHRM Rockland and Midcoast

http://midcoast.shrm.org
NESHRM Aroostook County, NorthEast Society for Human Resource Management
http://neshrm.shrm.org
Sours: https://www.strategichrus.com/hr-alliances/maine-shrm/
1215
1216
1217
1218
1219