Kanban Board Excel Template
When you are working on a project, you must ensure the sustainability of every project from the very beginning to its end. After all, one of the main tasks of a project manager is to provide the effectiveness and efficiency in company's best interests. This Kanban Board Excel Template lets you track your entire process by preparing a scrum board.
With Kanban Board following each step will no longer be a painful process. Even without a software program or another tool. All you have to do is input the necessary data into the database and refresh the workbook to display all your results.
If you do not have any idea about kanban board workflow management approach, check this Wikipedia description to learn more.
Kanban Board Excel Template Features
Basically the template has 4 main sections:
Kanban
In this section, you will display the kanban cards depending on the selected board and the filter you choose.
You may check and display the projects under many filters such as priority, responsible person, task due date, overdue and time until due date.
If you have more than one board you may also input that data in the database and display your tasks in each border separately or you may also display all by choosing "All" from the board section.
It is also possible to change the order of the board status by choosing the required status from the drop-down list and delete the unnecessary ones on Kanban Sheet.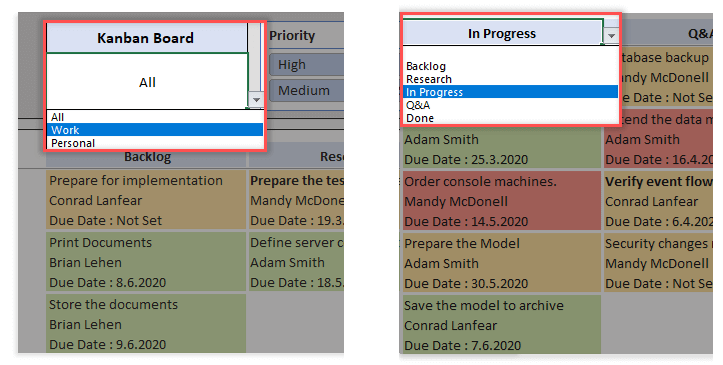 Dashboard
On the Dashboard section, you may check the performance and the general view of your projects. Once there is a change in your data the template has to be refreshed by the refresh button on the template.
You may also find the notes section on the right upper corner if you have any notes for any task or project.
Database
You can use database to input your task and it's properties. Just select the board section, responsible person, priority and stats from the drop-down menu (To be able to select them you need to list your options in the settings section).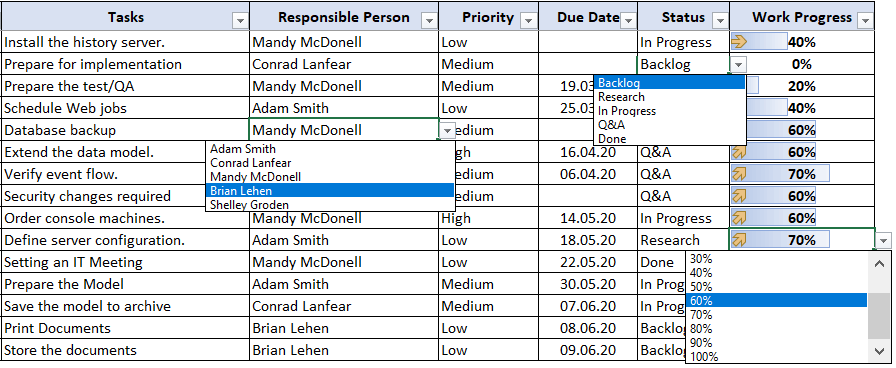 The Finish Date is the date that you completed the task and the Due Date is the date that has been set for the end of project.
If you have any notes you may input in the remarks section.
Settings
You can use the data you input area in settings section, to be later on selected on other sections.
Type down your statuses in "Status Section", Responsible People to "Team Members", your boards to "Board Section" (if you have more than one).
Following that, you may define five priority levels and decide their color represenatations in the Kanban Board. Overdue % Settings forms the Overdue Percentage Chart on the Dashboard. Define your levels for each priority to see it on the Dashboard.
Select your desired Date Format as well as the connector style to be used for dates. You can also decide on the overdue principle, from Overdue definition settings. Information on both options are provided within the yellow instruction notes.
Offering a next level of customization, you can even decide the exact data to be shown in the Kanban board. For this please use the Card Data Selection.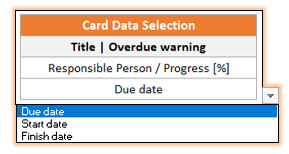 Having a full power on your project will help you plan your route and let you make effective plans in the future.
Kanban Board Excel Template Features Summary:
Automated Kanban Board in Excel
Simple workflow management
Advanced reporting with dynamic charts
Easy-to-use filters to see overall performance
Full print ready
Informational notes included
No installation needed, ready to use
Works both on Mac and Windows
Compatible with Excel 2010 and later versions
Includes VBA code and macros
This Kanban Board Template is a ready-to-use Excel Template and provided as-is. If you need customization on your reports or need more complex templates, please refer to our custom services.
Download Now!
Sours: https://www.someka.net/excel-template/kanban-board-excel-template/
How to create a Kanban board Template in Microsoft Excel
In our recent post, we looked at how Kanban boards can be used as a great tool for helping to manage workload effectively.
While this tool originally came to prominence as a visual management tool used in manufacturing organizations they can also be a great tool for personal use if you need a bit of help in managing your todo list.
Now just to say this from the off – Kanban boards work best as a visual management tool. They are not called a board for nothing! But if you just want something software based then yes you can create a Kanban board in Excel by following these simple steps.
1 Design your flow
A Kanban board has columns that describe the stage of the process (or the flow) that your task follows – in the example below we'll look at 3 simple columns
1. To do – my list of tasks to manage
2. In work – tasks I've started
3. Done – tasks I've completed
The first task is to create a worksheet that matches that flow. In the example below I've used 3 columns (that way I have enough room to display my card). I merged the first one and use it as a title. I then format the "title" cell in a color to make it stand out.
I segregate each column by a further column formatted black to clearly segment each "flow" column
In the "in work" column I have put the maximum number of cards (or tasks) that I can have at any one time – in this case 5. This means I can only be working on 5 tasks at once. Now, this is down to your personal choice but for me, 5 seems to work.
Here is what my finished board looks like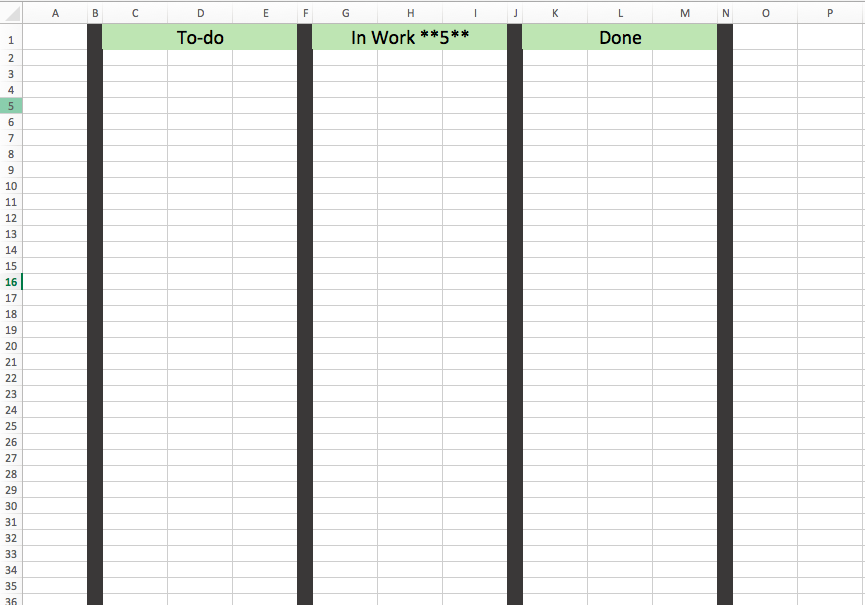 Basic Excel Kanban board
The next stage is to build your task card. For me I wanted the following:
a) The task name
b) A description
c) The task Priority (i use either High or Low)
d) Due date (when the task has to be completed)
e) % complete – how complete is the task (I use increments of 25%)
When I designed the card I found it best that it matched the column size of the board, so in this instance 3 columns.
I also found it best if I merged several rows (I use 4) and the columns for the description part. (in the formatting for this element ensure you select "wrap text" so you don't screw up your formatting.)
I then use formatting to color my cards.
I have 3 separately formatted cards, these are for
a) Standard tasks
b) Priority/super urgent tasks (I use Red on these to indicate the importance)
c) Unplanned tasks (I format these cards orange).
Here's what my cards look like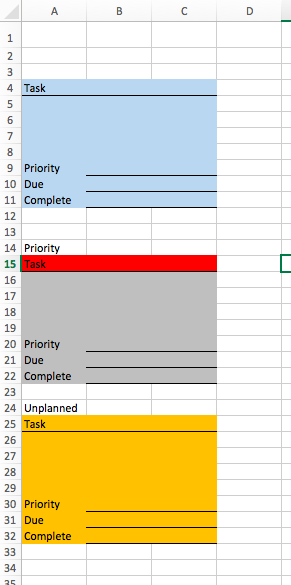 Example Excel Kanban task card
In my workbook, I have two sheets, one for the board and one with the blank cards on.
I then cut and paste the cards onto my "Kanban Board" and fill them out as required.
When a task/card flows to the next column I simply use cut and paste to move it.
This system is relatively simple to set up and is more than adequate if you have a moderately sized to-do list.
Excel Kanban Board Example
Here's what my finished board looks like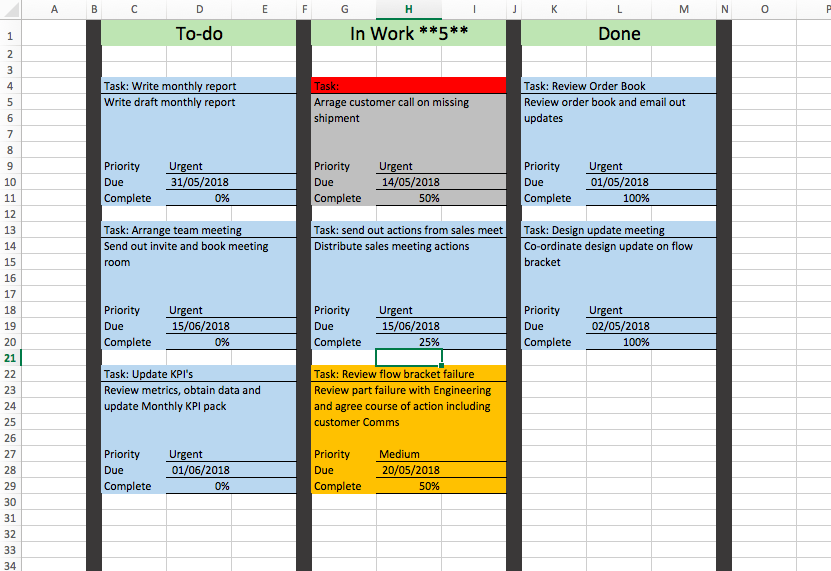 Example Excel based Kanban Board
As an alternative to using worksheet cells for the cards, you can use text boxes (again you can format them different colors) but I found that using formatted Cells were easier to manage (but your mileage may vary!).
Again, once you have basic board established, I just use Excel's cut-and-paste to move things around.
The above tutorial is for an ultra-simple board. Your flow may look different and you may want to design your cards to hold different information. They key is to try it out and modify the principle until you get something that works for you. So why not give it a try and set up your own Kanban Board Template in excel.
I think that managing your to-do list is one of the biggest challenges that many of us face and to do it well you need a system. For me having a Kanban board made me much more efficient which is why I set up my template – I hope you found it useful. I'd love to know how you get on by following the steps (and if you've found modifying it gets even better results).
As ever I'd love to hear your thoughts and comments on this tutorial in the comments section below.
Sours: https://sanzubusinesstraining.com/how-to-create-a-kanban-board-template-in-microsoft-excel/
KaiNexus Blog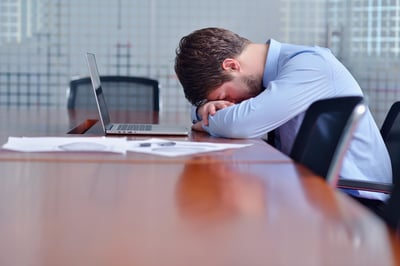 The internet is full of free Kanban Excel templates that you can download. That's not surprising because the format of a Kanban board can be very simple, and Excel is attractive because most people know how to use its basic features, and everyone in the company probably already has access to it. Setting up a Kanban board in Excel and emailing it out to everyone is easy. That's why we aren't surprised that so many organizations start out on this road.
Very few, however, reach their goals with this approach. Here's why.


Excel Isn't Designed for More than One User at a Time
If you have only one person responsible for an entire value chain, Kanban for Excel will probably work just fine, but that is almost never the case. Most business processes, whether in software development, product production, construction projects, or emergency room care, involve multiple people, sometimes crossing several operational areas. Kanban boards are meant to communicate and control the flow of work in progress from start to finish. While cloud technology makes it possible for more than one person to edit a spreadsheet, Excel was never designed as a tool for multiple simultaneous users. If you've ever had three or four people working on a spreadsheet at the same time, you know the perils of conflicting versions and quality control.


Version Control is Hopeless
If I complete a spreadsheet template, save it on my machine and email it to four people, how many copies of that spreadsheet now exist? Six. (One on my hard drive, one in my outbox, and the four I sent.) If one of the people I sent it to saves it, makes a change and sends it back, we're up to 12, and now they aren't all the same. What if 2 people make changes to the original file? Which one should the third person modify? Yuck. It's easy to see why it doesn't take long before no one trusts the data or knows which file to use.


You Can't See Who Changed What
Even if you are able to overcome the versioning problem, it is impossible in Excel to see who changed what data, when they did it and why. While the Kanban board itself is a snapshot of the current state of work in progress, the practice of Kanban entails much more. It is a conversation about how to control and improve the process that includes everyone involved. Visibility into the history of the process helps teams make better decisions and to find ways to enhance flow. Excel is not designed to give you that.
What about Google sheets? You might ask. They offer an online option with some version control but still lack the ability to share information about how work has moved through the pipeline over time.


There are No Workflow Capabilities
You can certainly stick a due date into a cell in a Kanban Excel template, but what happens when it comes and goes? Nothing. Excel has some unbelievable capabilities for creating formulas and manipulating data, but it won't alert you if you miss a critical milestone. It won't automatically notify you if someone sticks your name beside a new task, it won't remind you of upcoming due dates, and it won't notify leaders if work is falling behind.


Mobile Users are Left Out
It is technically possible to open a spreadsheet on a mobile device, but have you ever tried it? Depending on how the file is designed, you may be able to read it - but editing a spreadsheet on an iPhone is almost impossible. The modern workforce is mobile. In order for Kanban boards to be effective, people must be able to make changes from wherever they happen to be.
What's Better Than Kanban Excel Templates?
So, what's the better solution than managing Kanban boards in Excel? Our clients have been successful with improvement software that includes digital Kanban boards. The best solutions have the following capabilities.


Visual Management
Like an Excel template or even a physical Kanban board, Kanban software displays the current state of work. Unlike the other options, however, it allows you to drill into each item to review the history, notes, and associated documents. Interruptions in the flow of work are immediately apparent and improvement cycles to resolve them are managed right in the same tool.


Alerts and Notifications for Active Engagement
Kanban software includes active alerts and notifications to keep everyone apprised of new assignments, missed deadlines, unexpected process results and inquiries from team members.


Impact Reporting
Organizations use Kanban to optimize process flow, produce faster results, manage improvement projects, and achieve other business goals. The best Kanban software has the ability to measure the results of each project or process against key performance indicators. Knowing the short and long-term impact of improvement is the surest path to engagement and executive support.


User Roles and Permissions
Each person has different needs for reviewing Kanban data, the solution you select should allow the system to be set up to show everyone exactly what they need. Leaders may need access to multiple boards, whereas individuals may need to review the work of just one team or even one specific process.


Mobile Applications
We mentioned the challenges of Excel on mobile devices. The right Kanban software makes it possible to both view and edit data on a mobile phone or tablet. This ensures that everyone has 24x7 access to your boards.
Managing Kanban boards with Excel templates is tempting, but the drawbacks are too significant to ignore. If Kanban is vital to your organization, it makes sense to invest in a solution that was designed specifically to support it.
Sours: https://blog.kainexus.com/improvement-disciplines/lean/kanban/should-i-manage-my-kanban-board-in-excel
Automated Kanban Excel Template
Wondering how to create a Kanban board in Excel?
A Kanban boardgives you a full picture of your workflow and can help improve team productivity. Most importantly, it stops you from splurging on sticky notes. 💸
And while creating aKanban board in Excel is possible, let's find out if you should actually go for it.
In this article, we'll discuss what Kanban is, the steps to create a Kanban board in Excel, and some handy templates. We'll also go over its limitations and highlight a better alternative to MS Excel Kanban boards.
What Is Kanban?
Kanban is a workflow management method that's become a must-have for teams implementing Agile strategies, like Scrum.
Want to learn about Agile project management?
Check out our Agile project management ultimate guide.
You don't even have to be an Agile team!
Any team with a goal to deliver fast and efficient results can really benefit from Kanban.
Now let's break it down:
The Kanban method mainly needs two things, Kanban boards and Kanban cards.
How does it work?
The Kanban cards are work items that move through a process you visualize on the Kanban board. Each work item goes through stages like to-do, in-progress, and done.
The stages can differ for different industries and departments. In fact, you can check out the different versions of Kanban boards in our article.
And what makes the Kanban system unique is that it pushes you to complete the task at hand before moving on to the next one.
This way, you're not drowning yourself in a long 'to-do' or 'in-progress' list.
Instead, you'll have a longer 'done' list! 📄
The Kanban method's benefits are pretty cool too. It:
Promotes work transparency through workflow and process visualization
Enables continuous improvement and collaboration
Keeps your workload in check with Work In Progress or WIP limits
Is flexible and suits all kinds of industries/workflows, including software development, inventory management, etc.
Want to learn how to use Kanban for project management?
Read our ultimate guide to Kanban project management.
Let's now dive into learning how to build a Kanban board!
4 Steps To Create A Kanban Board In Excel
If you want to implement Kanban in Excel, here are four simple steps to create a Microsoft Excel Kanban board:
Step 1: Prepare your Excel workbook
Open a new Excel file to set up your workbook and add two Excel sheets or tabs.
Name the first sheet 'Kanban Board' and the second one as 'Kanban Cards.'
Step 2: Create workflow columns
A typical Kanban board has three stages in a workflow: 'To-do,' 'In-progress,' and 'Done.'
Create three sections in the 'Kanban Board' tab and ensure that they are of the same width and have enough space to add your Kanban cards.
For example, we've created the 'To-do' section with a width of three Excel columns.
Merge the first row of the selected three columns and name the cell 'To-do.'
Repeat the process to create the 'In-progress' and 'Done' sections.
Then, format a column (in any color you prefer) between each section to separate the statuses. Your Kanban sheet or 'Kanban board' tab should look something like this:
Remember, you can always add more work status columns, depending on your workflow.
Step 3: Create Kanban cards or task cards
Now that your Kanban board is ready, you need Kanban cards.
Those are the cards you'll move from 'to-do' to 'done' and feel fantastic about crushing it.
To make them, go to the 'Kanban Cards' tab in your Excel sheet (it's the second tab you made) and create three task cards.
Ensure they have the same width (three Excel columns) as the 'Kanban Board' tab's workflow status sections. This makes it easy for you to copy-paste the task cards onto your Kanban board.
For this example, each task card will have:
A width of three Excel columns
And a length of eight Excel rows
Once you have selected the required cells for a card, click on the 'Merge Across' option, as shown below.
Fill the task cards in different colors; we leave it up to you.
This way:
One can represent 'standard tasks' (a card type that contains low-medium priority tasks)
The second can denote 'other tasks' (a card type that contains personal to-dos or unplanned tasks)
Make the third task card red so that it can indicate high priority.
Once done, determine what fields you wish to add to your cards.
In our example, we'll add these five fields:
Task title
Space for task description
Due date
Time estimate
Assignee
How do you add these fields?
Just type them into each card, and that should do it.
Step 4: Start using the Kanban board
You're all set!
All that's left to do is start using the Kanban board you successfully created on Excel.
How to use it?
Based on your task, copy and paste the required Kanban card in the correct workflow status column in the Kanban board tab. Then, fill in the relevant details in the blank task card template.
Edit the cards each time you need to add a new task to the task board.
To move them from one status column to the next, just cut and paste them.
That's it. You've finally learned how to create a Kanban board in Excel! 🙌
Phew! Tiring, right?
However, there's a way you can entirely skip creating an Excel Kanban board from scratch.
You can use an Excel Kanban board template!
3 Kanban Board Templates For Excel
Here are three downloadable Kanban board templates that'll help you get started right away:
1. Kanban cumulative flow diagram template
Here's an excellent Kanban Excel template to visualize project progress.
The cumulative flow diagram can help you identify any potential roadblocks in the project. It can also double as a Kanban dashboard Excel template for you.
Download this Kanban cumulative flow diagram Excel template.
2. Personal Kanban board template
Here's another sticky note inspired Kanban Excel template download option for you.
Use this simple and pretty template to manage personal tasks efficiently.
Download this personal Kanban board Excel template.
3. Withdrawal Kanban card template Excel
Ideal for a manufacturing process, this template helps you visualize a product's movement within a system.
Download this withdrawal Kanban card template.
You can Google 'Kanban template Excel' to find more options on the web, including an automated Kanban Excel template, Agile project management template, and more.
3 Limitations Of Kanban Boards In Excel
Using Excel to adopt Kanban workflow management is like texting via email.
It's possible but slow, inconvenient, and makes no sense. 🤦
Here's why:
1. No workflow capabilities
Kanban method = better workflow.
That means a Kanban board should have the abilities to:
Add assignees
Set priorities
Set time estimates
And more!
Can you do all that on an Excel Kanban board?
Nope.
All these aspects can just be data mentioned in your Kanban Excel spreadsheet.
Nothing more.
2. Lacks essential functionality and reliability
Excel isn't exactly designed to implement Kanban.
For starters, you can't drag and drop items on your Kanban board, an essential feature of nearly any other Kanban tool.
And to top it, not every Excel Kanban template on the internet is reliable.
There's no guarantee that a free Kanban board Excel template will work for your project's specific needs.
You could be on the ninth page of Google and still barely find any templates that are easy to download and edit.
3. The mobile experience isn't user friendly
Ever tried opening a spreadsheet on your mobile phone?
Sure, it works.
But just try editing an Excel spreadsheet on your mobile.
As Excel data cells are too small, you'll have to zoom in and out to make edits.
When you zoom in, you can't see the rest of the data, and when you zoom out, you're stuck with tiny cells again. 🤦‍♀️
Feeling annoyed already?
Imagine doing that every time you have to add data or make changes! 😓
Having second thoughts about Kanban boards in Excel?
Say hello to ClickUp, the highest-rated project management tool in the world.
Create Effortless Kanban Boards With ClickUp
ClickUp is your ever-reliable side-kick when it comes to project management. And we mean from start to finish.
From brainstorming a project idea to completing multiple projects and tasks on time, ClickUp is here for you every step of the way.
And most importantly, ClickUp is the only Kanban tool you'll need!
Our Board view is the ultimate Kanban view. You can use it to implement the Kanban method with its convenient drag and drop interface.
To add the Board view, just click on + in the Task views bar, and you'll find the option to do so.
Use the Board view to:
ClickUp's Board view also lets you set Work In Progress or WIP limit.
What's that?
The WIP limit is core to the Kanban method. It creates a restriction on the number of work items that can exist in each Kanban column or stage.
This way, you don't overload your team with work, which could hamper their productivity or quality.
You can even add Cover Images to your task cards to make them pretty!
But wait… the Board view is just one of the many views ClickUp offers!
You also get:
List view: offers a high-level overview of all your tasks with flexible sorting, grouping, and filtering options
Gantt Chart view: lets you plan and schedule projects, manage task Dependencies, view Milestones, etc.
Calendar view: lets you plan, schedule, and manage resources on a calendar. You can also sync the calendar with Outlook, Google, and Apple
Table view: lets you turn your work into a table format. Ideal for viewing extensive data at once
But wait!
This project management software and project planner has many other useful features that you'll love.
Here's a sneak peek at what's in store for you:
Custom Status Template: templates for personal organization and department processes, including marketing, development, etc.
Nested Subtasks: create sub-items for your subtasks
Slash Commands: create Tasks, Assign Comments, set Priorities, etc. quickly without using your mouse
Docs: create and share documents that you can edit in real-time with others
Task Checklists: create simple to-do lists using Checklists. You can even template them
Dashboards: create a dashboard to gain all kinds of insights and reports using Cumulative Flow, Velocity, Burnup, and Burndown chart
Time Estimates: forecast task durations and creates accurate project timelines
Integrations: tons of integrations with apps like Jira, Box, Microsoft Teams, etc.
Offline Mode: work without the internet. Your tasks will sync as soon as you get a connection
The Right Way To Excel At Kanban?
Creating personal Kanban Excel boards can be useful if you don't mind all the manual trouble. 🙄
Most importantly, in Excel, you're not working with a Kanban board.
You're simply working with a spreadsheet.
Why do that when you've got powerful dedicated online Kanban board tools like ClickUp?
Whether you're a project manager, company owner, or just an employee, use ClickUp to create Kanban boards, manage resources, view workloads, automate tasks, and much more.
All for free!
Get ClickUp for free today and do things the Kanban way!
Sours: https://clickup.com/blog/kanban-board-in-excel/
Excel kanban template
After learning about Agile development, Kanban, and Scrum, we decided to try implementing a very simple system to help our small team work more effectively. Vertex42 is focused on continuous content and product delivery (just like many software companies), but it's easy to get overwhelmed with too many tasks and competing priorities. So, we decided to combine some principles from both the Kanban and Scrum methods into a simple tool that we can use both collaboratively and remotely. This Kanban Board Template was born from that idea.
Advertisement
Description
At first look, this spreadsheet may seem like just a glorified task list, but it's much more than that. It was designed to apply principles from agile project management. The idea of categorizing and prioritizing activities and moving the tasks through the "To Do", "In Progress" and "Done" lanes comes from the Kanban method. The idea of using a backlog and identifying activities to complete within a two-week period or "sprint" comes from the Scrum method.
What makes a good collaborative task management tool? In our experience, the answer is that we actually WANT to use it. And that's what we've found with this spreadsheet ... it's fun to use, extremely simple, and takes very little time to update.
Update 10/1/2021: Try the new Spreadsheet.com version! It has a card-style Kanban board view that allows you to drag cards between lanes. It also features automations that make it easy to move backlog ideas into new sprints and to archive tasks by simply checking a box.
What is a Kanban Board?
A Kanban board is a collaborative work flow or task management tool used in Agile project management. Team members add cards or sticky notes to a board on the wall representing the features or tasks they will be working on during their one or two-week sprint. The team has regular stand-up meetings to discuss their progress, update priorities, and physically move the tasks from In Progress to Testing to Done as they complete them.
Online Collaborative Kanban Boards
There are quite a few software companies that have developed online agile tools. Many of these, such as LeanKit and smartsheet have developed a "card" system where features and tasks are added to and moved between columns on the screen. With Vertex42's new template designed specifically for Agile sprints, Spreadsheet.com is now a great option for blending spreadsheet functions with visual Kanban Board views and email notifications.
Kanban in a Spreadsheet
Instead of placing cards in vertical lanes our template for Excel and Sheets uses horizontal lanes, where each row represents a separate card (activity, task, feature, etc.). In the Spreadsheet.com version, you can also switch to the Kanban Board view to see and edit the tasks as cards.
It is easy to move rows around in Excel and Sheets. In Excel: Select a row, then hold the SHIFT key as you left-click on the edge of the range and drag it. In Google Sheets: Select a row and then drag it when the mouse icon changes to a Hand.
You can add more details or notes to your tasks by adding columns, without making it any more difficult to move tasks between lanes.
Google Sheets vs. Excel
Google Sheets provides a great place to use this Kanban board template because of real-time collaboration and the ease of moving tasks between lanes by dragging and dropping.
When using Excel, we recommend using Microsoft OneDrive because it allows you to upload and share the file with multiple users, giving everyone online access to the file as well as access through Excel's mobile apps.
An Office 365 subscription allows you to edit the Kanban workbook in real-time using the co-authoring feature of Excel. See this article.
What is a Sprint?
A sprint in the Scrum methodology is normally a week or two-week period where the team works on developing and delivering a fully functional feature, or perhaps even an entire product. In our case, that might be a new template or maybe a new blog article.
What we like most about the sprint approach is that it provides a deadline. By estimating the hours to complete each activity, we can plan how much we might accomplish during the sprint.
Backlog: We love the idea of the backlog. Maybe we don't use it the way it was meant to be used, but it allows us a place to stick all our ideas without cluttering up our current sprint goal. We can evaluate the list of backlog items before the next sprint to decide what to work on next. Hiding the rows in the backlog keeps them out of sight and out of mind - to avoid having the huge list of to-dos distract us from the priority items.
Sprint Progress Chart: The top of the worksheet shows a new type of chart that I developed specifically for this spreadsheet. It shows the overall progress as filled-in flag icons and the current day as an hourglass, so you can interpret the chart as your race against time.

The formula for creating a sprint chart is explained in this blog article. If you have questions or comments, please let us know by commenting in that post.
References and Resources
This page isn't meant to teach you everything you need to know about Agile, Kanban, and Scrum. To learn more, here are a few resources we found useful:
Note: The information on this page describes how we have adapted some of the Agile principles into our own work and into the Kanban template. It is not meant as a general reference for how Agile, Kanban, and Scrum should be applied in all businesses.
Related Content
Sours: https://www.vertex42.com/ExcelTemplates/agile-kanban-board.html
Automated Kanban Excel Template
.
Similar news:
.
1151
1152
1153
1154
1155