Doodling has exploded in recent years, thanks to Bullet Journaling, Zentangle, and a renewed interest in sketchbooks and drawing.
It's become absolutely cool to doodle all over everything, and doodling has been proven to help you retain information.
I have been an obsessive doodler since childhood, using it to while away boring hours in school or church, and decorating hundreds of pages of notes I've taken in meetings or classes over the years.
While it's fun to see all the cute step-by-step drawing instructions, I like to take a more organic approach to doodling, and fill my pages with whatever comes to mind. It's so much more relaxing and therapeutic for me that way.
If you balk at this approach or are simply looking for doodle ideas to add to your collection, take a scroll through this bottomless pit of doodle inspiration.

Simple Graphics and Logos
Start with clean graphics and line drawings you find- if you practice your favorites a few times, you'll commit them to memory and have them in your doodling arsenal for whenever you want them.
I love these super-simple line logos.
This font of pre-Hispanic petroglyphs can get you started with, and maybe you can even make up your own little doodle language.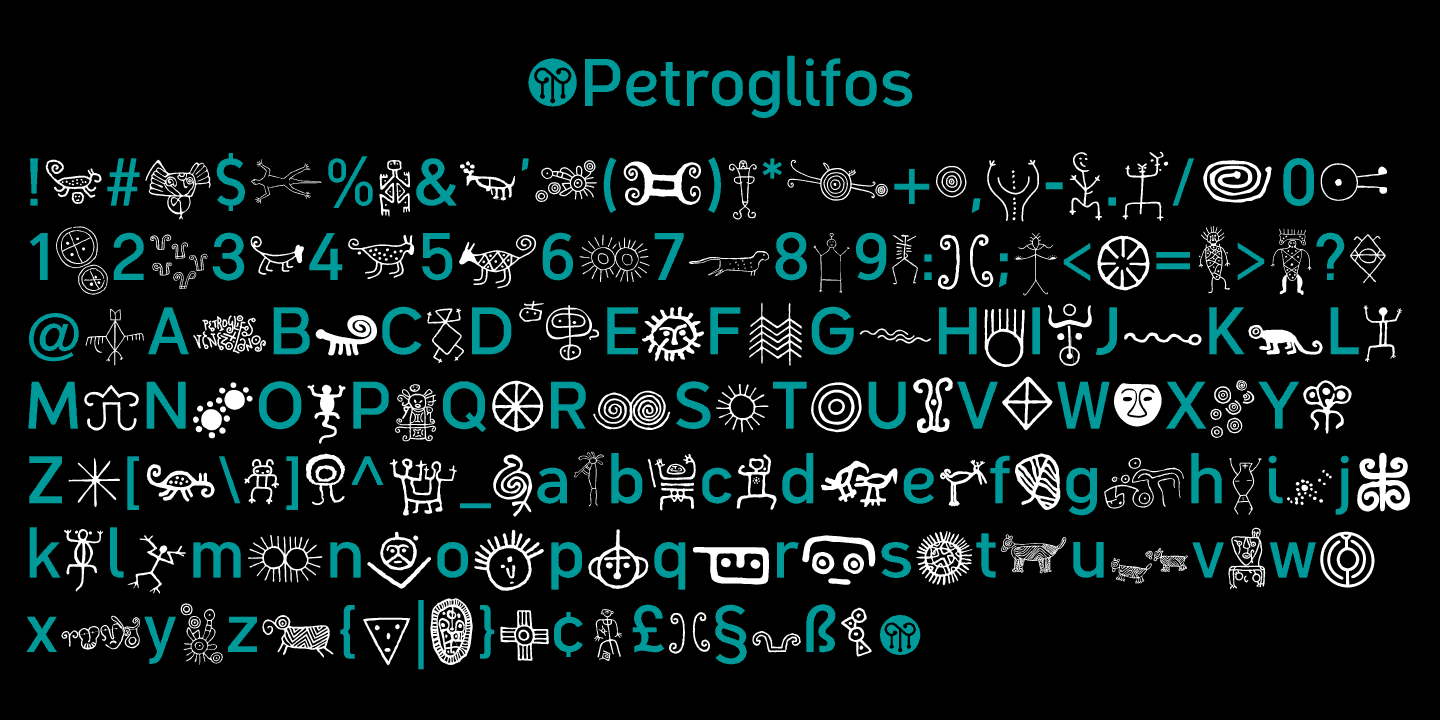 This fun little font by PintassilgoPrints includes an actual font, but also all these totally cool graphic elements. (It's probably worth it just for that monster image. I would use that in everything I typed.)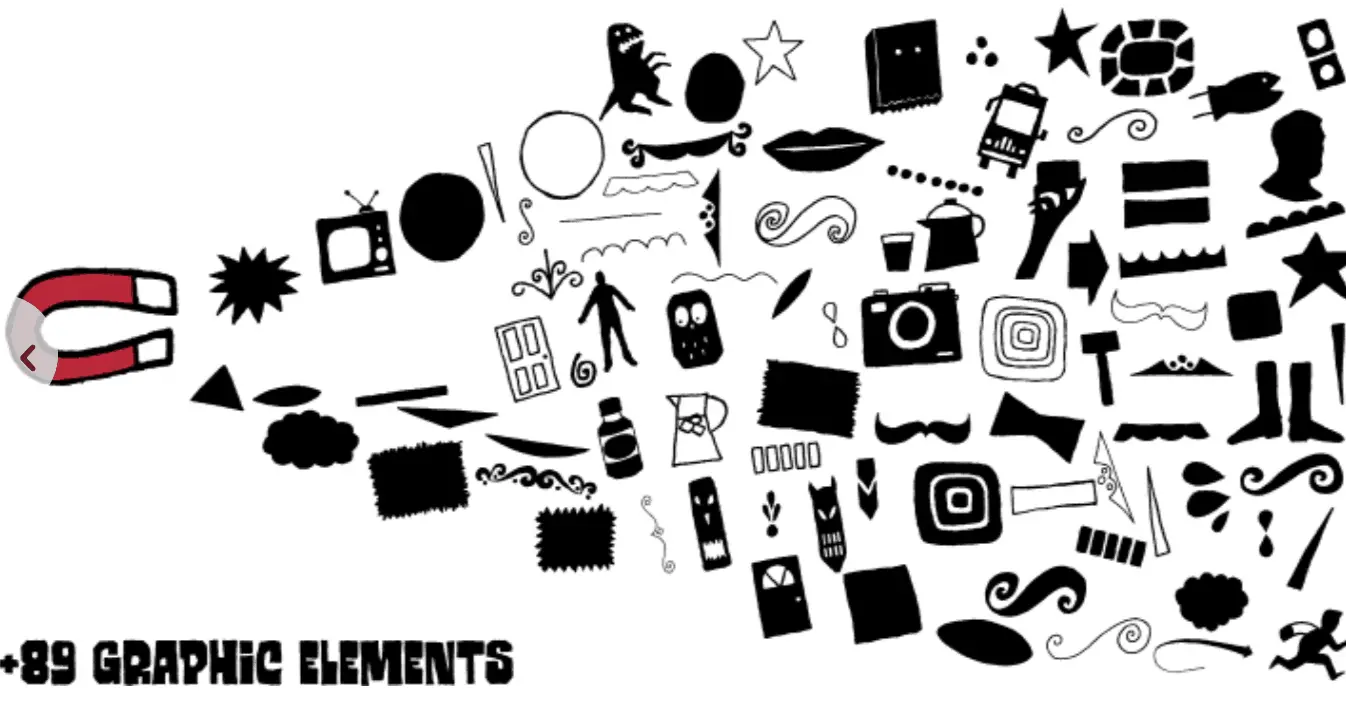 Bullet Journal Doodles
Have you pondered starting a bullet journal? Or maybe you're way deep into it, but even if you keep the most basic of bullet journals, I'm sure you've tried the errant banner or flourish here or there.
This Instagram account has lots of drawing inspo, and I'm sorry I just wrote inspo.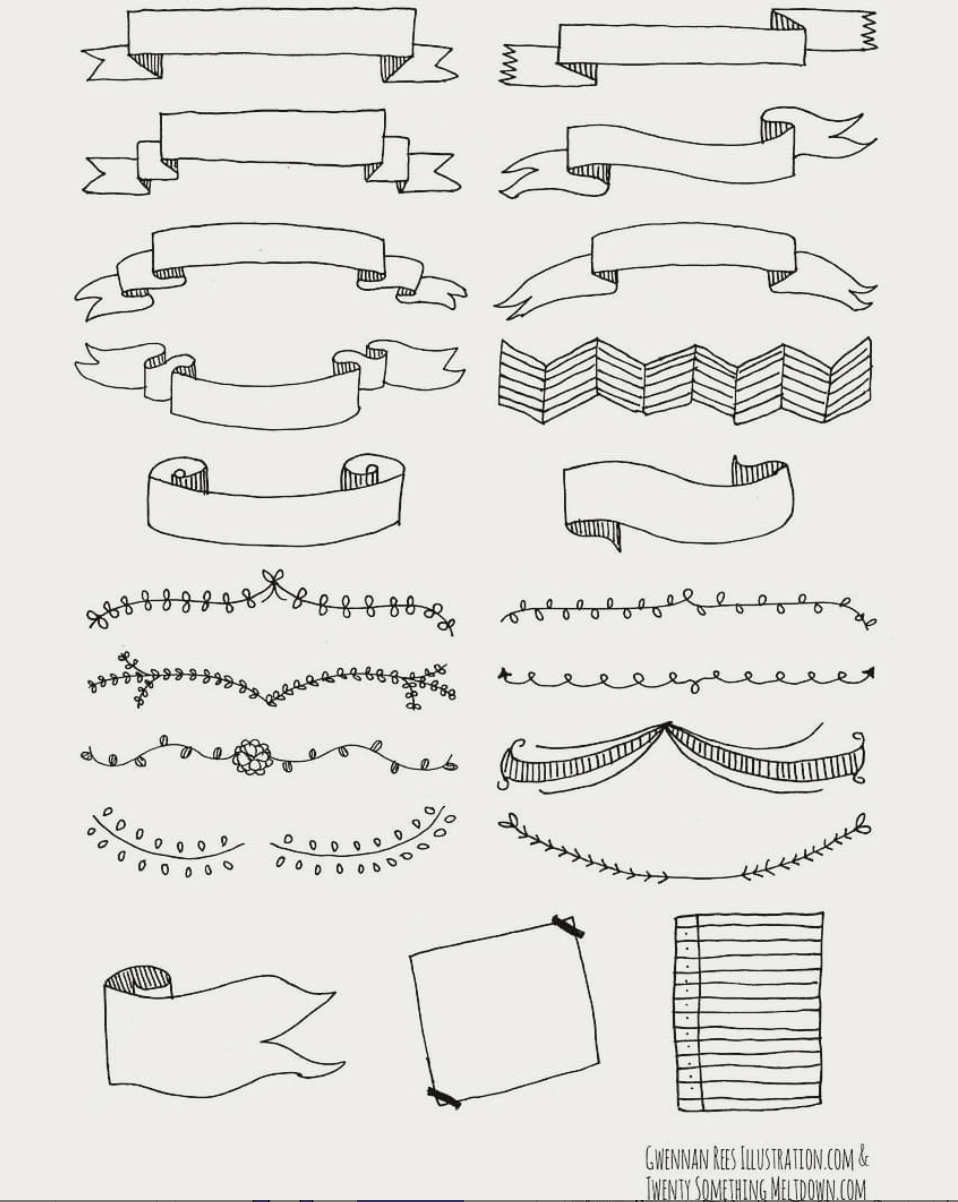 Borders can be used all over your bullet journals and notebooks, and these images are perfect to draw inspiration from.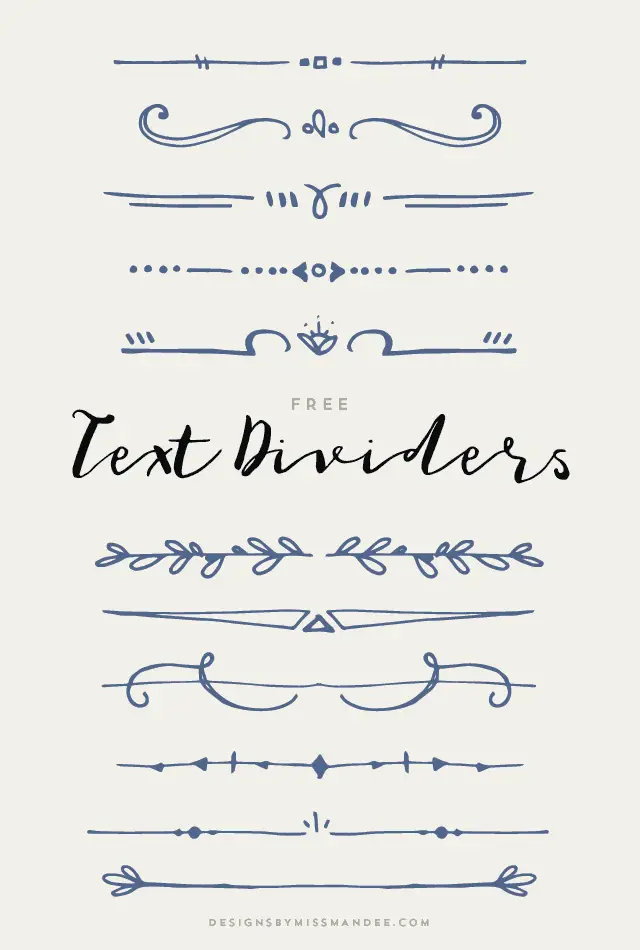 Paisley is a fantastic doodle motif. You can get lost in designing all your own little cute paisley shapes and putting them together in various ways.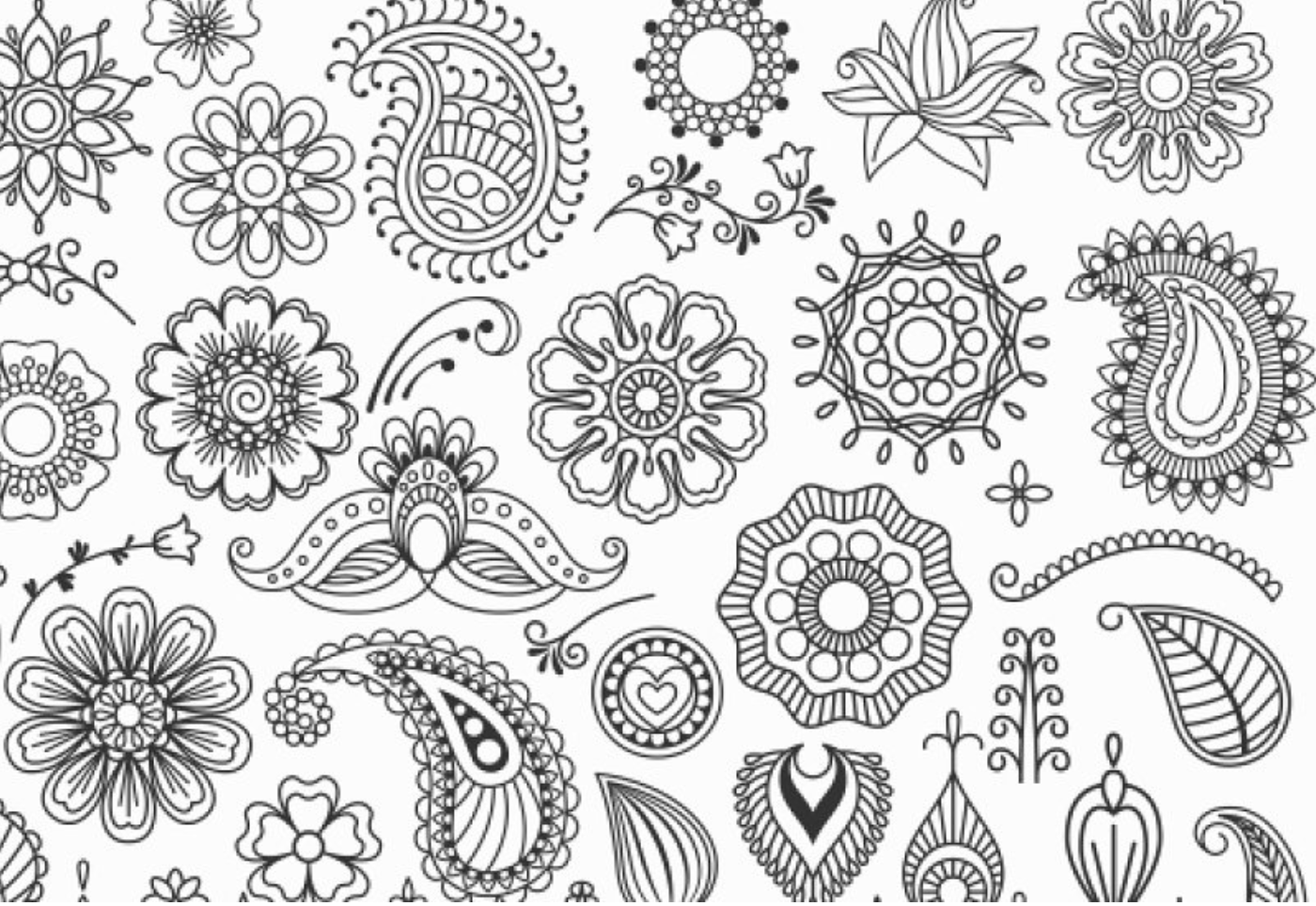 Oh, if you don't yet know Dawn Nicole, you'll love her site for lots of hand lettering and doodle resources, like these simple frames.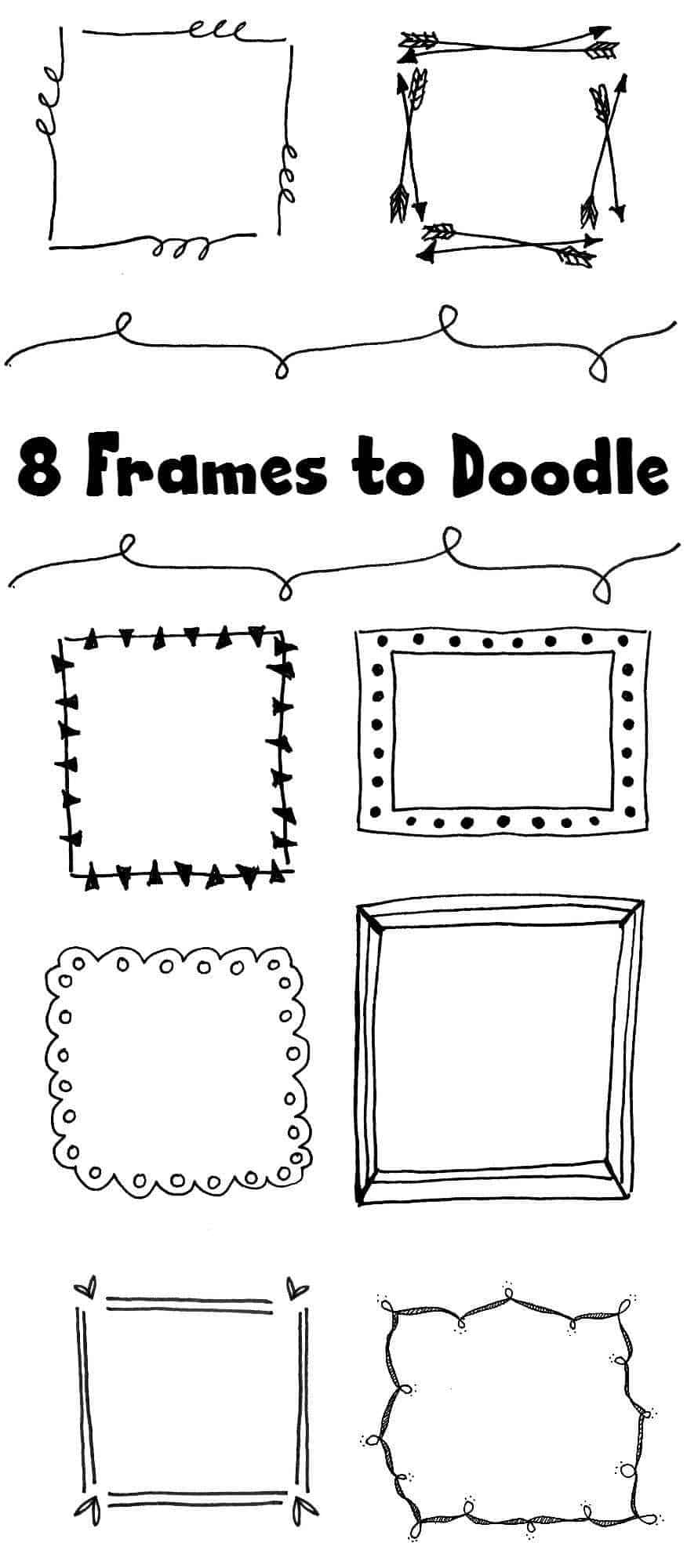 Abstract Doodling
Abstract doodling is my favorite- all the shapes, lines, whatever's, you can put together in so many ways. Here are just a few I found that would be fun to experiment with in your bullet journals or cars, jeans, arms, walls, children, receipts, bar napkins, you name it.
asebalko is one of my favorite Instagram accounts to follow for her massive drawing inspiration.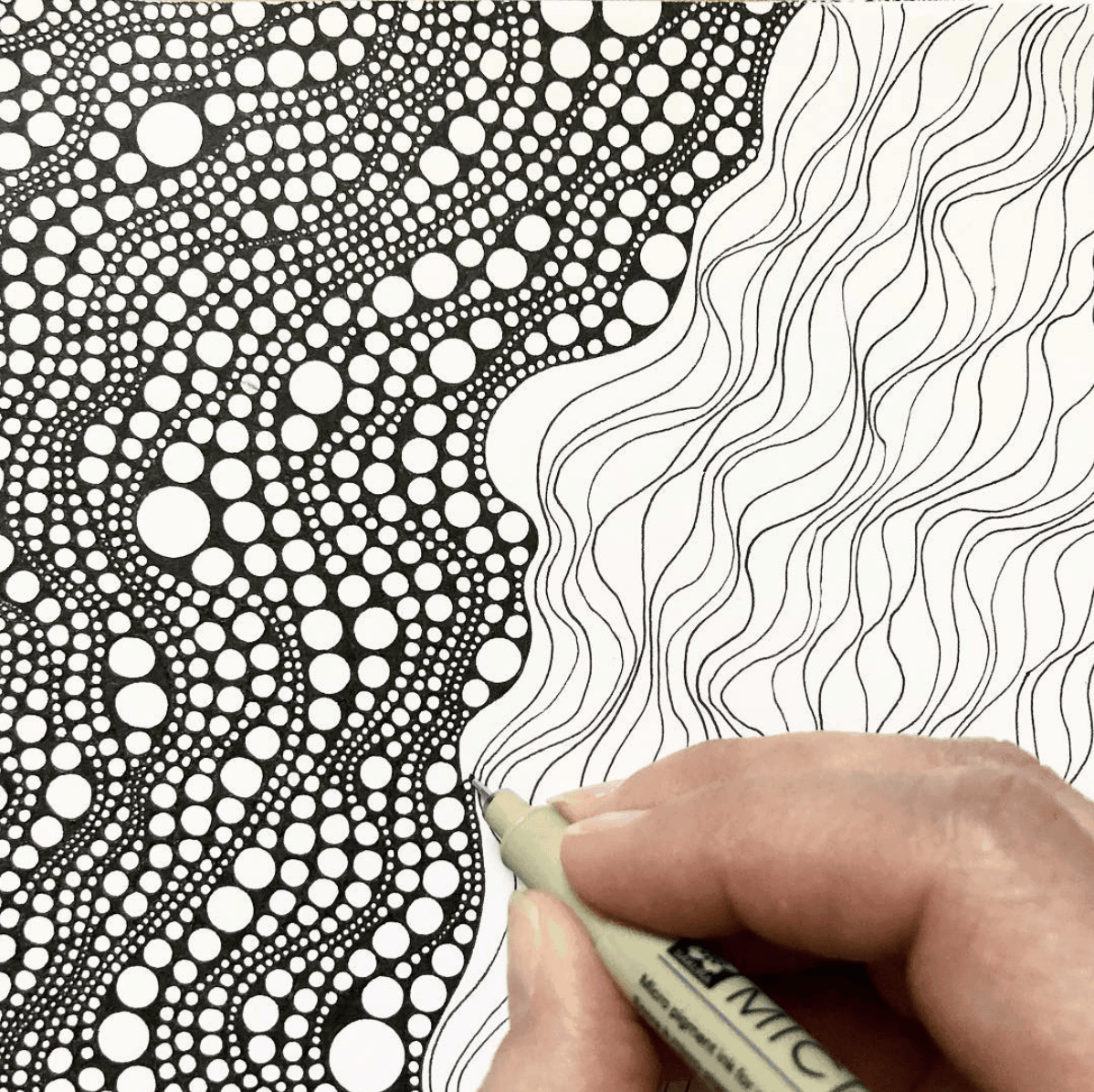 If you follow this blog, you know I'm into the golden ratio, labyrinths, and the like, so when I saw this Sacred Geometry graphics pack, I got pretty excited. So much inspiration to draw from here.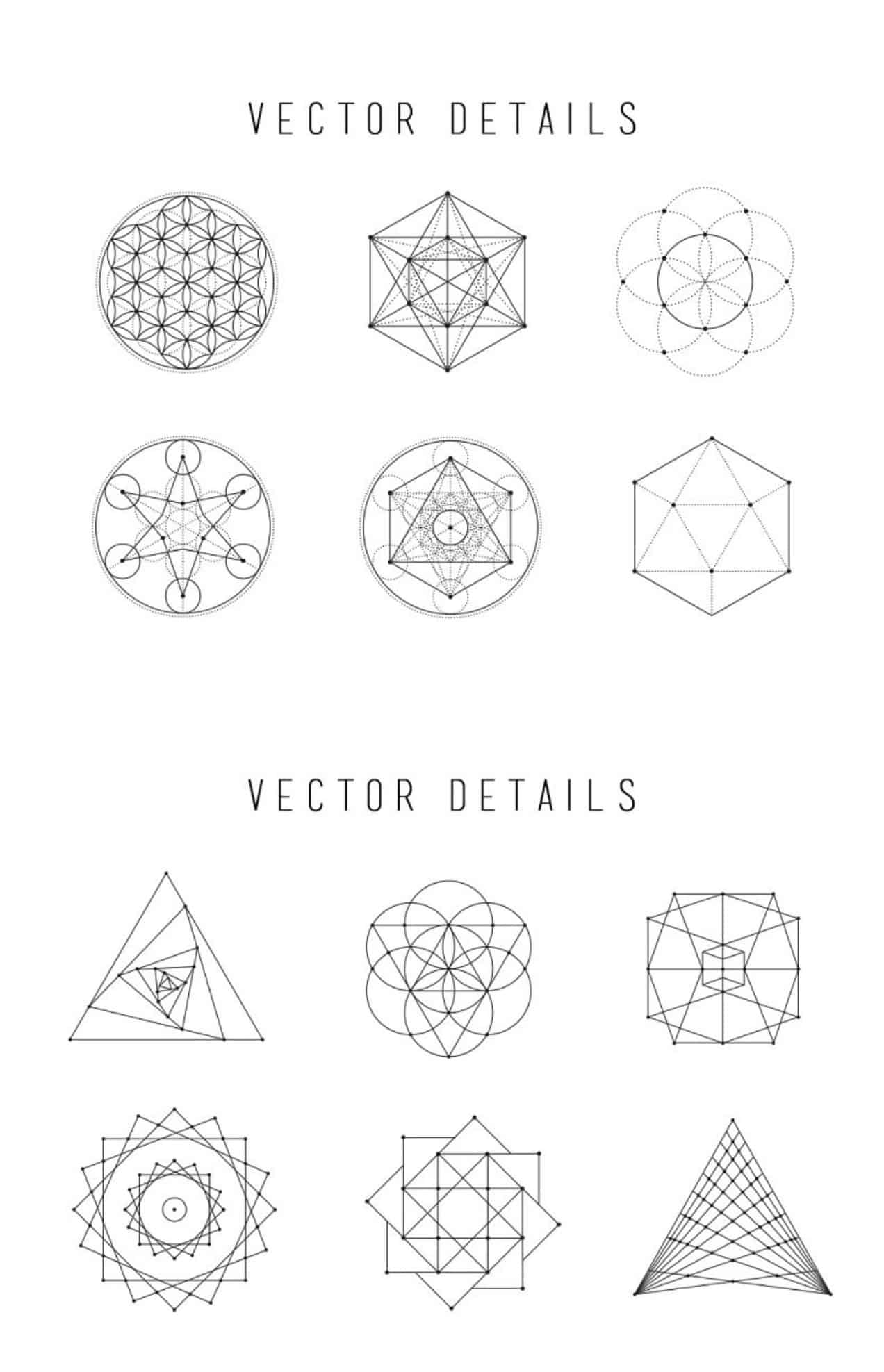 It doesn't get easier than drawing these lines inside a hand shape. Full instructions and 2 more hand doodle ideas over here.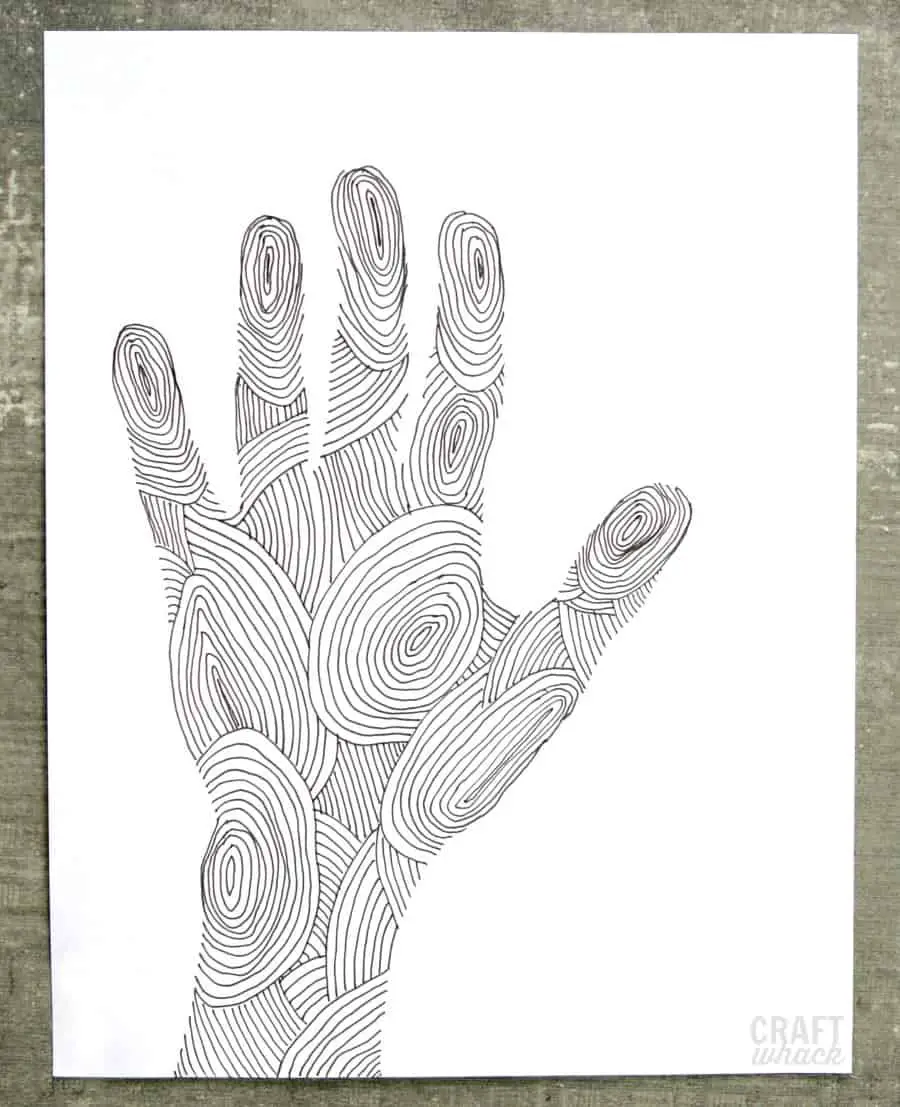 Zentangle and Mandalas
Mandalas (or parts of mandalas) are a great way to start doodling if you want some structure. You basically just start at the center and doodle out in concentric circles.
You can wing it or follow my bullseye Zentangle technique here, but you basically can't go wrong with this method.
Want some major mandala inspiration? Chanellelily_drawings serves up heaps of it.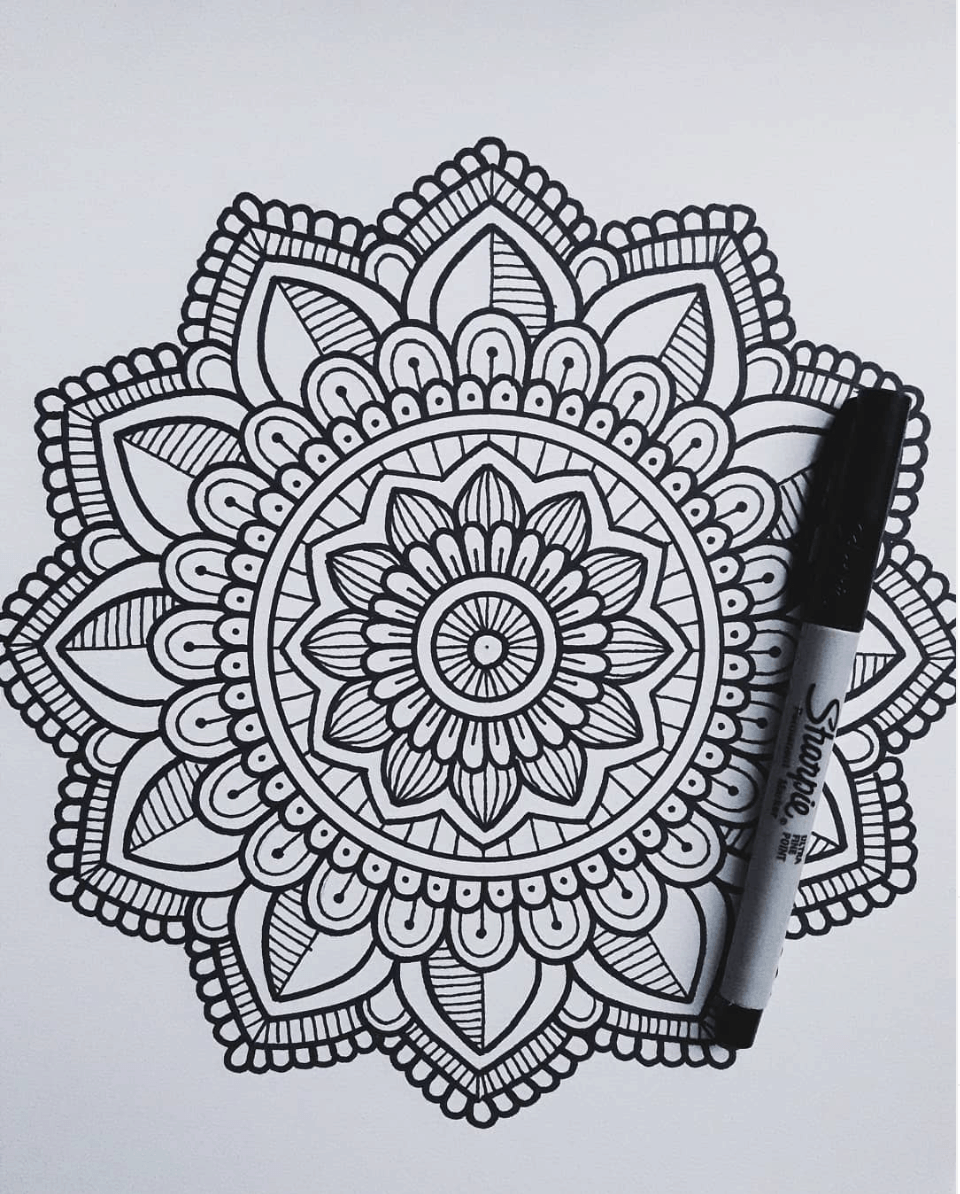 Similar to, and overlapping mandalas, is Zentangle, which will send you off in a whole new stratosphere of doodling.
You'll find lots of easy Zentangle patterns over here, and you can download them to use whenever you want.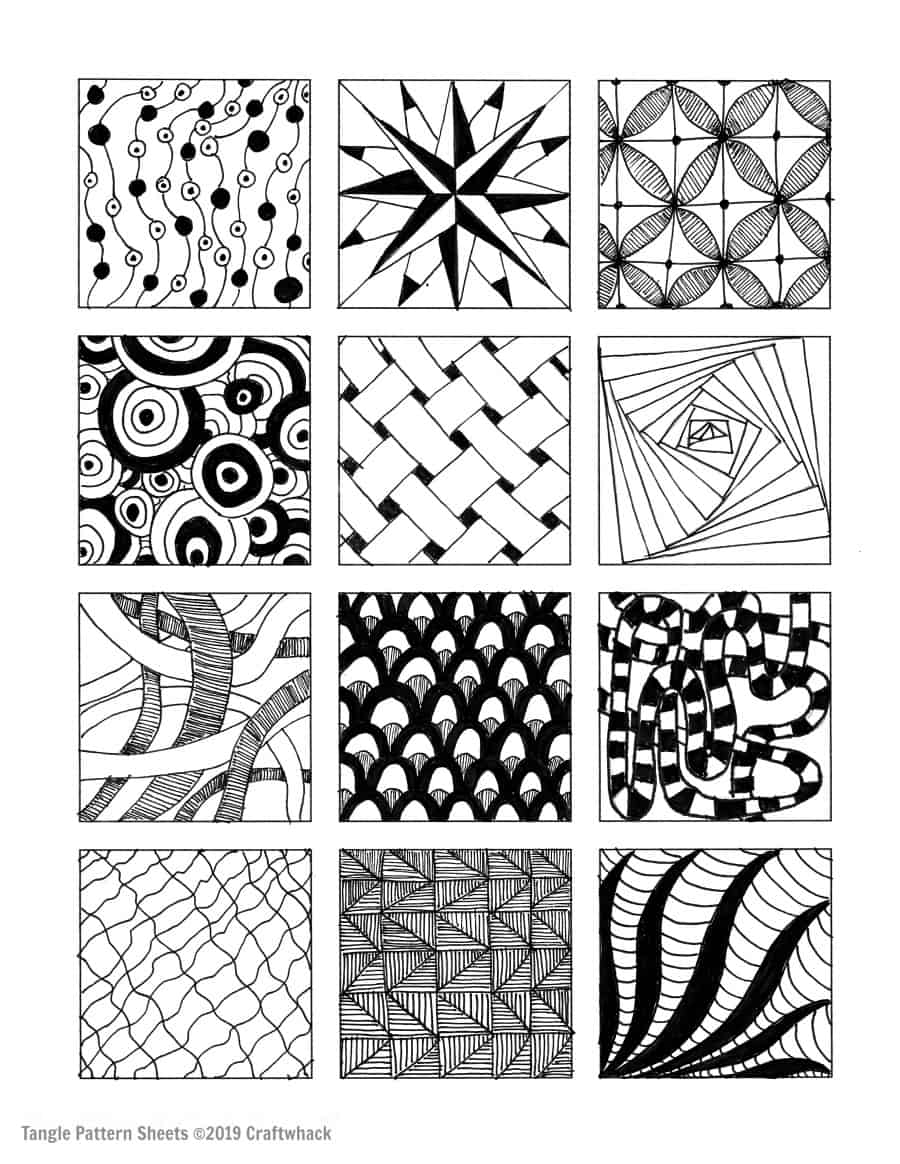 Doodle Art Ideas
Art is the perfect place to look for inspiration. If you keep a Pinterest board of your favorite art, scroll through and look for shapes, patterns, or even color schemes you love, to reproduce in your doodles.
How about these totally cool street doodles by Ben Lim? What a fun style and great inspiration to get you accessing your inner skater.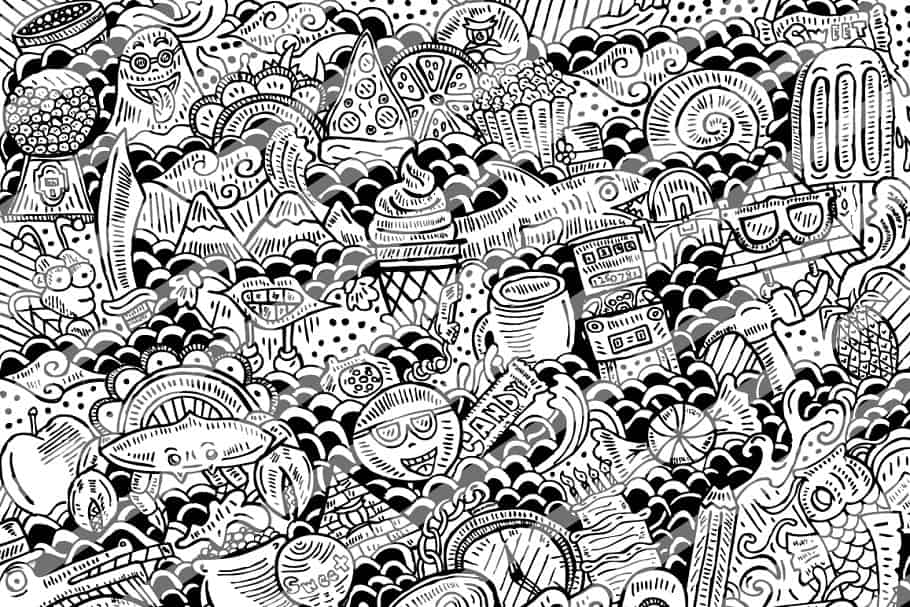 Alphabet Doodle Ideas
My favorite (and most simple) way to doodle with the alphabet is to fill in every little closed area in each letter.

But of course, you can do all sorts of fun things with alphabet doodles. And you don't have to treat it like fancy hand-lettering if that's not your thing.
I just doodle in and around my writing, and sometimes decorate or augment certain letters.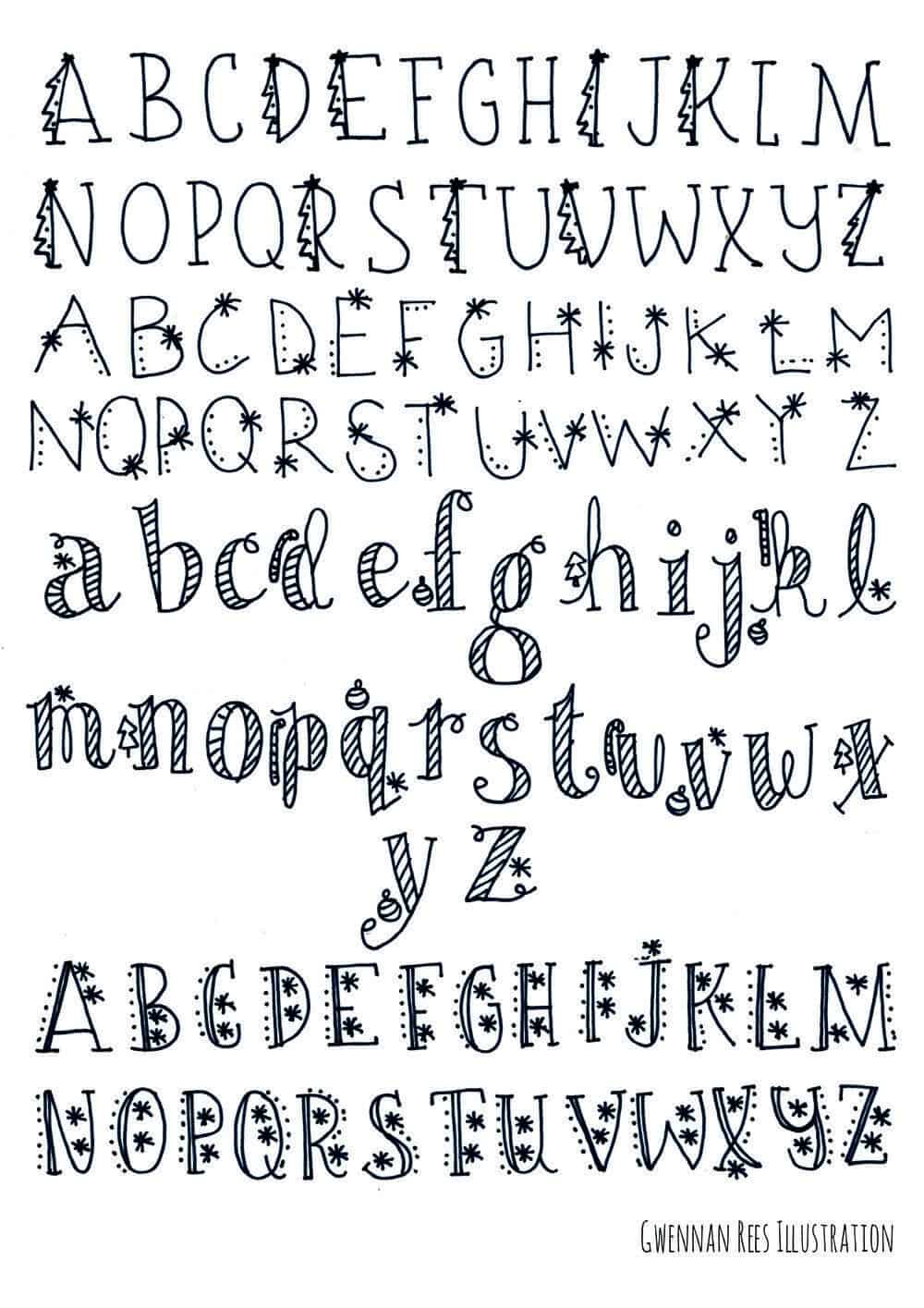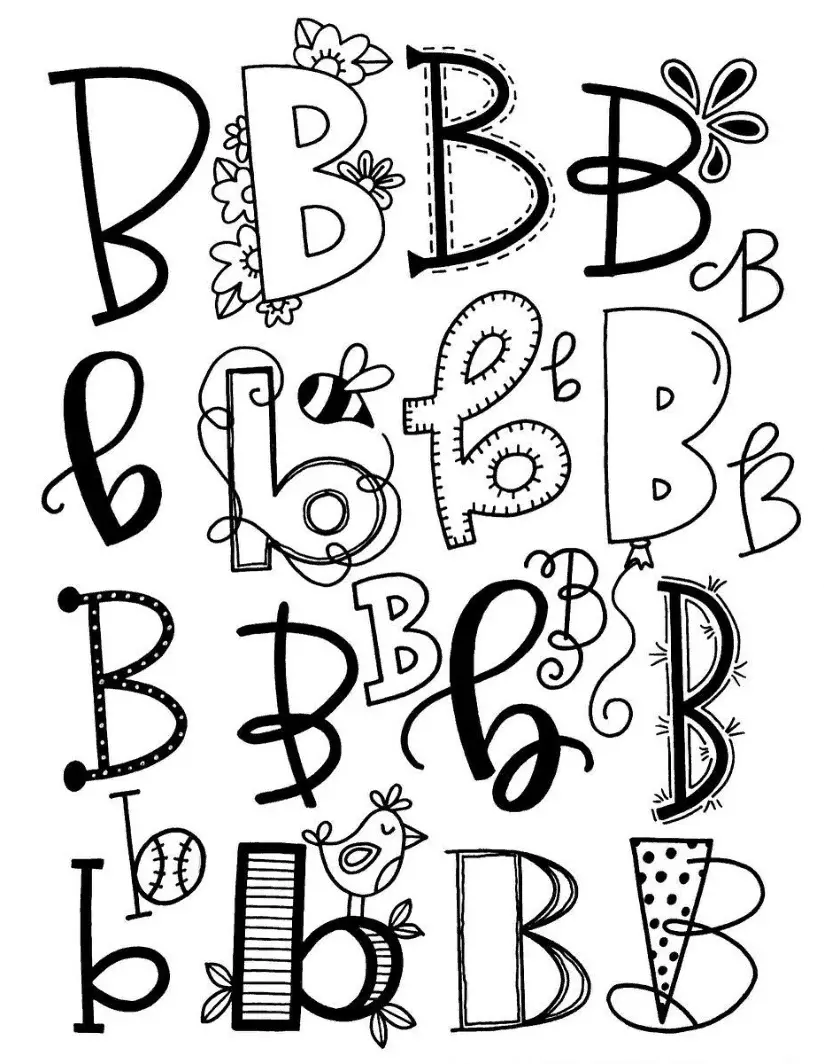 Cool Foliage Doodles
Foliage is one of those subjects to turn to when you can't think of anything else to draw. It's easy to draw a little stem and then riff on different leaf or petal ideas.
Floral drawing ideas, and what I like about this image is seeing what they look like in white and black. Try doodling the same images on black and white paper right next to each other. Oooooooh.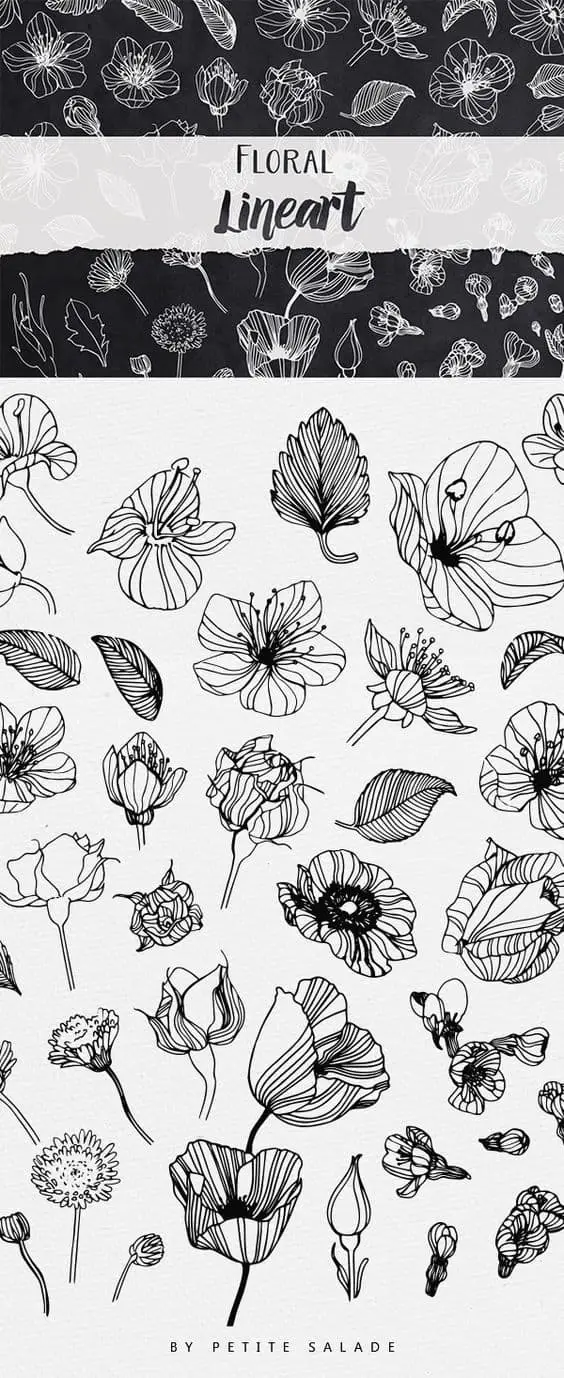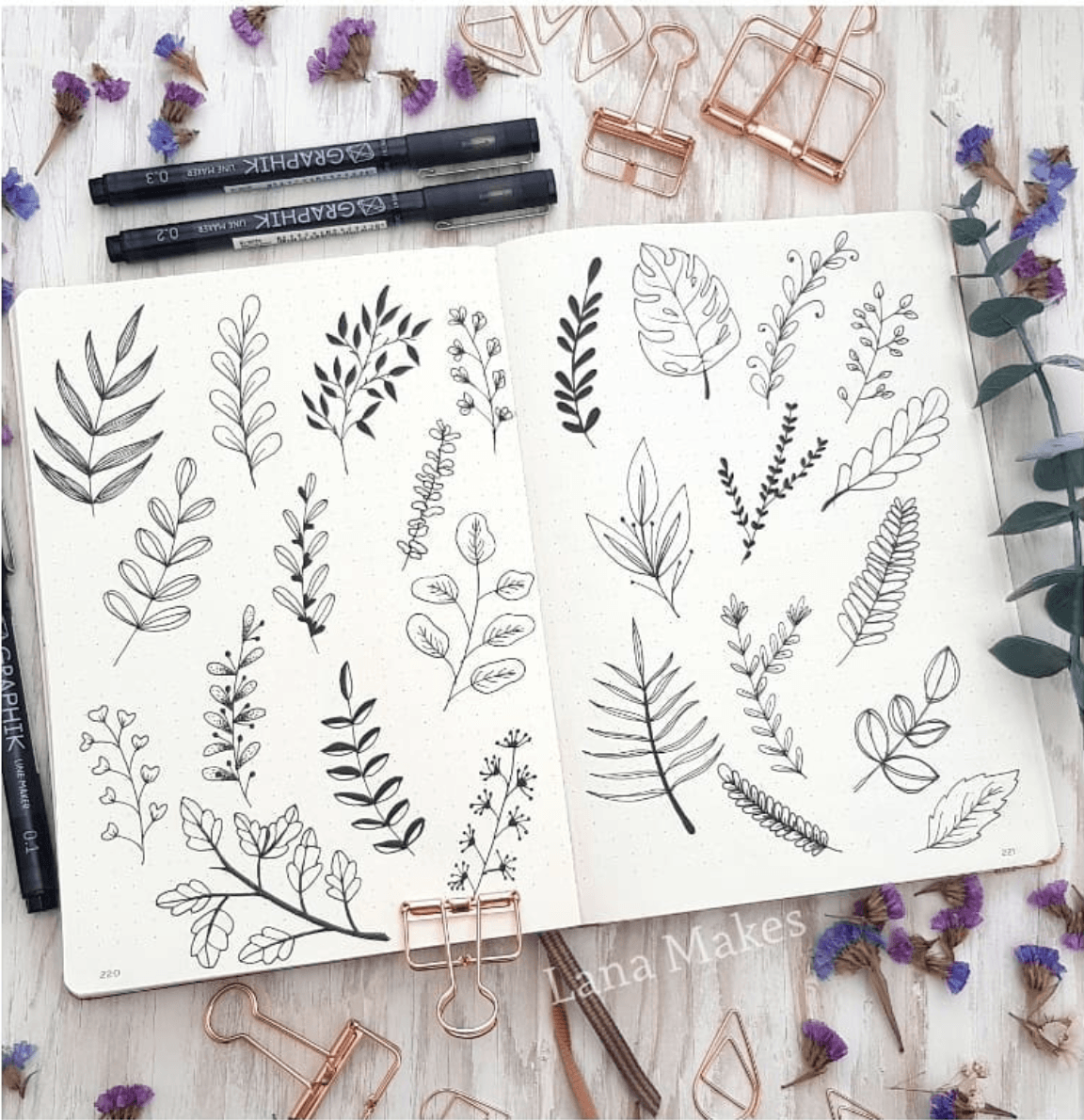 This image that I found links to Kawaii Pen Shop, new to me, but now my mind is blown.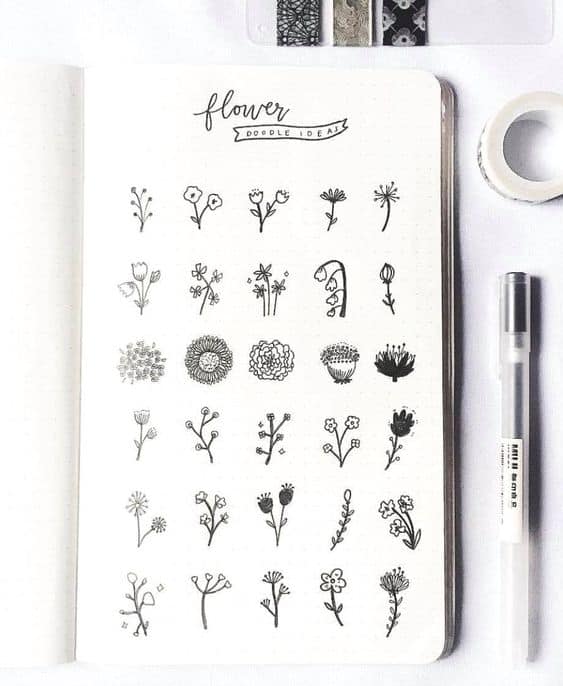 This totally great idea from Ankepanke on Instagram was a challenge she set for herself to draw 40 different flower styles starting with the same initial middle shape.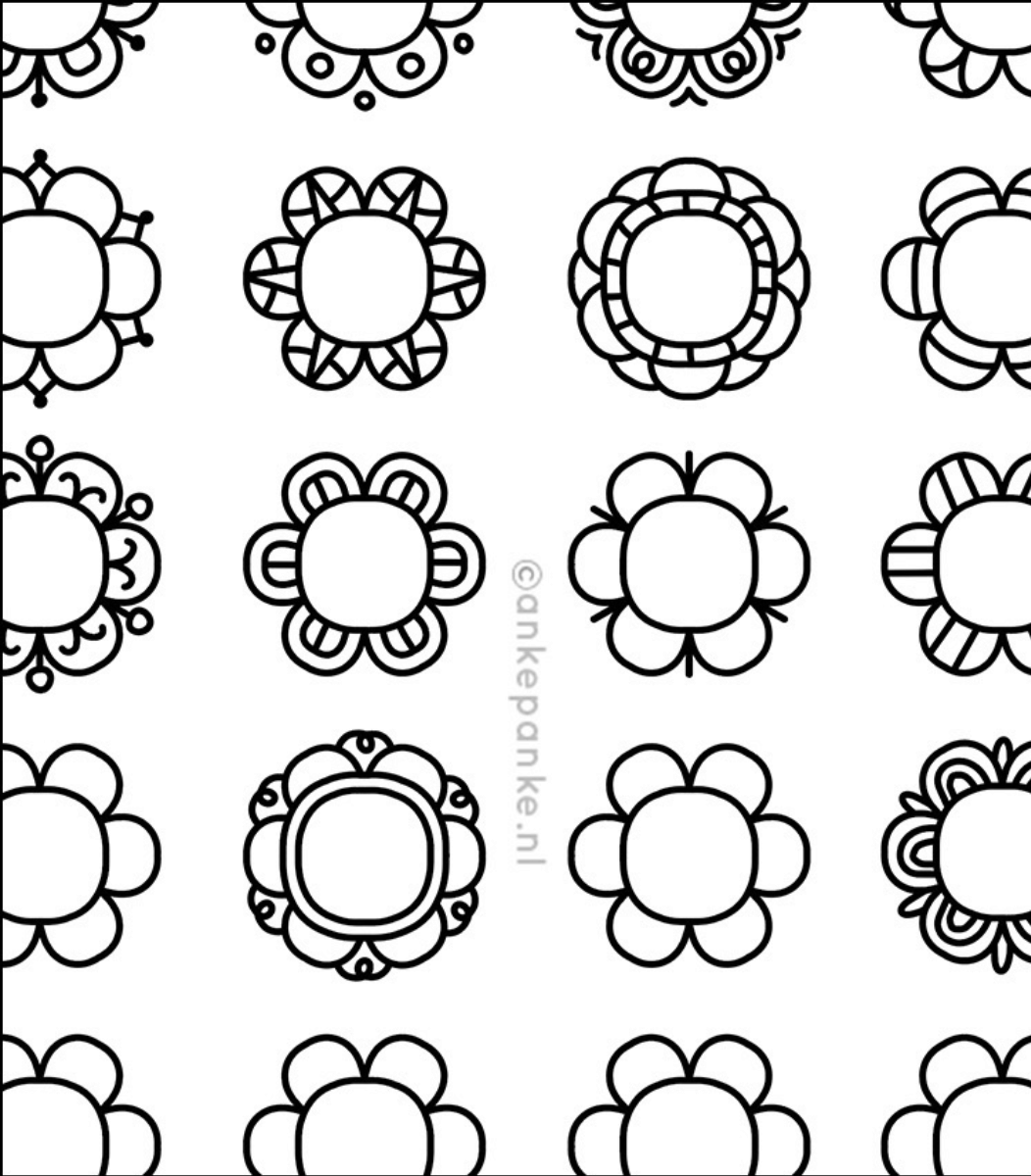 These flower doodles have an abstract/zentangle feel to them and are super fun jumping-off points for so many drawings.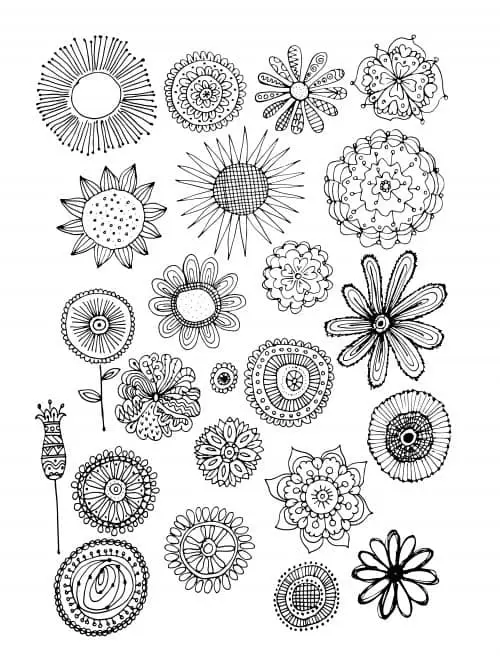 Leaf doodles give you some ideas for drawing different leaf styles- nice and simple and doodly. Grab your favorite white gel pen for some of these, too.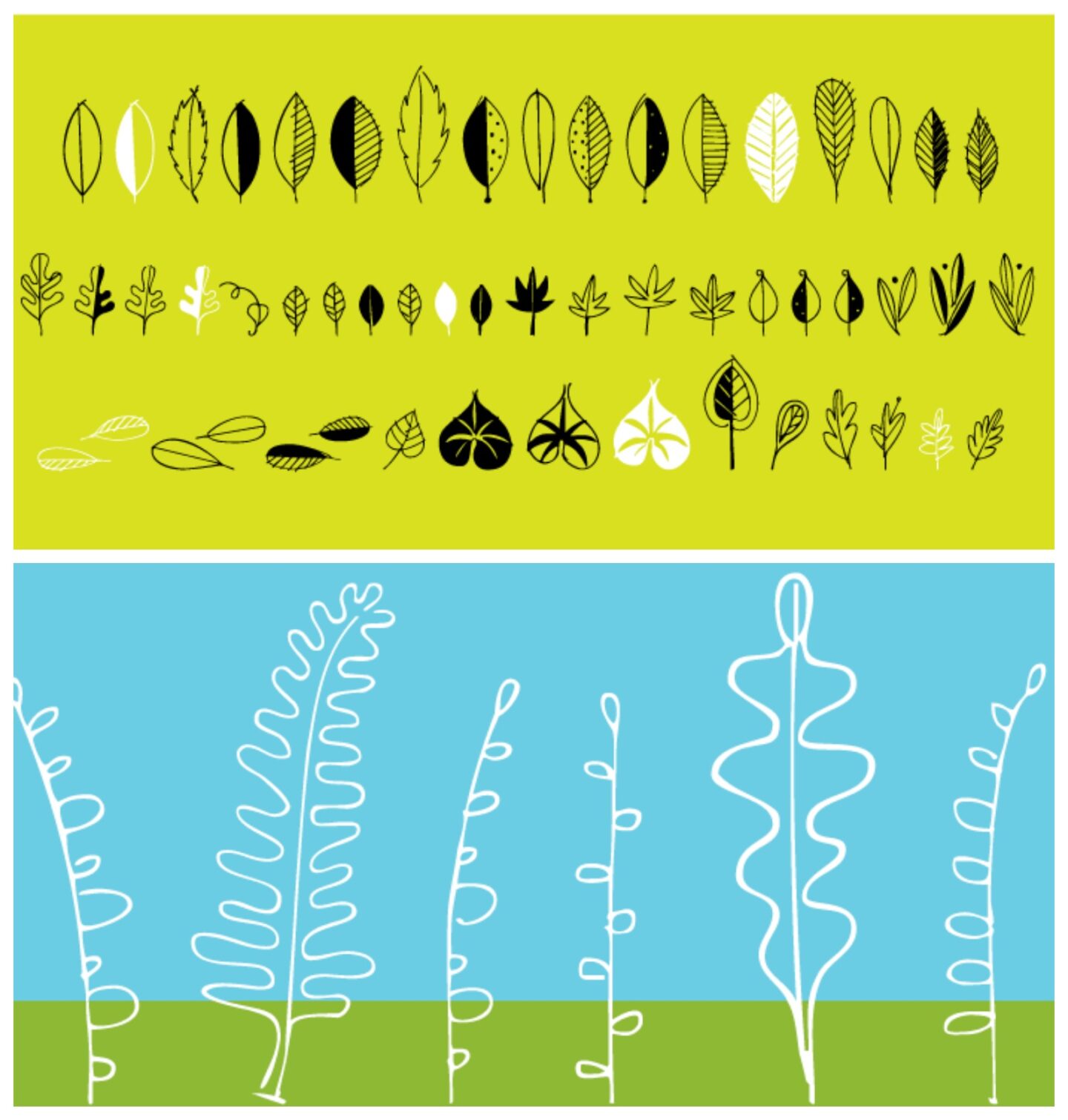 Simple Doodles of People/Animals/Creatures
Doodle time is the perfect time to practice drawing living (or semi-living) things. People, animals, monsters, zombies, etc.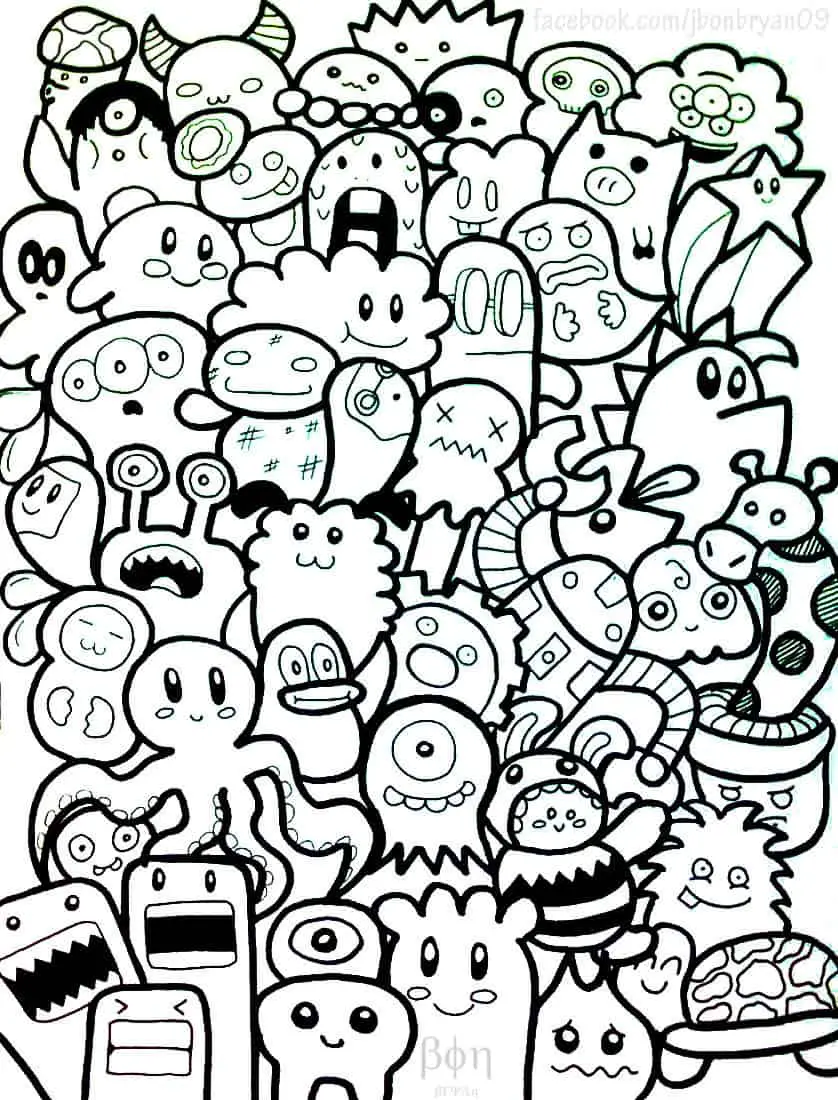 Paper Source has the best wrapping paper EVER, and you can get plenty of design ideas like these natural history insects.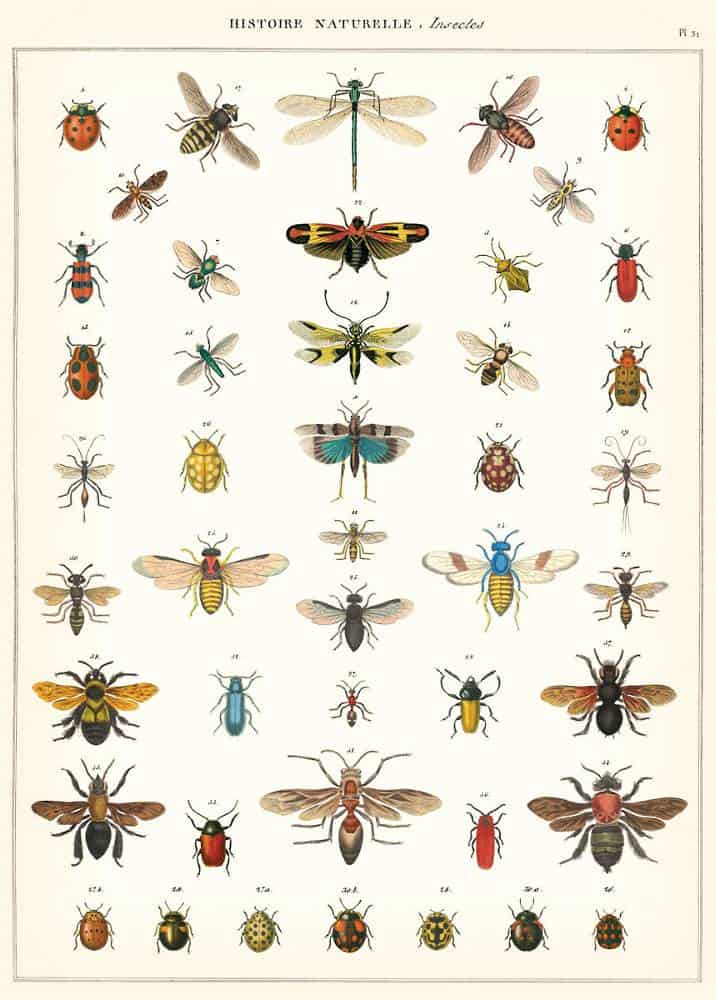 And maybe you wouldn't think of doodling cuts of meat, but um, I would.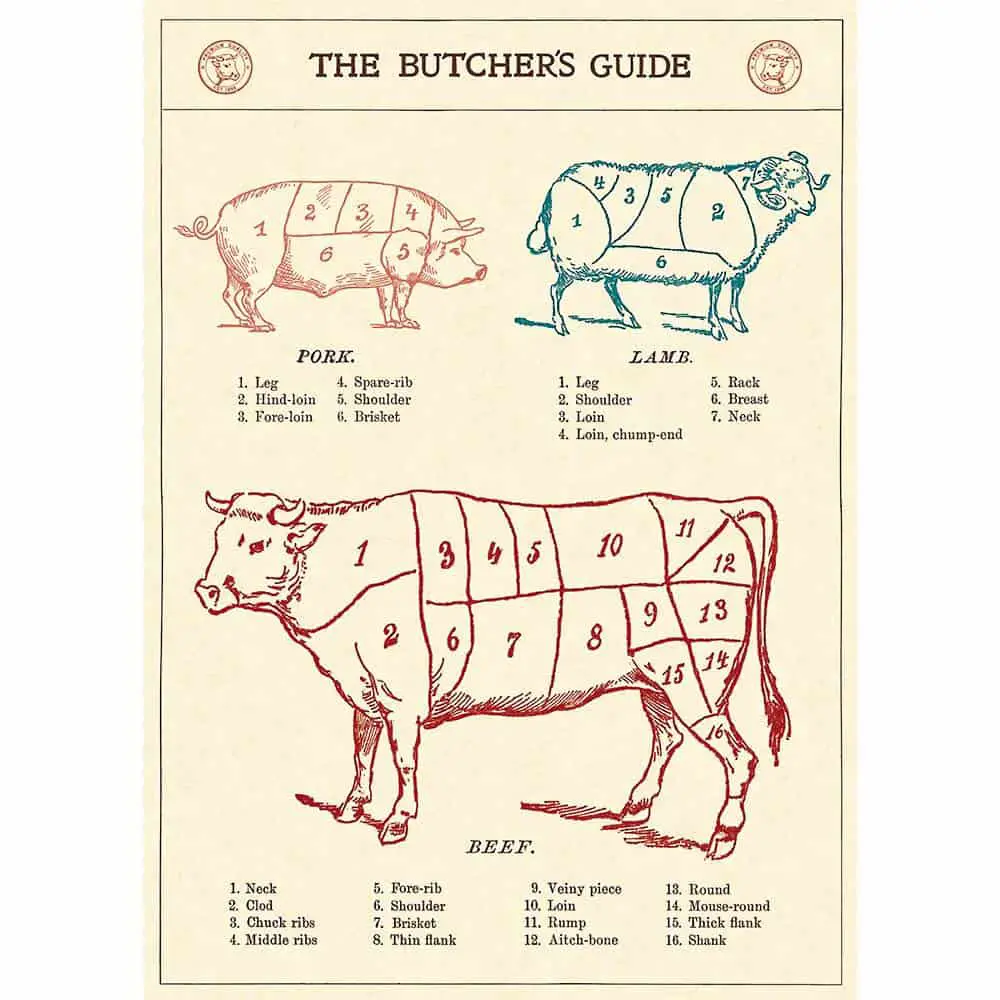 Eek! These are stamps you can buy on Etsy from Woodland Tale.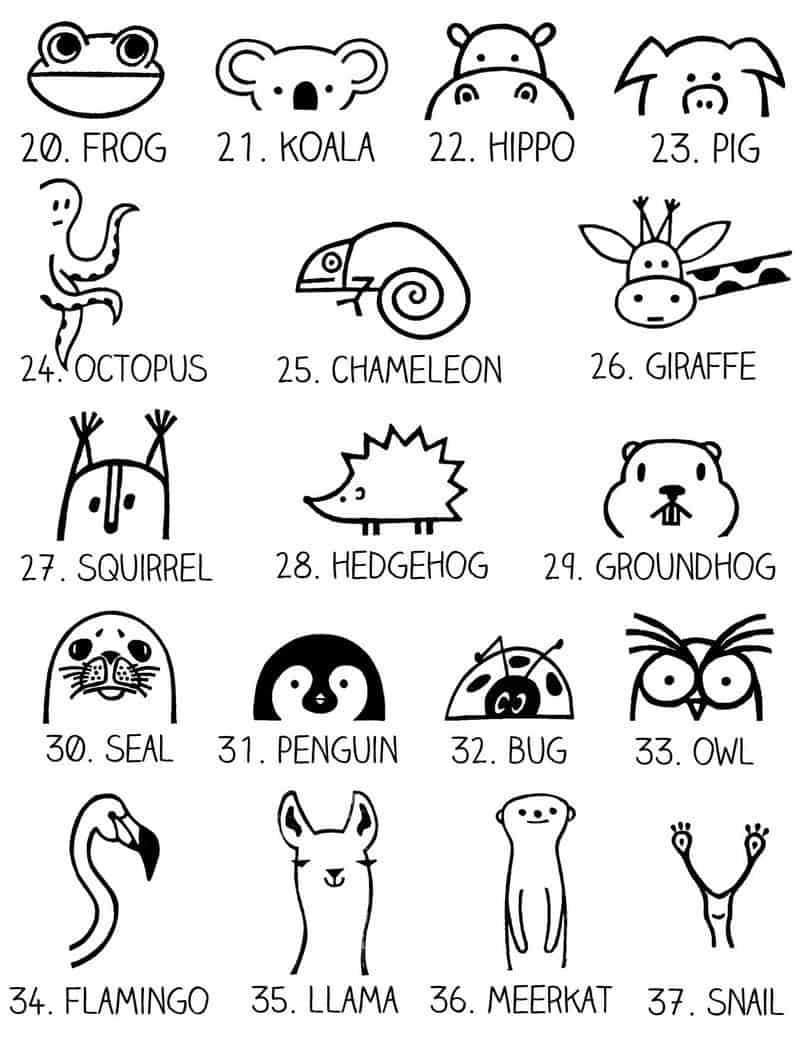 I. Must. Go. Draw. These. Immediately. (They're clipart on Etsy. And they're currently in my cart.)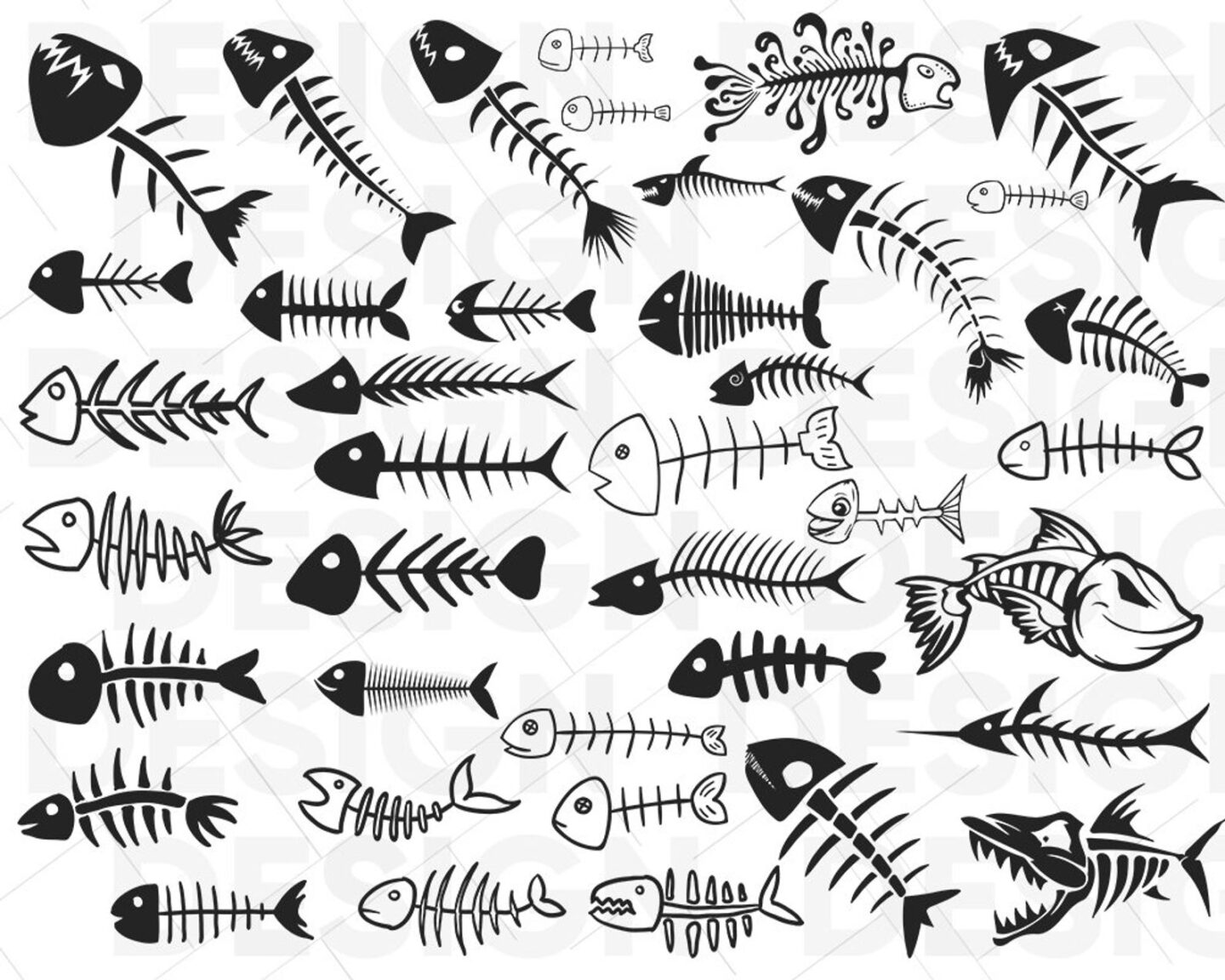 Theme Doodling
Brainstorm some themes and then brainstorm all the objects you can think of within those themes and fill a sketchbook spread with your themed doodles.
Here are a few ideas to get you started: Under the ocean, science, transportation, love, tableware, round objects.
Let's just take a moment to enjoy this farm images font for how the images all look together, shapes, colors, composition, and of course subject matter.
Take a cue from their examples and make some doodle pages that overlap and interact with each other.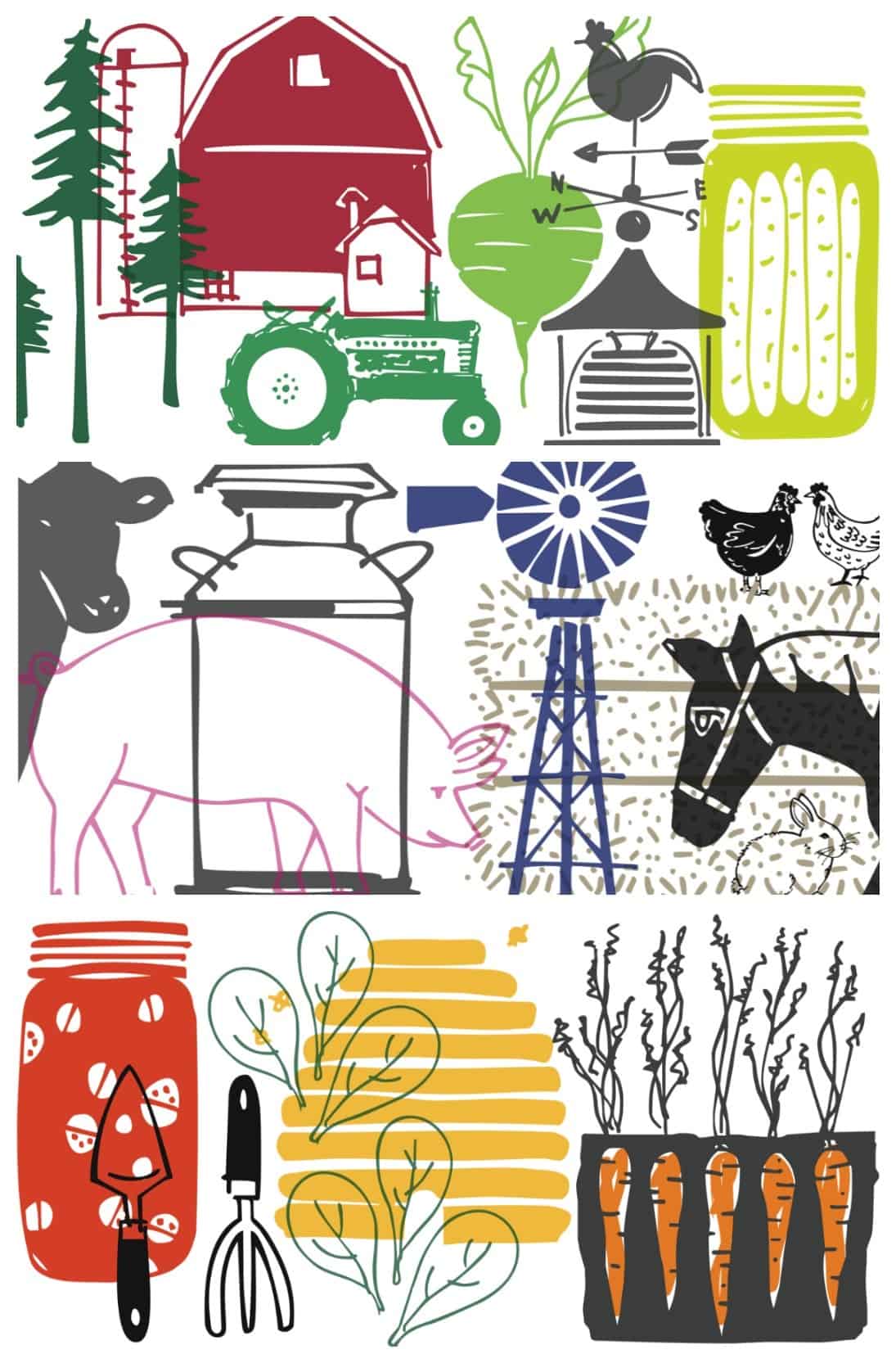 Woah! This whole graphics pack is pretty amazing. You get all these line drawings, watercolor images, alphabet letters. So much here to fawn over and be inspired by.
You could use black paper and draw some of the letters in white, or start with your own watercolor moons and then draw some of the floral images.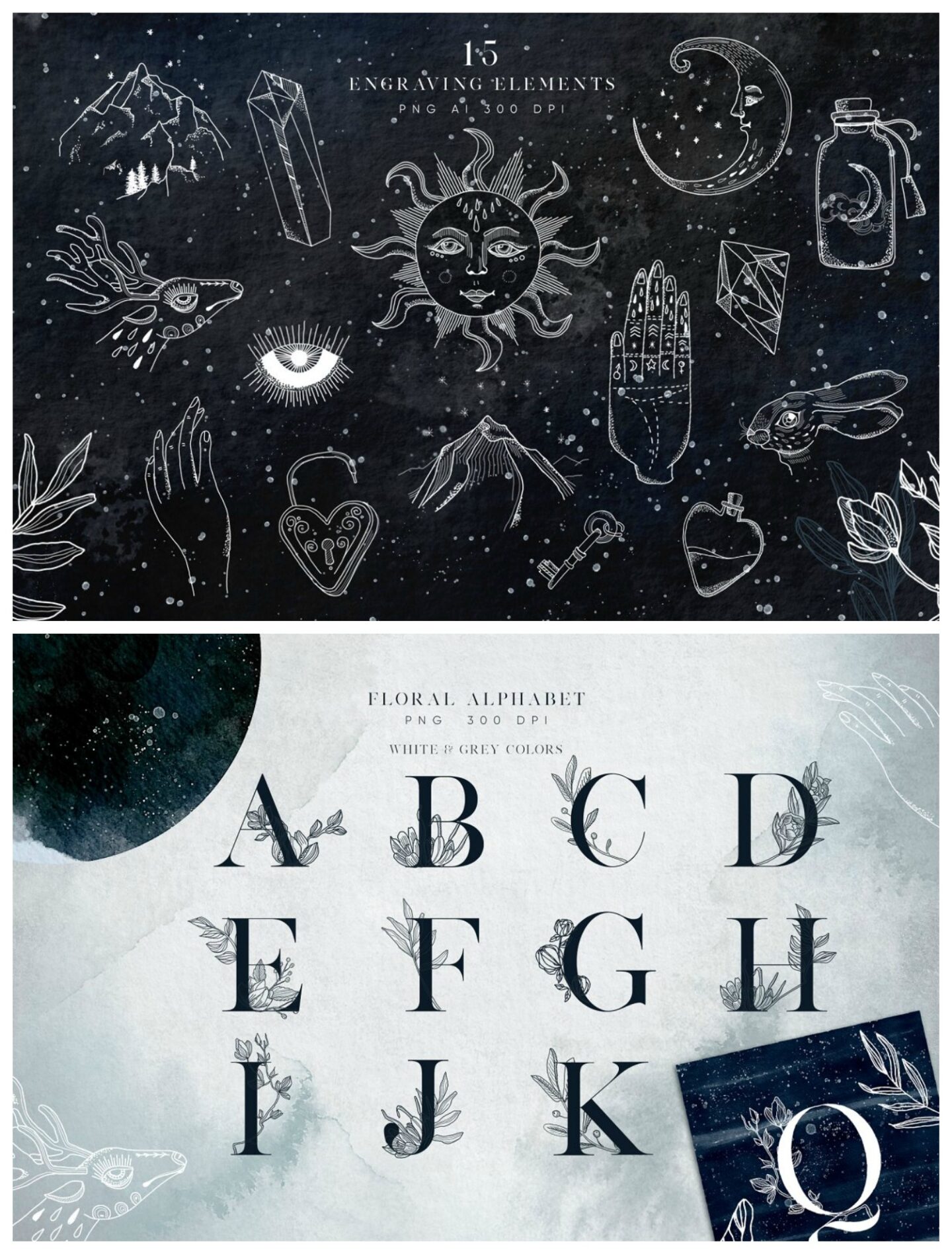 Your Favorite Hobbies or Foods
What do you love to do or eat? Put it all down in your sketchbook and celebrate your favorite hobbies or snacks. I might have to draw a page full of beer. 🙂
Illustrator Jake McDonald makes super fun drawings, including this food doodle pattern. Why not doodle all the foods you can think up or even groupings of different sorts of foods?
Gardening dingbats! The colors are fantastic, and sometimes it's fun to practice drawing with no outlines- or at least where the finished doodle looks un-outlined.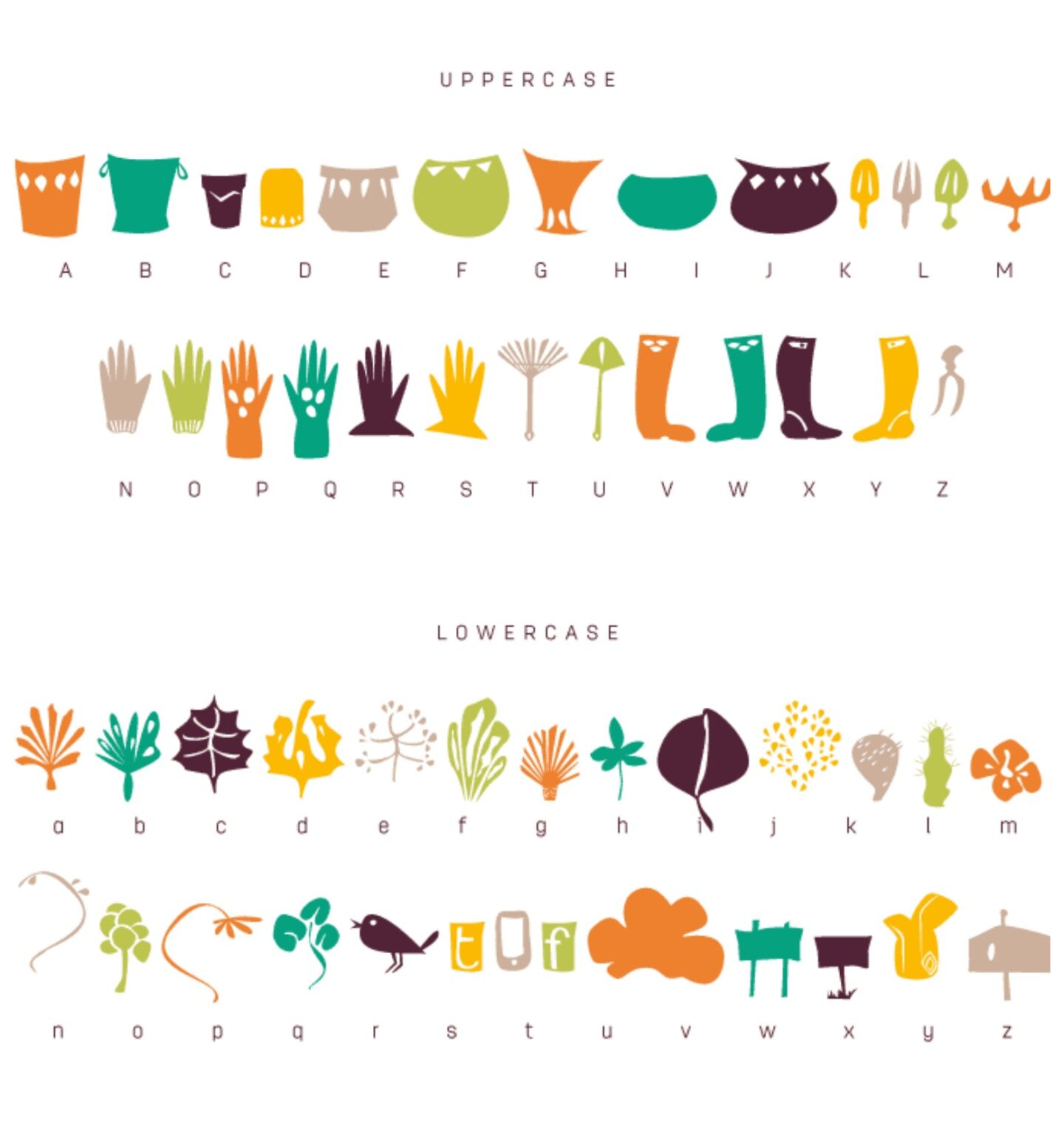 I know some of you are fiber artists of one sort or another, so no doubt you'll get some doodle inspiration from this sewing and knitting doodle font by Rae Kaiser.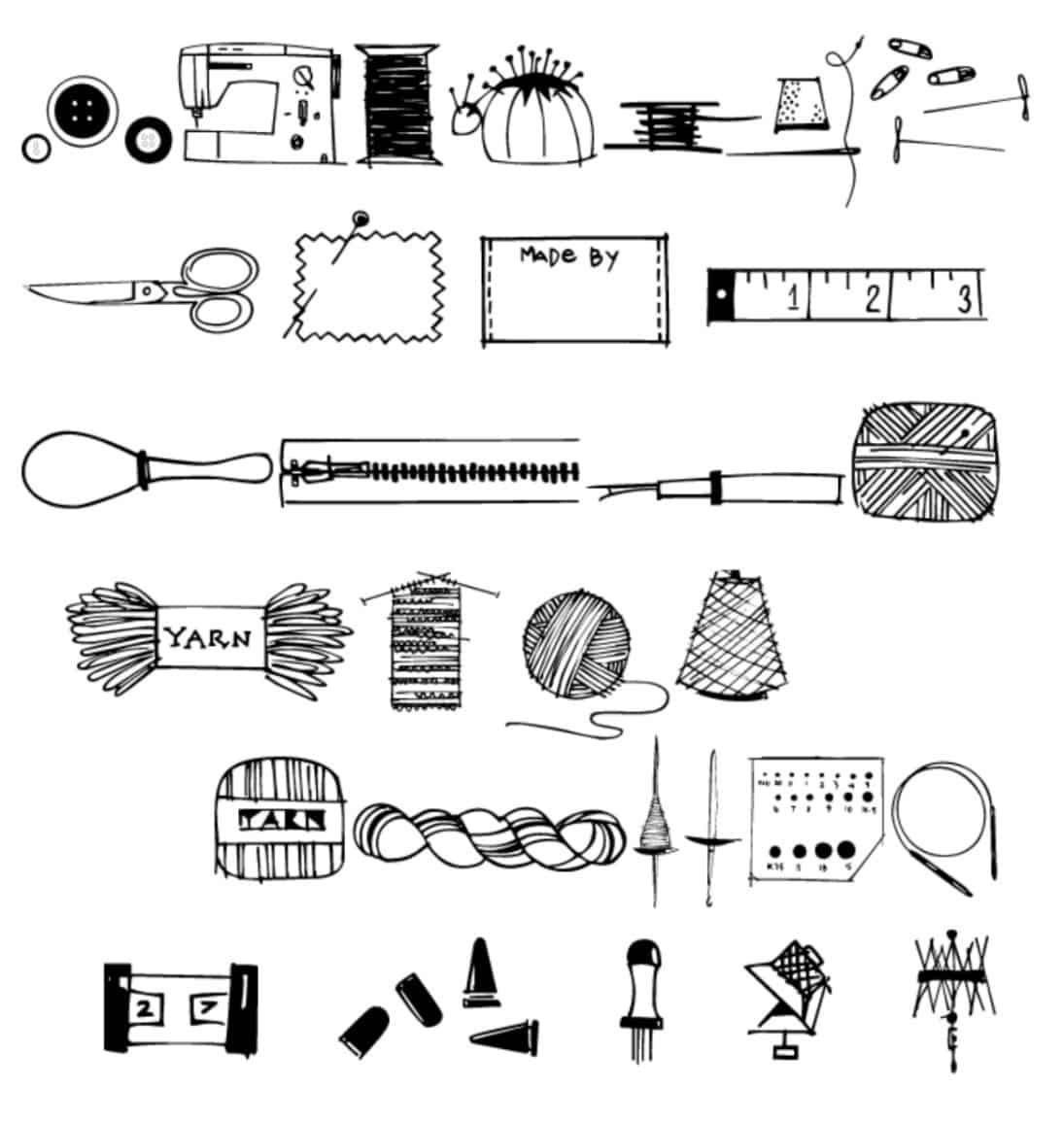 Embroidery patterns are brimming with ideas for your drawings.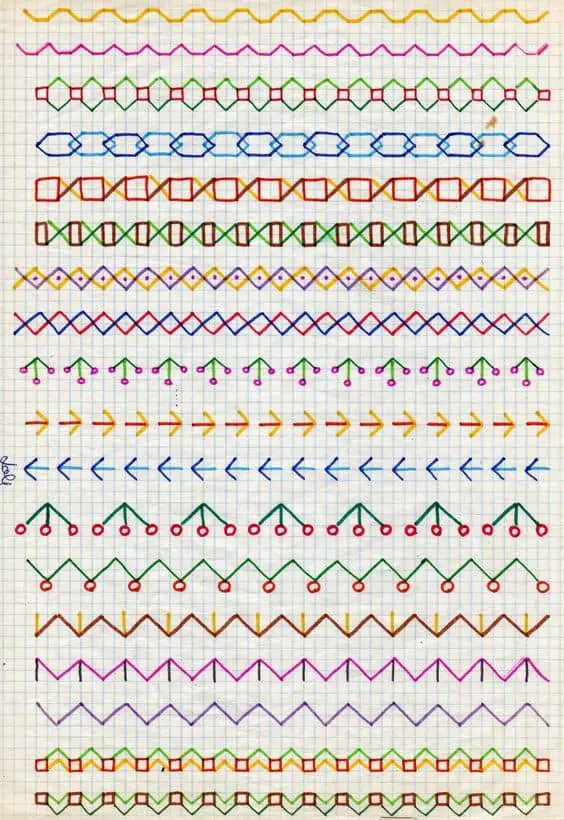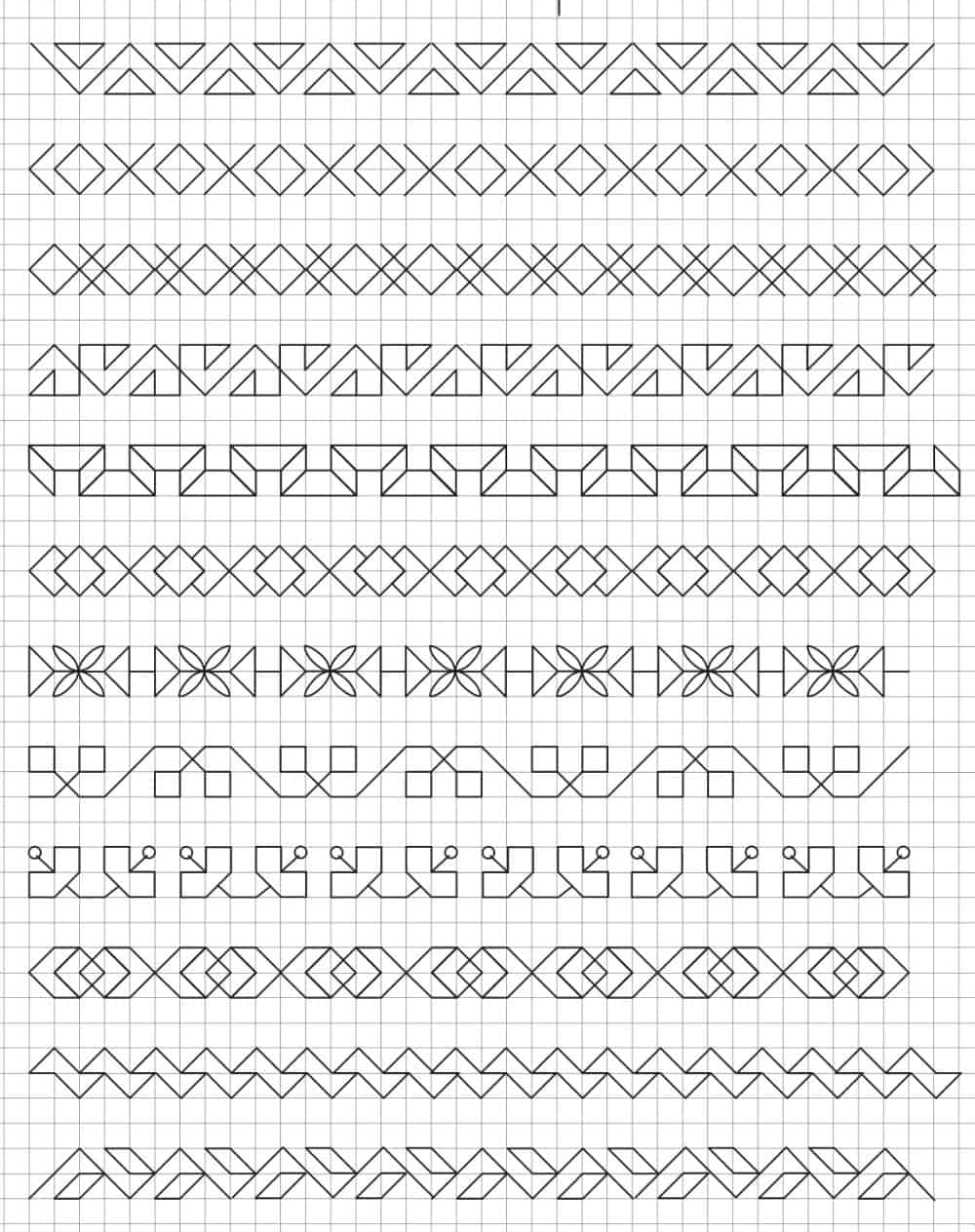 More Cool Doodles Inspiration
This book looks like it's crazy-full of doodle ideas, and while it's probably geared to kids, it looks really fun for adults, too.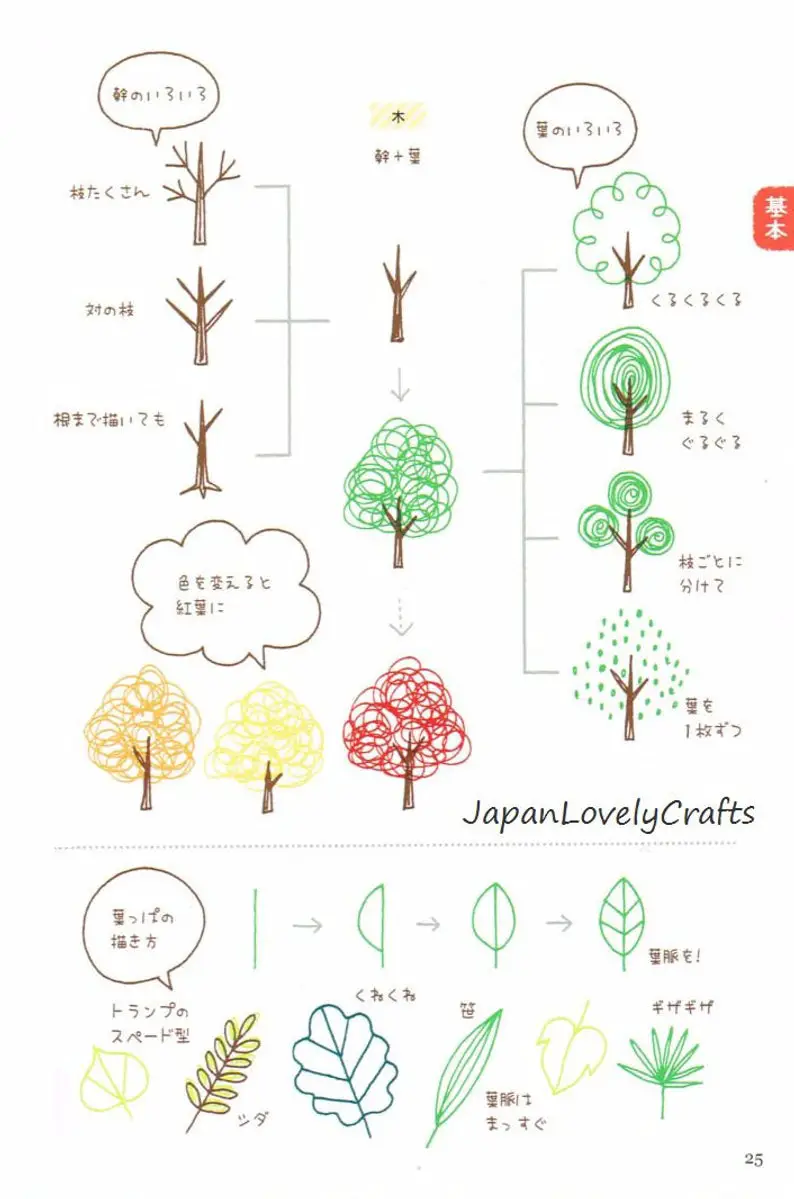 I use this book for leafy plant inspiration when I need references for drawing.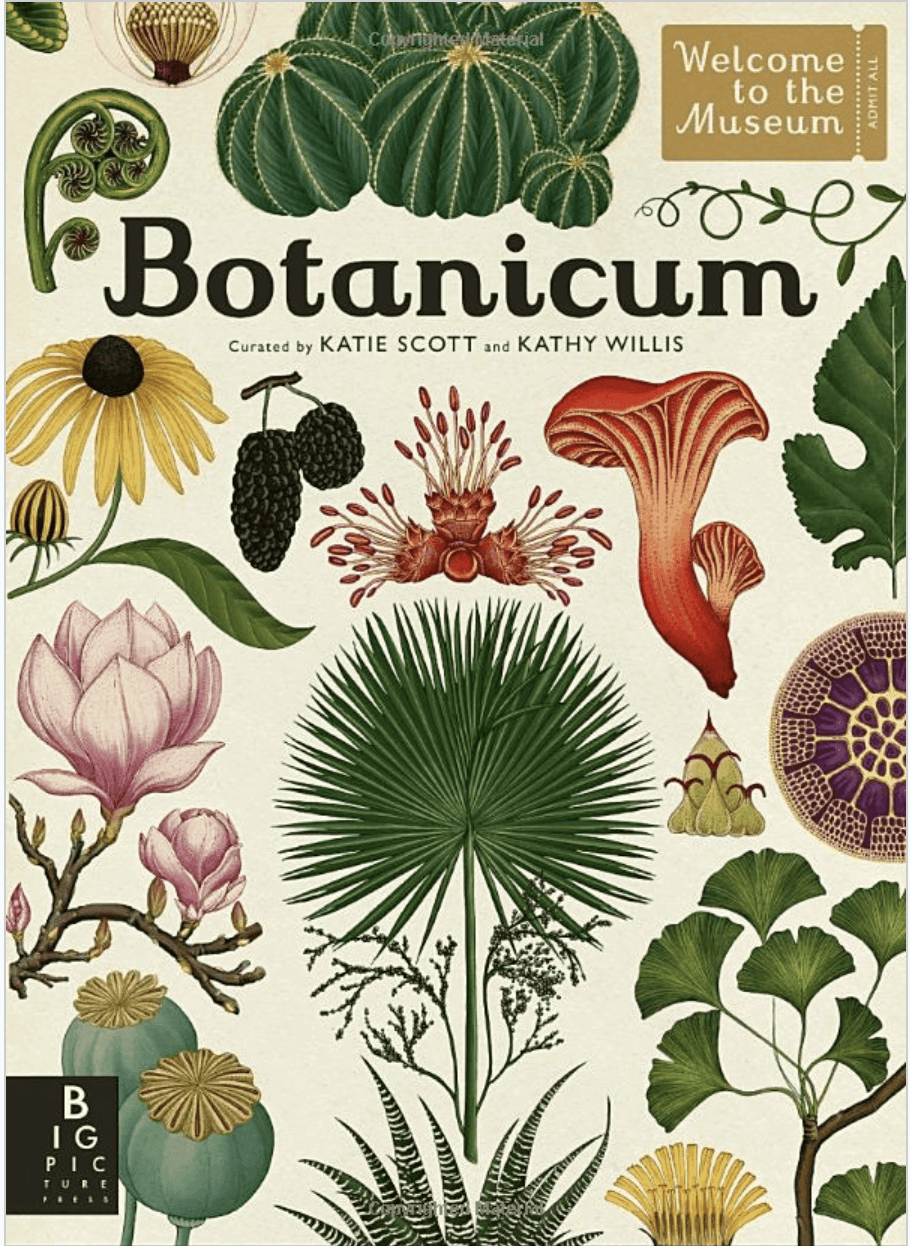 Mini Sketchbookooly mixed paper sketchbookPaper Mate InkJoy Gel Pens (My faves)Tombow Dual Brush Pen Art MarkersFaber Castell Pitt PensSakura White Gelly Roll Pens
I hope you found some good doodle ideas, and I also hope you're furiously scribbling in your sketchbook and not reading this right now.
Try some new styles! Draw something you wouldn't ordinarily draw! Rah! Rah! Rah! (I need a t-shirt that says Art Cheerleader).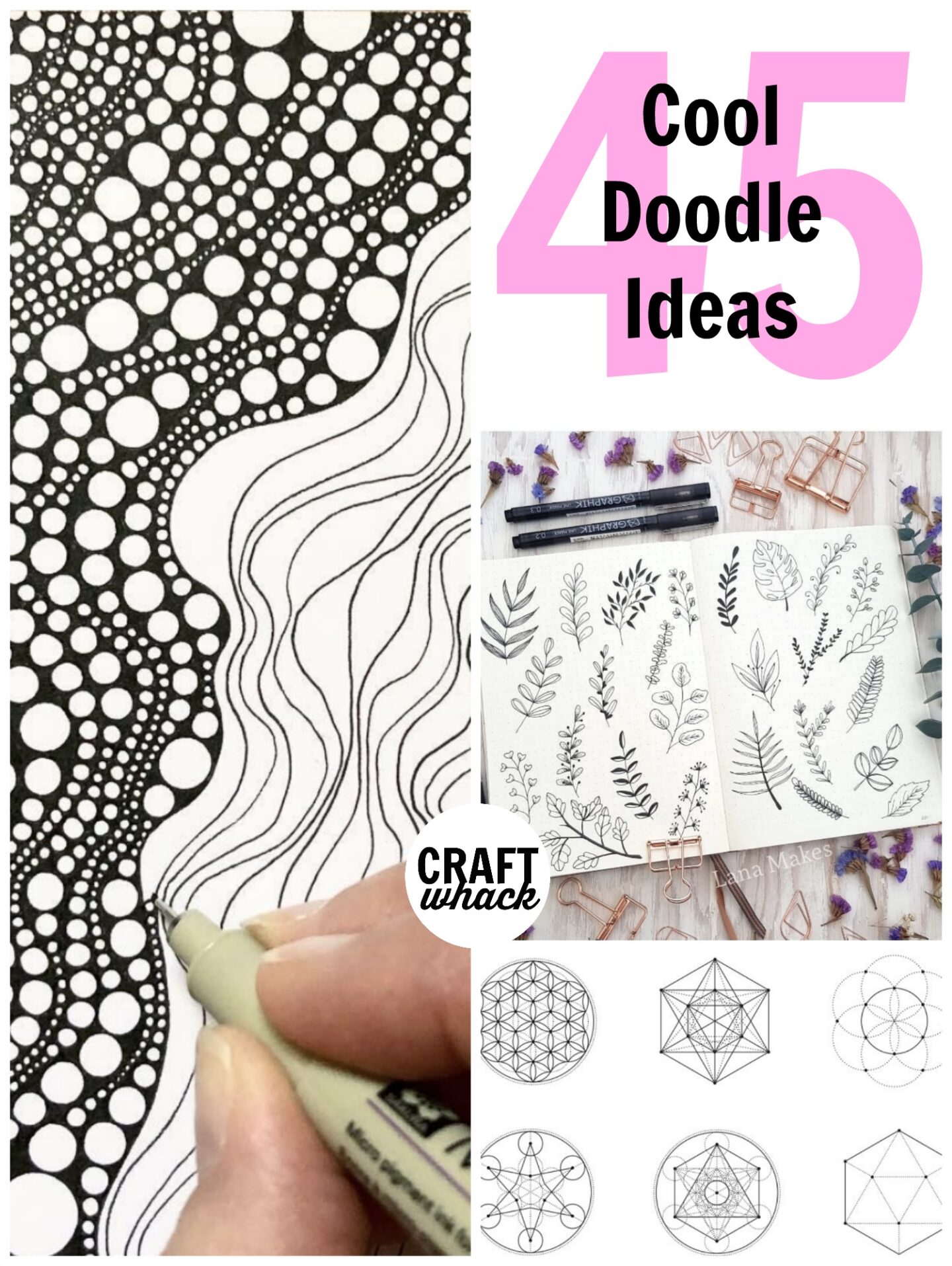 Sours: https://craftwhack.com/super-cool-doodle-ideas/
Drawing Prompts for Artist Block! EASY Doodle Ideas that ANYONE Can Draw
If you've ever felt like you're not as "creative" as the artists you see on Instagram, or you didn't know how to draw those gorgeous little drawings that everyone adds to their journals and planners, today's post is for you!
I'm going to teach you how to draw some simple but cute drawings step-by-step, then I'll show you how to combine them together to create beautiful accents for your journaling, coloring pages, or just to expand your creativity.
You don't have to be an artist or a "creative person" to be able to draw these. If you can draw a circle, a line, and some basic shapes, then you can create art.
I'm Sarah Renae Clark and I make adult coloring pages- so as much as I love color, I also love drawing in black and white, so I was very excited when Ohuhu asked me to write this post for them and sent me their Fine-Line Drawing Pens to try for this lesson. The set includes a range of sizes AND a brush pen, which is perfect for doodling like we're doing today. But you can get started with any kind of pen or marker. I'm also using the Ohuhu bleed-proof marker pad that Ohuhu sent me for the alcohol marker tutorial I posted previously. You can check that out here!
I've included some step-by-step instructions and images below, but if you prefer to watch along, I've also created a full video tutorial that you watch to work through everything we'll cover in this lesson.
How to Draw a Banner?
We're going to jump right in with a simple banner drawing. I like to start any banner with a quick pencil sketch first, just to make sure we know what it's going to look like and so that you can go back and fix any mistakes.
Step 1: Draw a curvy line to represent the movement of the banner. Both the top and bottom will follow the same curve, so we can use this same process to draw any style banner.
Step 2: Join up the edges, and start outlining each section, one panel at a time.
Step 3: Outline the parts of the banner that goes behind the front panel, being careful not to draw inside of the front panel (as these are behind it).
Step 4: Draw the edges of the banner – these can be straight, pointed, curved, torn, rolled – whatever you like!
Step 5: You can add additional accents within the banner, like I have done in this example. This can be a simple line, dots, squiggles etc.
Different edges or accents can be used to change the entire appearance of your banner. You can also change the style of your banner by creating straight edges instead of curves.
Here are some other examples of banners you can draw:
How to Draw a Simple Flower?
Now let's move on to drawing some simple flowers.
There are SO many different flowers you can draw, but they'll also take a while to learn. So, I've got a quick flower hack that can help you create hundreds of varieties of flowers from a very simple design.
The only flower you really need to learn to draw is a simple flower like the one below.
Step 1: Start with a pencil circle in the middle, then draw another circle around it. The inner circle will be your flower bud, and the outer circle will act as a guide for making your petals.
Step 2: Draw your bud, and then your petals with roughly the same lengths on each side. They don't have to be perfect, and they don't have to be any particular size – in fact, changing the size of your bud and the size of the petals can be one way to create more variety.
Keep practicing this simple flower until you feel confident drawing it. Once you've got the simple shape, you can create a huge range of flowers and styles by decorating the petals and changing the details.
You can change the number of petals, the petal shape, the bud size, and you can add patterns!
Patterns are obviously something you won't see in nature, but because we are doodling, we get to break the rules and have some fun. I love adding patterns to simple shapes like flowers as a fun way to create interest and make drawings instantly more interesting.
Sometimes I like to use a smaller marker size for the patterns inside – especially if I've used a thick marker like I have today for the main flower – but this isn't essential.
How to DrawSucculents and Roses?
Now, I do want to include a few more complex flowers in this tutorial too, and they aren't as hard as they look. So let's have a look at a succulent.
The key with most flowers like this is to start from the center and just draw one piece at a time. The inside pieces will usually look more rounded or closed, and the shapes don't need to be defined very much. As you get towards the outer layers, you can focus more on the shapes and overlap your petals.
The positioning and sizes don't have to be perfect, but I find it helps to try to add from all sides and focus on keeping the overall shape as round as you can.
We can apply this same process for drawing other succulents or similar flowers. Again, start from the center and just keep adding petals – the drawing steps are the same, the only difference is the shapes you are using. You can add as many petals as you like to make it bigger or smaller, or you can get creative and add patterns like we did for the simple flowers.
With all of these drawings you're reading about today, I've also put together a small printable booklet on my website with examples, step-by-step pictures and space for you to try these for yourself – You can check it out here.
Now, if you make a mistake, don't panic – Obviously you'll make less mistakes as you practice more, but keep reading because soon, I'll share a little secret of mine!
How to DrawLeaves, Twigs & Branche?
Next up, let's draw some leaves. Much like flowers, we can use a few simple leaves and create a crazy number of variations with patterns and shapes, giving us endless designs to use. I recommend using a smaller pen for these patterns, especially if your main lines are thick like mine.
We can also change up our shapes and make things more interesting by introducing twigs and branches.
Twigs and branches can look great in a drawing. They can be simple or complex, they can look realistic or just kinda cute. So let's try a few.
Step 1: I always start my twigs with a simple line. Working along a curve generally looks better than a completely straight twig.
Step 2: Choose the shape of my leaf and simply start drawing until I reach the top. Try to make your leaves slightly smaller towards the top compared to the base.
You don't just have to add leaves – you can add swirls, buds, or other random shapes to make your twigs look fun and whimsical.
You can also add more branches. If you're doing this, try to keep your angles sharp like a V shape, and generally pointing in the same direction, no more than about 45 degrees so they don't look awkward.
How to DrawPatterns?
We've already gone over a few basic patterns to fill our flowers and leaves, but let's look at some more patterns because these can help you to fill other shapes too, create interesting backgrounds, and break up big empty sections in your artwork.
Most patterns are made up from a few very simple shapes. If you can draw simple lines, squiggles, and circles, then you can draw patterns!
You can change up these patterns by changing the direction, mixing different curves and lines together, or introducing new shapes. The options are endless!
Doodling Shapes & Accents.
Before we bring everything together, let's have a quick look at some other easy shapes and accents we can add to our drawings. It's worth practicing simple shapes like hearts, stars, circles, spirals and dots because these can be great little details to fill empty spaces in your pages. Or, like everything else, you can take these shapes and fill them with patterns to create even more drawings and variations!
How to Bring it All Together: Doodling Art!
OK, now that we've learned how to draw some of these elements, it's time to put them together.
There are a few different approaches you can take here- the great thing about doodling is that there are NO rules. You can take what you've learnt and just draw them on their own, or you can choose any item and just start drawing, or you can take a completely different approach.
Here are 3 ways that I like to start.
1. Drawing in clusters
As I've done below, this is where you just start with a main object, and keep adding objects around it. You can overlap objects behind each other and add as few or as many as you want. There are no rules here, and this can be a very therapeutic activity if you're just wanting to practice your doodling or just wanting to mindlessly draw something to reduce your anxiety.
Tip: Now, you'll notice I've chosen to use a smaller marker for these drawings compared to what I've used throughout the rest of this article – the thing with doodling is that you can do it with any size marker. I actually love drawing with a thicker marker, but when I create my coloring pages, it's not very practical for people to color in, so I've started doing a lot of my lines much smaller in my newer books.
So give some different sizes a go and find what you enjoy. Smaller markers will allow you to create more details, but a smaller marker will also show more mistakes.
2. Drawing with Guides
If you are using your drawings as decorations, you might want to follow a bit more structure, so you can use siple pencil guides to help arrange them in shapes or lines.
A simple way to do this is to think about the main objects you want to include, and draw some basic shapes in pencil to represent them so you can see how the overall picture is balanced before you start.
You can also use circles or lines to create general guides for direction or shapes of your overall piece, and then use this as a boundary for your drawings.
3. Drawing with frames
These drawings can be a great accent to planner pages or journals, especially around your page titles or borders. So try creating a frame with pencil first, then start doodling around that frame. Keep most of your drawings behind the frame, but try adding a few pieces that come in front of the frame too. When you're done, draw the rest of the frame with your marker and you're done.
Bonus Tips for Doodling & Drawing
Let's finish up with some quick tips:
First, if you don't know where to start, start by adding drawings to coloring pages or other artwork that already exists, instead of a blank canvas. Give yourself the challenge to turn a kids coloring page into an adult coloring page by adding extra details and patterns to make it more interesting!
Second, remember that it doesn't have to be perfect! Doodling is imperfect, that's half the charm.
Did you make a mistake? That's ok! It's time to spill my big secret. When you are doodling, the key to hiding mistakes is to just keep doodling. The more art on your page, the less anyone will notice your mistakes.
I could take any one of my art projects and point out at least 10 pretty embarrassing mistakes if you looked closely. But nobody notices them, because they get lost in the art when you just keep drawing.
That's the wonderful thing about doodling – it doesn't have to be perfect, and it's a great way to create art without worrying about making mistakes.
Are You Ready to Start Doodling?
Once you learn some simple shapes, you can combine them to create amazing coloring pages or pieces of art. I'd love to see what you create from what you've learned today. Please share your drawings and tag @ohuhuart and @sarahrenaeclark on Instagram so we can see them!
Thank you again to Ohuhu for these fine line drawing pens – I was really impressed with how good these were for the affordable price, and I'll definitely be using them regularly!
We hope you've enjoyed this tutorial today! Comment below if you found it helpful!
Mar 08, 20212931
Sours: https://www.ohuhu.com/post/Drawing-Prompts-for-Artist-Block-EASY-Doodle-Ideas-that-ANYONE-Can-Draw
The meaning of doodles: when a squiggle isn't just a squiggle
Is that a cute little bee you're doodling, or did something a little Freudian slip out of your subconscious? Some may say doodling is kid stuff. Or it means you're not paying attention (in reality it's just the opposite!). The truth is your daydream drawing gives you an unobstructed view into your own mind. Cool, right? Let's dig into the hidden meaning of doodles.
Some of history's most influential people were doodlers, and you'd be surprised at how many goofy stick figures decorate the margins of famous historical manuscripts.
Notable doodlers include too many U.S. presidents and legendary authors to list. Doodling even left its mark in mathematics: the Ulam spiral, a popular visual aid for mathematicians, was developed by Stanislaw Ulam based on a doodle he made while attending a conference. 
Science also backs up the importance of doodling.
Doodling helps you pay attention. Despite popular belief, doodling actually keeps you focused by creating just enough stimulation to prevent your brain from reverting to its default state, or "spacing out."


Doodling gives you an emotional outlet. If you have trouble communicating or putting emotions into words, doodling can help you express your feelings, even calm you down if you're frustrated, anxious or depressed.
Doodling enhances creative thought. The mental state of doodling is between awareness and daydreaming, which makes it great for new, creative ideas. It relaxes you just enough that something in the back of your mind can come to fruition naturally.
But perhaps most importantly: doodling gives you rare insights into your own psyche.
Different people doodle different things, and even the same person will doodle different things depending on their mood. These aren't random. Just because you're doodling absent-mindedly doesn't mean your mind is absent.
The 99design team doodles all the time, and we wanted to learn more about what was behind their scribbles. So, we snagged 15 real doodles from our staff and researched the meaning of them based on work from artists and handwriting experts.
Here's what we found out.
People
—
What do our doodles say about ourselves? How about we start with doodles of ourselves.
Drawing human figures indicates a successful person: someone with a healthy self-image who connects identity to a complete body. It suggests a person is in control of their emotions and can achieve their goals.
How realistic the doodle is (whether it's detailed or a simple stick figure) doesn't matter. That only shows how much artistic training the doodler has, not the meaning behind it.
Faces
—
Faces alone are worth a closer look. Before diving into the hidden meaning of these doodles, you first have to determine whether the doodle represents how the creator sees themselves or other people.
In general, beautiful and attractive faces reflect a positive and optimistic outlook. Ugly faces represent a negative or distrustful view.
Pay attention to the eyes and the mouth. Extra detail on eyes could suggest a desire to be noticed. Or it could mean the artist feels like they're being watched or their privacy is invaded (what does that say about anime artists?). Lush, voluptuous lips can mean a deep-seated, secret desire.
Face shape and style is also telling. Cartoonish face doodles signify a need for attention. Wide, circular faces mean innocence  (think of a smiley-faced sun), and neediness. Even the direction of the face is telling; profiles tend to be popular among introverts.
Flowers
—
Flowers are one of the most popular drawing motifs, ingrained in us from childhood. While they're commonly drawn by women, it's not unusual for men for doodle them as well.
Flowers indicate a gentle, passive or even fragile nature. They're delicate and, pretty as they are, they are very susceptible to the forces around them.
Circular flowers with rounded petals — One of the most positive flower doodles. The more circular a flower is, the more amicable the drawer is.
Circular center with pointy leaves or thorns — The circular center represents a kind-hearted individual, but the pointy leaves indicate distrust or defensiveness. This might be the doodle of a scorned lover or those known for pushing others away.
Perky vs. droopy — Perky flowers point to openness and a carefree attitude. Droopy or dying flowers, however, suggest an unwillingness to open up.
Today, flowers are also associated with environmentalism, so people thinking deeply on green issues might find themselves doodling flowers.
Squares, cubes and checkerboards
—
Nothing says structure quite like squares, boxes and cubes.
This kind of doodles typically indicates a person who is efficient, analytical, and in control. If you haven't solved your problem yet, then you're working through it logically.
This is doubly true with a checkerboard, which suggests patience and persistence as the doodler weighs every option.
Beware if your boxes form a pile or stack. Then, you may be feeling overwhelmed.
Bricks
—
Nothing says blocked or restricted like a brick wall.
Tightly packed brick doodles indicate some obstacle in between you and your goals.
Scattered or unconnected bricks indicates a positive association with walls, like planning a new home or the place you met a schoolyard crush.
Arrows
—
Simple to draw and packed with meaning, arrow doodles might be basic signs for direction or Katniss' favorite weapon.
What really matters is where it's pointing.
Upward-facing arrows show ambition, optimism or motivation. Downward-facing arrows show dread, pessimism or worry.
Always pay attention to what is drawn with an arrow. This will show exactly what you're striving for. An obvious example: arrows drawn with hearts are obvious signs of a desire for love.
Flying animals
—
You already know about the birds and the bees, but what about butterflies, dragonflies and other flying creatures? While they may seem cutesy or romantic, their true meaning is really a desire to be free and not tied down. Doodles of flying animals may crop up more if you feel strained by a particularly frustrating project.
Don't mix flying animals up with transportation vehicles like airplanes, though. More on those later.
Houses
—
Like flowers, houses are a common motif instilled in us during childhood. These doodles typically represent one's home life or sense of security, and how they're drawn indicates the doodler's feelings about that. For example, a nice, tidy drawing shows a healthy home life, while a messy or asymmetrical one reveals trouble.
Some common details to watch out for:
No windows — Indicates unhappiness or feeling trapped
On top of a hill — Loneliness or isolation
Smoke from a chimney — A warm fire inside and a good sign
Bear in mind that there are cultural and architectural variations. Someone who grew up in a city apartment might not identify with the traditional "square house with a triangle roof."
Ladders and stairs
—
Whether it's career ambition, personal improvement or even spirituality, ladder and stair doodles indicate working towards a goal.
The style of your doodle reveals your attitude about the struggle.
Firmly drawn lines show confidence, while shaky or uneven lines show uncertainty.
Names and initials
—
This one's easy. Doodling names or initials shows who you think about the most—even if it's yourself! This holds true regardless of whether it's a stylistic drawing or simple lettering, although the size of the doodle can relate to how much importance you give this person.
Squiggles and zigzags
—
Even simple line doodles can reflect your inner-thoughts, as long as they have some character to them.
Squiggly lines suggest the middle-ground between direction and exploration. You may know where you need to go, but not how to get there.
Angular zigzags are different. Their straight lines and sharp corners denote aggression or impatience, and are commonly associated with masculine traits.
Transportation vehicles
—
Planes, trains and automobiles (and trucks and boats and hot-air balloons…) represent mobility, moving or escape.
For better or worse, these doodles reflect an urge to "go someplace new," whether physically or psychologically.
Someone who wants a new job or someone planning a wedding might find themselves both drawing cars.
Stars
—
Stars have a variety of meanings depending on how they're doodled. They denote ambition, motivation, and confidence, but paying attention to the details can add even more insight.
A bunch of small stars indicates optimism. One big star suggests a singular goal that stands out over others. Organized and uniform stars show focus and dedication. Chaotic and asymmetrical stars reflect an energetic free-thinker.
Spider webs
—
As you can guess, a spider web doodle represents feeling trapped or stuck. But, it doesn't always mean the doodler is the one who feels trapped. Sometimes the artist wants to ensnare someone else!
Where did you doodle?
—
It's not just what you draw, but where you draw it. On a blank page, you're free to doodle anywhere, so your first impulse might say something more about you.
Center — Drawing in the center can mean one of two things. The first is a need for attention or egotism (who cares about wasting paper?) and it's typical of extroverts. The second is a desire for open spaces, creative expressions or rebellion against restrictions.
Top — The top of the page is the most important, so doodlers feel that their opinion is more important than whatever's being discussed. It's typically indicative of energetic, free-thinking and spiritual people.
The left and right sides are tricky to diagnose because they're often decided by external factors (like whether the doodler is left- or right-handed) or how much room the bookbinding leaves. Take the following interpretations with a grain of salt:
Left — The doodler focuses on the past, whether nostalgia or regret, with a reluctance to move forward. Coincidentally, this is the most common area for doodling.
Right — The place usually reserved for notes, doodling in the right margin could indicate an urge to communicate internal feelings.
…But sometimes a squiggle is just a squiggle
—
Discovering the meaning of doodles isn't an exact science. There are tons of unpredictable factors and ambiguity to make concrete assessments. Someone who's allergic to flowers might have a negative association with them, and that messes up the interpretation. When analyzing doodles, it's best to take a step back and go with your gut!
What do you usually doodle? What do you think is meaning of doodles? Share your thoughts in the comments.
Sours: https://99designs.com/blog/creative-inspiration/meaning-of-doodles/
30 fun and easy doodle patterns for beginners - doodle art - zentangle art - design
10 EASY Drawing/Doodle Ideas To Try When you're Bored!
Hey guys, it's Megan!
I recently posted a video where I showed you a few easy doodle/zentangle type drawing techniques. If you missed it, you can check out the video here!
I love "step-by-step" drawing tutorials, and thought it might be fun to make some! This is going to be a pretty "picture heavy" post, but if you have any questions I'll do my best to answer them.
*Some of the links below are affiliate links, meaning I may earn a small commission if you purchase something through my link. See my disclosure for more information.*
For these doodles, I used:
*Arteza Sketchbook
*Sharpies
*Micron Pens
*Crayola Supertips
You can click on any of the pictures below to be taken to that portion of the video!
Doodle #1:
For the first doodle, draw a dot at the center of the page. Draw wavy lines going from the dot to the edge of the paper.
To create a sort of "3D effect", draw a bunch of upside down "u" shapes in each section.
And that's basically it! Just keep drawing those "u" shapes in each section, starting at the dot we drew in the first step, and radiating out to the edge of the paper.
When you're done, you should have something that looks like this:
Doodle #2:
The second idea is kind of similar to the first one. I'm just gonna call this a clover field.
Start by drawing three or four tear drop shapes that connect at the top. It's kind of like drawing a flower with no center.
Draw another teardrop shape inside each petal.
Then, keep drawing more teardrop shapes outside of each petal, and just keep going around until you feel like stopping.
Keep making more of these flower/clover shapes until there's no more room on the paper.
To fill up any "white space" in the background, just do more teardrop shapes.
Here's what the page should look like when you're done:
Doodle #3:
This next pattern is one that I made up.
First, draw a bunch of small, random shapes on the page. They can be circles, triangles, squares, blobs, whatever.
Next, use your marker to draw one long squiggly line that weaves all over the page, avoiding the shapes. It's kind of like a maze, and the shapes are the obstacles you have to go around.
When you're done, your page should look like this:
It doesn't make a whole lot of sense, but it's interesting to look at, and might make a nice background.
Doodle #4:
Now let's move on to something a little more recognizable.
Use a pen/fine tip marker to draw a circle on the page. Fill in this larger circle with a bunch of smaller circles.
You don't really have to draw each little circle, you can just make a bunch of swirls.
Next, use a marker with a larger tip to create 5 or 6 petals.
You can make your flower larger and give it more dimension by adding another layer or two of petals.
Once you've drawn all your petals, go back with the thinner pen or marker and draw lines inside each one.
You can stick with one flower, or draw a whole bunch like I did.
Doodle #5:
First, use a thicker marker to draw slightly wavy triangle shapes. Start at the bottom of the page, and make your way up.
Then draw more wavy lines that divide each mountain in half.
Decide which side you want to be darker, and which side you want to be lighter. I made the left side darker, and the right side lighter.
For the darker side, use your thinner pen/marker to draw a few random lines. Fill each section you've created with lines that are pretty close together.
For the lighter side, make the lines in each section a little farther apart.
Continue this for each mountain, and in the end, your page should look something like this:
Doodle #6:
This next doodle is another flower that my mom taught me how to do when I was little.
The first step is optional, but I decided to make these a little more modern by drawing flower shaped blobs with my Crayola super tips markers randomly all over the page.
Start by drawing a small circle for the center of the flower. Then, draw a few small "petals" around the circle that kind of overlap each other.
When your flower is about half the size you want it to be, start making the additional petals a bit larger.
Repeat this for each flower.
Here is how the finished drawing turned out:
Doodle #7:
This doodle is something I used to do ALL the time, it's probably one of the easiest things ever.
Starting with your wider marker, draw a bunch of curvy lines that look like they're dripping down the page.
Using your thinner marker/pen, draw more "drips" inside of the larger ones.
Here's how the finished doodle turned out:
Doodle #8:
First, draw a bunch of wavy lines going horizontally across the page.
The lines can go the whole way across, or they can stop halfway and overlap with another "half" of a line.
Once all of the lines are drawn, you're basically going to fill them with rainbows. I did a pattern of them, going from a normal rainbow to an upside down one, and kept this pattern going, making sure to stay inside the wavy lines.
Do that in each section until you have something that looks like this:
Doodle #9:
I'm gonna call this one "wagon wheels, because that's what it looks like to me.
Draw a circle.
Mark a dot in the center of the circle, and draw lines that go from the dot to edge of the circle.
And that's all there is to it! Just keep drawing more of these "wagon wheels" until you fill up the page.
Doodle #10:
The last idea is these weird blob looking things.
It's kind of like a reversed cow print or something.
First, draw a bunch of random blobs on your page.
Fill in each blob with more, smaller blob shapes.
You could stop here, or you could color in the background:
And that's it! If you need more drawing inspiration, make sure to check out my "How To Fill Your Sketchbook" series!
Sours: https://www.meganweller.org/post/10-easy-drawing-doodle-ideas-to-try-when-you-re-bored
Patterns fun doodle
.
30 Patterns for Doodling / Filling gaps
.
You will also like:
.
1143
1144
1145
1146
1147