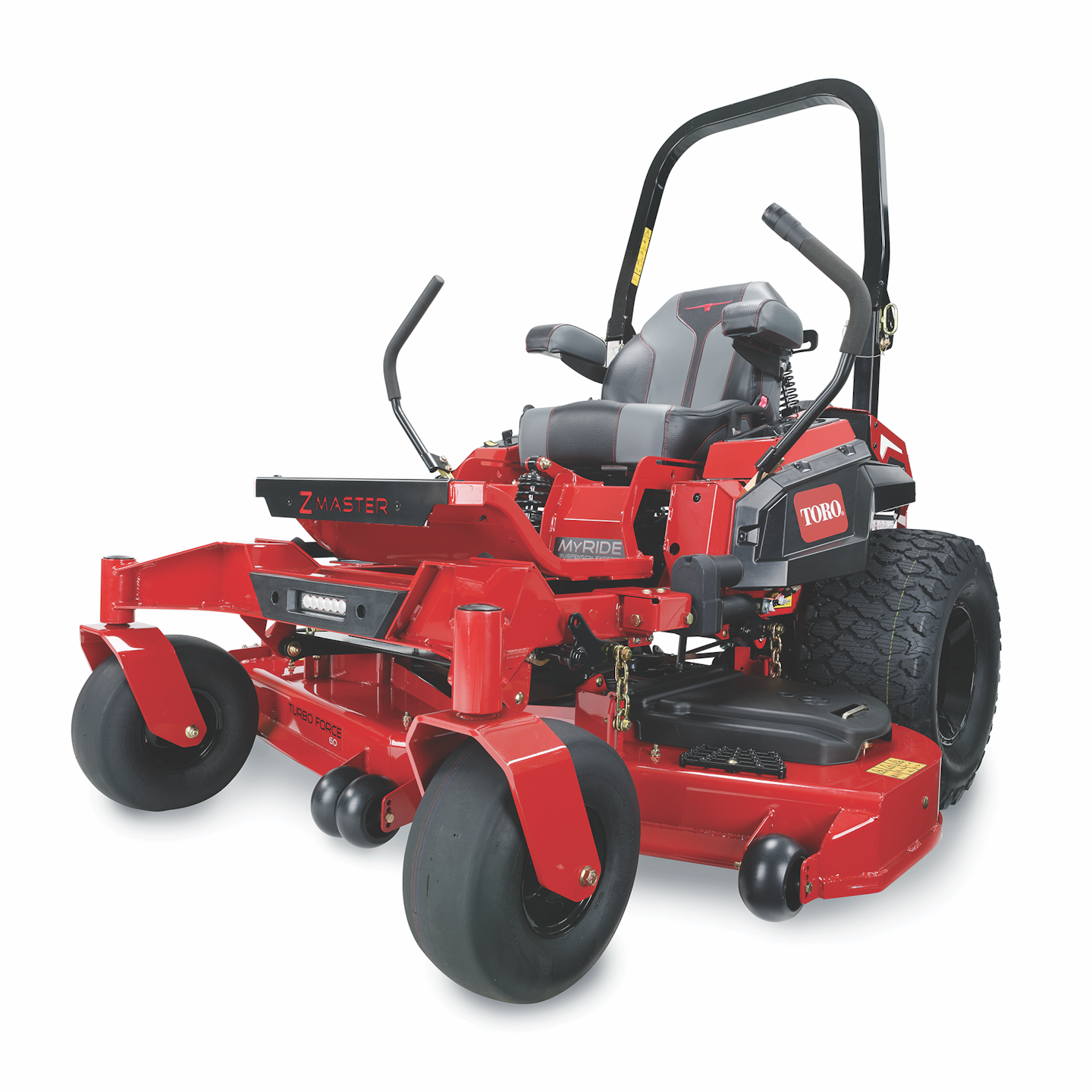 Toro Z Master 4000 Photo: Toro
In a recent virtual event, Toro announced the latest lineup of products in its acreage, professional landscape contractor and snow categories.
Toro Z Master 4000
Toro says the new Z Master 4000 zero-turn mower features the MyRide suspension system and the Turbo Force system, which is forged with an offset military-grade 80 KSI 7-gauge high strength steel deck. The company says the deck is complemented with an extra strength tubular chassis and durably rugged I-beam front-end.
Toro says the Turbo Force system features dual capture anti-scalp rollers to ensure the highest quality of cut in the harshest terrain. The company says users can discharge and disperse clippings with the industry's highest IQ system.
And to top it off, Toro says the Z Master 4000, available in deck sizes of 48, 52 and 60 inches, features Toro's bullnose bumper designed to add durability and cut down on "blowout" and "bulldozing."
Toro says it powers the Z Master 4000 with Kawasaki commercial engines, and they offer a range of engine sizes, from 24.5 hp to 31 hp, which delivers a top speed of 12 mph and maximized blade speed of 18,500 fpm.
The company says the engine and Turbo Force deck system is complemented with 26-inch Voodoo Trac drive tires that provide the user a higher vantage point to clearly see what lies ahead. Flat-free semi-pneumatic front tires and 24-inch turf tires are also available to meet the need of any conditions you might encounter.
The company says every Toro Z Master 4000 is built with a premium suspension seat and lumbar support system designed to ensure proper back posture and support. With multiple seat adjustments (from forward and backward, to armrests that move up and down), Toro says the seat provides a quality seating experience.
Toro says added conveniences such as an electronic deck lift assist, multiple cup holders, tire-view pods, USB ports and a front step-thru deck are also featured on the Z Master 4000.
The company says it also equipped the Z Master 4000 series of zero-turn mowers with Horizon 360 business software, and an hour meter and USB ports help keep tabs on time and allow you to incorporate other devices, such as your mobile phone, to maintain communications with your crew and your customers.
Toro says they've also added LED lighting, and the Z Master 4000 is backed by a 5-year, 1,250-hour warranty, featuring a 2-year no-hour limit.
The manufacturer's suggested retail price for a 2020 Z Master 4000 ranges from $8,799 for the base model (74000) to $10,799 for the 74015 HDX model.
Z Master 2000 ZTR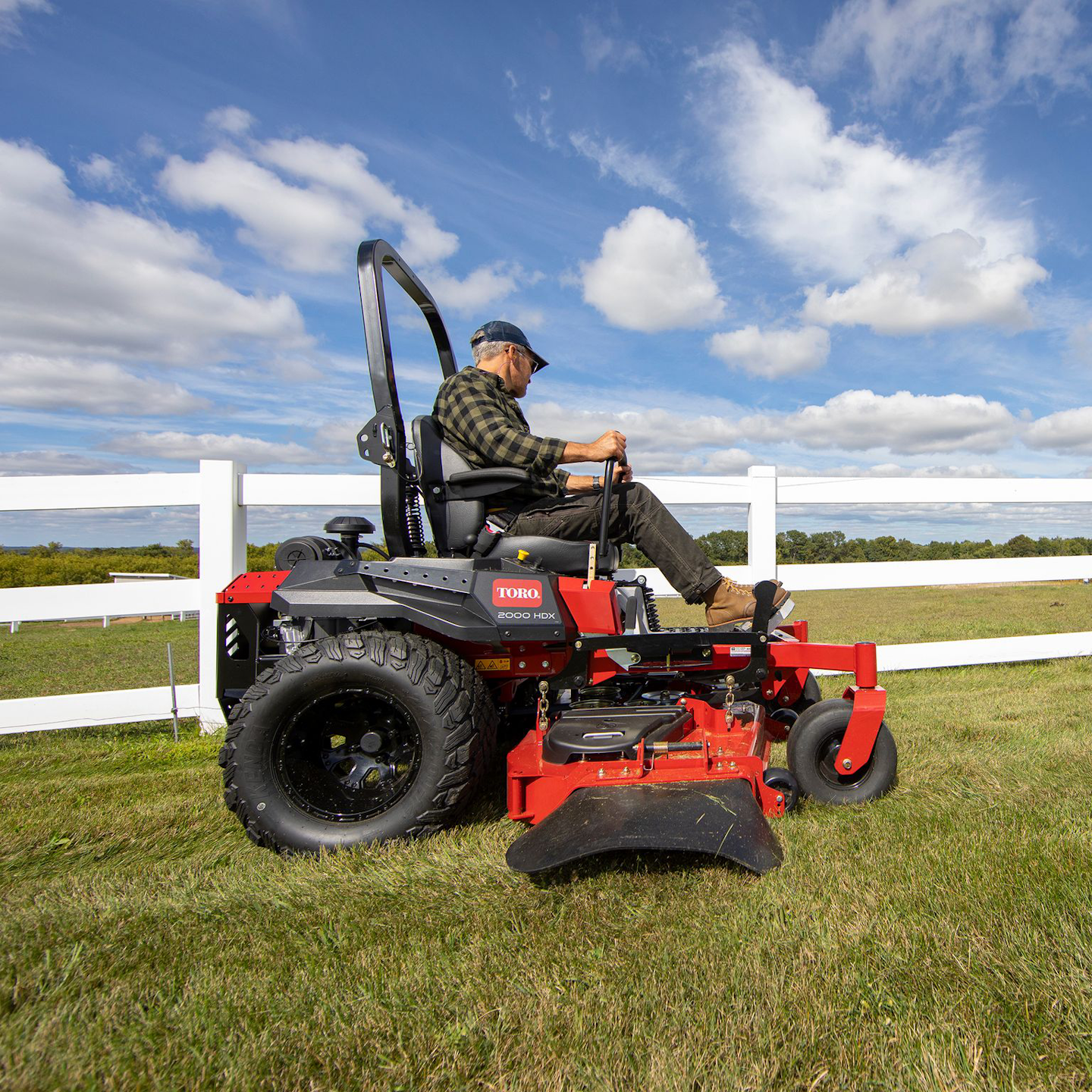 Toro Z Master 2000 ZTR.
Photo: Toro
Toro says it's proud to reveal the commercial-grade Toro Z Master 2000.
Toro says the Z Master 2000, available in deck sizes of 48, 52 and 60 inches, is built on an extra-strength fully tubular frame for durability. The company says they feature Toro or Kawasaki 25 hp engines to deliver a speed of 11 mph, drive a blade speed of 18,000 fpm and 24-inch rear-drive tires.
Toro says the heat-treated 0.204-inch steel blades give manicured lawns the super-premium cut they deserve while shredding through long wet grass, and the adjustable cut-of-height foot pedal lets you adjust your cut between 1.5 to 5 inches in one-quarter increments.
The company says the Toro Z Master 2000 is designed for efficiency and features the Turbo Force cutting deck. Toro says a bullnose bumper creates more airflow while lifting grass and preventing clippings from being blown out the front of the machine, and an extra tough rubber discharge chute clears obstacles while dispersing clippings.
The company says the Z Master 2000 can be upgraded with Toro's MyRide Suspension System, and the mowers feature a USB port, a cup holder, LED light and attachments, a weed trimmer and universal and bucket mounts.
Toro offers a 4-year, 750-hour warranty on these mowers, and the manufacturer's suggested price for a 2020 Toro Z Master 2000 ranges from $6,499 to $8,499.
Toro GrandStand Multi Force stand-on mower
With moveable front casters and a hydraulically controlled front A-frame, Toro says the GrandStand is ready to attach for any job, anywhere, any season. Whether you need to mow the perfect stripe, clear a blizzard's worth of snow, blow a mountain of leaves or bag debris, Toro says it's ready to go.
In addition to the six Multi Force tools already in the arsenal, Toro introduced three more additions: snow blower, leaf blower and Boss 48-inch plow.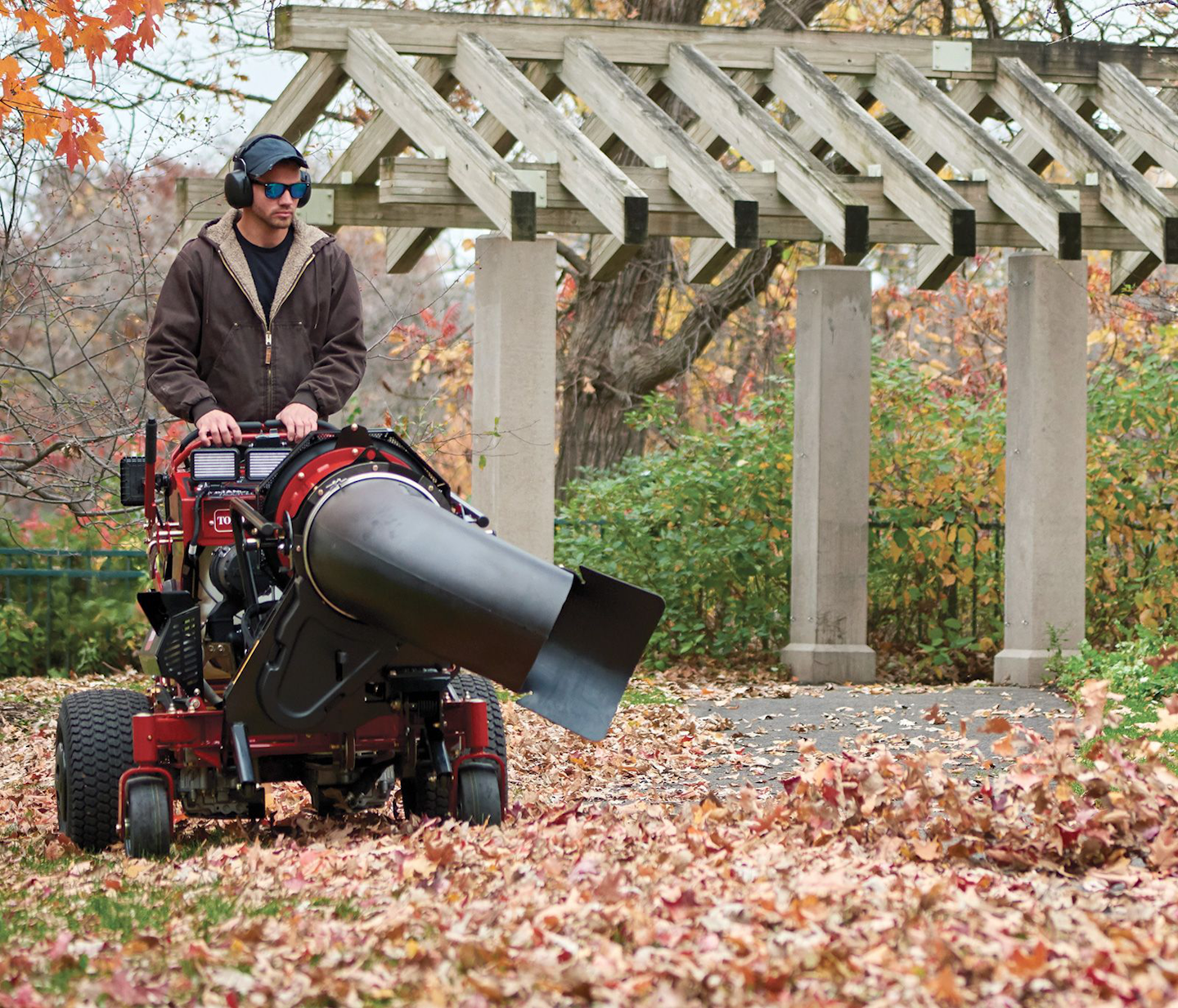 Toro GrandStand Multi Force stand-on mower
Photo: Toro
At 48″ wide, Toro says the snow blower is perfect for sidewalks but also big enough to make quick work of driveways and parking lots. The company says it prevents the risk of jarring impacts through a unique urethane trip edge that softens any contact with obstacles like uneven pavement, cobblestones, manhole covers and more. The company says the lift and chute rotation are controlled by low-flow hydraulics for easy adjustments, and the blower is powered by high-flow hydraulics to ensure there's plenty of power to throw piles of snow.
At 55″ wide, Toro says the leaf blower moves a ton of leaves in a short time. The company says the high-strength galvanized steel construction not only ensures long-term durability, but it also provides the strength to push heavy, wet leaves. Toro says the stainless-steel tines won't damage grass or turf, and when the task is complete, the plow folds up over the deck and fits on your trailer.
Toro says the Boss 48″ wide plow clears standard sidewalks in one pass while providing the versatility of getting snow out of tight spaces. The company says lifting the blade and adjusting the angle on the fly is easy thanks to the low-flow hydraulics.
The Toro GrandStand Multi Force is available in 52-inch (model 72529) and 60-inch (model 72523) mowing decks, and it is powered by a 26.5 hp Kohler Command PRO EFI 741 cc engine that delivers a top-end speed of 10 mph driving tread-hugging 20-in. rear tires and producing a blade speed of 18,500 fpm.
Toro says this mower also features the Toro Turbo Force cutting deck system, and the platform features a self-adjusting suspension, a larger open area to move around and sloped sides for cutting sloped surfaces. By designing this machine with a low center of gravity, Toro says stand-on mowers are appropriate for a variety of terrain, and operators can easily shift their weight as needed to enhance performance.
This mower is backed by a 5-year, 1,200-hour warranty, featuring a 2-year no-hour limit. The manufacturer's suggested retail price for a 2021 GrandStand Multi Force Stand-On Mowers starts at $12,599.
Toro 60V battery-powered heavy-duty walk-behind mower
With the Toro 60V 21-inch commercial heavy-duty mower, Toro says professionals can be ready to transition to an emission-free lawn care fleet of mowers and tools in the years ahead.
Toro says the launch of the 60V commercial mower is the start of a complete game-changing commercial product line-up.
"We are excited about our investments in technology," says Mitch Hoffman, marketing manager. "By leveraging our 100 years of customer-focused product development, we are building an ecosystem of powerful commercial electric products. This 60V heavy-duty mower that cuts and performs as well as the gas cousins are just the start!"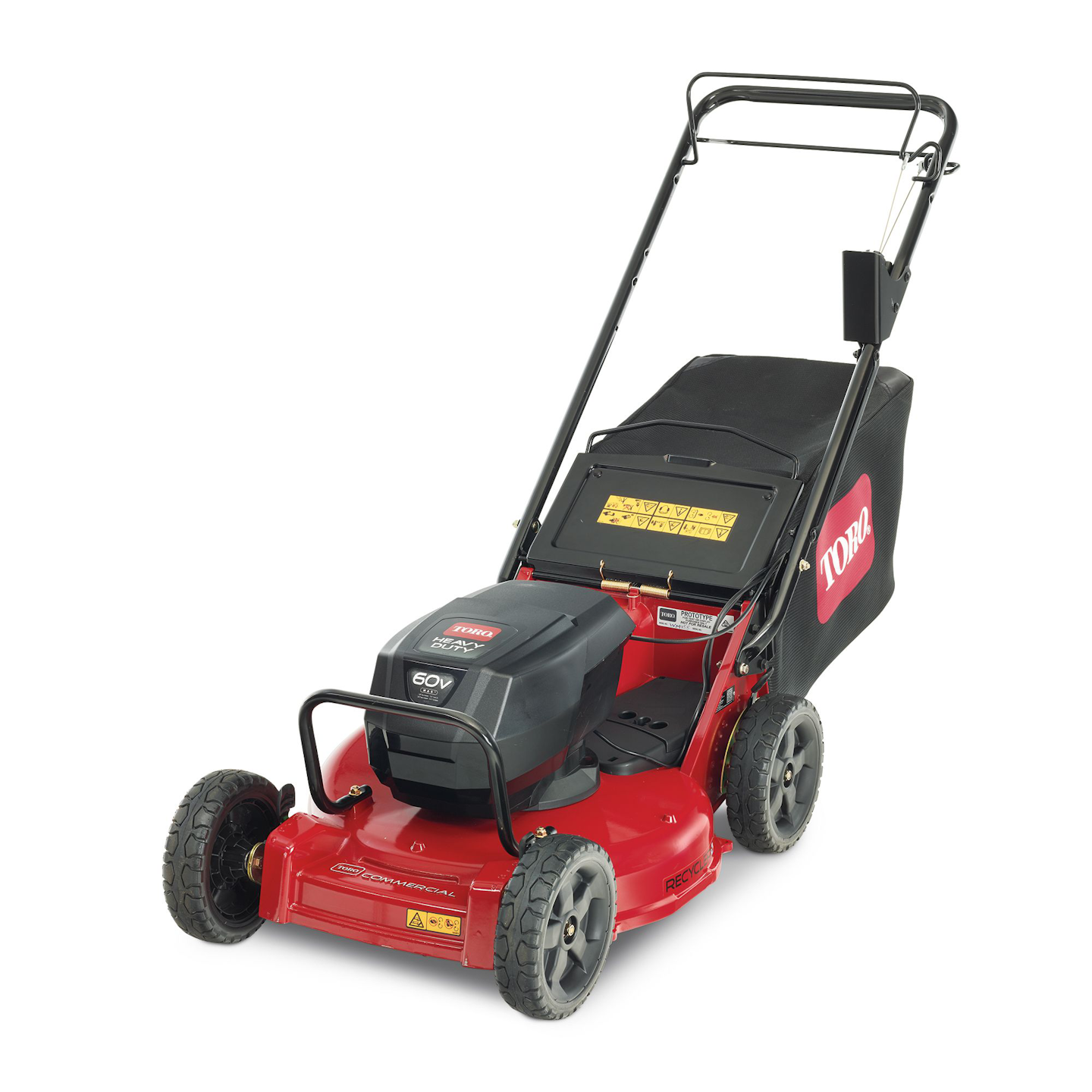 Toro 60V battery-powered heavy-duty walk-behind mower
Photo: Toro
The 60V heavy-duty mower is powered with Toro's 60-Volt, 7.5 Amp-hour battery that puts out 405 watts per hour, and Toro says its easy-to-replace 60V battery design allows you to go all day without missing a beat. The company says this mower also delivers zero-emissions and quiet performance.
Toro says the 60V mower features an on-board power meter with four LEDs so you always know how much power you have left. With spare interchangeable batteries, the company says you can run all day long, and this battery can be utilized with other Toro 60V lawn tools and equipment. Toro adds that the Li-Ion 60V Rapid Battery Charger provides complete charges within just 75 minutes.
The company says the 60V is built with a variable-speed self-propelled rear-wheel drive and a brushless DC motor, which delivers a blade speed of up to 15,309 feet per minute (at 2800 RPM) with the 21-inch steel-forged razor-sharp blades.
To get you from one job to the next faster, Toro says the rear-wheel-drive wheels are built with co-polymer and precision ball bearings for long life with less downtime and lower replacement costs. Additionally, Toro says the mower's large 9-inch x 2-inch wheels provide a tip-toe turf-friendly footprint.
With Toro's Recycler Cutting System, the company says the 60V walk-behind mower optimizes the cutting process to deliver an exceptional mulching and bagging experience. Toro says the Recycler Cutting System directs grass clippings deep into the turf to provide a just bagged appearance without the hassle of clipping collection and disposal, and a wide opening and ramped tunnel profile makes quick work of clipping disposal.
The company says users can easily customize the cut with heights ranging from 1 inch to 4.5 inches in increments of a half-inch, and Toro says they use the same corrosion-resistant aluminum alloy heavy-duty cutting deck as their traditional heavy-duty 21-inch gas line-up.
Toro says the mower is warrantied for two full years and the 60V battery comes with a one-year commercial warranty. The manufacturer's suggested promo price is $1,499.
Titan Max ZTR
Toro says the Titan Max zero-turn mower is designed to tackle acres upon acres of lawn or tough, rugged terrain in virtually any mowing conditions.
"We've never done anything this big, and when you lay eyes on this beast, you'll never want to ride another mower again," says Clint Briscoe, marketing manager at Toro.
Powered by a 26 hp Kohler 7000 Series engine with a canister air cleaner, Toro says the Max is equipped with 3100 fully serviceable hydros, which produce ground speeds of up to 9 mph and puts operators down range in a hurry.
Toro says it is also equipped with 23" drive tires which are designed to put the rider in an elevated seated position for enhanced visibility, and the tire's width and aggressive tread also maximize traction.
The company says the IronForged cutting system boasts a bullnose leading reinforced edge made from grade-50 hardened steel, and Kevlar reinforced belts and heavy-duty, eight-inch cast aluminum spindles ensure longevity and maximum performance of the cutting system.
Toro says another important feature on the IronForged deck is a heavy-duty rubber discharge chute which optimizes overall durability. Toro says this mower features toolless air filter replacements and a removable floor pan, which provides quick access to the top side of the deck if maintenance or inspection is ever needed.
Toro says operators can also cut with precision with a drop-pin-height of cut system, while the seven-gallon fuel tank maximizes run time, and it comes with a 4-year, 500-hour Toro pledge of performance. The manufacturer's suggested retail price starts at $5,999.
Sours: https://www.totallandscapecare.com/equipment/landscaping-equipment/article/15042661/toro-launches-latest-lineup-lawn-mowers-and-attachments
Z-Master Commercial 3000 Series – 48 in. Deck (74952)
Z Master Commercial 3000 Series mowers deliver impressive commercial-grade results and durablity, all at an outstanding value. Powerful commercial-grade 20.5 HP Kawasaki® FX 726cc engine with 48″ TURBO FORCE deck.
Features
Exclusive TURBO FORCE Deck
High-capacity TURBO FORCE decks deliver unsurpassed strength, a superior cut, and increased productivity in extreme mowing conditions. Equipped with a patented adjustable baffle, TURBO FORCE decks can be fine-tuned in order to conquer changing turf conditions.
7-Gauge, High-Strength Steel
The TURBO FORCE deck is constructed of 7-gauge, high-strength steel which is 33% thicker and 32% higher in yield strength than ordinary 10-gauge commercial steel used in 7/10 decks. The combined effect is 75% stronger, so it easily handles the most demanding conditions and resists damage from impacts and abrasion.
Industry's Toughest Spindle Assemblies
Toro's rugged spindle assemblies survive impacts that would destroy lesser spindles. A stout cast iron housing with a massive base and six mounting bolts absorbs impact loads and distributes them across a broader area of the deck shell. Plus, the solid, one-inch diameter shaft is alloy steel, not the common lower-grade steel used in many competitive models.
A Flat Crisp Cut with Precision Blades
(.250) thick precision blades resist flexing to provide a flat, crisp cut. High-strength, heat-treated alloy steel survives impacts and provides resistance to the rapid wear commonly associated with abrasive conditions. Options include Recycler® and Atomic® mulching blades, medium sail Bahai blades, and low sail sand blades.
Convenience and Comfort
Operator controls are conveniently located. Large 1-5/8″ (4.1 cm) diameter steering levers increase comfort and reduce fatigue. Handy storage compartment provides location for cell phone, tools, and more. Built-in cup holder provided.
Rubber Discharge Chute
High performance rubber discharge chute allows for close trimming without damaging chute or landscape structures. Patented design provides exceptional clipping dispersion.
Rugged Frame
A commercial-grade carrier frame, constructed of 3″ x 1.5″ tubular steel, supports the cutting deck and stands up to the rigors of professional use.
Folding Rollover Protection System ROPS
A Rollover Protection System (ROPS), complete with seat belt, comes standard for operator protection in the case of accidental rollovers and tipovers. In situations where sufficient vertical clearance is not available, such as loading on an enclosed trailer, the ROPS can be temporarily unlocked and folded down.
Product Locations: Greenville
Sours: https://landscapers-supply.com/product/z-master-commercial-3000-series-48-in-deck-74952/
Commercial Performance at a Value
Professional lawn contractors now have a variety of options in the Toro line that can get the job done without spending all of last season's profits. Toro claims that the Z Master 2000 Series provides Pro performance, reliability, and efficiency at an unbeatable value.
Toro Z Master 2000 Series
• 8 models to choose from
• Deck sizes range from 48″ to 60″
• Toro and Kawasaki engines available; 23.5 hp and 24.5 hp options
• 18,500 ft/min blade tip speed
• MyRide Suspension System (select models)
• 7/10-gauge Turbo Force steel deck and fully tubular frame
• Donaldson canister-style air filter
• 24″ rear tires
• LED headlight
• Easy access to belts via liftable floor pan
• Warranty: 4-year/750-hour
Features
The Toro Z Master 2000 Series Zero Turn Mowers include 8 models that range from 48″ to 60″ cutting decks. You have the option of a 24.5 hp Toro with HDAC motor or Kawasaki FX 23.5 hp engine. At a top speed of 10 or 11 mph (depending on the engine), these mowers can tackle between 4.6 to 6.1 acres per hour.
With the inclusion of the Turbo Force deck, Toro supplies your accounts with a beautiful cut every time.
The line also includes models that feature Toro's MyRide suspension. Operating similarly to the way an air ride cab functions, this optional suspension system keeps you from feeling the jostling effects of riding quickly over uneven terrain.
Aside from the choices you'll have to make about engines, deck sizes, and suspension systems, the Toro Z Master 2000 Series keeps pretty consistent, feature-wise, across the line.
Toro wanted durability as one of the hallmark characteristics across the Z Master 2000 Series. So, they opted for using a fully tubular steel frame, as well as a 7/10-gauge steel cutting deck with bullnose bumper.
All of the mowers in the line feature Donaldson canister-style air filter to protect the mower in even the dustiest conditions. A fold-up floor pan gives you easy access to the belts. A deck step plate keeps your footing secure while getting on and off the mower. The Z Masters also all include 24″ rear tires for easier curb clearance and less pressure on your lawns. An LED headlights keeps your path visible.
Finally, Toro backs up the quality of their work with a 4-year, 750-hour warranty.
To learn more about the Toro Z Master 2000 Series, including where to find your Toro dealer, click here .
Toro Z Master 2000 Series
74490 – 2000 Series 48″ 24.5 HP 708cc: $5699
74491 – 2000 Series 52″ 24.5 HP 708cc: $6199
74492 – 2000 Series 60″ 24.5 HP 708cc: $6699
74493 – 2000 Series MyRide HDX 52″ 24.5 HP 708cc: $7699
74494 – 2000 Series MyRide HDX 60″ 24.5 HP 708cc: $8199
74495 – 2000 Series 48″ 23.5 HP 726cc (California Model): $6199
74496 – 2000 Series 60″ 23.5 HP 726cc (California Model): $7199
74497 – 2000 Series MyRide HDX 60″ 23.5 HP 726cc: $9499
Sours: https://opereviews.com/toro-z-master-2000-series-zero-turn-mowers/
TORO Commercial Mower Review Z Master
.
Master mower z
.
Toro Z Master Walkaround Z2000, Z4000, Z6000
.
Now discussing:
.
1138
1139
1140
1141
1142